New Age Islam News Bureau
19 May 2014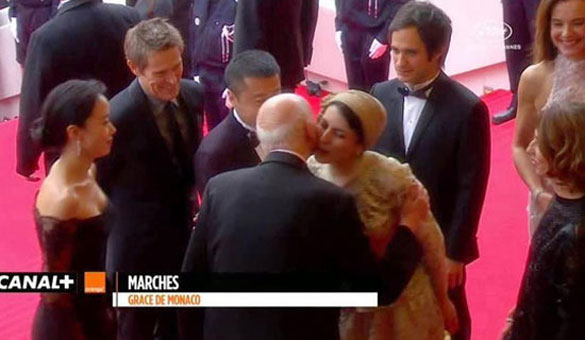 Iranian actress Leila Hatami was caught on camera kissing the Cannes film festival's president on the cheek. (Courtesy: Canal+)
----------
• Pakistani Girl Students Win Special Award at Intel ISEF 2014 in Los Angeles
• Majlis-e-Ittehad-Ul Muslimeen Looking to Expand Its Women's Wing
• In Saudi Arabia Male Doctors Can't Check Up Women without a Nurse Present
• In UK, Girl Suspended for Having Boyfriend
• Tolerance Should Be Promoted For Restoration of Peace, Says Malala
• First Female Genital Cutting Case in Egypt Exposes Ancient Ritual
• Punishment under Islamic Shariah Demanded In Mansehra Gang Rape
• State School Kicks Off Sports for Girls in Saudi First
• Noor Inayat Khan, Britain's Super Muslim Woman Spy
• Women in Aviation Pray for Return of Abducted Chibok Girls
• Al Wefaq's Women Dept. Calls for Release of Nigerian School Girls
Compiled by New Age Islam News Bureau
URL: https://www.newageislam.com/islam,-women-and-feminism/new-age-islam-news-bureau/iranian-actress's-cannes-kiss-sparks-ire/d/87084
-----------
Iranian actress's Cannes kiss sparks ire
19 May 2014
Iranian actress Leila Hatami on Sunday angered authorities in Tehran by kissing the Cannes film festival's president on the cheek, an act seen as affront to the "chastity" of the Islamic republic's women.
A photograph carried by Iranian media shows Hatami kissing Gilles Jacob at the opening of this year's festival.
"Those who attend intentional events should take heed of the credibility and chastity of Iranians, so that a bad image of Iranian women will not be demonstrated to the world," Deputy Culture Minister Hossein Noushabadi said, quoted by the website of state broadcaster IRIB.
"Iranian woman is the symbol of chastity and innocence," he said. Hatami's "inappropriate presence" at the festival was "not in line with our religious beliefs".
Born into a family with a background in cinema, Hatami gained worldwide fame for her role in Asghar Farhadi's "A Separation," which won the 2012 Academy Award for Best Foreign Language Film.
She is on the jury this year at the annual Cannes festival in southern France but lives in Iran.
According to Iran's interpretation of Islamic (sharia) law, in place since the 1979 revolution, a woman is not allowed to have physical contact with a man outside her family.
http://english.alarabiya.net/en/variety/2014/05/19/Iran-actress-s-Cannes-kiss-sparks-ire-.html
-----------
Pakistani Girl Students Win Special Award at Intel ISEF 2014 in Los Angeles
May 19, 2014
LOS ANGELES: The week-long Intel International Science and Education Fair 2014 came to an end over the weekend with the Grand Awards Ceremony held at the Los Angeles Convention Centre.
The Special Award winners included recipients from Pakistan.
The winning students from Daanish Girls School, Hasilpur, were awarded $1,000 by King Abdul-Aziz and his Companions Foundation for Giftedness and Creativity.
The students, Sana Batool, Shazia Bibi and Iqra Irshad were honoured for their project titled working of wind turbine with low air pressure.
Their teacher Sara Saeed, also present at the event, was thrilled by this acknowledgement.
The Daanish Girls School is a boarding school system that enrols only those students whose household income is less than six thousand rupees.
Fourteen-year-old Iqra Irshad from Ahmedpur prefers mathematics "but my teachers say my physics is quite good".
She plans to have a career in electrical engineering. Resident of Vehari and the daughter of a farmer, Shazia Bibi said that this was the first time in her family a girl was obtaining higher education. She intends to become a mechanical engineer.
Sana Batool from Bahawalpur, the daughter of a seamstress, however plans on becoming a civil servant.
Earlier, speaking to Dawn, the participating students said that they had thoroughly enjoyed the opening ceremony which included exchanging of pins and badges with students of other countries.
Haris Bin Ashraf of Sheikh Khalifa bin Zahid College, DHA, Karachi, said that he wore the traditional attire of Sherwani and Jinnah cap at the function due to which many students came up to him to get their picture taken.
"It was so much fun," he said. He was participating in the world's largest science fair along with his classmates Babar Shah and Tahir Ajmeri with their group project on converting plastic garbage into combustive oil and other commercial products.
"People are so curious about Pakistan and several students came to us to get their photos taken," said Iqra.
On Thursday, the students got a chance to showcase their projects to the general public at the convention centre.
Talal Agha of the Aga Khan Higher Secondary School who had created a surveillance spy robot using C-sharp programming was seen explaining his project confidently to several students and teachers who visited his booth.
Other participating students and their projects included cure of piles by Syed Minahil from Forward Girls College, Hayatabad, Peshawar and prevention of ozone layer by environment protection filter by Sidra Riaz of the Katchi Memon Academy, Gaya Girls College, Karachi.
http://www.dawn.com/news/1107105/pakistani-students-win-special-award-at-intel-isef-2014
-----------
Majlis-e-Ittehad-Ul Muslimeen Looking to Expand Its Women's Wing
J. S. IFTHEKHAR
May 19, 2014
The representation of the fairer sex in the MIM has seen more than a two-fold increase with the local body polls paving the way for several women councillors. As many as 31 women got elected on the Majlis ticket in the municipal elections, results of which were announced the other day. Two of them – Mohammadi Begum and Safia Begum from Tandur - are practising advocates.
Interestingly, in Nirmal municipality, a couple got elected on Majlis tickets. Rafi Ahmed Qureshi won from ward 18 while his wife, Nazia Parveen, emerged victorious from ward 17.
The maximum of four women councillors each are elected from Sangareddy, Bhainsa and Tandur municipalities. They are followed by three each from Mahabubnagar, Nizamabad, Kortla and Adilabad. Others elected are from Bodhan, Adoni (2 each), Nalgonda, Vikarabad, Karimnagar (1 each). This tally is set to increase as the Majlis has bagged 20 MPTC seats wherein quite a few are women candidates.
The Majlis already has 14 Corporators in the GHMC. With the recent additions, the strength of women has shot up in the party, which until recently was considered an all-male domain. The increased representation of women in the party affairs is seen as a significant step towards the emancipation of Muslim women. The Majlis president, Asaduddin Owaisi, has already announced the formation of a women's wing.
The party's Chintal Basti corporator, Yasmeen Sultana, is tipped to be the convenor and the co-opted corporator, Ayesha Rubina, joint convenor of the 'Shoba-E-Khwateen'. The Majlis' decision to field a large number of women candidates in the local body polls is part of its strategy to expand the presence of the fairer sex in the party. The party wants to be ready to face the challenge when 50 per cent of seats are reserved for women in the coming civic body poll, it is said.
The Majlis is expected to give proper shape to the women's wing and chalk out its job chart after the declaration of the results of the general election on Friday.
http://www.thehindu.com/news/cities/Hyderabad/majlis-looking-to-expand-its-womens-wing/article6022658.ece
-----------
In Saudi Arabia Male Doctors Can't Check Up Women without a Nurse Present
19 May 2014
The Ministry of Health has issued a circular to hospitals and health centres around the Kingdom stating that female patients should not be examined without the presence of a nurse.
The decision comes in the wake of several male residents saying they find it too embarrassing to have their wives examined by doctors one-on-one.
The ministry reiterated that it has not received any instructions from other entities, such as the religious police, to implement the new rules.
The ministry has received complaints from male guardians about their female relatives being examined on their own in the past.
Complainants almost always stipulate that check-ups should be conducted by female doctors or at the very least, have a nurse present if the doctor is male.
Khalid Al-Esaimi, General Health Affairs spokesman in the Eastern Province, said there are circulars that define and clarify procedures on how to deal with nurses.
"These are distributed to various departments, hospitals and health centers and stipulate that female patients should be examined with the presence of at least one nurse," he said.
"Male employees are not allowed to enter examination rooms or departments allocated to women without a very good reason or the prior consent of the patient."
http://www.arabnews.com/news/573156
-----------
In UK, Girl Suspended for Having Boyfriend
May 19, 2014
A UK teacher allegedly broke into a female student's phone and accumulated "proof" that she was in a "forbidden" relation. It happened in one of the state schools in Birmingham that had apparently been taken over by radical Muslims.
The 16-year-old student of Park View School had her mobile phone confiscated during a Sunday event in April. The mobile was taken to a shop without the consent of the girl so that the pass code could be manipulated. The mobile was eventually unlocked and the school examined the contents in it.
The mobile had photos of the girl with a fellow Year 11 boy student from the same school. It also had text messages exchanged between the two. Both the photos and the texts were used against the girl to suspend her while only weeks were left before her GCSE exams. The boy was suspended as well. However, the duration of suspension for the boy was shorter.
Park View is apparently a secular school. However, Year 11 students about to appear for their GCSEs were asked to perform an Islamic fast so that they had the proper "spiritual frame of mind" for the exams. The boys and the girls were asked to sit separately in the class. Students who are "too friendly" with each other were disciplined.
The girl's mother reported the incident to the police as it would be illegal to intercept private text messages under the Regulation of Investigatory Powers Act. The school, on the other hand, said that the police were involved in the "breaking in" incident, so was the child safeguarding team. The school authorities, however, did not elaborate the details. The teacher who is involved in the incident has apparently been enforcing conservative Islamic values on students.
The Telegraph managed to get hold of a leaked internal school calendar which showed that separate annual sports days were allocated for girls and boys. The school calendar even reveals that students are likely to fast during the holy month of Ramadan. Interestingly, according to Islam, the practice is compulsory only for adults.
http://au.ibtimes.com/articles/552820/20140519/conservative-islam-ramadan-fast-iftar-secular-school.htm#.U3p8z9JdU4U
-----------
Tolerance should be promoted for restoration of peace, says Malala
May 19, 2014
SWAT: It is important to promote tolerance for the restoration of peace in society and a collective approach should be adopted to promote education in the region.
This was said by Malala Yousafzai on Sunday as she addressed people in Wadodia Hall, Swat via video link. Teachers, researchers, local leaders and many young people were in attendance.
Yousafzai's talk was tied in with the National Youth Award, the nominations of which are announced every year around June. Yousafzai said she was part of various youth initiative programmes and "learns a lot and gets courage from them".
"Initiatives should be taken for the promotion of education on an emergency basis." The entire city should join hands and support education in the region until no one here is left uneducated, said the young activist.
Addressing the audience, senior journalist Talat Hussain said the people of Malakand and Swat have striven hard for stability. Everyone should learn from the youth there and work for the betterment of society.
People from 10 different fields were given awards for their performances.
Iffat Nasir, who received the award for the best teacher in the area, said, "The war here is over and now people should come forward to spread knowledge."
They should be given the opportunity to come forward and lead the nation, said Nasir.
http://tribune.com.pk/story/710066/a-youth-full-approach-tolerance-should-be-promoted-for-restoration-of-peace-says-malala/
-----------
First Female Genital Cutting Case in Egypt Exposes Ancient Ritual
May 19, 2014
Reda al-Danbouki, a campaigner against female genital mutilation, was praising Egypt's decision to charge a doctor with performing the illegal procedure when an acquaintance shocked him with a rebuke.
"You are encouraging moral corruption," al-Danbouki recalled the man, a fellow lawyer in the Nile Delta province of Daqahliya, angrily telling him. "You've been duped."
It was a reminder of how widely and sometimes passionately the practice is embraced in a country where more than 90 percent of women have had their clitorises partially or fully removed. The trial that's expected to start this week, in the case of a teenager who died, will be the first in Egypt of anyone accused under a 2008 law of excising a girl's genitals.
The case has the potential to revive the anti-cutting cause at a crucial time. The Arab Spring uprising that toppled Hosni Mubarak in 2011 unleashed a wave of political conservatism that emboldened advocates of genital cutting, and the upheavals since have overshadowed and sidelined the efforts of opponents.
"The crisis is still there," said al-Danbouki, executive director of the Women's Center for Guidance and Legal Awareness in Belqas. "When we go out to talk about this, people react to us as if we're preaching a new religion."
Al-Danbouki was among the activists who lobbied Egypt's general prosecutor to pursue the case after Suheir el-Batea died last June. The schoolgirl had allegedly undergone what many locals call tahara, which roughly translates as cleansing or purifying. It's done in the belief that it protects a woman's chastity and combats promiscuity by controlling female lust.
'God's Will'
"She was the best of the best but God's will is that she doesn't live any longer," said Suheir's grandmother, after whom she was named, revealing missing teeth as she sat on a sofa in her house by a trash-strewn canal in the village of Diyarb Buqtaris. She described Suheir as usually spirited and cheerful, but filled with a sense of doom when she left home the day she died. Still, "we are not putting the blame on the doctor," she said. "This is what God wanted."
Raslan Fadl, the doctor, was accused of performing a genital mutilation, causing a death due to negligence and running a medical center that failed to meet health requirements. The girl's father, el-Batea Mohamed, was charged with endangering a minor. A prosecution statement put her age at 14, though according to some people in her province she was 13. Mohamed's lawyer said his client is innocent; Fadl's lawyer couldn't be reached for comment.
'Haunting Girls'
The defendants are the first to be brought up on female genital mutilation charges since FGM, as it's known among activists, was made a crime six years ago, said Vivian Fouad of the Cairo-based National Population Council, one of the groups that urged the general prosecutor to act.
Parliament passed the criminalization measure after the deaths of two girls triggered appeals from human rights groups to the Mubarak regime. It's known as Suzanne's Law, after the former first lady. As head of the National Council for Children and Motherhood, she helped set up a 24-hour hotline staffed by religious, medical and psychological professionals. She denounced FGM as something that "keeps haunting young girls for the rest of their lives."
For all the efforts under Mubarak, there were no prosecutions, in part because authorities were reluctant and people weren't persuaded. Cases aren't reported unless there's a death, according to activists, and then sometimes the doctor and parents reach a settlement on their own.
Gender-Based Violence
"FGM is such a deeply rooted social norm, the top-down approach of Suzanne Mubarak was condescending to people," said Germaine Haddad, a program officer at the United Nations Population Fund office in Cairo.
During the one-year reign of Mohamed Mursi, fielded by the Muslim Brotherhood and elected president in 2012, Egypt's Supreme Constitutional Court rejected a lawsuit by Islamists challenging an FGM prohibition. After Mubarak's fall an attempt was made in the national legislature to repeal the law. Mursi was ousted by the army last July 3, one month after Suheir died.
A push for a provision banning FGM in the post-Mursi constitution failed. Instead, there's a prohibition against gender-based violence. "Mentioning FGM specifically would have been better, but this is good too," Haddad said.
Egypt has a long history with genital cutting. It predates Islam, the religion of the majority of the country's 86 million people, and is practiced by some Christians.
Pharaoh's Harem
"There are different versions of what happened, but it is believed that one pharaoh decided to cut his harem of women to control them. When others wanted their daughters to marry into this social group, they cut them," said Julia Lalla-Maharajh, chief executive officer and founder of the London-based Orchid Project, which campaigns against FGM. "From there it spread."
World Health Organization data show that more than 125 million girls and women alive today have been cut in 29 countries; it's most prevalent in Somalia, Guinea, Djibouti, Mali, Sierra Leone and Egypt, according to the UN. Egypt alone is responsible for about 25 percent of cases, said Jaime Nadal Roig, head of the UN Population Fund country office for Egypt.
According to the last major study of FGM in Egypt, the number of girls aged 15 to 17 who had undergone the procedure dropped to 74 percent in 2008 from 77 percent in 2005. The Egypt Demographic and Health Survey in 2008 also found that 91 percent of all women between the ages of 15 and 49 had been cut.
Before the 2008 law was enacted, some of Egypt's top Islamic authorities, including the Grand Sheikh of Al-Azhar, said FGM was forbidden because it has no religious basis in the Koran or authentic Hadiths, the sayings of the Prophet Mohammed, which form a pillar of Islamic law, and that science has shown it leads to health complications and harms children.
'Social Norm'
An emphasis under Mubarak on the physical harm had the unintended consequence of encouraging parents to send daughters to doctors instead of midwives, Nadal said.
"One of the main problems is the medicalization of this practice," he said. "Those who are meant to prevent the cutting are actually the ones doing it."
Advocates cite cultural traditions and religion, and some scholars say "it's part of the law and necessary if certain circumstances apply," said Richard Gauvain, a professor of Middle Eastern studies at American University in Dubai who writes about Salafi rituals in rural Egypt.
According to Haddad, religion may not play a role for many. "It's a social norm that people look for reasons to maintain," she said, and some "don't even know why they do it."
Kidney Damage
The debate has been going on in modern Egypt for generations. The feminist and physician Nawal el-Saadawi condemned the ritual in articles and essays in the 1960s, and was fired as the country's director of public health after the publication of her book "Women and Sex." She'd been cut in 1937, when she was six, and as a doctor saw how women suffered consequences including bleeding, cysts, infections, kidney damage and infertility.
FGM can entail the removal of part or all of the clitoris, and sometimes the inner labia; in extreme cases, the vagina is narrowed by cutting and repositioning the labia. Unlike with male circumcision, which is the removal of the foreskin from the penis, the intended effect is to dull or eliminate sexual pleasure. It's believed to make girls more suitable for marriage.
The fight against FGM has been overshadowed by Egypt's turbulent politics, the Population Council's Fouad said. Women rallied alongside men to bring down Mubarak, though later Cairo's Tahrir Square, the epicenter of the uprising, was plagued by sexual violence.
Safety Concerns
"You cannot talk about a society that enjoys political democracy while it oppresses women and girls," Fouad said.
The aftermath of the uprising that ended Mubarak's three decades of rule made the anti-FGM forces' work more difficult. Protests left many "No to FGM" billboards in tatters. Concerns about safety have largely put on hold plans for anti-FGM educational events that before 2011 drew thousands in rural areas, Fouad said.
"During the past three years, Egyptians have been very preoccupied with political changes, political problems," she said. "There has been a big drop in political and media attention to social issues in general, not just FGM."
In and around Diyarb Buqtaris, Suheir's village, many people aren't shy about insisting genital cutting needs to exist. "A girl must undergo tahara," said Saneya Badreldine, 60, sitting atop the wooden cart from which she peddles vegetables. "We all underwent tahara and I did the same with all my daughters. This is the way things have always been. We don't want the girl when she grows up to. . ." She let the words trail off. "I don't know how to talk about these things," she said. "It's embarrassing."
'Normal Thing'
Listening in was Badreldine's 13-year-old granddaughter. The grandmother lowered her raspy voice and leaned in closer as she said: "I took her to a doctor and he said she doesn't need this operation." The girl herself should have no say in the matter, Badreldine said.
Shaimaa Mohamed, a 17-year-old walking to French class, said she had the procedure when she was 11 or 12. "It's a normal thing and is what sets us, Muslim girls, apart from the girls of the West," she said, clutching her school books to her chest. "I learned from my parents at home that this is what makes the girl pure."
Still mourning, Suheir's grandmother said she had high hopes for the girl. "My heart is still broken," she said, touching her chest. "I wish she had lived on and gotten married. She could have become a beautiful teacher or doctor."
http://www.bloomberg.com/news/2014-05-18/first-female-genital-cutting-case-exposes-ancient-ritual.html
-----------
Punishment under Islamic Shariah demanded in Mansehra gang rape
May 19, 2014
ABBOTTABAD – Students of the Government Girls Middle School held a candle vigil and took out a rally on Monday in support of a teenaged student, a victim of the gang-rape in Mansehra.
The students along with their teachers demanded severe punishment for the accused under the Shariah laws. Holding placards, the demonstrators chanted slogans against the accused who allegedly raped the intermediate student in a moving car.
Earlier, the Anti-Terrorism Court handed over three accused to the police on 10 days physical remand. The accused were produced before the court where the judge granted physical remand of the accused for 10 days. The culprits have already confessed to the crime in the judicial magistrate's court following their arrest.
The District Bar Association through a unanimously adopted resolution decided not to defend the accused in the gang rape case. Bar president Munir Hussain Laghmani chaired the meeting in which the lawyers also constituted a panel to provide legal assistance to the victim student.
The lawyers said that the government should legislate to make the existing laws dealing with sexual assault against children tougher so that nobody could dare commit such crimes.
http://www.dailytimes.com.pk/national/19-May-2014/punishment-under-shariah-demanded-in-gang-rape
----------
State school kicks off sports for girls in Saudi first
AFP | May 19, 2014
RIYADH: In a first for ultra-conservative Saudi Arabia, a state school has introduced sports for girls, after a call for the lifting of a ban on women in sports, a newspaper reported today.
Girls at Amal Institute in the Red Sea city of Jeddah competed in a volleyball tournament last week after the school built new sports facilities, also for basketball, tennis and hockey, Al-Hayat said.
In April, the Muslim kingdom's Shura Council, a consultative body, recommended after a heated debate that the longstanding ban, already relaxed in private schools last year, be scrapped.
The appointed body, whose 150 members are overwhelmingly male, can only pass on its recommendation to the education ministry and has no powers to impose it.
All education in Saudi Arabia is strictly single-sex, but sports in girls' schools remains a sensitive issue in the Gulf state, where women have to cover from head to toe when in public.
The council cited a ruling by the kingdom's late top cleric, or grand mufti, Sheikh Abdel Aziz bin Baz, that women were entitled to play sports "within the limits set by Islamic law."
The topic of Saudi women in sport came under the spotlight at the 2012 Olympic Games in London, when the kingdom bowed to international pressure and sent female athletes to compete for the first time.
The International Olympic Committee agreed to allow the two Saudi women - a judo player and a middle-distance runner - to compete with their heads and bodies covered in deference to the Islamic dress code enforced in Saudi Arabia.
But despite their participation, Human Rights Watch says that millions of Saudi women remain effectively barred from sports.
Saudi authorities shut down private gyms for women in 2009 and 2010, and women are effectively barred from sports arenas by strict rules on segregation of the sexes in public.
http://timesofindia.indiatimes.com/world/middle-east/State-school-kicks-off-sports-for-girls-in-Saudi-first/articleshow/35322951.cms
---------
Noor Inayat Khan, Britain's super Muslim woman spy
Fakhruddin Ahmed
May 19, 2014
FOR seventy years, the story of Noor-un-Nisa Inayat Khan, a Muslim woman who was a World War II British spy, was consigned to the scrap heap of history. This year, a 60-minute docudrama, "Enemy of the Reich: The Noor Inayat Khan Story" premiered in the US. Narrated by Oscar-winning actress Helen Mirren, the documentary recounts the heroine's ordeal through dramatised reenactments and interviews with experts, including Noor's two nephews. Indian-American actress Grace Srinivasan, a 2013 graduate of George Washington University, played Noor perfectly. The documentary was shot in 11 days in Baltimore.
Noor Inayat Khan had royal pedigree. Her father, Hazrat Inayat Khan was a descendant of Tipu Sultan, the famous ruler of the Kingdom of Mysore in the 18th century. Born in 1882 in Gujarat, Khan left India in 1910 and travelled the world teaching Sufi Islam. While in New York, he fell in love with Ora Baker, the half sister of American scholar Pierre Bernard, her guardian at that time. As Bernard refused consent to their marriage, they went to Europe and married. Noor Inayat Khan was born in Moscow on January 2, 1914.
After World War I broke out, they left for London. Noor attended nursery in Notting Hill. Khan and Ora Baker (Ameena Begum) had three more children: Vilayat (1916), Hidayat (1917) and Khair-un-Nisa (1919). In 1920, they relocated to a suburban Paris house, a gift from Khan's Sufi patron.
Hazrat Inayat Khan died on a visit to India in 1927, sending Ameena Begum into deep depression. Barely 13, quiet and shy Noor grew up fast and cared for her grief-stricken mother and siblings. She studied child psychology at the Sorbonne, and music at the Paris Conservatory, composing for harp and piano. She wrote poetry, and contributed regularly to children's magazines and French radio. She published "Twenty Jataka Tales" in 1939.
After Germany overran France, the Khans fled to Bordeaux, crossed the English Channel and landed in Falmouth on June 22, 1940. Although Noor's upbringing was pacifist, she decided to fight the Nazis, saying: "I wish some Indians would win high military distinction in this war. If one or two could do something in the Allied service which was very brave and which everybody admired, it would help to make a bridge between the English people and the Indians."
She joined the Women's Auxiliary Air Force (WAAF) on November 19, 1940, and was sent for training as a wireless operator. Noor had "difficulty" learning the codes, which the prejudiced espionage establishment attributed to her not being "overburdened with brain!" The truth was different. As a Muslim woman, Noor was taught never to lie. She was unwilling to send false messages. A young man, who had a crush on her, was assigned the task of working with Noor. He convinced her that unless she sent the codes exactly as written, innocent people were going to die. That did the trick!
Because of her French upbringing, Noor was assigned to the French Section of the Special Operations Executive (SOE), and underwent rigorous training. Cryptonymed "Madeleine," Noor was flown to northern France at night to a French Resistance landing strip on June 16, 1943. She and two other women were met by Henri Dericourt and escorted to Paris. They joined the underground Physician's network, codenamed Prosper.
Within six weeks, all Physician network radio operators except Noor were arrested by Gestapo along with hundreds of Resistance Prosper members. For her safety, the head of French Section asked Noor to return to England. She refused. As the only remaining wireless operator in Paris, at enormous personal risk, Noor continued to transmit messages to London from the dwindling Prosper agents. Noor was now the most wanted British agent in Paris. Gestapo distributed her sketches and was looking for her everywhere.
With wireless detection vans in hot pursuit, Noor could only transmit 20 minutes at a time. She moved constantly, evading capture while maintaining vital communication with London: "She refused to abandon what had become the most important and dangerous post in France and did excellent work." She was on her own for three months.
Noor was betrayed to Gestapo by suspected double agents Henri Dericourt or Renee Garry. Reportedly, Renee Garry, who was paid 100,000 francs, was furious at Noor because SOE agent France Antelme had dumped her for Noor. Noor was arrested on October 13, 1943 and interrogated for months at Gestapo headquarters in Paris.
Unlike fellow arrestees, Noor did not divulge any secrets to Gestapo. She fought so fiercely that they labeled her an extremely dangerous prisoner. When Noor was forced to send a message to London by Gestapo, she slipped in a 18-character word that should have alerted London that she was compromised. That message never reached her supervisor. Double agents were not exclusive to France! For a long time Gestapo continued to send bogus messages under the name "Madeleine," which cost some lives.
Noor and two fellow prisoners escaped through the roof on November 25, 1943. But, there was an air raid siren just as they got out and they were captured in the vicinity. After Noor refused to renounce future escape attempts, she was placed in solitary confinement, shackled to the floor for ten months, and almost certainly sexually abused. Then the death sentence arrived from Berlin: Noor was to be treated as "Nacht und Nebel" (Night and Fog) prisoner condemned for "Disappearance without Trace." Noor, 30, was taken to Dachau concentration camp near Munich, and in the early hours of September 13, 1944 executed by a bullet through her head. Noor's last word was: "liberte!"
Noor Inayat Khan was posthumously awarded the French Croix de Guerre avec etoile de vermeil, and Britain's highest award for gallantry George Cross in 1949. In 2012 Princess Anne unveiled Noor's bronze bust in Gordon Square Gardens -- the first memorial to any Muslim or Asian woman in Britain. Prime Minister David Cameron praised Noor for her "bravery," "indomitable courage" and "inspirational self-sacrifice." On March 25, 2014, the Royal Mail issued a stamp commemorating Noor Inayat Khan.
The Germans have done nothing. Is it too much to ask the German government: Wie Ware Es Mit Einem Denkmal Noor? (How about a monument for Noor?)
http://www.thedailystar.net/op-ed/noor-inayat-khan-britains-super-muslim-woman-spy-24643
-----------
Women in Aviation Pray for Return of Abducted Chibok Girls
May 19, 2014
Abia State yesterday joined in the ongoing chain of prayers across the nation for divine intervention in the release of the over 200 school girls of Chibok still in captivity following their abduction by the Boko Haram Islamic insurgents. Also in Lagos, Women in Aviation, an umbrella group of women professionals in the air transport industry on Friday held an inter-religious prayer session at the international wing of the Murtala Muhammed Airport, Lagos.
The prayer organised by the state government in collaboration with the office of the wife of the state governor was coordinated by the state chapter of Christian Association of Nigeria (CAN) with many clerics, including bishops in attendance. As the prayer session commenced at Michael Okpara auditorium, Umuahia, reverberated with soul stirring lamentations and supplications as thousands of people, including clerics raised their voices to heaven to invoke "divine arsenal" for the destruction of the Boko Haram sect.
Chairman of CAN, Bishop Goddy Okafor , said that even with the efforts of the Nigerian military and the foreign assistance that has poured into the country seeking for ways to liberate the school girls from the grips of Boko Haram, the nation must pray fervently because "if we fail to pray now the worst will happen.
"From what is happening now, if we fail to pray; if we fail to stand our ground and call on the name of God, nothing will happen," he said, adding that people should make themselves available to be used by the Almighty God to accomplish the task of liberating Nigeria from evil forces.
Describing Boko Haram as a religious idolatry caused by people who read and misunderstood the misinterpretation of the Koran by the misguided sect, Bishop Okafor assured that the "evil cloud" precipitated by the insurgents would eventually clear through divine intervention. The Abia CAN chairman urged Nigerians to rally round the families of the abducted school girls, saying "we should not stand aloof, put yourself in their situation and feel the same way these families feel" in order to understand why everybody should get involved to end the Boko Haram menace.
Intercessory prayers were said for God to touch the leader of Boko Haram sect to release the children they abducted and for peace, love and tolerance, accommodation and understanding amongst Nigerians as well as divine inspiration for citizens "to appreciate that security is collective responsibility".
Wife of deputy governor, Nene Ananaba, who represented wife of the governor, Lady Mercy Odochi Orji read the only Bible text taken from Acts 12 verses 1-11 in the event which also feature praise and worship. At the height of the intercessory prayers the crowd of prayer warriors and worshipers sang the chorus 'O Lord arise, let the enemy be scattered; O Lord arise, let the enemy be conquered' nobody was left in doubt that the end of Boko Haram has come.
The Women in Aviation prayed God to intervene in the release of abducted girls of Government Girls Secondary School, Chibok, Borno State. Scores of women dressed in pink T-shirts with the inscription : " Oh God rescue our girls", gathered at an open field along the access road leading to the airport singing worship songs and committing the abducted girls to God's hands. Led by both a Muslim cleric and a pastor, the women prayed that God would make it possible for the release of the girls. The cleric condemned the activities of Boko Haram insurgents who abducted the girls saying the development "has drawn global outrage and engendered trauma for the parents and family members affected by the incident.
"It is wrong to hold the school girls captive under the guise of forcing them to accept the Islamic faith. It is ungodly to hold anybody in captivity, as both the Christian and Islamic faiths frown at the use of force to convert anybody to their religion," they said. Also speaking, the director of human resources at the Federal Airports Authority of Nigeria (FAAN), Hajia Salamatu Umar-Eluma said women professionals in the aviation sector had resolved to join others in the world to ask God to intervene in the matter. She said as mothers and professionals, the continued captivity of the school girls had caused the entire nation much harm, affirming that through prayers, the girls and the people on rescue mission would come out alive.
She said Women in Aviation would continue to seek God's intervention in the affairs of the girls as well as encourage the families affected by the trauma to have faith that the matter would be resolved. "We will continue to pray as mothers, so that God will touch the heart of the abductors to release the school girls alive to reunite with their families. As mothers and parents we remain traumatised by the activities of people hiding under the guise of religion to carry out evil. That is why we are praying to God to hear our prayers and rescue the girls and the personnel involved in the operations," she said.
Also speaking, the president of Women in Aviation, Nigerian chapter, Mrs. Rejoice Ndudinachi said the women professionals had joined the global call for the rescue of the abducted girls. She said with the power of prayers God would touch the abductors to release the school girls unhurt. The women were drawn from aviation organisations including FAAN, Nigerian Civil Aviation Authority (NCAA), Nigerian Airspace Management Agency (NAMA), Nigerian Air Force (NAF), Accident Investigation Bureau (AIB), Nigerian College of Aviation Technology (NCAT), and others.
The President of Church of Christ in Nations (COCIN), Rev Dachollom Datiri has described Boko Haram as "a child of Islamic fundamentalism nurtured over the years by radical Muslim youth groups, trained and indoctrinated both locally and internationally by extremists to hate and kill Christians." . Datiri, who stated this yesterday while addressing newsmen at the COCIN Headquarters in Jos, urged
President Goodluck Jonathan to remain focused, steadfast and to look up to God for guidance and help in governance. He said, "Muslims should note that they cannot and will not Islamise Nigeria nor achieve their Jihadist movement; therefore Christians must rise up and defend themselves and not give in to threats and intimidation. "The federal government should as a matter of urgency, apprehend and interrogate some prominent personalities and clerics in the country who are implicated in one way or the other in Boko Haram activities". He also called on the Federal government to collaborate with the international community to devise means of dislodging Boko Haram and terrorism and to investigate their sources of funding. "We call on Boko Haram and its perpetrators to denounce their movement, surrender and repent from their wicked ways so as to find mercy from God. "We commend the United State of America, UK, France, China and other countries in the comity of Nations for assisting Nigeria to tackle Boko Haram and trying to locate and save the Chibok abducted girls", he said.
While commending the federal government and security operatives for arresting the mastermind of the Nyanya bomb blast which left several persons dead, the cleric also urged the government to modify the method of operations of the Joint Task Force (JTF) and to improve the funding and acquisition of sophistication weapons to meet the challenges of terrorism in the country.
He advised the Federal government to revitalise the educational system and design plans to avert such incidences as the ones that occured in.
http://allafrica.com/stories/201405191422.html?viewall=1
-----------
Al Wefaq's Women Dept. calls for release of Nigerian school girls
May 19, 2014
The Women Affairs Department in Al Wefaq National Islamic Society in Bahrain stated, "The kidnapping of 200 Nigerian school girls has nothing to do with Islam and is a alarming and ugly crime".
The Women Department called for the immediate release of the girls and to stop the ugly exploitation of women dignity for political purposes.
"Islam calls for the respect of women and the protection of their dignity, it is therefore regrettable that Boko Haram, which claims to be of Islamic faith, to kidnap more than 200 Nigerian girls as hostages and force them to convert to Islam under threat of being sold for the release of Al Qaeda members in attempt to achieve political purposes that have nothing to do with Islam", the statement added.
The Women Department stressed that the abduction of the girls makes certain that these groups do not represent Islam or Muslims.
While international covenants ensure the rights of women and call for their participation in society, these groups continue to abduct, arrest and degrade women.
"Since the eruption of the 14 February revolution in 2011, women in Bahrain continue to be subjected to arrest and degrading treatment and we would hate to see other women in the world being mistreated. From here, we call for the release of the Nigerian girls and all female political prisoners in the world, refusing the abuse practiced against them", the Women Department in Al Wefaq.
http://abna.ir/english/service/bahrain/archive/2014/05/18/609580/story.html
-----------
URL: https://www.newageislam.com/islam,-women-and-feminism/new-age-islam-news-bureau/iranian-actress's-cannes-kiss-sparks-ire/d/87084