New Age Islam News Bureau
17 Dec 2018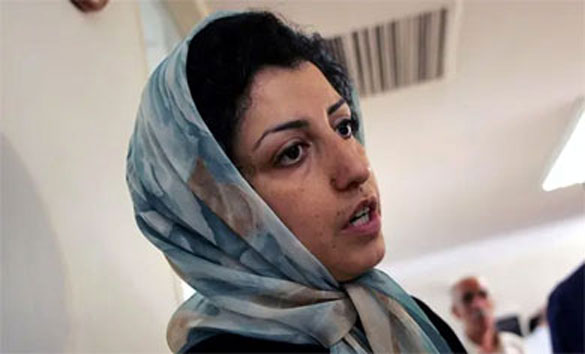 Iranian Activist, Narges Mohammadi
-----
• Rashida Tlaib to Wear Palestinian Dress at US Congress Swear-In
• Meet the Meo-Muslim Woman, Who Bags the Maximum Votes by Any Candidate In Rajasthan Elections
• Murad, the Nobel Winner, Wants Justice for Women from Her Persecuted Community
• Muslim Women Empower 2,000 Widows with N100, 000 Each
• Miss Universe Host Sends Message to Egypt, As Philippines Nabs Crown
• Here's How a Saudi Woman Is Helping Others Fight Poverty
• No Decrease in Violence against Women in Pakistan This Year
• Emirati Amna Al Qubaisi Becomes First Arab Woman To Test Drive A Formula E Car
• India: Triple Talaq Bill Introduced In Lok Sabha
• UAE Sets A Global Example With Women Empowerment
• Research Report on Women in E-Business Launched
• A lonely fight for Yemen's only female delegate to UN-backed talks
Compiled by New Age Islam News Bureau
URL: https://www.newageislam.com/islam-women-feminism/iranian-activist-narges-mohammadi-sentenced/d/117181
--------
Iranian Activist, Narges Mohammadi, Sentenced To 16 Years in Prison: I Have No Hope in Judiciary
16 December 2018
Political prisoner and lawyer, Narges Mohammadi, sent a letter to Iran's attorney general, saying that she is not getting her right to receiving medical care and treatment in prison.
In 2015, the Islamic Revolutionary Court of Iran had sentenced Mohammadi to 16 years in prison for "belonging to a campaign protesting the death penalty, colluding against national security, and spreading propaganda against the regime."
In an interview with the Defenders of Human Rights Center, Mohammadi revealed that her request to be seen by a doctor had been ignored several times, with no clear reason by the Iranian officials.
In her last letter, Mohammadi also stated that she suffers from lung disease, gynecological problems and as well as issues with her gallbladder. The prison's doctors asserted that she should be treated outside of the prison.
"I have no hope in my country's judiciary; all I ask of Tehran's attorney general is to provide me the right conditions so that I can receive the necessary treatment and see specialized doctors," she said.
Narges often sends letters from her prison cell to Iranian officials since she was imprisoned in 2015. She usually criticizes security and defense governmental entities and their control over the country's judiciary.
Years of imprisonment
One Mohammadi's most famous letters sent from her prison cell said: "I do not have a real and clear image of my twins, anymore."
She had not seen them for three years. In another letter she sent months ago to president Rouhani, she said: "The people did not vote to support the regime, but rather to apply the law and fulfill civil society activists' demands in the country."
The Defenders of Human Rights Center website published Narges Mohammadi's last letter, a few days after announcing the death of political activist Wahid Sayadi Nassiri in the central prison in Qom, who died of a hunger strike that he began last October.
She was heavily involved with the Defenders of Human Rights Center in Iran headed by Shirin Ebadi, the first Iranian and first Muslim woman to win a Nobel Peace Prize.
In September 2016, the Tehran Court of Appeals sentenced her to 16 years in prison, 10 of which could not be appealed.
She was accused of "propaganda against the state," "assembly and collusion against national security" and "membership in the [now banned] Defenders of Human Rights Center."
https://english.alarabiya.net/en/features/2018/12/16/Iranian-activist-sentenced-to-16-years-in-prison-I-have-no-hope-in-judiciary-.html
--------
Rashida Tlaib to wear Palestinian dress at US Congress swear-in
December 17, 2018
Rashida Tlaib, the Democratic representative-elect from Michigan, has announced she will wear a traditional Palestinian thobe to her official swearing-in ceremony to US Congress next month.
"Sneak peek: This is what I am wearing when I am sworn into Congress. #PalestinianThobe #ForMyYama," Tlaib wrote in an Instagram post on Friday. Yama means mother in Arabic.
A thobe is a traditional ankle-length garment worn across the Arab world and in some parts of Africa. Palestinian thobes are known for their red embroidered patterns. However, each city in historical Palestine traditionally has its own unique style.
Tlaib is the first Palestinian American woman to serve in US Congress. Along with Somali American Ilhan Omar, the two became the first Muslim women elected to Congress last November.
Tlaib took Michigan's 13th congressional district in a race in which she was the sole major party candidate.
Omar won Minnesota's strongly Democratic fifth congressional district, replacing the first Muslim congressman, Keith Ellison, who vacated his seat to run in the state's attorney general race.
Tlaib, 42, was born in Detroit to Palestinian immigrant parents. Her mother is from the village of Beit Ur al-Fauqa near Ramallah in the occupied West Bank, and her father is from Beit Hanina, in occupied East Jerusalem.
She made history in 2008 by winning a seat in Michigan's legislature, becoming the first Muslim woman to do so.
Her campaign platform included pledges to secure a $15 minimum wage, preventing cuts to welfare programmes such as Medicare and Social Security, as well as stopping tax relief to large corporations.
Earlier this month Tlaib told The Intercept that she plans to lead a congressional delegation to the Israeli-occupied West Bank, breaking from traditional trips to Israel for newly elected members taking place for decades, sponsored by the pro-Israel lobby group American Israel Public Affairs Committee (AIPAC).
She said she hopes to offer her fellow freshmen members of Congress an alternative introduction to the Israeli-Palestinian conflict.
According to The Intercept, her group will focus on issues such as Israel's detention of Palestinian children, education, access to clean water, and poverty.
https://www.aljazeera.com/news/americas/2018/12/rashida-tlaib-wear-palestinian-dress-congress-swear-181216093937369.html
--------
Meet the Meo-Muslim Woman, Who Bags the Maximum Votes by Any Candidate In Rajasthan Elections
By Shabina Akhtar
Dec 15, 2018
Jaipur: Zahida Khan, a Meo-Muslim looks all set to create a record, if she manages to bag a ministerial post in the Ashok Gehlot led Congress government of Rajasthan. The lady in question has the reputation of breaking all norms and creating records Rajasthan.
In 2008 when she contested first time assembly polls from Kaman constituency, she won to become the first woman MLA from the Meo-Muslim community. Zahida was elevated to the position of Chief Parliament Secretary. She also, happens to be the first woman from the community, to be appointed as the General Secretary of All India Mahila Congress.
Given the popularity that Zahida enjoys in the area, it was but obvious that she would be winning with a huge margin. And she did, defeat her BJP opponent by a huge margin of 39621 votes. Interestingly, Zahida, popularly dubbed as the daughter of Mewat, has secured the maximum number of votes – 110789, which way higher than the total votes that what seasoned politicians like Ashok Gehlot and Sachin Pilot have got.
On being asked about this feat, she laughed and said, "Yes, so do I hear that I have managed to get the highest number of votes in the entire Rajasthan."
A law graduate from Delhi University believes that education is the key for the progress of women from her community. Meo-Muslim is considered to be one of the most backward communities.
Speaking to eNewsroom, she said, "We have always believed that education can bring about a big change in the community. Hence, my focus, like my earlier stint will be on the promotion of women education." On being asked about what kind of work she and her daughter, Shahnaz Khan, who is also the sarpanch of their village do for the welfare of women, she reiterated, "We have always maintained that educating women is the only way to empower them. Through education only, they will be able to exercise their right. Hence, we will be focusing on education of the girl child."
She then added, "Water remains to be a major issue in this part of the state. We still don't have access to soft water. Around 200 villages in this area still have to survive on hard water. Given our proximity to river Chambal, I will we focusing on the renewal of the Chambal Pariyojna or the Chambal Project, so that the water of the river reaches to the villages."
Zahida, maintained that despite the fact that she is no newcomer to politics, she has had to work hard to register this huge a win. "We have had to work a lot at the ground level, to make an impact in the minds of the voters. Anti-incumbency wave was there, but we had to work a lot to register this huge a win. Needless to say, we got a lot of support from the common man."
On being asked, what she would be doing for the Meo community, which has been specially targeted by the cow vigilantes in the past five years, she said, "To be honest, we were never this polarized as society, as we have been in the past few years. And that primarily was the way that the BJP government perhaps wanted it to be. People have voted against the politics of hate, you can see the performance of BJP leaders in the Mewat region."
https://enewsroom.in/rajasthan-elections-zahida-khan-meo/
--------
Murad, the Nobel Winner, Wants Justice for Women from Her Persecuted Community
DECEMBER 16, 2018
Nobel winner wants justice for women from her persecuted community
In the end, it was Rawa Auge, Al Jazeera's Arabic presenter, who began crying. Her idea was to prevent the audience from asking Nadia Murad, this year's Nobel Peace Prize winner, and a survivor of Islamic State (IS) atrocities, intrusive questions that might upset her.
Ms. Murad told her story and that of other Yazidis, a religious minority that straddles parts of Iraq, Syria and Turkey, who have been killed, abducted and raped at the hands of IS fighters, calmly and precisely.
Away from the IS
The Nobel winner, in her mid-twenties, escaped under dramatic circumstances from IS custody. All the men, including her brothers and mother, were killed when IS men took over her village, Kocho, in 2014. As many as 3,200 Yazidi women are still in IS hands and as many as 6,500 have been kidnapped and abused after being termed "concubines" by the Islamist terror group, she said. "There has been no initiative to save these women; neither from Iraq nor the international community. Some escaped and ISIS called families and sold them back," Ms. Murad said at the Doha Forum on Sunday. "Iraqi and Arab women keep mum about sexual exploitation… I dispensed with such taboos; ISIS thought women would not talk about rape. I was strong — I talked about the rape. We want ISIS perpetrators brought to justice," she said.
Her message to the international community was rather simple — if IS men were not brought to book for rape, murder and abduction, these crimes would occur again.
Her message to Arab countries was also simple: they must do more to fight religious extremism so that small minorities like the Yazidi (total population 4,00,000) don't become victims again and are able to return to the Sinjar area, their homeland.
Ms. Murad, as a girl, dreamed of starting a beauty parlour in her village. What did she dream of today, she was asked by Ms. Auge. "Helping the Yazidis to come back to their homes and live peacefully. Breed our cattle; live with our Christian and Muslim neighbours," Ms. Murad replied.
When the Q&A session ended, Ms. Murad got a standing ovation. Looking around, this reporter could see that Ms. Auge was not the only one who had tears in her eyes. Some in the audience, too, were visibly emotional.
https://www.thehindu.com/news/international/murad-dreams-of-helping-yazidis-return/article25758663.ece
--------
Muslim Women Empower 2,000 Widows with N100, 000 Each
December 16, 2018
The Sisters of Jannah (SOJ), a Muslim women humanitarian Non-Governmental Organisation (NGO) has empowered 2,000 widows and indigent women with N100,000 each to invest in small-scale businesses.
The National Coordinator of the orgaisation, Mrs Ramatu Aliyu, made this known at the launch of SOJ 2018 on Saturday in Abuja.
The News Agency of Nigeria (NAN) reports that the theme of the event was " Charity, a Path to Jannah."
Aliyu said that the empowerment was part of efforts by the group to ensure the actualisation of the ECOWAS Vision 2020 adopted by Heads of States and Governments.
She said that the organisation resolved to assist poor women and disadvantaged group through empowerment and in the area of medical care, education and skills acquisition.
She added that within three years of its existence, the organisation had recorded some achievements in all facets of human endeavours, including facilitating the release of some inmates.
She restated the determination of the group toward eliminating public misconceptions about Islam and Muslims, as well as promote authentic Islamic spirit, belief, values and culture.
In a lecture titled "Challenging Stereotype, Changing Perception on Polygamy", Dr Abdulfattah Adeyemi, said it was not mandatory for every Muslim to practice polygamy, unless if he would be fair and just.
Adeyemi, who is the founder of Baynakum Family Counselling Centre, Abuja, said polygamy was put in place to favour women, not men.
The News Agency of Nigaeria (NAN) reports that Blue IVY Medical Centre offered free medical test to participants at the event to mark three years of Sisters of Jannah
https://www.independent.ng/muslim-women-empower-2000-widows-with-n100000-each-2/
--------
Miss Universe Host Sends Message to Egypt, As Philippines Nabs Crown
December 17, 2018
DUBAI: Miss Universe 2018 host Steve Harvey took to social media to share a video message with Egyptian fans of the pageant show, which saw Miss Philippines nab the crown on Sunday night, saying they should be "proud" of Miss Egypt.
"She represented the country so very, very well. Everybody in Egypt should be so proud, she's not only beautiful, she's an absolutely wonderful person. Egypt, you've got a lot to be proud of," Harvey said in a video posted on the @missegyptuniverseofficial Instagram account.
"It's been a pleasure meeting you @iamsteveharveytv and thanks for connecting with me. It means a lot and I really appreciate it," Miss Egypt Nariman Khaled posted on her own Instagram account.
Meanwhile, Filipinos around the world cheered as Miss Philippines Catriona Gray was crowned this year's Miss Universe — the country's fourth woman to win the title.
Filipino-Australian Gray was crowned in a glittering ceremony in Bangkok, Thailand.
The 24-year old beauty went up against representatives from South Africa and Venezuela in the final round of the competition, where they were each asked the same question: "What is the most important lesson you've learned in your life and how would you apply it to your time as Miss Universe?"
Gray answered by talking about her work in a slum community in the Philippine capital, where she focuses on making education accessible to the community's youth.
"I work a lot in the slums of Tondo, Manila, and the life there is very poor, sad and I've always taught myself to look for the beauty in it, to look (at) the beauty of the children and be grateful," she said.
"If I could teach people to be grateful, we could have an amazing world where negativity could not grow and foster and children would have smiles on their faces," she added.
Dubai-based Filipinos tuned in to watch the model be crowned.
"I just landed from a five-day trip, but I didn't want to miss the live stream," Filipino flight attendant Rachel Manalo told Arab News, adding that she stayed awake until the early hours of the morning just to watch the pageant.
Even those in transit couldn't miss the show. Filipino Anne Valencia was catching a flight when the winner was announced.
"There was a lot of screaming in the airport, that's when I found out the Philippines won," Valencia, who was checking in at Manila's Ninoy Aquino International Airport when she heard the news, said.
Philippine President Rodrigo Duterte immediately sent his congratulations to the newly crowned Gray.
"Ms. Gray truly made the entire Philippines proud when she sashayed on the global stage and showcased the genuine qualities defining a Filipino beauty: Confidence, grace, intelligence and strength in the face of tough challenges," he said in a statement from the presidential palace.
"In her success, Miss Philippines has shown to the world that women in our country have the ability to turn dreams into reality through passion, diligence, determination and hard work."
http://www.arabnews.com/node/1422056/offbeat
--------
Here's How a Saudi Woman Is Helping Others Fight Poverty
16 December 2018
A young Saudi womn, Nouf Abu Ras, has been dedicated to supporting several women with low incomes to start an ambitious social project aiming to support women to financially provide for themselves and their families while working from home.
In collaboration with a local women's association, the initiative aims to help women who lost their main source of income and are affected by poverty to join sewing courses.
Abu Ras, who studied in the United States, has returned to work in Saudi Arabia at a national oil company. She launched her social project in 2014 while also joining several committees related to climate change and the fight against female poverty.
She started by visiting popular neighborhoods in the Eastern Region to meet some widowed women and their children, and others who had been forced to face a harsh life and secure a living.
The project was named "Kurat" with Abu Ras explaining the reason behind the name.
She tells Al Arabiya English that the single of Kurat -- Kurta -- is the name given to old dresses worn in Hejaz, just like the Abaya resembles a dress.
"The idea revolves around supporting widowed women and girls with low income by joining sewing courses and buying them sewing machines to work from home, instead of offering them financial support from time to time."
Her project aims to support women in society and highlight their professional abilities.
She said women taking part in the project are called "stars" for "fighting poverty with their work and effort."
The return on sales contributes to the improvement of the quality of life of these women, thus achieving a sustainable project to improve the income of the targeted families for the long term.
https://english.alarabiya.net/en/variety/2018/12/16/IN-PICTURES-Here-s-how-a-Saudi-woman-is-helping-others-fight-poverty.html
--------
No Decrease in Violence against Women in Pakistan This Year
December 17, 2018
In 2018, incidents of violence against women escalated. The year began with the rape and murder of an 8-year-old namely Zainab, as a report called Pakistan the sixth most unsafe country for women when it comes to physical abuse and sexual violence among other psychosocial insecurities.
There were some redemptive measures such as the passing of the Acid and Burn Crime Bill 2017 in May which pledged free treatment for victims of acid attacks. In November, Khyber Pakhtunkhwa cabinet passed a bill condemning domestic violence which is expected to be put up before the provincial assembly.
However, as the chairperson of the National Commission on the Status of Women (NCSW), Khawar Mumtaz has argued that the passing of laws will have no impact upon such modes of violence unless they are strictly implemented.
https://www.pakistantoday.com.pk/2018/12/17/no-decrease-in-violence-against-women-this-year/
--------
Emirati Amna Al Qubaisi Becomes First Arab Woman To Test Drive A Formula E Car
Adam Workman
December 16, 2018
Emirati racing driver Amna Al Qubaisi on Sunday became the first Arab woman to take part in a Formula E test when she drove for the Envision Virgin Racing team in Riyadh.
Al Qubaisi, 18, was only able to complete seven laps, however, after an accident on the street circuit, which was the scene of the first Saudia Formula E Ad Diriyah E-Prix on Saturday.
"The track was very dusty and there were some damp corners, and if you come off-line, you lose the car completely and you go in the wall," she told The National, after the morning test session. "I lost the rear of the car and I hit the left rear on the wall. It wasn't a big impact, it was quite a light impact, but it still damaged a few parts of the car, so I had to retire."
Despite the brevity of her testing bow in the world's top all-electric racing series, however, she enjoyed her experience behind the wheel of the Gen2 car.
"The car was nice," she said. "It was my first time to drive on a street circuit, so going through the corners was quite tricky. The Formula E car in general is a nice car to drive."
And the significance of being involved in a landmark weekend for the kingdom was also not lost on Al Qubaisi, who is the daughter of Khaled Al Qubaisi, the first Emirati to compete at the Le Mans 24 Hours.
"It's been very nice to drive around Riyadh in general, because they've recently allowed women to drive in Saudi Arabia," she said. "It's almost like a dedication to women in Saudi Arabia."
https://www.thenational.ae/sport/other-sport/emirati-amna-al-qubaisi-becomes-first-arab-woman-to-test-drive-a-formula-e-car-1.803471
--------
India: Triple Talaq Bill Introduced In Lok Sabha
17 DECEMBER 2018
New Delhi, Dec 17 The Muslim Women (Protection of Rights on Marriage) Bill, 2018, commonly known as the Triple Talaq Bill, was introduced in the Lok Sabha on Monday despite opposition from the Congress and amid protests over the Rafale controversy.
Union Law Minister Ravi Shankar Prasad introduced the bill amid ruckus created by opposition members including the Congress, AIADMK and TDP over various demands.
Soon after the House reassembled at noon after the first adjournment, the Congress, the AIADMK and TDP members trooped near the Speaker's podium and started sloganeering.
The Congress members were demanding a Joint Parliamentary Committee (JPC) probe into the Rafale jet fighter deal with France while the AIADMK members wanted Karnataka to take back its proposal to construct a dam across the Cauvery river at Mekadatu.
The TDP members raised several issues related to special status to Andhra Pradesh.
Amid the din, Minister Prasad sought permission from the Chair to introduce the bill.
Congress member Shashi Tharoor opposed the bill claiming it was targeted at a particular religion and hence unconstitutional.
"The bill was based on the ground of a specific religion and it was violation of sections 14 and 21 of the Constitution. This is a misconceived bill," he said.
His objections were rejected by Prasad.
"The bill was brought in as per the direction of the Supreme Court to protect the rights of Muslim women. Several Muslim women suffered due to instant talaq. This bill is in the nation's interest and constitutional. The objection is baseless," Prasad said and then introduced the bill.
The government could not pass the bill in Rajya Sabha during the previous monsoon session.
Later it issued an ordinance on September 19 in making Triple Talaq a criminal offence.
https://www.outlookindia.com/newsscroll/triple-talaq-bill-introduced-in-lok-sabha/1441480
--------
UAE Sets A Global Example With Women Empowerment
December 17, 2018
Kathmandu: An international conference organised by the Abu Dhabi-based World Muslim Communities Council (WMCC) in Kathmandu on Monday highlighted the key role played by women in the phenomenal development of the UAE, in the hope that it would be emulated in other countries as well.
The one-day conference is being held in the Nepali capital in association with the the non-profit Nepal Muslim Women Welfare Society (NMWWS) which is working towards empowering disadvantaged Muslim women within the hilly kingdom.
Addressing the opening session in the morning, Dr Muhammad Bechari, WMCC general secretary, spoke on the the UAE leadership's vision in empowering women in the country. "Our leadership has played an exemplary role in fostering women's role for the inclusive development of the UAE," he said.
Dr Ali Al Nuami, WMCC President, said, "In the UAE, we have seen the outcome of engaging and empowering women in our development process. Just two days ago, our leadership announced 2019 as the Year of Tolerance. UAE is a multicultural society and we are proud of our diversity, which is a source of strength and not a threat."
He said, "No nation can achieve its real objective of development unless it empowers its women. We in the UAE want to show the world the achievements we have realised by engaging women from all over the world."
Nepal Vice-President Nanda Bahadur Pun, who inaugurated the conference, said,"Nepal is a multiethnic, multi-linguistic and multi- religious country which also prides itself with its diversity."
He said the inclusive development of Nepal would not be complete without the participation of women, especially from the Muslim community, many of whom are oppressed and lagging behind in social and economic progress.
He said the Constitution has ensured that women are given their due, but unless society does away with its patriarchal mindset, true change cannot come about.
Seema Khan, NMMWS chairperson, who spoke on the struggle of women in the backward sections, hoped the conference would pave the way for some concrete steps that can be taken to improve their lot.
UAE Ambassador in Nepal Saeed Hamdan Al Naqei was also present.
https://gulfnews.com/uae/uae-sets-a-global-example-with-women-empowerment-1.60984261
--------
Research Report on Women in E-Business Launched
Myra Imran
December 17, 2018
Complicated taxation and registration system act as a deterrent for tech-enabled women entrepreneur start-ups in Pakistan.
A growing number of women are using technology to start a business in Pakistan. These new comers in business world face cultural deterrents including lack of a supportive environment for mothers and difficulty in networking for business development. Additionally, the lack of reasonably priced and safe commuting options is hindering women's mobility limiting the growth of their start-ups.
These conclusions were drawn in a new publication 'SheConnects – Tech-Enabled Women Entrepreneurship in Pakistan', launched by Media Matters for Democracy and Friedrich-Ebert-Stiftung (FES).
The research says that technology has generally been an enabler for women entrepreneurs in Pakistan. From allowing them access to larger markets, to enabling connections with vendors and local producers, bringing down the cost of marketing and product placements, women entrepreneurs in Pakistan are making good use of technology in all aspects of setting up and running their entrepreneurial set ups.
It says that the overall environment for women entrepreneurs in Pakistan is improving. With an increase in the number of women in entrepreneurship, the landscape is fast becoming more inclusive and engagement with a more diverse group of women is increasing. Women have more access. There is more opportunity particularly through private and public events and competitions that encourage participation of women.
The research also highlights challenges with the taxation system that has been deemed unfriendly to start-ups by multiple interviewees. The author recommends creating new tax brackets that are responsive to the particular challenges of new start-ups that have yet to become profitable.
The research celebrates growing and active engagement of multiple government initiatives and private sector incubators and accelerators as enablers for women entrepreneurs. However, the role of academic institutions has been found to be questionable and the author recommends academic institutions to institutions to offer expertise about local markets, to increase connections with the industry and to increase the focus on innovative, tech enabled solutions.
Speaking at the report launch, Her Excellency, Marain Kappeyne, Acting Ambassador of Netherland appreciated the research saying, "I think it is a very timely report, on what are the challenges Pakistani women can face and how can technology and internet help. The recommendations are very clear and I recognized many of them as in my country it was and still is difficult for women to start a business. I think this research is giving tools to Pakistani women," she said. She also added that women should join forces and support each other in such matters.
"This study is a very basic mapping of the growing trend of women entrepreneurs entering the tech enabled economy in Pakistan. Based on interviews with ten women entrepreneurs, I have mapped the enabling factors, the pitfalls, the challenges and possible solutions", says Sadaf Khan, co-founder and director Media Matters for Democracy and author of the report.
"It was very interesting to note that technology is not just enabling women entrepreneurs but actually expanding opportunities for different kinds of home-based workers who start working with these start-ups."
Deputy Head of the German Mission Dr Jokish noted that women around the world face similar issues when they step out to work or use technology. He stressed that we need to work collectively to overcome the barriers.
Speaking at the event, Sidra Saeed, Friedrich-Ebert-Stiftung, noted that "Women entrepreneurs to face a lot of challenges. These include patriarchal enrooted issues and others like lack of education, knowledge etc. therefore this discourse on women in digital entrepreneurship needs to be strongly embedded not only as an economic topic but also culturally.
https://www.thenews.com.pk/print/406891-research-report-on-women-in-e-business-launched
--------
A lonely fight for Yemen's only female delegate to UN-backed talks
Mina Aldroubi
December 13, 2018
It is widely acknowledged that women in Yemen are disproportionally affected by the conflict, but in this week's UN-backed talks, only one Yemeni woman took part directly in negotiations that ultimately aim to bring rival parties closer to achieving peace.
"Women suffer greatly from the aftermaths of war," Rana Ghanem, assistant secretary of Yemen's Nasser organisation and member of the government delegation, told The National on the sidelines of talks in the rural Swedish town of Rimbo.
"As the only woman among the delegates, I feel that I have to carry a lot of responsibilities including the status and situation of Yemeni women," she said.
Yemeni women are among those hit hardest by a conflict that has produced the world's worst humanitarian disaster and has killed thousands of civilians. Beyond suffering from malnutrition and dwindling health conditions, Yemeni women are also disproportionately affected by rape and other forms of sexual violence that tend to increase during war.
Ms Ghanem said that the impact of war on women is often overlooked, noting that a growing number of women are losing husbands, fathers, siblings and other relatives due to fighting.
"If there were more women in the delegation this would have alleviated pressures (on me)" she said, explaining that she feels like the burden of representing women's issue fell solely on her.
Recent studies have shown that the inclusion of women in peace processes is essential to establishing lasting peace. A study from the Council on Foreign Relations found that including women in negotiations makes the agreement 64 per cent less likely to fail. The same report showed that women's participation in peace processes makes long-term agreements 35 per cent more likely to last for at least 15 years.
In an attempt to remedy the problem of weak female representation in this week's Yemen talks, the UN envoy to Yemen, Martin Griffiths, invited a group of eight women to assist him during negotiations to set a framework for ending the crisis.
The Yemeni Women's Technical Advisory represents different political parties, civil society, activists and development workers in Yemen.
The female advisory team did not engage directly in negotiations but they held meetings with the rival parties as well as members of the diplomatic community and the Foreign Minister of Sweden, the UN envoy's office said in a statement on Wednesday.
"[They] discussed possible ways of bringing the voices of Yemeni women to the peace-making process. The Group has also engaged in presenting strategy papers and proposals that guide the Special Envoy in his mediation role to bring the war to an end," the statement said.
Ms Ghanem said that among the leading concerns for Yemen's women is to identify the fate of those who had gone missing and secure the return of captives and prisoners.
She also said that female activists are very concerned about women's participation in peace talks. Previous dialogue sessions have secured thirty per cent representation for women in peace negotiations, but that has yet to materialize.
Ms Ghanem said that increased female participation is a leading demand.
Many activists accuse Yemen's male politicians of not believing in the competence and capabilities of women and they say that these male politicians are unaware of the importance of female participation in the peace process.
"Today these women activists release statements everywhere and in Taez, they are contributing to achieving reconciliation," Ms Ghanem said, lauding their efforts.
UN-backed talks in Sweden closed on Thursday, with warring parties agreeing on a ceasefire deal for Hodeidah. This comes after rivals also agreed on a prisoner swap deal. The next round of talks is scheduled for January.
https://www.thenational.ae/world/mena/a-lonely-fight-for-yemen-s-only-female-delegate-to-un-backed-talks-1.802535
--------
URL: https://www.newageislam.com/islam-women-feminism/iranian-activist-narges-mohammadi-sentenced/d/117181
New Age Islam, Islam Online, Islamic Website, African Muslim News, Arab World News, South Asia News, Indian Muslim News, World Muslim News, Women in Islam, Islamic Feminism, Arab Women, Women In Arab, Islamophobia in America, Muslim Women in West, Islam Women and Feminism