New Age Islam News Bureau
18 May 2018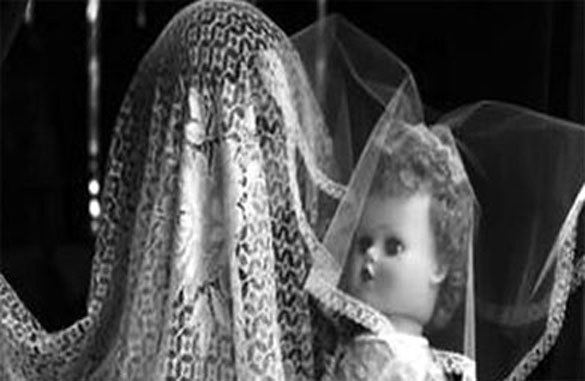 Representational photo: The average marriage age for girls is in Zaweh is 11.
-----
• Saudi Women Drivers Express Hopes and Fears As Countdown Begins
• SC Allows 20-Yr Old Woman to Live With Her Parents
• Meet the First Saudi Female to Receive the Oil and Gas Woman of the Year Award
• Knitting Their Dreams, Syrian Refugee Women Create New Brand
• Ukrainian Parliament Spotlights Agony of Syrian Women
• Iran: Women Protesters Appear In Court
• Iran: Women's U17 Futsal Team Withdrawn From Youths' Olympic
• Islamic Feminist Asma Lamrabet Publishes 'Women and Men in the Qur'an' in the US
Compiled by New Age Islam News Bureau
URL: https://www.newageislam.com/islam-women-feminism/iran-zaweh-girl-children-get/d/115287
--------
Iran: Zaweh Girl Children Get Married At 11
17 May 2018
The average marriage age for girls is in Zaweh is 11. Zaweh is a village located near a town by the same name in Razavi Khorassan Province in northeastern Iran.
Ali Baghdar Delgosha, advisor in youths' affairs the Governor of Razavi Khorassan Province, made the announcement at a meeting entitled, "The Forgotten Childhood," held on Monday, May 14, 2018, at the School of Literature of Ferdowsi University of Mashhad.
Delgosha pointed out, "According to last year's census, 63,000 girls under 15 have married in Tehran. A more regretful statistic belongs to some townships of Razavi Khorassan Province such as Zaweh where the average marriage age for girls is 11 years old."
https://women.ncr-iran.org/iran-women-news/5080-iran-zaweh-girl-children-get-married-at-11
--------
Saudi Women Drivers Express Hopes and Fears As Countdown Begins
17 May 2018
The countdown has started in Saudi Arabia for women to sit behind the wheel, when females will be allowed to start driving in the kingdom starting from June 24.
While many Saudis are waiting to see this new scene on Saudi roads and which has been long awaited by women, many of whom are preparing for this day, while others are taking driving lessons in order to obtain driving licenses
A female driver in a training center in Saudi said a large number of applicants are ladies in their sixties compared to a trickle of applicants from among university students and teenagers. She said that's because they rely more on their drivers and that some families would not prefer their daughters to drive at this young age. The situation is different with working females, as they prefer to be independent.
The trainer added that the older females become easily tired during the driving sessions, and they tend to fail the field tests.
When Saudi women were asked about the first drive they will take on June 24 and what is their biggest fear, answers varied between taking a simple drive in the neighborhood, or to drive accompanied with family members or to drive to do some grocery shopping, most of them agreed that meeting with an accident on the road was their biggest fear.
Sherin Bawzer, said that her first drive will be "to go to the supermarket" but she is scared of speedy drivers and from motorists who overtake from the right side. For Fatima al-Nisan it will be a family affair, who says: "On the first drive I will be accompanied by those who are close to me, whom I trust that they will be joining me in celebrating this day, while road curves and sudden breakdowns are very worrying and scary."
Amani al-Salimi said she will drive to work on that day without waiting for the driver to pick her up, adding that she is terrified of traffic congestion and road accidents.
In a confident tone, Khulood al-Harithi says that the first time she will be behind the wheel she will take her family out and would tell them she does not need anyone with her anymore, but she is scared that a tree will fall on her or she will fall asleep while driving.
For her part, Khulood al-Ebrahim said she is mostly worried about motorists who do no respect the law, while Mariam al-Hasan is not fearful of anything and the first trip she will take will be just to wander around aimlessly.
Najat al-Majeed said shopping malls will be her focus when she starts driving, especially those around her home, and that she is scared of driving up hills, or of running out of petrol or a breakdown in remote areas which will put her in an embarrassing situation calling for help from others.
Mouna al-Qadri prefers to delay getting a driving license for a while and would watch the situation despite the fact that she is convinced that this experience is very good, but not necessarily she will take part in it.
Lubna Mohamed mentioned that women will be divided into two categories after driving lessons: working females who will drive to their workplace and "housewives" who can drive in emergency situations to hospitals, adding that she is "scared of breakdowns and flat tires. A situation will force me to order a cab and I do not like to be driven by a stranger.. also I am scared of running over animals.."
Fatima Outhman said her first drive will be with family and friends and she is scared of motorists who do not know driving laws, while Tahani Attif pointed out that her first time behind the wheel will be for grocery shopping while she fears narrow roads and accidents.
https://english.alarabiya.net/en/features/2018/05/17/Saudi-female-drivers-paint-a-mosaic-picture-on-first-day-of-driving-.html
--------
SC Allows 20-Yr Old Woman to Live With Her Parents
May 17, 2018
New Delhi, May 17 (PTI) The Supreme Court today allowed a 20-year old woman to live with her parents instead of her alleged husband, saying being a major, she was "free" to lead her life as per her wish.
A bench of Chief Justice Dipak Misra and Justices A M Khanwilkar and D Y Chandrachud took the decision after interacting with the woman, who expressed her desire to go with her parents residing in Haldwani district of Uttarakhand. However, it did not touch the aspect of their marriage.
The top court disposed of a habeas corpus petition filed by 23-year-old Mohammad Danish seeking that his wife be freed from the custody of her parents.
"After we made some queries, we find that she has a clear mind and intends to stay with her parents. In view of the aforesaid, the habeas corpus petition filed by the petitioner shall stands disposed of," the bench said, without touching the aspect of marriage.
During the hearing, the bench asked the woman with whom she wanted to go and what did she want to be.
"You are a major and as per law, you are free to lead your life as per your wish. You can go wherever you want to go. Now tell us with whom you want to live," the bench asked the woman.
The woman replied that she was a commerce graduate who wanted to be an entrepreneur and wished to go with her parents.
The parents of the woman, who accompanied her to the courtroom, said her so-called husband had allegedly kidnapped her and a "fake" Nikahnama (marriage contract) was executed by him.
Deputy Advocate General Manoj Gaurkella, appearing for the state government, told the court that the Nikahnama and the marriage certificate were fake. He claimed it was a clear case of abduction and the petition of Danish should be dismissed.
The apex court had on May 15 asked the Uttarakhand police to bring the woman before it today after Danish claimed that she was forcibly kept in the custody of her parents.
The Uttarakhand police had arrested the couple from Delhi after lodging an FIR alleging abduction, on a complaint filed by the womans parents.
Danish had moved the court seeking reunion with his wife saying he was arrested by the police and lodged in Haldwani jail since April 20 for the alleged abduction of his wife, a Hindu girl who had later converted to Islam on her own free will and had taken a different name.
His petition said both of them hailed from Haldwani district and were pursuing Bachelors in Business Administration in Bheemtal town where they fell in love.
He had claimed that her parents were opposed to their marriage and relationship and hence they got married in Ghaziabad as per Islamic rituals and customs. PTI MNL ABA SJK RKS ARC ARC
https://www.indiatoday.in/pti-feed/story/sc-allows-20-yr-old-woman-to-live-with-her-parents-1235550-2018-05-17
--------
Meet the First Saudi Female to Receive the Oil and Gas Woman of the Year Award
18 May 2018
Saudi oil giant Aramco held its eighth annual award ceremony where the star of the night was Abeer Olayan, a petroleum scientist at the EXPEC Advanced Research Center (EXPEC ARC) who develops new materials for drilling fluids and cementing.
Olayan received the Oil and Gas Woman of the Year Award, making her the first Saudi female to receive this prestigious title.
"I feel very proud to be receiving the Woman of the Year Award," she said. "This outstanding recognition not only represents me but every woman in Saudi Aramco who works hard alongside her fellow men to lead the company to success. Winning would not have been possible without the support I've received from my family and Saudi Aramco management."
In her work to develop chemical products utilizing natural resources, Olayan collaborates with MIT's Material Science and Engineering Department and has developed new shear thickening fluids based on nano-silica that can be used for different Saudi Aramco drilling applications.
Olayan teaches a class named "The Power of Science in Overcoming Challenges in the Oil and Gas Industry" at the prestigious university, and is the first woman from Saudi Aramco to do so.
"I consider my greatest achievement becoming the first woman to receive the Oil and Gas Woman of the Year award, and the second greatest achievement which is very dear to me is teaching at MIT," she said.
Speaking about how she became interested in this field of work, Olayan said she was inspired by her father.
"I was interested in the oil and energy field since I was a child as my father worked in this field and he inspired me to do the same," Olayan said.
But Olayan's journey into the oil and gas field was not an easy one. She said that after graduating high school, opportunities in this field for Saudi women were limited.
"I decided to focus on my other interest which is chemistry. I excelled in the subjects related to oil and gas. I was a member of the Saudi Chemical Society where several Aramco employees were also members so this is where I was introduced to the company and got a job there," she said.
Olayan joined Aramco in 2011. Among her achievements during her time at the company, Olayan developed a new material that will be deployed in the field next month. The material will resolve loss circulation in drilling operations by replacing expensive imported raw material with locally manufactured material.
Olayan emphasized that the fields of work for Saudi women have varied and increased from the past, as Saudi women are now working in engineering, aviation, business and other sectors, and have become partners in the kingdom's development.
"If you believe in the work that you are doing, or in what you aspire to be, just go for it," she said.
https://english.alarabiya.net/en/features/2018/05/18/Meet-the-first-Saudi-female-to-receive-the-Oil-and-Gas-Woman-of-the-Year-Award.html
--------
Knitting Their Dreams, Syrian Refugee Women Create New Brand
18 May 2018
Their lives forever changed by the ongoing civil war in Syria, women of that country started over again in Turkey, a neighbor that embraced more than 3.5 million displaced by the conflict that erupted in 2011. A charity-run center in Istanbul that helped train them in new professions enabled them to create their own brand of handicrafts. Hayal, or dream in English, now helps women earn an income and sharpen their skills.
The Center for Refugee Women in Edirnekapı, Istanbul is run by Turkey's leading non-profit, Women and Democracy Association (KADEM), and the state-run Disaster and Emergency Management Authority (AFAD) that oversees humanitarian needs of Syrian refugees. The center offers services to refugee women, from social support to lifelong learning classes. One such class enabled them to knit whatever they wanted. Their labor of love soon turned into end-user products and inspired the idea to build a brand.
KADEM President and associate professor Sare Aydın Yılmaz said that women were provided with "social integration projects helping them to recover from the suffering they were exposed to" by the conflict. Handicraft classes are among the courses offered to help them acquire new skills and earn extra income for their families. "These women quit social life because of war and lost their self-confidence, their experience [back in Syria] and their economic freedom. They need to regain living standards they had in their country. They need a steady income to care for their family," she told Anadolu Agency (AA).
"We train them so that they can overcome obstacles, while adapting to their new lives here. We first taught them Turkish and then launched sewing classes as it is among the most common pastimes for women," she added. Sixty-two refugee women took knitting and sewing classes, and the women were soon able to create distinguished pieces, inspiring the creation of Hayal. It is now on sale in shops in Turkey and abroad.
Amal Greir, a 47-year-old refugee who arrived in Istanbul from Homs, Syria, nine months ago, is among the contributors to the new brand. Greir and her three children fled to Turkey after her husband's death while in detention by the regime forces. The family took shelter in an orphanage in Turkey. "I was a bit adept in knitting before but I improved here. I now have a profession. I can work elsewhere too. Hayal means hope for us," she says.
Nadia Hamik, a 50-year-old woman, arrived from Damascus. "I learned how to make handicrafts for the first time in my life. I have to work for my family. We had so many troubles in Syria, but I feel fine again here," she says.
Goufran Ashour, a 21-year-old, arrived in Istanbul from Damascus five years ago with her family. In her first year at Istanbul University where she studies to be a sciences teacher, Ashour spends her free time at the course. "I wanted to learn something on the side. Plus, I can earn some money," she says. Ashour accompanied Bushra, her elder sister, to the knitting and sewing classes. Bushra says she made a new circle of friends in the classes. "I met new people and learned a lot. This is a good way to feel like living again. We sell things we make and earn money for our families. I advise other Syrian women to attend these classes.
Women and children make up the majority of refugees, and they are also the most vulnerable among refugees. According to a KADEM survey of women refugees, 94.4 percent did not work in Syria and only 22.7 percent expressed willingness to join the labor force in Turkey.
https://www.dailysabah.com/turkey/2018/05/18/knitting-their-dreams-syrian-refugee-women-create-new-brand
--------
Ukrainian Parliament Spotlights Agony of Syrian Women
May 17th, 2018
A delegation of an all-women international convoy highlighted human rights abuses against Syrian women during a roundtable Wednesday at the Ukrainian parliament in Kiev.
The roundtable was chaired by Ukrainian deputy Olga Bogomolets, who invited the Conscience Convoy delegation to Kiev, and attended by representatives from several countries including Turkey, the Netherlands, Japan, France, Portugal and South Korea as well as mothers of victims of the conflict in eastern Ukraine.
Ukraine has been mired in a devastating conflict in its eastern regions since March 2014, following Russia's annexation of Crimea after an illegal independence vote.
The warring parties signed a cease-fire in February 2015, but the fighting continued, claiming more than 10,000 lives, according to the UN.
The UN General Assembly voted to proclaim the Russian annexation illegal. Along with many UN member countries, the U.S., EU and Turkey also do not recognize Crimea as Russian territory
Conscience Convoy
More than 6,700 women -- over 400 of them young girls -- are still living in prisons run by Syrian regime forces, according to a statement by the Conscience Convoy.
The international Conscience Convoy, which calls itself the "voice of oppressed women in Syria," on March 6 embarked on a three-day journey with 55 buses from Istanbul that ended in Hatay, Turkey, near the Syrian border, with a final rally attended by over 10,000 women to mark International Women's Day.
Women from over 50 countries including Syria, Ukraine, Chile, Palestine, Iraq, Britain, East Turkestan, Brazil, Malaysia, Pakistan, Kuwait and Qatar addressed the large crowd at a fairground in Antakya, Hatay.
The convoy included women from all creeds and professions such as civil representatives, lawyers, academics, artists, athletes and housewives.
Bogomolets participated in the Conscience Convoy on its three-day journey in Turkey in March.
She said it is important to raise awareness in Ukraine on the situation of Syrian women as mothers of victims who lost their lives in the conflict in the county's east can relate to their pain and show solidarity.
Speaking about her experiences with the convoy, Bogomolets praised the unity of women for women and pledged her support for further steps of the initiative.
Nalan Dal, spokesperson of the Conscience Convoy, said the Syrian crisis has entered its eighth year and continues to expose Syrians to suffering.
Dal said the Syrian detainees are referred to as "forgotten women" in Assad regime prisons who are exposed to torture and sexual assault, stating that it is everyone's moral responsibility to show solidarity with these women.
Addressing the participants of the roundtable, Dal asked those present to include the suffering of women and young girls imprisoned by the Syrian regime and the work of the Conscience Convoy in their agendas.
Dima Moussa, a Syrian lawyer, and Munira Subasic, head of the Mothers of Srebrenica and Zepa, also addressed the roundtable as part of the Conscience Convoy delegation.
Reports of the Conscience Convoy, which include testimonies of former Syrian detainee women, were also distributed.
Syria has been locked in a vicious civil war since 2011 when the Bashar al-Assad regime cracked down on pro-democracy protests with unexpected ferocity.
Since then, hundreds of thousands of people have been killed in the conflict, according to the UN.
https://www.albawaba.com/editorchoice/ukrainian-parliament-spotlights-agony-syrian-women-1133232
--------
Iran: Women Protesters Appear In Court
17 May 2018
Eleven detainees including a woman arrested in Arak during the Iran uprising in December 2017- January 2018 appeared in court.
Neda Yousefi and ten others faced trial on the charge of "disrupting public order" at branch 102 of the Penal Court of Shazand, Arak, on Monday, May 14, 2018.
More than 8,000 people were arrested during these nationwide protests a number of whom were temporarily released until their trial time and others are still in jail.
In another development on the same day, at least 70 Gonabadi (Yaresan) dervishes including a number of women faced trial in the so-called revolutionary courts. Most of them were indicted of "acting against national security" charges including through "gathering and collusion against national security", "defying law enforcement agents", "disrupting public peace and order" and in some cases "membership in Majzoban Noor (Gonabadi dervishes group)."
It was earlier reported that eight Yaresan women inmates were taken to court from the notorious Qarchak prison without any lawyer companying them.
https://women.ncr-iran.org/iran-women-news/5082-iran-women-protesters-appear-in-court
--------
Iran: Women's U17 Futsal Team Withdrawn From Youths' Olympic
17 May 2018
It is the right of U17 women to participate in the Youths' Olympic in Argentina.
This was the reaction of the head coach of Women's U17 futsal team to the withdrawal of her team from the Youths' Olympic games. She said, "Girls' participation in these competitions is their right."
Responding to the Federation officials who said her team is not going to be sent to the Youths' Olympic in Argentina, Shahnaz Yari said: "These girls have a right to participate in the tournaments. Why do they easily pass on their rights?"
Criticizing the federation's prioritization, she said it was possible to send both boys' and girls' teams. "We were told to first win our place in the games for them to make the subsequent decision. But now, they have withdrawn the girls' team and decided to send the boys while the boys' team has been formed for only six months."
Pointing to the history of the girls' team, she said, "Women's futsal team has been strong, winning two rounds of Asian championship. Why do we have to be deprived of our right and chance to participate in the Olympic tournaments?"
Yari disparaged lack of support for women's sports and added, "The girls' team has always been successful in world tournaments despite all the shortcomings; why don't we use the opportunity of Olympic games for showing the girls' presence?" (The state-run IRNA news agency- May 14, 2018)
https://women.ncr-iran.org/iran-women-news/5081-iran-women-s-u17-futsal-team-withdrawn-from-youths-olympic
--------
Islamic Feminist Asma Lamrabet Publishes 'Women and Men in the Qur'an' in the US
May 17, 2018
In her book, Lamrabet defies preconceived Islamophobic ideas about subjects like the treatment of Muslim women, as she frames Islam as an egalitarian spiritual ethic.
The 195-page book has been published by Palgrave Macmillan and is translated from its original French version by Muneera Salem-Murdock, the former resident director of the Millennium Challenge Corporation in Morocco.
The book distinguishes the spiritual message message of Islam from the socio-political context at the time of its revelation, challenging notions of oppression and patriarchy commonly held in the West.
"Stuck between a Western rhetoric that portrays them as obedient figures in search of an impossible freedom, the majority of Muslim women find themselves stuck in this eternal duality," Asma Lamrabet noted while presenting her book.
Moreover, Lamrabet advocates for "a deep reconsideration of the spiritual message of Islam toward human relations as expressed in innumerable verses in the Quran that highlight the importance of shared responsibility, and mutual respect and support between men and women."
"Asma Lamrabet's book makes a convincing argument through two essential points: first, the non-existence of the notion of the universal Muslim woman, and second, the fact that the patriarchal interpretation on the status of women in Islam is not supported by the Quran," explained Peter Mandaville, professor in George Mason University.
Born in 1961, Lamrabet is the founder of a working group for women's issues and intercultural dialogue, and a major contributor to "Third Way" feminism, a movement that questions religious patriarchy and fights sexism in Islam.
In March, Lamrabet resigned from her position as director in the Mohammadian League of Scholars, "Rabita Mohammadia of Oulemas," due to disagreements over equality of inheritance between men and women.
https://www.moroccoworldnews.com/2018/05/246511/asma-lamrabet-women-and-men-in-the-quran-us/
--------
URL: https://www.newageislam.com/islam-women-feminism/iran-zaweh-girl-children-get/d/115287
New Age Islam, Islam Online, Islamic Website, African Muslim News, Arab World News, South Asia News, Indian Muslim News, World Muslim News, Women in Islam, Islamic Feminism, Arab Women, Women In Arab, Islamophobia in America, Muslim Women in West, Islam Women and Feminism