New Age Islam News Bureau
26 Dec 2018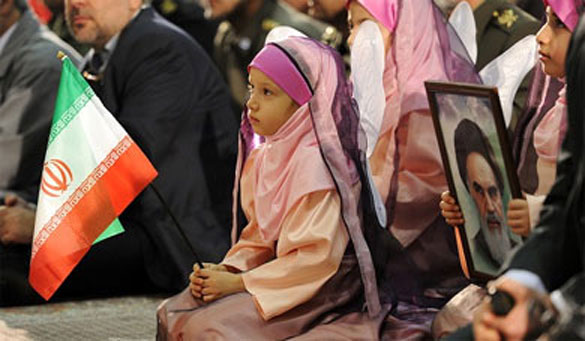 Lawmakers in Iran have defeated a bid to outlaw the marrying of girls aged nine to 13, just days after the findings of a new global report indicate, once again, that women fare worse in Islamic countries.
-------
• Some Saudi Companies Refuse To Hire Niqab-Wearing Women: National Society for Human Rights
• Asmaa Gouda Becomes the First Woman to Drive a Taxi in Beni Suef
• Bana Alabed Receives Arab Woman of the Year Award in London
• Saudi Women Entrepreneurs Share Expertise In Innovation
• Nothing Can Hold Down Iran's Female Footballers: Katayoun Khosrowyar
• Social Challenges Hold Back Women's Economic Participation
• Afsaneh Rezaii Sent to Prison for Protesting Her Mother's Arrest
Compiled by New Age Islam News Bureau
URL: https://www.newageislam.com/islam-women-feminism/iran-wont-outlaw-marriage-under/d/117271
--------
Iran Won't Outlaw Marriage of Under-13 Girls, as Islamic Countries Fare Worst in Annual Gender Survey
December 25, 2018
Lawmakers in Iran have defeated a bid to outlaw the marrying of girls aged nine to 13, just days after the findings of a new global report indicate, once again, that women fare worse in Islamic countries.
A female lawmaker described as a reformist expressed regret at the decision, which was taken by the parliamentary committee dealing with legal and judicial affairs, saying forcing children to marry young was akin to "killing them."
"We intended to allow little girls to enjoy their childhood but unfortunately the motion failed," the ISNA news agency quoted Tayebeh Siavashi as saying.
Currently, girls in Iran may be legally married at 13 although those as young as nine may be married with the permission of their fathers or a court.
The rejected motion had aimed to lift the legal marriage age to 16, and to enable marriage between 13 and 16 only with the approval of a legal guardian.
Siavashi was quoted as saying that between 30,000 and 40,000 Iranian girls are married under the age of 13, and some 300 at even younger than nine years of age.
The law change initiative sparked considerable debate, according to Iranian media outlets. The chairman of the committee, Allahyar Malekshahi, said feedback had been received from legal and medical specialists, as well as experts in Islamic law, the teachings of the Qur'an and the Hadiths, or traditions of Mohammed.
Islam's 7th century prophet consummated his marriage to Aisha, the youngest of his dozen wives and concubines, at the age of nine, according to an authoritative Hadith. They had married when the child was six.
(Last October, Europe's premier human rights court ruled that remarks about Mohammed acting as a pedophile were are not covered by the right to freedom of expression, agreeing with a court in E.U. member-state Austria that they constituted "an abusive attack on the Prophet of Islam which could stir up prejudice and threaten religious peace.")
According to 2018 UNICEF data. 17 percent of Iranian girls are married younger than 18. The equivalent figure for the U.S. is 0.46 percent, according to the Pew Research Center.
Child marriage is just one area where the treatment of women in Iran has prompted concern.
A 2017 U.N. report referred to official discrimination against Iranian women including underrepresentation in decision-making positions and the labor force, harassment of women's rights campaigners, and unequal treatment relating to divorce, child custody, attire, and freedom of movement.
Other U.N. reports have also noted that under Iran's Islamic penal code, "a woman's testimony in a court of law is regarded as half that of a man's" and that abuses of female prisoners include forced marriages, sexual violence and torture, and the rape of virgins awaiting execution.
Early this year dozens of women in Iran were arrested for removing their hijabs in public as a protest against the enforced dress code, and some were later convicted and imprisoned.
Iran is currently an elected member of two of the top U.N. agencies for women's empowerment, the 45-member Commission on the Status of Women, and the 41-member executive board of the agency known as U.N. Women.
Not just Iran
The World Economic Forum's 2018 "Global Gender Gap" report assesses differences between men and women in 149 countries, in the areas of political empowerment, economic participation and opportunity, educational attainment, and health and survival.
The latest version of the comprehensive survey, released last week, is topped by the Nordic countries, with Iceland, Norway and Sweden in the top three placings.
The bottom end of the rankings is dominated by Islamic nations.
Of the bottom 30 countries in the rankings – positions 120 to 149 – all but four are members of the Organization of Islamic Cooperation (OIC) bloc. The exceptions are the Democratic Republic of Congo (144th place), Angola (125), Timor Leste (124) and Bhutan (122).
The bottom-ranking ten countries are (from the bottom): Yemen, Pakistan, Iraq, Syria, Chad, DRC, Mali, Iran, Saudi Arabia and Lebanon.
Of those 30 countries where women are treated worst, seven are members of the U.N. Women board this year: Yemen, Pakistan, Iran, Burkina Faso, Nigeria, Bahrain and United Arab Emirates.
Iran and Pakistan end their stint at the end of this month, but on next year's U.N. Women executive board their places will be taken by two other countries also on the bottom 30 of the WEF report – Angola and Saudi Arabia.
U.N. Women's full name is the U.N. Entity for Gender Equality and the Empowerment of Women.
Another top U.N. women's body, the Commission on the Status of Women (CSW), also has its share of countries in the bottom-ranking 30 on the Global Gender Gap report: Iran, Iraq, Bahrain, Kuwait, Qatar, Saudi Arabia, Algeria and Nigeria.
The CSW's main focus in gender equality and the empowerment of women.
A third U.N. women's body, the Committee on Elimination of Discrimination Against Women (CEDAW), comprises 23 independent experts who monitor countries' compliance with a 1979 U.N. Convention.
Current members include five from the lowest-scoring 30 countries on the WEF list: Algeria, Egypt, Lebanon, Nigeria and Mauritania.
Of the 57 members of the OIC, only three appear in the highest-scoring 75 in the WEF rankings for 2018: Bangladesh (48th), Cameroon (57) and Kazakhstan (60).
https://www.cnsnews.com/news/article/patrick-goodenough/iran-wont-outlaw-marriage-under-13-girls-islamic-countries-fare
--------
Some Saudi Companies Refuse To Hire Niqab-Wearing Women: National Society for Human Rights
2018-12-25
RIYADH — The National Society for Human Rights (NSHR) has received complaints from a number of Saudi women saying that some private companies refused to employ them because they were wearing the face-covering Niqab, its chairman Mufleh Al-Qahtani has said.
"The society has noted that some companies prefer women who keep their faces uncovered," Al-Watan newspaper quoted Al-Qahtani saying.
"This is a clear discrimination against women in the workplace, which the concerned authorities should intervene and put an end to," he added.
Al-Qahtani said some companies rescinded their decision after the society had contacted them.
"If it is proved that a company has refused to employ a Saudi woman just because she was wearing the face veil or the head scarf, we will sue it at the Ministry of Labour and Social Development," Al-Qahtani warned.
He recalled that some companies that revoked the decision after the society contacted them put the blame on an employee who is not well aware of the company's policy.
"The employment of women should be based on their qualifications and competence, not on what they wear or how they look," he said.
Lawyer Abdulaziz Al-Mahaili said the preference for the job offer should not be based on the outward appearance of a candidate but rather on their educational qualifications and practical experience.
He said the employer has every right to choose the employee who suits him most but he should not dismiss women candidates for wearing face veil or head cover.
The lawyer advised the women who rejected because of their style of clothing to complain to the Ministry of Labor, not to the courts.
http://saudigazette.com.sa/article/551035
--------
Asmaa Gouda Becomes the First Woman to Drive a Taxi in Beni Suef
DECEMBER 25, 2018
In the Upper Egypt governorate of Beni Suef, Egyptian woman Asmaa Gouda becomes the first female taxi driver in the city after receiving her taxi driving license.
"I got a professional license to work as a taxi driver inside the city. I know I will be harassed at the beginning of my work as a driver, but I insist on making a better income for my family," the 31-year-old taxi driver told Egypt Independent.
Gouda is a Bachelor's degree holder and a mother of two. She asked her husband, Mohamed Sayed, to teach her how to drive.
"I felt the need to help my husband," she said, "[and] offered to drive the car during the day while he is at work, to take some pupils to schools, as well as my children," she said.
Gouda is currently working five hours during the day while her kids are at school. Once her family is home, they gather for lunch and then she starts her taxi shifts from 3pm to 8pm in order to help her family's financial situation.
The base fare for a taxi is EGP 7, an amount set by the governorate. This provides the household with a good income given the amount of clients she receives.
Luckily, Gouda's father and bothers were supportive of her choice to take on a male-dominated job that is often seen as dangerous for a woman in Egypt. She highlighted that her male relatives promised to stand by her if she faced any sort of trouble or harassment in the future.
According to Brigadier General Hosam al-Shayeb, the head of the Beni Suef Traffic Department, women driving private cars in the governorate is very prevalent. However, Gouda was the first woman in Beni Suef to be granted a license for professional use. Upon passing her diver's test, she instantly received the green light to drive a taxi.
https://egyptianstreets.com/2018/12/25/asmaa-gouda-becomes-the-first-woman-to-drive-a-taxi-in-beni-suef/
--------
Bana Alabed Receives Arab Woman of the Year Award in London
December 25, 2018
Nine-year-old Syrian Bana Alabed won the coveted Youth Achievement Award at the Arab Women of the Year awards ceremony in London earlier this month.
The citizen journalist, who made her name by tweeting about the humanitarian situation in besieged Aleppo in 2016, now lives in Turkey where she moved after the northern Syrian city was evacuated.
Held at the Jumeirah Carlton Tower Hotel in Knightsbridge the event recognised outstanding Arab women who have made their mark on the international stage and contributed immeasurably to public life.
On its official instagram account, awards organiser London Arabia explained the decision to honour Alabed saying: "Her tweets gave a rare and tragic insight into the mental and physical difficulties suffered by civilians caught in the war zone. After suffering through airstrikes, hunger and constant terror."
"These awards were created in 2014 as a platform for us to show our deepest appreciations for Arab women who have done so much as leaders, role models and inspirations," said CEO of London Arabia, Omar Bdour.
"The Arab Women of the Year awards have been a shining example of how our communities can come together, despite our differences, and recognise the laudable feats of Arab women."
https://www.middleeastmonitor.com/20181225-bana-alabed-receives-arab-woman-of-the-year-award-in-london/
--------
Saudi Women Entrepreneurs Share Expertise In Innovation
2018-12-25
JEDDAH – The Women in Business Network platform launched by the Small and Medium Enterprises General Authority (Monsha'at) hosted a number of women entrepreneurs in innovative fields to attend and participate in the annual RISE UP Cairo Summit 2018 that took place in downtown Cairo during the month of December. With an interactive theme that focuses on entrepreneurs to "Aim High, Stay Grounded" the RISE UP summit was an ideal platform to bring together women entrepreneurs in various fields such as technology, development and services that further builds on Monshaat's vision as a key driver in Saudi Arabia's economic development and enabler in achieving Vision 2030 the provision in hosting entrepreneurs in such events; exploring new areas of innovation and graduate new champions, at the same time enabling the entrepreneurs by building strengthened supply chain and increased competitiveness. The trip culminated in a meeting with His Excellency Mr. Osama Nugali Saudi Ambassador in Egypt with a discussion on business development the regional potential and lucrative market opportunities spanning the region and the entrepreneurial alignment within Vision 2030.
The Saudi women entrepreneurs that took part in the summit included:
• AlHanouf AlDosary, Founder & Owner Velvet Night Establishment, VP of the Hail Chamber Entrepreneurship Committee, Board member of the Hail Chamber of Commerce and Industry and the Women's Entrepreneurship Day Ambassador – Saudi Arabia (Hail region) for 2019.
• Elham AlGhafary Master's degree holder in Accounting with more than 15 years in the field of finance and accounting. Today Elham has launched her entrepreneurial venture in revamping the networking potential.
• Ghadeer AlKhathlan first venture into entrepreneurship was when she won the second place in Jeddah Entrepreneurs Meet 2016. She wanted to find ways to provide value to people in ways that she could utilize her strengths. She's an instructor associate at General Assembly in partnership with Misk Academy to build Saudi Arabia›s workforce of the future through robust training in coding, data, design, digital marketing and product management
• Rahma AlGhanem a serial entrepreneur, dentist and volunteer keen on developing her industry for the growth and benefit of the community
• Reem Turky is a Senior Specialist, Emerging Technologies, Strategy & Performance Management at King Abdullah University of Science and Technology (KAUST), where she leads initiatives for researching, planning and implementing emerging technologies, IT strategy, performance and quality management frameworks. In 2016 she founded and launched "Tawaasuly," mobile app which facilitates dual-communications between Arabs who are deaf or hearing impaired.
• Sarah AlTowairgi is a senior Finance Student at King Abdulaziz University. In 2017 she worked with The Social Group and launched 3 companies; The Social Kitchen, The Social Space and The Social Collective. In August 2017, she became a co-founder/Partner at The Social Collective website. In October 2018 She established a fashion rental company "Lend The Trend".
Representing various industries, the participating entrepreneurs arrived from across the Kingdom of Saudi Arabia to attend the sessions that included the MELA Leadership showcase hosted in partnership with Monsha'at; with key speakers including: HE. Mr. Atef Helmi former Minister of Communications and IT in Egypt, Ahmed ElAlfi Founder and Chairman Sawary Ventures, Abdulhameed Sharara Founder and CEO of RISE UP Summit Cairo amongst others.
During the summit Reem Turky and Sarah AlTowairgi took part in the Entrepreneurs Pitch Competition featuring their entrepreneurial ventures and a chance to meet with and interact with other like-minded ventures. Taking part in a number of meetings including NGO's, social entrepreneurship ventures potential partnerships and collaborations were also discussed. A session titled Failures in Every Success featuring Sarah Al Ayed and Dan Ciprari showcasing the learning throughout the journey of entrepreneurship spanning experience from Saudi Arabia and the United States.
With key objectives that aim to support women's entrepreneurship development and sustainability through its portal Women in Business Network, Monsha'at plays a vital role in empowering private sector entities throughout Saudi Arabia to increase women's participation in the business realm. Convener, funder and evaluator for programs that catalyze private sector delivery of activities that create a welcoming and inclusive environment for women to explore entrepreneurship, connecting them to: business opportunities, funding, mentorship, business networks, events, training, markets and technology. — SG
http://saudigazette.com.sa/article/551027/BUSINESS/Saudi-women-entrepreneurs-share-expertise-in-innovation
--------
Nothing Can Hold Down Iran's Female Footballers: Katayoun Khosrowyar
December 25, 2018
"Nothing can hold Iranian women's footballers down", Khosrowyar, who is also known as Coach Kat, tells the Tehran Times in a recent interview.
Katayoun, Katiana in English, was born in Tulsa Oklahoma, an oil and gas city where her family is affiliated with energy industry.
She began playing football or soccer when she was five years old, mainly because soccer was becoming a big sports program for girls. She was athletic at a very young age, like her parents and siblings. Her father preferred her to play a team sport, because he saw that she was a team player and enjoyed being with kids her age.
Katayoun went quite far, as far as the football levels go, and she was going to play for a university, and everyone on her team got full scholarships including herself. However, that same summer when she was going into her senior year, she decided visit Iran to see relatives before her final year and heading off to college, and that is when her story in Iran begins.
Below is Khosrowyar's interview with the Tehran Times.
Q. Could you tell us how you ended up in Iran?
A. I had heard so much about Iran that I wanted to come and visit it. It wasn't something that was pre-planned for me to move here. It just kind of happened. When I first came here I spent a lot of time with the family and was playing futsal, because that was the only sports similar to football, and from there word got around that this American girl is here and she is a professional football player, and that same summer, a few weeks before I had to go back to the U.S., Shahrzad Mozaffar came to me in my training session and said that she is starting a national team, and she wants me to be part of it.
Because of her telling me what is happening in the country is why stayed. Back in the U.S., I was on a team and everybody was expecting me to come back, because I had an important position on the team. But at 17 when I had that opportunity to play for Iran, I decided to take it on but this was way before I knew I had to play with hijab, and I would be playing with girls who had never played football before. One of the reasons I decided to do this was because of Mozaffar who said if I stayed we will be making a movement, and you will be part of history, whereas in the U.S., players come and go, you are replaceable where here you are not. You are going to be part of this movement and you are always going to be part of the development of it.
So that was something that I decided at 17 to continue. No one was really happy with my decision at the beginning, because everyone was leaving Iran to have a better life in the U.S. or wherever it is, and I was taking the opposite direction and coming back to Iran, but I didn't mind that move.
Q. Did Iranian officials help you to stay here?
A. I was already comfortable here and had many people in my family. Iranian officials were helpful, because they knew I chose to stay in Iran rather than go back to the U.S. They have been very lenient with me, and worked with me, and gave me that path so that I can excel as an athlete and as a coach. If it wasn't for their support, there was no way I could have been here as an American-Iranian, as a player and as a coach. They trust me as the head coach of the national team. They trust me to be a decent role model for the future generations as football players as well as to get more coaches involved at a higher level.
I feel my path has already been set, and now it is just the matter of taking one day at the time getting more women involved in this global game.
Q. Are you still dreaming more for your team?
A. Oh, sure. Not until we make it to the World Cup or Olympics. I don't think we will be finished any time soon.
Q. How do you resolve issues on your coaching path?
A. Being raise as an athlete, you come across a lot of issues, but how you solve them is what makes the difference between an athlete and non-athlete. Most people will just sit back and be like oh, there was a problem and I can't do anything about it and just try to move on to something else, whereas people with an athletic mindset, nothing can put them down.
Q. How has the experience of playing internationally for the Iranian female players been for you?
A. This was one of the challenges we thought we were going to face. Because whether we like it or not, people already have a negative connotation about us. We are the only team in the world that has to wear the hijab. Our outfits are different, and we are coming from a country that the media portray in a bad way that people are wary of us wherever we meet them. But we are breaking a lot of mindsets that people thought they had, and we are doing this via football and this is an important step forward especially in an Islamic country like Iran. We are fighting alongside all the other teams who want to make it to the World Cup and to the Asian Games.
Q. Your thoughts on the Uzbekistan Tournament, and the wild game between Iranian players and Uzbekistanis.
A. At this tournament I don't think anyone thought that the Iranian team was going to be strong. Our first game was against Afghanistan, and we beat them 6-0. Then we played with an entire differently lineup, because we knew Uzbekistan was very strong, so we were hiding all our good players against Afghanistan. When we played against Uzbekistan we put all our strong players in, and everyone was completely confused about how this Iranian national team is playing so well, at this high intensity and this aggressively. We shocked pretty much everybody at that stadium. It was extremely aggressive, because Uzbek players are generally very aggressive, but what we did in my training session leading up to Uzbekistan was that we had a lot of weight lifting and a lot of training in karate and kick boxing, so the girls would get used to it, because football is a highly aggressive game, it is not like ballet where no one comes near you. You are being tackled and they are trying to break something in your body. That is what football is. With those players I told them during half time, that either you will be sent to the hospital or they will be sent to the hospital, so you choose which one. That's how aggressive this match was. But it was a great match to see because you were witnessing the development of women's football.
Q. What happened to your team at the end?
A. We lost 2-1 in that game. We scored the first goal, but you are in Uzbekistan, they are the host, so most likely the refs and everybody will be on their side. If you watched the game, we had so many penalties that should not been given to us. We scored two goals and they said it was offside, but it wasn't. Everything was lined up to be against us, but I was happy with the result and the match, because it shows that the girls were becoming much better football players, they were becoming much more aggressive and stronger and tactically we outclassed the other side. At the end of the match, the Uzbekistan coach, who was actually a mentor of mine, said this was one of the best games he has ever seen and it was unfortunate that the ref was officiating this way. We are going to see Uzbekistan in a few months for the Asian championship and we are going to get our revenge then.
Q. How do you assess women's football coaching in Iran?
A. The coach education that we have in football has never been strong enough. But now with the presence of Mr. Hossein Abdi, the technical director of the program, he is making a lot of changes and now we are actually seeing the improvement. The female coaches are very hungry for knowledge, and he is actually here to fill that void and to get women's football going.
Q. How many years do you need to get to the Olympics or Asian Games?
A. If it continues this way, five years. We just need more people like Mr. Abdi to have a vision for women's football.
Q. Does women's football have issues with funds?
A. The ministry of sports does not allocate much to women's football, but if they see the steady improvement that is when the financial support will come for more games, more tournaments, more coach education programs, like sending more coaches abroad to learn and come back with whatever they have learned.
Q. What does it take for girls to get ready for football physically?
A. Football is a highly physical game, so they need to make sure that their fitness and conditioning can be at the international level. I have a three-week program and every week it changes per player with the weights they use in the weight room, with the kilometers they run, whether it is at a certain speed or pace like sprinting. I make sure they start other sports like karate, taekwondo or boxing.
In football, it is all about mentality, too. We give the girls a lot of books about psychology, especially about athletes, because in this age especially under 19, they are undergoing a lot of fluctuations emotionally, and it is very difficult to keep them in a certain flow. We are always having to give the girls different lessons and different books to start reading and we have classes in camp about different situations for each player. We do have a psychologist as part of the team. He helps us a lot with how we have to handle the emotions of these players.
Q. Did you go through these training programs as well yourself?
A. Yes, I did as a player. I worked with many, many male and female coaches, and I handpicked what I liked and didn't like as a player, learning from my coach. In my coaching education programs, I had the best instructors, and I picked and chose from them, and I do what benefits my team most now.
Football has been a long road, a long journey for me. I am a young coach. I went to Russia within a month of training the girls and played against some of the best teams, Russia, North Korea, Romania. Even though there were four teams, it was the first time Iran got a medal. We used to lose 10-0 or 15-0, but this time we were losing 1-0 or 2-0 or we won. The gap is closing.
Q. Looking back at your life and coaching career, what would you change if you could?
A. If I could have turned time back, I would have played longer. I retired at 24 and I didn't even reach my prime as a football player, but that's mainly because I was playing since I was 5-years-old. That's like 19 years of consecutive playing and having a very strict lifestyle, what you eat is under program and how you think is under a program, who your friends are, how you sleep, how you study. All of this was very strenuous and it is been a lot of hard work and I think at 24 I needed to stop to do something else. They needed coaches and needed to train coaches for Iranian teams, because in Iran you have 80 plus million people who love football.
I am a young coach but I have been reading, sleeping, eating football since I was very young. So even though I am young I have enough experience as a former player and as a coach. I have a great team of coaching experts with me. We all work together.
Q. Where are you going to be in 10 years from now?
A. Sitting at a stadium at the World Cup, coaching my team.
Q. What about 20 years from now.
A. I will be most likely managing many academies in Iran getting more girls involved in football and keeping that momentum going.
Q. How do you juggle so many balls in life, work, family, house chores …
A. My family helps me a lot. They are supportive of what I am doing. They help me with everything. And my family background is in such that they are all athletes, so they understand what I am doing. But I live on the field pretty much so all my chores and everything are done on the field and when I come home it is usually like a party for me.
Q. What is the difference between coaching young Iranian girls as opposed to American or European girls?
A. In Iran you have to play so many different roles. I have to speak to the girls and their teachers in school and convince them to come to training, or I have to convince them that they will be studying in the camp. Sometimes the girls don't speak to their parents and their parents call me and say why she isn't speaking to me, or vice versa. So, you are playing more roles than just a head coach. I think the difference between coaching here and the U.S. or anywhere else in the world is that you are just the head coach there, the girls come to you, you only work with them for that period of time, and then they are gone, whereas here they want you to work with them through everything.
Q. Do you have any message for Iranian women, young girls to hold on to?
A. Never, ever, ever give up. That is something that is rotating in my head right now. I know it is a cliché thing to say, but you should never give up on something that you have a belief in, or you have an idea about, or if you really believe in it, then you have to continue forward to the end, and the positive energy that you put in it, you will get the results.
https://www.tehrantimes.com/news/431080/Nothing-can-hold-down-Iran-s-female-footballers-Katayoun-Khosrowyar
--------
Social Challenges Hold Back Women's Economic Participation
December 26, 2018
Social challenges have held back women's economic participation over the last decade, despite headway made in education, training, entrepreneurship, and jobs overseas.
While delivering the budget speech in parliament for fiscal year 2018-19, Finance Minister AMA Muhith acknowledged that women's economic participation was low compared to the growing literacy rate.
The number of women – aged 15 and above – who could read and write increased to 65.3 percent in 2016-17 fiscal from 54.3 percent in 2009.
The female labour force participation rate has hovered around 36 percent since 2010, according to Bangladesh Bureau of Statistics surveys.
This means strategies adopted by the government in the last decade to facilitate women's employment did not make any significant change.
Success of government programmes like easy loans for aspiring women entrepreneurs, employment opportunity in Saudi Arabia, and training on ICT is visible but is not enough to offset the social challenges a woman has to deal with.
Not much attention had been given to social issues that pose challenges for women trying to enter the labour market, according to Sayema Haque Bidisha, an economics professor at Dhaka University.
In a patriarchal setting, the responsibility of caring for children and the elderly mostly falls on female members of a family. Social services like child care or elderly care are yet to get an institutional shape in Bangladesh. Two other factors are safe commute to work and positive work environment, Bidisha said.
Had these issues been addressed, women would have been able to make significant contribution to the economy.
Muhith, during the budget speech for fiscal year 2016-17, projected that a 10 percent increase in female labour force participation over the next five years would bring one additional percentage point of GDP growth each year.
THE PROGRAMMES
Easy, collateral-free loans from Bangladesh Bank's refinancing scheme seem to have enabled a significant number of rural and urban women entrepreneurs.
According to data from Brac Bank, the number of women borrowers increased seven times since 2013. As many as 1,952 entrepreneurs took out loans of Tk 215.6 crore last year to expand their small and medium businesses.
The recovery rate of such loans is 98 percent, which means most women entrepreneurs are successfully running their businesses, said Syed Abdul Momen, head of SME banking, at the Brac Bank headquarter.
About the challenges women entrepreneurs face, he said paperwork becomes difficult for them since they are new to business.
"They often end up bribing government officials to get trade licences and tax identifications number," he said.
Appreciating the government initiatives to encourage female entrepreneurs, Nazneen Ahmed, a researcher at Bangladesh Institute of Development Studies, said newcomers still face difficulties in transforming their ideas into reality.
They lack the know-how of making business plans and proposals, she added.
Besides, to get loans, they have to pass an evaluation by banks where they need to show records of an operational business for at least one year.
"But many of them need money to start a business. So, they cannot use these opportunities," Nazneen added.
The government can allocate a separate fund for new entrepreneurs -- to spend on training, logistical support, legal counselling and on disbursing loans -- without any guarantee of repayment, said Priti Chakraborty, director of Federation of Bangladesh Chambers of Commerce and Industry.
"More women would then start businesses. Even if they face initial hiccups, they would help generate employment," she added.
For overseas employment, the government signed an agreement with Saudi Arabia in 2015 to send women to work as housemaids. Until October this year, over 2.3 lakh women have gone to Saudi Arabia for work.
However, 7,000 of them returned after being tortured, injured, raped and at least five impregnated, said Brac's Head of Migration Programme, Shariful Islam.
Women jobseekers must go through screening and training so that they can go for skilled employment where they would get higher pay, respect and legal protection.
"The percentage of returnees may seem negligible but there is no survey on the wellbeing of female migrant workers there. Lack of remedy for those who return traumatised, with broken limbs, or impregnated is troubling," Shariful added.
Women have had opportunities to receive training but experts say those were not enough.
"She Power Project", launched by the government's ICT division in 2017, will continue until June next year to train 10,500 women on ICT. On completion, they will be given Tk 20,000 each to buy a laptop and be placed at local organisations to gather practical experience, before they start their own businesses.
The ICT division ran another project to train 14,460 women between March 2014 and June 2015 on ICT and freelancing.
All these efforts have not been successful in bringing more women out of their social and familial boundaries as economic indicators suggest.
Safety and other issues that limit women can be addressed by engaging and encouraging the private sector and by offering incentives like tax redemption for having a day-care on company premises, experts say.
A good example of income generation might be Joyeeta Foundation. Once its under-construction building is ready, it will cater to women entrepreneurs with facilities for a day-care and a place to display their products.
Founded in 2011 under the women and children affairs ministry, Joyeeta – currently located on two rented floors at Rapa Plaza in Dhanmondi, Dhaka – is working with 180 rural women's groups across the country. The entire operation is run by women.
As many as 17,000 women showcase their products, like garments, handicrafts and food through Joyeeta. The organisation bears 20 percent of the rent with the rest taken care of by the government, said Kamal Hossain, deputy director of Joyeeta Foundation.
https://www.thedailystar.net/city/news/despite-govt-initiatives-womens-economic-participation-yet-soar-1678945
--------
Afsaneh Rezaii Sent to Prison for Protesting Her Mother's Arrest
25 December 2018
Afsaneh Rezaii who is an elite master's student of telecommunications at Shiraz University was transferred to Adel Abad Prison in Shiraz.
The mother of Afsaneh Rezaii was a teacher who was arrested in Shiraz for participating in the gatherings and protests of teachers and educators in August 2018.
Holding a banner, Afsaneh Rezaii joined the protests and supported her mother. She was subsequently arrested by government officials after participating in the gatherings in support of her mother.
Afsaneh Rezaii, who is studying for her masters in telecommunication at Shiraz University, was sentenced to six months in prison and transferred to Adel Abad Prison in Shiraz on December 24, 2018.
Teachers have held extensive strikes and protests across the country for several rounds. The latest round of teachers' protests was held on November 13 and 14, 2018. Another round of strike and sit-ins of teachers and educators was held on October 14 and 15, 2018, in 31 provinces and more than 61 cities.
In the aftermath of the nationwide strikes of teachers, several women were among those arrested.
In another development, Sufi prisoner of conscience Elham Ahmadi refused to attend a court session on Wednesday, December 19, 2018.
Ms. Elham Ahmadi was arrested during a bloody crackdown on the Gonabadi Dervishes protest in Tehran on February 20, 2018, and detained in the Qarchak Prison of Varamin. She has been summoned on charges of publishing lies and insulting officials but refused to attend the court meeting.
On the orders of the warden of Qarchak prison, Elham Ahmadi and other imprisoned Sufi women, Sepideh Moradi and Shokoufeh Yadollahi, were beaten and brutalized by prison agents for asking the return of their personal belongings seized by prison authorities on June 13, 2018.
Last August, Sufi women imprisoned in Varamin's Qarchak Prison were beaten by security agents on the grounds that, Elham Ahmadi, made a telephone call to her young daughter.
https://women.ncr-iran.org/iran-women-news/5654-afsaneh-rezaii-sent-to-prison-for-protesting-her-mother-s-arrest
--------
URL: https://www.newageislam.com/islam-women-feminism/iran-wont-outlaw-marriage-under/d/117271
New Age Islam, Islam Online, Islamic Website, African Muslim News, Arab World News, South Asia News, Indian Muslim News, World Muslim News, Women in Islam, Islamic Feminism, Arab Women, Women In Arab, Islamophobia in America, Muslim Women in West, Islam Women and Feminism