New Age Islam News Bureau
17 Nov 2017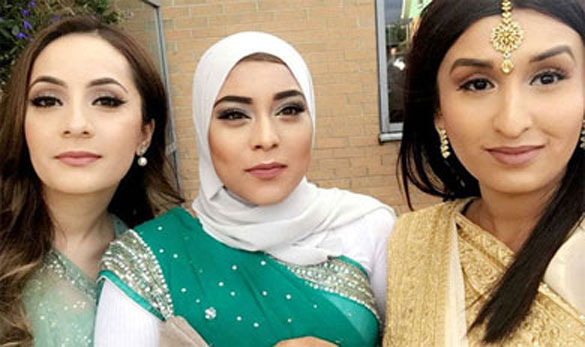 Fouzia Khatun, centre, hoped to work at The English Playgroup...
------
• Fairfax Teacher Suspended after Complaint That a Student's Hijab Was Yanked Off
• British Muslim Who Applied For Nursery Job in Kuwait Told She Must Remove Her Hijab
• Angelina Jolie Condemns Sexual Violence against Rohingya Women Refugees
• Myanmar Troops Gang-Raped Rohingya Women and Girls: HRW
• Dubai Women's Run Eyes Record Turnout
• Saudi Women Allowed To Work In Justice Ministry
• Malala Named as One of Bazaar's 150 Visionary Women
• Parsi Woman Contests Raj-Era Personal Law
Compiled by New Age Islam News Bureau
URL: https://www.newageislam.com/islam-women-feminism/iran-women-entering-addiction-cycle/d/113256
--------
Iran: Women entering addiction cycle doubled in 10 years
15 November 2017
The number of women entering the cycle of addiction in Iran has doubled compared to ten years ago.
This was announced by Mostafa Hadizadeh, Isfahan Province's Secretary of the Counter-Narcotics Coordination Council. "We have seen special developments over the past 10 years in the area of addiction including a drop in the age of addiction," he added.
"Prostitution is an inevitable road for women and girls who get addicted. They have to rent their bodies for just 2000 toumans (less than a Dollar)," he added. (The state-run Fars news agency – November 13, 2017)
http://women.ncr-iran.org/iran-women-news/4496-iran-women-entering-addiction-cycle-doubled-in-10-years
--------
Fairfax teacher suspended after complaint that a student's hijab was yanked off
By Susan Svrluga
November 16, 2017
A Fairfax County Public Schools teacher was placed on leave this week while the district investigates a complaint that he pulled the hijab off a Muslim student.
The alleged incident at Lake Braddock Secondary School in Burke prompted outrage from a Muslim advocacy group and others, and echoed a similar case in Tennessee that drew national attention.
In a message to parents, the school's principal, David Thomas, said the teacher's actions were inappropriate and that the teacher had apologized to the student and her family.
"As you know, we continuously strive to create a positive learning environment at Lake Braddock Secondary School, and this week we regrettably had an incident that failed to live up to those standards," Thomas said.
"I want to reinforce that we celebrate the diversity of our students and families," the principal wrote. "It is a strength of our school."
Last week, the Tennessean newspaper reported that a teacher in that state was kept on indefinite suspension without pay after a school system investigation into accounts on social media asserting that the teacher had pulled off a student's hijab.
At a time of tensions over politics and religion nationally, the Lake Braddock complaint prompted a strong reaction online. Some saw the incident as a clear sign of intolerance toward Islamic faith and traditions. Some said the teacher's actions had been misunderstood.
Fairfax County Public Schools spokesman John Torre described the teacher's actions as "inappropriate and unacceptable" in a written statement.
Nihad Awad, national executive director of the Council on American-Islamic Relations, said in a written statement that he welcomed the school's decision but that further disciplinary action needs to be taken. "No student should be bullied or attacked because of his or her faith. Teachers must protect students, not subject them to harassment or intimidation."
https://www.washingtonpost.com/news/education/wp/2017/11/16/fairfax-teacher-suspended-after-complaint-that-a-students-hijab-was-yanked-off/?utm_term=.1d16e3b7dca1
--------
British Muslim who applied for nursery job in Kuwait told she must remove her hijab
Nov 16, 2017
Shocked Fouzia Khatun, 23, hoped to work at The English Playgroup in the Gulf state which is almost entirely Muslim.
But she got an email from the school's HR staff which said: "Parents don't want their children taught by covered teachers. It is an English School."
It said Ms Khatun would not be allowed to wear her head scarf on school premises if she wanted the job at the fee-paying school - and that this was "non negotiable".
The English Playgroup Educational Company has since claimed the comments were "by a new employee" and said it "proudly employs" hijab wearing staff.
The school's website said children are "taught by the very best trained English specialist teachers" using the "English National Curriculum".
British-born Ms Khatun, from Bradford, West Yorkshire, who currently works as a teaching assistant, said the email was outright discrimination.
She said: "When I received that via email I couldn't believe what I was reading.
"It might sound unusual, but to me being asked to leave the house without my hijab is like being asked to go out without a top on. It doesn't represent my religion - it is part of me.
"I am a loud, bubbly chatty normal British girl and my hijab is part of that same identity.
"To have them suggest that British parents or an English school wouldn't want me to wear it is very offensive. I was born in England and I am English.
"I have never experienced any Islamophobia in my life, living in England, so it is bizarre to experience it for the first time - in the context of a country which is 99 per cent Muslim.
"I thought if anything I would be more accepted there. It has made me feel very blessed to have grown up in England, where we are clearly so much more accepting."
Fouzia applied for the job as with the education company which has more than 20 schools or playgroups.
She received an email back from a recruitment worker in October which said she had gained an interview - but she'd need to removed her Hijab, she claims.
The worker wrote: "I do need to ask you if it would be possible to remove your hijab whilst teaching in the Early Years Nursery school as our Kuwaiti parents like British Teachers but not wearing hijab.
"I know this is a delicate area and hope you do not feel offended in any way.
"Please have a think about it and let me know if you would like to proceed to interview."
Ms Khatun asked for clarification about whether her success hinged on the removal.
The reply said she could wear the scarf for her first interview - but "probably" not for the second interview of for a photo taken for "management purposes".
It added: "Just for your your reference, in the Early Years Schools, there are only female staff."
Ms Khatun replied to say she was "confused" because Kuwait was a Muslim-dominated country.
The reply from the school said: "The customer (the parents) do not want their children taught by covered teachers. It is an English School.
"You can wear the hijab whilst not on the school premises but not in the school.
"If this isn't acceptable to you I wish you every success. This is non negotiable."
Ms Khatun posted the screenshots of the email exchange online where it was liked by 1,800 people.
She said: "There is enough discrimination against female Muslims from non-Muslim countries so it's extremely sad to see a school in a Muslim country like Kuwait also demonstrate this kind of discrimination."
The English Playgroup blamed the emails on a "new" employee and said allegations of discrimination were "untrue".
Bosses did not respond to a request for comment, but in a statement posted on Instagram, it said: "The English Playgroup and Primary Schools employ qualified teachers from all nationalities, religions and backgrounds who serve students as excellent and caring teachers.
"Allegations of discrimination against hijab-wearing staff are untrue. Our schools proudly employ many hijab wearing teachers and administrators across our schools.
"The allegations against the school have been disseminated by an unsuccessful overseas job applicant who was refused employment because of inappropriate behavior as illustrated on her social media platform.
"The opinions expressed by a new employee in the HR department are against company policy and necessary disciplinary action has been taken.
"The celebration of Islamic values is a cornerstone of the English Playgroup and Primary School's mission and the school reserves the right to pursue legal action against slanderous third parties."
The English Playgroup then released several images on their Instagram of teachers wearing a hijab as they taught.
https://www.express.co.uk/news/world/880491/British-Muslim-Kuwait-hijab-nursery-job
--------
Angelina Jolie condemns sexual violence against Rohingya women refugees
November 16, 2017
Filmstar Angelina Jolie has condemned sexual violence inflicted on Rohingya women in Myanmar's Rakhine State, where a military counter-insurgency operation has sent hundreds of thousands of Rohingya Muslim refugees across the border to Bangladesh.
More than 600,000 Rohingya Muslims have fled Buddhist-majority Myanmar since late August, driven out by the military's actions that a top United Nations official has described as a classic case of "ethnic cleansing".
Jolie, a special envoy of the United Nations High Commissioner for Refugees (UNHCR), told a Bangladesh delegation in the Canadian city of Vancouver that she planned to visit the Rohingya victims of sexual violence .
"Later she mentioned accordingly in her keynote speech about the sexual violence faced by almost each female Rohingya who fled to Bangladesh and condemned the armed conflict in Myanmar," Bangladesh's foreign ministry said in a statement on Thursday.
It gave no details of Jolie's proposed trip.
On Thursday, New York-based Human Rights Watch accused Myanmar security forces of committing widespread rape against women and girls as part of a campaign of ethnic cleansing.
The allegation echoes an accusation this week by Pramila Patten, the U.N. special envoy on sexual violence in conflict, who said sexual violence was "being commanded, orchestrated and perpetrated by the Armed Forces of Myanmar."
Myanmar's army released a report on Monday denying all allegations of rape and killings by security forces, days after replacing the general in charge of the operation.
In parliament on Wednesday, Prime Minister Sheikh Hasina said Bangladesh would overcome obstacles to resolve the Rohingya crisis, with the help of the international community.
"I strongly believe we will find a peaceful solution to the unprecedented crisis with the help of the international community, despite various obstacles," she said.
There were already about 300,000 Rohingya refugees in Bangladesh before the most recent exodus.
http://nation.com.pk/16-Nov-2017/angelina-jolie-condemns-sexual-violence-against-rohingya-women-refugees
--------
Myanmar troops gang-raped Rohingya women and girls: HRW
November 16, 2017
Human Rights Watch accused Myanmar security forces on Thursday of committing widespread rape against women and girls as part of a campaign of ethnic cleansing during the past three months against Rohingya Muslims in the country's Rakhine state.
The allegation in a report by the New York-based rights group echoes an accusation by Pramila Patten, the U.N. special envoy on sexual violence in conflict, earlier this week. Patten said sexual violence was "being commanded, orchestrated and perpetrated by the Armed Forces of Myanmar ."
Myanmar's army released a report on Monday denying all allegations of rape and killings by security forces, days after replacing the general in charge of the operation that drove more than 600,000 Rohingya Muslims to flee to Bangladesh.
The United Nations has denounced the violence as a classic example of ethnic cleansing. The Myanmar government has denied allegations of ethnic cleansing.
Human Rights Watch spoke to 52 Rohingya women and girls who fled to Bangladesh, 29 of whom said they had been raped . All but one of the rapes were gang rapes, Human Rights Watch said.
"Rape has been a prominent and devastating feature of the Burmese military's campaign of ethnic cleansing against the Rohingya ," said Skye Wheeler, women's rights emergencies researcher at Human Rights Watch and author of the report.
"The Burmese military's barbaric acts of violence have left countless women and girls brutally harmed and traumatized," she said in a statement.
Human Rights Watch called on the U.N. Security Council to impose an arms embargo on Myanmar and targeted sanctions against military leaders responsible for human rights violations, including sexual violence.
The 15-member council last week urged the Myanmar government to "ensure no further excessive use of military force in Rakhine state." It asked U.N. Secretary-General Antonio Guterres to report back in 30 days on the situation.
Myanmar has said the military clearance operation was necessary for national security after Rohingya militants attacked 30 security posts and an army base in Rakhine state on Aug. 25.
Myanmar is refusing entry to a U.N. panel that was tasked with investigating allegations of abuses after a smaller military counteroffensive launched in October 2016.
Hala Sadak, a 15-year-old from Hathi Para village in Maungdaw Township, told Human Rights Watch that soldiers had stripped her naked and then about 10 men raped her.
She told Human Rights Watch : "When my brother and sister came to get me, I was lying there on the ground, they thought I was dead."
http://nation.com.pk/16-Nov-2017/myanmar-troops-gang-raped-rohingya-women-and-girls-hrw
--------
Dubai Women's Run eyes record turnout
November 16, 2017
Dubai: The Dubai Women's Run is targeting to cross a record 9,000 entrants when the seventh edition of the annual run is held at Marasi Business Bay on Friday.
The 10-kilometre race has attracted nearly 3,000 athletes, while the 5km run has so far managed to get nearly 6,000 runners. "The target is to cross the magical figure of 9,000 participants," Naveed Pirzada, the managing director and partner from organisers Plan b told Gulf News on the eve of the race.
Last year's race records indicate that more than 4,000 runners from 52 nationalities participated. Of these, 23 runners belonged to the elite international category. "Last-minute registrations are still on and we expect to cross the 9,000 mark by the time we close at 10pm [on Thursday]," Pirzada added.
Held under the patronage of Shaikh Ahmad Bin Mohammad Bin Rashid Al Maktoum, chairman of the UAE National Olympic Committee (UAE NOC), the Dubai Women's Run is the first such initiative in the Middle East celebrating the spirit of the Arab woman. This year the event is being organised by Plan b with support from the UAE Athletics Federation (UAE AF) and Dubai Sports Council (DSC).
"Everything is on schedule for yet another successful race with athletes coming in through the day to pick up their race kits," Liesa Euton, Race Director, said.
"We've got everything sorted out, except some last minute preparations at the venue. Hopefully, all this will be sorted out in due course of time through the day and we will be ready to host such a huge number," she added.
Sponsored by Dubai Police, RTA, Dubai Municipality, Dubai Ambulance, Victoria's Secret and Lialli Jewellery among others, the event will feature a dedicated Race Village with food and beverage, entertainment and health activities for the entire family at the venue along the Marasi Business Bay.
The Dubai Women's Run has been associated with the Dubai Foundation for Women and Children (DFWAC) while integrating itself with the foundation's Orange Campaign that seeks to eliminate violence against women worldwide.
The action will get under way at the run's new home at Marasi Business Bay with the 10km race being flagged off at 7am.
http://gulfnews.com/sport/athletics/dubai-women-s-run-eyes-record-turnout-1.2125678
--------
Saudi women allowed to work in justice ministry
November 15, 2017
Manama: In another first for Saudi Arabia, women will be able to work for the Ministry of Justice.
Saudi women who hold postgraduate degrees in Sharia, law, sociology and administration specialisations will be hired as social researchers, religious researchers, legal researcher and administrative assistants, Waleed Bin Mohammad Al Samaan, the justice minister, said.
Responsibilities to be undertaken by the new employees will be within the women's sections in courts and notary public offices.
The ministry said applications for the positions will be posted on its website, and announced that successful applicants would be hired to work in Riyadh, Makkah, Madinah, Jeddah and Dammam.
"The Ministry of Justice is keen to open the door to employment for Saudi women because they have an important role in facilitating the provision of services in the judicial and documentation fields," Al Samaan said.
"Saudi women have achieved numerous successes in various fields."
Saudi Arabia's ambitious Vision 2030 plan to modernise the kingdom includes the empowerment of women and the materialisation of their potential.
A primary objective is to increase their participation in the workforce from 22 to 30 per cent.
The more active participation of women in economic activities has been generally hailed by the population as a positive step despite challenges posed by conservatives who have wielded enormous influence on the Saudi society for decades.
http://gulfnews.com/news/gulf/saudi-arabia/saudi-women-allowed-to-work-in-justice-ministry-1.2124914
--------
Malala named as one of Bazaar's 150 Visionary Women
November 17, 2017
Harper's Bazaar launched a list their "150 Visionary Women list" to celebrate "the most influential female leaders in the UK" and the world's youngest Nobel laureate Malala Yousafzia is on the list.
Women from industries ranging from fashion, beauty and travel to finance, science and the arts, have been included in the list. Each woman on the list has proved herself to be "forward-thinking, high-achieving and an inspirational role model to women everywhere."
Malala has been honoured for playing an active role towards female education in Pakistan and opening a school for Syrian refugee girls in Lebanon. Listed under the 'Opinion Formers', Malala joins the likes of Amal Clooney, Emma Watson and J.K. Rowling.
Other women who have also been listed include Kate Middleton (Duchess of Cambridge), Victoria Beckham, Adele Adkins and Kate Winslet.
Malala is currently a student at Oxford University and is studying for the PPE degree (Politics, Philosophy and Economics).
https://www.pakistantoday.com.pk/2017/11/17/malala-named-as-one-of-bazaars-150-visionary-women/
--------
Parsi woman contests Raj-era personal law
Dhananjay Mahapatra
Nov 17, 2017
NEW DELHI: Encouraged by Muslim women's successful fight against triple talaq, a Parsi woman has moved the Supreme Court questioning the validity of many provisions of Parsi Marriage and Divorce Act, alleging that these made estranged couples of her community go through a torturous exercise to get divorce.
Naomi Sam Irani had moved a Parsi matrimonial suit early last year before the Bombay high court seeking dissolution of her 11-year-old marriage, from which the couple has a 10-year-old son and an eight-year-old daughter.
Keeping aside the reasons for filing the divorce suit, Irani, through counsel Neela Gokhale, said the procedure under the 1938 personal law was exasperatingly cumbersome, involving a system akin to jury decision, and granted no access to mediation and settlement available to Hindu women under the family court system.
'Parsi matrimonial court sits just twice a year'
She said though it was close to one and a half years since she had moved the HC for divorce, till date "there has been no appointment of delegates as contemplated under the PMDA to participate in the pending matrimonial proceedings, depriving the petitioner of speedy disposal of her case".
Irani said Section 18 of PMDA provides for constitution of special courts in Kolkata, Chennai and Mumbai where the chief justice of the HC concerned would have jurisdiction to appoint a judge who would be aided by five delegates, which together would decide alimony, maintenance as well as custody and maintenance of children and their education.
"These delegates... act like jury and the case is decided by majority decision. It is a fact that Parsi chief matrimonial court sits only once or twice a year... only for a short duration. In view of increase in divorce petitions, jury as a fact finding body practically impedes speedy justice," Irani said and requested the SC to do away with the jury system.
"The jury delegates adjudicate a divorce petition based on their personal notion of societal norms, morality and ethics, which may not be in sync with the principles of natural justice and the ethos and dynamics of society," Irani said and sought replacement of this system with the procedure provided under family courts, which attempts to provide speedy settlement through reconciliation.
She said PMDA demands that the divorce suit be filed before Parsi matrimonial courts, thus inconveniencing estranged couples who work away from the metropolitan cities. This went against the SC's stand that matrimonial disputes be filed at the family court nearest to the woman's residence, she said.
"Thus, the fundamental right to life and liberty, which includes the right to speedy justice, is being denied to a particular community..." Irani said.
https://timesofindia.indiatimes.com/india/parsi-woman-contests-raj-era-personal-law/articleshow/61679998.cms
--------
URL: https://www.newageislam.com/islam-women-feminism/iran-women-entering-addiction-cycle/d/113256
New Age Islam, Islam Online, Islamic Website, African Muslim News, Arab World News, South Asia News, Indian Muslim News, World Muslim News, Women in Islam, Islamic Feminism, Arab Women, Women In Arab, Islamophobia in America, Muslim Women in West, Islam Women and Feminism