New Age Islam News Bureau
20 Jun 2014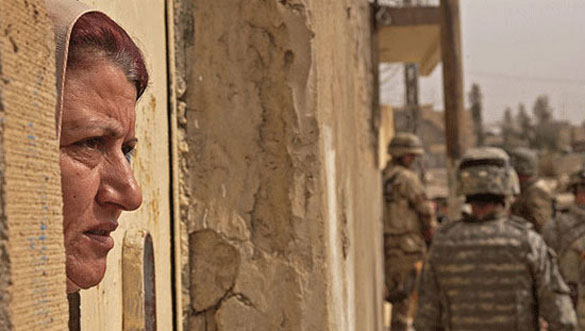 Iraqi woman watches from the gates of her home in Mosul in 2008
----------
• Morocco: A Member of Istiqlal Party Says 'Prostitution Boosts National Economy'
• Woman Protests over Dowry Demand In Malaysia
• SR633 In Alimony: Is It Enough For A Divorced Woman?
• New Police Department in Egypt for Crimes of Violence against Women
• Wartime Violence against Disabled Women Often Ignored
• Iraq Women's Shelter Responds To Growing Crisis
• Yemeni Women 'Can Save Nation', Nobel Laureate Karman
• Australia: Protest Planned for Muslim Women's Group Meeting
• CAIR Names Ohio Attorney Roula Allouch as National Board Chair
• Fearing loan sharks, Indian nurses stuck in Iraq don't want to get back home
• The Muslim Council of Britain: Barbaric Practice of FGM Is Un-Islamic
• Local Threads: Saving Embroidery One Stitch at A Time
Compiled by New Age Islam News Bureau
URL: https://www.newageislam.com/islam,-women-and-feminism/new-age-islam-news-bureau/iran-to-hang-abused-child-bride/d/87654
--------------
Iran to Hang Abused Child Bride
20 June, 2014
Razie Ebrahimi was just 17 when she killed her abusive husband to escape his blows—and the state wants to execute her for her crime.
Languishing in a prison cell in south-western Iranian city of Ahvaz, 21-year-old Razie Ebrahimi awaits her date with the gallows.
For decades, Iran has been brazenly violating international law and sentencing an untold number of juvenile offenders to execution by hanging. Most hopeless among them are young Iranian women, who often suffered from abuse in forced, underage marriages and who turned to violence as the only means to escape their circumstances.
As a 14-year-old girl, Ebrahimi's father reportedly arranged for her marriage to an older neighbour, a schoolteacher with a university education. One year later, she gave birth to a son. For the duration of her marriage, Ebrahimi reportedly experienced physical and mental abuse at the hands of her husband, who would beat and insult her at the slightest provocation.
Three years into the marriage, after returning from a party at her husband's aunt's house, the couple fought and she was beaten. That night, Ebrahimi says she snapped.
"I couldn't sleep all night, until the morning I was sitting above him looking at him. I was looking at him and I was thinking of what he had done to me and thinking about why he humiliates me and what can I do what should I do. Every single event that happened is rolling in front of my eyes like a film and in the morning I took a gun and I shot him," she is quoted as saying in Iranian newspaper Shargh Daily on Wednesday.
She buried her husband in their backyard, and her family turned her into the police not long after.
For the past four years, Ebrahimi has awaited execution by hanging for her crime. Ebrahimi came close to the noose once before. In May 2013, on the day her execution was scheduled, she informed the prison guards that she had only been 17 at the time of her crime and they stopped the proceedings and brought her back to jail.
"It's all a matter of luck of who is taking her to be executed," says Roya Boroumand, executive director of the Abdorrahman Boroumand Foundation, an organization that tracks human-rights abuses in Iran. "It's like a lottery."
But now, activists say her hanging could be imminent, and local media speculates it may happen this week.
At least three juvenile executions have been reported this year, according to HRW, though it's impossible to know how many went uncounted. With few official numbers, the Boroumand Foundation pulls testimony from political prisoners who live side by side with all types of female inmates behind bars. The political prisoners say that most of the other women in prison are there for murdering their husbands.
"The laws against women are such that women are put in a very vulnerable position, and sometimes they snap because there is no way out," Boroumand says.
In March, Iran hanged 26-year-old Farzaneh Moradi, a child bride who admitted to killing her husband six years ago, but later tried to change her confession to explain that the murder had been carried out by a man and she was coerced into confessing to it.
Under Iranian law, after a guilty verdict is announced, the family of the victim decides the penalty. They have the right to demand either execution or "blood money," a hefty ransom that spares the life of the accused. This sum, outlined in the penal code, is double for a male than it is for a female. In Ebrahimi's case, her husband's family has refused the offer of money for her life.
"The worst thing is the Iranian government has privatized justice—you don't leave a decision of life and death to a grieving party," Boroumand says. And such a bounty system has bred an industry. Earlier this year, a family demanded $76,000 for the death of their son. Over the past few years, activist groups have raised money to spare the lives of juvenile offenders who are unable to pay the fee.
Iran is a signatory to the U.N. Convention on the Rights of the Child (along with every other country in the world other than the U.S. and Somalia), but with a caveat that if it is "incompatible with the domestic laws and Islamic standards at any time or in any case, the Government of the Islamic Republic shall not abide by it." The international law bars execution of juvenile offenders, but that hasn't stopped the Islamic Republic from executing an untold number of boys and girls who were underage at the time of their crimes. Under Shari'a law, girls over nine and boys over 15 are considered adults.
In 2013, Amnesty International counted at least 11 executed prisoners who were juveniles at the time of their crime. Since 1990, 51 juvenile executions have been reported, the highest rate in the world (the U.S. comes in second, but the practice was outlawed in 2005)—and also undoubtedly a gross underestimation. After China, Iran executes the most people in the world each year.
The last tally of children on death row, in 2011, estimated at least 143 child offenders were awaiting the gallows in Iran.
But last year, Iran tweaked its penal code to exclude execution of child offenders for certain crimes, like drug trafficking, and allow judges to evaluate whether the accused was old enough to understand their actions. If not, the judge could rule out the death penalty. Otherwise, it remains up to the victim's family.
Ebrahimi's lawyer requested she be retried under this new law, but the Supreme Court rejected his petition.
"In the [Iranian] judiciary, it's retributive justice—an eye for an eye. Their position is this doesn't involve us, it's a completely private matter between two families," says Faraz Sanei, the Iran researcher for Human Right Watch (HRW). "No that's not true, Iran is signatory to international law…it should supersede national law. Any judge in the judiciary is duty bound to actually halt this execution." HRW has issued a call to the courts to do just this.
The injustices putting girls like Ebrahimi on death row trace back to a heavy patriarchal cultural and legal bias that tilts the scales of treatment in all aspects of life. If a man murdered his adulterous wife as a crime of passion, he couldn't be put to death, Sanei says. If a woman did the same, she could be. Likewise, a man is legally pardoned from killing his child or grandchild, but a woman is not. "These types of discriminatory legal provisions are littered throughout the Iranian legal system," says Sanei.
For abused women like Ebrahimi, there are few places to turn. To get a divorce in Iran, you have to prove mistreatment, far beyond a few bruises. You have to prove, Boroumand says, that you didn't deserve the abuse you suffered. Seeking a divorce is, she notes, basically "impossible."
In Iran, girls are allowed to marry at age 13 (or earlier, if a judge allows) and child marriage is common throughout the country. "Most women married at a young age are among the poorest of Iranian society, least informed of their rights, and least able to defend themselves," Boroumand says.
"The number of cases of women who resort to violence to be set free is an indication of the problem," she says. "Most women live in miserable circumstances with their husband because they don't want to resort to violence."
The injustice doesn't only hit minors. Currently awaiting execution is 26-year-old Reyhaneh Jabbari, who was 19 when she stabbed a man attempting to drug and rape her. He bled to death and she was sentenced to die. A campaign has succeeded in pushing her execution date back, but "that doesn't mean they're not going to kill her," Boroumand says.
In Iran, execution rates have risen rapidly in the past decade. In 2005, there were less than 100. Last year, there were an estimated 700-750. Meanwhile, reports are getting hazier. In the Boroumand Foundation's tally, official sources made up 95 percent of reported executions until 2008. Now, it's split equally with unofficial sources.
For now, it's unclear when Ebrahimi's execution could get underway. She remains in Sepidar Prison. HRW's Sanei says there seems to be little rhyme or reason to these decisions, but her judgment has already been sent to the Office of the Implementation of Sentences.
"These cases are many and they will continue to exist and people will continue to commit crimes because they're desperate and have no way out of difficult or abusive situations," Boroumand says.
http://www.thedailybeast.com/articles/2014/06/20/iran-to-hang-abused-child-bride.html
--------------
Morocco: A Member of Istiqlal Party Says 'Prostitution Boosts National Economy'
20 June, 2014
Casablanca - A member of the Istiqlal Party sparked commotion after allegedly expressing a positive opinion about prostitution before the House of Councillors during its monthly parliamentary session in Rabat.
The first segment of the parliamentary session was devoted to women's issues in Morocco. The session was held in the presence of Head of the Government, Abdel-Ilah Benkirane.
During a speech, Khadija Zoumi, member of the Istiqlal Party, allegedly expressed a positive opinion about the prostitution in the kingdom. "Prostitution contributes to the growth of the national economy," she said. "We must have the courage to admit it."
The Istiqlali MP also attacked the female cops who patrol the streets of Marrakech to arrest underdressed, provocative women, as well as prostitutes.
Zoumi's controversial statements during the parliamentary session provoked laughter from the bulk of present MPs.
However, Zoumi affirmed that she was not encouraging prostitution in Morocco, but was rather suggesting a different way to approach the problem.
Zoumi referred to a verse from the Quran to illustrate that God makes no distinctions between men and women, and that God has reserved equal punishments for all of those involved in prostitution, regardless of their sex.
Zoumi's take on prostitution in Morocco dumbfounded many Moroccans, especially the fact that it was expressed by one of the members of the Istiqlal party, which many view as an ideologically conservative party.
http://www.moroccoworldnews.com/2014/06/132945/morocco-a-member-of-istiqlal-party-says-prostitution-boosts-national-economy/
--------------
Woman protests over dowry demand in Malaysia
20 June, 2014
A 27-year-old woman staged a protest in front of her in-laws' house in Ayanavaram, about 50km from Chennai, demanding that the police take action against them and her husband for harassing her about dowry, reported Tamil Nesan.
Vaidegi claimed that since marrying Jagadeesh in 2010, he had been pestering her with demands for Rs15lakh (RM80,442) to start a business.
This was in addition to the gold that Vaidegi's family had given him as dowry during their marriage. Her in-laws, she claimed, had advised her to hand over the money as her husband was only asking it to improve their livelihood.
Vaidegi further alleged that she was subjected to domestic violence and even denied proper food before being thrown out of the house in July last year.
Despite lodging a formal complaint three months ago, she said the police had not taken any action. She plans to appeal to the Tamil Nadu chief minister.
Makkal Osai reported that the president of the main opposition party in Tamil Nadu had condemned the anti-Muslim riots in Sri Lanka and urged India to add its voice to the international chorus of concern.
DMK president M. Karunanidhi said while countries like the United States had expressed its worry over the riots that left three people dead and around 100 others injured, both the Indian and Tamil Nadu governments had yet to raise this issue.
http://www.thestar.com.my/News/Nation/2014/06/20/Woman-protests-over-dowry-demand/
--------------
SR633 in alimony: Is it enough for a divorced woman?
20 June, 2014
MAKKAH — The Justice Ministry's decision estimating the amount received by a divorced woman in monthly alimony at SR633 has been described as "disappointing and unfair" by a number of economists, a report in Makkah daily said on Wednesday.
The experts were unanimous that the alimony would not enable divorced women to meet even the basic necessities of daily life.
They noted that the amount, which was decided by the ministry's alimony fund, is less than the monthly social assistance of SR862 paid to poor and needy Saudi individuals.
The ministry said it decided on the amount after studying the alimony cases of 677 divorced women in the courts of Riyadh, Jeddah and Makkah. The ministry, however, did not say if the alimony covers children or not.
The ministry said it was the special review committee of the Saudi courts which made the estimation. It said the committee had discussed with the Ministry of Social Affairs and studied the experiences of other countries, mainly Bahrain, before deciding the amount of the monthly alimony.
According to the ministry, the estimation of Riyadh courts, which have 217 alimony cases, started with SR130 and went up to SR3,000 while the estimation presented by the Jeddah courts, which have 281 cases, started with SR100 and went up to SR5,000.
It said the Makkah courts, with 52 cases, gave figures between SR50 and SR1,000 and the department of personal affairs in Jeddah said the monthly alimony could start with SR200 and go up to SR2,000.
"The average of all these figures is SR633, which we have adopted as monthly alimony for female divorcees," the ministry said.
Fadl Abuainain, an analyst, ridiculed the decision and said the ministry did not consider the "adequacy limit" or the "poverty line when it made its estimation."
The ministry did not consider the high cost of living so it came up with an illogical figure," he added.
Eissa Al-Ghaith, a Shoura Council member, described the ministry's figure as "insulting" and said that divorced women even in the poorest countries would not accept this amount. "The figure should have been estimated by experts who have complete knowledge of the Kingdom's economic situation and the prices of commodities and services," he said.
Al-Ghaith said the ministry should have also sought the help of non-government organizations, such as King Khaled Foundation, which have sufficient expertise in these areas.
http://www.saudigazette.com.sa/index.cfm?method=home.regcon&contentid=20140619208967
--------------
New Police Department in Egypt for Crimes of Violence against Women
20 June, 2014
Egyptian Interior Minister Mohamed Ibrahim has ordered a new department formed to combat crimes of violence against women in collaboration with the ministry's department of human rights, a security source told Al-Ahram Arabic news website.
The source said the new department will receive complaints of assaults or violence against women and take the needed legal action, especially in cases of mass assault.
Forces of the new department should be present in crowded places, public transportation, festivals, sporting matches and other places where women are especially exposed to assault.
The decision on the new department comes after cases of mass sexual attack in Cairo's iconic Tahrir Square during celebrations of the presidency of Abdel-Fattah El-Sisi. The president himself and his wife visited one of the victims in hospital, where El-Sisi apologised to Egyptian women and vowed to take strong action to confront increasing violence against women.
The security source said the new decision is part of an effort to combat sexual harassment, which has reached epidemic levels in Egyptian society.
A United Nations survey from last year said that over 99 percent of Egyptian women have been exposed to harassment.
Campaigners have also reported dozens of incidents of mob sexual assaults and rapes during public gatherings since 2011, and have complained of a failure of authorities to respond to the spread of assaults.
Earlier last week, a ministerial committee tasked with examining the issue of sexual harassment in Egypt announced a plan to combat the problem, including heavy security presence in public squares and crowded areas.
http://english.ahram.org.eg/NewsContent/1/64/104090/Egypt/Politics-/New-police-department-for-crimes-of-violence-again.aspx
--------------
Wartime Violence against Disabled Women Often Ignored
20 June, 2014
LONDON (WOMENSENEWS)--International rights activists here recently pressed for the needs of women and children with disabilities to be addressed in international efforts to curb sexual violence in conflict zones.
"Disabled individuals are at least three times as likely to be experiencing sexual violence in conflict situations or in non-conflict situations," said Judith Heumann, special advisor for international disability rights at the U.S. State Department, adding that baseline levels of violence get greater during conflict. "The data has been relatively minimal because in many areas, I think we can say in the U.S. and Great Britain and countries around the world, the issue of sexual violence in the area of disability is only a newly emerging discussion."
Heumann participated in a panel discussion that was one of 175 public events at the Global Summit to End Sexual Violence in Conflict, which was hosted here by U.K. Foreign Secretary William Hague and Angelina Jolie, the special envoy for the U.N. high commissioner for refugees, from June 10 to 13. The meeting drew a mix of activists, politicians, survivors, faith leaders and other officials. With representatives from more than 100 countries, summit organizers said it was the largest gathering on the issue.
While delegates worked on tackling the impunity around sexual violence in conflict zones through an international protocol released during the event and changing global attitudes to these crimes, Heumann's panel highlighted the various ways in which women with disabilities may be at greater risk of violence, including gender-based violence, during pre-conflict, conflict and post-conflict times.
"Conflict in violence, whether it's sexual gender-based violence or intimate-partner violence, is of course a significant cause of impairments [disabilities] in and of itself," said Maria Kett, assistant director of the Leonard Cheshire Disability and Inclusive Development Centre in London, during the panel. "Persons with disabilities may have been born with disabilities or they may have acquired them."
Panelists called for such remedies as including women with disabilities in post-conflict peace-building processes, more research, sensitivity training for judges, social workers, police and others in the community and improved support and services.
Compounded Risks
"If you have reduced mobility, it makes it that much harder to run when everyone else is fleeing from the village, you may have less chance to run away. If you have a hearing impairment you are less able to hear if someone is coming behind you to attack you," said Kett.
However, she added, that's not always the main factor. When this group is overlooked the risks can be compounded. "Even when there are initiatives in place to protect men and women, girls and boys, from sexual and gender-based violence, oftentimes certain groups are excluded. That may not be deliberate. But if you don't put your message across and make information accessible in all formats, languages, if you don't make sure your venues for your meetings are accessible, if you don't reach out to disabled communities themselves, then you won't necessarily be including those people."
Rates of violence may be 4-to-10 times higher among those with disabilities than their non-disabled peers, found an April report from the Women's Refugee Commission. Women, children and older persons with disabilities are particularly vulnerable to discrimination, exploitation and violence, said the report, and women and girls were more likely to report sexual violence, with those with intellectual and mental disabilities among the most at risk.
Factors that can make women and girls with disabilities more vulnerable to sexual violence, according to the report, include stigma and double discrimination for being a woman and having a disability, isolation, poverty, service providers questioning their credibility, a lack of knowledge about gender-based violence and insufficient support and services.
The State Department's Heumann said women with new disabilities may be especially isolated. "One of issues has been that many women's groups have not really been including disabled women in the work that they've been doing," she said. "You have women not from the disability community who are acquiring disabilities, where the primary groups they would go to, maybe women's groups, aren't sensitive to the disability issue." As a result, Heumann said, such women can be left "kind of out there on their own."
Post-Conflict Situations
This exclusion can also happen in post-conflict situations. A 2008 Women's Refugee Commission report showed that female refugees with disabilities often found themselves in refugee camps that were ill-equipped to meet their needs, with problems with the camps' physical layout and infrastructure. A different report, prepared by the Violence Against Women with Disabilities Working Group in 2012, said that justice and post-conflict reconciliation activities rarely include women with disabilities.
Heumann said the U.N. Convention on the Rights of Persons with Disabilities, adopted in 2006, is a step in the right direction to addressing some of these issues. The international treaty, she said, has been ratified by more than 145 countries, though not the United States.
Lee Webster, head of policy and influencing at Womankind Worldwide, an international women's rights charity based in London, said right now is an especially significant time to discuss next steps, with the deadline for the U.N.'s Millennium Development Goals, a set of international commitments to improve global living standards, coming next year.
"Violence against women and girls was a gaping hole in the MDGs," Webster said during the panel. "What comes next and what is in the post-2015 framework in terms of overall goals, targets and indicators is vitally important because what's there is what gets measured and what gets measured is what gets funded. So we need to make sure that persons with disabilities, and particularly violence against disabled women and violence against women and girls, is firmly in that framework so we do have a framework for action moving forward."
http://womensenews.org/story/war/140617/wartime-violence-against-disabled-women-often-ignored#.U6PHU5RdU4U
--------------
Iraq Women's Shelter Responds to Growing Crisis
20 June, 2014
(WOMENSENEWS)--Amid worsening armed violence in Iraq, the Baghdad-based Organization of Women's Freedom in Iraq is working to help women who have been harmed and driven out of their homes. The group is reaching out to cities with the largest numbers of women displaced by the fighting.
"Kerbala is our target place to go to because this is a city where a big population of displaced have gone and where there are families without men, which are very vulnerable," Yanar Mohammed, the group's president, said in a phone interview on Wednesday.
Located southwest of Bagdad, the city holds a holy site of Shia Islam: the shrine of Imam Hussain, the second grandson of the prophet Mohammed. The city is now itself under threat from insurgents.
While men on both sides of the conflict in Iraq are being shot by militants or taken by force and sent to the front lines with the army, women are being kidnapped and raped, Mohammed said. She is also concerned about the situation in the northern city of Mosul, where atrocities against women have been concentrated. The city was seized on June 10 by Sunni fundamentalists with the Islamic State in Iraq and Syria, or ISIS.
Women "are being kidnapped from their house by the ISIS warriors and forced into what they call into a 'jihad marriage.'"
Jihad marriage, also known as "sexual jihad," is a term for women who willingly offer sexual comfort to fighters to assist the cause of establishing Islamic rule. In the cases to which Mohammed refers, however, the women are not volunteers. They are forced.
Over the past week, 18 women were taken from their houses and raped by ISIS in Mosul, according to the latest news obtained by Mohammed.
Suicides Follow Rape
Large media outlets have reported that four women who were raped have committed suicide. "In one of the cases, the woman's brother committed suicide also because he was unable to prevent the warriors from taking his sister," Mohammed said. "In the Iraqi culture when a woman cannot be protected by her family and she is taken and raped, it becomes a source of a huge stigma and dishonor to the family."
To counter the insurgency, men are now being taken and sent by force to fight on the front lines with Shiite militias, Mohammed said. This means women who are left alone with child care are becoming more vulnerable to violence.
The Organization of Women's Freedom in Iraq provides shelter to women "who are being targeted for exercising their human rights," Yifat Susskind, executive director of the New York-based women's advocacy group MADRE, a partner organization, said in a phone interview earlier this week. Commonly the women are threatened by "gender-based violence, by honor killing, by domestic violence or have been forced into prostitution and have escaped." Now they are victims of the armed conflict.
MADRE's staff has been exchanging daily phone calls with it partner group in Baghdad since the news broke earlier last week that ISIS had seized Mosul.
Thousands of displaced, particularly children, were sheltered in schools, hospitals and mosques outside Mosul, many of them without adequate water, sanitation, or shelter, according to the U.N. children's agency, UNICEF. Many fled with little more than the clothing on their backs and arrive without money.
Longstanding Problems in Mosul
Mosul, Iraq's second-largest city, is mostly Sunni and many residents have long complained of discrimination and mistreatment by the Shiite-dominated central government. Sunni fundamentalist fighters have vowed to capture Baghdad and Shia holy cities further south after overrunning Mosul and driving the army out of northern provinces.
ISIS already captured the city of Fallujah in January. Mosul, located at the strategically vital intersection of routes linking Iraq to Turkey and Syria, is considered a more major victory.
More than 500,000 of Mosul residents have fled since the surprise of the attack, according to U.N. agencies. Although there is no figure available on the number of women at risk, "in any conflict, women and children make up between 75 and 90 percent of the displaced," said Susskind.
When asked about the consequences of the establishment of an Islamic state by the ISIS, Susskind pointed to parts of Syria where ISIS has been associated with the restriction of movement by women, rape, abductions, forced prostitutions and increase in forced and child marriages. "We just have to look at what happens in eastern Syria where ISIS is also governing huge pieces of territory," she said. "What you see is very clear, which is widespread and systematic violations of women's rights."
Iraq's Prime Minister Nouri al-Maliki has so far been unable to form a coherent response the al-Qaeda-inspired group. Last week he failed to get parliament to declare a state of emergency and asked President Barack Obama for help to combat the growing insurgency.
"There is not a military solution to this crisis," said Susskind. She said the current insurgency is the result of social, economic and political problems. "These problems cannot be resolved at gunpoint . . . what needs to happen is an end to the sectarian politics in Iraq and that's not a short term proposition, that's a process."
Susskind criticizes the sectarian policies of the Iraqi government and blames the United States for staying silent about them. "What's happening in Iraq right now is not the result of the withdrawal of the U.S. troops from Iraq," she said. "It is the result of invasion and occupation by the United States."
Earlier this week, the United Nations accused ISIS of "systematic" executions in and around the north-central city of Tikrit. Reports of mass killings committed by Sunni fundamentalists have been emerging as Shia government forces attempt to recover from their humiliating rout a week ago.
http://womensenews.org/story/war/140618/iraq-womens-shelter-responds-growing-crisis#.U6PBppRdU4U
--------------
Yemeni women 'can save nation', Nobel laureate Karman
20 June, 2014
(ANSAmed)- ROME - The women's rights and will to change that arose during the 2011 uprisings are now being seen in the results of a year of work conducted by the National Dialogue Conference, Nobel prize winner Tawakkol Karman said at a seminar in Rome on Thursday. Karman was awarded the Nobel Peace Prize alongside two Liberian women in 2011.
''The time has come for them to be included in the constitution and laws,'' she added. Cooperation between Italy and Yemen in the field of human rights in the new constitution was the focus of the seminar, sponsored by Minerva and Law International with support from the Italian foreign ministry, which took stock of a collaboration project that sent a delegation of scholars, legal experts and institutional and civil society representatives to Sana'a in April. The seminar highlighted the liveliness of political and constitutional debate in a country that often appears in the news only in reports on the violence and terrorist attacks it continues to suffer. The debate included both political and social components of Yemeni society and resulted in January 2014 in a final document for a ''modern civil and federal state'' in which the problems of the past (abuse of power, corruption, etc.) would be replaced by the principles of rule of law, social justice, human rights and sustainable development.
''The young men and women who took part in the revolution paid for this achievement with their blood,'' Karman said, a colorful foulard covering her hair, ''but the time has come to include it in the new constitution and the country's laws''. To this end, she added, we must win against the ''fatwas of these men of religion who see everything as wrong'', warning that if the rights affirmed in the national dialogue are not translated into laws, ''we will move backwards''. Many women's rights were affirmed in the conference, including that of having a 30% quota in all institutions, she underscored, as well as ''the struggle against violence and sexual exploitation and the right to join the military and intelligence services''. She noted that women ''are less likely to be corrupt than men'' and were ''leaders in the front lines during the revolution'' against former president Saleh. Karman took on this role herself in 2011, when she was at the head of the group 'Women Journalists Without Chains' and ended up spending time in jail for her political activism. She also chose to stop wearing a full Islamic veil, which is seen as obligatory for many in a country where backwardness and male power are difficult to free oneself from, especially in rural areas. ''We decided to put an end to all this, '' she said, ''and the groups that worked for national dialogue did an excellent job.'' This was in part thanks to collaboration from Italy , she said, adding that there is now the need for ''women able to save Yemen''. (ANSAmed).
http://www.ansamed.info/ansamed/en/news/sections/politics/2014/06/19/yemeni-women-can-save-nation-nobel-prize-winner-karman_968fa66e-372c-4028-8e6c-22bad10ff1c3.html
--------------
Australia: Protest Planned for Muslim Women's Group Meeting
20 June, 2014
Anti-Islamic protesters will be met by Federal and Queensland police tonight at a planned meeting of a Muslim women's support group south of Brisbane.
Police from Logan have been redeployed to attend Logan's Kingston Butter Factory at 6pm.
Sisters House, a group established and run by local sisters since 2010, has been meeting at Logan's Kingston Butter Factory.
Logan District Chief Superintendent Marty Mickelson confirmed police had been made aware of "a couple of groups of activists" who would attend the meeting.
He said police had "all bases covered" to ensure community safety but that he was expecting it to be a peaceful protest.
A spokeswoman from Sisters House said she wasn't aware of the planned protest but that it was "good to know".
She said the group had never experienced any problems with anti-Islamic protesters in the past.
http://www.couriermail.com.au/questnews/logan/protest-planned-for-muslim-womens-group-meeting/story-fni9r0nh-1226960184079
--------------
CAIR Names Ohio Attorney Roula Allouch as National Board Chair
20 June, 2014
The Council on American-Islamic Relations (CAIR), the nation's leading Muslim CAIR Names Ohio Attorney Roula Allouch as National Board Chair | CAIR Video News Updatecivil rights and advocacy organization, announced today that it has named Ohio attorney Roula Allouch as its new acting national board chair.
Allouch had been vice chair of CAIR's board and was named to head the organization when the previous chair Omar Zaki stepped down after two years in his post.
She served as president of CAIR's Cincinnati chapter from 2008 to 2013, and is an attorney practicing in Ohio and Kentucky, where she focuses on employment law, insurance defense and general civil litigation.
Allouch is a member of the American, Kentucky, and Cincinnati Bar Associations and serves as public service co-coordinator for the American Bar Association Young Lawyers Division and is the Kentucky young lawyer delegate to the American Bar Association House of Delegates.
"I would like thank Omar Zaki for his service to CAIR and to the defense of civil rights for all Americans," said Allouch. "I hope to continue and strengthen CAIR's efforts to enhance understanding of Islam and Muslims, to encourage civic participation by American Muslims and to build coalitions with like-minded individuals and organizations to promote justice and mutual understanding."
"Roula's dedication and legal expertise make her an ideal choice to head an organization that seeks to prevent the ongoing erosion of civil liberties in our society," said CAIR National Executive Director Nihad Awad.
CAIR is America's largest Muslim civil liberties and advocacy organization. Its mission is to enhance the understanding of Islam, encourage dialogue, protect civil liberties, empower American Muslims, and build coalitions that promote justice and mutual understanding.
http://boston-massachusetts.us/cair-names-ohio-attorney-roula-allouch-as-national-board-chair-cair-video-news-update/
--------------
Fearing loan sharks, Indian nurses stuck in Iraq don't want to get back home
Daniel P George,TNN | Jun 20, 2014
CHENNAI: A majority of the 46 Indian nurses stuck in a hospital in the strife-torn town of Tikrit in Iraq are not keen on returning, because of financial constraints, despite facing extreme risk.
Nurses in touch with TOI said most of them had gone to Iraq for the job after taking loans, and returning would put them in an a financial crisis back home. What's worse, many of them have been working without pay since the last four months.
There are 46 Indian nurses stuck in this hospital, most of them from Kerala. Kerala chief minister Oomen Chandy on Thursday urged Prime Minister Narendra Modi to intervene and see that the stranded nurses are evacuated at the earliest.
Jency James, one of the nurses employed with the Tikrit teaching hospital, told TOI on Thursday that 14 of them who have completed a year in the job were keen on getting back to India, while the rest who took up the job in January want to remain there as they are afraid of loan sharks in Kerala.
Jency said, "I cannot think of returning home as I have a loan of Rs 1.5 lakh. All I can pray for is that peace prevails and there should be enough security for us to move out." She added that a nurse there gets an average salary of Rs 55,000, but she had not been paid for the last four months.
She said aid workers of International Red Crescent visited them on Thursday and inquired about their well-being and safety.
In Mosul, another disturbed town of Iraq, 41 construction workers are stranded. Diplomats said the Indian government is keeping its options open for possible evacuation if the situation demands. ISIS militants have overrun the Iraqi cities of Mosul and Tikrit and are proceeding towards Baghdad.
The Iraqi government has conveyed to New Delhi that it has narrowed in on a location where 30 men from Punjab are being held hostage. Neither special envoy Suresh Reddy, who India has sent to Iraq, nor Indian Ambassador to Iraq Ajay Kumar was available for comment.
http://timesofindia.indiatimes.com/india/Fearing-loan-sharks-Indian-nurses-stuck-in-Iraq-dont-want-to-get-back-home/articleshow/36851889.cms
-----------
The Muslim Council of Britain: Barbaric practice of FGM is un-Islamic
20 June, 2014
Britain's most prominent Muslim organisation today announced a new drive to tell its followers that female genital mutilation is contrary to Islam and should be shunned to save girls from serious damage to their health.
The Muslim Council of Britain said that it would distribute leaflets in mosques and community centres across the country as it threw its support behind the campaign to end the barbaric practice.
It said that it was "not true" that mutilation was a Muslim requirement and that instead one of the "basic principles" of Islam was that followers should not harm themselves or others.
It added that FGM was bringing Islam "into disrepute" and could cause severe pain, bleeding, problems in pregnancy and even death, as well leaving some victims with lasting pyschological problems.
Announcing today's move, which will be welcomed by campaigners as a major breakthrough in the fight against FGM, Dr Shuja Shafi, the secretary general of the Muslim Council of Britain, said that the leaflet would be displayed at more than 500 mosques and community centres nationwide.
He added: "We at the MCB are pleased to address this very important issue of female genital mutilation. Working closely together we can end this practice and ensure it is no longer linked to the religion of Islam or the teachings of the Prophet Muhammad."
Dr Soheir Elneil, the chairwoman of the African women's campaign group Forward, which helped to prepare the leaflet, said the publication was an important step forward in the battle to protect girls.
"This is the first time such a publication has been achieved with the full cooperation and support of the relevant parties, and we hope all those working in FGM will find it a helpful tool in the work that they do.
"It states that FGM is non-Islamic and is against the teachings of Islam, that it is putting the health of women and girls at risk, and informs the reader of the legal implications in the UK of carrying out the practice."
The new leaflet states: "FGM is not an Islamic requirement. There is no reference to it in the Holy Qu'ran that states girls must be circumcised. Nor is there any authentic reference to this in the Sunnah, the sayings or traditions of our Prophet. FGM is bringing the religion of Islam into disrepute."
The document also warns that there is "an increasingly high risk of being prosecuted" for carrying out mutilation, which has been illegal in this country since 1985, and that perpetrators face up to 14 years in prison.
Today's announcement follows a Home Office summit yesterday at which other religious organisations, including the Shia al-Khoei Foundation and the Muslim Women's Network UK, announced their support for a government declaration against FGM to be published next month.
http://www.standard.co.uk/news/uk/the-muslim-council-of-britain-barbaric-practice-of-fgm-is-unislamic-9551258.html
--------------
Local Threads: Saving Embroidery One Stitch at A Time
20 June, 2014
GILGIT: The continued existence of the traditional art of embroidery in Gilgit-Baltistan (G-B) can be attributed to people like 79-year-old Shukrat Bibi who has dedicated her life to conserving the craft.
Bibi's nimble fingers took to the art of stitching at the tender age of 10. The resident of Karimabad town of Hunza Valley had learnt from the best – her mother. Over the next seven decades, the artisan passed on the skill as she trained hundreds of women and helped them become financially independent or providers for their families.
In 1992, she was awarded the prestigious Presidential Pride of Performance Award for keeping the delicate art of do sutti Karhai alive in the region.
"The needlework I do today is all because of my mother who taught me," Bibi expresses her gratitude while talking to The Express Tribune.
Sitting in her small shop situated close to Baltit Fort, Bibi looks at home among her wares which include traditional caps, embroidered wallets and colourful women's dresses.
"I don't remember the exact number of women I have trained over the years. But I know for a fact that the number is in the hundreds," she says proudly.
Her products are available for a variety of prices, ranging from Rs200 to Rs1, 500, depending on the work. However, Bibi says the profit she makes falls short of what her family actually needs to make ends meet.
Her husband Niyat Shah is a retired soldier and his monthly pension is Rs5, 700. The average income Bibi earns from her shop is a meagre Rs4, 000 per month. Even though the couple does not have children, their expenditures are higher than their income.
Unfortunately for Bibi, she isn't aware of organisations such as the All Pakistan Women's Association (APWA) which work for the economic welfare of women.
"There is a possibility that we may look into options to assist women like Shukrat Bibi," says Durre Shawar of APWA. "We can even put her products on display at our events," said Shawar who is based in Lahore.
But for Shukrat Bibi, her work is gradually becoming more hectic and less fun to do. Security concerns have affected the tourism industry and taken away prospective customers. However, what really hinders her in the expansion of her business is her declining health and her inability to communicate in any other language except her native tongue, Burushaski.
"I have done whatever I could to keep the art of embroidery alive. Now it is up to the youth to keep the needles going," she says.
Lost incomes
In Hunza Valley, embroidery has become a source of extra income for hundreds of women, who make the products at home and at sell them in local markets.
A number of non-governmental organisations, including Karakoram Area Development Organization, have implemented projects to boost sales of locally-made handicrafts. Carpets and traditional goat or yak hair rugs (Sharma) are some of the products that reflect the craftsmanship of the residents of a valley that once was a tourist hub.
"Gone are the days when tourists would flock to this region and buy our products at reasonable prices," says Nadir Shah, a businessman who runs a shop called Hunza Art Museum in Karimabad.
The tourism industry suffered a major blow after the September 11, 2001 attacks on the twin towers in New York, US, while the brutal killing of 10 foreigners at the foot of Nanga Parbat last year served as the final nail in the industry's coffin, leaving more than 5,000 families jobless in G-B.
http://tribune.com.pk/story/723812/local-threads-saving-embroidery-one-stitch-at-a-time-in-hunza/
--------------
URL: https://www.newageislam.com/islam,-women-and-feminism/new-age-islam-news-bureau/iran-to-hang-abused-child-bride/d/87654