New Age Islam News Bureau
15 May 2020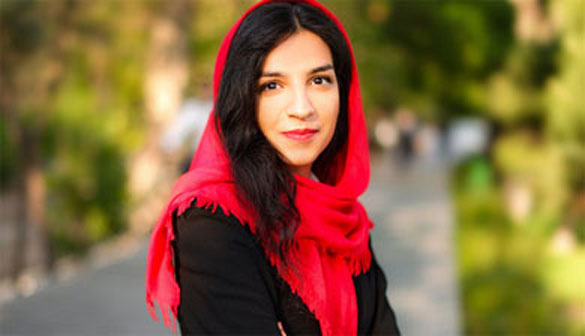 Iranian Christian Mary Mohammadi. (Twitter)
-----
• Iran Sentences Young Christian Woman To 10 Lashes, 3 Months in Prison
• 'Role Model': Pakistan's Hazara Woman Packing A Punch
• Massacre at Maternity Ward Shows A Chilling Truth for Women In Afghanistan
• Hyderabad Muslim Women's Forum Condemns "Misogynistic Trolling of Women Activists on Social Media"
• 'We Want to Stop Hearing About Female Firsts in Palestine, Women Should Have the Same Chances as Men'
• Saudi Arabia: Spike in Coronavirus Cases Among Women, Children
• Iranian Women Squeezed by US Sanctions, COVID-19 and Their Government
• Iraqi Women Are Denied Property Rights - Report
Compiled ByNew Age Islam News Bureau
URL; https://www.newageislam.com/islam-women-feminism/iran-sentences-young-christian-woman/d/121859
-------
Iran sentences young Christian woman to 10 lashes, 3 months in prison
May 14, 2020
DUBAI — Iran has sentenced a young Christian woman to 10 lashes and three months in prison for allegedly demonstrating against the military's downing of a Ukrainian airplane in January.
Mary Mohammadi, 21, was arrested in Tehran on Jan. 12 and charged with "disrupting public order by participating in an illegal rally," according to nonprofit Christian watchdog Article 18.
"I was forced to endure all kinds of torture, none of which is sanctioned by law, and which ought to be considered crimes in themselves," said Mohammadi in a post on Twitter.
Iran's largest women's prison, Qarchak is known for its "unbearable conditions, including regular assaults and inappropriate behavior of prison guards towards women, chronic lack of water, unsanitary living spaces, and an environment that enables rape and murder," said US official Brian Hook during a special briefing in December.
Mohammadi was sentenced on April 21, according to Article 18, who reported the judge at the court hearing repeatedly asked Mohammadi about her Christian faith.
Mohammadi said she is being punished for "protesting against the slaughter of human beings" and for "showing sympathy for all the families who perished on the Ukraine airline crash."
Flight PS752, a Ukrainian International Airlines airliner, was shot down outside Tehran on Jan. 8, killing all 176 people on board.
Iranian officials initially claimed the plane had crashed due to a technical error and invited countries that lost citizens to help investigate.
Three days later, Iran admitted responsibility for shooting down the plane, saying its Islamic Revolutionary Guard Corps (IRGC) mistook the plane for a "hostile target." The admission came after Western leaders said there was strong evidence the plane was hit by a surface-to-air missile.
After Tehran's admission, protests erupted across the country in support of the victims. Mohammadi said in a social media post she is "proud of sympathizing with human beings" and that her sentencing is the cost of that.
Mohammadi is just one of many young Iranians who have been sentenced to time behind bars for protesting against the IRGC shooting down the civilian airliner. Just after Mohammadi's judgment, two other Iranian students were sentenced to prison time for participating in the January protests.
"Around 30 people have been arrested for taking part in illegal gatherings ... We have tolerance toward legal rallies," said spokesman Gholamhossein Esmaili, the Iranian semi-official Tasnim news agency reported.
Mohammadi, whose sentence has been suspended for one year, has decided not to appeal against the verdict, according to Article 18.
"We have refrained from appealing against the verdict because the appeal courts have turned into confirmation courts!" Mohammadi said in a statement to Article 18.
US President Donald Trump mentioned the case against Mohammadi during a speech at the annual National Prayer Breakfast in Washington, D.C., in February. — Al Arabiya English
https://saudigazette.com.sa/article/593136/World/Mena/Iran-sentences-young-Christian-woman-to-10-lashes-3-months-in-prison
--------
'Role model': Pakistan's Hazara woman packing a punch
by Hafsa Adil
May 15, 2020
Karachi, Pakistan - Kulsoom Hazara clutched her medal tightly as Pakistan's national anthem played inside a sports arena in the Indian capital New Delhi.
The 27-year-old karateka from Pakistan had delivered a knockout blow to her Indian opponent to win her first international medal - a gold at the 2016 South Asian Karate Championship.
She could not hold her tears as she remembered her slain mentor and brother-in-law Sarwar Ali Hazara, who was shot dead in 2005 in what appeared to be a sectarian attack.
Kulsoom is from the Hazara minority community, which has faced persecution in Pakistan. At least 1,500 Hazaras have been killed in sectarian attacks since the late 1990s, according to figures maintained by a non-profit Hazara organisation.
But according to Pakistan's National Commission for Human Rights figure available from 2012 to 2017, more than 500 Hazaras were killed in Quetta between 2012 and 2017.
Last November, Kulsoom was in the media spotlight after winning a silver and a gold medal in individual and team events respectively at the South Asian Games in Nepal. Her beaming smile despite receiving a blow that broke her nose endeared her to an otherwise cricket-mad nation.
She has also grabbed a gold medal at the 2017 South Asian Karate Championship held in Sri Lanka and picked up a bronze at the 2010 South Asian Games held in the Bangladeshi capital Dhaka.
Kulsoom resumed her training at a karate club run by Ali in the port city of Karachi. Ali was her guardian since she had lost her parents as a child.
Ali introduced her to karate as a child while she was still based in Quetta. "I was five and didn't even know how to tie my own belt when my brother-in-law held my hand and took me to my first karate lesson in Quetta," Kulsoom told Al Jazeera at her club in Karachi.
"I lost my mother to cancer when I was two. My father died five years later. Fearing for our lives and livelihood, my brother-in-law decided to bring us to Karachi.
"I wasn't always very passionate about karate but my brother-in-law knew I could be a champion so his encouragement pushed me to do better."
Kulsoom made a mark as a promising athlete when she won three gold medals in 2000 at provincial tournaments. Two years later, she won a bronze in the national karate championship held in Lahore.
She attained national fame after winning her first national gold in 2005. And her medal glory at national level continued almost uninterrupted until 2019, an unmatched feat in Pakistan, where female athletes are few and far between.
"Sadly, he couldn't live to see it happen. He became a victim of the vicious campaign against our community," said Kulsoom with a tremble in her voice.
"When we moved from Quetta, we thought we left behind the fear and violence that crippled our lives. But it followed us to our doorstep in Karachi."
In 2005, Ali was on his way back home after training his karate students in Manghopir area of Karachi when he was shot dead. She said unknown men had threatened Ali and told him to quit training Hazara kids.
"I was fixing the living room curtains when I heard an announcement from the neighbourhood mosque that my brother-in-law had died. It struck me like lightning. I fell off the chair, became unconscious and spent the night at the hospital.
"He was a very selfless man and felt it was his responsibility to pass on this art to as many children as possible, and not just those from our community."
However, instead of turning her back on karate, Kulsoom emerged from the crisis determined to keep on fighting and fulfil her mentor's dream.
"I didn't have access to YouTube or online coaching and I couldn't learn anything new. I tried to improve whatever techniques I knew, improve my speed and improve my physique."
At the 2005 Islamic Women's Games in Iran, which saw participation from 44 countries, Kulsoom failed to win a medal. But the defeat did not dampen her ambitions.
She resumed training at a karate club run by Abdul Hameed, the secretary of the Sindh Karate Association, who also took over as Kulsoom's coach and mentor after Ali's murder.
The club was located in Lyari, a part of Karachi known for producing boxing, karate and football stars but also notorious for gang wars which made it a virtual no-go area from 2008 to 2014.
Even at the height of the violence, Kulsoom continued to practise at the club - a run-down place with bare minimum facilities, squeaky wooden floor, cracked walls and insufficient lighting.
"Kulsoom is a role model for every kid, be it a girl or a boy, who comes to this club," coach Hameed told Al Jazeera as his students filled in for their daily evening practice.
As the students gathered in a formation for a warm-up and training session, Kulsoom positioned herself at the front to lead the group. Two young men, on either side, waited for her cue.
"She lost her parents, her hometown, even her mentor, but she never stopped training. Even at the height of violence in Lyari, she would make the 50km round trip just for her training," Hameed said.
"Forget about girls, so many boys who started playing at the same time as Kulsoom have quit karate but she's is still here, still winning medals and still making us proud."
With a chuckle, Hameed added: "When she enters the ring she's like a tigress. She knocks down opponents within minutes. Sometimes I have to ask her to be a little considerate of her opponent."
Following in Kulsoom's footsteps, several martial arts and sport champions have emerged from Quetta's Hazara community over the past 10 years.
Sitting by a large glass display unit filled with her medals, trophies and photos of her late mentor, Kulsoom said that she feels immense pride at being introduced as a role model for all young Pakistani girls, and not just those from the Hazara community.
She also recalled how, back in the 1990s, she was made fun of and her family was looked down upon for teaching martial arts to a girl at an all-boys karate club.
"Now, whenever I go back to Hazara Town, I'm presented with bouquets and garlands and receive invitations to girls' schools and karate clubs," she said with a smile.
https://www.aljazeera.com/indepth/features/model-pakistan-hazara-woman-packing-punch-200428093043673.html
--------
Massacre at maternity ward shows a chilling truth for women in Afghanistan
May 14, 2020
(CNN)Afghanistan's "peace deal" has been blown up. The government has resumed fighting the Taliban after a horrifying attack by gunmen on a maternity ward run by Doctors Without Borders in Kabul. Mothers and nurses were the main victims in the first attack, with 16 killed. Two of the dead were newborns.
Although the Taliban denied being responsible for the attack, Afghanistan's national security adviser, HamdullahMohib, stated on Twitter that "their attacks this spring against Afghans are comparable to the level of fighting in past fighting seasons ...This is not peace, nor its beginnings," and that there is "little point in continuing to engage Taliban in 'peace talks.' "
Whoever is responsible for the brutal massacre at the maternity ward, Afghanistan is nowhere near a peaceful settlement.This attack has left even me, a longtime analyst of Afghan women's rights, stunned. I honestly thought I could not be shocked about this country anymore.
Bizarrely, this brutal attack on women and newborn babies mimics a recent episode of Showtime's prescient "Homeland," which "predicted" the demise of peace talks with the Taliban, but it mainly proves that not only was the messy "peace deal" reached in February between the US and the Taliban a joke to begin with (it kicked off an increase in attacks on Afghan soldiers and police instead) but a dangerous gamble -- especially for Afghan women's rights.
It's no secret that America and Americans have serious war fatigue and want US troops home, but these talks took place in Doha, Qatar, with no women present, even though it was the plight of Afghan women that the US government has long exploited to win the public relations and optics battle for the war.
"The fight against terrorism is also a fight for the rights and dignity of women," then First Lady Laura Bush said after the 2001 US invasion. She said that, thanks to US intervention, (Afghan) women were "no longer imprisoned in their homes."
Yet, today here we are, almost two decades later, with Afghan women and their babies being slaughtered. If they're not safe in maternity wards, how safe are they in their homes, or anywhere in the country?
In a statement Tuesday, US Secretary of State Mike Pompeo condemned the hospital attack as "an act of sheer evil" and urged both sides to find a solution.
"The Taliban and the Afghan government should cooperate to bring the perpetrators to justice," the statement read. "As long as there is no sustained reduction in violence and insufficient progress towards a negotiated political settlement, Afghanistan will remain vulnerable to terrorism."
What Pompeo is conveniently overlooking is that yes, while without violence being scaled down there can be no peace, without women's rights there can never be democracy -- in Afghanistan or anywhere else in the world.
"Women's rights" was something that the United States once stipulated was non-negotiable for Afghanistan, but today we are expecting the very terrorists we once wanted to "save" Afghanistan from to deliver her peace.
https://edition.cnn.com/2020/05/14/opinions/afghanistan-maternity-ward-massacre-hossain/index.html
--------
Hyderabad Muslim Women's Forum Condemns "Misogynistic Trolling Of Women Activists On Social Media"
May 15, 2020
Hyderabad Muslim Women's Forum is one of the latest civil society organizations to strongly condemn arrests of women activists who participated in anti-CAA protests – Gulfisha, SafooraZargar and Ishrat Jahan.
The forum, consisting of prominent faces that initiated, coordinated and led anti-CAA marches in the Telangana state, has called out to the government's "attempt to intimidate through incarceration and false cases" stating that these are "more shameful if not downright criminal, given the prevailing global health crisis when physical distancing is a matter of utmost priority and overcrowding of prisons a worldwide issue."
Khalida Parveen who has been instrumental in leading women's protests across the country against CAA, NRC and NPR is a well-known figure in the Hyderabad Women's Forum. Others include academics, counsellors, journalists, lawyers and social activists like Kaneez Fathima, Sabah Quadri, Ayesha Faruqi, Noorjahan Siddiqui, Mandakini, Nikhat Fatima, Sana Wahab, Sharifa Siddiqui and several more. SAFA and Help Hyderabad are a few non-governmental organizations that have joined the fight against the government's targeting of Muslim activists.
The forum has spoken in favour of protests, highlighting that all the three women who are detained have been "protesting peacefully and democratically against the CAA, NRC, NPR" and the group denounces such tactics of the authorities to direct similar charges against other activists, students and organizations. The group has refuted claims of involvement of any of the three in the Delhi violence using available evidence and has outlined their ill-treatment in detention. Accordingly, Ishrat Jahan who is a former Municipal Councilor and active participant in anti-CAA protests in East Delhi's Khureji area is being tortured in jail. Gulfisha, a student leader in the anti-CAA protests at Seelampur, is falsely charged with sedition while SafooraZargar, now in the second trimester of her pregnancy, has been wrongfully accused of being a key conspirator of the Delhi violence.
The Muslim women's coalition is one of the leading voices that has also spoken against "the misogynistic trolling on social media about Safoora's personal life, her marital status and pregnancy," stating all of this as "utterly reprehensible and outside all bounds of common decency." As women rights activists, the forum has endorsed their support for the immediate release of Gulfisha, Safoora and Ishrat on the grounds that it is "illegal to deny these three women activists access to lawyers and visits by families" and absolutely wrong to arrest them "during the time when the courts are functioning at their lowest capacity and least regularity and the arrested cannot access legal remedies." It has further highlighted that "the authorities are using false narratives to link the anti-CAA protests with the violence in Delhi in March 2020 to charge these women as key conspirators of the violence" when "the actual instigators continue to enjoy impunity and remain free."
"These arrests are undue and authoritarian use of power," states the Hyderabad Women's Forum, indicating that the timeliness of such activities "connotes the vengeful and petty attitude of the government and the authorities who are intended to simply harass the women." Expressing serious concerns over such "anti-democratic curbs on the rights and civil liberties of these activists," the forum has alleged that the government is actually placing risks of health and safety by making such arrests at a time when the country is fighting COVID19.
Demanding the "unconditional and immediate release of Gulfisha, Safoora and Ishrat" and dropping of false charges against the three female activists, the Hyderabad Muslim Women Forum has urged the government "to halt all such malicious attacks, detentions and arrests of students, activists and organizations."
http://twocircles.net/2020may15/436726.html
--------
'We want to stop hearing about female firsts in Palestine, women should have the same chances as men'
May 12, 2020
The world is living in the age of a technological revolution that has fundamentally changed the way people, organisations and institutions communicate with each other.
Though technology allows us to cross borders from the comfort of our homes, the tech industry has not advanced enough to break down barriers put in front of women wishing to make it into the business, the co-managing director for Girls in Tech in Palestine says.
"The technology ecosystem here in Palestine is still not well structured," Dr Mona Nabil Demaid explains. "It is still in its early stages and is not fully robust. We also have the challenge of poorly trained entrepreneurs."
Due to the absence of a clear pipeline through which the government, the private sector and the academic institutions can effectively communicate with people and graduates for more involvement in Artificial Intelligence (AI) and big data, Palestinians are failing to compete internationally, she adds.
Palestine has long failed to create enough jobs for its growing working-age population. The youth make up 30 per cent of the society, unemployment amongst them is high, but it is women who suffer the worst.
"The government has slightly started understanding the importance of having women active in the technology industry though, there's not a huge difference yet, but they are addressing it," Mona says.
"After women graduate from universities, women often face discrimination and are not hired in their field. As a result, these women often have trouble transitioning into the job market and are prevented from translating attributes they graduated with into careers or jobs."
Additionally, she also believes many women's lack of confidence is hindering their progression leading them to miss out on entrepreneurial success, something Girls in Tech in Palestine hopes to address. The non-profit focuses on engaging and educating women who are passionate about technology, to encourage them and help improve their technical and communication skills.
"I realised when we have technical jobs to advertise for students who have good knowledge in AI or in software development, men tend to apply more than girls. However, when we're asking basic support at a call centre, most of the CVs we receive are from girls," she says.
"That was heartbreaking for me to discover because if we look at the marks and the performance of these girls at their university, they're doing much better than the guys."
"Fifty-three per cent of students are enrolled in computer science programmes being girls, which is totally completely different to the amount of girls enrolled in the UK where it is around 18 per cent and United States – only 30 per cent – and declining."
In spite of this, gender disparities are a major roadblock for women entrepreneurs looking to access resources, capital and support to launch and maintain their own ventures in the field of tech.
To help tackle the imbalance, Mona worked with Arab Women in Computing, an official chapter of the Anita Borg Institute for Women and Technology (Systers) dedicated to supporting Arab women in technology, and launched an international mentoring event in Morocco and networking technical events in Palestine, aimed at bringing the most inspirational and powerful women in the tech scene together.
"We brought successful women from the US, UK and even from the Middle East who could talk about their experiences and give scholarships to students. And even though only two female students applied when it was held in Morocco, that was a huge step, because the year before that, no students had applied due to lack of confidence."
Mona tells of a lively startup ecosystem that has emerged in recent years in Palestine, specifically in Ramallah where the tech startup scene is fast gaining ground.
"We find most of the students wanting to go to Ramallah where most of the tech companies are based but a lot of families are hesitant towards the girls. They say 'we don't want you to move to Ramallah, we want you to stay home' which demotivates from pursuing high level jobs."
The reality of living and working under occupation compounds their struggles, however, Mona is convinced the physical borders can be overcome through digitisation. A digital transformation of this kind could empower current and future generations, providing them with much-needed job opportunities and new forms of civic participation, particularly the women, she explains.
More and more young people in the occupied West Bank see technology and innovation as an opportunity to create jobs and secure a livelihood, which can be achieved with a sturdier technological infrastructure. she explains. "An investment-friendly and smooth financial system to support startup operations are also essential," she adds.
"What we need to be able to do is keep the talent in our country and be able to say, 'our tech products are made in Palestine, they were implemented in Palestine' because we still don't have that. And we won't have that unless we – including the governmental authorities – start advancing our mentalities and exercising equal opportunities so the industry doesn't remain so male-dominated."
"I'm sick of hearing about the 'first woman achievements', we don't want anymore 'firsts' in Palestine. We need all the girls here just to have the regular chances men have access to with no barriers."
https://www.middleeastmonitor.com/20200512-we-want-to-stop-hearing-about-female-firsts-in-palestine-women-should-have-the-same-chances-as-men/
--------
Saudi Arabia: Spike in Coronavirus Cases Among Women, Children
14 May, 2020
The Saudi Health Ministry announced Thursday that 2,039 more people tested positive for the coronavirus, 59 percent of them foreigners, bringing the total number of confirmed cases to 46,869.
Ministry spokesman Dr. Mohammed Abdelali told a daily press briefing on the pandemic that ten people died, raising the death toll from the coronavirus to 283.
Abdelali reiterated his call for the respect of the coronavirus measures, including avoiding gatherings, keeping a safe distance from others, wearing masks when going out, and washing hands continuously.
https://english.aawsat.com/home/article/2284181/saudi-arabia-spike-coronavirus-cases-among-women-children
--------
Iranian Women Squeezed By US Sanctions, COVID-19 and Their Government
May 14, 2020
Two years ago, on May 8, 2018, President Trump manufactured a crisis with Iran by withdrawing from the Iran nuclear deal and reimposing brutal sanctions. This interview with Sussan Tahmasebi, director of FEMENA, an organization that supports women human rights defenders, reveals how the Trump administration's "maximum pressure campaign," along with the terrible spread of coronavirus in Iran, have impacted Iranian women.
Medea: How did the Iranian government first deal with the outbreak of coronavirus and why did it spread so fast, making Iran the epicenter of the pandemic in the Middle East?
Sussan: Just like here in the United States, people in Iran are really suffering from the inability of the government to act in a timely manner. When the virus first hit Iran, the government was slow to respond and did not warn the public in a timely manner. State and government officials wanted a strong showing for the marches on the anniversary of the Revolution in February and the Parliamentary elections in March, so it delayed warning the public. The nation was shocked when Iranians living in Qom started dying as a result of COVID19. The Member of Parliament from the religious city of Qom broke the silence and criticized state and government authorities for failing to warn the public and take appropriate action to mitigate the spread of the virus.
Sussan: It is believed that initially the source of the virus was Chinese students living in the religious city of Qom, the first epicenter of the virus. Initial calls to quarantine the city were refused by religious leaders and dismissed by government officials. Efforts to stop travel between Iran and China were also not successful. In fact, over the past few months it has become painfully clear that because of the sanctions and the devastating economic situation of the country, Iran has become over reliant on China and as such is not in a position to limit its relationship. Even hints at limiting travel in the earlier days and later minor criticisms of how the Chinese have handled the spread of the virus have been swiftly rebutted by the Chinese ambassador in Iran, with Iranian authorities backtracking on statements.
Long before this pandemic, the Iranian economy has been hard hit by the sanctions, as well as corruption and mismanagement. The Obama sanctions implemented in 2010 were devastating for Iranians because they sanctioned Iran's central bank. Basically, this meant that Iran could have any financial transactions with any country, it could not transfer funds or receive funds. In essence, an entire nation is treated like terrorists.
The signed of the Nuclear Deal in 2015 offered some reprieve from the devastation of the sanctions, but the sanctions were never fully lifted. The imposition of even stronger sanctions by the Trump administration as part of its "maximum pressure campaign" has impacted poor and vulnerable communities even further. The rapid economic decline that has resulted from these sanctions has meant that Iranians have been getting poorer and poorer and the value of their currency has dropped with every round of sanctions.
So for some time now, poor and vulnerable communities have been suffering from poor diets and malnutrition, lack of access to health care due to financial constraints, and this has weakened their immune systems. A strong immune system is critical in fighting COVID19. One of the activists I talked to said something that really struck me. She said, "It isn't strange to me that so many Iranians have been getting sick and dying from coronavirus because by the time the virus hit, Iranians were already depleted in every aspect of life."
Sussan: While the administration claims that sanctions are targeting those in power, the sanctions really impact the ordinary people, especially women, children, minorities, refugees, the disabled and the sick. Sanctions have become a method of warfare, denying life-saving medicines to sick people, destroying livelihoods and plunging millions into poverty. The local currency, the rial, has lost over half its value. Most of those who have lost employment or who have suffered economically were already working in the economic margins. They were employed as day laborers or street peddlers, or providers of services. They were women-headed households, who despite low wages are responsible for entire families .
But the middle class is also suffering. Our friends who have businesses have had to shut them down. The middle class is being squeezed and the independent business sector is being decimated, while unaccountable, corrupt groups, who can evade sanctions because of their connection to those in power, grow wealthier and more powerful.
Medea: You started a feminist organization, FEMENA, and you work with Iranian women's groups. What's the status of that movement now?
Sussan: At FEMENA we try to elevate the perspectives of activists in the MENA region [Middle East and North Africa], including Iran. In Iran, women have been particularly hurt as a result of the economic downturn. It's hard to have gender disaggregated data on who has lost their jobs, but based on reports from women activists, women are the first to lose jobs. In fact, hardliners in government use the economic problems as an excuse to push women out of work. They often claim that given the poor economic situation, it is better for men to have jobs since, by law, they are recognized as the head of the households. Women are already economically disadvantaged by the reality of life in Iran. They are discriminated against in terms of the law; they have little access to the job market. Now, with the pandemic, women also have to take care of children who stay home from school and take care of family members as they become sick. So the burden on women has been tremendous.
I have worked with the women's movement in Iran for years. I have seen how the economic disaster has hurt their ability to organize, but we have to remember however that the Iranian women's movement is a very sophisticated movement with a long history of creatively advocating for rights. Over the last decade, activists have advocated for all kinds of issues: the inclusion of women in decision-making roles, their election to Parliament or even to run for President, the reform of discriminatory laws in order to ensure women's legal equality, and an end to sexual harassment in the public sphere. But when people are in survival mode, they lose interest in pushing for human rights. Rights issues become secondary. The most important issues are the economy and how people will feed their families. The women's movement also has to respond to these primary needs, and has to shift its focus to provision of life-saving services, instead of rights advocacy.
During hard economic times and times of potential conflict, which basically describes the better part of the last decade, the government tends to adopt more repressive approaches, to quiet dissent. It actively cracks down on civil society groups. We are already witnessing an increased backlash and security pressures against Iranian civil society, including women's groups.
The sanctions make it almost impossible for Iranian women to engage with their counterparts internationally. In fact, because of a combination of sanctions and repression, activists inside the country are almost completely excluded from international gatherings and even debates.
For all of these reasons, I think the Iranian women's movement is more isolated today than it has ever been in all my years of activism.
Medea: In addition to sanctions, the Trump administration has taken military actions against Iran, and Iran has responded in kind. How dangerous is the conflict between Iran and the US now?
Sussan: Trump's unilateral withdrawal from the Iran nuclear deal and the imposition of these draconian sanctions have led to a dangerous standoff—oil tankers seized, drones shot down, US sending more battleships and troops to the region, confrontations in the Persian Gulf, attacks on each others' forces in Iraq. The situation is so tense that any day now, one more incident could ignite a conflict that could engulf the entire region. Both sides claim that they don't want war, but tensions are so thick that war is a very possible outcome.
Sussan: We need an honest and concerted effort toward a diplomatic solution to the current standoff. The last thing we need is another senseless war in the Middle East, which has been experiencing conflict for decades. We can't allow Iran to be the next Iraq, where US intervention led to so much death and destruction, increased instability, violence and terrorism across the region. The tragic consequences of the Iraq war continue to be felt nearly two decades later. The idea of repeating such a colossal mistake, on an even bigger scale, with zero justification and no plan for what could come next, is terrifying. That is why we need serious diplomacy and dialogue in order to end this standoff.
As a first step, the US should lift the sanctions that it has imposed on Iran, in line with agreements reached through the Iran Deal. It needs to end its maximum pressure campaign, which mostly hurts the Iranian people. Together, we have to create an environment where Iranian people thrive and can hold their own government accountable on a range of issues, including on human rights issues. This can only happen in an atmosphere of peace.
https://www.commondreams.org/views/2020/05/14/iranian-women-squeezed-us-sanctions-covid-19-and-their-government
--------
Iraqi women are denied property rights - report
MAY 14, 2020
Iraqi women may have rights under Iraq's law but in practice many are denied rights to property and face struggles to receive inheritance of basic necessities. The Norwegian Refugee Council published research that shows that "hundreds of thousands of Iraqi women displaced by war remain unable to return to their homes of because systematic injustices."
Women face a difficult road ahead in an Iraq after ISIS where many bore the brunt of suffering, displacement and abuses. Now women who want to return home often face barriers if they don't have a husband or men to take possession of their property. For instance, it appears that nine percent of women in provinces such as Kirkuk or Anbar found property occupied by male tribal leaders, militias or soldiers. These are areas that were liberated from ISIS in 2017.
More than 1,000 women were surveyed and fully 43 percent said that women don't have a right to own all types of property, even though Iraqi law does give them this right. Twenty percent of women said they had no inheritance rights. They receive nothing in divorce despite laws that should provide them support.
"The systemic injustices that hundreds of thousands of displaced Iraqi women face mean the wounds of war will continue to fester" said RishanaHanifa, NRC's Country Director in Iraq. "Women are prevented from rebuilding their lives after conflict. Reconstruction efforts which focus only on infrastructure and ignore women's rights are bound to fail."
Iraq has been in a state of instability, civil war and suffering from economic disaster, religious extremism, genocide, ethnic cleansing, religious cleansing and terror for almost two decades. Prior to that it was under sanctions and prior to that a brutal war with Iran and genocide at the hands of the Saddam Hussein regime. Yet parts of Iraq once thrived with decent health care and modern cities. Not all of Iraq is the same, in the Kurdistan Region of Iraq there is more stability. However, other parts of Iraq have forced people to rely on tribes and militias for security as the country's leaders have failed to provide even basic things like clean water to areas such as Basra. Iranian agents scour Iraq for funds and information and Iraq is forced to rely on Iran for electricity imports as Iran soaks up profits from Iraq. While the NRC study did not touch on these issues, Iraq's multiplicity of problems contributes to the declining status of women and their rights.
The NRC concludes that "while Iraqi law guarantees women's property rights, family traditions and tribal customs mean that the majority of women face insurmountable barriers to achieving those rights." Unfortunately this leaves women begging tribal sheikhs for their own property. Official papers are seen as meaningless in some areas. Women who were accused of being linked to ISIS, sometimes via family, also lost lands and homes. This primarily affected Sunni Arab women. Now it appears that up to 64% of people in Iraq who were surveyed also fear they cannot pay rent due to the economic and coronavirus crisis.
"NRC calls on the Iraqi government to put women's property rights at the centre of its reconstruction process, and to expedite dispute resolution through special procedures to solve backlog of cases created by Covid-19 shutdown measures. NRC also calls on international donors to condition reconstruction funding on compliance with women-friendly policies," the report notes.
Women in Iraq have suffered the long-shadow of the ISIS war while some of the ISIS war criminals have made their way back to Europe and countries they came from. While Iraqis are still displaced in camps some ISIS members returned to Germany or other western countries where they sought to go back to their regular lives. No compensation has been paid by ISIS to the victims.
https://www.jpost.com/middle-east/iraqi-women-are-denied-property-rights-report-627987
--------
URL: https://www.newageislam.com/islam-women-feminism/iran-sentences-young-christian-woman/d/121859
New Age Islam, Islam Online, Islamic Website, African Muslim News, Arab World News, South Asia News, Indian Muslim News, World Muslim News, Women in Islam, Islamic Feminism, Arab Women, Women In Arab, Islamophobia in America, Muslim Women in West, Islam Women and Feminism