New Age Islam News Bureau
13 Jun 2016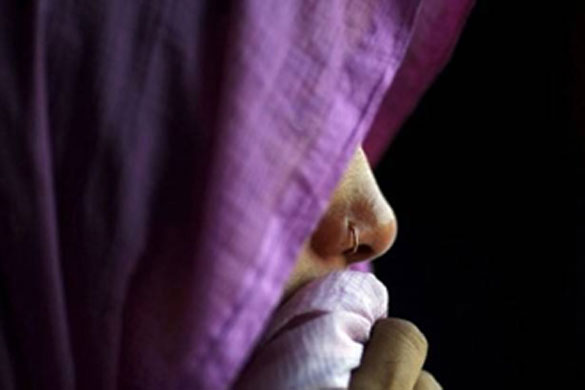 Islam allows a 'mature' woman to marry someone of her choice, says Sunni Ittehad Council. PHOTO: REUTERS
---------
• Sunni Ittehad Council Fatwa Declares Honour Killings As 'Un-Islamic And An Unpardonable Sin'
• K'tan Muslim Women Must Wear Tudung Or Else
• Islamic State Jihadis Raped Dozens of Women in Syrian Town: Activists
• Najma Hafeez: Brum's First Muslim Woman Councillor Aiming To Be West Midlands Mayor
• Waitress Loses Job Over Request to A Muslim Man to Remove His Fez before Going into A Non-Halal Establishment
Compiled by New Age Islam News Bureau
URL: https://newageislam.com/islam,-women-and-feminism/new-age-islam-news-bureau/iran-s-women-are-dressing-so-hot-local-rivers-are-running-dry,-says-islamic-cleric!/d/107620
--------
Iran's Women Are Dressing So Hot Local Rivers Are Running Dry, Says Islamic Cleric!
12,June,16
"My office has received photos of women next to the dry Zayandeh-rud River pictured as if they are in Europe. It is these sorts of acts that cause the river to dry up even further," ISNA News Agency reported.
"I tell the Communications Ministry to clamp down on the instigators of the networks encouraging immodesty. If you don't do so, then you will have failed to carry out your duty. The Communications Ministry can discover and suffocate these individuals
Another Iranian cleric also blamed the many earthquakes the nation has faced on promiscuous women. Iranian president Ahmoud Ahmadinejad predicted in 2010 that an earthquake was scheduled to hit Tehran, urging 12 million people to relocate. Hojatoleslam Kazem Sedighi, an Iranian cleric explained why it would happen, "Many women who do not dress modestly ... lead young men astray, corrupt their chastity and spread adultery in society, which increases earthquakes."
To be fair, Iranian women are stunning.
indiatimes.com/news/world/iran-s-women-are-dressing-so-hot-local-rivers-are-running-dry-says-islamic-cleric-256655.html
-----
Sunni Ittehad Council fatwa declares honour killings as 'un-Islamic and an unpardonable sin'
June 13, 2016
ISLAMABAD: Islamic scholars from the Sunni Ittehad Council (SIC) on Sunday issued a fatwa declaring honour killing of women as 'un-Islamic' and an 'unpardonable sin'.
About 40 scholars belonging to the SIC issued the fatwa unanimously. According to the fatwa which was issued as a result of SUC chairman Sahibzada Hamid Raza's appeal, Islam allows a 'mature' woman to marry someone of her choice and declared that burning girls or women for doing so, is against Islamic teachings.
Further, SIC in the document, urged government of Pakistan to take action against such acts by implementing proper legislation. It is the government's responsibility to protect women rights, the document stated.
Delving into recent incidents of honour killings across the country, the Islamic scholars said that such crimes, including a teenage girl in Lahore being burnt alive by her mother in the name of 'honour' for marrying a man of her choice, reveal that the country is moving towards social and societal degradation.
Last week, a teenage girl was burned alive by her mother in the name of 'honour' for marrying a man of her choice in Lahore's Factory area.
According to police, 17-year-old Zeenat had married a man named Hassan seven days ago. Soon after, the girl's mother brought her back home vowing marry her off to Hassan as per traditions and customs. Instead, the mother, Parveen, allegedly burned her daughter alive.
Meanwhile, a 19-year-old woman was tortured and then set on fire by a group of men in a village near Murree.
Maria Sadaqat, the victim, was admitted to Pakistan Institute of Medical Sciences (PIMS) with 85 per cent burn injuries.
She is a teacher at a private school in Dhok Kallar in Lower Dewal.
tribune.com.pk/story/1121580/sunni-ittehad-council-fatwa-declares-honour-killings-un-islamic-unpardonable-sin/
-----
K'tan Muslim women must wear Tudung or else
Sunday, June 12, 2016
Kota Baru: Five days into Ramadan, 31 Muslim women in the state have been hauled up for not wearing a tudung or for dressing in a tight outfit.
Twenty-four of them were let off with a warning while the rest were sent for counselling.
Quoting Kelantan Isla­mic Affairs Department enfor­cement chief Mohd Fadzuli Mohd Zain, said the women were caught during an operation, Ops Aurat.
dailyexpress.com.my/news.cfm?NewsID=110551
----
Islamic State jihadis raped dozens of women in Syrian town: activists
June 13, 2016
ALEPPO – Extremists of the Islamic State (ISIS) have raped dozens of Syrian women in the countryside of Manbij in the northern Aleppo province, local sources and activists reported on Monday.
Before their withdrawal from the countryside of Manbij under heavy bombardment by the Kurdish-led Syrian Democratic Forces (SDF), ISIS jihadis broke into civilians' houses in dozens of villages around Manbij, killing the men and raping the women.
"Over more than two years of their control over Manbij, ISIS jihadis were generally careful with their behaviour towards the people in a bid to gain popular support. However, since the SDF troops started their campaign and made gains against the Islamic State, the group's members in Manbij started punishing civilians collectively after accusing them of supporting the US-backed SDF," media activist Nassir Taljbini told ARA News in Manbij.
"They have killed hundreds of men and raped dozens of women in the past few days, especially in the western countryside of Manbij, before withdrawing from most of the villages there," Taljbini reported.
One of the victims who spoke to ARA News under the name Um Mohamed said that ISIS militants broke into their house, killed her husband and raped her and her two daughters. "They entered the house like barbarians. They shot my husband and raped me and my daughters. We're still in shock after what happened. I have nothing to say to describe it… a nightmare," she said.
Eyewitnesses told ARA News that ISIS militants also burned a number of houses in Manbij western villages before withdrawing.
"It was like an act of revenge against the people of the area," a villager of Oum Mayyal said, speaking on condition of anonymity.
The Syrian Democratic Forces have liberated about 90 villages in Manbij countryside over the past weeks. The fighting has now moved to the city of Manbij, the last stronghold of ISIS in the district.
aranews.net/2016/06/islamic-state-jihadis-raped-dozens-women-syrian-town/
--
Najma Hafeez: Brum's first Muslim woman councillor aiming to be West Midlands mayor
June 13, 2016
Birmingham's first female Muslim councillor has launched a bid to become the first West Midlands mayor.
Najma Hafeez, the current chairwoman of the NHS trust which runs Sandwell and City hospitals, is among five Labour politicians bidding to become the party's candidate later this summer.
Ms Hafeez, a management consultant, spent 12 years on Birmingham City Council after being elected in 1983.
She is also the ex-wife of former leader Sir Albert Bore.
Her rivals are Euro MP and front runner Sion Simon, former city councillor Steve Bedser, Wolverhampton Council cabinet member Milkinder Jaspal and freelance bookseller Mary Simons-Jones.
The five candidates all nominated themselves.
Voters in the West Midlands will go to the polls to elect the region's first Metro Mayor next May.
A Labour spokesman said shortlisting would take place before selected candidates go through to an election among party members.
There will be hustings events for members next month.
Mr Simon, the former Erdington MP, is the highest-profile candidate and favourite, having already built considerable momentum for his campaign.
The other mainstream parties have yet to announce their selection processes but John Lewis managing director Andy Street has been spoken of as a potential Conservative candidate.
Former government trade minister Lord Digby Jones of Birmingham has also suggested he may stand as an independent.
en.francais-express.com/news/uk-news/-15743-najma-hafeez-brums-first-muslim-woman-councillor-aiming-to-be-west-midlands-mayor/
--
Waitress Loses Job Over Request to A Muslim Man to Remove His Fez before Going into A Non-Halal Establishment
13 Jun '16
Cape Town - A waitress says she was fired for telling a Muslim man to remove his fez before going into a non-Halal establishment
Polly Parolus, 46, said all she was trying to do was teach the young man and his friends respect for the Islamic holy month of Ramadan, and now she's jobless.
Parolus, who's been a waitress for 18 years, started her new job at Franky's Diner in Sea Point last week.
Before that, she worked for Franky's co-owner Saul Beder at his other restaurant.
She said she was outside on a break on Friday night when four would-be customers pulled up.
One of the two guys wore a fez and a Salaah top, and two girls had scarves on.
"I spoke to the guy and told them we are not Halal," Parolus explained.
"They said they knew, and I asked him if it would not be more appropriate to remove his fez out of respect, you know, for the Fast. They then just left."
But it appears the youngsters took offence at Parolus's advice, and took to social media to complain.
@nabeel_26 tweeted: "Being denied entry into @Franky'sDinerSP for wearing a salaah top and fez and still being asked to remove it by the waitress."
He tagged SABCjournalist Ivor Price, the South African Human Rights Commission and Cape Talk radio.
@FakhrieArendse slammed Franky's for its alleged discrimination, tweeting: "Really? @Franky'sDinerSP pathetic! You need to reevaluate where you want ur brand to be. cos on Twitter, we expose." (sic)
Parolus said she was fired by Beder on Saturday for bringing the company's name into disrepute.
Franky's has apologised on their official Facebook page, and said the matter had been "dealt" with.
@nabeel_26 accepted the apology on Twitter, but Parolus said she is now without a job.
"I was really not judging them or telling them not to enter," said Parolus.
"If I saw them now I would apologise for the misconception, but why must I lose my job?"
Beder and Franky's other co-owner Franklin Arendse said they have had a "traumatic" two days after the incident.
And the bosses insist Parolus was not formally employed by them.
"The waitress in question was in training and had worked for me before," explained Beder.
"After Friday's incident we decided to not continue her training. She was not employed."
iol.co.za/news/south-africa/western-cape/waitress-loses-job-over-request-to-remove-fez-2033867
URL: https://newageislam.com/islam,-women-and-feminism/new-age-islam-news-bureau/iran-s-women-are-dressing-so-hot-local-rivers-are-running-dry,-says-islamic-cleric!/d/107620
New Age Islam, Islam Online, Islamic Website, African Muslim News, Arab World News, South Asia News, Indian Muslim News, World Muslim News, Womens in Islam, Islamic Feminism, Arab Women, Womens In Arab, Islamphobia in America, Muslim Women in West, Islam Women and Feminism