New Age Islam News Bureau
8 Feb 2018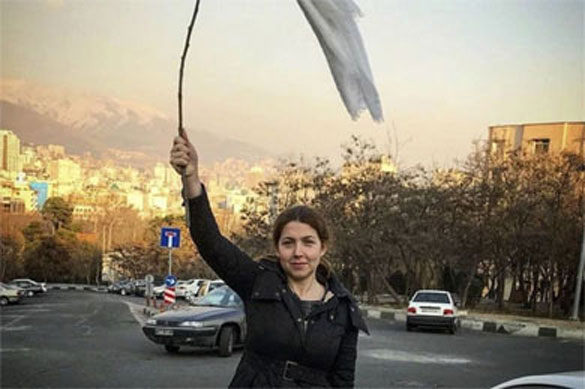 Iran is the only country in the world to impose a mandatory headscarf on both Muslim and non-Muslim women as part of its "hijab" rules AFP/ATTA KENARE
-----
• Women Speak Out On Sexual Harassment during Hajj
• Three Hotel Associations Sign Undertaking Not To Impose Headscarf Ban Policy
• Exhibition Blending Fashion and Sport A Winner with Saudi Women
• A Tech-Savvy Generation of Muslim Women Driving Global Growth
• Somaliland Issues Fatwa Banning Female Genital Mutilation
• Lebanon Wants More Women in Parliament
• Pakistan's Krishna Kumari Hopes to Complete Journey from Slavery to Senate
• Iran: Woman, 65, Was Taken To Jail by Walker
Compiled by New Age Islam News Bureau
URL: https://www.newageislam.com/islam-women-feminism/iran-hijab-protests-cap-years/d/114212
--------
Iran's hijab protests cap years of evolution
08 Feb 2018
TEHRAN: A spate of unprecedented protests against Iran's mandatory headscarves for women have been tiny in number, but have still reignited a debate that has preoccupied the Islamic republic since its founding.
Walking through central Tehran with a loose scarf tossed lightly over her head, Samar, a dentist, is typical of the relaxed approach to headgear many Iranian women have adopted since the 1990s.
"Everyone should be able to decide for themselves what to wear. I don't think a few loose hairs can provoke anyone to anything," she said.
She was referring to the conservative claim that men are unable to stop themselves assaulting women if they can see their hair.
A typical sign -- at a hammam in Kashan, south of Tehran -- compares the veil to a pearl's oyster: "The oyster keeps the pearl safe from the hazards."
Many agree.
"In our country, men are raised with the idea that women must be seen with a headscarf. I will never remove my headscarf in my country for as long as I live," said Hanieh, a journalist, wearing a much tighter scarf around her head.
The issue has returned to the fore in recent weeks after several women took the unprecedented step of protesting in public without their headscarves. Police say 29 people have been arrested.
Iran is the only country in the world to impose a mandatory headscarf on both Muslim and non-Muslim women as part of its ill-defined "hijab" rules that require modest clothing, including a ban on shorts for men.
In practice the rules have been steadily eroding for years.
Particularly in wealthier areas, the all-body black "chador" robes have been increasingly replaced by jeans, make-up and loose, colourful scarves which many let drop around their shoulders entirely.
ROUHANI'S REVOLUTION
To see how much Iranian society has evolved, one need only listen to the president, Hassan Rouhani.
He once boasted of personally imposing the compulsory headscarf on women in the years after the 1979 revolution, starting with military centres.
"The women employees... started moaning and making an uproar but I stood firm," he wrote in his memoirs.
But since he became president in 2013, the morality police that enforce clothing rules have largely disappeared from the streets.
And just days after police announced the 29 arrests, his administration released a report showing that half of Tehranis opposed enforced hijab.
The timing of the release, four years after the study was conducted, was seen as a shot against Rouhani's conservative critics.
"Rouhani has evolved a lot," said Hamid Reza Jalaipour, a sociology professor at the University of Tehran.
"In a way, everyone has changed and we must forget the positions and statements of 20 or 30 years ago," he said.
The report said a substantial number - 40 per cent - still support mandatory hijab but that figure has dropped from 55.5 per cent in 2006.
"In a society where at least 40 to 50 per cent believe hijab is a personal and optional matter, it is very difficult to demand enforcement," it concluded.
That is not a point that conservative clerics and officials are likely to concede easily.
On Sunday, judiciary spokesman Gholamhossein Mohseni-Ejei said the arrested protesters had either been duped, drugged or were working for foreign enemies.
"If it is proved that they have had links with a particular (foreign) organisation, a heavy file will be opened against them and they and their families will be in trouble," he told reporters.
GRADUAL CHANGE
The forced hijab did not come immediately after the revolution.
First it came to schools and government buildings and within a few years, shops were putting up signs telling women they were not welcome without a headscarf.
The revolution's founders were keen to break with Western influences, and the policies of the deposed monarchy which had sought to suppress outward symbols of religion.
Supporters said the hijab allowed religious families to send their girls to school and work for the first time.
But activists say that masks a deep-seated patriarchy, seen as anachronistic to many of the girls that benefited from that education.
"Some say that wearing the headscarf allowed women to come out of the house, but we should not forget this was always conditioned on the permission of the husband or father," said rights lawyer Nasrin Sotoudeh, who is representing one of the women arrested in the recent protests.
Powerful parts of the establishment still see the headscarf as a crucial symbol of their revolutionary identity, up there with supporting Palestinians and opposing the United States.
"But even in this part, things are changing. A new level of tolerance and acceptance is emerging," said Jalaipour.
"Social phenomenon are not like teeth that can just be ripped out. There has to be a gradual evolution, and that's what is happening."
https://www.channelnewsasia.com/news/world/iran-s-hijab-protests-cap-years-of-evolution-9939534
--------
Women speak out on sexual harassment during Hajj
February 06, 2018
A number of women have spoken out against sexual harassment during Hajj, after a Facebook post by a victim.
On Friday, February 2, Pakistani national Sabica Khan shared her terrifying ordeal at the holy pilgrimage, reports StepFeed.
"I was afraid to share this because it might hurt your religious sentiments," Sabica began.
She went on describe how when she felt the first instance of inappropriate touching, during her third tawaf, she dismissed it as accidental.
However, as the inappropriate touching continued, her suspicions grew and she soon realized she was being sexually harassed, according to StepFeed.
"Then… I felt it again. It made me feel very uncomfortable. I kept moving. During my 6th tawaf I suddenly felt something aggressively poking my butt. I froze, unsure of whether it was intentional. I ignored it and just kept moving slowly because the crowd was huge. I even tried to turn around but woefully couldn't. When I reached the Yemeni corner, someone tried to grab and pinch my butt. I decided to stop there, grabbed his hand and threw it off me," Sabica wrote in the Facebook post.
She added that the horrific experience overshadowed her entire experience at Mecca, with the feeling of powerlessness at not even being able to turn around and identify her harassers due to the dense crowds having left her petrified, StepFeed said.
"I believe it's totally okay and important to be open about harassment. I don't know how many of you had similar experiences, there but this incident has unfortunately left me feeling upset," Sabica concluded, as quoted by StepFeed.
A number of people have subsequently commented on her post, with many women sharing their own experiences of sexual harassment at the holy pilgrimage.
One commenter even said she had been facing sexual harassment at Hajj for over 28 years, and suggested Sabica should have been mentally prepared to face it.
According to an anonymous woman quoted by StepFeed, sexual harassment at Hajj is most common in the queue leading to the Black Stone, at the eastern corner of the Kaaba.
http://www.dhakatribune.com/around-the-web/2018/02/06/women-sexual-harassment-hajj/
--------
Three hotel associations sign undertaking not to impose headscarf ban policy
February 8, 2018
PUTRAJAYA, Feb 8 — Three hotel associations today signed an undertaking with the Ministry of Human Resources to not set any policy prohibiting female employees from wearing headscarves.
The three associations were the Malaysian Association of Hotels (MAH), Malaysian Association of Hotel Owners (MAHO) and the Malaysia Budget Hotel Association (MYBHA) representing more than 3,000 hotels in Malaysia.
Deputy Human Resources Minister Datuk Seri Dr Ismail Abd Muttalib said it was hoped that the hotels involved would abide by what was agreed upon and issues regarding the hijab ban would not arise again.
"The Ministry is very pleased with the seriousness of those involved in ensuring workers are not discriminated, as is enshrined in the constitution," he told a press conference after the signing of the undertaking here, today.
"The government will never compromise on any issue involving worker discrimination," he said.
Ismail said statutory checks on employers in the hotel sector would continue to be enhanced from time to time to monitor their commitment.
He said since December last year, the ministry had conducted checks in more than 600 hotels to ensure there was no discrimination against female Muslim workers for wearing the hijab.
The Department of Labour in Peninsular Malaysia will also hold several dialogue sessions with human resource managers in the hotel industry, he said.
"This is to clarify and get their commitment that the policy of banning the hijab as well as other issues of discrimination in the hotel sector is not stated in their standard operating procedure (SOP)," he said.
Earlier, the Ministry of Human Resources revealed that 13 hotels had set a 'standard grooming' policy which prohibits female workers from wearing the hijab, particularly in the food and beverage (F & B) section and front-line staff. — Bernama
http://www.themalaymailonline.com/malaysia/article/three-hotel-associations-sign-undertaking-not-to-impose-headscarf-ban-polic#k4vylhdF8mTHdgsl.97
--------
Exhibition blending fashion and sport a winner with Saudi women
NOOR NUGALI
8 February 2018
RIYADH: Saudi women who want to match fitness with fashion will see the latest in sports and gym wear at a special exhibition — and then take part in free exercise classes.
The Sports Exhibition for Ladies Fashion (SELF) at Inaya Medical College will display workout clothing for activities ranging from yoga to kickboxing.
"Every exercise needs a different kind of clothing," said Reham, the event organizer. "For example, aerobics is different from light weightlifting. We will provide appropriate clothing for women and give them accurate information regarding all aspects of exercise."
Ibrahim Bahathaq, general manager of the exhibition, wants to expand women's choice of fitness attire and sports activities in the Kingdom.
"My daughter and wife are extremely fit — they love to exercise — but for a long time we had difficulties in finding appropriate clothing. The selections available at the stores were limited, as well as their choices. We either bought their gym clothes from abroad or online," he said.
Bahathaq said SELF will raise awareness of the importance of exercise and open new doors for women.
The exhibition will offer family entertainment, including paintball and other children's activities, leaving women free to take part in classes and workshops. At least 35 instructors will offer free classes, ranging from Zumba to yoga, throughout the day. Exhibition organizers have urged schools to take part in the event. Field trips will allow students to receive the latest in sports and exercise advice.
Zia, a sports fashion line, is one of the main sponsors. Raneem Al-Zainy, a salesperson, said: "Zia is a local Saudi brand designed by Saudi fitness instructors who wanted both high-quality fitness wear and something fashionable."
Entry to the exhibition and all classes is free. The exhibition will run until Feb. 9.
http://www.arabnews.com/node/1241676/saudi-arabia
--------
A tech-savvy generation of Muslim women driving global growth
SAADIA ZAHIDI
Debate in the west about technology and work often centres on the risks the rise of robots and algorithms will pose to job security. In other parts of the world, though, the same advances are bringing about a cultural and economic revolution.
This is certainly the case in much of the Muslim world. These countries, which account for 20 per cent of the world's population and 12 per cent of its gross domestic product, are undergoing one of the largest labour market transformations in history, and it is being driven by women.
Just over a decade ago, only 100m women were working in the 30 largest Muslim-majority economies. Today it is 155m. While this is still a small proportion of the overall working-age population, it is an extraordinary shift. And, while investment in education, changing social norms and economic need have all played a part, the real driving force has been the rise of technology as an enabler of work.
One reason for this is the rise of the female tech entrepreneur. Rather than the stereotypical young man in a hoodie we associate with the entrepreneurs of Silicon Valley, in the Muslim world you are more likely to encounter a young woman in a headscarf. Their businesses are often built on the disposable income of other working women. Whether online platforms for childcare and safe transport, food or clothing, these digital bazaars are aimed at a new generation of educated, tech-savvy women. It is a lucrative and untapped market: the combined income of working women in the Muslim world is nearly $1tn.
Not all working Muslim women are turning to large-scale entrepreneurship. A second factor behind their mass migration into the labour force is the gig economy. In advanced economies, it has become synonymous with the rise of the precariat but there are important differences between an Uber driver in London, a Lyft driver in San Francisco, a Careem driver in Jeddah or a Ladyjek driver in Jakarta.
In emerging markets, including those in the Muslim world, micro-entrepreneurs who have never had access to social safety nets are embracing digital gig work as an upgrade in terms of pay, security and the potential for social mobility. For women, in particular, the gig economy is liberating. It provides an unprecedented opportunity to bypass cultural constraints on their time and mobility. Women are finding new opportunities to share their skills, from driving to cooking to coding. Suddenly they have the kind of level playing field that is missing in a traditional office.
This situation is partly made possible by the choices women make about their education. There are only five countries in the world where women make up a larger proportion than men of students enrolled in science, technology and engineering subjects. Of these, Brunei and Kuwait are Muslim-majority economies.
In another 18 countries, women make up 40 per cent or more of those enrolled in those courses — more than half are Muslim-majority countries: Algeria, Azerbaijan, Bahrain, Jordan, Malaysia, Oman, Qatar, Syria, Tunisia and the United Arab Emirates. In Saudi Arabia, 38 per cent and in Iran 34 per cent of students in those fields are women. The percentage in the US is only 30 per cent and in the UK 36 per cent.
As more women enter higher education in the Muslim world, the lack of role models has turned out to be a blessing in disguise. It has left them free to choose what they want to study rather than being influenced by stereotypes. Because everything was off-limits for most of their mothers and grandmothers, nothing seems off-limits for them.
Hungry for talent, companies have filled roles from IT to engineering with the best they could find, often from this pipeline of educated women. This has created a digital labour force with the potential to become much more gender-equal than many in the west.
There are barriers when it comes to converting degrees into jobs, and biases around career progression and promotion. As in the west, some women drop out to start families, but many also have support systems that enable them to keep working — extended families where grandparents provide childcare and low-skilled, cheap workers to do the household chores.
An even greater migration of young women into the workplace will occur in coming years. Multinationals and local business are waking up to this trend. Governments must do likewise. Helping a generation of digitally savvy future employers, consumers and taxpayers to flourish may well turn out to be the highest return on financial and social investment they could make.
https://www.ft.com/content/9bc2192e-0c00-11e8-bacb-2958fde95e5e
--------
Somaliland issues fatwa banning female genital mutilation
7 February 2018
NEW DELHI: Somaliland has issued a fatwa, or religious edict, banning female genital mutilation (FGM) - and paving the way for the breakaway region to pass legislation against the internationally condemned practice, a senior official said on Wednesday.
The fatwa from the ministry of religious affairs on Tuesday said those who perform FGM would face punishment, and victims would be eligible for compensation. It did not provide details on the severity of punishment, or the amount of compensation.
"The reason that this harmful practice has existed for so long is that people believe it is because our religion or culture dictates that we should do it," said Ayan Mahamoud, Somaliland's representative in Britain.
"The fatwa is basically a message from the government to everyone in Somaliland that there is no religious or cultural basis for FGM," she told the Thomson Reuters Foundation.
The practice - which involves the partial or total removal of the female genitalia - is almost universal in the self-declared republic of Somaliland, a breakaway region of Somalia.
The Horn of Africa nation has the world's highest rate of FGM, according to the United Nations.
An estimated 200 million girls and women worldwide have undergone FGM, which can cause serious physical and mental health problems.
Mahamoud said the religious ban - which coincided with the International Day of Zero Tolerance for FGM - was timely as it comes weeks before a bill outlawing the practice is expected to before parliament.
Many families in Somaliland believe it is a religious obligation although it is not mentioned in the Koran. It is widely considered important for ensuring a girl's purity and a prerequisite to marriage.
The ancient ritual is usually carried out by traditional cutters, often using unsterilised blades or knives.
The fatwa pertains to the most severe form of FGM called infibulation, where the external genitalia are removed and the vaginal opening sewn or sealed closed. It is the most common type of FGM performed in Somaliland.
Women's rights activists, who have fought for decades to end FGM, welcomed the move but said the struggle was not over yet.
"It took us 42 years to reach this day, but, this is not the end of the battle," tweeted Edna Adan, a leading anti-FGM campaigner in Somaliland.
"FGM must be completely eradicated in my country and everywhere in the world."
http://www.arabnews.com/node/1241571/world
--------
Lebanon wants more women in parliament
February 7, 2018
The government's decision to appoint him as women's minister in 2016 attracted some criticism.
In a country where women occupy only three per cent of the parliament seats, Lebanon's first women's affairs minister - a man - is supporting a campaign to attract more female politicians.
The government's decision to appoint him as women's minister in 2016 attracted some criticism. But Jean Oghassabian said the responsibility to support gender equality is not limited to a woman.
His ministry, along with the United Nations and European Union, is behind a campaign to encourage more women to run for Lebanon's first legislative election in nearly a decade, which is scheduled for May 6.
Since the beginning of the year, billboards and television advertisements have carried the slogan "Half the society, half the parliament". Currently, only four women sit in the 128-seat parliament.
"The legal institution in Lebanon, mainly the parliament and the government are losing half of the human power in Lebanon," Oghassabian said in Beirut. "So for me it is not a question of numbers, it is a question of potential, we are losing opportunities," he said.
Women could bring a new approach to legal, social and economic issues, he added.
Oghassabian said there is a "huge responsibility and role to play for men because they are the main obstacles" to women's participation in politics, which is often due to sexist attitudes.
Victoria El Khoury Zwein, a potential candidate with a new party called "Sabaa", meaning seven in Arabic, agreed that a "patriarchal society" is holding Lebanon back.
Parties have no political will to involve women, as they see them in stereotypical roles connected only to family, she said.
"I don't know if the campaign will change the results, but I hope it changes the perception of women," said Zwein.
She recommended that Lebanon reserve 33 per cent of parliamentary seats for women.
Last year the country passed a new electoral law, but with no quota for women's representation in parliament.
https://www.khaleejtimes.com/region/mena/lebanon-wants-more-women-in-parliament
--------
Pakistan's Krishna Kumari hopes to complete journey from slavery to Senate
7 February 2018
KARACHI: Krishna Kumari could become the first woman from Pakistan's scheduled Hindu caste to be elected to the Senate.
Kumari, 38, is a member of the Kohli tribe of the Hindu community living in the Nagarparker area of Thar near the border with India. She is one of a dozen candidates nominated by the Pakistan People's Party (PPP) for the upcoming senate elections in March.
"I'm happy, I'm feeling great," Kumari told Arab News as she arrived unnoticed at the Election Commission of Pakistan (ECP) regional office in Karachi on Wednesday alongside a number of senators and ministers.
"I never dreamed that I would ever make it to the upper house of Pakistan's Parliament," she said.
Kumari began actively working for social change in 2005 after attending several youth leadership workshops. She started out by identifying cases of bonded labor and compiling case studies of women in bondage.
Kumari was quick to stress that she did not feel her position as a member of one of the country's scheduled castes had held her back.
"Being in a minority has never been a disadvantage in Pakistan. I have never faced any discrimination for being a non-Muslim Pakistani and my selection proves that Pakistan is a country of people from all faiths," she said. "It is a lack of education (that complicates) our entry to the forums like Parliament."
Kumari stressed that education, particularly for girls, will remain her top priority for the next six years if she is elected as a senator.
"I have not set many targets. I have only one target and that's educating all girls of Sindh in general and Thar in particular," she said.
She added that she hoped to be able to represent disadvantaged women, too.
"In Thar, there was no one to listen to the problems of Thari women," she said. "With my election to the Senate, they will have their own voice in the top forum of legislature."
Mehnaz Rehman, a rights activist associated with the Aurat Foundation, told Arab News, "Kumari's election would (improve) the image of Pakistan, which is (often) criticized for discrimination against minorities."
Kumari's journey has not been an easy one.
"My life was the toughest. My family was held for bonded labor when I was a child," Kumari recalled, explaining that the eventually freed her family.
"Our father, though he himself was illiterate, was determined to give us an education," she said. "At dawn, I would go to school but (straight after school) my mother would take us to the farmland and we would work there until sunset."
Kumari credited former Prime Minister Benazir Bhutto with opening the door for other women in Pakistani politics.
"It's the ideology of BB Shaheed which has given women a chance to serve everywhere from the embassies to the foreign office and provincial and national assemblies, to the senate of Pakistan," Kumari said.
She also expressed her thanks to PPP Chairman Bilawal Bhutto Zardari — Benazir's son — for the opportunity to "serve Pakistan and promote national cohesion and harmony."
If elected, Kohli would become just the second Hindu woman to be elected to Pakistan's senate — after Ratna Bhagwandas Chawla, who sat from 2006 to 2012 — but the first from the scheduled Hindu caste.
http://www.arabnews.com/node/1241481/world
--------
Iran: Woman, 65, was taken to jail by walker
07 February 2018
Maryam Kalangari, 65, was taken to the Central Prison of Arak, in Markazi Province.
Ms. Kalangari had been previously sentenced to five months in jail by the Revolutionary Court of Arak on the charge of "disseminating propaganda against the state."
On January 13, 2018, agents of the Implementation of the Sentences Office broke into her residence and took her to jail by walker and despite her illness.
Ms. Kalangari suffers from various illnesses, including heart and lungs complications, arthritis and osteoporosis, and is not able to endure prison conditions.
Her brother and two sons are in jail on similar charges. They are survivors of victims of the massacre of political prisoners in 1988.
http://www.women.ncr-iran.org/iran-women-news/4773-iran-woman-65-was-taken-to-jail-by-walker
--------
URL: https://www.newageislam.com/islam-women-feminism/iran-hijab-protests-cap-years/d/114212
New Age Islam, Islam Online, Islamic Website, African Muslim News, Arab World News, South Asia News, Indian Muslim News, World Muslim News, Women in Islam, Islamic Feminism, Arab Women, Women In Arab, Islamophobia in America, Muslim Women in West, Islam Women and Feminism