New Age Islam News Bureau
23 Jul 2019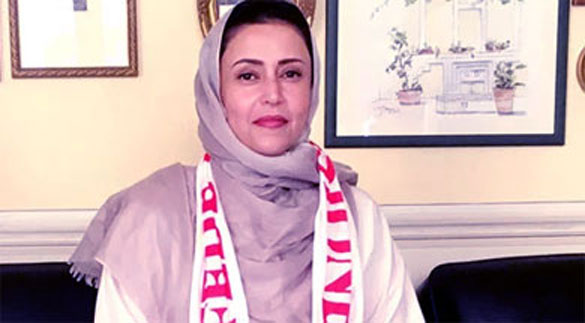 Princess Nourah bint Saad chose to invest in Umbrian football club Spoleto after considering several aspects. (Photo/Social Media)
------
• Princess Nourah bint Saad Becomes First Saudi Woman to Head Sports Club
• Pakistani Hospital Hit By Female Suicide Bomber, 9 Killed
• Ghana: Face of Hijab Competition Launched in Accra
• Muslim Woman Says She Was Called 'Terrorists' Cousin,' Slapped On Head in Job at LA Power Utility
• In Pakistan, a Feminist Hero Is Under Fire and on the Run
• Inclusive Peace in Afghanistan Means 'Women at the Centre' Urges UN Deputy Chief in Kabul
• Meet Engy: Mother and Entrepreneur Empowering Egyptian Women and Mothers
Compiled by New Age Islam News Bureau
URL: https://www.newageislam.com/islam-women-feminism/iran-regime-increases-crackdown-womens/d/119273
--------
Iran Regime Increases Crackdown on Women's Freedom
by Hamideh Taati
22 July 2019
Iran's regime has been increasing its crackdowns on civil liberties over the past few months, specifically targeting women, but now the suppression is set to get even more intense with the regime announcing new ways to deal with what it believes to be "unchaste" and "improper" behaviour.
The Iranian regime's Chief of Police Hossein Ashtari announced the "Observer One" plan on July 18, which targets women who refuse to don the veil in their cars, and said that 150,000 women had come to the police pledging not to repeat their "crime" after receiving a text message. He boasted that there are 32 regime organizations charged with carrying out social suppression.
State-run websites reported that morality patrol divisions were launched in Khorasan Razavi Province, northeastern Iran, to increase the crackdown on women.
Gholami, head of provincial affairs of the morality and vice patrols headquarters in Khorasan Razavi, said on June 24: "In the formation of the morality patrol divisions, the province will be divided into 60 regions, 50 per cent of these areas will be in the centre of the province. So far, 12 governorates have begun their work with more than 8,000 troops, and by the end of this year, the morality patrol divisions in all cities of the province."
He said all executive agencies are required to activate the council this year.
While Isfahan Friday Prayer Imam Yusef Tabatabai Nejad said that the Basij should be helping in the sexist patrols against the "abnormality" of "improper veiling". It was announced last month that an IRGC commander in the northern province of Gilan had launched a 2,000 strong Basij group to counter "improper hijab".
On a related note, Iran's regime announced on July 4 that it would be launching social media channels for Iranians to report each other's "immoral" conduct to the Guidance Prosecutor, submitting photos and videos as evidence. This includes non-observance of the hijab, drinking alcohol, posting "immoral" content to social media, and holding mixed-gender parties" among other things.
This came shortly after a video of a teenage girl being violently arrested by security forces, after being caught playing with water pistols with her friends, went viral triggering discussions on social media. The officers were not even suspended. Instead, the department thanked them and gave them bonuses.
It seems that the Iranian people are no interested in reporting each other to the police for immoral behaviour and are instead focused on making sure the world knows the cruelty of the regime.
https://www.ncr-iran.org/en/news/women/26495-iran-regime-increases-crackdown-on-women-s-freedom
--------
Princess Nourah bint Saad Becomes First Saudi Woman to Head Sports Club
HALA TASHKANDI
July 22, 2019
RIYADH: Princess Nourah bint Saad has officially become the first Saudi woman to be president of a sports club. Italian news outlet Corriere Della Sera reported recently that the princess had successfully acquired the Umbrian football club Spoleto.
Speaking at a press conference, the princess thanked her hosts for the hospitality and outlined her ambitions for the team's future.
"Football is a family passion, and Italian football is followed all over the world. This is why I chose to invest in Umbria," she said.
Princess Nourah chose the team after considering several aspects. "Spoleto is a small, amateur football organization where it is possible to work with the aim of growing and aiming for promotion. But we cannot fail to consider the value and beauty of the city of Spoleto, which is famous throughout the world." Spoleto is a member of Serie D of the Italian non-professional football association, Lega Nazionale Dilettanti. The association represents more than 12,000 football players and 400 football teams across Italy and is considered the fourth-ranked league in the country. Under the princess's presidency, the team aims to ascend to Serie C in the near future, and further in the long term.
Spoleto announced that they have formally registered for the Excellence Umbria 2019/2020 championship and the Regional Junior Championship 2019/2020.
This purchase marks the Saudi royal family's second venture into sports club ownership. Prince Abdullah bin Musa'ad co-owns English Premier League football club Sheffield United.
http://www.arabnews.com/node/1529416/sport
--------
Pakistani Hospital Hit By Female Suicide Bomber, 9 Killed
By ISHTIAQ MAHSUD
July 21, 2019
DERA ISMAIL KHAN, Pakistan (AP) — A female suicide bomber struck outside a hospital in Pakistan on Sunday as the wounded were being brought in from an earlier shooting against police, in a complex assault claimed by the Pakistani Taliban that killed a total of nine people and wounded another 30.
Salim Riaz Khan, a senior police officer in Dera Ismail Khan, said gunmen on motorcycles opened fire on police in a residential area, killing two. He says the bomber then struck at the entrance to the hospital, killing another four police and three civilians who were visiting their relatives. He said eight police were among the wounded, and that many of the wounded were in critical condition.
Inayat Ullah, a local forensics expert, said the female attacker set off 7 kilograms (15 pounds) of explosives packed with nails and ball-bearings.
The blast damaged the emergency room and forced it to shut down, according to a hospital official, who said the wounded were taken to a military hospital. The official spoke on condition of anonymity for fear of reprisal.
The Pakistani Taliban claimed the attack but did not acknowledge that the bomber was a woman. The group has launched scores of attacks going back nearly two decades, but almost all of them were carried out by men.
Pakistan's military has carried out several major operations in recent years against the Pakistani Taliban and other militants in areas along the porous border with Afghanistan. The violence has declined, but the militants still make their presence known through occasional attacks, mainly targeting security forces and religious minorities.
Later on Sunday, police said they had arrested 16 suspects in the attack, all of whom belong to banned organizations. Police officer Habib Ahmed said authorities also seized weapons during the manhunt.
https://apnews.com/d840b2b4aa1743b08f7ff8612e6abea3
--------
Ghana: Face of Hijab Competition Launched in Accra
22 JULY 2019
By Frederick Gadese-Mensah And Daniel Asante
The maiden edition of the Face of Hijab competition, designed to empower Muslim women to wear the hijab, was launched in Accra on Saturday.
The event was under the theme: "Empowering Versatile Muslimah to Promote Modesty and National Development."
Ali Iddrisu, Director of the Face of Hijab competition, said the event was designed for Muslim women (Muslimah) to educate them and the general public on the purpose of the hijab and why Muslim women must wear them.
He noted that most Muslim women wore the hijab but were unaware about its usefulness, explaining "This competition would span for 5 weeks and each of the 9 contestants who successfully entered the contest would demonstrate the importance of the hijab as dictated by the Qur'an at various stages of the competition.
"Evictions would be held at intervals until a winner emerges," the Director added.
He added that the judges would have 60 percent eviction power and the public would have 40 percent.
Hajia Aidatu Jibril, Founder of the Islamic Charity Centre for Women Orientation (ICCWO), chairing the event said the event was not an opportunity to showcase the beauty of Muslim or as a beauty pageant.
"This event would help and empower more Muslim women to discover the importance of wearing the hijab or the veil and its role in leading a modest life," she noted
She disclosed that the event would help the contestants, and hopefully all Muslim women help educate the public on the reason why Islam require women to wear the Hijab.
"The hijab is a form of identity and should be displayed proudly as it forms part of the Muslim faith," she added.
Hajia Jibril advised that the hijab was part of Islamic culture and should not be used as a tool to attract men nor for fashion but should be kept holy and sacred.
She hoped that the event would also help to foster peace in the Muslim community and the community at large.
https://allafrica.com/stories/201907220669.html
--------
Muslim Woman Says She Was Called 'Terrorists' Cousin,' Slapped On Head in Job at LA Power Utility
By NANCY DILLON
JUL 22, 2019
A Muslim woman claims she was called a "terrorists' cousin," ridiculed for her accent and unfairly treated as a "threat" in her job helping manage the power grid for Los Angeles, according to a lawsuit.
Saiara Shams, 41, claims co-workers at the Los Angeles Department of Water and Power bullied and humiliated her for years – thwarting her advancement, yelling at her when she reported a "wasteful" contract and forcing her to undergo a stability assessment when she complained to management.
She claims various co-workers questioned why she didn't wear a headscarf, slapped her on the head, told her to take English classes and said Muslim women "who cover their whole body must be uneducated or scared of their husbands."
"You are terrorists' cousin, they won't shoot you," one co-worker reportedly said, according to the lawsuit.
Shams, a licensed engineer, was born in Bangladesh and became a naturalized U.S. citizen in 2000 after moving to California in August 1997, her lawsuit states.
"If I knew I would be treated like a second-class citizen, then I wouldn't have spent all these years here," Shams told the Los Angeles Times through tears. "How could this happen in California, much less in Los Angeles?"
A DWP spokesman declined to comment but told The Times, "We take all allegations of discrimination seriously."
The Los Angeles City Attorney, meanwhile, has asked the court to dismiss the case arguing Shams "failed to exhaust her administrative remedies with the Department of Fair Employment and Housing" and "lumped" her coworkers together with some of her claims, making it impossible to probe the "purported" wrongdoing.
Shams, who still works at DWP, said that after she first reported the alleged harassment last August, she was escorted out of the building and ordered to undergo an evaluation by a DWP counselor.
She attended the counseling session with her union representative on Aug. 24, and it found she was emotionally stable and posed no "threat or concern" to the safety of her coworkers or the public, the lawsuit states.
"Every time I talk about the incident, I just can't believe this was happening to me in America," she told The Times.
The ongoing lawsuit, filed earlier this year and first reported by The Times on Monday, is set for a case management conference next month.
https://www.nydailynews.com/news/national/ny-muslim-engineer-sues-los-angeles-power-utility-alleged-bullying-20190722-avdsvpzra5boxhhybbdg4anomu-story.html
--------
In Pakistan, a Feminist Hero Is Under Fire and on the Run
By Jeffrey Gettleman
July 23, 2019
NEW DELHI — Gulalai Ismail is one of Pakistan's best-known women's rights crusaders, speaking out about forced marriages, gang rapes and crushed dreams.
Her groundbreaking work has carried her around the world, winning her awards and audiences with high-powered women such as Michelle Obama and Queen Elizabeth II.
But in her own country, Ms. Ismail has become an enemy of the state, accused of inciting rebellion. And now she is on the run.
For two months, practically no one has seen her. Pakistan's security services, known as among this region's most cunning and brutal, can't find her. They have raided her house several times and deployed scores of officers, and, according to Ms. Ismail's family, abducted and tortured family friends to extract information.
Her associates said Ms. Ismail, 33, is leading a phantom-like existence, shifting from house to house, timing her movements carefully, stepping out only with a scarf over her face and relying on an underground network of fellow feminists across Pakistan's cities who are risking everything to hide her.
Her family says they have had no contact with her since she vanished in May — "All our phones are bugged," said her younger sister, Saba.
Rumors keep surfacing that she was spotted here or arrested there. But security officials said that she was not in custody and that they were relentlessly pursuing her.
The hunt has continued even though Pakistan has recently presented itself as turning a corner, moving away from years of repression and a long record of sponsoring militant Islamic groups.
Its prime minister, Imran Khan, held talks on Monday with President Trump at the White House (mostly about Afghanistan). To sweeten the mood ahead of Mr. Khan's visit, Pakistan stepped up arrests of militant leaders and tried to ease tensions with its archrival, India.
But as Ms. Ismail's case shows, many Pakistanis still live in deep fear of their own security services. The intensity of the pursuit reveals how domineering and perhaps unnerved the country's security services — referred to as "The Establishment" — remain.
"We are in a gray area," said Rasul Bakhsh Rais, a professor of political science at Lahore University of Management Sciences. "There's a lot of actual and political chaos in this country right now."
But, he said, he could not see any legitimate reason to go after Ms. Ismail.
"What she has been saying, however harsh, falls under freedom of expression," Mr. Rais said. "But the institution she has talked about doesn't want to be talked about."
That institution, he said, was Pakistan's military.
Pakistani security services have accused Ms. Ismail of a litany of serious offenses including sedition, financing terrorism and defaming state institutions, though the authorities have not filed formal charges against her.
No Pakistani government official agreed to comment publicly on her case, but several spoke on the condition of anonymity. Her family provided more than a dozen pages of documents, including police reports and copies of the allegations against her.
The Pakistani officials said they had no issue with Ms. Ismail's advocacy for women. But they maintained that she had crossed a line in recent months by spreading divisive messages at unlawful rallies held by a grass-roots Pashtun rights movement known as P.T.M.
As P.T.M. has grown, holding boisterous protests and inspiring more and more young people, the government has cracked down viciously, arresting some of its leaders and firing on unarmed demonstrators, according to witnesses.
Ms. Ismail is an ethnic Pashtun, one of Pakistan's largest groups, and she has become a prominent P.T.M. supporter. She has appeared onstage at P.T.M. events and spread one of P.T.M.'s core messages — that Pakistan's military has victimized civilians in Pashtun areas.
In January, she aired allegations, on Facebook and Twitter, that government soldiers had raped or sexually abused many Pashtun women. She has also joined chants in which P.T.M. supporters belted out: "The ones responsible for terrorism are the ones in uniform!"
"Her speech against the state and army is an attempt to divide people on ethnic lines and incite them to commit treason," read a police complaint registered May 21.
In the past week, Pakistani officials accused her and her parents of money laundering and financing terrorism, saying that they had received large transfers of money from India.
The Ismail family denies this.
"Everything is false," said her father, Mohammed, who now spends his days inside the family's modest home in Islamabad, Pakistan's capital, staring out the windows at two nondescript sedans with tinted glass permanently stationed just up the road — police officers.
Mr. Ismail says that the police are frustrated they can't find his daughter and are closing in on her inner circle. In July, he said, agents raided the family house, where Ms. Ismail lived with her parents, for the fourth time and carted off computers, phones, cameras and DVDs — and the family driver.
The driver returned hours later, barely able to speak. He had been electrocuted and injected with an unknown substance, tortured in an attempt to make him reveal where Ms. Ismail had gone, Mohammed said.
"He was weeping and weeping and weeping," said Mr. Ismail, a retired teacher of Urdu, who shared photographs of marks on the driver's body.
Pakistani officials declined to comment on these allegations.
"If she's hiding somewhere, you find her, you don't harass her parents," Mr. Ismail said, his voice shaking.
Pakistan presents an extreme version of the misogyny that women face around the world — girls are still murdered here by their own fathers to protect the family's sense of honor, countless women are denied education, and, in many areas, beating a woman is not considered a crime.
But this only fueled Ms. Ismail. She became well-known in the global human rights community for speaking out about these abuses, her moral conscience developing early.
When she was around 16, a female cousin who dreamed of becoming a pilot was married off to a man nearly twice her age, abruptly ending her education — and her dreams.
That motivated Ms. Ismail to start an advocacy group, Aware Girls, that has trained thousands of young Pakistani women about their rights. One was later shot in the head: Malala Yousafzai, whose resilience has inspired millions.
As Ms. Ismail progressed through high school and college, eventually earning a master's degree in biotechnology, she focused her attention outside the classroom on human rights, gender-based violence and countering extremism. She ran workshops, set up a domestic violence hotline and was invited to events in Iceland, Britain, the United States and South Africa.
On a glass table in the living room, he keeps all of her awards close to him, among them: the Chirac Prize, the Commonwealth Youth Award and the prestigious Anna Politkovskaya Award (named after the Russian journalist who was killed).
He worries, deeply, and says his wife often wakes him up as he cries during his sleep. He warned his daughter not to speak up about the rape allegations against the army; he knew it was extremely dangerous to provoke the military.
"But she got very harsh with me and said, 'I am a human-rights activist, I have to stand with them,'" he remembered.
Ms. Ismail's family believes that if she is apprehended she will be charged, subjected to an unfair trial and, potentially, imprisoned for years.
Her associates and Pakistani security officials said they have no evidence she has died. Both sides believe she is hiding.
Long before the hunt for her began, Ms. Ismail seemed to sense danger.
"When you work on changing the status quo," she said in an interview in Paris in 2016, "it's risky. And because we have a high impact, there are actors or groups who want to silence us."
But, she added, "If you are afraid, then fears lead to hatred. And our world needs bravery and courage."
Salman Masood and Ihsanullah Tipu Mehsud contributed reporting from Islamabad, Pakistan.
https://www.nytimes.com/2019/07/23/world/asia/pakistan-gulalai-ismail-.html
--------
Inclusive Peace in Afghanistan Means 'Women at the Centre' Urges UN Deputy Chief in Kabul
21 July 2019
Amina Mohammed was speaking to reporters in the capital Kabul, after leading an all-women delegation of top UN officials for an intensive two-day "solidarity mission", focussed on women, peace and security. She was joined by UN Political and Peacebuilding Affairs chief, Rosemary DiCarlo, the Executive Director of the UN Population Fund (UNFPA), Natalia Kanem, and the head of UN Women, Phumzile Mlambo-Ngcuka.
The Deputy Secretary-General said they had come ahead of the key presidential election, due to take place at the end of September, but also to lend their support for a peace process "which is integral to the future, and the sustainability of all the efforts and aspirations, the Government and people of Afghanistan have."
Only a few days ago, a bomb attack just outside Kabul University, reportedly killed 10 people - students and a traffic officer - and wounded 33 others, while Taliban militants reportedly detonated a bomb outside police headquarters in Kandahar city, killing 11 and wounding nearly 90. Despite the on-going violence, Afghan political leaders held ground-breaking talks in Qatar earlier this week with Taliban representatives, with both sides calling for a reduction in civilian casualties.
"At the end of two days we have been impressed with the leadership at all levels of government from Kabul out to the local areas, where you see that there is an investment in people, in particular in women's empowerment', said Ms. Mohammed.
The high-level UN delegation held meetings with President Ashraf Ghani and Chief Executive Abdullah Abdullah on Saturday, and also met a diverse group of women, hosted by Afghanistan's First Lady, Rula Ghani. They also met religious leaders, who have a crucial role to play in bolstering the peace process.
On Sunday, the delegation travelled outside Kabul to the province of Bamyan, where UNFPA is running a series of support programmes and services for women of reproductive age and families, as well as tackling gender based violence (GBV). They also visited a UN demining site, and the UNESCO World Heritage Site of the Buddhas of Bamyan, which were dynamited and destroyed by the Taliban in March 2001, which ruled the country until the allied invasion later that year.
The deputy chief said her face-to-face conversations with Afghan women during the mission had left her with no doubt that women are "in leadership roles, decision making, they know exactly where they want to go - and what they need from us is support", she told reporters.
"We have heard from them many messages: on the elections, that they must be credible, they must be timely, they must be inclusive, and their voices must be heard."
"On the peace process", she continued, it had to be inclusive: "And inclusive means women at the centre", especially when it comes to addressing the needs of victims of violence.
"You cannot address peace and its sustainability, if you cannot come to terms with reconciling the past. So this has been an incredibly important opportunity for us", said the Deputy Secretary-General, noting that during the trip they had also been gratified to see "the gains of the investments that have been made by the UN system and its partners over the years."
We'll back Afghan women 'at every step' - UN Women chief
The head of UN Women said that she had been struck by talking to women who had lived with the "oppressive legacy of the Taliban's rule – which banned them from attending school, work or even speaking publicly or leaving the house without a man."
"These same women have consistently and courageously advocated for their voices to be heard, their priorities to be addressed and their agency to be recognized", said Ms. Mlambo-Ngcuka. "And they do not stand alone, because UN Women and the UN, are here to back them up at every step."
She said that as the momentum builds for peace talks with the Taliban, "ensuring women's meaningful participation in the peace and reconciliation process and in the upcoming elections is more urgent than ever. Women must be able to exercise their right to define what peace means for them, and to have a seat at the table where the future of the country is being negotiated", said the Executive Director. "Only then we will really see durable peace and democracy flourish in Afghanistan."
'Collective responsibility' to end gender-based violence: UNFPA
In Bamyan, around half of the women who give birth, still deliver at home without any skilled birth attendant. GBV is a critical concern in the province, with around 20% of women experiencing some form of domestic violence, said UNFPA.
The agency runs a network of Family Protection Centres together with the Afghan Ministry of Public Health, within main hospital and health facilities. They also support more than 100 Family Health Houses, providing essential reproductive, maternal and child health services to around 300,000 living in under-served areas.
UNFPA chief, Natalia Kanem, said that "ending sexual and gender-based violence is our collective responsibility. It not only affects a woman's dignity, health and wellbeing, but prevents her from participating actively in her community and contributing to peace."
The agency, she added, "is on the frontlines of this battle in Afghanistan, and indeed around the world, leading the UN system's response on the ground. If we stand united in our pursuit of gender equality, human rights and justice, we can prevent this scourge one person, one community, one country at a time."
"Despite tremendous suffering, the resilience of the women and girls I met on this visit gave me hope for the future of Afghanistan", said Ms. Kanem. UNFPA is "dedicated to improving the health and well-being of Afghan women, laying the foundation for a life of choice and equality. We are making progress, but there is still a long way to go."
"Only when women are safe and empowered to make decisions over their bodies and lives", she noted, "will the country be able to achieve sustainable development and peace."
https://news.un.org/en/story/2019/07/1042961
--------
Meet Engy: Mother and Entrepreneur Empowering Egyptian Women and Mothers
MIRNA ABDULAAL
JULY 22, 2019
"When I first gave birth, I thought my life would end at this point," Engy Moataz tells Egyptian Streets. "I thought I would become weaker and less productive, but I decided to challenge myself and prove to myself that life does not end after marriage."
For many women today, motherhood still carries a negative connotation of obstructing their ambitions and desires, as they are often expected to play the main role of nurturing and raising the child. The topic generally centers around finding 'harmony' between being a mother and a working woman, yet never focuses on how motherhood can actually be a driver for success, or how work can actually enhance and improve the motherhood experience.
Recently, there has been a strong and emerging trend of "Mumpreneurs", which describes mothers involved in entrepreneurial activities, and their desire to create a better environment for their family and overall community. The term also acknowledges that a lot of women starting their own businesses still play a huge role at home compared to men, and the inequality that arises from this.
Engy Moataz is a 27-year-old mother and founder of her own business 'NG Crafts', which not only sells high quality handcrafted pieces, but also has a great social impact as it aims to empower the women in the community and those with special needs and diseases.
Though she graduated as a pharmacist, she started her business when she was just 25 years old, wanting to practice something she truly loves and challenge the idea that motherhood would consume too much of her life to the point of ending her career.
"I always loved handcrafts, which my grandmother taught me since I was very young, mainly teaching me crochet," Moataz notes," so I started doing my own handcraft pieces and selling them. But then after a while I thought of having other people with me to help me, and to help people who need financial assistance."
"With time I realized that they depended more on me, and it started to expand and the project came to be more than just a product I am selling but also had a great social impact. I was helping women who needed to grow and develop themselves, so I thought why shouldn't I develop it even more and help other people who also need this opportunity?" Moataz explains.
For years, craft practices were a core part of occupational therapy that emerged around the end of the First World War in response to the needs of returned soldiers. Today, it has been researched in order to better understand just how much craft is beneficial for mental health and how it works as a great stress reliever.
"If you read more on crafts, you will find that it is one of the things that can help create a lot of positive energy and release a lot stress. So I started to focus on the mental well being of the people that work with me and work with people who have disabilities or people who need financial assistance because of a disease."
Up until this point, Moataz has hired and trained 40 people from different parts of society, such as Syrian refugees, women from Upper Egypt and women with cancer or special needs, aiming to help them both financially, emotionally and mentally.
"This is their main source of income because they usually don't have the opportunity to apply to a job due to their level of education and skills, or because their husbands are not allowing them. So this is a good chance for them to work even from home," Moataz adds.
She mentions the many solutions she created for women, such as helping them escape their unhappy marriages, conflicts and problems and become responsible for themselves and their own family.
"I once worked with a girl who was in her early twenties and was married, but a huge conflict happened with her husband and he stopped communicating with her completely, not even supporting her financially. So she decided to work with me and support her son independently and learn how to be responsible."
"Right now I am working to integrate more activities for women suffering from cancer in order to give them more psychological help and to help them become more productive," Moataz states.
NG Crafts' mainly sells handcrafted bags and accessories, as well as customized pieces for customers. They are made from textile waste that is recycled as well as out of many other different materials, all according to their intended use and environment, such as cotton for hotter temperatures.
The business also uses natural leather for bags that is completely handmade and woven with the crochet, something Moataz says is unique and not often found in the market.
As for being a woman entrepreneur, Moataz notes that the main challenge is how women view their own selves and how the community perceives them, highlighting the role of Entreprenelle in helping her set up the business.
"The biggest challenge is your mindset and self-confidence, because as long as you convince yourself that you can do it and you are fully capable of doing so, then you will definitely be able to do so," Moataz states.
"There will always be people discouraging you as a woman and an entrepreneur, asking you questions like, 'but how are you balancing everything?' or 'will the child not be affected?', but luckily I found the community of Entreprenelle that completely understands you."
"You feel like you are being surrounded by people who will never underestimate you or look down on you, and they offer their help with no limits. You can talk to them all day and they would listen you, and if you need any contacts they immediately try to link you up with them. Not only that, but they are always contacting you and following up with you for any updates or problems, and that's exactly what I need, because I need to build a sustainable business."
Moataz hopes to reach more women in the future in society to help and empower them, and change the way people perceive them.
"I want to center the product more around the women who produce it, and expand to be able to even export abroad so as to show that this was made by Egyptian women, proving that they are strong and worthy despite all the challenges they face."
https://egyptianstreets.com/2019/07/22/meet-engy-mother-and-entrepreneur-empowering-egyptian-women-and-mothers/
--------
URL: https://www.newageislam.com/islam-women-feminism/iran-regime-increases-crackdown-womens/d/119273
New Age Islam, Islam Online, Islamic Website, African Muslim News, Arab World News, South Asia News, Indian Muslim News, World Muslim News, Women in Islam, Islamic Feminism, Arab Women, Women In Arab, Islamophobia in America, Muslim Women in West, Islam Women and Feminism