New Age Islam News Bureau
24 Jul 2019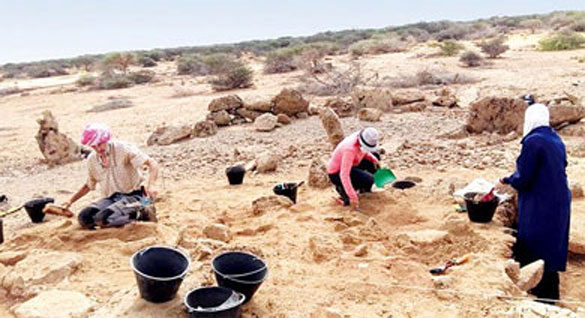 Najla Al-Saeer and her team during their work at Wadi Matar excavation sites in the Farasan island of Jazan. (Photo/Supplied)
------
• Najla Al-Saeer, Saudi Female Archaeologist Goes Back To The Future With Career Ambitions
• 120 Saudi Female Engineers in Taif Jobless for Over Five Years
• Salma Hayek Becomes First Arab Actress to Have Major Role in Marvel Film
• Muslim Leaders Request Clarification on Swimwear Policy at Auckland Pools
• Woman in Religious Headscarf Files 'Banking While Muslim' Complaint Charging Citibank with Discrimination
• RSS Women's Wing Seeks Global Focus on Forced Conversions in Pakistan
Compiled by New Age Islam News Bureau
URL: https://www.newageislam.com/islam-women-feminism/iran-regime-hangs-2-women/d/119284
--------
Iran Regime Hangs 2 Women; 93 Women Hanged Under Rouhani
by Hamideh Taati
24 July 2019
Two women were hanged at dawn on Tuesday, July 23, 2019 in the Central Prison of Urmia, north-west Iran.
They were identified as Arasteh Ranjbar and Nazdar Vatankhah and had already spent 15 years in prison. They were accused of murder and complicity in murder, respectively.
According to an informed source, the two women had previously been given one month to attract the agreement of the victim's parents; but they had not managed to do so, and their death penalties were carried out.
They were transferred to solitary cells Monday morning, July 22, to be prepared before being sent to the gallows, according to the Women's Committee of the National Council of Resistance of Iran (NCRI).
With these latest executions, the number of women executed during six years of Hassan Rouhani's presidency has reached 93. Four of them were executed in the past 8 days alone, indicating heightened suppression and targeting of women in Iran.
Maliheh Salehian from Miandoab was hanged on July 16, 2019, on the charge of murder in the Central Prison of Mahabad, in western Iran.
On July 17, 2019, another female prisoner, Zahra Safari Moghadam, 43, was hanged in the Prison of Nowshahr, in northern Iran.
Some 3,700 persons have been executed in Iran in the past six years under Rouhani. The Iranian regime is the world's record holder for executions per capita. It carries out the death penalty as a tool to maintain its grab on power and silence a disgruntled population, the majority of whom live under the poverty line, while unemployment is rampant in the country and there is no freedom of speech.
Rule 61 of the United Nations Rules for the Treatment of Women Prisoners and Non-Custodial Measures for Women Offenders (the Bangkok Rules) reads, "When sentencing women offenders, courts shall have the power to consider mitigating factors such as lack of criminal history and relative non-severity and nature of the criminal conduct, in the light of women's caretaking responsibilities and typical backgrounds."
The Women's Committee of the National Council of Resistance of Iran has condemned the execution of the two women by the mullahs' regime since they are victims of misogynist laws and policies of the clerical regime and their destruction of the economy. The NCRI Women's Committee urged the international organizations defending human rights and women's rights to take action to stop the death penalty in Iran.
https://www.ncr-iran.org/en/news/women/26507-iran-regime-hangs-2-women-93-women-hanged-under-rouhani
--------
Najla Al-Saeer, Saudi Female Archaeologist Goes Back To The Future With Career Ambitions
July 24, 2019
RIYADH: Najlah Salman Al-Saeer, one of Saudi Arabia's top emerging female archaeologists, talks about her journey into the past and her career ambitions for the future.
A Saudi archaeologist is fast-becoming a leading light in the field for her work delving into the Kingdom's cultural past.
Through her fascination for all things old, Najla Salman Al-Saeer has been digging back millions of years into the history of the country.
And she is hoping to expand her knowledge by continuing her education abroad to help unearth even more of the Kingdom's treasures of the past.
After gaining a bachelor's degree in arts (libraries and information) from Princess Nourah bint Abdulrahman University, Al-Saeer began studying for a master's degree in tourism and archaeology, graduating this year from King Saud University (KSU).
The KSU archaeology department was established in 1977 to be the Saudi center for graduated qualified national professionals in the subject and its diverse sciences, and to provide excellent scientific knowledge to serve the job market and provide homegrown experts in the field.
Al-Saeer specializes in material heritage, archaeological sites and everything related to documents and manuscripts. "I write in newspapers about my field visits to archaeological and heritage sites," she told Arab News.
"Studying archaeology was based on my love of exploration in the first place, and consequent entry into the work field on archaeological surveys and excavations.
"The study of material findings gives the researcher a concrete conception of the first human settlements, successive civilizations, and the culture prevailing in communities up until the period they belong to.
"My studies in libraries and information also played a role in choosing archaeology. My interest in manuscripts, which I call cultural heritage, meant I studied them in an archaeological way so that I could be within the scope of professional archaeological work," she added.
Al-Saeer completed her master's research project on "The Archaeological Study of the Manuscripts in West Africa (such as Timbuktu)," and she is currently working on writing a scientific report related to her surveys and excavations of the Wadi Shami and Wadi Matar sites in the Farasan island of Jazan.
While working on a temple at Wadi Matar, she discovered objects dating back thousands of years. "I found a fragment of Nabati pottery, beads, pottery wares and other artifacts such as bones and shells."
Al-Saeer is not alone in the Kingdom as a female archaeologist. In 1989, KSU established the first women's department of archaeology to promote the roles of female students and researchers.
Dr. Samer Sahla, head of the university's archaeology section, said the department offered a postgraduate program exclusively for female students.
"The number of female students currently in the graduate program is approximately 75. We accept annually 15 to 20 female students in our masters and Ph.D. programs, and applications are generally increasing," he added.
Al-Saeer's main aims at present are to work on her Ph.D. project in archaeology and participate in surveys and explorations of other key heritage sites in the Kingdom, and she is also hoping for the opportunity to work abroad.
She said that archaeologists usually located excavation sites by foot surveys or using aerial photography and metal detectors.
One of the oldest Saudi sites is in the village of Al-Shwaihtia, about 45 km from the city of Sakaka in Al-Jawf, where human settlements dating back to the Paleolithic era have been found.
Al-Saeer pointed to the important role played by the Saudi Commission for Tourism and National Heritage (SCTH). "The commission took the coverage on its behalf by holding lectures and symposia after each task in the archaeological sites of the Kingdom to discuss the most important results, in addition to holding conferences including the first Saudi Archaeological Conference in Riyadh, in 2017."
She added that the SCTH was able to develop global interest in Saudi archaeological finds through its longstanding partnerships with foreign teams including those from France, Germany and Japan.
She has benefitted from "working on different methodologies of archaeological research and practicing them in archaeological sites, in addition to benefiting from the diverse experiences within the work team, which includes individuals holding various specializations other than archaeology."
http://www.arabnews.com/node/1529931/saudi-arabia
--------
120 Saudi Female Engineers in Taif Jobless for Over Five Years
July 23, 2019
TAIF — About 120 Saudi female engineers in Taif have not been gainfully employed since they graduated from the university more than five years ago, according to a data released by the Committee of Engineers in this summer resort city.
The women engineers were specialized in architecture, civil engineering, internal design, decor and other specialties.
These women engineers are requesting authorities to enable them to replace expatriate engineers who are dominating the jobs in the city's more than 1,600 engineering companies and offices.
Abdulaziz Bin Aish, chairman of the Committee of Engineers, said their databank confirmed that there were more than 120 Saudi female engineers who have been jobless since they graduated from the university more than five years ago.
He said the women engineers were planning to hold a meeting with the committee to discuss giving them the opportunity to replace expatriate engineers in contacting companies.
Aish said the engineering work does not require physical presence of the engineer in the office s women engineers can work from away from the office. He said engineering offices and contracting companies can accommodate a large number of women engineers, especially in the housing projects.
http://saudigazette.com.sa/article/572727
--------
Salma Hayek Becomes First Arab Actress to Have Major Role in Marvel Film
July 22, 2019
Salma Hayek has become the first Arab actress with a main role in the Marvel Cinematic Universe (MCU), when the MCU's Phase 4 was revealed this weekend at San Diego Comic Con. She is set to star as Ajak in "The Eternals", which will be released on 6 November 2020.
The film will be directed by Chloe Zhao and stars actress Angelina Jolie, stand-up comedian and actor Kumail Nanjiani and "Bodyguard" actor Richard Madden alongside Hayek.
Hayek, a Lebanese-Mexican actress, is best known for her work as Mexican painter Frida Kahlo in 2002 film "Frida", as well as her more recent films such as "Grown Ups" and "Grown Ups 2".
Hayek will be playing the part of Ajak in the new Marvel film, who is the leader of the Eternals; a male character in the comics. She announced her upcoming role on Instagram, saying: "I'm so excited to join the Marvel family as Ajak, the mother of all Eternals. It used to be the father of all Eternals, but girls… this is OUR time!!!!!"
"The Eternals" is based off the comic of the same name and tells the story of a species of humanity (named the Eternals) who were genetically engineered by the Celestials (who created the Infinity Stones), trying to protect the human race.
In addition to "The Eternals", Marvel revealed many other new projects, including Oscar-winning Mahershala Ali as the vampire hunter Blade and Natalie Portman as the female Thor. Shang-Chi, the first Asian American super hero film was also unveiled, starring Canadian actor Simu Liu and "Crazy Rich Asians" actress Awkwafina.
Hayek has on numerous occasions spoken out about her Lebanese roots; "I feel very proud to have Lebanese blood," she said in 2016. She went on to criticise a law which bans women from passing on their nationality to their children.
"I hope that the extraordinary Lebanese women and mothers have the possibility to pass their nationality to their children," Hayek said, "we are as Lebanese as the men are."
https://www.middleeastmonitor.com/20190722-salma-hayek-becomes-first-arab-actress-to-have-major-role-in-marvel-film/
--------
Muslim Leaders Request Clarification on Swimwear Policy at Auckland Pools
24 Jul, 2019
Muslim leaders have urged Auckland Council to clarify its swimwear policy for public pools after a woman was told she could not wear the clothing she had on.
The Muslim Association and Islamic Women's Council sent the request after a group's choice of attire at West Wave Pool in Henderson was questioned at the weekend.
Auckland Council said the woman was not asked to leave the pool, but rather told by pool staff that she couldn't wear the clothing she was swimming in.
Islamic Women's Council acting head Anjum Rahman said it was important everyone had access to public pools.
"It's really important that all members of the community have public pools that are accessible to them both for water safety reasons and for recreation," she said.
"Particularly living in a country like New Zealand, having water safety skills is hugely important we know not enough Muslim women are getting those skills.
"I think Auckland Council themselves have acknowledged that and are keen to improve accessibility so that's why this incident is so unfortunate."
Rahman said Muslim women needed to know what swimwear was allowed in public pools.
After two days of investigating the weekend complaint, council head of recreation Jane Aickin said the members of the group weren't wearing burkinis - but what they were wearing wasn't allowed.
"It's important to note that members of the group were not in fact wearing burkinis (which is a brand of swimwear), as has been previously reported. Speaking to our staff as well as one of the customers from the group, has clarified they were clothed in attire that they bought to swim in and thought was appropriate to wear in the pools," she said.
The council asks swimmers to wear lycra, not sportswear or casual clothing and it supports cover-all swimwear.
"We have been contacted by the New Zealand Muslim Association and Islamic Women's Council who have asked for clarity on our swimwear policy, what actions we are taking and what training is provided to our staff. We will be responding to them and hope to be able to work with them and take on advice when looking at our swimwear policy."
The pool's website states "appropriate swimwear is to be worn at all times - togs, shorts above the knee and rash tops", underwear and denim shorts are not permitted.
"We accept that this can be confusing at times and are working hard to try to clarify these rules for everyone," Aickin said.
She said she offered a sincere apology, and assured one member of the group she's spoken to that she would be made to feel welcome on her next visit to the pools.
https://www.nzherald.co.nz/nz/news/article.cfm?c_id=1&objectid=12252200
--------
Woman in Religious Headscarf Files 'Banking While Muslim' Complaint Charging Citibank with Discrimination
JUL 23, 2019
A hijab-wearing woman's attempt to open a Citibank savings account was abruptly scuttled by the mention of her husband's Arabic surname, according to a complaint filed with the city Commission on Human Rights.
The five-page filing Tuesday by the unidentified woman detailed her disturbing July 3 visit to a Manhattan bank branch, where she was rebuffed without explanation while trying to deposit $3,800 in a new account, the complaint alleged.
"'Banking while Muslim' is not a crime, yet financial institutions are singling out American Muslims for discriminatory treatment," said Council on American-Islamic Relations (CAIR) litigation director Ahmed Mohamed. "Citibank must respect the civil rights and liberties of Muslim New Yorkers and immediately amend its policies."
The complaint charged that things took an uncomfortable turn once the woman designated her spouse as the beneficiary of her account, with the customer service representative entering his Arabic last name into a computer.
"He informed her that respondent Citibank needs 3 to 4 days to investigate her husband before opening her account," the complaint charged. "When complainant asked why an investigation into her husband was necessary, respondent refused to answer the question."
The angry woman left the Citibank branch about 30 minutes after arriving without opening her account.
"Complainant was offended, humiliated and embarrassed because of the treatment directed at her by (Citibank)," the complaint continued.
According to CAIR's Mohamed, his group has documented a pattern of banking discrimination targeting Muslims and people of Arab descent.
"The inability to open a bank or savings account can have dire financial consequences for a family, in addition to the emotional and psychological effects associated with being denied services because of your race, nationality or faith," he said.
The woman sought unspecified damages for "humiliation, embarrassment and emotional distress," along with punitive damages to prevent "future reprehensible contact."
Citibank said in a statement that it takes "any allegation of discrimination very seriously and we are reviewing the complaint. Federal law requires banks to obtain, verify and record information that identifies each person or business that applies to open an account or establish a relationship with the bank. These reviews can sometimes take a few days to complete.
"Citi has no tolerance for discrimination in any form and eligibility for banking products is not conditioned on race, ethnicity, religion, age, gender or sexual orientation."
https://www.nydailynews.com/new-york/ny-muslim-lawsuit-citibank-20190723-bdsrchkbkjf5vfm3wol3qdwfcq-story.html
--------
RSS Women's Wing Seeks Global Focus on Forced Conversions in Pakistan
Jul 24, 2019
Smriti Kak Ramachandran
The Rashtra Sevika Samiti, the women's wing of the Rashtriya Swayamsevak Sangh (RSS) has urged the international community to take notice of the alleged cases of forced conversion of Hindu women in Pakistan's Sindh province.
According to a senior functionary, the Samiti has decided to take up the issue by raising awareness about the atrocities being faced by the women in Pakistan. In a tweet put out by the Samiti, it said, "…The world community should focus on growing atrocities and conversion of Hindu women in Sindh province of Pakistan and stand against it. The Sevika Samiti seeks to secure the life of women all over the world and the right for them to follow their religion."
According to news reports, the Sindh Assembly had taken up the issue of forced conversion in Pakistan. The assembly unanimously passed a resolution seeking an end to the practice of forced conversions and abductions of Hindu girls. It also sought action against those involved in such activities.
According to media reports in Pakistan, the resolution was moved by the Grand Democratic Alliance (GDA) lawmaker Nand Kumar Goklani and supported by the ruling Pakistan Peoples' Party as well as Muttahida Qaumi Movement (MQM), Pakistan Tehreek-e-Insaf (PTI) and the hardline Jamaat-e-Islami.
As many as 10 US Congressmen had also written to President Donald Trump asking him to raise the issue of human rights abuse, including forced conversion in Pakistan with Pakistani Prime Minister Imran Khan, who is on an official visit to the United States.
"We are raising the issue of forced conversion of women and atrocities against them; it is not only happening with impunity to women in Pakistan's Balochistan and Sindh but to the Yazidi women as well. We will take up the issue on a large scale to create awareness," said Leena Gahane, the Boudhik Pramukh (in charge of ideological orientation programmes) of the western region.
Earlier, the Vishwa Hindu Parishad (VHP), another affiliate of the RSS had also raised the issue of forced conversion of Hindus. Citing a report by the Global Human Rights Defence (GHRD) and the Movement for Solidarity and Peace, VHP claimed more than 1,000 Hindu girls and women are kidnapped in Pakistan and forced to convert to Islam every year.
https://www.hindustantimes.com/india-news/rss-women-s-wing-seeks-global-focus-on-forced-conversions-in-pakistan/story-FpukbTmgV1TXFo3UBTKb5M.html
--------
URL: https://www.newageislam.com/islam-women-feminism/iran-regime-hangs-2-women/d/119284
New Age Islam, Islam Online, Islamic Website, African Muslim News, Arab World News, South Asia News, Indian Muslim News, World Muslim News, Women in Islam, Islamic Feminism, Arab Women, Women In Arab, Islamophobia in America, Muslim Women in West, Islam Women and Feminism