New Age Islam News Bureau
17 Jun 2018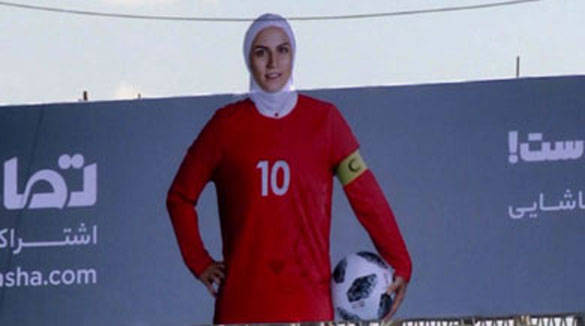 The billboard in Tehran [Al Jazeera]
----
• Iran: Football World Cup, Female Fans and Saudi Arabian Rivalry
• Egypt Interior Ministry Deploys Female Officers to Fight Sexual Harassment during Eid
• FIFA Allows Iran Women Banner as 'Social Appeal'
• Imran Khan's Ex-Wife Reham Khan Gives Pervez Musharraf Lesson in Gender Equality
• Angelina Jolie Visits Iraq, Urges World Community to Support for Rebuilding
Compiled by New Age Islam News Bureau
URL: https://www.newageislam.com/islam-women-feminism/iran-football-world-cup-female/d/115559
-----
Iran: Football World Cup, Female Fans and Saudi Arabian Rivalry
by Zein Basravi
16 Jun 2018
Tehran, Iran - In an Iranian home, four friends sat together to watch the opening game of World Cup 2018 between hosts Russia and Saudi Arabia.
It did not take long to see who they supported as, for many Iranian fans, regional political rivalries are extended to who they support on the pitch.
The room was happy to see their ally Russia thrash their rivals Saudi Arabia.
"This is political," said Amir Doostmohammadi, a FIFA player agent and football expert based in the capital Tehran.
"If you ask Iranians and Syrians right now, they want Russia to win."
It was difficult to keep up with the Persian commentary but the urgent and exciting delivery of the commentator is universal.
The Iranians in the room noticed him relishing in saying the word "zero" every time he mentioned the score.
"There is a kind of intersection between football and politics," said Doostmohammadi.
"Remember, 20 years ago [the World Cup] was in France and it was Iran and the US in the same group. That match was quite political. When Iran won the game 2-1, the supreme leader had his own message. It was late at night, and he congratulated the team on this win."
While it is difficult to untangle football from world affairs, Doostmohammadi said no side should bring up politics, religious differences or racial discrimination. Football offered an opportunity for players to wield the kind of soft power that can mend fences, he added.
After the 1998 game, US and Iran players exchanged shirts and shook hands, a kind of gesture leaders from both countries seem unwilling to make.
Iranian players had a difficult start to the World Cup - even before the tournament started. Nike refused to supply them with football boots, citing US sanctions.
A popular brand in Iran, original Nikes and knock-offs are widely available across the country. But that may change now.
"This is sport. It has nothing to do with politics," said Doostmohammadi.
"Nike is perhaps a kind of popular brand. But I guess many people will have second thoughts about it."
Meanwhile, Iran is where women still aren't allowed to attend football games in stadiums. But there are signs of a change.
In Tehran's north, there's a billboard hanging from a footbridge. A 50-foot tall woman in football uniform stands holding a ball over a busy main street.
She has the captain's armband.
This image projects confidence and power. It's an ad campaign, calling out to Iranian women to participate in a star-search style competition, to find the country's next female football commentator.
It's a sign that female football is becoming more mainstream.
"[Iranian] society views it positively now and football has become one of the most popular sports for women," said Mina Rezaie, a youth football coach and former member of the women's national under-19 indoor football team.
"I faced many challenges in my childhood but, I can tell you that if you make the effort, you can achieve whatever you want."
Earlier this year, the national indoor football women's team brought home the Asia Cup, encouraging more women to get their foot in the door.
Dress code
An issue that often comes up for these female athletes is the hijab - along with trousers and long-sleeved shirts - that the government requires them to wear.
But what is largely a western obsession, Rezaie said it has no real effect on an athlete's ability to perform.
"It is difficult to play wearing a headscarf. It limits one's flexibility," said Rezaie.
"But it doesn't bring about a major limitation. Our female team won the Asian title wearing hijab (a headscarf worn by many Muslim women who feel it is part of their religion) against powerful teams like Japan and China.
"If someone believes in something and if it is from the bottom of their heart, they would tolerate all difficulties to achieve their goal."
Iranian sports have been dominated by male athletes for decades, but Doostmohammadi said social norms are changing.
"Islam is not really blocking women from such social events and occasions," he said.
"From country to country, there might be some limitations and restrictions, such as dressing and head covering, but that is not the main point. The main point is that they are allowed to enter and allowed to [play] professionally."
Source: aljazeera.com/blogs/middleeast/2018/06/iran-football-world-cup-female-fans-saudi-arabian-rivalry-180616063634585.html
-----
Egypt Interior Ministry Deploys Female Officers To Fight Sexual Harassment During Eid
June 16, 2018
CAIRO: Egypt's interior ministry has deployed female officers in popular destinations during Eid Al-Fitr, in a bid to combat sexual harassment against women, which reportedly soars during holidays.
The security directorates have tightened security measures in areas that usually witness a high turnout of citizens on Eid Al-Fitr, including Corniche Al-Nile, downtown Cairo, and in the vicinities of cinemas, public parks, and Nile marinas, according to Al-Masry el-Youm newspaper.
The officers have been intensively trained to confront and handle male harassers during their arrest until they are handed to the nearest police station for legal action, the newspaper reported.
Their presence can be seen at parks, cinemas and other places where sexual harassment could occur in overcrowded areas.
Source: arabnews.com/node/1322691/middle-east
-----
FIFA Allows Iran Women Banner as 'Social Appeal'
16 June 2018
AP
MOSCOW: FIFA says a banner displayed at the World Cup in support of women in Iran being allowed to watch games was approved before the tournament.
Though FIFA rules prohibit political statements at games, the football's governing body says the banner was a "social appeal" displayed during Iran's 1-0 win over Morocco on Friday.
FIFA has worked with Iranian authorities toward relaxing Iran's ban since 1979 of women attending male-only sports events.
The slogans "#NoBan4Women" and "Support Iranian Women to Attend Stadiums" were held aloft at both ends of the St. Petersburg stadium.
FIFA says the banner was intended to "express a social appeal as opposed to a political slogan and was therefore not prohibited."
Source: arabnews.com/node/1322671/middle-east
------
Imran Khan's Ex-Wife Reham Khan Gives Pervez Musharraf Lesson in Gender Equality
TIMESOFINDIA.COM | Updated: Jun 17, 2018
NEW DELHI: An ex-wife of cricketer-turned-politician Imran Khan yesterday gave a lesson in gender equality to former Pakistani dictator Pervez Musharraf.
Khan's second ex-wife Reham Khan has been in the news lately for her reportedly tell-all memoir - which is said to include salacious details - about her months married to Khan.
Three days ago, Musharraf retweeted a post from his political party which said, among other things that Reham, being a woman - or "lady" as the tweet said - should be "ashamed of herself" for writing whatever she has reportedly written about. The tweet also said Reham was being used by another political party, the PML(N), to further its agenda.
"Reham khan is being used by PML(N) I have read some content in WhatsApp messages she should be quite ashamed of herself you don't write such things and specially a lady doesn't write such things," said a tweet by the Musharraf-founded party All Pakistan Muslim League (APML), which the former dictator retweeted.
Reham was having none of it. Who is anyone else to decide, when and what a woman should speak she asked, according to ANI news agency.
"General Pervez Musharraf has tweeted that a lady should not speak such things. It means, men can do anything, but lady should keep quiet after seeing a lot. The question that arises is why? Why shouldn't I or any other woman speak? Who will decide as what women should speak and write and what should she should get exposed to. This is wrong," said Reham to ANI.
Reham, a British-Pakistani journalist, was married to cricketer-turned-politician and Prime Minister (PM) aspirant Khan from January 2015 until October 30, 2015, when they divorced.
Pakistan goes to the polls next month and PML(N) - the disgraced, disqualified PM Nawaz Sharif's party - will be contesting against, among others, Khan's Pakistan Tehreek-e-Insaf (PTI) party. Reham's reportedly explosive book has unsavoury details about former cricket captain Khan which some say could hurt his chances of becoming Pakistan's PM.
That's why Musharraf claimed the PML(N) was using Reham to for its own political ends. Musharraf himself wanted to contest, representing APML, but he was last week barred by the country's Supreme Court from doing so after several no-shows in court in connection with a case.
Reham, of course, rubbishes Musharraf's allegations.
"I have no relations with the PML(N) and I have never interacted and met Nawaz Sharif. To be honest, Nawaz Sharif is so strong now as never before. That's not because of my book, which has not been released as yet. In the past one year, his position has changed. Earlier, he was the Prime Minister, now people across parties are appreciating him. I am not on their agenda," she told ANI.
Meanwhile, there's no love lost between Musharraf and Sharif. After all, in 1999, it was Musharraf - then an army general - who staged a coup to take over Pakistan and placed then PM Sharif under house-arrest.
Now, long-time Pakistan observers say Khan's candidacy has the backing of the country's army, a prospect that makes many uncomfortable. In fact, former army general Musharraf has also been backing Khan.
"His [Imran's] popularity is on the rise, and he has the potential to improve the country's situation and do something beneficial for Pakistan," said Musharraf to the Pakistani press last month.
Pakistan goes to the polls on July 25
Source: timesofindia.indiatimes.com/world/pakistan/imran-khans-ex-wife-reham-khan-gives-pervez-musharraf-lesson-in-gender-equality/articleshow/64619355.cms
------
Angelina Jolie Visits Iraq, Urges World Community to Support for Rebuilding
By Reuters Published: June 17, 2018
ERBIL: UN refugee agency special envoy Angelina Jolie visited Mosul in northern Iraq on Saturday and urged the international community not to forget residents trying to rebuild their city.
Iraqi forces seized Mosul in July 2017 from Islamic State militants, who had occupied the city three years earlier and turned it into a stronghold of a "caliphate," in a military campaign that saw 900,000 residents flee.
The Hollywood actress met families from western Mosul and walked through bombed out streets, according to video footage and photos provided by the UN High Commissioner for Refugees (UNHCR).
Normality has returned to many parts of Mosul, with displaced residents leaving camps nearby and going back home.
In Iraq's Mosul, women desperate for news of 'disappeared'
But the old city in West Mosul was largely destroyed during a campaign by a 100,000-strong alliance of Iraqi government units, Kurdish Peshmerga fighters and Shi'ite militias backed by air support from a US-led coalition.
Reconstruction has been slow.
"This is the worst devastation I have seen in all my years working with UNHCR. People here have lost everything," Jolie said in a UN statement.
"They are destitute. They have no medicine for their children, and many have no running water or basic services," she said. "I hope there will be a continued commitment to rebuilding and stabilising the whole of the city. And I call on the international community not to forget Mosul."
Jolie has worked for UNHCR since 2001, visiting uprooted civilians from Iraq to Cambodia and Kenya. It is her fifth visit to Iraq, UNHCR said.
Source: tribune.com.pk/story/1736544/3-angelina-jolie-visits-iraq-urges-world-community-support-rebuilding/
----
URL: https://www.newageislam.com/islam-women-feminism/iran-football-world-cup-female/d/115559
New Age Islam, Islam Online, Islamic Website, African Muslim News, Arab World News, South Asia News, Indian Muslim News, World Muslim News, Women in Islam, Islamic Feminism, Arab Women, Women In Arab, Islamophobia in America, Muslim Women in West, Islam Women and Feminism