New Age Islam News Bureau
8Jan 2014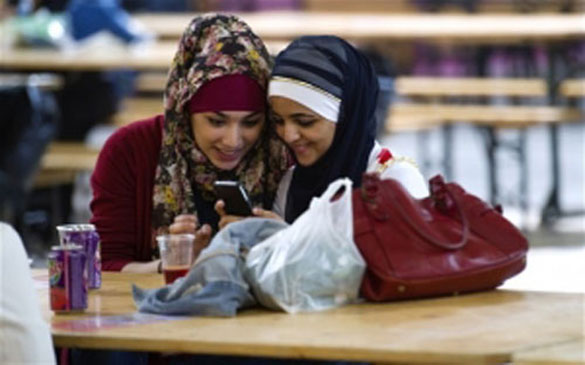 Iran bans online chatting between unrelated men and women
--------------
• Saudi Men Blame Women's Make-Up for Molestation Cases - Survey
• Twice Widowed To Extremists, a Mother-Of-Five Puts Her Faith in God
• Frenchwoman Fined After Muslim Veil Prompted Riots
• Forced Conversion of Hindu Girls on the Rise: Pak Hindu Council
• Schemes Launched To Empower Bajaur, Pakistan Tribal Women
• Muslim Throws Acid on Step-Daughters for Refusing an Arranged Marriage
• 'Child Domestic Workers in Pakistan face Brutal Torture'
• Report: Islamic Centre in Israel Targets Jewish Women for Conversion
• Pakistan: A Pending Matter-Aasia Bibi Case
Compiled by New Age Islam News Bureau
URL: https://www.newageislam.com/islam,-women-and-feminism/new-age-islam-news-bureau/iran-fatwa-bans-online-chatting-between-unrelated-men-and-women/d/35198
------------
Iran Fatwa bans online chatting between unrelated men and women
January 8, 2014
Now unrelated men and women cannot chat in Iran as their Supreme leader Ayatollah Khamenie has issued a fatwa banning online chatting
Answering a question posted on his website, Khamenei said that "Given the immorality that often applies to this, it is not permitted."
Iranian authorities have already blocked WeChat, a popular messaging app including many social networking websites like Facebook and Twitter, used by activists to stage protests.
Ironically, many Iranian officials, including President Hassan Rowhani, have active Facebook and Twitter accounts with 163,000 followers on Twitter, has pledged to ease state "policing" of people's private lives.
http://www.siasat.com/english/news/iran-fatwa-bans-online-chatting-between-unrelated-men-and-women
------------
Saudi Men Blame Women's Make-Up for Molestation Cases - Survey
January 8, 2014
NEW YORK - Most women in Saudi Arabia out in public are shrouded from head to toe in voluminous Abayas, but just the sight of their made-up faces is apparently enough to incite men to molest them, according to a new survey reported by Emirates 24/7.
The survey of 992 Saudi men and women, conducted by the King Abdul Aziz Centre for National Dialogue in Riyadh, found that 86.5 percent of the men believed that women's elaborate make-up is to blame for a rise in molestation cases in the kingdom.
No specific figures on current molestation rates or how molestation specifically is defined are available, but the Saudi authorities reported 2,797 cases of sexual harassment involving women and children in the first 10 months of 2013, with Riyadh leading the list with 650 cases.
The new survey showed that about 80 percent of all those polled blamed lack of specific anti-molestation laws and lack of deterrent penalties as contributing to the problem. "Poor religious sentiment" was cited by 91 percent of those surveyed as another factor and 75 percent also blamed lack of awareness campaigns and warning notices in public places.
http://www.trust.org/item/20140108042218-7tc03/?source=hpbreaking
------------
Twice Widowed To Extremists, a Mother-Of-Five Puts Her Faith in God
January 8, 2014
Morning Star News is reporting that Muslim extremists had once prior widowed Faith Kore Usman, a 29-year-old mother of five children, before Fulani herdsmen killed her second husband on New Year's Eve.
After losing her second husband to Muslim extremists, Faith Kore Usman says she is trusting God.
The Nigerian correspondent of the news service says that as 34-year-old Kore Usman and other Christians were praising God in a field near their church building in Maihakorin Gold village, near Bokkos in central Nigeria's Plateau state on December 31, ethnic Fulani gunmen arrived and shot at the congregation.
Besides killing Usman, the assault also killed a 41-year-old mother of six children and a 14-year-old girl.
"I have placed my faith in God and am waiting on Him to comfort me and keep me and these five children," Usman's widow told Morning Star News.
She said she and her second husband had been married for nine years.
"My first husband, Davou Philip, was killed by Muslim Fulani herdsmen in Jol Village in Riyom Local Government Area in 2002," she said. "I had only a son with him. However, God brought me and Kore Usman together, and we got married. God has blessed us with four children. I thought my burden has been lifted as a widow, and now, again my second husband has been killed by Muslim gunmen."
Eyewitnesses said that as the Christians were praising God for his faithfulness in 2013, about five Muslim Fulani gunmen stormed the Christian community at about 9 pm, shooting at the Christians gathered on the field near their worship auditorium.
The husband of the slain Naomi Tejan, 47-year-old Luka Tejan, also expressed his faith in God to Morning Star News.
"We see these killings of Christians as evil acts aimed at truncating the spread of the gospel in this country," he said.
"The devil has been using these Fulanis to kill Christians. The good thing is that we have hope that in spite of the pains, the suffering and the tears, we shall overcome in Jesus' name."
Of the couple's six children, one is 25 and two are 20-year-old twins. The others are ages 12, 7 and 3.
"Usman's widow called on the gunmen to repent of their unprovoked killing of Christians," said the story.
The 14-year-old girl killed was Nandi Jamok, according to the Reverend Danlami Yatu, pastor of COCIN congregation in Maihakorin Gold village, 43 miles (69 kilometers) south of Jos. Twelve other Christians were wounded, he said, identifying them as Marium Random, 35; Tyamol Maram, 14; Uvwat James, 15; Shagul James, 32; Rita James, 8; Yibal Philemon, 8; Mashat Geofrey, 10; Macif Mabul, 17; Alex Yunana, 41; Emmanuel Ishaku, 30; Malo Marium, 50; and Victor Barnabas.
"Myself and other members of the elder board of my church were holding a meeting in the church auditorium while our parishioners were outside the church building, on the field, singing and dancing in praise worship, thanking God for his blessings on our lives throughout the year, when suddenly gunmen we believe are Muslim Fulani herdsmen shot at our members and killed the victims," Yatu said.
It was the fourth attack on the community in the two-plus years that he has served as pastor, he added.
"During the first attack in 2011, the Muslim attackers came here and attacked homes, but they were repelled by security agents," he said.
"So also, another attack was carried out against us in 2012. A member of my church, Alex Yunana, was injured, and our church secretary too, Sunday Mabas, was attacked in his home, but he escaped unhurt miraculously."
In the third incident, the pastor's home and that of another church member, Joel Mafyil, were attacked, he said.
"Spirited efforts by our members in repelling the attackers saved us," Yatu said.
The story went on to say that the wounded Christians in the New Year's Eve attack were being treated in the Plateau Specialist Hospital in Jos and the Barkin Ladi General Hospital, he said.
Hosea Haruna, assistant church secretary for the local congregation, and Jemimah Isaac, a leader of the Women's Fellowship in the church, told Morning Star News that the 500-member church's daily Bible study programs and fellowship activities have ceased due to the attack. The church began 22 years ago.
Haruna and Isaac appealed to the Nigerian government to takes measures to end the terrorist attacks not only on their community but against all Christians in northern Nigeria.
http://www.newsdump.co.uk/news/nigeria-twice-widowed-to-extremists-a-motheroffive-puts-her-faith-in-god
------------
Frenchwoman fined after Muslim veil prompted riots
January 8, 2014
PARIS — A French court has convicted a woman for insulting police who ticketed her for wearing a face-covering Muslim veil, banned by French law.
The confrontation between Cassandra Belin, her husband and police triggered riots in the Paris suburb of Trappes last year.
Her lawyer, Philippe Bataille, says Belin was fined 150 euros and given a one-month suspended sentence Wednesday.
The lawyer also argued that the veil law is unconstitutional, and asked for it to be sent to the Constitutional Court. The lower Paris court Wednesday threw out that request.
Police sporadically ticket women who wear the veil, banned since 2011. The riots in Trappes reflected tensions between police upholding France's strict policies of secularism and those who accuse authorities of discriminating against France's No. 2 religion.
Copyright 2014 The Associated Press. All rights reserved. This material may not be published, broadcast, rewritten or redistributed.
http://www.washingtonpost.com/world/europe/frenchwoman-fined-after-muslim-veil-prompted-riots/2014/01/08/724c3a8e-7848-11e3-a647-a19deaf575b3_story.html
------------
Forced Conversion of Hindu Girls On The Rise: Pak Hindu Council
January 8, 2014
The head of the Pakistan Hindu Council Dr. Ramesh Kumar Vankwani, Member National Assembly has condemned the rise in
kidnapping of Hindu girls, forced conversion and marriage.
Talking to the media outside Parliament House on Tuesday he referred to the recent kidnapping of a Hindu woman, Lucky Bhel from Sindh who was reportedly forced to marry a follower of a local religious leader.
"Another Hindu teacher, Sapna Rani, from Peshawar was recovered after 15 days with the active support of media and civil society," he said.
Dr. Ramesh Kumar said that the founder of Pakistan, Quaid-e-Azam Mohammad Ali Jinnah had promised minorities their rights and the Constitution of Pakistan also guaranteed their protection. He pledged support for the victims' families and said he would raise the issue on every available forum including Parliament and take up the grievances of the Hindu community.
Earlier this year, the Sindh Government had set up a three member committee to examine a law to stop forced marriages of Hindu girls.
Activists in Karachi have said there are 20 such cases every month and last year the case of Rinkle Kumari went right up to the Supreme Court which allowed her and two other girls to decide their future.
http://www.thehindu.com/news/international/south-asia/forced-conversion-of-hindu-girls-on-the-rise-pak-hindu-council/article5549895.ece
------------
Schemes Launched To Empower Bajaur, Pakistan Tribal Women
2014-01-08
BAJAUR TRIBAL REGION: The local administration, in collaboration with United States Agency for International Development (USAID), initiated schemes to empower tribal women by providing them modern techniques of tie and dye.
According to a press release, the administration with the financial support of USAID has launched a scheme for the empowerment of women in the agency.
As many as 75 marginalised and poor women from different parts of agency received training on modern version of traditional dyeing methods in the three-day long training workshop.
During the training session, the women were also informed about the process of tying and dyeing and scarf, made from cotton, linen, wool, silk and polyester. Tie and dye tool's kits were also provided to the participants at the end of training workshop.
The training will help to improve the skills of women which they need to start small business in their areas and will also empower the tribal women to move from poverty and unemployment to self-sufficiency.
http://www.dawn.com/news/1079156/schemes-launched-to-empower-bajaur-tribal-women
------------
Muslim throws acid on step-daughters for refusing an arranged marriage
January 8, 2014
Muhammad Aslam, a stone mason from the Punjab province in north Pakistan, allegedly threw acid on his step-daughters Malaika, 19, and Javeria, 23, as they slept last Saturday night. According to sources on India.com Aslam was upset with his step-daughters because of a disagreement over their future marriages.
A local police official, Bashir Ahmed, reported that while arranged marriages are not uncommon in their country and other parts of the world, Aslam regularly argued with his step-daughters about the subject arranged marriages. "He wanted to marry them with men of his choice," police official Ahmed stated. He also said that Aslam had allegedly received an unspecified amount of money from a man in his neighborhood after agreeing to marry either of the two step-daughters to him.
Unfortunately, neither of Aslam's step-daughters had any interest in the neighbor. Ahmed said: "When both girls refused the proposal, Aslam threw acid on them to teach them a lesson." Both of the girls were taken to Jinnah Hospital in nearby Lahore, where doctors reported their condition as "critical."
Ahmed concluded that a case has been registered against Muhammad Aslam and they are currently conducting raids on various locations in order to take him into custody.
http://americanlivewire.com/2014-01-07-muslim-throws-acid/
------------
'Child Domestic Workers In Pakistan face Brutal Torture'
January 8, 2014
LAHORE: The Child Rights Movement (CRM) Punjab – a collaboration of civil society organisations – staged a demonstration in front of the Press Club on Tuesday in protest against the alleged murder of two domestic child workers by their employers in Lahore this month.
Erum Ramazan, a 10-year-old domestic help, and Azra, 16, were allegedly killed by their employers in separate incidents on January 2nd and 5th. The protesters said the murders were a stark reminder for society and the government who have constantly ignored the brutal murders of child domestic workers in the Punjab.
They said Erum's was the first case in which the employer had confessed to torturing the child to death. In all reported cases, including Azra's, since January 2010, no employer had ever confessed to torture or murder. In fact, they often influenced the police and later the courts would release them for lack of evidence or no appearance from the victim's side.
Erum, a resident of Jandra, Okara, was found dead in Altaf Mehmood's house in Askari-9. Erum's mother said that Naseera, Mehmood's wife, her son Muhammad Ibrar and two unidentified people had tortured her daughter to death. She said that her daughter had been working at their house for the past three months. Erum was found covered in bruises. Her hands were tied. Three days after this incident, Azra was found raped and strangled at her employer's house. Her employer had claimed that she had committed suicide.
photo 9_zpsed90e424.jpg
While police have registered cases against the employers on the complaints of the victims' families, the protesters said they feared that the police may change the FIR or the victims' families might accept blood money instead of fighting for justice.
Iftikhar Mubarak, a CRM member, said the media and various organisations had reported several cases of torture and murder of child domestic workers in 2013. The last year had proved very bad for child labourers even though the government had declared it the year of child rights. Yet 21 cases, including eight deaths, of child workers had been reported during the year, protesters said. In all of the cases reported from Punjab in 2013, except for two, all the victims were girls.
CRM Coordinator Ghazi Nazir said from January 2010 to December 2013, 52 similar cases had been reported, including 24 deaths. She said 85 per cent of the cases were from the Punjab. In 2010, 12 cases of torture and seven deaths of child workers were reported; in 2011, 10 cases of torture and six deaths were reported; and in 2012, eight cases including three deaths were reported, she said.
http://tribune.com.pk/story/656200/child-labour-child-domestic-workers-face-brutal-torture/
------------
Report: Islamic Centre in Israel Targets Jewish Women for Conversion
January 8, 2014
Kafr Qara, an Israeli-Arab town 22 miles southeast of Haifa, plays host to an Islamic center that focuses on trying to convert young Jewish women to the Muslim faith, Israeli daily Ma'ariv reported on Monday.
Named Dar Es – Salaam (House of Peace in Arabic), the center's stated goal is to provide an introduction to the values and religion of Islam to any curious non-Muslims. The focus of its activity however, is to persuade young Israeli women to abandon Judaism in favor of the Muslim faith, Ma'ariv reports.
Dar Es – Salaam has no website and has virtually no contact with the media. Rather, according to reports filed by al-Jazeera and other Arab-language media outlets, the center relies almost exclusively on word-of-mouth to attract new potential converts, Ma'ariv said.
Young Israelis who wander into Dar Es – Salaam are given background information about Islam and taught lessons – in Hebrew – about Mohammedanism. Among the literature that's tailored to the Jewish reader is a booklet called, "The Way to Happiness," Ma'ariv reports.
One of the center's most famous 'success' stories is that of a lady by the name of 'Aisha', an Israeli woman in her late teens to early twenties whose conversion from Judaism to Islam has generated a wave of publicity for the center as a result of her story being reported by various news outlets around the world.
In a lengthy video produced by Dar Es – Salaam – and cited by Ma'ariv – Aisha recently told her story to an audience, saying that, "It all began in 2008. I was suffering from terrible stomach pains at the time. A friend of mine who was interested in Islam sent me a video in which a Surah from the Holy Qur'an was read. [The moment I heard the Surah] My stomach pains suddenly began to fade. Once the Surah was completed, my aches returned. This was when I first grasped the power of the Holy Koran."
In the video, Aisha goes on to claim that nowadays more and more of her friends are contacting her and that she is teaching those friends to pray. According to Aisha, many of them have taken the plunge and converted to Islam.
Aisha is imbued with the zeal of a true believer, Ma'ariv said. "We're just getting started," Aisha declares in the video. "I deeply regret not having been born a Muslim; I spent many years in the dark. I am sorry that Muslims are not out there spreading the religion, a religion so pure, so true. People from around the world are entering it [Islam]. Yet people who were born Muslim aren't committed to the faith. I ask every Muslim to give of himself by spreading Islam."
http://www.algemeiner.com/2014/01/07/report-islamic-center-in-israel-targets-jewish-women-for-conversion/
------------
Pakistan: A Pending Matter-Aasia Bibi Case
January 8, 2014
Four and a half years after she was first charged with blasphemy, what exactly is happening with Aasia Bibi and her casePeople seem to have forgotten Aasia Bibi while she languishes in one jail or the other for the last four and a half years. Her appeal for review of her death conviction remains pending before the Lahore High Court. In June 2009, Aasia Bibi was asked by her co-workers to fetch water while working on a farm in Lahore's outskirts. Some of the Muslim women are said to have refused to drink it because they considered the utensil "unclean" after being touched by a Christian woman. An argument ensued where Bibi allegedly uttered derogatory remarks about Prophet Muhammad (pbuh). A few days later Bibi was charged of blasphemy and arrested from arrested in Ittanwalai village.
Bibi, a blasphemy accused under Section 295-C of Pakistan Penal Code, was sentenced to death by a local court in December 2009.
Under the blasphemy laws, a high court must confirm a death sentence from a lower court. Due to this legal procedure, many of those who are convicted remain on death row for years.
Talking on telephone with TNS, from an undisclosed location, Aasia's husband Ashiq Masih said, "She is scared. There is no hope for her release".
He recalled how a mob dragged his wife to a local police station, where she was jailed and charged with blasphemy. "She has not done anything," he maintained.
Bibi's husband and five children are living in hiding. Fearing violence from extremists, they prefer to hide their identity and often relocate their home. Last June, when they went to see her in jail in Sheikhupura, they were told that Bibi had been shifted to the Central Jail in Multan. This came as a surprise both for the victim's counsel and the family.
The case of Aasia Bibi gained prominence when Salmaan Taseer, then the Punjab governor, went to jail to meet her and to assure her of all possible legal help. Taseer had maintained that the case against Bibi was fabricated and based on wrong grounds. He had moved a request to the former president of Pakistan to pardon Bibi's sentence.
Taseer's open support for Aasia Bibi cost him his life. His police guard, Mumtaz Qadri, who thought Taseer was a supporter of a blasphemer, killed him on Jan 4, 2011 in Islamabad.
An Anti-Terrorism Court (ATC) awarded Qadri a death penalty in October 2011, nine months after he had committed the murder. His appeal against the conviction is also pending before the court.
About two months after the assassination of Taseer, the then federal minister for minorities Shahbaz Bhatti was also killed in the country's capital for talking about the need to revise the controversial blasphemy laws.
Aasia Bibi's case had prompted widespread international attention. Pope Benedict XVI had also issued a condemnation statement.
"Taseer was the last hope for Aasia Bibi," says Nadeem Anthony, council-member of Human Rights Commission of Pakistan (HRCP). "The complainant of the case, a cleric of the local mosque in Bibi's village, is not a witness in the case. He believed what the local women told him. She was sent to jail and the case was lodged a few days after the alleged incident occurred."
The HRCP has documented scores of cases in which the blasphemy laws have been misused - to settle personal scores or to victimise the marginalised sections of society and religious minorities. The mere fact of being a Christian or an Ahmadi in Pakistan makes an individual vulnerable to the misuse of blasphemy laws.
"There are enough legal grounds which can help Bibi's release conditionally, if the appellate court hears her case at the earliest on humanitarian grounds. We have moved an application for this purpose," said S.K. Chaudhry, victim's counsel.
The hearing is expected in the coming weeks and Chaudhry hopes to get justice.
"In my view, Bibi is in jail quite unnecessarily," said Hina Jilani, a human rights activist, asking: "But even if her appeal is heard and she is set free by the court, who is going to protect her in the society?"
These past couple of years, Taseer's death anniversary has been marked by thin candle light vigils in his memory, as opposed to thousands of religious extremists congregating across Pakistan in support of his murderer Qadri, upholding him as a hero.
Jilani thinks it is quite unfortunate - "Our politicians are not taking such issues seriously. First, many people, if their sentence is overturned, remain on the mercy of the society where they are unsafe and continued to be victimised by extremist elements. There are serious concerns about the safety of such people."
The AHRC is not responsible for the views shared in this article, which do not necessarily reflect its own.
http://www.humanrights.asia/news/alrc-news/opinions/columns/AHRC-ETC-001-2014
------------
URL: https://www.newageislam.com/islam,-women-and-feminism/new-age-islam-news-bureau/iran-fatwa-bans-online-chatting-between-unrelated-men-and-women/d/35198