New Age Islam News Bureau
23 Jan 2013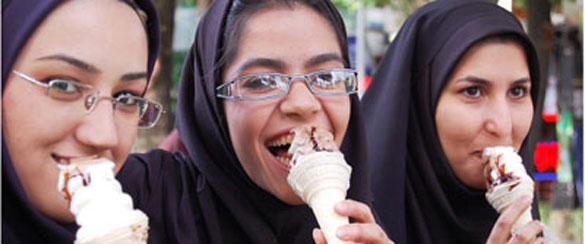 • Imams in India Urged To Speak Out Against Abuse of Women
• Indonesian Rights Groups Push for Female Circumcision Ban
• Morocco to Outlaw the Penal Code Which Allows 'Rape Marriage'
• Peace, Please: 'I Didn't Raise My Boy to Kill or Be Killed': A Pakistani Woman
• Women Join Ranks of Assad Forces in Syria's Homs
• Woman Burnt To Death on Kidnap Suspicion in Bangladesh
• 100,000 Lady Health Workers in Pakistan Get Their Service Regularised
• Saudi King Backs Nomination of Dr. Al-Amoudi to UICC Board Based In Geneva
• Afghanistan's First Female Local Leader Since the Taliban Assumes Her Post
• Spouse of the President of Azerbaijan: A Woman of Substance
• Senegal Seeks To Curb the Baby Boom
• Let Our Girls Enjoy Their Childhood without Fear
Compiled by New Age Islam News Bureau
Photo: Iran Bans Sale of Ice Cream on Cone to Women as Per Islamic Codes and Guidelines
URL: https://newageislam.com/islam-women-feminism/iran-bans-sale-ice-cream/d/10117
-----------------
Iran Bans Sale of Ice Cream on Cone to Women as Per Islamic Codes and Guidelines
22 January 2013
Stop Fundamentalism – Iranian women are now officially banned from having ice cream on a cone in some public and recreational areas in Tehran, says INA news agency.
By an official order sent to all ice cream outlets located in Tehran's Tajrish area and through Tochal road, these shop owners are no longer allowed to sell ice cream on a cone to young women and girls.
Tochal and Tajrish are two popular hangout places in Tehran for families and the young generation Iranians. They tend to receive a considerable crowd especially during weekends.
Iranian theocrats have particular sensitivity about places where the youth gather and hangout as the crowed usually ignores Islamic codes and guidelines.
http://www.stopfundamentalism.com/index.php?option=com_content&view=article&id=1501:iran-bans-sale-of-ice-cream-on-cone-to-women&catid=53:women&Itemid=72
-----------------
Imams in India Urged To Speak Out Against Abuse of Women
Following the Delhi gang rape and the subsequent public outcry, advocates for women's rights are calling on religious authorities to take up the issue in their sermons.
By Udayan Namboodiri for Khabar South Asia in New Delhi
January 23, 2013
With violence against women a topic of pressing concern in India, activists have been calling on political and religious leaders to do their part in raising awareness. Within the Muslim community here – the world's second largest after Indonesia– activists have been urging imams to address the issue in their Friday sermons.
In a statement released on December 31st, the All India Muslim Women Personal Law Board (AIMWPLB) said Islamic authorities should use their influence to press for women's rights.
"I have called on prominent Muslim clerics including the Shahi Imam of Delhi's Jama Masjid and requested him to include in their weekly Juma Khutbas (sermon) the need for respectful treatment of womanhood," AIMWPLB Founder Secretary-General Parveen Abdi told Khabar South Asia.
The organisation, she added, would reach out to women and religious leaders all over India to seek ways on how to work together so that "male-dominated society is more sensitive to the rights of women".
The group's call followed the December 16th gang rape of a 23-year-old woman, who later died from her wounds. The attack generated a huge public outcry and has spurred the government to promise stern new laws aimed at preventing such violence and ensuring that perpetrators face justice.
Clerics should take the lead, advocates say
Maulana Nawabuddin Naqshabandi, a muezzin at the Jama Masjid, says that clerics in some mosques – mostly in urban areas -- do focus on women's issues, with references to passages in the Qur'an such as Amr-bil-Maroof (instructions on acknowledged virtues) and Nahi anil Munkar (forbidding sin).
However, he added, "it's still an urban phenomenon. It will be some time before this becomes a nationwide movement".
Nurar Rehaman Barkati, the Imam of Tipu Sultan Mosque in Kolkata, said he agreed with the call for more involvement by religious authorities.
"There is widespread poverty and ignorance of such things, not only among Muslims, but this affects even the majority community (Hindus). I think religious people have a role to play, but it should be done in a concerted manner," he told Khabar.
In the weeks following the Delhi tragedy, a large number of Muslim intellectuals have spoken out against abuse of women, demanding action to change such patterns of behaviour.
Shabana Azmi, a former film star who is a leading spokesperson for the moderate Islamic community, said she supported AIMWPLB's call.
"[Clerics] should dispel the notion that Islam is an anti-women's religion. I would welcome the imams taking the role of leaders in cleansing the minds of our men of outdated ideas," she told Khabar.
http://khabarsouthasia.com/en_GB/articles/apwi/articles/features/2013/01/23/feature-01
-----------------
Indonesian Rights Groups Push for Female Circumcision Ban
Jakarta Globe | January 21, 2013
The National Commission on Violence against Women (Komnas Perempuan) spoke out against the Ministry of Health's refusal to ban female circumcision on Monday, calling the practice, which is tolerated in some communities, a form of gender discrimination.
Rural Indonesian Muslims have historically tolerated a form of female circumcision where a small cut is made to the clitoris of a young girl by a dukun (shaman) shortly after birth.
The Ministry of Health banned health workers from performing female genital cutting in a 2006 decree. But in 2010, Health Minister Endang Rahayu Sedyaningsih issued guidelines that instructed health workers to "scrape the skin covering the clitoris, without injuring the clitoris" in an effort to provide a measure of safety in the widely unregulated industry.
Women's rights groups criticized the decree, arguing that the regulation was a tacit approval of female circumcision. Now, three years later, women's rights groups are pushing for Health Minister Nafsiah Mboi to ban the practice.
"Strange the Ministry of Health, as an institution, can be directed by the MUI [the Indonesian Ulema of Council]," Komnas Perempuan commissioner Ninik Rahayu, told the Indonesian newspaper Tempo.
Nafsiah said the ministry approved of health workers performing female circumcision under the existing guidelines.
"If [women] would like to get circumcised please make an inquiry to a health agency so a medical officer can handle [the procedure]," Nafsiah told Tempo. "Do not go to a dukun [shaman] because [circumcisions done by shamans] are prone to infection."
Nafsiah said that female circumcision did not cause any negative side effects if the clitoris isn't cut.
Komnas Perempuan questioned the ministry's decision.
"What standards?" Ninik said. "Our medical officers have never been trained to perform female circumcision."
The MUI rejected any efforts to ban the practice on Monday. MUI chairman Ma'ruf Amin instead urged all hospitals and health centers in Indonesia to service those who want their daughters circumcised.
"What we reject is the ban. If there is a request [to perform a female circumcision], don't turn [the parents] away," Ma'ruf said.
The MUI considers circumcision an act of religious devotion. The MUI issued a fatwa five years ago, saying that female circumcision is a religious service.
But Ninik argued that, under Islamic law, female circumcision is considered a tradition, not a religious order.
http://www.thejakartaglobe.com/health/rights-groups-push-for-female-circumcision-ban/566823
---------------
Morocco to Outlaw the Penal Code Which Allows 'Rape Marriage'
Jan 23 2013
Nearly a year after Morocco was shocked by the suicide of a 16-year-old girl who was forced to marry her alleged rapist, the government has announced plans to change the penal code to outlaw the traditional practice.
Women's rights activists on Tuesday welcomed Justice Minister Mustapha Ramid's announcement, but said it was only a first step in reforming a penal code that doesn't do enough to stop violence against women in this North African kingdom.
A paragraph in Article 475 of the penal code allows those convicted of "corruption" or "kidnapping" of a minor to go free if they marry their victim and the practice was encouraged by judges to spare family shame.
Last March, 16-year-old Amina al-Filali poisoned herself to get out of a seven-month-old abusive marriage to a 23-year-old she said had raped her. Her parents and a judge had pushed her into the marriage to protect the family honour. The incident sparked calls for the law to be changed.
The traditional practice can be found across the Middle East and in places like India and Afghanistan where the loss of a woman's virginity out of wedlock is a huge stain on the honour of the family or tribe.
While the marriage age is officially 18, judges routinely approve much younger unions in this deeply traditional country of 32 million with high illiteracy and poverty.
"Changing this article is a good thing but it doesn't meet all of our demands," said Khadija Ryadi, president of the Moroccan Association for Human Rights. "The penal code has to be totally reformed because it contains many provisions that discriminate against women and doesn't protect women against violence."
She singled out in particular outmoded parts of the law that distinguish between "rape resulting in deflowering and just plain rape." The new article proposed on Monday, for instance, gives a 10-year penalty for consensual sex following the corruption of a minor but doubles the sentence if the sex results in "deflowering."
Fouzia Assouli, president of the Democratic League for Women's Rights, echoed Ms. Ryadi's concerns, explaining that the code only penalizes violence against women from a moral standpoint "and not because it is just violence."
"The law doesn't recognize certain forms of violence against women, such as conjugal rape, while it still penalizes other normal behaviour like sex outside of marriage between adults," she added. Recent government statistics reported that 50 percent of attacks against women occur within conjugal relations.
The change to the penal code has been a long time in coming and follows nearly a year of the Islamist-dominated government balking at reforming the law.
The Justice Ministry at that time argued that al-Filali hadn't been raped and the sex, which took place when she was 15, had been consensual. The prime minister later argued in front of parliament that the marriage provision in the article was, in any case, rarely used.
"In 550 cases of the corruption of minors between 2009 and 2010, only seven were married under Article 475 of the penal code, the rest were pursued by justice," Prime Minister Abdelilah Benkirane said on Dec. 24.
While Morocco updated its family code in 2004, a comprehensive law combating violence against women has been languishing in Parliament for the past eight years.
Social Development Minister Bassima Hakkaoui, the sole female minister in Cabinet, said in September she would try to get the law out of Parliament and passed.
http://www.thehindu.com/news/international/morocco-to-outlaw-the-penal-code-which-allows-rape-marriage/article4336054.ece
-----------
Peace, Please: 'I Didn't Raise My Boy to Kill or Be Killed': A Pakistani Woman
By Farahnaz Zahidi
January 23, 2013
KARACHI: It was a suicide blast in a Khyber-Pakhtunkhwa market that changed 43-year-old Zahra Bibi's life forever. Her son, Shahid Hussain, 13, suffered severe injuries that nearly killed him. The months spent at a hospital where Shahid shared the ward with numerous victims of violence were enough to convince Zahra of the importance of conflict-resolution.
Ten months later, Zahra has harnessed her pain and has started sensitising women in her village to persuade their husbands and sons against violence and extremism. Zahra is a female peace activist in the making, a growing but under-recognised force of change in Pakistan. Stories like hers illustrate how a change may be in the offing.
Full report at:
http://tribune.com.pk/story/497800/peace-please-i-didnt-raise-my-boy-to-kill-or-be-killed/
-----------------
Women join ranks of Assad forces in Syria's Homs
23 January 2013
At 40 years of age, Abir Ramadan joined the all-female unit of Syria's new paramilitary force, pledging loyalty to Bashar Al Assad in the armed struggle against those seeking to topple the president.
Dressed in camouflage, she marches at a stadium in the central city of Homs, raising her fist and chanting 'Allah, Suriya, Bashar wa bas' (God, Syria, Bashar — that's it), the rallying cry of the embattled leader's supporters.
Full report at:
http://www.khaleejtimes.com/kt-article-display-
-----------------
Woman Burnt To Death on Kidnap Suspicion in Bangladesh
January 23, 2013
A mob beat up a woman and burnt her to death suspecting her as a kidnapper in Gazipur Sadar upazila on Monday.
The victim, aged around 36, could not be identified immediately, reports a correspondent from Gazipur.
Md Golam Mostafa, a sub-inspector of Konabari Police Outpost, said locals captured the woman, suspecting that she was a member of a kidnapping gang, and beat her up near Konabari Ansar Bhaban around 7:30am.
Full report at:
http://www.thedailystar.net/newDesign/latest_news.php?nid=44172
-----------------
100,000 Lady Health Workers in Pakistan Get Their Service Regularised
Ikram Junaidi
2013/01/21
ISLAMABAD, Jan 20: Prime Minister Raja Pervez Ashraf has approved regularisation of service of 105,086 lady health workers (LHWs), including their support staff, with effect from July 1 last year.
He also approved the concurrence of the federal government to reimburse the entire financial impact of the measure, including arrears, to the provinces. He agreed to a proposal to put the issue of federal financing of the program beyond 2015 before the forthcoming meeting of the Council of Common Interests for consideration and possible approval at the next meeting of the National Finance Commission.
Full report at:
http://dawn.com/2013/01/21/100000-lady-health-workers-get-their-service-regularised/
-----------------
Saudi King Backs Nomination of Dr. Al-Amoudi to UICC Board Based In Geneva
23 January 2013
In another gesture of the Kingdom's efforts to empower Saudi women, Custodian of the Two Holy Mosques King Abdullah, has approved the nomination of Dr. Samia Al-Amoudi as a member of the board of directors at the Union for International Cancer Control (UICC), based in Geneva, Switzerland.
The approval comes four months after Al-Amoudi, was announced as the first GCC women to win a prestigious seat in the UICC, at a conference held in Montreal, Canada. Currently Al-Amoudi serves as an associate professor at King Abdul-Aziz University (KAAU) and CEO of Sheikh Mohammed Hussein Al-Amoudi Center for Excellence in Breast Cancer. She is also a breast cancer survivor herself.
Full report at:
http://www.arabnews.com/king-backs-nomination-al-amoudi-uicc-board
-----------------
Afghanistan's First Female Local Leader Since the Taliban Assumes Her Post
January 23, 2013
Sakhra Sheikib, Afghanistan's first female local government head since the anti-women Taliban days, has reportedly started her post as director of the northern Haja Dokuh district, Russian media today cited Afghanistan's local Tolo TV as reporting.
Full report at:
http://www.globalpost.com/dispatch/news/regions/asia-
-----------------
Spouse of the President of Azerbaijan: A Woman of Substance
January 23, 2013
"She does it not because it's a necessity, not because she is the spouse of the President of Azerbaijan, but she does it from the bottom of her heart...".
A leader woman, the woman who has her own clear position, a civic stand and makes great contribution to the political life of the country as a Member of Parliament, President of Heydar Aliyev Foundation, Goodwill Ambassador of UNESCO and ISESCO - First Lady of Azerbaijan Mehriban Aliyeva- was born in the well-known Azerbaijan family. Her grandfather Mir-Jalal Pashaev was a famous Azerbaijani writer. Her father, a distinguished Azerbaijani scientist Arif Pashayev, has been the Rector of the National Aviation Academy since 1996, and her mother, Aida Imanguliyeva was a prominent philologist and orientalist.
Full report at:
http://www.dailytimes.com.pk/default.asp?page=2013\01\23\story_23-1-2013_pg7_28
-----------------
Senegal Seeks To Curb the Baby Boom
By ISSA SIKITI DA SILVA for IPS
January 22 2013
A 25-year-old mother of five hailing from Senegal's eastern Tambacounda province believes that contraceptives damage the womb and cause health problems in the long term, such as a rise in blood pressure and chronic headaches.
"This is what I heard some women saying in the bus I boarded to go to town," the woman, now living in the capital city of Dakar after her tragic divorce, tells Inter Press Service.
She was only 16 when she was forced to marry her 35-year-old cousin. When she tried to discuss contraception with her former husband, "he beat me up and swore that he would kill me if I ever mentioned it again. So we kept having babies."
Full report at:
http://www.africareview.com/Special-Reports/Senegal-seeks-to-curb-its-baby-boom/-/979182/1672322/-/safyd/-/index.html
-----------------
Let Our Girls Enjoy Their Childhood without Fear
Colette Douglas Home
22 January 2013
Malala Yousafzai was shot for going to school in Pakistan.
Women fear the return of the Taliban in Afghanistan, and the loss of their freedom. A female student was horribly raped and murdered in India. Islamic fundamentalists are imposing Sharia law on women in northern Mali. I could go on. I won't except to say that, by comparison, Britain is a paradise for girls.
But there is a serpent in paradise: it's the sexualisation of children. When I first heard about teenage girls dressing like hookers and eight-year-olds in make-up I thought it might be another example of inter-generational angst. Ever since the mini skirt was invented hasn't every generation of parents worried about creeping moral degeneracy? Was this another twitch of the same paranoia? Sadly not.
Full report at:
http://www.heraldscotland.com/comment/columnists/let-our-girls-enjoy-their-childhood-without-fear.19978773
-----------------
URL: https://newageislam.com/islam-women-feminism/iran-bans-sale-ice-cream/d/10117