New Age Islam News Bureau
18 Jul 2018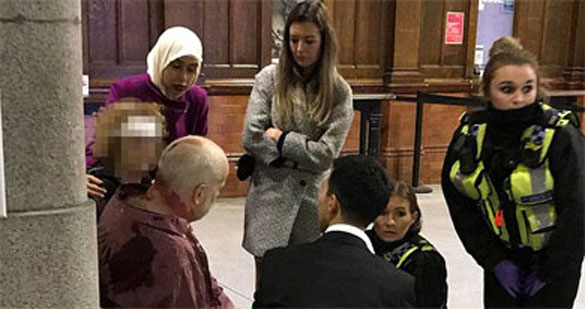 Terror Accused's Wife Banned From Wearing Niqab in Court A woman in a niqab. (Representative Photo)
------
• Terror Accused's Wife Banned From Wearing Niqab in Court
• Efforts Underway To Raise Muslim Marriage Legal Age to 18, Says Wan Azizah
• Asian University for Women Announces Scholarships for Yemeni Women
• Saudi Arabia to Set up Trial Courts near Women Facilities
• Car Workshops Welcome Women Staff
• ANP's First Female Candidate from Punjab Is Breaking Stereotypes
• Advancing Women's Access to Justice in Afghanistan the Focus of National Conference
Compiled by New Age Islam News Bureau
URL: https://www.newageislam.com/islam-women-feminism/iran-arrests-dozens-crackdown-immoral/d/115868
--------
Iran arrests dozens in crackdown on 'immoral' Instagram models
Jul 18, 2018
Iran has arrested dozens of people, including Instagram models and beauty salon owners, for posting photos online, in the latest crackdown against "immoral" behaviour.
More than 40 people, including at least eight women, have been rounded up in the southern port city of Bandar Abbas, 630 miles south of Tehran, according the official IRNA news agency.
Among the detainees are Instagram models, and people who work in photography, beauty salons and wedding businesses, who used social media to share footage that the state deems "indecent".
Police said those arrested were "damaging public virtue through the organised spreading of anticultural" activities.
Earlier this month the authorities arrested Maedeh Hojabri, an 18-year-old Instagram star who had attracted 88,000 followers for her dance videos. She appears in at least 300 posts and in many is dancing to both Iranian and western pop music in clothes that violate Iran's strict Islamic dress code. In others, she wears the mandatory Islamic headscarf.
Local media reported she has been released on bail, and is not thought to be among those arrested this week.
State TV broadcast a "confession" by the teenage gymnast, in which she insisted she was not trying to break moral norms but only secure more followers. It was unclear if the statement was made under duress.
However, her detention sparked anger in Iran, where women began posting photos of themselves dancing to show solidarity, along with the hashtag "dancing is not a crime".
At the time Iranian police vowed to crack down further, and said they planned to shut down similar accounts on the popular social media network. The judiciary said it was considering blocking access to the site.
Since the 1979 Iranian Revolution, the country has had strict rules governing women's behaviour and dress. Women can face penalties ranging from a $25 (£19) fine to prison time for even showing their hair.
Earlier this year dozens of women were arrested for joining peaceful protests against compulsory veiling. Many of them posted videos of themselves removing their headscarves in public and holding them aloft.
In February, Amnesty International reported that Iranian police had warned that women who joined the protests faced up to a decade in jail on charges of "inciting corruption and prostitution". The rights group said the authorities were holding some of the women in solitary confinement.
One detainee, Shaparak Shajarizadeh, told Amnesty that she was subjected to torture and other ill treatment where she was being held in Tehran. She was also allegedly injected with an unidentified substance several times against her will.
https://www.independent.co.uk/news/world/iran-arrests-instagram-models-immoral-crackdown-a8451631.html
--------
Terror Accused's Wife Banned From Wearing Niqab In Court
By Erin Pearson
17 July 2018
A Supreme Court judge has banned the wife of an accused terrorist from wearing a niqab veil in the court's public gallery.
The woman, who is married to a man accused of plotting a Christmas Day terrorist attack at Melbourne landmarks, had her application to wear the garment dismissed in court.
Justice Christopher Beale ruled Supreme Court spectators must have their faces uncovered in order to prevent misbehaviour in the courtroom that could lead to the discharging of a jury.
A niqab is a traditional Muslim garb that covers the head and face except for an opening for the eyes.
"Requiring spectators' faces to be uncovered is, in my view, the least restrictive means of upholding court security," Justice Beale said.
The applicant is the wife of an accused terrorist, who is facing a six-week trial in the Supreme Court after allegedly planning an attack with explosive devices and weapons on Christmas Day 2016 at Melbourne locations including Federation Square, Flinders Street Station and St Paul's Cathedral.
Justice Beale said that if one person were to be approved to wear the veil, others would soon follow, with three accused Muslim extremists facing trial over this particular case.
"Once there are multiple spectators in the public gallery wearing niqabs and traditional Islamic dress, working out who was who if something happened in court might not be a simple matter, especially as such dress tends to be very similar," he said.
"I have previously indicated that, whilst all are welcome in my court, spectators in the public gallery must have their faces uncovered, chiefly for security reasons."
In written submissions to the court, the couple's lawyer challenged an earlier ruling, saying that denying the application would be a breach of the right of religious freedom and that wearing the garment was a "fundamental way in which [the applicant] observes her faith".
The lawyer also said the applicant was willing to remove her face covering when going through security at the court's entrance.
While worn by a small number of Muslim women, a niqab is not an Islamic requirement.
Justice Beale acknowledged the submissions but said they failed to change his previous ruling in February that barred a woman from wearing the religious face covering in the Supreme Court.
At that time, he said each individual judge was empowered to give directions on who can enter a courtroom, on a case-by-case basis.
"If someone feels strongly that it would be improper for them to uncover their face in court, they can choose not to attend.
"If that is [the applicant's] choice, arrangements will be made for live streaming of the proceedings to a remote facility within the court building so that she can still view the trial. [The applicant] is under no legal compulsion to attend court."
The woman's husband was arrested in 2016 and charged with planning and preparing a terrorist attack and conspiring to plan or prepare a terrorist attack.
After his arrest, police allegedly seized from the men's homes chemicals; power cartridges for nail gun charges; wiring; electronics equipment; knives in sheaths; containers of match heads and sparkler powder; bandannas; and a black flag with Islamic writing.
The husband and a co-accused had application forms for firearm licences and police allege the trio went to Clonbinane, north of Melbourne, in November and early December to test home-made explosive devices.
The Islamic Council of Victoria was unavailable for comment.
https://www.theage.com.au/national/victoria/terror-accused-s-wife-banned-from-wearing-niqab-in-court-20180717-p4zrxw.html
--------
Efforts Underway To Raise Muslim Marriage Legal Age To 18, Says Wan Azizah
17 July 2018
KUALA LUMPUR: Efforts are underway to raise the legal age of marriage for Muslims to 18 and the public is urged to exercise tact when commenting on the issue.
Deputy Prime Minister Datuk Seri Dr Wan Azizah Wan Ismail said today that the government was standing by its opposition to child marriage and the decision to revise the minimum age.
"We take into account concerns raised over the marriage between a 41-year-old Malaysian man and an 11-year-old Thai girl, both of whom had resided in Gua Musang, Kelantan," she said.
"We are strictly against child marriages and are putting in efforts to raise the minimum age for marriage to 18.
"Our stand on this matter remains firm."
Dr Wan Azizah, who is also women and family development minister, said her ministry had been supervising the probe into the Gua Musang case.
She implored the public to refrain from making uninformed comments or forming judgments pending investigations.
"It is unwise to make judgements on an issue prior to the gathering of evidence and completion of a probe.
"As the government, it is incumbent upon us to take action in line with federal laws. This is what it means by (adhering to) the rule of law.
"Any action taken in this case must be backed by evidence.
"The government will only produce a statement once the investigation is complete."
Dr Wan Azizah said, while public outrage over the case was understandable, it was pertinent for subsequent action to not be influenced by personal sentiment.
"It is unfair to pass judgment against someone through social media," she added.
http://malaysiandigest.com/frontpage/29-4-tile/748109-efforts-underway-to-raise-muslim-marriage-legal-age-to-18-says-wan-azizah.html
--------
Asian University for Women Announces Scholarships for Yemeni Women
Jul 18, 2018
Asian University for Women (AUW) is pleased to announce a partnership with Tawakkol Karman Foundation (TKF), founded by Nobel Peace Laureate Tawakkol Karman , to provide scholarships for 50 young women from Yemen to enroll at AUW.
CHITTAGONG, BANGLADESH - Media OutReach - July 18, 2018 - Asian University for Women (AUW) and Tawakkul Karman Foundation (TKF) jointly announced a scholarship for 50 qualified young women from Yemen to attend Asian University for Women in Chittagong. Starting this year, the scholarship expands AUW's mission to provide quality higher education for young women who are from conflict-affected countries, adding Yemen to existing student recruitment in Afghanistan, Myanmar, Syria, and Palestine.
Nobel Peace Prize Laureate Tawakkol Karman, left, alongside Vice Chancellor Professor Nirmala Rao, right, sign the Memorandum of Understanding at the AUW tenth anniversary Symposium.
Tawakkol Karman speaks at the AUW tenth anniversary Symposium.
The signing of a Memorandum of Understanding between AUW and TFK on Friday, May 12 was celebrated during AUW's tenth anniversary Symposium, entitled From Survival to Sustainable Development: Addressing Urgent Issues for a Just World . The signing by AUW Vice Chancellor Professor Nirmala Rao and TKF Founder and Nobel Peace Laureate Tawakkol Karman , a Yemeni journalist and activist, strengthened the relationship between AUW and TKF, and inaugurated AUW's student outreach and recruitment in Yemen and its neighboring countries.
Remarking on this landmark partnership between AUW and TKF, Karman reemphasized that "I have always believed that education is the foundation for both development and peace. Thus, what Asian University for Women does is a significant contribution in this context. In order for women to play active roles in society and be able to overcome policies that marginalize and weaken them, they must be equipped with necessary education and qualification; these are nonnegotiable requirements. "
The following day, Tawakkol Karman gave the keynote address during the Sixth Commencement Ceremony of AUW. During the Ceremony, Chancellor of Asian University for Women Cherie Blair and Vice Chancellor Professor Rao bestowed upon Karman a Doctorate of Arts, honoris causa , for her prominent advocacy of democracy, freedom of expression, and women's safety and participation in the peacebuilding of her native Yemen. Karman is the first Yemeni, the first Arab, and the second Muslim woman to win a Nobel Peace Prize.
About Asian University for Women
Founded in 2008 and located in Chittagong, Bangladesh, Asian University for Women is the first of its kind: a regional institution dedicated to women's education and leadership development -- international in outlook, but rooted in the contexts and aspirations of the people of Asia. Students from 15 countries attend AUW. This University exists solely to support a rising network of women leaders, entrepreneurs and change makers from across the region. It seeks out women who have significant academic potential and demonstrate courage and a sense of outrage at injustice and are empathic to the woes of other people. A majority of AUW's students are first in their family to enter university; 98% of AUW's students are on full or near-full scholarship funded by private donors from around the world. A majority of AUW graduates find employment in the private sector in their home countries while about 25% go on to pursue graduate studies. AUW graduates or former students have been admitted to Stanford, Oxford, Columbia, Brandeis, Surrey and a host of other leading universities in the world.
About Tawakkol Karman Foundation
Tawakkol Karman Foundation (TKF) is a non-profit organization working in all development fields and support the ideas, policies, activities and projects that participate in leading communities to democracy and development. TKF also works in spreading peace, establishing human good will values, violence, poverty and ignorance resistance and all forms of racism. TKF believes in freedom, solidarity and peace concepts and considers democracy, sovereignty of law and fair development a way to achieve a positive and sustainable change in life of members and communities. TKF with partnership with its local and international partners aims achieving concepts that guarantee the saving freedoms, rights and human dignity and mitigation of armed conflicts and resolute them and open a door to build peace and stabilization and achieve a decent life.
http://www.asiaone.com/corporate-news-media-outreach/auw-announces-scholarships-for-yemeni-women--
--------
Saudi Arabia to Set up Trial Courts near Women Facilities
July 17, 2018
JEDDAH: The Saudi Supreme Judicial Council has decided to set up trial offices for traffic violations and accidents next to facilities where women are detained. This initiative aims to expedite their trial in cases of accidents and traffic violations.
It falls under the myriad measures and initiatives adopted by the Ministry of Justice and the Supreme Judicial Council that aim to speedily examine various cases in general and women's cases in particular, as well as to empower women in the judicial field.
The judicial measures and initiatives supporting women included granting the mother her right to be the guardian of a child under her custody.
This will make it easy for a woman to visit the Civil Status Bureau, Passports Department, embassies, education administrations and other pertinent authorities to prove that her family is eligible for social security.
http://www.arabnews.com/node/1340791/saudi-arabia
--------
Car Workshops Welcome Women Staff
Jul 18, 2018
JEDDAH — Car workshops and repair centers are now accepting women employees in various positions including mobile repair services, Al-Madina newspaper reported.
Women can work as mechanics, receptionists and call center staff in addition to marketing jobs.
Investors expect the revenue of car workshops and repair centers to increase by 30 percent. Women driving will open new opportunities for females to work in car repair shops but they must be trained first.
Investor Fahd Al-Bugamy said up until now, women were only able to work as receptionists and marketers in car workshops and repair centers.
"With the lifting of the ban on women driving and with more workshops being moved from residential areas to industrial zones, the demand for women mechanics will increase to serve female clients," said Al-Bugamy.
Salem Al-Asmari, the CEO of Saudi Japanese High Institute, said the number of women applying to work in the institute has increased in recent weeks.
"We will be in need of women mechanics in the near future. We already need as much manpower as we can get to serve the increasing number of customers. We are currently studying the possibility of hiring women mechanics who are qualified for the job," said Al-Asmari.
Huda Ali, who works at a car dealership, said there is a need to make women mechanics available to serve female drivers now that women will be driving on highways and they may need roadside assistance.
http://saudigazette.com.sa/article/539257/SAUDI-ARABIA/Car-workshops-welcome-women-staff
--------
ANP's First Female Candidate from Punjab Is Breaking Stereotypes
Jul 18 2018
A candidate running from National Assembly constituency NA-155 Multan is different from the other contenders in many aspects.
Nosheen Khan Jatoi is Awami National Party's first women candidate in Punjab, who is contesting on a general seat.
A lawyer by profession, Nosheen is also running her campaign in an interesting way.
She rides a motorcycle to interact with constituents in order to garner their support. The candidate is going door-to-door conveying her party's message.
"Since I was a little kid, I would look at the conditions of the people around me and wonder what I can do for them," Nosheen remarked while speaking to Geo.tv.
In order to help people, she pursued a degree in law. However, she soon realised that she wasn't being able to reach out to as many people as she wanted. Then, she opened a non-governmental organisation, Niharki Welfare Organisation, which offers vocational training, educates people about law, and operates dispensaries at different places.
With time, Nosheen, who hails from Jatoi district of Muzaffargarh, realised that she can only achieve her goals was by becoming a parliament.
Stressing education
When asked about the biggest challenge facing Pakistan, the middle child among three sisters and four brothers pointed out that it was the dearth of education.
"I don't want to focus on educating children but adults as well."
People must be educated to be socially aware and know the difference between good and bad, she said, adding "it is of crucial importance for women to know about their rights"
Whether she wins or loses, Nosheen knows that her journey is far from over. Despite degrees in law and English language, she is currently completing her MPhil in English Literature from the University of Central Punjab.
Empowering women
Questioned how tough was it to lead an election campaign, the ANP hopeful said that being a woman in Pakistan was tough in itself during her appearance on Geo News.
She further remarked that women seek female lawyers to represent them so that they could easily share their issues with them. "Only a woman can understand another woman's problem and deal with it in a better way."
"Apart from that, I thought of contesting the election because I thought that there [in legal profession] I have already been working, but I have so far been unable to do what I want to," the ANP candidate said.
"This is why I stood in the election, availed ANP's ticket and thankfully I am running for the seat from their panel."
https://www.geo.tv/latest/203630-anps-first-female-candidate-from-punjab-is-breaking-stereotypes
--------
Advancing Women's Access to Justice in Afghanistan the Focus of National Conference
17 Jul 2018
KABUL - Advocacy and action are urgently needed to protect women and to improve their access to justice, stressed Afghan civil society and government leaders gathered today at a UN-backed conference in Kabul.
The discussion at the event, attended by government officials, civil society members and international partners, focused on the recommendations of a May 2018 report in which UNAMA identified the human rights implications of the widespread use of mediation in cases of violence against Afghan women.
"The use of mediation in criminal cases serves not only to normalise violence against women but also to undermine confidence in the criminal justice system as a whole," said Tadamichi Yamamoto, head of UNAMA, in launching the report in May.
"The report's findings, including details indicating unchecked impunity in honour killings and the murder of women, signals that justice for Afghan women victims of violence remains severely inadequate," said the UN envoy.
Speakers at the event today offered similar observations about the report, underlining the importance of bolstering advocacy and acting on initiatives to advance the implementation of Afghanistan legislation, including the Elimination of Violence Against Women (EVAW) law and the National Action Plan for the Women of Afghanistan.
"The recommendations of the report will give policymakers new ideas on improving the implementation of the EVAW law, as we need to have new ways of addressing violence against women," said Fawzia Koofi, a member of the Lower House of Parliament and Chair of the Parliamentary Commission on Women, Civil Society and Human Rights.
Also speaking at the event was the Minister of Women's Affairs, Alhaj Delbar Nazari, who noted that the Ministry has made progress with the Attorney General's Office in hiring more female lawyers and prosecutors dedicated to cases of violence against women, which she said has led to an increase in the number of women seeking and receiving judicial services.
She went on to describe how Women's Affairs is working with other ministries on new family and mediation legislation to strengthen the EVAW law, and has built a database to track specific cases. "We have a strong determination to support the women of Afghanistan, and we are working toward a more effective implementation of the EVAW law," she said.
Afghanistan passed the EVAW law in 2009. Yet nearly a decade later, the situation remains unchanged for many women across the country, particularly in remote areas where harmful traditional practices are prevalent and access to justice inadequate.
"It is important that we not lose sight of the critical issue of the protection of women's rights," said Yamamoto in briefing the United Nations Security Council in late June. "Women who have been subjected to criminal violence must be able to assert their rights according to the law."
UNAMA's 'Injustice and Impunity: Mediation of Criminal Offences of Violence against Women' report documents the individual experiences of Afghan women, survivors of violence across the country, between August 2015 and December 2017. In the criminal cases of violence against women outlined in the report, the majority were mediated by traditional dispute resolution mechanisms.
The report notes that the existing legal framework and court adjudication processes in Afghanistan provide options for women facing violence, and emphasises that mediation cannot replace the judicial protections provided to women by the constitution and laws of Afghanistan.
The full report, which was produced by UNAMA in coordination with the Office of the United Nations High Commissioner for Human Rights, is available online: https://unama.unmissions.org/women's-rights-reports.
Those participating in the event today agreed that, going forward, a coherent approach to EVAW implementation, including a plan of action, is essential. Other similar UN-backed events to strategize on the report's recommendations are scheduled to take place across Afghanistan in the coming weeks.
https://reliefweb.int/report/afghanistan/advancing-women-s-access-justice-afghanistan-focus-national-conference
--------
URL: https://www.newageislam.com/islam-women-feminism/iran-arrests-dozens-crackdown-immoral/d/115868
New Age Islam, Islam Online, Islamic Website, African Muslim News, Arab World News, South Asia News, Indian Muslim News, World Muslim News, Women in Islam, Islamic Feminism, Arab Women, Women In Arab, Islamophobia in America, Muslim Women in West, Islam Women and Feminism