New Age Islam News Bureau
11 Jun 2014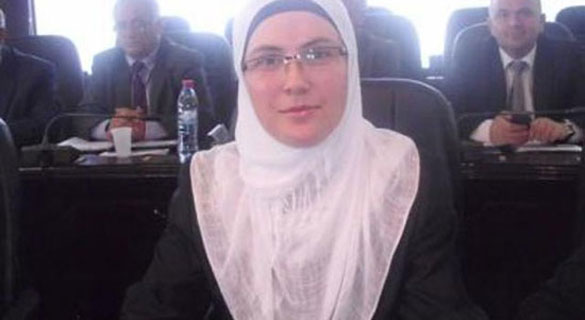 Labinote Demi-Murtezi, who won enough votes in the elections, became Kosovo's first lawmaker to wear the headscarf
---------
• More and More Saudi Women Travel Abroad To Study English
• Angelina Jolie, William Hague Launch Fight against Wartime Rape
• Several Saudi Women Call For Variety in Summer Programs
• Huda Al-Rasheed: First Saudi Anchorwoman to Work for BBC Arabic
• Emirati Becomes First Female Fighter Pilot
• Pakistan Ulema Council Chairman Calls for Curbing Violence against Women in Conflict Zones
• Palestinian Girl, the Youngest Doctor in the World
• Kosovo Elects First Lawmaker to Wear a Headscarf
• Pakistan Ladies Group Determined To Help Poor Women
• Syrian Woman Survives 700 Days of Blockade
Compiled by New Age Islam News Bureau
URL: https://www.newageislam.com/islam,-women-and-feminism/new-age-islam-news-bureau/inter-religious-marriage--sc-of-india-orders-protection-for-couple/d/87472
------------
Inter-Religious Marriage: SC of India Orders Protection for Couple
11 June, 2014
A young couple won protection from the Supreme Court after quoting the court's tolerant view on inter-religious and inter-caste marriages.
The Supreme Court in a judgment in 2006 had stressed that "inter-caste marriages are, in fact, in national interest as they will result in destroying the caste system."
The court had in its decision in Lata Singh versus State of Uttar Pradesh given a standing direction to the administration and police authorities "throughout the country to see to it that if any boy or girl who is a major undergoes inter-caste or inter-religious marriage with a woman or man who is a major, the couple is not harassed by anyone nor subjected to threats or acts of violence".
Almost eight years later, a couple from Ferozabad in Uttar Pradesh, who said they fell in love and married beyond the confines of their religions at Arya Samaj Mandal here on April 17, 2014, sought the highest judiciary's intervention, encouraged by its words.
A vacation Bench of Justices J.S. Khehar and C. Nagappan on Monday ordered the Uttar Pradesh police to protect the couple for three months.
The Bench then allowed the couple to approach the Allahabad High Court for any further redressal.
Their petition said the husband had been "falsely implicated" of abduction by the wife's family.
The FIR lodged by her family in Sirsaganj Police Station claimed she was a minor.
Their petition, filed through Counsel Savitri Pandey, asked whether two people who are "majors" have no fundamental right under Article 21 of the Constitution to enter wedlock out of their own free will.
http://www.thehindu.com/news/national/interreligious-marriage-sc-orders-protection-for-couple/article6098454.ece
------------
More and more Saudi women travel abroad to study English
11 June, 2014
JEDDAH — There has been an increasing demand from Saudi women in secondary schools and universities to study English language in European or Asian countries.
Many travel and tourism agencies are providing packages to meet the demand, while assuring that they are not violating Ministry of Higher Education regulations.
According to these agencies, many women prefer to travel in groups with relatives or friends and want to reside with families that do not have sons.
Sales manager at Al-Masarat travel and tourism agency, Sameer Shawli, said the demand from secondary and university women students has provided an opportunity for travel agencies to step in and fill the gap. This gap is often due to a language barrier.
Shawli said many families spend their vacations abroad and seek to educate their children.
He added that agencies set up their packages to meet the demand of these students, who mostly wish to study in European countries.
Member of the tourism committee at Jeddah Chamber of Commerce and Industry (JCCI), Ibrahim Al-Bluwi, said the committee has monitored the large demand from women students who wish to travel abroad for education.
He pointed out this demand has allowed travel agencies to communicate with specialized institutions abroad and to provide packages to meet the needs of the students.
He added that the intense competition between travel agencies has resulted in lower prices overall, even though airline tickets are still costly. Agency owners estimate that the cost of a package for a student traveling in a group is around SR15,000, but this price could vary if students have specific requirements.
Meanwhile, the Ministry of Education has warned students who wish to travel abroad for education to be careful of offices that claim they can obtain university acceptance for their clients.
The ministry said students should communicate directly with universities and institutions regarding admission.
http://www.saudigazette.com.sa/index.cfm?method=home.regcon&contentid=20140611208057
------------
Angelina Jolie, William Hague Launch Fight against Wartime Rape
11 June, 2014
A global summit to end sexual violence in conflict situations opened in London on Tuesday with UN special envoy Angelina Jolie calling upon the international community to "shatter that culture of impunity and make justice the norm, not the exception, for these crimes."
The summit is being attended by government representatives, over 900 experts, and representatives of international organisations. The summit is expected to agree actions to end the use of rape as a weapon of war.
UK Foreign secretary William Hague said, "From the abolition of slavery to the adoption of the Arms Trade Treaty, we have shown that the international community can tackle vast global problems in a way that was once considered to be impossible."
Jolie said, "We need political will. We need all armies, peacekeeping troops and police forces to have prevention of sexual violence in conflict as part of their training."
The summit is the fruit of a two-year campaign by Jolie and Hague. Almost 150 governments have endorsed a declaration of commitment to end sexual violence in conflict.
http://www.hindustantimes.com/world-news/jolie-hague-launch-fight-against-wartime-rape/article1-1228195.aspx#sthash.4UfTB3wW.dpuf
------------
Several Saudi Women call for variety in summer programs
11 June, 2014
JEDDAH — Several Saudi women have demanded intensifying summer programs and not restricting them to contests and recreation activities for children organized in shopping malls.
The women complained that malls use summer festivals to exploit families. They also called for setting up free-of-charge summer centers in each district to serve all segments of society. They called for the formation of committees to monitor prices of food and soft drinks at festival venues.
Female plastic artist Suad Ballakhdar stressed the need for variety in recreation programs during the summer season. They should include the youth, women, people with special needs and orphans and not children alone. She said plastic artists are ready to embrace summer programs and activities that serve all segments of society, especially those who do not have the financial means to spend their summer vacation abroad.
In the same vein, medical student Hala Felimban called for supporting summer programs to include all aspects such as cultural activities, arts and handicrafts to serve all segments of society. Felimban, who is active in social programs, especially those meant for children, said children and the youth are the segments that are in need for means of recreation at reasonable prices.
The vacation at the end of the academic year has started and the holy month of Ramadan is drawing near. During these seasons, families frequently go out for recreation.
Umm Reem called for activating district centers and not to restrict their activities to forums, which are not attended by anyone, according to her.
She said at least one day every week should be allocated for the youth to release their energy in a positive manner, instead of letting them roam the streets and waste their time in useless matters.
She said it is necessary to set up free summer camps, like the ones in Taif, which received good feedback from families. There should be a committee to monitor the prices to prevent exploitation of the season by hiking prices.
The female supervisor of extracurricular activities at a government primary school, Raf'ah Abdulraheem, said a summer center should be established in each district for poor families.
She said there are poor families that have been deprived of attending the activities held in malls due to the high prices of food and soft drinks. She said even taxi drivers increase their fares during the season.
http://www.saudigazette.com.sa/index.cfm?method=home.regcon&contentid=20140610207969
------------
Huda Al-Rasheed: First Saudi anchorwoman to work for BBC Arabic
11 June, 2014
DAMMAM — She was the first Saudi woman to say: Huna London (This is London) on the BBC Arabic service. Her voice was linked to a number of serious events of conflicts and relapses in the Arab world.
Huna London, the oft-repeated phrase by Huda Al-Rasheed, made her famous as the first Saudi woman to migrate to a foreign country and work for a foreign radio station. She did this when working in the media was considered a disgrace to Saudi women because of social traditions.
Her start was like the beginnings of her other female peers who lived under the burden of the unwelcome perception of women in media. These included, among others, actress Mariam Al-Ghamdi and journalist Dalal Aziz Dia.
Even before stepping foot on foreign shores for work, Al-Rasheed encountered obstacles at home. Her father had strongly objected to her work in Saudi radio but she never stopped pursuing her dream. He reprimanded her on several occasions and warned her that she would never succeed.
The father's anger, criticism and objections proved to be the fuel Al-Rasheed needed to achieve success. She worked hard to achieve her goal, thus proving her father wrong. She started her media career by working first for the Jeddah Radio for three years before moving to Riyadh TV to present the news. She was the first Saudi woman to appear on screen.
During the economic boom when the atmosphere was filled with the smell of oil, Al-Rasheed decided to travel to Britain to learn English. There she looked for an opportunity and she found it in her second home — which was the radio. There was only the BBC Arabic radio service to go to.
She entered the BBC studios dreaming to be accepted at the famous media house, which was noted for its strict approach to news and the fact that it never forgave professional mistakes.
She applied for a job there, took the exam and then returned to the Kingdom. A few months later, the BBC called her to inform her that she had successfully passed the exam and a job was waiting for her if she was still interested. Her father gave her his consent on condition that her brother too approved.
Al-Rasheed packed her bags and headed for London again where she worked for the BBC Arabic service until 1998.
When the Arab listeners preferred the songs of Haifa Wahbi, Hakeem and the other singers over news, Al-Rasheed decided to go quietly into the shadows. She has remained away from the spotlight ever since until 2008 when she was honored by Kuwait for her outstanding media services.
She, however, never paid attention to the flattering praise, the smell of success or parties during her tenure. She was content with the success she had achieved by being the first Saudi woman news presenter on an international radio broadcasting service.
http://www.saudigazette.com.sa/index.cfm?method=home.regcon&contentid=20140611208065
------------
Emirati becomes first female fighter pilot
11 June, 2014
Mariam Hassan Salem al-Mansouri has become the first Emirati woman to hold the rank of fighter pilot in the UAE Air Force and may be the first Gulf woman to enjoy the title.
Captain Mansouri, 35, pilots an F-16 Fighting Falcon, a single-engine multirole fighter aircraft, and is a squadron commander.
With backing from her family, Mansouri, who had always wanted to fly fighter jets for her country, joined the UAE Air Force in 2007 when authorities first announced they were accepting volunteers.
During her career, Mansouri has taken part in a significant number of the aerial maneuvers both inside and outside the UAE alongside allied and friendly states.
Emirati Vice President and Dubai ruler Sheikh Mohamed bin Rashed al-Maktoum honored Mansouri for her achievement and presented her with a medal as well as the Mohamed Bin Rashed award for distinguished governmental performance.
http://english.alarabiya.net/en/perspective/profiles/2014/06/11/Emirati-becomes-first-female-fighter-pilot.html
------------
Pakistan Ulema Council Chairman Calls for Curbing Violence against Women in Conflict Zones
11 June, 2014
LAHORE: Pakistan Ulema Council (PUC) Central Chairman Hafiz Tahir Mahmood Ashrafi has said that it is a responsibility of the international community to bring to an end the trend of violence against women in conflict zones throughout the world. Vulnerable communities have high hopes for the success of international conference taking place in London to help put an end to sexual assault during conflicts.
According to a press release, Hafiz Ashrafi expressed these views during a conversation with reporters upon his arrival at London to attend the international conference.
Maulana Zahid Mahmood Qasmi, Lord Mahmood Khushi, Umar Malik, Maulana Tayab Qasmi and other colleagues were accompanying him.
The PUC chairman said that no religion, including Islam, allowed women to be victimised. Unfortunately, he said, we were witnessing growing incidents of sexual violence against women in places like Nigeria, Syria and the occupied Kashmir. He said that the London conference against sexual violence was a step in the right direction.
"The PUC fully supports this initiative and hopes that a code-of-conduct will be determined during this conference to put an end to sexual violence and protect vulnerable communities," it added.
http://www.dailytimes.com.pk/national/11-Jun-2014/ashrafi-calls-for-curbing-violence-against-women-in-conflict-zones
------------
Palestinian girl, the youngest doctor in the World
World Bulletin/News Desk
11 June, 2014
When someone enrolls in the medicine school that one of the longest schooling required profession, by the time they finish school they will be around 30-or at least on their late 20s. But not for this girl; Eqbal Asa'd is a Palestinian Muslim woman that started the Medicine school when she was just 14 years old, 'myhijab.info' reports.
Asa'd got her Bachelor degree in Medicine with Honors and and was set by the Guinness World Records as the youngest doctor in the World, according to the report.
She has been signed to go to Ohio, U.S to continue her education even further and become a Pediatrician.
http://www.worldbulletin.net/muslim-world/138738/palestinian-girl-the-youngest-doctor-in-the-world
------------
Kosovo elects first lawmaker to wear a headscarf
World Bulletin/News Desk
11 June, 2014
Labinote Demi-Murtezi, who won enough votes in the elections, became Kosovo's first headscarved lawmaker to enter the parliament.
Murtezi collected the most votes among the female candidates. She needed 5,000 votes to take a seat as a lawmaker and by the end of the elections over 6,000 votes were given to her.
Before the elections, the Prime Minster of Kosovo Hashim Thaci had given his word to remove the headscarf ban in schools. Agani, who is the leader of the Justice Party, during the election campaigns also constantly talked about how no one can restrict students who wear the headscarf from studying.
http://www.worldbulletin.net/headlines/138709/kosovo-elects-first-lawmaker-to-wear-a-headscarf
------------
Pakistan Ladies Group determined to help poor women
11 June, 2014
JEDDAH — The Pakistan Ladies Group (PLG) recently held AN annual farewell dinner on the completion of two years of the group's organizing committee at Berts Restaurant Cornice.
Consul General Pakistan Aftab Ahmed Khokher was the chief guest and his wife Afshan Khokher, the chairperson of the club was guest of honor at the event.
The program began with recitation of a few verses from Holy Qur'an followed by its translation by Khurram.
The national anthems of both Saudi Arabia and Pakistan were also played.
Khokher expressed his happiness and praised the women members for their efforts to help the poor and needy women of the community.
He said: "I am very grateful to the members of the ladies group who gave me a chance to meet the Pakistani women's community."
Pakistan Consulate General Jeddah will cooperate more with PLG in their future endeavors dedicated toward education, fees reduction and marriages of girls.
Afshan praised the efforts of the group for promoting Pakistan's culture and tradition, and to provide an opportunity for women to get together and find solutions to their problems.
Nighat Nadeem Farouqui, coordinator of the group, thanked the consul general and chairperson of the ladies group for attending the function.
She said: "Pakistan was founded 67 years ago and PLG has been working hard for the last 40 years under the umbrella of the Pakistan Consulate General.
This is a great honor for us and for future committee."
She also thanked members of the group, especially Rubila Jamill, Taj Bano, Sabiha Khan, Shabnam Zahid and Seema Kareem for their cooperation and support.
Rubila Rathore, assistant coordinator and Hina Samee, member of the club, conducted the proceedings.
Rathore highlighted the role of the group, and said the main aim of the ladies group is organizing events to help poor students and women. "The group also organizes cultural exchange programs to improve ties between Pakistan and Saudi Arabia."
At the end a cake cutting ceremony was held; shields and certificates were distributed among the members.
http://www.saudigazette.com.sa/index.cfm?method=home.regcon&contentid=20140610207945
------------
Syrian Woman Survives 700 Days of Blockade
AP | Jun 11, 2014
HOMS: Over the course of the 700-day blockade, her world shrunk to her living room and her kitchen. She survived by eating plants and reading books. She refused to look in the mirror, because seeing her withered state might break her spirit.
Zeinat Akhras, a 65-year-old pharmacist, still bears the effects of nearly two years trapped in her home, surrounded by rebel fighters during the government's siege on the ancient quarters of the central Syrian city of Homs. She's still a wispy 38 kilograms (83 pounds), even after gaining four kilograms (eight pounds) since the blockade ended in early May with the fall of the rebels in the city.
"Every day, we said it will end tomorrow," Akhras said in a recent interview with Associated Press in her home. "If we counted the number of days, we would have given up."
Homs' Old City, a series of crowded neighborhoods, was under siege and bombardment in a campaign by government forces to starve out rebels. Homs had been one of the first to rise up against the rule of President Bashar Assad with protests in March 2011, turning the city into a battleground as government forces cracked down and opponents took up arms.
Government forces clamped the seal over the opposition-held districts in early 2012. Most of the tens of thousands of residents of the areas had already fled. With the siege dragging on, rebels began deserting as hunger spread, and morale collapsed in late 2013. Finally, the last few dozen fighters were evacuated in May to areas further north under a cease-fire, and government forces took full control of the city.
Akhras and her two brothers were among the few civilians who stayed until the end, in their multi-story family home in the al-Maljaa quarter, decorated like many of the area's homes in an Arab medieval style of black-and-white geometric facades.
They stayed because they feared rebels would seize the building — the fate of other abandoned homes — or would loot the family pharmacy or clothing shop.
In the beginning, the siege was tolerable because Akhras' family had hoarded provisions for the sometimes long lockdowns during previous gun battles. They were well stocked with rice, beans and cracked wheat and fuel.
As the blockade deepened, Akhras rarely left the building — perhaps six times during the 700 days, she estimated.
"I used to come back sad from seeing the destruction. This area used to be full of life," she said.
Life took on a routine.
Her brothers Anas and Ayman went out to check on their businesses and kept an eye on the nearby Mar Elia church. She cooked, kept the building tidy. She rose at dawn and slept at sunset, since there was no electricity. Over the course of the two years, at least 12 shells slammed into their home, causing damage upstairs.
"It was bothersome, because we'd hear explosions day and night. You get used to it."
A priest asked the Akhras siblings, who are Christians, to hide valuable church property. So gradually, icons and boxes of centuries-old church records piled up in their home. Then, their pharmacy and clothes shop were looted in 2013, so the brothers brought home boxes of remaining medicines and clothes to store as well.
As the siege dragged on, rebel fighters showed up repeatedly demanding food and fuel, Akhras said. They usually came in groups, ordering Akhras to sit in the living room as they raided the kitchen and the upstairs apartments where food was kept. One young rebel snatched a jam jar that "barely had a spoonful left in it," she recalled.
Toward the end, the fighters didn't even bother to come with guns — they simply knocked on the door and demanded food. Finally, in mid-2013, armed rebels surrounded the building and came in, carrying away nearly the entire stock of food and fuel. The siblings were left with only cracked wheat, which ran out by January.
Still, she said her family was not harassed by the Sunni rebels for being Christian — it appeared to be because her house was the one with food.
Tragedy came in December. One of her brothers, Anas, who was suffering from cancer, left in a UN organized evacuation of hundreds of civilians from the Old City. He died 19 days later.
For the last months, Akhras kept her mind on daily tasks.
Without fuel, her surviving brother Ayman collected firewood. With their supplies down to only tea, oil and spices, Ayman also collected greens — dandelion, chicory and mallow, plants so unnoticed by a city-dweller that Akhras referred to them simply as "grass." Even those became so scarce that Ayman dug for them in a church cemetery.
Akhras' duties now included chopping wood to fuel the subya, a traditional heater-oven. She learnt to soak, boil and spice the salvaged greens.
She lost her appetite on the bitter, monotonous meals. She withered from about 127 pounds (58 kilos) when the blockade began to 75 pounds (34 kilos), shrinking as her space grew smaller.
Akhras said she didn't want to upset herself by looking in the mirror. "I knew I had lost weight. It was like I was on a diet I never wanted."
Only after the siege was over did she finally see her transformation — she saw herself on TV, in footage of the army's entry. "I was smaller than a child!" she exclaimed.
In free hours trapped in her home, Akhras devoured books — the Bible and stories of saints, mostly. Near her during a recent interview was an English-language version of the Kama Sutra.
Her darkest days, she said, came after Anas died and when Ayman went to sleep in another building they own to keep away looters. She was left alone as rebels raided the building again, this time digging upstairs for more medicine and clothing.
"I missed my siblings — we are six girls and six boys. I missed my mother who died at the end of 2011," she said.
Akhras initially didn't know on May 9 that the blockade had been lifted and government troops had entered the neighborhood. She has no radio and did not listen to the news. In a rare outing to the well across her alleyway, she saw a man who told her, "The army is here."
Surprised, Akhras found a soldier and asked him for bread — still unaware of how skeletal she appeared. The soldier bought her two dozen pieces of pita bread.
"I ate a whole piece of bread myself," she said, her eyes shining. "It tasted like sweets."
http://timesofindia.indiatimes.com/world/middle-east/Syrian-woman-survives-700-days-of-blockade/articleshow/36378087.cms
------------
URL: https://www.newageislam.com/islam,-women-and-feminism/new-age-islam-news-bureau/inter-religious-marriage--sc-of-india-orders-protection-for-couple/d/87472