New Age Islam News Bureau
6 May 2016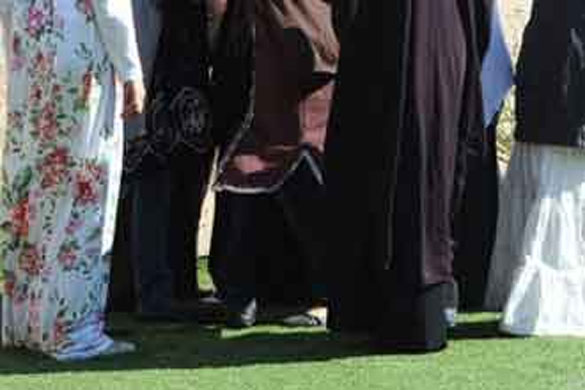 Photo: A teenage Muslim girl was barred from entering her school grounds for wearing a long black skirt seen as too openly religious.
----------
• UK Mosques Ban Muslim Women from Wearing Trousers, and Order Them to Close Facebook Accounts
• French Muslim Sent Home From School over Long Skirt
• Pregnant At 15, the Teenage Mothers of Romania
• Hyderabadi Girls Working Abroad Forced Into Prostitution
• Narges Mohammadi Gets "Media Heroine" Prize For 2016
• Girl Hanged For Helping Female Friend to Elope In Pakistan
• Not Every Woman Who Wears the Headscarf Is Oppressed
Compiled By New Age Islam News Bureau
URL: https://newageislam.com/islam,-women-and-feminism/new-age-islam-news-bureau/instant-divorce-or-triple-talaq-is-wrong-and-sinful-but-valid,-say-indian-ulema/d/107217
--------
Instant Divorce or Triple Talaq is wrong and sinful but valid, say Indian Ulema
Ulema denounce renowned Jurist Dr Tahir Mahmood statement on the Triple Talaq being equivalent to just one reversible Talaq
New Delhi: Maulana Khalid Saifullah Rahmani, Secretary All India Muslim Personal Law Board has reacted sharply in his press release on the statement of jurist Dr Tahir Mahmood and has called it a conspiracy of creating misunderstanding and breaking the brotherhood of Millat e Islamia. The statement says it is an effort at encouraging intervention of courts in the Sharia laws.
The press release says:
The holy Quran does not say that the triple Talaq pronounced at one time should be taken as one Talaq. Has there been any such statement in the Quran there would not have been any difference of opinion among the Ummah. A big majority of Fuqaha(Islamic jurists) and Muhaddeseen (experts in Hadees) is of the opinion that triple Talaq in one sitting is also valid as three Talaqs.
It is wrong to say that all the Muslim countries have accepted triple Talaq in one sitting as one Talaq. Saudi Arabia which is the seat of Harmain Sharifain appointed a commission to look into this matter. And the Commission after consulting the holy Quran, Ahadees, Fatwas of the Sahaba and the teachings of Fuqaha, concluded that, "although triple Talaq in one sitting is a sin, if it is pronounced in such a way, it is nevertheless valid. Jamia Al Azhar and other scholars of Islam also agree with this finding. We, therefore, instead of creating confusion whether, triple Talaq is one Talaq or it is three Talaqs, should try to create an understanding in the society that Triple Talaq is wrong and there is no dispute aboutits being wrong. We should not try to create sectarian differences among Ummahand provide an opportunity to the court to interfere in Islamic Sharia laws.
We should also take it into consideration that this issue is not related to the laws of the country but it is an issue related to Fatwa hence this issue should be dealt with reliable scholars of Islamic jurisdiction. Such an issue which is related to the conscience of the Muslims should be handled with much care and we all should not keep expressing our views.
Triple Talaq, whether pronounced in one sitting or in different sittings is taken as three Talaqs. All the four Islamic jurisprudents, Fuqaha and the Akabereen (respected Islamic Scholars) have the same opinion on this issueand accept the validity of triple Talaq in one sitting.
In the view of the Islamic jurisprudence and the opinion of all the concerned institutions and Ulema and Fuqaha, Dr Tahir Mahmood's article published in Urdu newspapers and his statement that, "triple Talaq has the authenticity of only one Talaq" should be condemned in the harshest possible way.
Talaq is a purposeful Islamic act and therefore it certainly has its rules and regulations established by Sharia which aims at managing a cultured and civilised society. Various arguments in support of triple Talaq in one sitting being valid can be found in Quran Kareem's "Isharatulnas"(indicative meaning, though not clear) and several ahadees of "SihahSitta" (Six Authentic Books of Hadees).
-----
UK Mosques Ban Muslim Women from Wearing Trousers, and Order Them to Close Facebook Accounts
06th May 2016
Muslim women should not wear trousers, leave the house without their husband's permission or use Facebook, according to controversial rules published by British mosques.
The Green Lane Masjid in Birmingham said that women were not allowed to wear trousers, even in front of their husbands, while the Central Masjid of Blackburn called Facebook a 'sin' and an 'evil'.
One Islamic organisation also stated that Muslim women must not leave the house without their husband's permission.
The controversial ruling was published this week by the Blackburn Muslim Association, an affiliate member of the MCB, telling women that they should not travel more than 48 miles without a male chaperone. A document written by a mufti at the Croydon Mosque and Islamic Centre, entitled 'Advice for the husband and wife', also stated: 'A woman should seek her husband's permission when leaving the house and should not do so without his knowledge.'
In another article, the mosque calls abortion 'a great sin' and describes acting and modelling as 'immoral acts'.
Moderate Muslims and anti-extremism campaigners have slammed the statements as 'disgraceful' and 'outdated and patriarchal', according to The Times.
Campaigners called for the Muslim Council of Britain (MCB), an umbrella body that represents hundreds of mosques, bodies and schools, to order its affiliated institutions to delete online advice that restricts women's freedom.
An article entitled 'Dangers of Facebook' was published on the Central Masjid of Blackburn's website, stating: 'Facebook has opened the doors for sin. Muslim girls and women alike have become prey to this evil.'
In a Q&A, one Muslim asked the Green Lane Masjid in Birmingham if women could wear jeans. Citing an Islamic scholar, the reply was that women were not permitted to wear trousers, even in front of their husband, as they show off 'the details of her body'.
It said: 'The ones who wear trousers are men, and the Prophet . . . cursed women who imitate men.'
None of the organisations responded to The Times' requests for comment.
Justine Greening, the international development secretary, called the travel ban on women 'disgraceful and unacceptable' and urged the Blackburn Muslim Association to withdraw its comments.
A spokeswoman for Greening's department said that such views have 'no place in Britain'.
Sheikh Howjat Ramzy, a scholar and former MCB education committee member, told The Times: '[These interpretations of Islam] are totally wrong. It is nonsense. And Islam has no objections to Facebook, just as a woman can wear trousers or not wear a scarf and can still be a Muslim.'
Speaking about the MCB, Dr Ramzy said: 'They should ask the organisation to withdraw their statement or advise them that this may not be applicable for use in the United Kingdom.'
Salah al-Ansari, from the Quilliam Foundation anti-extremism think tank, told The Times: 'These are typical examples of literalist interpretations of Islam which are extremely fundamentalist and exclusivist.'
A spokeswoman for the MCB said that it 'does not dictate jurisprudential positions to its affiliates', but that there was a rise in the number of Muslim women taking roles as political figures and religious scholars.
She said: 'Rulings that belong to different historical periods and cultural settings get superseded. We encourage affiliates to actively consider this.'
dailymail.co.uk/news/article-3576547/Mosques-ban-Muslim-women-wearing-trousers-leaving-house-without-husband-s-permission-order-close-Facebook-accounts.html
---
French Muslim Sent Home From School Over Long Skirt
05th May 2016
The 16-year-old was sent home this week after her headmaster took a dislike to her skirt.
The skirt - popular among some Muslim women who cover their whole body - reportedly reached beyond her knees and down to her sneakers, reported the Nouvel Obs newspaper.
The headmaster of the Seine-et-Marne school, in the outer suburbs of Paris, reportedly deemed that the skirt "conspicuously" showed religious affiliation, which is banned in schools by France's strict secularity laws.
According to the 2004 law that governs secularity in schools, veils, the Jewish kippa or large Christian crosses are all banned in educational establishments, but "discreet religious signs"
are allowed.
The mother of the teenage girl has since returned to the school to complain. After a chat with the headmaster, the school has promised to discuss the matter further with the family on
Monday.
"Yes, my daughter, who is Franco-Portuguese and from a Catholic family, has converted to Islam," Marie-Christine de Sousa told the paper.
"I've always supported her choices and decisions. Earlier this year, I allowed her to wear the veil, which she takes off before going into the school. She wears long dresses for school."
The family of the girl is already planning legal action, the paper reported.
In the meantime, the teenager, who converted to Islam a year ago, will have to find something to wear to school instead of her black H&M skirt..
France was rocked by a similar case to this in April last year when a girl with a long skirt was also barred from class.
Her story trended on Twitter across France with the hashtag #JePorteMaJupeCommeJeVeux, translated into English as "I wear my skirt as I please."
thelocal.fr/20160506/french-muslim-sent-home-from-school-over-long-skirt
-----
Pregnant at 15, the teenage mothers of Romania
May 4, 2016
"God has given me a beautiful little girl. But life is difficult because I am still a child myself," says Lorena, one of more than 2,000 girls under 16 who give birth in Romania each year, some as young as 12.
Cradling her baby, the 15-year-old who lives with her boyfriend and seven other families in an abandoned building, says she didn't plan to fall pregnant.
"I would have wanted to have waited until later," she adds.
A few kilometres (miles) away, Diana, also 15, says she cried when she discovered she was pregnant.
"My life has changed dramatically," she says, adding that she misses not being able to play with other girls her own age.
Abandoned by the father of her child, she and her baby live with her mother and six brothers and sisters.
Lorena and Diana are just two of the thousands of teenage mothers in Romania.
In 2013, 15.6 percent of first children in Romania were born to teenage mothers, according to the latest figures from Eurostat, the statistical office of the European Union, published in 2015.
It is the highest proportion in the EU, followed by Bulgaria where it is 14.7 percent.
The Romanian Institute of Statistics says around 18,600 teenagers gave birth in 2014 including 2,212 aged between 12 and 15 years. More than two-thirds of whom live in rural areas.
Charities and campaign groups believe that many come from the Roma minority, which numbers about two million in Romania, in which early marriage is widespread.
"This is a complex phenomenon caused by poverty, by emigration — which means many children are left to the care of grandparents — and especially by lack of health education," says Gabriela Alexandrescu, head of Save the Children in Romania.
"In the villages we went to, most young people had not had any (health education)," she says.
Pregnancy for such young girls poses serious medical and social problems.
Many young mothers are forced to drop out of school or suffer from depression and their babies are often premature.
Last year, around 60 non-governmental organisations called on the Ministry of Education to introduce health education in schools, describing the situation as "critical".
They said educating young people on the subject would not just reduce the number of unwanted pregnancies, but also protect them against sexually transmitted diseases.
The UN Committee on Economic, Social and Cultural Rights last year urged Romania to adopt a national strategy on sexual and reproductive health, something the country's ministry of health says it favours.
But a host of organisations have opposed any such move saying there is no proof it would be effective in lowering the teenage birth rate.
"If this situation worries us then we have to start talking to parents to ask them to pay more attention to their children," says Cristina Benga, vice president of Parents for Religious Teaching.
Alexandrescu, however, underlines that underage mothers often "come from vulnerable, marginalised families" and urged social and health services to play a bigger role.
"Unfortunately, these girls only rarely see a doctor before they give birth," she said.
For Diana, her experience of early pregnancy and motherhood has left her psychologically scarred.
She says she now knows there are ways of guarding against pregnancy, and she is determined never to let the same thing happen again.
"I will never marry," she says, "so that I won't have any more babies.
siasat.com/news/pregnant-15-teenage-mothers-romania-954918/
----
Hyderabadi girls working abroad forced into prostitution
May 6, 2016
A girl from Karimnagar had gone Oman to work as a domestic servant. When she fell sick due to continuous work, her employer insisted her to work and she was not given the promised salary of Rs. 20,000 per month. She was getting only Rs. 9,000. She was rescued from Oman.
Another girl from Hyderabad who went to Malaysia was given a job of waitress in Ipoh city. After sometime, her employer who was a woman forced her into flesh trade. She was also rescued with two other women working at the hotel. The employers were arrested.
According to the news published in DC, Another woman who was married 10 years back has a nine-year-old daughter, studying in Class IV. She got divorced from her husband six years back following family disputes. She started manufacturing bidis to earn money but she was not getting enough income. Meanwhile an agent exploited her poverty. She went to Dubai where she was sold to another agent, who shifted her to Oman for work. After reaching Oman her passport were seized and was physically and mentally abused.
In another incident, Asima Khatoon who was divorced and lost her father went to Riyad, Saudi Arabia through an agent by paying Rs. 1.5 lakh on a visit visa. Her sponsored, Abdur Rahman Ali Mohammed employed her as domestic help. Two months back she telephoned her mother complaining that her sponsor is physically and mentally harassing her. Her mother lodged a complaint with Rain Bazar Police and a letter was written to NRI Cell, Govt. of Telangana. Govt. wrote a letter to Indian Embassy, Riyad but no action was taken. Six days back, she was hospitalized for chest pain where she died.
There are many such cases where poor women are exploited and forced into prostitution
siasat.com/news/hyderabadi-girls-working-abroad-forced-prostitution-955437/
---
Girl Hanged for Helping Female Friend to Elope in Pakistan
06th May 2016
A Teenage girl in Pakistan was hanged and then set on fire on the orders of her village's leaders after she helped a female friend to elope, police said yesterday (THURSDAY).
In a rare "honour killing" of an accomplice, tribal leaders of the village of Makol, in Abbottabad, made an example of Amber, 16, after she helped her friend Asma to escape with her lover to marry. Amber's charred remains were found in the seat of a van set ablaze outside the village last Friday.
"They decided that to stop 'love marriages' in the area, the helper girl must be punished to set an example for other girls," said district police officer Khurram Rashid. "This is the first ever crime like this in Makol."
Police have promised to take strict action against the 15-member jirga, or village council, that sentenced Amber. Most of its members have been arrested, including Asma's father, Safdar.
Jirgas do not hold legal power in Pakistan, following a Supreme Court ruling in 2013. Amber's body was doused in petrol and set ablaze in an attempt to hide the killing from police.
The act was led by Sardar Pervaz, described by the police as a "notorious" leader of whom the entire village is afraid. Pervaz sent jirga member Sardar Saeed to Amber's home on Friday, where her mother was told to hand over her daughter or face her entire family being burnt alive in their home. Saeed then dragged Amber to another home, where she was drugged and hanged.
Shamim Raisat, Amber's mother, was initially arrested for failing to report the crime, but later said she had been under duress and feared for her remaining family's lives. The suspects
will be tried in an anti-terror court.
newindianexpress.com/world/Girl-Hanged-for-Helping-Female-Friend-to-Elope-in-Pakistan/2016/05/06/article3418695.ece
--
Narges Mohammadi gets "Media Heroine" prize for 2016
May 6, 2016
Narges Mohammadi who is in prison since 2007 in Tehran Jail was awarded "Media Heroine" prize for 2016 on the occasion of May Day. Her husband, Mr. Taqui Rahmani received the prize on her behalf.
It may be mentioned that she was arrested in 2007 and place in a narrow room. She suffered from various ailments. She was not allowed to meet her children.
She has been leveled charges for making propaganda against the Iranian System and for acting against national security. She had demanded that political prisoners should not be given death sentence. She is listed as one of the famous human rights activists in Iran. She was imprisoned many times.
siasat.com/news/narges-mohammadi-gets-media-heroine-prize-2016-954976/
---
Not Every Woman Who Wears the Headscarf Is Oppressed
05th May 2016
The headscarf is a controversial and widely-discussed issue today. It has been perceived as a political symbol, a symbol for oppression, as well as a fashion statement. So, what is it? No one can really decide. Can't we just call it like it is? It's a headscarf. There are many reasons why women wear headscarves. But no one expected that a piece of cloth could divide society in that way.
We live in a country that gives us freedom in all aspects of life. That means that while we are bound to the constitution and to unwritten rules of co-existence, we have the right to individual expression. And one way that human beings express themselves strongly is through the clothes they decide to wear.
People have taken the phrase "clothes make the man" literally. The headscarf has been declared a deprecatory garment, and so every woman wearing a headscarf has been deemed an oppressed housewife living in a parallel society. These women are confined to stereotypes to the extent that no one notices that many of them are well-educated and confident members
of society and the workforce. And yes, they wear a headscarf! And yes, they wear it out of conviction! And yes, they wear it voluntarily!
There are people who find freedom in putting a piece of fabric on their head, wearing long, loose clothing and not calling everyone by their first names.
Nowadays, life is all about appearances. Everywhere you look, you see representations of the perfect face and the perfect body — even the perfect personality. Perfectionism seems to
have developed into a religion of its own. Everywhere, beauty-gurus are preaching about what "perfect" really means. The argument that real beauty is on the inside is completely
overlooked amid this perfectionism craze.
The body is viewed as a construction site — there is always something that needs to be repaired, be it temporarily or permanently.
In the grand scheme of things, there are people who do not seek to force themselves to reach perfection. There are people who simply desire to feel free — they desire the freedom
not to show the whole world their whole self. There are people who only want to be seen — regardless of the question of perfection — by the people closest to them. There are people
who find freedom in putting a piece of fabric on their head, wearing long, loose clothing and not calling everyone by their first names.
Why do we want to rob these women of their freedom, by forcing them to get rid of a piece of fabric on their heads? Why do we want them to give up their individuality? Why is it
necessary to make their lives difficult?
It would be quite understandable if people were opposed to hijab-wearing woman trying to force other people to also wear the headscarf, or if the act of wearing the headscarf harmed
anyone, by restricting their freedom in our freedom-loving society.
But this is not the case — women wearing the headscarf do not try to force anyone else to do the same. And their hijab harms no one.
It is therefore inconceivable that one would want to disturb the souls of these women, by forcing them to keep their outer selves out of tune with their inner selves.
A Muslim woman chooses to wear the headscarf because she loves her creator unconditionally, and is prepared to follow this commandment to cover herself.
But why does a Muslim woman decide to wear a headscarf? As I mentioned before, there are many different reasons for women to wear a headscarf. I will not rule out that some Muslim
women are forced to wear it. And I feel sorry for these women, for being robbed of the personal decision to wear or remove the headscarf. I also have pity for the people who force
the headscarf on these women. To me, being a human being is about giving every person their freedom.
However, there are also women, like myself, who wear the headscarf voluntarily. But why? The answer is simple: Because love is blind. When a Muslim woman decides to wear the
headscarf, it means that her heart and soul are so immersed in the love of God, that it is self-evident for her to follow one of his many commandments.
When a human being loves another human being, they would do everything for their happiness and satisfaction, if only to demonstrate their love and admiration. Similarly, a Muslim woman chooses to wear the headscarf because she loves her creator unconditionally, and is prepared to follow this commandment to cover herself.
God does not force anyone. He asks with love. This allows me the freedom to make a statement, and, at the same time, to urge people to get to know the real me — the part of me that is eternally covered in a veil of beauty.
I will not let myself be bought by people, because I have sold myself to God. As tough as this may be for people to hear, as long as I do not harm anyone with my headscarf, then no one
needs to harm me by asking me to take it off.
A small note at the end: As Muslims or non-Muslims, we have to understand that wearing a piece of cloth does not make a person any better or worse, because humans are fallible
creatures, with whom we must be tolerant.
huffingtonpost.com/entry/not-every-woman-who-wears_b_9848084.html?section=india
---
URL: https://newageislam.com/islam,-women-and-feminism/new-age-islam-news-bureau/instant-divorce-or-triple-talaq-is-wrong-and-sinful-but-valid,-say-indian-ulema/d/107217
New Age Islam, Islam Online, Islamic Website, African Muslim News, Arab World News, South Asia News, Indian Muslim News, World Muslim News, Womens in Islam, Islamic Feminism, Arab Women, Womens In Arab, Islamphobia in America, Muslim Women in West, Islam Women and Feminism