New Age Islam News Bureau
14 January 2022
• Indonesia To Focus Afghan Aid On Women's Empowerment
• Female Business Owner Kitting Out Camels At King Abdulaziz Camel Festival
• Lagos State Missioner Of Ansarul Deen Society Cleric Charges Women On Impartation Of Virtues
• Israel Says Iran 'Spy Network' Recruited Women Online
• Saudi Arabia's Largest Women Walking Team With 700 Members Formed In Jubail
• Turkish Family Charged Over Death After Woman's Exorcism
Compiled by New Age Islam News Bureau
URL: https://www.newageislam.com/islam-women-feminism/aceh-indonesian-woman-flogged-adultery/d/126159
--------
Indonesian Woman Flogged 100 Times For Adultery in Conservative Aceh, Male Partner Gets 15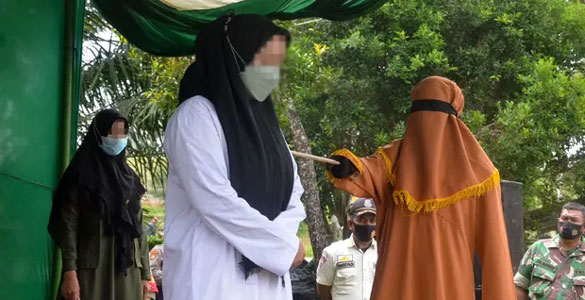 The woman during the public flogging in Idi. Photograph: Cek Mad/AFP/Getty Images
-----
January 13, 2022
ACEH: An Indonesian woman was flogged 100 times Thursday in conservative Aceh province for adultery while her male partner, who Denied the accusations, received just 15 lashes.
Ivan Najjar Alavi, the head of general investigation division at East Aceh prosecutors office, said the court handed down a heftier sentence for the married woman after she confessed to investigators she had sex out of her marriage.
Judges found it difficult to convict the man, who was then the head of East Aceh fishery agency and also married, because he denied all wrongdoings, Alavi added.
"During the trial, he admitted nothing, denying all accusations. Thus, (judges)] are not able to prove whether he is guilty," Alavi told reporters after a public flogging for Sharia law offenders in East Aceh on Thursday.
Aceh is the only region in Muslim-majority Indonesia to impose Islamic law, which allows whipping for charges including gambling, adultery, drinking alcohol, and gay sex.
As an alternative punishment, instead the judges found the married man guilty of "showing affection to a female partner who is not his wife" after the couple were caught by locals at a palm oil plantation in 2018.
He was initially sentenced to 30 lashes but his successful appeal at the Sharia Supreme Court in Aceh reduced the sentence to 15.
The woman's flogging was briefly paused because she couldn't bear the pain, according to an AFP reporter in the field.
Another man convicted of having sex with a minor was also whipped 100 times on Thursday.
The man will also serve 75 months in prison for the crime after the flogging according to prosecutors.
Dozens watched, recorded and put Thursday's flogging on social media, a spectacle criticised by rights groups but which regularly attracted hundreds before the pandemic.
Unlike the rest of the nation, Aceh follows religious law as part of a 2005 autonomy deal agreed with the central government that ended a decades-long separatist insurgency.
Human rights groups slam public caning as cruel, and Indonesia's President Joko Widodo has called for it to end. However, it has strong support among Aceh's population.
Source: Free Malaysia Today
https://www.freemalaysiatoday.com/category/highlight/2022/01/13/indonesian-woman-flogged-100-times-for-adultery-partner-gets-15/
--------
Indonesia To Focus Afghan Aid On Women's Empowerment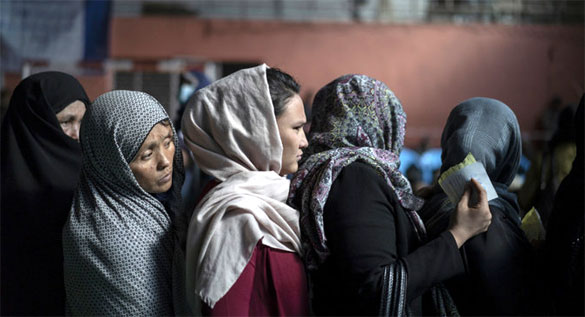 People wait in queues to receive cash at a money distribution organized by the World Food Program (WFP) in Kabul, Afghanistan. (AP/File)
-----
January 13, 2022
JAKARTA: The Indonesian government pledged on Thursday to focus on women's empowerment and education in Afghanistan, as part of its aid commitment made during last month's extraordinary session of the Organization of Islamic Cooperation.
Afghanistan's fragile economy has been on the brink of collapse, with rapid food price increases and widespread hunger, since the abrupt withdrawal and freezing of foreign aid after the Taliban takeover in August. The international community has been pressurizing the country;s new rulers to commit to upholding women's rights as a condition for restoring aid.
Indonesia, the world's largest Muslim majority country, pledged to support capacity-building and educational efforts for Afghan women during the 17th Extraordinary Session of the OIC's Council of Foreign Ministers, hosted by Pakistan, on Dec. 19.
Abdul Kadir Jailani, the Indonesian foreign ministry's director general for Asian, Pacific and African affairs, said during a press briefing in Jakarta that Indonesia's $2.85 million aid package for Afghanistan will be directed predominantly at this purpose.
"All of those funds will be directed toward capacity building, especially for women, as well as scholarships," Jailani told reporters, as he highlighted the Indonesian government's commitment to "elevate women's role."
Women's rights were severely curtailed during the Taliban's previous stint in power from 1996 to 2001. The group banned women from leaving their houses without full face and head coverings and a male relative accompanying them, and barred girls from receiving an education.
The Taliban say they have changed, but many women and rights advocates remain skeptical. In the weeks after the group's takeover, the new government announced a steady stream of policies and regulations that rolled back the advances in women's rights over the past two decades.
The 2022 World Report by Human Rights Watch has raised concerns over opportunities for Afghan women under the new regime, as many secondary schools for girls remained closed by the end of the year, and women were prohibited from working in most government jobs and many other areas.
Source: Arab News
https://www.arabnews.com/node/2003986/world
--------
Female business owner kitting out camels at King Abdulaziz Camel Festival
RAHAF JAMBI
January 14, 2022
RIYADH: Female camel owners last week had the chance, for the first time ever, to showcase their animals in a camel beauty contest at the annual King Abdulaziz Camel Festival in Saudi Arabia. But they were not the only women to play a prominent role at the event; others contributed by providing the impressive accessories that helped the camels catch the eyes of the judges.
Noura Al-Ghannam, for example, is the owner of Safayef, a company that specializes in making customized camel capes, covers, necklaces and other accessories.
"I started my business two years ago, in 2019, but a year before that we studied the local market and the problems in traditional products and how they are limited," she told Arab News.
She came to the conclusion that traditional capes for camels were very plain and simple and lacked style, so she decided to brighten them up with the addition of colorful embroidery and by offering a variety of fabrics. The name of the business, Safayef, refers to the decoration made from woolen threads that appears on the camel accessories.
"I realized that we need different fabrics for camel capes that are suitable for winter and summer, and some are only suitable for formal occasions," Al-Ghannam said. "We also work on necklaces and medals."
Sewing has been one of her passions since a very young age, she added.
"I loved embroidering and adding accessories on fabrics, and while most designers tend to design traditional clothes, I wanted to differ from them and decorate camels, as I have an interest in them," she said.
One of the challenges she faced in setting up her business was the bespoke nature of the accessories she provides, which require precise measurements to ensure they perfectly fit the camel they are made for.
"One of the reasons why we don't have a retail store is because these clothes are specially tailored and customized for one camel at a time," Al-Ghannam said. "When we get an order we have to take the measurements of the camel so it can fit the clothes perfectly.
"One of the biggest challenges that we had was taking the measurements for a camel. However, after a year of working with camels, we overcame the problem and now it has become easier to do so."
Al-Ghannam said that she wants to expand her business to all Gulf countries and aspires to it becoming the leading specialist brand for camel accessories.
Her clients include camel owners and the organizers of camel festivals, and she revealed that she also receives many requests for horse accessories.
"I know many horse owners want accessories for their horses," she said. "However, Safayef is a business specializing in camel accessories only — and in any business, it is very important to focus on what you do best."
Al-Ghannam said that when she started her business she contacted the Kingdom's Camel Club and explained her business plans. They welcomed her with open arms, she added, and this year she participated in the King Abdulaziz Camel Festival for the first time by providing flags, necklaces, scarves and embroidered covers.
Safayef has also supplied camel capes and team uniforms to the Eid Caravans initiative, organized by the Ahyaha Humanitarian Foundation in cooperation with the Saudi Camel Club, Diriyah Gate Development Authority, and the Imam Mohammad bin Saud Charity Society. The initiative involved a convoy of 14 camels loaded with gifts that were distributed to more than 400 homes. In addition, Safayef has participated in other special events, including for Saudi National Day and Eid.
Source: Arab News
https://www.arabnews.com/node/2004131/saudi-arabia
--------
Lagos State Missioner Of Ansarul Deen Society Cleric Charges Women On Impartation Of Virtues
By Abigail Ikhaghu
14 January 2022
Women in the country have been charged to live according to injunctions of God and be models of virtues as a means of upright upbringing of younger generations of women, and by extension, the society.
Being models of virtues, Lagos State Missioner of Ansarul Deen Society, Imaam Zakariyah Thanni, said, is a strong and potent weapon for moral rectitude in a society bedeviled by morally offensive behaviour and cultural perversions.
The cleric, who spoke on "Role of Virtuous Women in Moral Rectitude" during the 80th birthday of Alhaja Tamuriat Ayinke Afolabi, held at Ronnie De Event Centre, Agege, on Wednesday, said God has designed roles to be played by men and women in the home, community and society, and neglect of such roles has brought moral decadence.
Part of the role of women, he explained, includes being a model, mentor and advocate of morally sound behaviour, culture and virtues and passing such to younger generations for godliness in society, order and progress.
The cleric added that Islam delivered women and girl-child from infanticide associated with girl-child in the ancient cultures, and added that there were devilish women and every woman should desist from evil.
"Every woman that is virtuous would be prosperous and fruitful," he said.
Virtues expected of good and religious women include fidelity, humility, hard work truthfulness and courtesy/self-respect, among others.
"Virtuous women take care of the home," he emphasised. Mr Fatai Afolabi, a nephew-in-law to the celebrant and Consultant to the Plantation Owners Forum of Nigeria (POFON), said Alhaja Tamuriat Ayinke Afolabi; the 80-year-old celebrant has been a virtuous, God-fearing and accommodating woman who brought up family members as her biological children.
He said: "I have known and been associated with you as soon as you met my uncle, the late Alhaji Jimoh Ayinde Afolabi, in 1965 at Ebute Meta. I was a small boy of seven years old then.
"I have watched and monitored your trajectory as you navigated through life from the gait, immaculate, beautiful, talented and humble young lady that you were then in the 1960s.
"It is amazing that you have not dropped any of these qualities. Rather, you have added more values and virtues as occasioned by the demands of adulthood, motherhood, family and other societal demands."
Source: Guardian Nigeria
https://guardian.ng/features/friday-worship/cleric-charges-women-on-impartation-of-virtues/
--------
Israel says Iran 'spy network' recruited women online
January 12, 2022
JERUSALEM: An Iranian "espionage network" used Facebook to recruit Israeli women who were manipulated into photographing the US embassy and other activities, the Shin Bet domestic security agency said Wednesday.
The women, whom the Shin Bet did not identify, were recruited by an Iranian agent who called himself "Rambod Namdar" and said he was a Jew living in Iran, the Israeli agency said in a statement.
"Despite the fact that the women suspected that the man in question was an Iranian intelligence operative, some of them maintained contact with him, agreed to perform various tasks he asked of them and received funds from him," it said.
After being approached through Facebook, "Rambod" asked that communication continue using the encrypted messaging app WhatsApp, the Shin Bet added.
It said there were four prime suspects, and indictments have been issued.
One of the women, aged 40, was allegedly in contact with "Rambod" for several years and carried out various missions.
These included covertly photographing the US embassy in Tel Aviv, and taking pictures inside the interior ministry in her hometown of Holon.
"Rambod" also asked the woman to guide her son, prior to his military enlistment, into the Intelligence Directorate with the aim of obtaining sensitive documents, the Shin Bet alleged.
Another suspect, aged 57, was also tasked with steering her son toward military intelligence.
She "received an accumulated sum of about $5,000 on several occasions" over a period of more than four years, the Shin Bet said.
Her other missions allegedly included trying to get close to a member of Israel's Knesset, or parliament.
The woman "transferred information about their relationship to her operator," said the Shin Bet, which jointly investigated with Israeli police.
The Shin Bet's accusations about the spy network come during negotiations in Vienna between Iran and world powers seeking to revive a 2015 agreement that offered Tehran sanctions relief in exchange for curbs on its nuclear program.
Israel is not a party to the Vienna talks but is watching with concern, fearing arch-enemy Iran could develop a nuclear weapon. Tehran insists its nuclear program is peaceful.
"The State of Israel is in an ongoing campaign with Iran. It is clear: We see never-ending efforts and attempts by the Iranian Revolutionary Guard Corps to recruit Israeli citizens," Prime Minister Naftali Bennett said.
"These attempts go beyond security and intelligence. They are expanding to efforts to influence the citizens of Israel and Israeli society, sow discord and polarization, undermine political stability in Israel and damage the public's trust in the government," he added.
Bennett urged Israelis to be cautious, saying: "It is possible that behind the information that you consume or share on social media are the Iranians."
In November, Israel indicted a man employed as a cleaner in the home of Defense Minister Benny Gantz for attempting to spy for the Black Shadow hacking group, which is purportedly linked to Iran.
Black Shadow hacks are seen as part of a years-long covert war between Israel and Iran, including physical attacks on ships and cyber offensives.
Source: Arab News
https://www.arabnews.com/node/2003891/middle-east
--------
Saudi Arabia's largest women walking team with 700 members formed in Jubail
January 13, 2022
JUBAIL — A Saudi woman, Abeer Al-Dayel, has formed Saudi Arabia's largest women's walking team, comprising 700 members, in the Eastern Province city of Jubail.
According to Al-Arabiya channel, walking reduced the weight of 70 percent of the team members, and 15 percent of them reported recovery from certain chronic diseases they previously suffered from.
The founder of the team, Abeer Al-Dayl, said what motivated her to form the team was her personal belief that Jubail's city structure is well-designed for all types of sports activities on the beaches, neighborhoods and parks.
She additionally pointed out that in the past four years, the team has conducted more than 100 initiatives in health awareness.
Source: Saudi Gazette
https://saudigazette.com.sa/article/615802
--------
Turkish family charged over death after woman's exorcism
JAN 13, 2022
The husband and parents of a woman who died under suspicious circumstances last year in the capital Ankara face charges of murder and complicity in murder in a bizarre case of exorcism.
The victim, 30-year-old Ö.N.T., died in March 2021 after she was hospitalized when she passed out at a marketplace where sacrificial animals are slaughtered. Authorities launched an investigation and the Chief Prosecutor's Office had completed an indictment against six defendants, including the victim's husband, mother-in-law and parents, as well as two people who allegedly helped them in the exorcism of "a djinn," a spiritual being in Islamic theology that is interpreted as an evil spirit.
Doctors alerted authorities when they discovered bruises on the back and arms of the victim and security forces detained the defendants. All were later released under judiciary control. The woman's husband, S.T., told prosecutors that his wife was suffering from psychological problems and his parents and in-laws told him that she might be "harmed by a djinn." T. said he turned to E.K., a man living in the central province of Kayseri recommended to him as an exorcist. "He told me he could save my wife and first, he recited prayers via the phone and this calmed my wife. When she got sick again, I called him and he told me to sacrifice an animal and later hit her back lightly 100 times with a rolling pin. He also instructed me to get her undergo hacamat (cupping therapy), which involves bloodletting and is viewed as a traditional alternative therapy. I hit her 100 times on her back and leg while reciting prayers but they were light blows," T. said in his testimony, adding that his parents and his wife's parents were in the room with him during the beating. He said he later brought in S.Ö., a suspect in the case, for cupping. "She slept peacefully after all this but got sick again in the morning. I called E.K. and he told me to sacrifice an animal. We went to the marketplace to buy and slaughter the animal. My wife was fasting that day upon E.K.'s advice. While we were slaughtering the animal, she passed out," he said.
E.K. denied the allegations and said he was not an "exorcist" but working as a welder. He said he was known to have religious knowledge and simply gave advice to S.T. to pray, repent and help the poor woman to stave off the djinn. He denied he told the husband to beat the victim with a rolling pin. S.Ö. told prosecutors that she applied cupping on the victim and had seen that her body was covered in bruises. She told prosecutors that when she asked the family, family members told her that they were trying to exorcise the djinn the way an exorcist had instructed them to. She denied charges of complicity in the murder. Other suspects also denied the allegations.
A forensic report in the case says the victim died of internal bleeding due to "soft tissue trauma," confirming the allegations of beating. Prosecutors asked for prison terms between 12 and 18 years for the defendants. The indictment is accepted by the First High Criminal Court in Ankara although a hearing date is yet to be set.
Though Islam does not instruct the faithful to use such practices like hitting djinn-possessed people, exorcists resorting to un-Islamic superstitions are still fairly common in some parts of Turkey, exploiting the beliefs of naive people in exchange for payment.
Source: Daily Sabah
https://www.dailysabah.com/turkey/turkish-family-charged-over-death-after-womans-exorcism/news
--------
URL: https://www.newageislam.com/islam-women-feminism/aceh-indonesian-woman-flogged-adultery/d/126159


New Age Islam, Islam Online, Islamic Website, African Muslim News, Arab World News, South Asia News, Indian Muslim News, World Muslim News, Women in Islam, Islamic Feminism, Arab Women, Women In Arab, Islamophobia in America, Muslim Women in West, Islam Women and Feminism