New Age Islam News Bureau
21 Aug 2013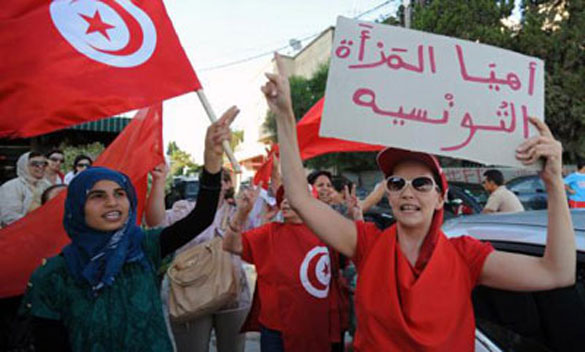 A Tunisian demonstrator holds a banner reading in Arabic: "Amina is the Tunisian Women", during a protest in front of the Constituent Assembly headquarters on August 13, 2013. (AFP)
---------
• Lady Gaga inspires new Burqa Craze
• Abu Dhabi Court Grants Divorce to Woman Dissatisfied With Husband
• Genetic Disorders: Best Not To Marry Cousins?
• Many Saudi Female Students Interested In Part-Time Work
• Hindu Guardians Granted Custody of Muslim Girl
• Female Kurdish Combat Unit Joins Fight in Syria
• Tunisian Activist Leaves Femen after Criticizing the Group for Religious Hatred
• Malala Yousafzai Accepted the Tipperary International Peace Award
• More College Buildings for Women in Saudi Arabia Urged
• Karzai: A Legacy of Failure on Afghan Women's Rights?
• Saudi Divorcee in Paternity Row with Ex Husband
• Dubai Refutes Claims about Fake Facebook Comments by Sheikh's Daughter on Egypt
• Most Saudi Families Prefer To Have Indonesian Maids
Compiled by New Age Islam News Bureau
URL: https://www.newageislam.com/islam,-women-and-feminism/new-age-islam-news-bureau/indonesia--virginity-test-for-teenage-girls-entering-high-school/d/13129
------------
Indonesia: Virginity Test for Teenage Girls Entering High School
August 21, 2013
Teenage girls entering high school in one province in Indonesia will be subject to a virginity test, with the head of the district education office saying it's ''for their own good''.
H.M. Rasyid, the education office head in South Sumatra's Prabumulih district, said the district budget for 2014 was set to implement the proposal because ''every woman has the right to virginity'', and that ''we expect students not to commit negative acts''.
The test — to be conducted on female students who are typically 15 or 16 and entering the post-compulsory phase of education — would involve examining their hymen to see if they are intact. Boys will neither be physically tested nor asked if they are virgins.
The proposal is like others that periodically arise from officials in Muslim-majority Indonesia, which is modernising fast, to the discomfort of some. They are usually quickly shouted down by civil society and rarely come to fruition.
In March 2012, the religious affairs minister proposed a ban on mini-skirts, saying it was an anti-pornography move; in December, Islamic parties proposed a nationwide ban on alcohol. Neither has been implemented. However, in the district of Lhokseumawe in Aceh, where Islamic law prevails, women have been banned from riding side-saddle on motorcycles because it made ''curves of a woman's body'' more visible.
Female virginity at marriage is prized in socially conservative Indonesia, and a member of the Islamic Prosperous Justice Party (PKS), Hasrul Azwar, supported the virginity test in Prabumulih, saying it was ''a disgrace for a student to lose her virginity before getting married''.
However, the education minister in Jakarta, the members of the local school district, local politicians, the Women's Crisis Centre and the Islamic advisory council in the area have all opposed the plan.
Masruchah, the deputy head of government organisation the National Commission on Violence Against Women (Komnas Perempuan) said virginity was ''a personal issue'' and the education office had no right to try to control it.
''Morality cannot be determined by genitals,'' she said.
Indonesian Education Minister Mohammad Nuh said the idea was ''neither wise nor judicious'', and would not prevent teen sex.
''If there was proof [that it could prevent it] of course we would issue a circular to that effect. But they must find another way, a wiser way, to address the issue of teen sex,'' he said.
''Whatever policy they implement, it should not hamper a student's access to education,'' said ministry spokesman Ibnu Hamad.
However, in Indonesia, which has radically decentralised power, leaving great influence in the hands of local officials, the central department has limited influence over district education offices.
http://www.theage.com.au/world/virginity-test-for-high-school-girls-20130821-2sah1.html#ixzz2cb14V4sB
------------
Lady Gaga Inspires new Burqa Craze
August 21, 2013
Controversial pop singer Lady Gaga has long dabbled in Christian symbolism with songs like Judas. Now she just into Muslim culture, inspiring fans to cover their faces with her new song Burqa. The song suggests that the Burqa, a loose garment commonly worn by Islamic women with veiled holes for the eyes, is a sex symbol with lyrics like "Do you wanna see me naked, lover? Do you wanna peak underneath the cover?"
The song has sparked her twitter followers to post pictures of themselves with Burqaesque covers with the hash tag #BurqaSwag. These followers whom Gaga affectionately calls her "monsters" have taken to Twitter veiling themselves in blankets, scarves, and even their own hair.
The act has sparked religious outrage. One Muslim woman took to the Washington Post to criticize the Mother Monster's new song and resulting craze.
In open letter to Gaga, student Umema Aimen wrote "I understand that in making 'Burqa,' you were exercising your right to free speech. But you're a pop culture icon and you influence the way millions of people think." She continued, "To them (fans), it was one big joke, but to me, it was one big insult."
This is not the first time the pop icon has insulted the religious. Protestant Christians and Catholics were insulted when she portrayed Mary Magdalene as being involved in a love triangle with Jesus Chris and Judas Iscariot for the music video for her single Judas.
Culture and Media Institute Managing Editor Matt Philbin said of the Judas video, "Gaga trades in shock, so a song identifying with Jesus' betrayer is hardly surprising."
http://blogs.christianpost.com/hollywood-lights/lady-gaga-inspires-new-burqa-craze-17507/
------------
Abu Dhabi Court Grants Divorce to Woman Dissatisfied With Husband
Haneen Dajani
August 21, 2013
A woman has been granted a divorce by an Abu Dhabi court because she did not enjoy sex with her husband.
The Emirati woman, in her late twenties, filed for divorce on the grounds that her husband did not sufficiently reciprocate the affection she showed him.
The woman's lawyer Ali Al Abbadi told Abu Dhabi's Personal Affairs Court that under UAE law married couples who did not enjoy mutual sexual pleasure in their marriage were entitled to file for divorce.
The court granted the woman Dh15, 000, custody of the couple's three-year-old daughter and a two-bedroom house.
hdajani@thenational.ae
http://www.thenational.ae/news/uae-news/courts/abu-dhabi-court-grants-divorce-to-woman-dissatisfied-with-husband#ixzz2cbKifDgF
------------
Genetic Disorders: Best Not To Marry Cousins?
August 21, 2013
KARACHI: By the time Hijab was two years old, her parents knew their child was unwell. She could not take part in physical activities like other children her age. Her parents remained clueless about her predicament.
It was much later that the reason was discovered. When the case was referred to Lahore General Hospital's head of Paediatrics Department, Dr Agha Shabbir Ali, he prescribed a complete check-up, including blood tests, bone marrow biopsy and an enzyme essay. The results were definitive. Hijab was diagnosed with a rare genetic disorder known as Gaucher disease, a sub-type of a range of genetic disorders called Lysosomal Storage Disorder (LSDs). Turns out that in Pakistan, the high number of interfamilial marriages taking place in the country make more children like Hijab susceptible to it.
The unknown enemy
LSDs are a group of 45 inherited genetic defects which ultimately affect multiple organs which lead to progressive physical and mental degradation over time. Some patients survive into adulthood; others are not so lucky.
Unfortunately, due to the rarity of the disease, it has been largely neglected. While healthcare professionals are gradually becoming aware of the dilemma, it may still be another few years before treatments are available.
Avoiding inter-marriages
"The first step towards addressing the issue at large is taking the necessary precautions," explained Dr Aisha Mehnaz, head of Paediatrics at Dow University of Health Sciences and Civil Hospital Karachi,at the first press briefing of the National Lysosomal Storage Disorder Core Committee held at a local hotel in Karachi on Saturday.
Dr Mehnaz suggested that the only way to stop the incidence of genetic disorders was to educate people regarding the ill consequences of interfamilial marriages.
Dr Huma Arshad Cheema, a Professor of Paediatric Gastroenterology, Hepatology and Nutrition at the Institute of Child Health and the Children's Hospital, Lahore, explained that by the time the correct diagnosis was made, it was too late to initiate treatment. "The prime objective of the committee is to spread awareness regarding the disorder among physicians, donors and the general public. Patients stand a better chance at managing their symptoms if they are diagnosed in the early stages."
Role of the government
The next step would be to take the government on board and seek its assistance in providing treatment to these patients. There is a need for the government to devise a programme to facilitate the treatment of these patients.
Dr Agha Shabbir suggested that the government must provide the necessary resources to at least one laboratory in an urban centre to perform these tests. "It is indeed unfortunate that we do not even have accurate data on the number of patients currently suffering from the disease. This is because we don't have proper diagnostic facilities." Misdiagnoses causes a number of children from the same family to die before the doctor arrives at the correct diagnosis. "I have seen four children of the same family die due to this disorder before the fifth one was diagnosed with it," reminisced Dr Cheema.
At least six of the LSDs are treatable through enzyme replacement therapy (ERT). This therapy is quite costly, however, with treatment options averaging at about Rs60,00,000 per year. Currently, eight children in the country are receiving treatment funded by various international donors which enables them to lead perfectly healthy lives.
"Currently, we have no support whatsoever from the government," said Dr. Cheema. She explained that because the disease was quite rare as compared to other health issues, it was not on the government's radar. But it is still an important issue "because every life is precious."
http://tribune.com.pk/story/592997/genetic-disorders-best-not-to-marry-cousins/
------------
Many Saudi female students interested in part-time work
August 21, 2013
LONDON – A survey of Saudi female university students which was published a few days ago has revealed that 87 percent of those surveyed are interested in working part-time if the opportunity was there to gain experience rather than earning extra money. The survey concluded inter alia that part-time work by Saudi students could help prepare them and promote the demonstration effect of the Kingdom's Saudization policy, especially in the retail and services industries.
The survey titled "Bridging the Gap between the Labor Market and the Education Sector (Females)" was conducted by Glowork, the first female-dedicated human capital firm in the Kingdom and its partners DAF Advisory Services and Alwane. It was based on a sample size of 500 female students aged between 17 to 27 years old at 10 universities across the Kingdom. The sampling methodology involved choosing respondents on an SRS (Simple Random Sampling) basis.
"Countries in the West have their whole retail industry built on part-time students. We believe there should be a mechanism in which the Ministry of Labor looks at adapting a salary-per-hour scheme which could dramatically increase the Saudization percentages in the retail industry," said Khalid Alkhudair, the Founder and CEO of Glowork.
"They want to work not for financial reasons, but purely for experience. I am sure if this survey was conducted for males, the outcome would be different and that's because in the Kingdom, our sons and daughters are financially dependent on their parents. Until that changes, the need to work is limited," he added.
The survey could be potentially important on two other counts. It strongly believes that the gap between the education and employment sectors in the Kingdom can be bridged "through implementing a part-time employment law which enables women to become an active member of society and understands what lies ahead for them when they graduate."
It also comes up with a motley of recommendations for both the Ministry of Education in Saudi Arabia and the various universities. The two recommendations that stand out include universities holding career fairs, initially online because they are less costly and more convenient for female students; and urging the Ministry of Education to consider introducing the teaching of English at lower grades in public schools, given the importance of English in the job market.
According to Glowork, the Ministry recently did take a step in the right direction by requiring Saudi schools to start teaching English from Grade 4 compared to Grade 6 previously.
Schools and universities alike are encouraged, at least during English classes, to ensure that the language of instruction is exclusively English. According to Dr Khalid Al-Seghayer, a Saudi academic, "using Arabic to teach English induces less-motivated students to rely on Arabic to convey their massages and erodes the student's confidence in their English proficiency."
Technological developments in the Internet, stressed the authors of the survey, render online career fairs highly interactive, especially for female students. For example, students may interact directly with a company representative either through a chat room or video conferencing.
"One of the main concerns about the integration of females into the Saudi workforce is their inability to work alongside males in a regular corporate setting," said the survey authors.
However, judging by the fact that only 30 percent of respondents preferred an all-female work environment, the concern surrounding the integration of female workers into a male-dominated working environment may not be as prominent as it is widely believed.
Almost two thirds of respondents revealed that they sought help when drafting their CVs and resumes, and mots are even willing to pay for such assistance.
As such Glowork and its partners believe this is because of the poor or non-existent career counseling services at universities in the Kingdom. "Universities should strive to teach their students how to professionally network and emphasize to the latter the difference between professional networking and "Wasta", lest they feel shame in practicing it.
Universities' administrators may help their students understand how and when to network by connecting them with recent alumni who work in industries of interest to the students," maintained Fares Bugshan, CEO of DAF Consulting, one of the partner authors of the survey.
http://www.saudigazette.com.sa/index.cfm?method=home.regcon&contentid=20130821177647
------------
Hindu Guardians Granted Custody of Muslim Girl
August 21, 2013
MHOW: The Indore bench of Madhya Pradesh high court on Monday granted custody of a minor Muslim girl to her Hindu guardians. A petition was filed by the Hindu guardians of minor girl seeking her custody on Thursday.
Advocate Rishi Tiwari who filed the writ petition under Article 226 on behalf of the 12-year-old Swati and her guardians Anil Pal and his wife Sarla in the court of Justice N K Mody said that the judge listening to the three petitioners and the testimony of the girl. He said Swati categorically submitted that she would like to live with her guardians who have raised her since she was just seven months-old. Tiwari told that Swati, had in her statement said that her biological parents (Muslim) had asked her guardians to send her to their home for learning Urdu and other religious texts, on which she was sent for eight days. During this, she was ill-treated for not understanding Urdu. She further stated that she was scared to go to her biological parent's house and stopped going. However, her parents were trying to take her home forcefully.
When Swati insisted of going to Anil's place and returned to narrate about the ill-treatment meted to her guardians Anil and Sarla they moved the Mhow police station. However, the police allegedly pressurized her to return to Zakir- her parents, Anil, Sarla and Swati left their house in MES colony and took shelter in the high court. Her photographs and school certificates were produced by the Pal family before the court to support their claim. Tiwari further told that the court has given interim relief on the girl's statements to continue staying with Anil. An order in similar case issued by Allahabad high court in Akbar versus state of UP was also referred, which became the basis for the order, Tiwari added.
It is learnt that the Pal's didn't had a child and were looking for a child for adoption when Zakir's family decided to hand over seven-month-old Swati to him.
http://articles.timesofindia.indiatimes.com/2013-08-20/indore/41427973_1_guardians-minor-muslim-girl-swati
------------
Female Kurdish Combat Unit Joins Fight In Syria
August 21, 2013
When Rokan Abrahim's school in the north of Syria closed because of the fighting, the 21-year-old took matters into her own hands. She joined an all-female Kurdish combat unit formed to protect fellow Kurds in the war-torn country.
As violence rages across Syria, Kurds in the north have formed militant groups to protect civilians in the region. The Woman's Protection Unit to which Abrahim belongs is tied to the Kurdish Workers' Party (PKK) and consists of girls aged 19 to 25. They train for two weeks in a camp in northeast Syria before returning home.
"We are carrying weapons not to kill anybody but to protect ourselves," Abrahim says.
The United Nations reported on Monday that nearly 30,000 Syrians have fled the country's north in the past week, a majority of them Syrian Kurds. According to UNHCR, nearly 3,000 people crossed the border into Iraq on Monday alone, with about 6,000 Syrians entering the country on Sunday and another 20,000 between Thursday and Saturday.
http://www.huffingtonpost.com/2013/08/20/female-kurdish-combat-unit-syria_n_3785601.html
------------
Tunisian Activist Leaves Femen after Criticizing the Group for Religious Hatred
August 21, 2013
TUNISIA – Amina Sboui the Tunisian activist, released at the beginning of the current month after more than 90 days of detention, announced that she has detached herself from the FEMEN organization accusing it of being anti-Islam and for having mysterious funding.
In an interview with the news site "Huffington Post", today, Amina Sboui asserted that: "I do not want that my name be associated with the name of an organization hostile to Islam… I did not like the girls conduct in front of the Tunisian Embassy when they exclaimed "Amina Akbar" and FEMEN Akbar. I did not like their behavior too when they burned the Islamic banner of monotheism. "
She added, "This has touched a lot of Muslims and a lot of my relatives and people who know me". She said" We should respect the religion of every person."
The 19 year old activist criticized the organization for having mysterious funds according to her claims. The FEMEN was founded in Ukraine and it is now based in Paris. The organization is known by its active movements carried out by topless girls in support of women's rights and against dictatorships. She was arrested and charged with vandalism for writing on the wall of a cemetery proximite to Aqba Iban Nafaa Mosque in Kairouan, a central town in Tunisia.
on May 29th, three European FEMEN activists, one German and two French, led a topless protest in front of the Palace of Justice in Tunis. They painted the words "Breast feed revolution" on their naked chests. They demanded Amina's immediate release, shouting "Free Amina Now", "Free FEMEN" and "Women spring is coming".
Amina continued "I do not know the resources financing this movement, I asked Enna Shevchenko, head of FEMEN, several times but I did not get clear answers from her." Amina stated "I do not want to be part of a movement that I don't know the real source of its funds, what if Israel is the financier ! I want to know". Amina asserted that she feels confused.
http://www.thetunistimes.com/2013/08/amina-sboui-leaves-femen-after-criticizing-the-group-for-religious-hatred-and-suspicious-funding-39525/
------------
Malala Yousafzai Accepted the Tipperary International Peace Award
August 21, 2013
LAST NIGHT, 16-YEAR-OLD Malala Yousafzai accepted the Tipperary International Peace Award, recognition of her work in campaigning for equality and education for all children.
The Pakistani schoolgirl and activist is known across the world since she was survived being shot at point blank range be a Taliban gunman in October 2012.
She used the ceremony in Ballykisteen yesterday as an opportunity to get her message across about the value of education. Here is her speech, in full:
"I would like to begin my speech with a quote of Khalil Gibran. He says, "Keep me away from the wisdom which does not cry, the philosophy that does not last and the greatness which does not bow before children."
Once again, thank you to the jury of Tipperary award for giving me such an honour. Such a prestigious award that I received here today. And as the Honorary Secretary said – and I agree with him – people know me as the girl who was shot by the Taliban. But I don't want to be the girl who was shot by the Taliban – I want to be the girl who fought for the rights of every child, whether girl or boy, the right of education and the right of equality.
Malala is known, now worldwide, after she was shot. I don't want other girls and other children, other children's rights activists to be known after they are shot. I want them to be recognised now. And I want them to raise up their voice now. They must speak up. And we all must support them.
And, remember, that Malala is just one of the millions that are suffering and have suffered. Malala is one of the thousands that have been shot. Malala is just an ordinary girl who wrote a BBC diary – just a small platform to speak for her rights. She spoke to every TV channel and every radio that she could. And she always was known as the daughter of Ziauddin Yousafzai, the children's rights activist. But now my father is known as the father of Malala. [laughs]
Today, I am here to speak about peace and education. The main thing is that peace is not only the absence of war, it is the absence of fear. This means the absence of slavery and exploitations. This is a situation where a girl is free to go to school, where every person is given the basic right, the equal right, where there is justice for everyone. Whether he is poor or rich, whether he is tall or short, whether he is a Muslim or a Jew, whether he is a man or woman.
I want to see peace all around the world. I want to see peace in Pakistan, Afghanistan and India. I want to see peace all around the world. But to achieve a goal, we must struggle hard. The important thing is we must not wait for someone else. Some people think that it is the duty of the government to speak up for their rights, it is their duty to solve the problems. It is their duty, I agree, but why should we wait for them? We must speak up now. And don't wait for others. And this is what we did in Swat Valley.
Swat Valley is in the north of Pakistan, a beautiful valley where you can see a river, where you can see mountains, where you can see green trees, where me and my father once lived. In that area, some terrorists came in 2007 and they said that no girl is allowed to go to school. They spread terrorism all over the valley, they killed hundreds of people, they slaughtered women and they blasted every school, they blasted all the shops.
They took us out of our paradise and sent us to hell.
At that time, we spoke. My father spoke. My friends spoke in my school. After struggling and speaking for our rights, now you can see that Swat is a peaceful place. After the military operation in 2009, the terrorists went away from Swat. And now I want all of you to go to Swat that it is a paradise on earth. If you see the beautiful scenery on Swat, you will never forget it. I, myself, want to go back to Swat. I miss it.
When we talk about peace, when we talk about changes we want to bring in society, there are different ways. Some people think they can achieve anything with a gun, that they can achieve anything with war. But I believe that education is the only way to peace. And education is my goal. Education is our goal. I want every girl and every boy to be educated. I want them to go to school. Some students here might think, 'If I go to my school, sit in the classroom, the teacher teaches and then they gave me homework and then I come back do homework and go to school tomorrow'. The important thing is that you will learn about physics, biology, cells, atoms, about the English literature, about the history. That is important but the other important thing is, when all the girls and boys sit on chairs, the chairs are all the same. It shows equality. All the children sitting on the same benches are equal. There are no poor and no rich. This is justice. When the teacher teaches you, you must listen to them, you must learn from them but you will never follow them. And you learn respect, how to respect each other. You will also learn patience. If a child is not good to you, he teases you. You must be patient and this is the patience you will learn in school. You must be tolerant. You also learn at school how to give justice – if two children fight, the teacher comes and there comes justice. School is a place where we can learn the basics of our life. That is why I want education – not only for physics and biology. I want to see peace.
We have organised a Malala Fund. There are others – UNESCO, UNICEF – so many organisations. I think if you want them to work for the education. If you want to see building schools, if you want every child educated. There are so many ways. The first thing is speaking on different occasions, trying to convince people, trying to motivate the parents of the children to educate their children to send them to school. Then the second thing is to motivate the children as well, to teach them how important school is. Then the third step is to ask the government, to ask the people responsible to do something to educate every child.
There is also one thing. Not only Malala. Not only the person speaking. Not only the speechmakers. Not only the politicians. Everyone can bring the change. A singer when he sings a song of peace. When he sings the song of education, he can bring change. A painter, an artist, when you draw a picture, a picture of peace and equality, he can bring change. Everyone can bring change. Everyone. Because Malala was living in Swat, in a small house of two, three rooms. They didn't know if they would have dinner for tonight or not. We were just a poor family – and we still are poor people. My father was running the school waiting for the fees, when would he get the fees from the students and when would he pay for the teachers. We were nothing. My father was not a hun, not a rich man. He was just running the school. So don't think you need something for moving forward. Just only your voice and yourself. So move forward and speak and do what you can for peace and education all over the world. Despite the fact that I said we must not wait for the government, we still have to ask them. So I appeal to all the States all over the world that they must abolish the laws that go against the rights of children and women.
This is an appeal to all the governments all over the world that they must work for education and education must be their top priority. It is an appeal – a humble appeal – to the parents of every child that they must honour their daughters and their sons and send them to schools. And now, I would like to say it is a long way to Tipperary, it is a long way to peace, but one day we will achieve. Long live Pakistan. Long live Ireland."
http://www.thejournal.ie/malala-speech-ireland-1046866-Aug2013/
------------
More College Buildings for Women in Saudi Arabia Urged
August 21, 2013
Academics have stressed the significance of devoting greater attention to women's higher education, especially given the recent royal decree that allocated SR4 billion toward enhancing the infrastructure of female colleges across the Kingdom.
"Women have an important role to play in the country's development, and as such they need to be given the necessary support for their advancement," a faculty member at the Umm Al-Qura University in Makkah said.
"Studies must be undertaken with special attention to the needs of the future employment markets before commencing upon establishing new higher education programs," Associate Professor at the College of Women's Education Ibtisam Al-Anbari said.
Al-Anbari urged secondary school students to work harder so that they could get admitted to majors of their choice in higher education institutions.
"The new financial allotment opens a new vista of hope for female students in secondary schools who want to continue their education," she said.
A member of the Business Faculty at King Abdul Aziz University in Jeddah, Aliya Abu Suleiman, asserted that the support provided by the government for women's education helps create a large number of specializations and choices of programs for female students, which therefore provides them with a multitude of options to explore.
She added that the expansion in women's education also requires teachers of high caliber especially in advanced specializations, catering for the needs of the modern age.
She also said the new move in women's education should bear results such as enabling graduates to successfully meeting the latest demands of the employment market in the Kingdom.
Higher Education Minister Khaled Al-Anqari recently set up a committee for the implementation of the government order under Deputy Minister of Higher Education Ahmed Al-Saif with a number of education experts.
The government is keen on incorporating the talents of Saudi women in the nation's social and national development. It was with the aim of empowering women of Saudi Arabia that Custodian of the Two Holy Mosques King Abdullah inaugurated Princess Noura bint Abdulrahman University (PNU) in Riyadh in 2011.
With the facility to accommodate 40,000 students and 12,000 employees and a new library capable of holding 4.5 million books, PNU is the largest women's university in the world.
http://www.arabnews.com/news/461964
------------
Karzai: a legacy of failure on Afghan women's rights?
MASSOUDA JALAL
August 21, 2013
With more fundamentalists predicted to win seats in the forthcoming election, the future is likely to see once again the use of religion as an instrument of extreme gender based oppression in Afghanistan. Will President Karzai use his remaining days in office to cement the foundations of women's rights?
As the departure of the international security forces approaches, each day turns every bit of hope into desperation for advocates of Afghan women's rights. In 2010, soon after the United States announced the planned withdrawal of NATO and international forces at the end of 2014, Afghan women leaders communicated to SRSG Estefan de Mistura their concrete agenda for sustainable peace. They asserted that women should be recognized as the main victims of the conflict in Afghanistan and that security reform should lead to the improvement of women's quantitative and qualitative representation in peace bodies, the armed forces, and the police. They also made a strong position that the international community should continue supporting women's increased participation in peace and security processes. The bottom line of women's agenda is that the rights of women should never be a subject of negotiation before, during and after the peace process. More importantly, women of Afghanistan expected a strong commitment to their protection from violence, State support to the victims and their families, and prosecution of all perpetrators of violence against women.
Unfortunately, women have been marginalized in the decision making for the peace process and their petitions have been ignored by national leaders. Except for a general statement that women's rights will not be sacrificed in the name of peace, nothing concrete was taken to guard against the reversion of women's status to the pre-2001 era. President Hamid Karzai has been turning a deaf ear to the pleadings of women's rights activists, claiming that he had already faced a lot of embarrassment in defending women's rights would no longer do anything in this regard. He now dances to the music of fundamentalism, drinks from the cups of people who are known butchers of women's rights, and appoints them to positions where they could tear down the foundations of women's rights that were painstakingly built a dozen of years ago. He has now elevated the practice of 'baad' to the level of national policy and law making - selling the daughters of his nation to appease the fundamentalists that he had brought to his administration.
The list of worrisome developments that betray the government's submission to fundamentalist dictates is growing: :
1. President Hamid Karzai endorsed the Ulema Council's declaration that mandates women to fully comply with the hijab, respect polygamy, refrain from travelling without mohram, and avoid mingling with stranger men in social situations such as education, shopping, office and public life. Worse, this declaration directed the society to adhere to a tenet of women's subjugation and avoid expressions that represent equal views about women and men.
2. Article 63 of the Afghan Constitution obliges the President of Afghanistan to "….to safeguard…the fundamental rights and interests of the people of Afghanistan, and with the assistance of God and the support of the nation, to make great and sincere efforts for the happiness and progress of the people of Afghanistan." Yet, he marginalized women's voice in the development of the peace and transition framework and blatantly ignored the fact that the women of Afghanistan never acceded to the idea of making peace with the Taliban. He disregarded the voice of half of the country's population and is blindly pursuing the return of talibans to mainstream life, something that is highly inimical to the security and lives of women and girls.
3. Third, President Karzai never made good of his promises to implement the national policies and programs for the promotion of Afghan women's empowerment and gender equality as detailed in the National Action Plan for the Women of Afghanistan (2008-2018). Five years after its adoption, there has been no official account on the extent of its implementation and the source of public resources for its implementation, particularly at the sub-national level remains vague.
4. Fourth, the government remained silent amidst Parliamentary debates on the legality of his decree on the Elimination of Violence against Women. It allowed Parliamentarians to foment false interpretation of the law as being un-Islamic and derided the provisions that guarantee protection of women against abuse by their husband and relatives. The Ministry of Women's Affairs and the Ministry of Justice could have explained that this decree went through proper dialogue and analysis of Islamic and legal authorities and is in fact consistent with both international and Islamic laws.
5. Fifth, the government continues to fail in preventing violence against women and in providing services and access to justice to survivors. The latest report of the Afghanistan Independent Human Rights Commission indicated that 4,010 cases for VAW were recorded from March 21 to October 21 of 2012 which is 57 percent higher than the 2,299 figure of the same period for 2011. UNAMA also reported that prosecutors registered 1,538 incidents which are 34.39 percent higher than the data for the previous period. While there are 11 shelters for various VAW survivors and their children, these are all seriously under-resourced, inadequately secured, and improperly managed. The protection of women against violence is largely being left to the hands of non-government organizations and international agencies.
Just recently, the President signed the National Election Law that removed the provision on the 25 percent quota for women in the provincial and district councils. This means that the forthcoming national election could bring more fundamentalists in government, both at the national and local levels. With their presence in positions of power, it means that a rights-sensitive law on the elimination of violence against women could not stand a chance of getting enacted. Worse, all the gains on women's rights during the past twelve years are in danger of being challenged and overturned by policy makers who are un-enlightened about international standards of human rights. The future is likely to see once again the use of religion as an instrument of extreme gender based oppression in Afghanistan.
There are less and less reasons to be optimistic. Yet, the government could still choose to do good for the daughters of this country, especially in the remaining months of President Karzai's incumbency. It is never too late to make amends. He could use his remaining days in office to cement the foundations of women's rights that were paved by his early administration. It is not a shame to take the side of what is fair and right. It is not an embarrassment to make a stand on behalf of half of his constituents. And it is not cowardice to accept that he is making big mistakes in sabotaging the gains of women under his administration. This is not about politics. This is about being a good President, being a dignified Afghan and being a champion of democracy in this part of the world.
http://www.opendemocracy.net/5050/massouda-jalal/karzai-legacy-of-failure-on-afghan-womens-rights
------------
Saudi Divorcee in Paternity Row with Ex Husband
August 21, 2013
MADINAH — A Saudi divorcee from Yanbu has urged local authorities to force her ex-husband to accept that a boy she gave birth to recently is his son.
Um Mohammed told Dammam-based Alsharq newspaper on Sunday that she was willing for her son to undergo a DNA test to prove who the father was. Um Mohammed said: "My husband married me when I wasn't even 20.
"Three months into the marriage I got pregnant and told him that he would soon be a father, hoping that he would be happy about the news. "On the contrary, he started beating, abusing and attacking me. "He also forced me to take medication and herbal medicines to help me miscarry.
"He did this with the help of an Arab doctor in one of the health dispensaries in the region and forced me to take the medicines at gunpoint in a hotel room in front of his own brother."
She said one day he told her that she was divorced and showed her the divorce document attested by the court.
"The document was dated a month earlier. During this time he was obtaining all his legitimate rights as a husband from me while I was actually divorced."
Um Mohammed said she went to stay with her family after the divorce but he soon called her to tell her that he was sorry and he wanted to take her back.
"I went back to him, living in a hotel room for some time then in a furnished apartment.
"He soon went back to his old habits of verbally and physically abusing me. "He accused me of adultery and threatened to publish the photos he took of us having sex if I did not abort the baby."
Um Mohammed said after the second divorce she was able to escape to Yanbu, where she filed a complaint against her ex-husband, asking for justice. "I filed the same complaint at the office of the Human Rights Commission, which referred the case to the Bureau of Investigations and Public Prosecution (BIP).
"The BIP said it would ask the man sign an undertaking to stay away from her.
"I gave birth to my son Mohammed, who was born with a heart defect. He was also suffering from growth problems.
"My son needs open-heart surgery and should be referred to King Faisal Specialist Hospital in Riyadh."
Director general of the maternity and children's hospital in Madinah Dr. Ali Al-Mohammadi wrote an official letter to the undersecretary of the Madinah governorate asking him to issue the baby with a Saudi identity so he could provide him with a bed in the hospital.
Um Mohammed said: "The father refused to recognize his son. "Emir of Madinah Prince Faisal Bin Salman asked the governor of Yanbu to force the father to issue a birth certificate for his son, but this order was not yet implemented."
She said the treatment of her baby was being left in limbo because he does not have any identity papers.
She accused local authorities of taking their time in implementing the emir's instructions.
She also asked authorities to carry out a DNA test on the baby to confirm that her ex-husband was the father.
http://www.saudigazette.com.sa/index.cfm?method=home.regcon&contentid=20130819177336
------------
Dubai refutes claims about fake Facebook comments by sheikh's daughter on Egypt
August 21, 2013
Dubai's government has refuted claims that the daughter of a sheikh has protested her emirate's stance vis-à-vis Egypt's coup with controversial statements on Facebook.
"Statements circulated via social media attributed to Sheikha Mahra bint Mohammed al-Maktoum on the situation in Egypt are false and untrue," the Twitter account of the Dubai government said.
Al-Maktoum reportedly posted a comment on a Facebook photo of her father, Mohammed bin Rashid al-Maktoum, saying, "I'm sorry, father, but the reason for the bloodshed [in Egypt] is our money."
"The false statements were circulated through media outlets citing a fake account on Facebook," the government statement said.
Qatar's foreign minister said Aug. 18 that his country had never given aid to Egypt's Muslim Brotherhood and that all assistance went to Egypt as a whole.
"As far as Qatar's support for the Muslim Brotherhood, there are some wrong impressions about the aid Qatar is providing," said Foreign Minister Khaled al-Attiyah, whose country is perceived as a backer of the Islamist group.
http://www.hurriyetdailynews.com/dubai-refutes-claims-about-fake-facebook-comments-by-sheikhs-daughter-on-egypt.aspx?PageID=238&NID=52737&NewsCatID=352
------------
Most Saudi families prefer to have Indonesian maids
August 21, 2013
RIYADH — A study conducted by King Abdulaziz Center for National Dialogue (KACND) has revealed that 27.5 percent of Saudi families prefer Indonesian maids, while 17.3 percent prefer Filipinos. The study based its findings on a survey of 1,000 families. It was conducted by the KACND as an experimental research on the role of maids in Saudi society.
The study, which will form the basis for other future studies with respect to other social issues, also indicated that Saudi families were not confident that these maids had received proper training. About 69 percent of the families believe that the newly recruited maids are not receiving appropriate training, while 18 percent were satisfied with the pre-employment training imparted to maids.
Seventy-six percent of the participants agreed that maids have an influence on the behavior of their sponsor's children. About 70 percent believe that there has been an increase in the number of domestic helpers in the Kingdom.
About 46 percent of the respondents believe that this was due to an increase in the number of working women who need maids to help in their house chores, while 23 percent believe that it was due to expanding families.
Forty-two percent of respondents did not have an opinion on the newly formed recruitment companies, as there was not enough information available to them.
On delayed payment of wages and other working terms, 57 percent of respondents said they were paying salaries to their maids on time, and 31 percent acknowledged that several maids are deprived of a weekly day-off.
http://www.saudigazette.com.sa/index.cfm?method=home.regcon&contentid=20130821177624
------------
URL: https://www.newageislam.com/islam,-women-and-feminism/new-age-islam-news-bureau/indonesia--virginity-test-for-teenage-girls-entering-high-school/d/13129