New Age Islam News Bureau
18 Nov 2014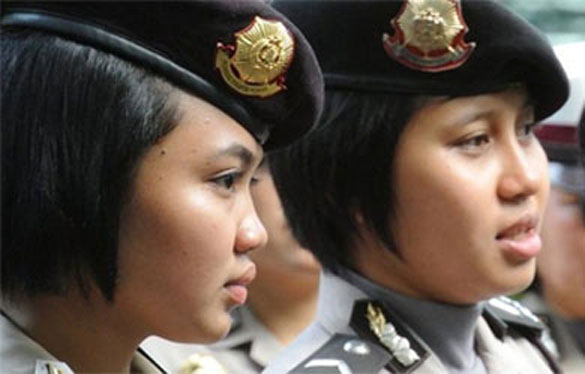 Traumatised: Indonesian female police recruits are subject to a humiliating virginity test
--------------
• Young Couple Publicly Punished For Adultery in Afghanistan
• Virginia Woman Accused of Attempting To Aid Islamic State
• Iran Files Charges against Iranian-British Woman
• London School Warns Students of FGM, Forced Marriage
• Nigeria: FOMWAN Wants Lagos Hijab Ban Reversed
• Bahrain Arrests 13 Women Activists Demanding 'Anti-Regime' Vote
• Saudis Not To Pay Insurance Fee for Unskilled Indian Maid
• 'White Widow Alive And Well' In Somalia: Report
• Head of Egypt's Council for Women Slams Detained Female Activists
• Tanzania: Resolute Action Needed to Combat Soaring Rape Cases
• Organizers of Saudi Pageant That Never Happened Suffer Losses, Divorces
Compiled by New Age Islam News Bureau
URL: https://newageislam.com/islam-women-feminism/indonesia-tests-female-police-recruits/d/100073
------------
Indonesia Tests Female Police Recruits' Virginity
Nov 18 2014
Indonesia must stop subjecting female police recruits to a physical test to try and determine whether they are virgins, a leading human rights group said Tuesday, describing the practice as degrading and discriminatory.
The report was based on interviews with female police officers and police applicants in six Indonesian cities who had undergone the so called "two-finger" test to determine whether their hymens are intact. The group said medical experts said such tests were useless in determining virginity.
Indonesian police spokesman Maj. Gen. Ronny Sompie urged people not "respond negatively" to the tests, saying they were aimed at ensuring applicants were free from sexually transmitted diseases.
"All of this is done in a professional manner and did not harm the applicants," Mr. Sompie said.
In a video interview recorded by the group, a 24-year-old Indonesian woman said she was among 20 applicants who underwent the test.
"I feared that after they performed the test I would not be a virgin anymore," she told the group in silhouette video interview. "They inserted two fingers with gels ... it really hurt."
http://www.thehindu.com/news/international/indonesia-tests-female-police-recruits-virginity/article6611139.ece
-------------
Young Couple Publicly Punished For Adultery in Afghanistan
Nov 18 2014
A young couple was publicly punished over adultery charges in eastern Kapisa province of Afghanistan.
According to local security officials, the young boy and girl were detained by police a month ago from Kohistan district.
District police chief Abdul Azim Kohistani said the couple received 100-lash each after they were found guilty during a local court hearing.
Kohistani further added that the couple was lashed publicly in front of hundreds of people.
He said the verdict was issued following a month of comprehensive investigation into the allegations against the couple.
Local residents in Kohistan district welcomed the verdict issued by the local court and said such punishments would help reduce the growth of adultery.
Afghanistan is an extremely conservative Muslim country where extramarital sex and sex before marriage are taboo and can lead to bloody conflicts between families.
Individuals accused of adultery were stoned to death during the years of Taliban rule, and is used in areas still controlled by the movement.
http://www.khaama.com/young-couple-publicly-punished-for-adultery-in-kapisa-9016
-----------
Virginia Woman Accused of Attempting To Aid Islamic State
18 November 2014
Federal authorities have arrested and charged a Henrico County, Va., woman who they say wrote Facebook posts supportive of the Islamic State and offered to help someone connect with the terrorist group in Syria, court documents show.
Heather Elizabeth Coffman, 29, is charged with making a false statement regarding an offense involving international or domestic terrorism. Coffman, it seems, was caught in a sting and unknowingly offered to help an undercover FBI agent connect someone with the Islamic State in Syria, according to a federal affidavit. Authorities say she lied to investigators who were looking into her support of the extremist group.
The case seems to be another example of the Islamic State's robust presence on social media and the influence it is having on Americans. Two months ago, a 19-year-old from suburban Denver pleaded guilty to trying to help the terrorist organization after she tried to board a flight to reach Turkey. She reportedly was trying to connect with a man she met online. And last month, three teenage girls from the Denver area were detained at an airport in Germany and questioned about possibly trying to join the Islamic State. A school official said the girls were victims of an "online predator."
It is unclear what cultivated Coffman's interest in the Islamic State or whether she possessed the means to connect anyone with the group.
Mark Henry Schmidt, Coffman's defence attorney, said the young woman was born and raised in the United States, lived with her parents and cared for her 7-year-old child. He said that he was unaware of any tangible foreign connection, and initially the case seemed to him one of "Facebook going badly."
"As far as I know she hasn't travelled anywhere. Her connections with the outside world would be on the Internet," Schmidt said. "I imagine you can get into trouble on the Internet, but I imagine you can also think a lot mores' going on than really is. If nothing else, this is certainly a cautionary tale about the Internet."
According to the FBI affidavit, Coffman told an undercover agent that she had previously arranged for a man she termed her "husband" to travel to Turkey so he could meet with Islamic State facilitators and eventually make his way into Syria. She described "concrete steps" she had taken to achieve that, according to the affidavit. But Coffman and the man soon separated and he backed out of the plan, according to the affidavit.
The FBI's investigation of Coffman seemed to begin in April, as agents took note of her postings on Facebook and sought search warrants to access her various accounts. On June 23, for example, Coffman posted two images with text that included a fuller name for the Islamic State: "We are all ISIS, Islamic State of Iraq & Sham," according to the affidavit. On June 28, when someone asked why Coffman was expressing support for the group, she responded, "I love ISIS!" according to the affidavit.
Coffman later wrote about persuading her sister to develop an interest in the Islamic State and said, "My dad is a little angry because I got her into all this jihad stuff," according to the affidavit. A woman who identified herself as Coffman's mother declined to comment Monday.
An FBI agent posing as someone with views similar to Coffman's made contact with her in July and, some months later, told her about an associate who wanted to travel to Syria to fight with the Islamic State, according to the affidavit. Coffman offered to help the associate connect with a facilitator and claimed to be able to verify the facilitator's legitimacy, according to the affidavit.
She told the agent last month that she had done so but that the facilitator was unresponsive, according to the affidavit. She declined to turn over the facilitator's contact information to the undercover agent, according to the affidavit.
Court records suggest that Coffman suspected law enforcement officials might be monitoring her. At one point, she developed a code system to talk with the undercover agent and at another told the man she said was her husband that the "[National Security Agency] has already seen" his pro-Islamic State Facebook activity. But she apparently was unaware of the undercover agent's real aim.
On Thursday, two FBI agents interviewed Coffman at her job in Glen Allen, Va., and she denied that the undercover agent had expressed support for the Islamic State or other terrorist organizations, according to the affidavit. It is unclear where Coffman worked.
Court records indicate that Coffman appeared in federal court in Richmond on Monday morning and was ordered held until her next hearing on Wednesday.
Jennifer Jenkins contributed to this report.
http://www.washingtonpost.com/local/crime/va-woman-accused-of-attempting-to-support-isis/2014/11/17/060c250c-6e8b-11e4-893f-86bd390a3340_story.html?tid=hpModule_13097a0c-868e-11e2-9d71-f0feafdd1394
------------
Iran files charges against Iranian-British woman
18 November 2014
Iran's semi-official ISNA news agency is saying an Iranian-British woman has been detained because of her links to the opposition, not just for attending a volleyball match.
The Tuesday report quotes a statement by the Tehran prosecutor's office as saying Ghoncheh Ghavami was active in opposition protests against the ruling establishment abroad, and was in contact with foreign satellite channels such as the BBC Farsi service.
Ghavami was detained in June after trying to attend a men's volleyball match between Iran and Italy, in defiance of hard-liners' push for gender-segregation. Earlier in November, her lawyer said that a court sentenced Ghavami, 25, to one year in prison after finding her guilty of "propagating against the ruling system."
http://english.alarabiya.net/en/News/middle-east/2014/11/18/Iran-files-charges-against-Iranian-British-woman.html
------------
London school warns students of FGM, forced marriage
18 November 2014
A school in the East end of London has started teaching young people on the prevention of female genital mutilation (FGM) and forced marriage.
"Education to young people on female genital mutilation and forced marriage is hugely important and invaluable. It is not just about legalization and having laws it's about prevention and getting to children as young as possible and explaining to them that this could happen to you," Arifa Nasim, educator and campaigner against forced marriage, told Al Arabiya News.
This week marked the start of a series of talks to young children at Frederick Bremer School in London on FGM and forced marriage.
Female genital mutilation (FGM), also known as female circumcision or female genital cutting, is defined by the World Health Organization (WHO) as "partial or total removal of the external female genitalia for non-medical reasons."
FGM is practiced in many countries across the globe and is practiced by some Arab, South-East Asian and African communities.
The WHO have separated FGM into three categories; category one is the most common, the clitoris is held between the thumb and index finger, pulled and amputated with a blade. Category two the clitoris is removed but the vaginal lips may also be partially or totally removed. Category one and two are the most common types of FGM. The final category, category three is the most extensive; it involves complete removal of the clitoris, vaginal lips, also the two rounded outer folds that lie on either side of the vaginal opening are removed.
The consequences of FGM are huge, causing a life time of infection, pain and potential death to those who have it.
The Home Office, have said that there are 66,000 women in the UK who have had FGM and 24,000 young girls at risk.
With primary and secondary school children being most at risk of being sent abroad by their parents to "be cut" the aim of many campaigners and activist is to educate as many teachers and children on the dangers of FGM and how to spot a child who may be at risk.
Education
Hibo Wardere, a campaigner from London who underwent FGM at the age of six years old in her native country of Somalia, believes that educating children on the topic of FGM will cause change and hopefully encourage people to take on the issue of FGM and force marriage.
"Most teachers and some children do not know about FGM and the dangers of this so-called cultural practice. I am teaching in various primary and secondary schools telling them about FGM. There are so many diverse cultures in London schools, large Muslim, Arab and Southeast Asian communities who may still practice FGM. Educating children on this practice encourages them to speak out against a practice that is wrong," said Hibo.
Hibo believes that this cycle of abuse must be ended and children are the ones to help stop this. Educating them on where they can seek help and giving them the knowledge on what to do if they believe a friend is at risk of FGM or if they themselves are facing the prospect of being sent abroad will no doubt in her opinion be the catalyst for eradicating this dangerous practice.
"Teaching 13 and 14 year olds on FGM is powerful, especially if the girl has not undergone FGM but is about to be sent abroad to have it done, educating them on this practice could actually safe their life."
Jenny Smith, the head teacher of Frederick Bremer School in London, decided to start the talks after she saw the activism in Bristol by a young campaigner named Fahma Mohammed who has challenged FGM.
"Issues like FGM and forced marriage are issues that everyone in this local community knows are there but they are not aware of the warning signs or what to do. It's important the people feel empowered to tackle these issues which are sometimes seen as culturally sensitive issues and we are called out as being offensive if we try to name them. But we must challenge them," Smith said to Al Arabiya News.
Power of social media
Smith believes that raising awareness through practical methods such as social media is the way forward. Also educating children will certainly allow them to question their elders and in turn put those at risk in touch with local campaigners such as Hibo.
"We need to set up networks so that young people who can support and empower one another in this There are young people in the system who are expecting to have equality and find these issues repugnant and they challenge their elders and say why are you saying this is so culturally acceptable."
Arifa Nasim, a campaigner against forced marriage, thinks that men also have a strong role to play in the prevention of FGM and forced marriage.
"There is a difference between forced and arranged marriage. In forced marriage you have no choice. Men have a role to play, it is not just boys that can be potential victims but they become the brothers and fathers and play a huge role in the lives of their daughters who could be forced into marriage."
Nasim believes men need to stop colluding with this idea of their honor being affected if the daughter doesn't do what they want them to do. If men stop endorsing it women would stop doing it, she believes. If men stop believing they can control a woman's sexual desire and guard her, things can change, she added.
http://english.alarabiya.net/en/perspective/features/2014/11/18/London-school-warns-students-of-FGM-forced-marriage.html
------------
Nigeria: FOMWAN Wants Lagos Hijab Ban Reversed
18 November 2014
The Federation of Muslim Womens' Associations in Nigeria (FOMWAN) has called on the Lagos State government to reverse its recent ban on the use of hijab in public schools in the state.
The National Amirah (President) of the association, Hajia A. B. Omoti, made the appeal yesterday in a statement saying Muslims take Islam as both a religion and a way of life and that wearing of hijab as a covering is an injunction of Allah, aimed at protecting the vulnerability of women in the society.
"FOMWAN is worried by the incessant denials of Muslim Women and Girls from wearing hijab in some parts of the country - a right and a duty imposed on them by their faith. It is in this regard that FOMWAN expresses great disappointment at the recent ruling by a Lagos High Court Judge, banning the use of hijab in public schools in Lagos State," the statement said.
"It is in recognition of this fundamental right that the Federal Government, in its wisdom, prescribed a dress code for the Muslim Girl in the Unity Schools throughout the country. The Oyo and Ekiti states governments have similarly given approval for Muslim students in their public schools to don the hijab," Omoti noted.
http://allafrica.com/stories/201411172200.html
------------
Bahrain arrests 13 women activists demanding 'anti-regime' vote
18 November 2014
DUBAI: Bahraini authorities have arrested 13 women in a crackdown on activists calling for an "anti-regime" referendum during the upcoming parliamentary election, activists said on Sunday.
Most of the arrests took place last week after the interior ministry accused activists of "preparing an anti-regime referendum on the day of the legislative elections", one activist said on condition of anonymity.
Two of the women were released while the remaining 11 have been kept in custody for a week for questioning, the source said.
Several men were also arrested, activists said, adding however that the majority of those held are women.
King Hamad set elections for a new 40-seat lower house of parliament for Nov 22, the first such polls since 2011 Shiite-led protests calling for democratic reforms in the Sunni-ruled Gulf state.
Municipal polls will be held simultaneously.
Most opposition groups, led by the Al-Wefaq, have announced they will boycott the November polls.
Members of the radical Feb 14 Coalition, a cyber youth group, have been urging Bahrainis on social networks to take part in a referendum on "the legitimacy of the Bahraini regime".
In preparation for the polls, the interior ministry vowed on Saturday it would "confront" any one breaking the law and announced the deployment of police reinforcements to secure the elections.
Al-Wefaq, banned from carrying out any activities for three months, has meanwhile denounced an "increased" campaign of arrest, targeting women activists.
http://www.dawn.com/news/1144996/bahrain-arrests-13-women-activists-demanding-anti-regime-vote
------------
Saudis not to pay insurance fee for unskilled Indian maid
18 November 2014
MAKKAH — Saudi sponsors need not pay for medical insurance of unskilled housemaids from India who carry a passport with a stamp of ECR (emigration clearance required), the Saudi Press Agency reported, quoting a circular issued by the Makkah Chamber of Commerce and Industry.
"The medical insurance fee that citizens used to pay to recruitment firms at the time of hiring unskilled housemaids with an ECR passport is not valid now and hence the employer need not pay the amount," the chamber said in the circular sent to recruitment firms on the basis of directives it received from the Ministry of Labor and the Council of Saudi Chambers.
The recruitment firms used to charge about $2,500 for hiring housemaids from India, and this included insurance fee also.
http://www.saudigazette.com.sa/index.cfm?method=home.regcon&contentid=20141118224775
------------
'White Widow alive and well' in Somalia: report
18 November 2014
Dubbed the "White Widow," Samantha Lewthwaite – a British convert to Islam who is said to have been involved in the Kenya mall attack last year – is reportedly living in Somalia with her jihadist husband, Marco Costa, a wanted Al-Qaeda suspect, the Daily Mail quoted Kenyan sources as saying.
The sources said Lewthwaite was 'alive and well' and living in the south Somalia, the daily reported.
The paper said it had obtained a forged Mozambican passport bearing Costa's picture. The document clearly identifies him as Jamal Salim, who the paper said was on the run from Kenyan police since he shot and killed two police officers in Nairobi in 2011.
Lewthwaite has previously used a false South African passport and alias.
The couple, according to the Daily Mail, also appears in a selfie taken at their home, adding that police are using these and pictures of their two children as part of a countrywide manhunt for the suspects.
Kenyan detectives told a court in August that they had lost the trail of Lewthwaite, suggesting the fugitive may have taken another identity.
Lewthwaite, 30, is the widow of Germaine Lindsay, a suicide bomber who took part in the July 7, 2005, attack in London and is said to have been involved in the September 2013 attack on the Westgate shopping mall in Kenya that resulted in more than 60 deaths.
The Daily Mail said a comprehensive file on Lewthwaite showed she had married Salim in Johannesburg, South Africa, in 2008 after meeting him through a Muslim hate cleric she regularly visited in prison in the United Kingdom, following her first husband's death.
The newspaper quoted counter-terrorism sources in Kenya as saying they had updated Lewthwaite's profile in response to claims from a Moscow news agency earlier this week that she had been killed by sniper fire while fighting in the Crimea.
Intelligence authorities in Kenya are demanding to see Lewthwaite's body and say they refuse to believe she has been part of any militia outside East Africa, the Daily Mail said.
Lewthwaite has been linked to Somalian Islamist militant group al-Shabaab, according to ITV News.
Interpol issued a "Red Notice" warrant for her arrest shortly after the attacks in Kenya. The international police agency notice said Lewthwaite is wanted by Kenya on charges of possession of explosives and conspiracy to commit a felony dating back to December 2011.
http://english.alarabiya.net/en/News/africa/2014/11/18/-White-Widow-Lewthwaite-alive-and-well-in-Somalia-report.html
------------
Head of Egypt's council for women slams detained female activists
18 November 2014
In an interview televised last week, the Egyptian president of the National Council for Women said a group of jailed female activists were better off behind bars than they were on the outside.
In an hour-long interview on privately-owned Dream TV Egypt, Mervat Tallawy, defended Egypt's human rights record, pointing out the favourable conditions in which she said female activists are living in Egyptian detention facilities.
"They talk about torture inside the prisons. I went to the prisons and saw the 7 am girls and the Muslim Sisters and so on. They live better than they were living on the outside. Seriously. I asked them: Is anyone hurting you? Do you get books? Do you go out for a break? Do you go to the canteen to buy? Are there problems? There are no problems," she told the host of 'Kalam Tany', a show that discusses social and political issues in Egyptian daily life.
In December 2013, 21 young women were handed prison sentences ranging from 11 to 15 years for assembling on a street in Alexandria. The group which Tallawy referred to in her interview came to be known as the '7 am movement' because the young women protested the military-led government early in the morning, on their way to university and school.
Tallawy's comments follow Egypt's human rights review which was held in Geneva on 5 November. Tallawy, who formerly served as the country's minister for insurance and social affairs, attended the hearing as a member of Egypt's official delegation which also included Minister of Transitional Justice Ibrahim El-Heneidi and representatives from the Ministry of Foreign Affairs, the Ministry of Social Solidarity, the Ministry of Interior and the general prosecutor's office.
During the review, several member states strongly condemned the country's human rights conditions, with the US, UK, Germany, Sweden and Norway delegations among others calling for the withdrawal or amendment of the country's controversial protest and NGO laws. The delegations said the laws do not fall in line with the provisions for freedom of assembly and association enshrined in Egypt's constitution or with international treaties and conventions ratified by Egypt.
Egypt was handed 300 recommendations by 121 member states, many of which focused on women's issues, amending the NGO Law of 2002, which required the registration of civil society organisations by 10 November and has been decried by human rights organisations as a means to control civil society organisations, as well as the Protest Law which has been seen by human rights activists as a means to legalise the stifling of political dissent.
In response to criticisms made about Egypt's protests law and freedom of expression and assembly, Tallawy said in her TV interview: "While we have four years to address the recommendations given during the session, we will amend the laws as soon as a new parliament is voted in". Egyptian President Abdel Fatah al-Sisi announced last week that Egypt would hold its parliamentary elections by March 2015.
"The president is currently facing very challenging times fighting [terrorism]. Raising this issue [by the international community] is a means to portray Egypt as a terrorist country that doesn't respect the rule of law," she added.
However, she also put up a bullish defence against the criticism of the NGO law arguing that Egyptians NGOs decrying the country's human rights record were only seeking funding from the international community.
"If they [local civic organisations] did not do this, they would not receive money from abroad. This is what it is clearly. This is their commodity, regrettably," Tallawy said.
"Civil society organisations were used [by the West] to topple the Soviet Union. This is what we need to understand; this [civil society] is the new weapon they using [the West] are to topple the state," she continued.
"I lived abroad more than I lived inside (the country). Even if you were to turn your ten fingers into candles and light them, you would not please them [international community]. They will always criticise. Either you submit to their policy and act according to their instructions or they'll [do] … anything to fabricate," she continued.
Women's rights activists reacted to the interview with dismay.
"The statement by the head of Egypt's National Council for Woman, Mervat El-Tallawy, comes as a huge disappointment from a woman who has presented herself throughout her career as a defender of Women's rights," said Soha el-Sheikh, representative of the Save Women and Children from Oppression (SWACO), a London-based organisation that advocates on human rights issues in the Middle East.
"Her views represent a serious blow to any hopes that the regime in Egypt will reconsider its oppressive policies against peaceful protesters and NGOs, in line with the recent recommendations made at the UN human rights review," she added.
Nearly two weeks after the hearing in Geneva, Egyptian ministers and local media have continued to discuss the routine review which has frequently been painted as a battle between the government and the Muslim Brotherhood.
Several local news outlets reported on the review as a victory for the Egyptian delegation which "managed to foil a Muslim Brotherhood plot" to defame the government.
Some Egyptian media reports referred to a press conference organised by representatives of the Brotherhood and other opposition activist groups prior to the conference as an attempt to "attack the government", while Egyptian satellite channel al-Hiwar reporter Mohamed Shordy described a report, produced by the group's legal team Irvine Thanvi Natas solicitors for the review, as a collection of "unfounded lies" that were used to "embarrass Egypt".
http://www.middleeasteye.net/news/head-egypt-council-women-slams-detained-girls-1879918577#sthash.rJbQrq0d.dpuf
------------
Tanzania: Resolute Action Needed to Combat Soaring Rape Cases
18 November 2014
"THIS is cruelty of the highest degree. You cannot believe it," remarked a court official, who pleaded anonymity. Such a statement attracted the attention of many people in the court.
Upon inquiry, it was known later that an old man was found guilty of raping a four-month-old baby. The man is Rashidi Makorani. Court records show that on September 13, 2007 at Gonja Village in Same District, Kilimanjaro Region, raped a child (name withheld).
After hearing the evidence presented, the trial District Court convicted him under Section 235 of the Criminal Procedure Act, 1985 and sentenced him to life imprisonment. Dissatisfied, Makorani appealed to the High Court. Judge Ama Munisi, who heard the matter, partly allowed the appeal when the offence of rape was substituted with the offence of grave sexual abuse.
After being convicted of such lesser offence charged under section 138 C (1) (a) and (2) (b) of the Penal Code, the sentence of life imprisonment was set aside. Such punishment was substituted with 30-year imprisonment. Undaunted, Makorani, the appellant, preferred an appeal before the Court of Appeal.
He advanced several grounds, including the trial court and the High Court erred in law and facts for holding and making findings to convict him with an offence which was not proved at all as the law required as charged.
The appellant stated that the first trial court and the senior court on the first appeal grossly erred both in law and fact for holding and making findings to convict him without noting that the prosecutor did not mention nor name the number of intended witnesses to call.
According to Makorani, the first instance court and the High Court grossly erred in law and fact for holding and making findings to convict him while they failed to comply with Section 186 (3) of the Criminal Procedure Act, Cap 20 Revised Edition, 2002.
In the course of the hearing, a panel of Court of Appeal comprising Chief Justice Chande Othman and Justices Mbarouk Mbarouk and Bernard Luanda noted a serious issue which needed to be resolved first before the appeal proceeded for hearing.
The pertinent issue, which prompted the court to raise the issue Suo Motu relate to the defect found in the notice of appeal of which the appellant indicated to have been convicted of rape, while the record of appeal shows that he was convicted of offence of grave sexual abuse.
They referred to Rule 68 (2) of the Tanzania Court of Appeal Rules, 2009, which mandatorily states that "Every notice of appeal shall state briefly the nature of the acquittal, conviction, sentence, order or finding against which it is desired to appeal."
In the appeal by Makorani, the justices noted that he failed to comply with the mandatory requirements of the Rule. Instead of stating that he was convicted of the offence of Grave Sexual Abuse in his notice, the appellant indicated to have been convicted of rape.
"This defect surely renders the notice of appeal and the appeal incompetent for violating the requirements of Rule 68 (2) of the Rules," they ruled.
The justices, therefore, concurred with the submissions presented by Principal State Attorney Neema Mwanda, for the prosecution, who had said that Under Rule 68 (10 of the Rules, it is the notice of appeal which shall initiate the appeal. As far as the notice of appeal is defective that means there is not appeal before the court and for that reasons the same should be "strike out."
"We fully agree with Ms Mwanda that non-compliance with Rule 68 (2) of the Rules renders the appeal incompetent, hence this appeal has to be struck out. In the event, the appeal is hereby struck out. It is so ordered," the justices ruled. According to 2013 Reports on Human Rights Practices in Tanzania, incidence of child rape was rising, and the major causes included alcoholism, poor education, poverty, and superstition.
Almost one-third of females ages 13 to 24 experienced at least one incident of sexual violence before the age of 18. The most common form of sexual violence was unwanted sexual touching followed by attempted rape. Among males in the same age group, more than 13 per cent stated that they had experienced at least one incident of sexual abuse prior to the age of 18.
Few of those who experienced sexual violence received any assistance. The report shows that 341 cases of sexual assault were reported on Zanzibar alone between 2011 and 2013, of which 104 occurred in the archipelago's southern districts. In a survey of 1,004 women, 20 per cent reported being raped in their lifetimes, while 10 per cent of them reported the event to police. In 92.4 per cent of the events the perpetrator was known to the victim.
There was no statistically significant difference between the rates of rape for women living in urban or suburban areas. Seven per cent of the sample reported a rape occurring in the past two years. The socially closer the perpetrator, the lesser was the frequency of disclosure to either legal organs or other people, and vice versa.
It is said that the prevalence of forced sexual initiation among women varied between 14 per cent in regions and 17 per cent in cities, according to the World Health Organisation Multi-country Study on Women's Health and Domestic Violence against Women. Violence against children is a global human rights and public health issue, with significant negative health and social impact on children's development.
The Convention on the Rights of the Child (CRC) states that all children have the right to be protected against all forms of violence, exploitation and abuse, including sexual abuse and sexual exploitation. Short- and long-term consequences of such violence are severe, not only for those who experience the violence, but also for families and communities, and constitute a critical societal concern.
There is little accurate data on the prevalence of violence against children worldwide. Available information, however, including the United Nations Secretary-General's (UNSG) ,World Report on Violence against Children (VAC, 2006), indicates that violence against children is a major problem that exists across countries. The crisis of sexual violence is particularly acute.
The World Health Organization has estimated that 150 million girls and 73 million boys under the age of 18 have experienced sexual violence involving physical contact. Despite the availability of general knowledge about the magnitude of sexual violence against children, the availability of national Tanzanian data on which to base policy and programmatic actions is still very limited. Violence against children can have a profound impact on core aspects of emotional, behavioural and physical health as well as social development throughout life.
The law provides for life imprisonment for persons convicted of rape, however, rape continued to be a serious problem. Several persons were prosecuted and convicted for rape. Violence against young men, women and children is increasingly recognized as an important human rights, health, and social challenge in Tanzania.
The unprecedented numbers of orphans and vulnerable children resulting from the AIDS pandemic, combined with the weakening of family and community care structures increase the risks of violence and exploitation faced by children.
The parliament of Tanzania passed the Law of the Child Act in 2009, signaling increased political commitment to upholding children's rights, including freedom from violence, abuse and exploitation.
A nationally representative study of the magnitude of violence against children can enhance these efforts by supporting advocacy, informing national planning and budget processes, and monitoring the impact of violence against children.
http://allafrica.com/stories/201411180242.html
------------
Organizers of Saudi Pageant That Never Happened Suffer Losses, Divorces
18 November 2014
MAKKAH — The organizers of a beauty pageant who were arrested by local authorities have suffered financial losses and other social consequences, Al-Watan daily reported.
Some of them were on the receiving end of divorces because their husbands started having doubts about their social activities.
The organizers told Al-Watan that they decided to organize a fashion event for women to showcase some dresses and their goal was strictly to make some money and not cause any harm.
However, they did not agree on how it should be organized and called off the whole event.
But one of the dissenting organizers tipped off the Commission for the Promotion of Virtue and the Prevention of Vice (Haia).
The Haia members immediately arrested several women involved, questioned them and had them sign undertakings not to organize such events in the future.
The organizers said they all lost around SR100,000 and could not sell their products.
http://www.saudigazette.com.sa/index.cfm?method=home.regcon&contentid=20141117224605
------------
URL: https://newageislam.com/islam-women-feminism/indonesia-tests-female-police-recruits/d/100073