New Age Islam News Bureau
3 Sept 2015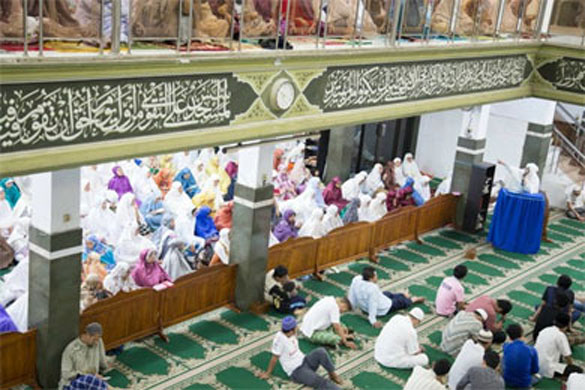 A female preacher (right) gives a sermon before the post-fasting evening prayer, or tarawih, at Syarif Hidayatullah Mosque in South Tangerang, Indonesia, June 30, 2014.
------------
• Indonesia Sees Revival in Women Preachers
• 'Jemima Imran Khan's ex-wife, Running Smear Campaign against Reham
• Australian Muslim Girls Break Down Barriers in Sport
• Saudi Women Seek Gender-Based Voting System
• Jobs for Women Top Priority Says Saudi Labour Minister
• Indian Newspaper Siasat Announces Job Oriented Courses for Muslim Women & Girls
• Political Secretary Asked Benazir to Wave to Crowd, Says Driver
• Middle East Wars Stop 13 Mln Schoolchildren
Compiled by New Age Islam News Bureau
URL: https://newageislam.com/islam-women-feminism/indonesia-sees-revival-women-preachers/d/104468
---------
Indonesia Sees Revival in Women Preachers
2015-09-02
Nahdlatul Ulema (NU), one of Indonesia's largest and most influential Islamic organizations, is reputed to be a male-dominated religious community. Yet women increasingly are taking on authoritative roles as Muslim preachers within the NU ranks and across the country, according to newly published research.
"This is a new phenomenon, which doesn't have a direct correlation with the rise of Islamic orthodoxy happening in other parts of the world," researcher Muhammad Khodafi told BenarNews.
A lecturer at the Islamic State University (UIN) in Surabaya, his research into nyai – women who serve as preachers, or religious teachers and scholars – is featured in a new book titled "Post-Reformasi Islam in Indonesia," which was launched in Jakarta on Aug. 25.
In fact, Indonesian women have held such roles in the past, but a revival has sprung up in the Reformasi (Reform) period, according to Khodafi. Reformasi was the opening of society and religion in Indonesia that came about after President Suharto's 32-year-old New Order regime collapsed in 1998.
"It is more open now and it's possible for liberal to fundamentalist views to prevail. It is unlikely this would have happened in the past," Marzuki Wahid, a lecturer at the Syekh Nurjati State Islamic Institute (IAIN) in Cirebon, West Java, told BenarNews.
Distinctly Indonesian
Indonesia has the world's largest Muslim population, but practices a relatively moderate interpretation of Islam. Although male and female worshipers pray separately at local mosques – as in the rest of the Muslim world – the nyai of Indonesia preach to co-ed audiences – not women only.
Women also hold high positions on the Indonesian Ulema Council (MUI), the country's most powerful Islamic clerical body, and sit on an MUI commission that decrees fatwas. Two of the council's seven deputy secretaries general are women.
"It's unlikely that these things could happen in many other Muslim countries," Azyumardi Azra, a Muslim scholar and former rector at Syarif Hidayatullah Islamic State University in Jakarta, told BenarNews.
The resurgence of nyai is a distinct characteristic of Islam in Indonesia, which reflects gender equality in the public domain, Azyumardi said. Indonesian Muslim women, in other words, have the same opportunities as men to pursue careers as preachers, judges specializing in in Islamic jurisprudence, and civil servants.
TV preacher
Reformasi was among the factors that spurred the revival of women preachers in Indonesian society, because the reforms opened up more opportunities for women in higher education, Khodafi said.
For his research, he followed and observed two nyai – Uci Nurul Hayati and Hani'ah – who work as preachers in East Java province, an NU stronghold.
Uci is an Islamic lecturer and Hani'ah has been preaching sermons since she was a student.
Uci has her own television program, "Apa Kata Bu Nyai" ("What Does the Nyai Say?"), which airs twice weekly on TV9 NU, a channel operated by Nahdlatul Ulama's chapter in East Java. The religious organization claims to have 30 million followers nationwide. -----------
http://www.benarnews.org/english/news/indonesian/women-preachers-09022015133939.html
------
Jemima, Imran Khan's ex-wife, Running Smear Campaign against Reham
By Web Desk: September 3, 2015
Reham Khan just can't catch a break. And if a report in a British newspaper is to be believed, the source of much of her agony in the press can be trailed back to PTI chief Imran Khan's ex-wife Jemima Goldsmith.
A family member of Reham's has now alleged the PTI chairman's ex wife, Jemima Goldsmith, is behind the series of negative stories that have appeared against Reham.
"We know what Jemima is doing," Reham's cousin told the Daily Mail on the condition of anonymity.
Read: Reham used me 'like toilet paper to clean up her image': former husband
"We know that she is behind this smear campaign. She doesn't want Imran's marriage to succeed because she is jealous," the cousin added.
However, responding to the allegations, PTI chairman Imran Khan took to Twitter and said, "Jemima has always been supportive and the idea that she would ever be behind any kind of smear campaign against Reham is absurd as I told The Mail."
Imran and Jemima got divorced in 2004, nine years after their marriage but they have remained on friendly terms. The two have two sons together.
"Jemima can't get her own man, that's why she doesn't want Imran's marriage to succeed," the cousin further alleged.
However, Jemima denied being involved in any '"smear campaign." Her spokesperson told the Daily Mail, "Jemima is fully supportive of her ex-husband."
"She wished Imran and Reham well at the time of their marriage and continues to do so," the spokesperson added.
Further, regarding Imran and Reham's marriage, the cousin said, "Reham and Imran are in love and very happy together. Reham is going to give an interview, in her own time, in which she will rebutt all the baseless smears against her."
Soon after the couple married, Reham's ex-husband, NHS psychiatrist Dr Ijaz Rehman strongly denied allegations he had mistreated her during their marriage.
"I have never been involved in any kind of domestic violence in any shape or form," said Dr Rehman, with whom she has three children. "I always looked after my children and wife very well."
Further, Dr Rehman claimed she used him "like toilet paper to clean up her image" after she found herself harshly criticised by traditionalists in Pakistan who saw Imran's bride as far too Westernised.
Further, months after their marriage, it was found that Reham had not attended the Lincolnshire college as she had claimed on her personal website. She said she studied journalism at 'North Lindsay College' in Scunthorpe.
However, the college confirmed that it had never taught journalism and had no record of her being a student. She subsequently changed her website to state that she went to the Grimsby Institute.
http://tribune.com.pk/story/949940/jemima-running-smear-campaign-against-reham/?utm_source=Daily+Roundup+Newsletter&utm_campaign=76db55e8ee-Daily_Roundup_5pm&utm_medium=email&utm_term=0_19961368d8-76db55e8ee-65338937
-------
Australian Muslim Girls Break Down Barriers in Sport
3 SEP 2015
In Sydney's Mona Park, one of the school-sports havens in the city's west, girls from institutions across the city have converged for a gala day.
AFL, OZ-Tag and Soccer competitions are on the agenda. Typically what are brandished as "boy sports" are now finding new fans?
"I didn't realise I'd love AFL so much, I've never played it before," said student Serene Khalaf.
"It's been great."
A majority of the schools participating are Islamic Schools. Most of these girls are Muslim.
A strong stigma surrounds Islamic women in sport - from inside and outside their own communities - with some sticking to traditional beliefs that a girl's place is not on the sports field.
"Yeah I think there's a misconception in terms of whether girls can or cannot play sport, especially with the Muslim community and multicultural communities," said organiser Lael Kassem.
In April, claims surfaced that a teacher at an Islamic school in Melbourne banned girls from running over fears they would lose their virginity, allegations the school denied.
But girls at the gala day said that was not the view of the majority.
"That's not right," Ms Khalaf said.
Her friend, Jamilah Elmir, agreed.
"We're all girls, whether we are Muslim or non-Muslim, so it's the same thing…we don't have different bodies," she said.
For Islamic Communities to become more accepting, participants said the first lesson began at home.
"Initially my mum was a bit hesitant for me to play sport, but for all my brothers it was fine," Ms Kassem said.
"But after she's seen how much enjoyment I got out of it, the benefits, she was very supportive and understanding."
Ms Khalaf said communities across the country, regardless of their backgrounds, should embrace a female presence in the sporting world.
"Every girl, no matter what religion or race, deserves the opportunity to play sport and have fun," she said.
http://www.sbs.com.au/news/article/2015/09/03/muslim-girls-break-down-barriers-sport
---------
Saudi Women Seek Gender-Based Voting System
3 September 2015
AL-NAIRIYA: Women in Al-Nairiya governorate have called on the government to only allow gender-based voting because they believe this would allow women to get places on the new municipal councils.
Nouf Al-Otaibi, a businesswoman in the area, said men can get more votes than women. She said men should vote for men and women for women.
Hind Al-Maliki said men have significant authority in the governorate that enables them to get more votes, which makes it unfair competition.
Teacher Muniera Al-Mutairi said it was important for women to have an opportunity to serve on councils because they were best suited to communicate with other women and help them with issues.
"We live in a conservative society that has its own rules and laws that encourage women to communicate with other women and prevents women from communicating with men," she said.
http://www.arabnews.com/saudi-arabia/news/800886
---------
Jobs for Women Top Priority Says Saudi Labour Minister
3 September 2015
RIYADH: Women in Saudi Arabia have been allocated a package of services to ensure their development and employment, Labor Minister Mufrej Al-Haqabani said Tuesday.
The minister was speaking at the first panel discussion at the second National Business Women Forum opened by Commerce and Industry Minister Tawfiq Al-Rabiah in Riyadh. The forum was held under the aegis of Custodian of the Two Holy Mosques King Salman to identify challenges facing Saudi businesswomen.
The minister said that affiliated institutions such as the Technical and Vocational Training Corporation, the General Organization for Social Insurance, and the Human Resources Development Fund (HRDF) continue to provide a package of initiatives and development programs to help businesswomen.
Explaining the electronic services provided to assist young Saudi men and women to find jobs in the public and private sectors, the minister said that separate sections for women have been set up in all regions to boost this process.
He pointed out that his ministry has developed a project for productive families with other agencies, which helps women to invest and work from home. This service has been improved in coordination with the chambers of commerce and industry in Jeddah and Makkah.
With regard to the HRDF, he said it supports training and employment of citizens in various sectors. It also funds field programs and projects to develop local human resources. He urged the public and private sectors to support the government's Saudization efforts.
Huda Al-Jeraisy, a businesswoman, said that while women have done well in business over the past few years, the government should provide further incentives and support so that they can participate more fully in the national economy.
"Coordination must be improved between licensed entities and supervising authorities to facilitate challenges facing investors. Flexibility and innovation are also key for investors to keep up with regional experiences and achieve integration in the region in terms of providing quality products and services that meet local and regional market requirements."
Al-Jeraisy said the forum presents a great opportunity for participants to exchange expertise, discuss related issues such as methods to implement five-year plans, and identify promising business opportunities for women in the Kingdom. It was important for the forum to attract policy makers and leading business figures — particularly ones that support investments by women — to keep up to date with domestic, regional and international developments, she said.
http://www.arabnews.com/saudi-arabia/news/800866
---------
Indian Newspaper Siasat Announces Job Oriented Courses for Muslim Women & Girls
September 3, 2015
A meeting of in charges of 12 permanent Vocation Training Centres runs under the auspices of Siasat and Minorities Development was held on Wednesday, at MDF office, Siasat premises. It was decided in the meeting to launch job oriented courses for Muslim girls and women on those centers. It was also agreed upon to open a showroom for marketing of the items and clothes prepared in the centers.
Presiding over the meeting Mr. Abid Siddiqui told that Siasat Daily under the patronage of Siasat editor Mr. Zahed Ali Khan and Managing editor Siasat Mr. Zaheeruddin Ali Khan is running training centers in Hyderabad and districts for the past 12 years.
Later a delegation of centre in charges met Mr. Zaheeruddin Ali Khan who assured them every possible support by Siasat.
http://www.siasat.com/news/siasat-announces-job-oriented-courses-muslim-women-girls-828489/
---------
Middle East wars stop 13 mln schoolchildren
3 September 2015
Conflicts across the Middle East and North Africa are preventing more than 13 million children from attending school, leaving their hopes and futures shattered, the United Nations Children's Fund said in a report issued on Thursday.
The UNICEF report "Education Under Fire" looked at the impact of violence on schoolchildren in nine territories, including Syria, Iraq, Yemen and Libya where a generation is growing up outside of the education system.
"It's no coincidence in that what we see in terms of our TV pictures, the tragic pictures of people crossing on boats to Greece and Italy, very much comes back to the Syrian conflict and (to) the Iraqi conflict to a lesser extent," UNICEF regional director Peter Salama said.
Refugees often say the education of their children is their top priority, he said, and many countries in the region simply are not able to provide that basic human right.
The study also looked at Lebanon, Jordan and Turkey - countries neighboring Syria and hosting large numbers of refugees, as well as Sudan and the Palestinian Territories.
Attacks on schools
Attacks on schools are one of the main reasons why many children cannot go to classes while many such buildings are now being used to shelter displaced families or are used as bases for combatants, UNICEF said.
In Syria, Iraq, Yemen and Libya alone, nearly 9,000 schools are unable to be used for education, the report said.
Thousands of teachers across the region have abandoned their posts in fear, which has also stopped parents from sending their children to school, it added.
Countries hosting refugees are struggling to get children into schools because their education systems were never created to absorb such numbers, Salama said.
"Everyone is basically straining at the seams in terms in terms of dealing with this massive crisis, which is not surprising given that it is the biggest population movement since World War Two," he said.
Children out of school can end up working illegally, often being breadwinners for their family. They are vulnerable to exploitation and can be more easily recruited into armed groups, he said.
http://english.alarabiya.net/en/News/middle-east/2015/09/03/Middle-East-wars-stop-13-million-children-going-to-school-U-N-.html
---------
URL: https://newageislam.com/islam-women-feminism/indonesia-sees-revival-women-preachers/d/104468