New Age Islam News Bureau
30 May 2017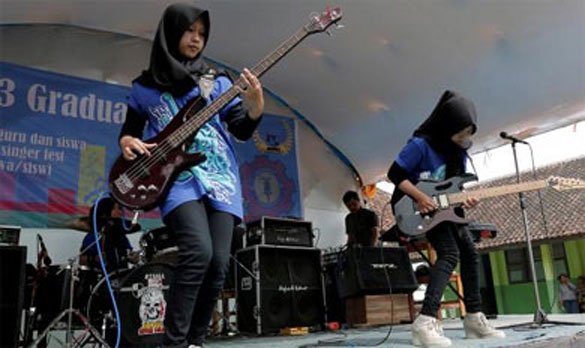 Widi Rahmawati (L) and Firdda Kurnia, members of the metal Hijab band Voice of Baceprot, perform during a school's farewell event in Garut, Indonesia, May 15, 2017. REUTERS/Yuddy Cahya
----
• The Face Veil Is Not British and the Muslims Should 'Lead the Charge' Against It, Says Baroness Warsi
• Daughter of Muslim Sanskrit Teacher Tops High School
• Two Maranao Muslim Women Defend Christians
• Pakistan Arrests Afghan Women Traveling on Fake Passports
Compiled by New Age Islam News Bureau
URL: https://www.newageislam.com/islam-women-feminism/indonesia-hijab-wearing-muslim-metal/d/111343
--------
Indonesia's hijab-wearing Muslim metal group challenges stereotypes
May 29, 2017
By Yuddy Cahya
GARUT, Indonesia, May 29 (Reuters) - With their heads covered with Islamic headscarves, the three members of the Indonesian band VoB ("Voice of Baceprot" or "Noisy Voice") do not look like your typical heavy metal group.
Formed in 2014, the band of teenagers met at school in Indonesia's most populous province of West Java, and use their music to combat the stereotype of Muslim women as submissive or voiceless.
Wearing a hijab, or Islamic head scarf, should not be a barrier to the group's pursuit of its dream of being heavy metal stars, said Firdda Kurnia, 16, who plays guitar and sings.
"I think gender equality should be supported, because I feel I am still exploring my creativity, while at the same time, not diminishing my obligations as a Muslim woman," she added.
Invited to perform at a recent graduation ceremony at another school, the trio quickly had fans dancing and head-banging at the front of the stage.
"I don't see anything wrong with it," said one fan who attended, Teti Putriwulandari Sari. "There's no law that bars hijab-wearing women from playing hardcore music.
"This also relates to human rights. If a Muslim girl has a talent to play the drums or a guitar, should she not be allowed?"
Besides covering classics by groups such as Metallica and Slipknot, the band perform their own songs on issues such as the state of education in Indonesia.
Muslims make up nearly 90 percent of a population of 250 million, the vast majority practising a moderate form of Islam, although there are some conservative strongholds.
Not everyone in the town of Garut, where the band was formed, and which is home to several Islamic schools, feels the community is ready for them, or that their music is appropriate for performance by young Muslim women.
"It is unusual to see a group of hijab-wearing girls playing metal music or even women shouting," said Muhammad Sholeh, a teacher at the town's Cipari Islamic boarding school, adding that religious pop music was popular with many young Muslims.
"But we're talking about metal here, which is loud."
Maudya Mulyawati, a student at the school, felt the band should focus on singing "Salawat", an invocation to the religion's founder, Prophet Mohammad.
An official of a top clerical body said although the group might trigger a culture clash in a conservative area, he did not feel it broke with Islamic values.
"I see this as part of the creativity of teenagers," added Nur Khamim Djuremi, secretary general of the Islamic Art and Culture Division of Indonesia's Ulema Council. (Writing by Ed Davies; Editing by Clarence Fernandez)
http://timesofindia.indiatimes.com/business/international-business/indonesias-hijab-wearing-muslim-metal-group-challenges-stereotypes/articleshow/58895956.cms
--------
The Face Veil Is Not British and the Muslims Should 'Lead the Charge' Against It, Says Baroness Warsi
29 MAY 2017
British Muslim communities must "lead the charge" against the face veil, according to Baroness Warsi, who said the covering has "no place in the landscape".
Baroness Warsi, who made history as Britain's first Muslim Cabinet member, said the veil has no purpose in British Islam. However, she is opposed to an outright ban, saying that as a civil libertarian she does not want the government to dictate what women wear.
Speaking at the Hay Festival, Baroness Warsi said: "I have an issue with the veil because I don't think it's a British manifestation.
"The veil was used in pre-Islamic days by well-to-do women who went to the market and didn't want to hang out with the plebs. It was used in Saudi Arabia for the women who were considered to be the revered ones, and I presume if you were running through the desert it was good because you didn't get sand in your face.
http://www.telegraph.co.uk/news/2017/05/29/face-veil-not-british-muslim-community-should-lead-charge-against/
--------
Daughter of Muslim Sanskrit Teacher Tops High School
May 30, 2017
VADODARA: Since 1998, her father teaches Sanskrit along with English at MES Boys' High School in minority-dominated Yakutpura area of the city. On Monday, this teacher - Aabid Saiyad - also became a proud father as his daughter Izmabanu Saiyad topped the city with 583 out of 600 marks spreading joy in the family in the holy month of Ramadan.
After scoring 97.16% with 99.99 percentile, Izmabanu, a student of New Era Girls High School at Bhutdi Zhampa, now wants to become a MD gynaecologist.
"My mother Sehmidabanu recently had to undergo operation. Most women in our society and especially in our community face several gynaecological problems. So, I want to become a MD gynaecologist to help such women," said Izmabanu, who ended her fast in the evening with `iftaar'.
Izmabanu, a resident of Hathikhana, said her father has always been a great support."While I did all the studies at my own, my father has always wanted me to excel," she said.
Interestingly, it is because of teachers like Aabid that the number of Muslim students learning Sanskrit has witnessed a rise in Yakutpura."Earlier, there were only 40 students who used to take up Sanskrit. Now, of the 300 students that we have in the school, nearly 160 students take Sanskrit as an option. These students select Sanskrit as an option even as we provide them other options like Persian and Arabic," said Aabid. Another girl - Krina Patel - a student of Jai Ambe Vidyalaya, also made her mark by scoring 582 out of 600 marks with 97 % and 99.99 percentile.
"After pursuing science in standard11 and standard12 with maths, I want to pursue my career as an IT engineer from one of the prestigious IITs of the country," said Krina, whose father Shailesh Patel works as a civil engineer in a private firm while mother Urvashi Patel is a housewife.
http://timesofindia.indiatimes.com/city/vadodara/daughter-of-muslim-sanskrit-teacher-tops/articleshow/58901724.cms
--------
Two Maranao Muslim Women Defend Christians
By: Ryan Rosauro
May 30, 2017
ILIGAN CITY—Two Maranao women put their lives on the line to defend Christians when terrorists from the Maute group attacked Marawi City on Tuesday, prompting President Duterte to declare martial law in all of Mindanao.
Cris, a Bisaya (as Muslims and "lumad" [indigenous people] call non-Muslims) who lived with his family in Marawi, recalled that when a group of terrorists barged into the gun store in Basak Malutlut where he worked, "Ma'am Farida confronted them."
"The confrontation was really eye to eye, which indicated the seriousness of the message and the personal resolve that Ma'am Farida was showing [to the gunmen]," Cris said.
The group's leader ordered the guns and ammunition in the store hauled off and questioned Farida about her employees.
Farida stepped back to stand between her 13 male employees who were huddled together and the group of about 10 terrorists.
"You have to kill me first before you can even touch them!" Cris quoted Farida, speaking in the Maranao language, as telling the terrorists, mostly boys in their late teens.
Cris is one of Farida's 17 employees who man her family's two gun stores in Marawi, one in Basak Malutlut and another in Banggolo district, which was also looted.
At the start of the siege, 13 of the employees were in the Basak Malutlut store while four where in the Banggolo store.
Most of the 17 have been employed by Farida for more than a decade. Many live with their families at a compound in Basak Malutlut.
Had the terrorists seized them, their families would have been taken, too, Cris said.
Although official statistics show that non-Muslims account for just 1 percent of Marawi's population, the actual proportion could be higher, as many Bisaya work and live in the city, mostly in commercial establishments and in the homes of well-off families.
These Bisaya have learned to speak Maranao and have assimilated well into the community.
The bulk of the non-Muslim population lives on the campus of Mindanao State University (MSU), designed as a social laboratory for cross-cultural interaction among the peoples of Mindanao, Sulu and Palawan.
Moro insurgency
Although without religious underpinnings, the Moro insurgency has created tensions between Muslims and Christians, especially in the conflict areas.
Decades of efforts at interfaith dialogue have contributed much to easing the situation. But the advent of Islamic radicalism has shaken anew these fragile relations.
The beheading of two sawmill workers by Maute terrorists in Butig town last year sent a chill through the Christian community in the city and caused unease even among Muslim employers.
Cris said he believed that because the gun store employees were not harmed, the terrorists might have been interested in their technical skills.
When the terrorists left, Farida ordered the employees to get their families and led them to a relative's house in Bangon, 6 kilometers away, Cris said.
There they were fetched by Farida's uncle and taken to the family home in Padian, near the lake, where they were joined by the four other employees from the Banggolo gun store.
The following day, they crossed the lake to Binidayan town and from there traveled to Iligan City.
Escape to Iligan
At about 5 p.m. on Tuesday, as the terrorists took control of Marawi's main districts, Zaynab, a development and humanitarian relief worker, was counting Christians who had taken refuge in the center.
The following day, she gathered 20 of them, several staffers and a family member, and put them in vehicles that took them to Iligan, traveling the long southern route through Malabang to avoid the gridlock on the Iligan-Marawi road.
They traveled for 15 hours—thrice the normal time of the ride to Iligan—skipping meals, which was risky for a diabetic like Zaynab.
"I never minded the danger. I was prepared to die first before they (terrorists) could harm the Christians," she said.
http://newsinfo.inquirer.net/900748/2-muslim-women-defend-christians
--------
Pakistan Arrests Afghan Women Traveling on Fake Passports
May 29, 2017
ISLAMABAD, PAKISTAN
Immigration authorities in Pakistan have arrested three Afghan women before they boarded a flight to London using fake British passports.
Officials told VOA two employees of the state-run Pakistan International Airline have also been arrested for assisting the Afghan nationals at the Islamabad airport to fraudulently undertake the journey. The men, they said, are suspected of having links to a "major human trafficking network."
The women have told investigators they had paid "$20,000 per person to human smugglers in Kabul" and arrived in Islamabad on a PIA flight a day before airport immigration officials intercepted and stopped them late Sunday, officials said.
The detainees are said to have revealed a British national and a Pakistani citizen, both at large, played a key role in helping them obtain British passports.
Human smugglers are operating in Pakistan allegedly with the help of influential political figures. They are involved in trafficking Pakistanis in search of better job opportunities and Afghans who want to flee years of conflict in their country, to European destinations.
Pakistan's beleaguered national carrier is already under investigation after heroin was found on two of its London-bound passenger aircraft earlier this month.
British Border Force officials impounded a PIA flight from Islamabad on May 15, apparently on a tip-off from Pakistani counterparts and found narcotics hidden in parts of the plane. A week later, counter-narcotics authorities at the Islamabad airport seized more than 20 kilograms of heroin from another Heathrow-bound PIA flight.
https://www.voanews.com/a/pakistan-arrests-afghan-women-traveling-on-fake-passports/3875604.html
--------
URL: https://www.newageislam.com/islam-women-feminism/indonesia-hijab-wearing-muslim-metal/d/111343
New Age Islam, Islam Online, Islamic Website, African Muslim News, Arab World News, South Asia News, Indian Muslim News, World Muslim News, Women in Islam, Islamic Feminism, Arab Women, Women In Arab, Islamophobia in America, Muslim Women in West, Islam Women and Feminism