New Age Islam News Bureau
24 March 2013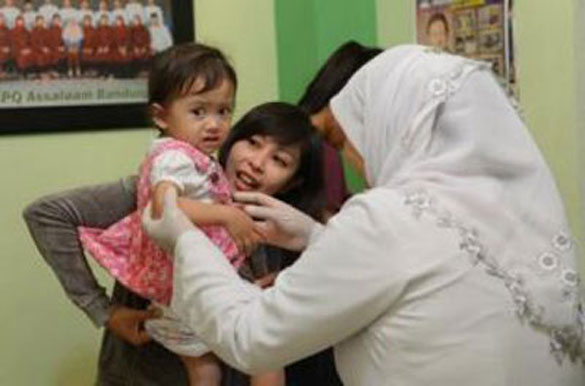 Photo: An Indonesian toddler with her mother preparing to have a female circumcision
---------
• Female Teachers Denied Payment for Extra Work in Saudi Arabia
• 'Push for Prevention, End of Violence against Women, Girls'
• Muslim Girl Scouts in Michigan Considered As the Biggest Muslim Scout Group in the US
• Saudi Women Eye Strong Presence in Sports Clubs Very Soon
• One Million People Sign Petition to End Flogging Of Women and Children in the Maldives
• Women in White March to Defend Algeria Tradition
• Stories of Resilience Dominated the First I F F W In Afghanistan
• Afghan Women's Photo Exhibit Comes to Capitol
• Past, Future of Afghanistan Women Subject Of Panel
• New Network Launched In Pakistan to Empower Women
• Three Exemplary Women honoured on Mother's Day
• Jazz4kids Brings Music Elements To The Youngest Audience In Cairo
Compiled by New Age Islam News Bureau
URL: https://newageislam.com/islam-women-feminism/indonesia-ignores-un-ban-female/d/10878
----------------
Indonesia Ignores UN Ban on Female Circumcision, Denies Mutilation
March 24, 2013
Bandung. Thrashing wildly, 5-year-old Reta wails as she is hoisted onto a bed during a circumcision ceremony in a school-hall-turned-clinic on Java.
"No, no, no," she cries, punching and kicking as her mother cups her tear-soaked face to soothe her.
Doctors clap and cheer encouragingly. One of them gently swipes her genital area with antiseptic and then swiftly pricks the hood of her clitoris with a fresh sewing needle, drawing no blood.
The ordeal is over in seconds as other girls and babies waiting for their turn shriek in fear.
Doctors say the procedure will have no effect on the girl, her sexual pleasure in later life or ability to bear a child.
"I'm happy. My daughter is now clean," Yuli, a 27-year-old seamstress, told AFP at a mass circumcision of 120 girls and babies at the Assalaam Foundation's Islamic school, in the West Java city of Bandung.
She believes the ritual will nevertheless have an effect.
"Many girls are getting pregnant out of wedlock these days. Circumcision hopefully will prevent my daughter from becoming oversexed, and will make her less amorous when she grows up."
Indonesia, home to the world's biggest Muslim population, argues that this form of circumcision is largely symbolic, not harmful and should not be seen as mutilation.
The United Nations thinks otherwise. In December it passed a resolution banning female genital mutilation, which extends to the circumcision practiced in Indonesia.
Procedures such as pricking, piercing, incising, scraping, cauterization or burning that are carried out for non-medical purposes are classed by the World Health Organization as mutilation along with practices that alter or remove any part of the genitals.
The more extreme practices can lead to severe bleeding, urination problems and complications during childbirth, according to the WHO.
A ritual dating back thousands of years and typically seen in parts of Africa, Asia and the Middle East, its most brutal forms require stitching together the inner and outer labia, or excising all or part of the clitoris.
Indonesia says that genital cutting does not take place and that it has worked to eradicate other more severe circumcisions as it seeks compromise between conforming to international standards and placating cultural and religious traditions.
It banned female circumcision in 2006 but backtracked in 2010, arguing that many parents were still having their daughters circumcised but often by unskilled traditional doctors who often botched the procedure.
"It's impossible to ban a longtime tradition," Health Ministry official Budi Sampurno said. "When we banned it in 2006, people turned to untrained traditional healers instead. We had to regulate it to ensure the safety of women and children."
In response to the ban, The Indonesian Ulema Council (MUI), the country's top Islamic clerical body, issued a fatwa in 2008 allowing the practice but did not make it compulsory.
'Impossible' to ban longtime tradition
Religious leaders and adherents say they are following the practices of Prophet Mohammed.
However, "Islam does not force girls to be circumcised," MUI chairman Amidhan said.
While no official data is available to measure the extent of the practice in Indonesia, it is common in the country of 240 million people, according to aid agencies.
A 2003 study by the Population Council found that 22 percent of 1,307 female circumcision cases were excisions, meaning part of the clitoris or labia was removed. Of the rest, 49 percent involved incisions while 28 percent were "symbolic."
Researchers say the situation has improved in the past 10 years.
A 2009 study led by Jurnalis Uddin, a doctor and lecturer from Jakarta-based Yarsi University showed that 18 percent of health institutions still performed female circumcisions but that these did not extend to cutting the genital area.
"The situation now in 2013 is certainly different from 2003. People are now more educated about safe circumcision procedures and they also know that they can report harmful methods to the authorities," Artha Budi Susila Duarsa, a lecturer also at Yarsi who helped devise the 2009 study, told AFP.
"If there is excision, the number must be significantly lower [than in 2003]," he added.
Jakarta issued a 2010 regulation allowing "scraping the clitoral hood, without injuring the clitoris," while criminalizing more severe procedures — a regulation that is nevertheless defined by the WHO as mutilation.
Islamic foundations like the Assalaam Foundation in Bandung say they ditched the scissor-snipping for pin-pricking.
"In the past, we had used one or two doctors and more traditional healers and they used scissors to snip a bit on the hood. We abandoned that method many years ago," Assalaam's coordinator Eulis Sri Karyati said, adding that certified doctors carried out procedures at the school.
Sampurno said Indonesia wants to replace scraping with swiping "with a cotton bud," hoping that the UN would not see this as mutilation. Jakarta has not indicated how it would enforce it in such a populous nation.
'A religious obligation'
Some reports allude to more severe forms of female circumcision still being carried out in Indonesia, especially in remote areas where the belief is strong that the practice would cleanse girls.
"The effectiveness of government regulations is questionable," Martha Santoso Ismail, who is overlooking harmful traditional practices at the United Nations Population Fund (UNFPA), told AFP.
"Circumcision is still taking place and I can't rule out that more severe forms of circumcision other than pin-pricking could be done by untrained non-medical persons," she added.
In Aceh province, Indonesia's Islamic stronghold where partial shariah law is implemented, people are so indoctrinated into the practice that opting out is considered immoral, rights activists say.
"Almost every girl in Aceh is circumcised. Parents see it as a religious obligation and turn a deaf ear to any opposing view and look down on those who don't circumcise their children," provincial National Commission on Violence Against Women official Azriana said.
Despite the UN resolution, the custom still has deep meaning for Indonesian Muslims and will likely remain, officials say.
Housewife Tita Lishaini Jamilah, 28, who also took her baby to the clinic for a circumcision ceremony, said Indonesia should not bow to the UN's ban on the practice, insisting that the ritual was safe.
"Why would any parent hurt her child? If any doctor were to mutilate my daughter, I'd be the first to protest," she said.
http://www.thejakartaglobe.com/news/indonesia-ignores-un-ban-on-female-circumcision-denies-mutilation/581699
----------------
Female Teachers Denied Payment for Extra Work in Saudi Arabia
24 March 2013
Female public school teachers who have participated in the campaign to eradicate illiteracy have requested payment from the general presidency for the adult literacy classes they teach after school hours. They have not received a response from the Ministry of Education to date.
Maha, a teacher who did not want her full name disclosed, confirmed to Arab News that she did not receive entitlement payment for adult literacy classes since the beginning of the school year.
Apart from their salaries for teaching students during the morning hours, Maha revealed that the teachers were promised SR 75 for each two-hour session they taught in afternoon literacy classes, a sum which amounts to SR 3,600 a month. She added that the general presidency responded to their complaints by stating they have no right to claim, as their salaries cover evening literacy classes and that they were only promised bonuses.
According to Maha, failure to compensate teachers begs the question as to why they should have to work in the evening.
She disclosed the difficulties teachers face in trying to communicate with the general presidency's office. She noted that in their last correspondence with authorities, they were told that their claims were sent to Riyadh, but not to expect their bonuses to be released until the end of the school year.
Despite these obstacles, Maha has expressed hope that the Department of Education would not neglect their rights and that the problem remains as to when they will receive their entitlements.
Fatima, another teacher who did not want her full name published, said the decision to teach adults literacy courses was optional but that teachers did not know there would be delays in their compensation.
She recalled that at the beginning, the teachers were enthusiastic about the illiteracy campaign, but their excitement has dwindled as the school year draws to a close without having received any compensation.
She also indicated that most teachers have vowed not to participate in the campaign next year, adding that the illiteracy program was not a new initiative, but that in previous years, teachers were compensated monthly with around a quarter of their salaries.
Laila Al-Ghamdi, another teacher participating in the illiteracy campaign, said that 80 percent of teachers offering adult literacy classes in the evening did not receive their entitlements. She further clarified that Rahmah Idriss, director of the adult literacy campaign, is assisting the teachers with their claims. However, the response from officials is that they are still trying to reach officials in Riyadh.
http://www.arabnews.com/news/445881
----------------
'Push for Prevention, End of Violence against Women, Girls'
Mar 23rd, 2013
By ARTHUR MWANSA
ZAMBIA is among four southern African countries that have been challenged at the just-ended 57th session of the Commission on the Status of Women (CSW57) to push for the prevention and end violence against women and girls in the region.
Other countries are Zimbabwe, Botswana and South Africa.
According to a statement issued to the Femail on Wednesday by Gender Links communications manager Katherine Robinson only 45 member states of the commission reached the agreement to prevent and end violence against women and girls.
Ms Robinson said according to United Nations Women executive director Michelle Bachelet although the final document is unavailable and it is not clear which member states of the commission agreed to conclusions; the draft document seems to meet African Women's Caucus (AWC) recommendations.
Ms Robinson said the AWC, which represents all sub-regions of Africa, released a statement before the end of the CSW57 expressing concern that some member states were making attempts to go back on commitments already made on the rights of women and girls.
She said the AWC also called on member states to re-affirm commitments to resolutions and conventions such as the Bejing Platform for Action, the Convention on the Elimination of All Forms of Discrimination against Women.
Ms Robinson said "We the undersigned organisations and individuals across the globe are again concerned that the UN CSW is wavering in its commitment to advance women's human rights considering the lack of an outcome document last year, we hope that this is not the pattern when it comes to advancing women's human rights agenda. Women's rights are not to be negotiated away".
She also said the Commission was under pressure to ensure that conclusions were agreed upon considering that the CSW56 came to nearly nothing, especially against the backdrop of cautionary statements released by a number of organisations prior to the close of the CSW57.
Ms Robinson said the agreed conclusions place emphasis on gender inequalities in the political, economic and social spheres also focusing on prevention through formal and non-formal education as well as the role the media and communities play in the elimination of gender stereotypes.
http://www.daily-mail.co.zm/?p=1527
----------------
Muslim girl scouts in Michigan considered as the biggest Muslim scout group in the US
24 Mar 2013
A growing number of young Muslim girls are joining Girl Scout troops in southeast Michigan, forming new friendships based on faith and aspiring for taking new leadership roles when they get older.
(Ahlul Bayt News Agency) - "We want them to be strong and take on leadership roles in the future," Rana Alaouie, who's a volunteer and has two daughters in the group, told Arab American News on Thursday, March 21.
Offering girls role models, the group volunteers teach them to face bullying with love. "We teach them that bullying is wrong and Islam teaches us to love one another," she said. Considered as the biggest Muslim scout group in the US, the Muslim Girl Scouts troop of southeast Michigan has about 250 members.
Through the group the girls are embracing American culture and their faith. Its members reside in different cities in the region, and meet once a week. Almost all big Islamic centers or mosques in the United States organize scouting troops for their local communities.
In All Dulles Area Muslim Society Scout (ADAMS), one of the largest American Muslim organizations in US, there are more than 200 scouts; boys and girls. According to the Boy Scouts of America, Muslim scout troops have been increasing over the past two years.
It says about 2,000 scouts are enrolled in some 112 troops through Islamic schools and mosques. For Muslim girl scouts, their exact number is unknown especially that many of them join predominantly non-Muslim troops. Giving them better information about faith, the group offered girls better opportunities to form strong friendships with their colleagues.
"I've been in the group for years, and a lot of us have watched each other grow up," Janan Wutwut, who has been a member for years in the Muslim Girl Scouts troop of southeast Michigan, said. "It's more than just a Girl Scout troop."
Working for years as a member of southeast Michigan Muslim Girl Scouts, Wutwut was grateful for the group for offering her better information about Islam. Over the past years, she has also managed to make close friendships with her colleagues.
"We're forming strong friendships and learning a lot about each other," she said. "I've learned so much about my faith as well." "It's a great experience, when we have our own kids we want them to be in it," she added.
Hawra Yassine, 21, another volunteer, praised the group because of the opportunities and friendships its members form. "It's a wonderful thing to watch these girls mature and grow," she said. Although there are no official estimates, the United States is estimated to be home to 7-8 million Muslims.
http://abna.ir/data.asp?lang=3&id=402360
----------------
Saudi women eye strong presence in sports clubs very soon
March 24, 2013
JEDDAH — Saudi women are looking forward to having a strong presence in the Kingdom's sports clubs soon. They pin great hopes on a study, which is being carried out in this regard in line with the directives of Prince Nawaf Bin Faisal, head of the Youth Welfare Presidency.
The outcome of the study would be unveiled in the near future, according to reliable sources. Confirming this, Ahmad Rawzi, director of the Presidency's office in Jeddah region, said that this is one of the most important issues that are under the consideration of the presidency at present.
Full report at:
http://www.saudigazette.com.sa/index.cfm?method=home.regcon&contentid=20130324158187
----------------
One million people sign petition calling for end to flogging of women and children in the Maldives
By JJ Robinson | March 24th, 2013
An online petition calling on the Maldivian government to end the practice of flogging women and children for the crime of fornication has been signed by more than one million people worldwide.
The Avaaz.org petition, titled 'Horror in Paradise', follows the sentencing of a 15 year-old rape victim to 100 lashes and eight months house arrest, for confessing to a separate instance of fornication during the investigation into the alleged murder of her baby. The child was found buried in an outside shower area.
Full report at:
http://minivannews.com/politics/one-million-people-sign-petition-calling-for-end-to-flogging-of-women-and-children-in-the-maldives-55045
----------------
Women in white march to defend Algeria tradition
Algerian women march on Thursday 21 March calling to revive their Islamic traditions
24 Mar 2013
Covered from head to toe in white, their faces partly masked by embroidered triangular cloths, Algerian women marched through the capital Thursday 21 March to defend their traditional Islamic dress.
"We want to sweep away these clothes which come from Saudi Arabia, black, sad and stifling under the sun, to return to our traditional 'haik' which is the pride of Algerian women," said one, posing in front of the landmark central post office in Algiers.
Full report at:
http://english.ahram.org.eg/NewsContent/5/35/67592/Arts--Culture/Stage--Street/Women-in-white-march-to-defend-Algeria-tradition.aspx
----------------
Stories of Resilience Dominated the First I F F W In Afghanistan
Light at the end of the tunnel
NUPUR BASU
March 23, 2013
Stories of resilience dominated the first International Film Festival on Women in Afghanistan.
Around 700 years ago, Queen Goharshad, wife of a Timouri heir, is said to have inspired a Renaissance in Herat, Afghanistan's western province. Seven centuries later, a group of women filmmakers in Afghanistan have inspired a similar change in their war-ravaged country. The historic city of Herat, close to the Iran border and the setting for Khaled Hosseini's celebrated novel A Thousand Splendid Suns, played host to the First International Film Festival on Women from March 6-9.
Full report at:
http://www.thehindu.com/features/magazine/light-at-the-end-of-the-tunnel/article4533217.ece
----------------
Afghan Women's Photo Exhibit Comes to Capitol
By Julie Ershadi,Roll Call Staff
March 22, 2013
International advocates for women and girls are bringing an exhibit of telling photographs to the attention of lawmakers from countries that have been coalition partners in the decade-long war in Afghanistan, including the United States.
The exhibit, called Women Between War and Peace, launched on Capitol Hill in March and is a production by the Art Works Project, a human rights advocacy organization that uses art and design to raise public awareness of issues around the world.
Full report at:
http://www.rollcall.com/news/afghan_womens_photo_exhibit_comes_to_capitol-223384-1.html?pos=oathh
----------------
Past, future of Afghanistan women subject of panel
Mar. 22, 2013
BY DAWN BAUMGARTNER VAUGHAN
ORANGE COUNTY —Carolina Friends School hosted a discussion Thursday about girls' education in Afghanistan that included differing opinions on U.S. involvement, hope, frustration and progress in the war-torn country.
Panelists at the private Quaker school event were Fahima Vorgetts, founder of the Afghan Women's Fund, and Abdullah Antepli, the Muslim chaplain at Duke University. Via Skype from Kabul, Afghanistan, Hassina Sherjan also joined the discussion, which was held to celebrate the 10th anniversary of Carolina Friends' Afghan Sister Schools Partnership. Sherjan is the founder of Aid Afghanistan for Education. She left Afghanistan as a refugee in 1979 and returned in 1999 to open underground schools for girls, then returned again to build schools in 2003.
Full report at:
http://www.heraldsun.com/news/x145781906/Past-future-of-Afghanistan-women-subject-of-panel
----------------
New Network Launched In Pakistan to Empower Women
24 March 2013
ISLAMABAD: A new network of professional Pakistani women has been launched to work collectively towards a positive change for Pakistan and empowerment of its womenfolk.
British Pakistan Foundation's Women Network (BPIFN) was launched at Pakistan High Commission in London in the presence of more than 150 successful Pakistani origin women from different professions, to create a mentorship and networking scheme exclusively for women who will then create contacts within Pakistan for social development projects.
Full report at:
http://thepeninsulaqatar.com/pakistan-afghanistan/230359-new-network-launched-to-empower-women.html
----------------
Three Exemplary Women honoured on Mother's Day
March 24, 2013 1
JEDDAH — The wife of the Lebanese consul general, Zina Atallah, held a reception on the occasion of "Mothers' Day," at the consul general's residence on Thursday evening.
The reception honoured three mothers who faced challenges in bringing up their children.
In her speech, Atallah paid tributes to all mothers in general for their roles in bringing up their children and caring for them up till they become grown up men and women.
"Today I'm very pleased to welcome all mothers here; I'm honoured by your attendance. As a mother myself, I can say that responsibilities of mothers are great; mothers do great efforts during their whole life in bringing up their children," Atallah said.
Full report at:
http://www.saudigazette.com.sa/index.cfm?method=home.regcon&contentid=20130324158197
----------------
Jazz4kids brings music elements to the youngest audience in Cairo
The Cairo Jazz Festival gives sample of music education with Jazz4kids workshop held at Darb 1718
24 Mar 2013
During two sessions, on 22 and 23 March, a group of children surrounded Susan Overmeer in the Darb 1718 garden, listening to and engaging in music activity. Overmeer was invited by Amro Salah, Cairo Jazz Festival's founder and director to participate in this year's festival with music workshops tailored for children.
Full report at:
http://english.ahram.org.eg/NewsContent/5/33/67576/Arts--Culture/Music/Jazzkids-brings-music-elements-to-the-youngest-aud.aspx
----------------
URL: https://newageislam.com/islam-women-feminism/indonesia-ignores-un-ban-female/d/10878