New Age Islam News Bureau
11 Feb 2015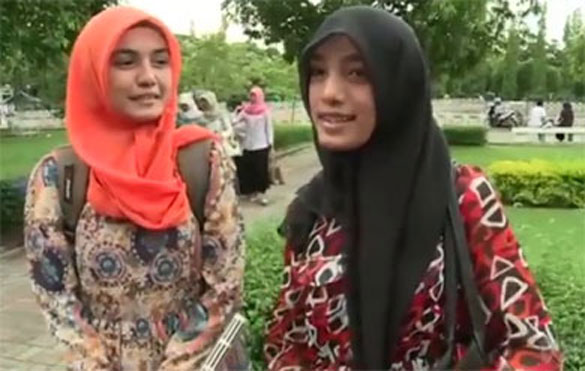 The Indonesian city of Jember is introducing compulsory virginity tests for high school girls
-----------
• Indonesia: Female Students Barred From Graduating If They Fail Virginity Test
• Boko Haram Kidnaps 8 Cameroonian Girls
• Muslim Female Converts: 'We're More Religious and More Hated'
• New Club Seeks Safe Place for Muslim Women
• Parents of American Woman Held by Islamic State Notified Of Her Death
• Inside The 'Islamic State Hijab Factory' Women Make Religious Robes for Toddlers
• Jamia Millia of New Delhi Starts an All-Women Canteen
• Altaf Hussain Conveys His Apology to PTI Women
Compiled by New Age Islam News Bureau
URL: https://www.newageislam.com/islam,-women-and-feminism/new-age-islam-news-bureau/indonesia--female-students-barred-from-graduating-if-they-fail-virginity-test/d/101472
-----------
Indonesia: Female Students Barred From Graduating If They Fail Virginity Test
Ludovica Iaccino By Ludovica Iaccino
February 10, 2015
The Indonesian city of Jember is introducing compulsory virginity tests for female high school students so they can be barred from receiving diplomas if found to have had sex outside of wedlock.
The decision was put forward by the town's municipal government with lawyers claiming that girls "have sex several times and with different partners", the Jakarta Globe reported.
Another lawyer said he hoped the proposal could expand to the whole East Java province - of which Jember is the third largest city.
"If they're not virgins anymore, don't let them pass. It may sound like a joke, but it's serious. It's for the sake of the future," he said.
According to Human Right Watch (HRW), this is sadly nothing new: the country's National Police have been forcing thousands of female students to carry out virginity tests since 1965.
In 2014 Indonesia announced that virginity tests had also become obligatory for female military recruits.
The decision to carry out such tests violates the Convention on the Elimination of All Forms of Discrimination against Women, of which Indonesia is signatory.
The country is also a party of the International Covenant on Economic, Social and Cultural Rights, which commits signatory countries to guarantee to individuals a range of rights, including the right to education.
"The Indonesian government can't feign ignorance about the abusive nature of such 'tests'," HRW said.
"The Indonesian government's tolerance for this violence against women and girls needs to end. President Joko Widodo should send a loud and unambiguous message forbidding 'virginity tests' by local government as well as the Indonesian military, police, and civil service.
"Until he does, high school girls and their education in Jember will remain in peril."
http://www.ibtimes.co.uk/indonesia-female-students-barred-graduating-if-they-fail-virginity-test-1487403
-----------
Boko Haram Kidnaps 8 Cameroonian Girls
February 10, 2015
CAMEROON- Residents in northern Cameroon say Boko Haram extremists have killed seven hostages and abducted eight young girls who were aboard a public transport bus hijacked by the militants over the weekend.
Chetima Ahmidou told The Associated Press on Tuesday that the bodies of seven victims had been dumped near Cameroon's border with Nigeria. Ahmidou's brother was the driver of the bus and was among those slain.
Ahmidou said that eight girls between the ages of 11 and 14 were taken back to Nigeria by the Islamic extremists. Boko Haram abducted more than 200 schoolgirls last year from Chibok an act which drew international condemnation.
Boko Haram has intensified its attacks in Cameroon and Niger over the past week after both countries agreed to provide soldiers to a multinational military force.
http://nation.com.pk/international/10-Feb-2015/boko-haram-kidnaps-8-camroon-girls
-----------
Muslim Female Converts: 'We're More Religious and More Hated'
By Radhika Sanghani
10 Feb 2015
Sarah Willis, 19, is a teenage Muslim convert who was accused of stabbing her boyfriend to death after rows about her "tight and short" clothing.
A few days ago, she was cleared of manslaughter charges against Muslim Bilal Saddique, 29, with whom she had been in a three year on-off relationship.
The court found her not guilty, after Willis insisted that Saddique accidentally stabbed himself during a violent row.
She said that Saddique, a strict Muslim, was a "controlling man" who would frequently argue with her about her "tight and short clothes", or "bright lips" and would often refer to her as a slag and a bitch.
On the night of his death last year, she said that Saddique accused her of sleeping with somebody else, and when she started collecting her things to leave the house, he told her: "Come on hit me, come on f***** stab me, if you hate me."
Willis said that she was holding a knife – something she was packing to take away – and he grabbed her hand, and stabbed himself in the thigh. He later died of the injuries.
It is a shocking case - and an extreme example of cultural clashes - but Willis' insight onto her life as a Muslim convert do shed light on the very real difficulties that some Western women face after converting to Islam.
Malaika Kayani, 49, runs a Nottingham-based group called Sisters in the Community, which aims to help vulnerable or isolated female Muslim converts who are struggling to fit into their communities.
"When you're about to convert everyone can be really excited and you're about to be embraced by this massive family," she explains. "But obviously the excitement dries down and a lot of converts end up feeling really isolated.
"As a convert you're in between two communities. The Western one you have been part of your whole life, and then the Muslim community you're trying to integrate in as well."
Kayani knows this feeling of isolation well – she converted to Islam aged 42 after befriending Muslims for the first time in her life.
"I imagined Islam to be oppressive and what little knowledge I had wasn't very positive," she tells me. "Particularly the men, but [when we started talking] I found they were very respectful and nothing like I'd imagined them to."
This is when she started exploring Islam: "I listened to the Koran and I felt like it had touched my soul. It was unexpected – I was a staunch feminist and a Buddhist. But I wanted to learn more, and Muslim people advised it was better to convert and learn it rather than learn from the outside. I thought, just go for it."
'He'll make you his slave'
So after living as a woman called Debbie for 42 years, Kayani changed her name and converted. It meant giving up alcohol, switching to halal meat, and eventually wearing a headscarf. Around the same time, she began a relationship with a Muslim man who is still her partner today, and the two have had a Nikah – an Islamic marriage - to legitimise their relationship in the community.
The religion is everything she wanted, but with her conversion came a new range of difficulties. She felt isolated from her previous life: "To say my family weren't happy was an understatement. Their first question was, are you going to have to cover up? My friends said if you get married to a Muslim man, he'll make you his slave."
Her 29-year-old daughter also decided to convert to Islam at the same time, and that brought with it more criticisms: "Most people think I have brainwashed her or scared her into becoming Muslim. But she'd tell you it's all her decision."
Her family are more supportive now, but she faces prejudice from people living locally in her predominantly white town. She doesn't wear her headscarf in her local area because of the looks and insults she receives – "It's not that I'm scared because it's dangerous; it's just uncomfortable. Sometimes you don't have the strength to be brow-beaten every day."
She tells me when she wears her headscarf on the bus, people avoid her – one elderly woman made her toddler grandchild sit on a dirty step instead of a spare seat next to Kayani – and the abuse is getting worse: "After the Paris attacks, it's even [worse]. I feel like it's high-risk going out with your headscarf on."
But at the same time, Kayani had issues trying to befriend existing Muslims: "I didn't really fit in. I was still learning. I didn't wear the headscarf and I was a bit different. They weren't all all-encompassing or all-embracing regardless.
"People try to encourage you to do better. So if you're not behaving a certain way or you don't know how to pray, or the way you're dressed – people will suggest ways you can practise better. If someone says 'you can't do this' I don't respond well to that. For a convert that can be a lot of pressure."
Khadijah Elliott, an English teacher, converted to Islam 10 years ago when she married one of her former students who was Muslim. Due to visa issues, the pair married in Kabul, but weeks after the wedding her husband disappeared, and Elliott was told by his family that he had been killed.
Devastated and confused, she returned to England and continued life as a Muslim woman. Like Kayani, she had issues from the local Muslim community: "If you come from an English background, a lot of Muslims find that difficult to understand. Because you have to change that and put aside a put of your own culture, you've got to either find a new one or hover between the two. It can be very difficult.
"Some families who are born Muslim want to stick to their own culture rigidly."
Elliott says that her husband never pressured her to convert, but says: "He'd been in this country for a few years so he'd adapted to the Western lifestyle. He encouraged me to find out things for myself."
'Misguided men put pressures on women'
But this isn't always the case. Kayani tells me she's aware of some women being pressured to 'be more Muslim' by their partners, in the way Willis says Saddique acted to her: "There are men that are misguided and think they have got to put the pressure on. I'm wondering if a lot of that is how they have been raised.
"There are also some people who say you can't be Muslim and be a feminist. But I disagree. Some women think it's their duty to be at home. But a lot of the women I know are happy to work or volunteer, like I do."
Some Muslims have also commented on the fact that she had her daughter out of wedlock back when she was 17 years old: "They look at you with disgust. I don't like any kind of attitude like that. We're in the 21st century. Most women convert with baggage and previous relationships and children so the Muslim community needs to wake up to the fact that these women are coming into their faith, embracing it, and probably practising it better."
This idea that religious converts are often more zealous than those born into the religion isn't exclusive to Islam, but it's one that Kayani thinks is really prevalent. Though it took her three years to wear a headscarf, she now regularly wears one and is learning Arabic in her spare time – something that many Muslim people have commented on in surprise.
"With the utmost love and respect to people who are born into the faith they're born into it without choice," she says. "But when you choose to get on board you're more passionate. Even a lot of Muslims born into it will say converts quite often strive to learn much more and make more effort."
Zara Gluch, a 29-year-old Muslim covert, tells me that this is definitely the case for her. She's originally from Poland and was brought up in a Christian household as Edyta Gluch, but converted to Islam when she was 22 years old, after her Muslim boyfriend began talking to her about his faith.
"When I was in Poland my friend once had a Muslim boyfriend and I remember saying to my mum, I would never go out with a Muslim man – I would never change my religion. But when I met my boyfriend, I read about it, and it was a totally different picture. Before it was bad and evil to me."
Now she's married to that same boyfriend, runs a DIY shop with him and the couple have two young children. She tells me: "He says I have more [Islamic] knowledge than him because I keep reading about it and studying it. I want to know everything.
"[People who are born into Islam] just go do whatever they saw their parents do and it's not always religious – most of the time it's culture. I'm more religious than my husband."
She has given up the short skirts, short-sleeved tops and high heels of her past in favour of loose clothing and a headscarf – even though her husband tried to persuade her not to wear the headscarf.
But Gluch says it's what she wants: "It's about covering yourself. Since I have started covering myself, I feel people respect me more, they look at me differently. People used to [catcall] me before and say things. Now they don't.
"I feel like Islam is the true religion for me."
http://www.telegraph.co.uk/women/womens-life/11390382/Muslim-female-converts-Were-more-religious-and-more-hated.html
-----------
New Club Seeks Safe Place for Muslim Women
February 10, 2015
The Clubs and Societies Fair at St. Thomas had a few new tables this year. One of them was the STU Muslim Women's Group, founded by third year student Sarah Crowell, a recent Muslim convert.
"When I converted to Islam I realized… no one knew each other," said Crowell. "Everybody is isolated from each other, kind of lost."
Crowell took it upon herself to provide a safe and comfortable environment for Muslim women by starting this group. She opened it up to UNB students as well as women from nearby colleges.
"I figured this would be a good way to bring everyone together so we can learn and grow."
Crowell said part of the challenges of being a Muslim in the West is the religious stereotypes. This group also teaches non-Muslims about what Islam truly stands for.
"If you translated the word Islam to English it would mean peace," Crowell said. "People sometimes forget that."
One of the most important duties of Muslim women, one that sets them apart from men, is wearing the Hijab. There are many variations of it – some women show their face and some don't. It depends on personal belief, but the common motivation is modesty.
"When people see the Hijab they're afraid that you're oppressed," said Crowell "but I want people to know that when I started wearing the Hijab I felt very liberated and free."
According to Crowell, making this a women-only group is necessary for the comfort of the women. Wearing the Hijab is not only about dressing more conservatively, but also behaving so as well. If men were present, the women would not be able to truly open up.
"We can discuss openly and speak our mind," said Crowell. "We can talk about anything."
Following strict rules can be difficult in a liberal society, so this group is also an outlet for women to socialize without breaking them.
"We can learn about Islam, and then take a break from the religion," she said. "It'll be a break from school as well, so we can have fun in an appropriate way."
Crowell said the feedback from the community regarding the new group has been positive.
"I've actually been surprised," she said. "I haven't heard anything negative yet, so I'm happy."
http://theaquinian.net/new-club-seeks-safe-place-muslim-women/
-----------
Parents of American woman held by Islamic State notified of her death
February 10, 2015
WASHINGTON: Kayla Jean Mueller, a 26-year-old American woman held by Islamic State militants, has been confirmed dead, her parents and the Obama administration said Tuesday.
Mueller's family received a private message from her captors over the weekend and the information contained in that communication was authenticated by the United States government.
The White House said the U.S. intelligence community has not been able to determine how or when she died.
"We are heartbroken to share that we've received confirmation that Kayla Jean Mueller, has lost her life," Carl and Marsha Mueller said in a statement. "Kayla was a compassionate and devoted humanitarian. She dedicated the whole of her young life to helping those in need of freedom, justice, and peace."
President Barack Obama said that Mueller, an aid worker who assisted humanitarian organizations working with Syrian refugees, "epitomized all that is good in our world."
"No matter how long it takes, the United States will find and bring to justice the terrorists who are responsible for Kayla's captivity and death," the president said.
The White House said Obama had spoken with Mueller's parents and offered his condolences and prayers.
Mueller, of Prescott, Ariz., is the fourth American to die while being held by Islamic State militants.
Three other Americans — journalists James Foley and Steven Sotloff, and aid worker Peter Kassig — were beheaded by the group.
Journalist Austin Tice, of Houston, Texas, disappeared in August 2012 while covering Syria's civil war. It's not clear what entity is holding him, but it is not believed to be the Islamic State group or the Syrian government, his family has said.
Mueller was taken into captivity in August 2013 while leaving a hospital in Syria. Her identity was long kept secret out of fears for her safety.
On Friday, the Islamic State had claimed that Mueller died in a Jordanian airstrike. Jordan, which has launched a barrage of strikes in recent days in retaliation for the gruesome killing of one of its pilots at the hands of the militants, disputed that report.
In the U.S., there was growing certainty that the claim from IS was false. White House spokesman Josh Earnest said that Jordan's airstrikes had targeted an IS weapons compound near the group's stronghold of Raqqa in northern Syria that had been targeted before, and there was no evidence that civilians were in the area ahead of the strike.
Added a U.S. intelligence official: "She was not killed in that airstrike."
Mueller's parents released a letter Tuesday that their daughter had written them while in captivity. In the undated letter, Mueller said she was, "in a safe location, completely unharmed."
"I am also fighting from my side in the ways I am able + I have a lot of fight left inside of me," she wrote. "I am not breaking down + I will not give in no matter how long it takes."
Secretary of State John Kerry said the U.S. was "unshaken" in its resolve to defeat the Islamic State, a group he called an "ugly insult to the civilized world."
Republican Sen. John McCain, who represents Mueller's home state of Arizona, said, "The thoughts and prayers of the people of Arizona, America, and the civilized world are with the Mueller family at this terrible hour."
Mueller's family said she graduated from Northern Arizona University in 2011 after just 2› years. In December 2012, she traveled to the Turkish-Syrian border to work with several humanitarian groups, including Support to Life and the Danish Refugee Council.
Mueller had also worked for aid groups in India, Israel and the Palestinian territories, as well as at an HIV/AIDS clinic and women's shelter in Arizona.
"We are so proud of the person Kayla was and the work that she did while she was here with us. She lived with purpose, and we will work every day to honor her legacy," Mueller's family said.
The New York Times reported that two people who had been briefed on the proof of Mueller's death said it consisted of at least three photographs, all headshots.
These people, who spoke on condition of anonymity because of the sensitivity of the subject, said two photographs showed Mueller in a black Muslim head covering, but that contusions to her face were visible. The third photo, they said, showed Mueller wrapped in a white burial shroud.
It was unclear whether the injuries seen in the photographs were consistent with the Islamic State's assertion that Mueller died last Friday.
http://www.ohio.com/news/break-news/parents-of-american-woman-held-by-islamic-state-notified-of-her-death-1.565745
-----------
Inside The 'Islamic State Hijab Factory' Women Make Religious Robes for Toddlers
11 February 2015
Photographs of women working under a strict regime in a Hijab factory feared to be run by terror group Isis have emerged on a new blog post.
The images show women decked in black from head to toe tailoring and stitching Hijabis, while children play around them.
Under the title 'The name of God and merciful', the blog was posted by the 'Information Office of the Mandate of Nineveh' - the same organisation which distributed pictures of public executions carried out by the militant organisation.
It is understood that the factory is based in the Nineveh Province in northern Iraq, which has been subject to attacks from the terrorist group ISIS.
Captions in the pictures, written in Arabic, describe the 'shaping and tailoring of Islamic veils in one of the Islamic State factories'.
Later, they describe 'Preparing Islamic veils for distribution to Muslims'.
Since it was uploaded on January 30, the latest blog has attracted more than 10,000 hits worldwide and been shared on social media sites.
The workers are pictured at work stations using black cloth to stitching together hijabs, the Islamic dress for women which covers the head and chest to protect their modesty.
The garments are stacked high on tables and wrapped in plastic bags, ready for distribution,
In one of the pictures, a young boy can be seen excitedly shouting as the women around him continue to work.
In Arabic, a title at the top of the webpage reads: 'Illustrated report on sewing and distribution of legitimate veil on Muslim women'.
As Isis has taken over swathes of territory across Iraq and Syria it has imposed Sharia law on citizens, which insists women must be fully clothed wearing hijabs, a niqab to cover their faces, gloves and an abaya, or cloak.
The precise location of the factory is not known, but Nineveh was an ancient Mesopotamian city whose ruins now lie across the northern Iraqi city of Mosul.
The city is now controlled by Isis after the group attacked stormed through in June 2014, as part of their campaign to create a new Islamic State.
An earlier post by the Information Office of the Mandate of Nineveh showed photographs of a series of public executions by Isis terrorists.
They included men accused of being gay being thrown off high towers, a woman accused of adultery being stoned to death and others being crucified after being sentenced for 'banditry'.
The International Business Times reported in January how Isis militants were believed to have executed five men, because their wives were not wearing hijabs properly.
The slaughter happened is Mosul, a stronghold for the terror group in northern Iraq.
Additional reports suggest the extremists had set up road blocks in regions under their control to inspect women and make sure they were dressed according to Sharia Law.
The original blog post can be found at http://nasher.me/hijab/.
http://www.dailymail.co.uk/news/article-2942710/Inside-hijab-factory-New-blog-post-Isis-source-shows-women-stitching-Islamic-dress-covered-head-toe-black.html
-----------
Jamia Millia of New Delhi Starts an All-Women Canteen
MOHAMMED ANAS
7th Feb 2015
Nazmeen and Shameen Fatima, two sisters from Batla House in South Delhi, rush to Jamia every morning and meet in the afternoon over lunch in the campus canteen. One sister cooks, the other eats. Yes, that's how the staff of the newly opened all-women canteen at Jamia Millia Islamia, caters to students, who include many of their kin and cousins. "So, the taste of home stays with us even in the university," said Shameen, who occasionally takes time out of her classes to help her sister in the canteen kitchen.
A joint venture of the university's outreach programme and Ekta, a Jamia Nagar-based women self help group run by the Zakir Hussain Memorial Society, the canteen, very adequately named Dastarkhwan (dining mate), aims to empower the women from the localities surrounding Jamia and inculcate in them a sense of entrepreneurship.
"We have hired around 20 women, both married and unmarried, from various localities in Jamia Nagar. Most of them come from very underprivileged and conservative backgrounds. The canteen is an effort to introduce them to the world outside their homes. And what could be better than employment on a university campus, feeding students and teachers?" asked Towheed Fatima, a member of Ekta and in-charge of the canteen.
Fatima also added that the canteen, inaugurated on 16 January by Salma Ansari, wife of Vice President Hamid Ansari, had started as a serving canteen. "But some women bearers didn't feel comfortable and so we have made it self-service," she said.
For most of the staff, the canteen is both employment and a learning experience. "I have spent an ample amount of time in the kitchen at home. I have cooked for several of my siblings daily and hence working here is not at all exhausting. Rather, working in a group and picking up some campus lingo is more exciting for me," said Chandni, who looks after the vegetable section of the kitchen.
Ishrat, an expert in non-vegetarian items, said that students prefer home delicacies like qorma and aloo gosht. "Students say that they are coming here because of the aroma of our food. I try to make all the items as they wish, like what most of them get at home," she said.
Ishrat is considered to be a chef specialising in making snacks. She prepares momos, basan pyaz pakodas, adrak chai, etc. "These items get sold every evening like hot cakes. Students gather by that time and have a copious amount of tea with pakodas," Ishrat said. Her colleague Nasreen helps her in her chores.
Jamia students, who have recently complained of the the central canteen's routine menu and the bazaru quality of the food, seem happy to find a home like kitchen on campus. "The food is not only delicious but the staff is very generous. Since the canteen hasn't employed staff from outside, we also trust their hygienic concerns," said Layma Parveen, a BA final year student and her classmates.
The canteen is one of its kind in the capital and if it emerges as a successful effort, Jamia officials plan to take it to other campuses as well. "The canteen is the result of our vice chancellor, Professor Talat Ahmad's emphasis to promote gender equity in the surroundings of the university. We plan to coax other universities to open such canteens on their campuses," said Mukesh Ranjan, the media coordinator of Jamia.
http://www.sunday-guardian.com/news/jamia-millia-starts-an-all-women-canteen
-----------
Altaf Hussain Conveys His Apology to PTI Women
February 10, 2015
ISLAMABAD- Muttahida Qaumi Movement chief Altaf Hussain today apologized for his remarks against Pakistan Tehreek-i-Insaf women including Shireen Mazari.
"I apologise to all the women who were offended by my remarks," Hussain stated. "I even apologize to Shireen Mazari," Altaf Hussain added.
Earlier today, PTI chief Imran Khan said that he would not tolerate derogatory words used by Hussain against PTI women.
Altaf had reportedly used derogatory terms while describing one female PTI leader.
http://nation.com.pk/national/10-Feb-2015/altaf-hussain-conveys-his-apology-to-pti-women
---------
URL: https://www.newageislam.com/islam,-women-and-feminism/new-age-islam-news-bureau/indonesia--female-students-barred-from-graduating-if-they-fail-virginity-test/d/101472