New Age Islam News Bureau
31 Aug 2013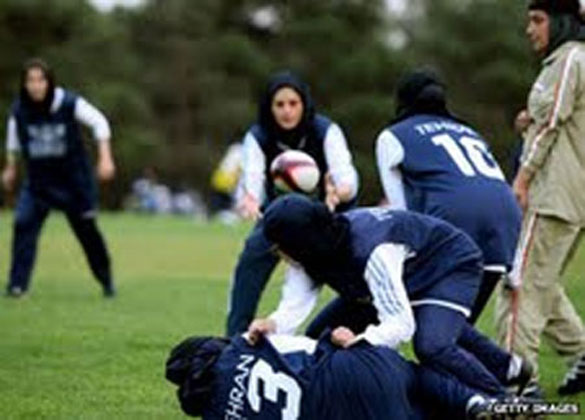 Photo: Iranian women playing rugby
------------
• Some Restaurants in Jeddah Employing Female Hostesses despite Ban
• 53 Percent of Pakistani Women Want Motorbikes
• Won't Tolerate Child Marriages: Indian Social Welfare Minister
• Committing To Real Change for Women and Children in Malaysia
• 7 New Girls' Schools to Be Opened In N. Jeddah
• Saudi Ministry to Tackle Transport of Female Factory Workers
• Pakistan Government to Launch Women Empowerment Initiatives
• MDP files complaint against First Lady of Maldives
• Kenya: Muslim girls School Campus Ready
• High Hopes for Victims of Female Genital Mutilation
• Interpreter Gives Voice To Afghan Women
• Iran: Conservatives in Ruckus over Women's Rugby
Compiled by New Age Islam News Bureau
URL: https://newageislam.com/islam-women-feminism/india's-sit-probe-arab-national/d/13298
------------
India's SIT To Probe Arab National's Marriage with Minor Girl
PTI | Aug 31, 2013
KOZHIKODE: A Special Investigation Team has been constituted by police to probe the case involving an Arab national marrying a minor Muslim girl who was residing in an orphanage here and divorcing her later.
Police said a list of 11 accused, including five officials of the orphanage, had been submitted before the Judicial First Class Magistrate court here.
The case relates to UAE national Jasem Mohammed Abdul Karim Abdulahmed marrying the 17 year-old girl from the orphanage in June last. He left the country in July and divorced her through 'triple talaq' over phone.
Police said they were trying to extradite Jasem, who has been named the first accused in the case. The accused, son of a UAE-Malayali couple, who had resided in India for six years, later adopted the domicile of his father, police said.
Three persons have already been arrested in connection with the case--Sulaika, the mother of Jasem, her second husband C Muneer, and Abu Shahabaz.
The accused have been charged under various sections of IPC for Rape, Prohibition of Child Marriage Act, Juvenile Justice Act and Protection of Children from Sexual Offences Act.
Police took evidence from the girl, her family members from Malappuram and the orphanage authorities, who allegedly facilitated the marriage.
Jasem had given to the girl's family a gold chain worth six sovereigns and a mobile phone worth Rs 20,000, besides incurring the expenses for the marriage, police said.
The girl's plight came to light after she filed a complaint before the Child Welfare Committee, alleging that orphanage authorities forced her to marry the UAE national, who deserted after spending 17 days with her.
Women activists, political leaders and NGOs in Kerala had expressed outrage over the girl's plight and demanded a legislation to check the social menace of 'Arabi Kalyanam' (Arab wedding), in which minor Muslim girls are forced into marriage with Arab nationals.
http://timesofindia.indiatimes.com/city/kozhikode/SIT-to-probe-Arab-nationals-marriage-with-minor-girl/articleshow/22181551.cms
------------
Some Restaurants In Jeddah Employing Female Hostesses Despite Ban
JEDDAH: FADIA JIFFRY
31 August 2013
Even though the Ministry of Labor made it clear in June that the employment of women in restaurants should be limited to kitchen duties, some restaurants have been hiring female Saudi hostesses to welcome guests at their family sections.
"Women are still banned from working as waitresses and cashiers in restaurants and are only allowed to work in the kitchens of these establishments," said Fahad Al-Tukhaifi, assistant undersecretary for Development at the Ministry of Labor.
A senior official at the Ministry of Labor said the ministry is taking serious steps to tackle women's unemployment in the private sector. It will implement the Shoura Council's decision to address the increasing number of Saudi women who want to work.
A well-known international restaurant chain based in Jeddah told Arab News they had hired female Saudi employees to serve as hostesses at their family section reception and to work in the kitchen. They said they had not hired any women as waitresses.
The restaurant official refused to give details about getting approval from the ministry and declined to discuss the issue further.
Al-Tukhaifi stressed that employers in violation of the ban would be penalized. Those who wished to hire women in certain sections of the restaurant should first get approval from the ministry.
"The only obstacle hindering women from working as waitresses or as cashiers in restaurants is the fear of harassment," said Dalal Kaaki, a Saudi businesswoman at the Makkah Chamber of Commerce and Industry (MCCI). "Harassment happens all around the world. Officials are worried women would be exposed to harassment, so they have banned them from working (in these positions).
http://www.arabnews.com/news/463070
------------
53 Percent Of Pakistani Women Want Motorbikes
31st August 2013
KARACHI: A research conducted by the Urban Resource Centre, Karachi, revealed that in 2010, the number of motorcycles in the city was one million. Given the accelerating rate, the Karachi Transportation and Improvement Project run under the City District Government Karachi (CDGK) estimated that the number would grow to 3.6 million by 2030. Motorcycle is an unsafe means of transportation, which results in scores of fatal accidents every year, and causes traffic congestion on city's major thoroughfares. What attracts the bike owners is the comparatively low cost, cheaper fuel expenditures, an easier way of commuting that saves time, and having a joy of owning a private vehicle, be it a two-wheeler! To the surprise of many, 53 percent of the female respondents of a survey conducted by the URC said that they would like to commute by motorbike, if given an option. The number of female commuters is now rapidly increasing, and the day is not far when women will be seen riding scooters, breaking the established tradition of a religious society.
http://www.dailytimes.com.pk/default.asp?page=2013\08\30\story_30-8-2013_pg7_19
------------
Won't Tolerate Child Marriages: Indian Social Welfare Minister
31st August 2013
Making it clear that the government would not tolerate child marriages in the state, Social Welfare Minister M K Muneer denied the allegation that the controversial circular, issued to give validity to marriages of Muslim girls of 16 years, was responsible for the 'Arabikalyanam.'
On the sidelines of a function here on Friday, M K Muneer told media persons that the controversial marriage held in Kozhikode should not be linked to the circular issue and the perpetrators in the incident would not get the protective cover of that circular.
Stringent action would be taken against those responsible for the incident as per law, he added.
The Social Welfare Minister said the government will take legal action against those responsible for the 'Arabikalyanam.'
http://newindianexpress.com/states/kerala/Wont-tolerate-child-marriages-Muneer/2013/08/31/article1760999.ece
------------
Committing To Real Change for Women and Children in Malaysia
31st August 2013
Women activists recently gathered to discuss the state of women's and children's rights in Malaysia.
THE function room at the Petaling Jaya Hilton was packed to the brim last Saturday with women's and children's rights advocates, policymakers, government agency representatives and civil society groups, all of whom were brought together to discuss the kinks in the law and enforcement of laws pertaining to women's and children's rights.
The public forum, The Rights of Women and Children: A National Concern, was initiated by the Attorney-General's Chambers and organised by the Razak School of Government and among the subjects discussed were gender roles and stereotyping, exploitation of women and children in laws and policies, healthcare as well as the efficacy of charter and conventions pertaining to the subject.
Made up of mostly women, the group of 120 or so participants was largely familiar with each other – the family of activists in Malaysia is not large but has a shared passion for justice and equality for women and the care and right-treatment of children.
Among those present were the director of Musawah, a global movement for the equality and justice of Muslim women, Zainah Anwar, director of the Women's Development Research Centre (Kanita) based at Universiti Sains Malaysia in Penang Dr Noraida Endut, Women's Aid Organisation executive director Ivy Josiah, Sharmila Sekaran from Voice of Children, Suhakam Commissioner James Nayagam, director of the International Women's Rights Action Watch-Asia Shanthi Dairiam and programme director of the Women's Centre for Change, Penang, Dr Prema Devaraj.
Many issues were raised at the forum. Zainah gave an impassioned presentation about the worrying trends in Islamic law reforms in the country that have been increasingly discriminative towards women. She urged the Government to look at international progressive scholarship on justice, equality and gender in Islam and allow Muslim women the equality that's accorded to non-Muslim women in the country, particularly in personal and family matters.
"There has been a regression in the rights of Muslim women in this country. Laws have become more restrictive and more intolerant and it is simply unacceptable. For Muslim women, the trend has been towards inequality. Muslim women don't enjoy the equality that is available to non-Muslim women and we want to know what the Government's stand on this is," she said.
Zainah also urged Attorney-General Tan Sri Abdul Gani Patail to update participants on the proposed ammedments to the country's Islamic Family Law that were scheduled to be tabled in Parliament in 2009. The proposed amendments were subsequently held back because the Conference of Rulers wanted time to consult with the respective state religious councils.
Another issue that was raised was the need for the public - particularly women - to know what is due to them, particularly in relation to the international charters and conventions that the government has signed on to such as the United Nations' Convention to Eliminate All Forms of Discrimination Against Women (Cedaw) which the Malaysian government committed to in 1995.
Cedaw sets out a clear definition of discrimination against women. The convention also outlines the obligations of countries that have ratified the convention as well as the measures that have to be taken to eliminate discrimination.
Governments that have signed on to Cedaw are required to submit a report to the Cedaw Committee within a year of signing on detailing a comprehensive review of the women's situation in the country. Subsequently, they have to submit a report every four years, to elaborate on the interventions made, progress or planned progress as well as the difficulties that continue to inhibit women's enjoyment of their guaranteed rights and freedoms.
Malaysia submitted a combined initial and second report to the committee in 2006 but has yet to submit subsequent reports and now has four overdue reports.
"There is a sense of lack of commitment to implement the conventions that we have signed," observed Nayagam in a session titled "Charters and Conventions - Do They Work?". "The reason why we are here is because we have a problem. We have a situation. We have all the laws and conventions in place but why is there no commitment to implement them?" he queried.
One main problem, said Phenny Kakama, a senior child protection specialist with the United Nations Children's Fund (Unicef), was the lack of commitment to implement significant change.
"Is it just a fashion that countries sign these conventions? Putting a signature down is very, very easy but when it comes to actual implementation, it becomes an issue. Do these international conventions work? I'd say yes, they do but only if there is a commitment by the government to implement change. The principles of the convention have to be translated into domestic policies and legislation. Also, the general public must be aware of what their governments have committed to. If you go around Malaysia and ask the man on the street about Cedaw, would they know what we are talking about? If the they don't how will they hold the country accountable?" said Kakama.
Josiah agreed wholeheartedly adding that it is not only important for various government agencies and departments to work together to implement the principles of these international conventions the Government has signed on to.
"I think we try and leave our international obligations to the Ministry of Foreign Affairs … what the ministry signs on to is kept separate from what happens in the country. So it is really up to not just civil society but also the government to promote the notion that we are accountable to not only Malaysians but the global stage.
We understand that the Government cannot deliver everything immediately. There can be progressive development. That we understand. But it is time that the government work with civil society to make things happen. Our mandate should be to people who are suffering discrimination," she said.
Josiah also pointed out the shadow report that a group of Malaysian NGOs prepared that, among other things, highlight the laws that discriminate against women as well as recommendations to eliminate gender-based discrimination in Malaysia.
Dairiam summarised the group's concern by calling for a integrated strategy for ensuring the principles of Cedaw are implemented.
"We all recognise that the Government has done many things for women but it has been piecemeal and fragmented. Institutional arrangements are weak and there is a lack of an effective policy that binds all agencies to ensure the justice and equality for women. Who is in the drivers seat to ensure the standards of the conventions are applied? There has to be an integrated and cohesive strategy based on international standards. The Malaysian Government has voluntarily ratified this convention. so they have accepted these standards. But the lack of a coordinating mechanism to monitor or enforce common standards for equality impedes a plethora of efforts that have been made," she said.
http://www.thestar.com.my/Lifestyle/Women/2013/08/29/Committing-to-real-change-for-women-and-children.aspx
------------
7 new girls' schools to be opened in N. Jeddah
31st August 2013
Seven girls' schools will be opened on Sunday in North Jeddah, according to Abdullah Althagafi, director general of the Department of Education.
The schools — two will be elementary schools, one secondary and one a high school — will cost SR35 million
Althagafi said that due to the influx of new residents into North Jeddah and the increase in the number of female students, the department decided to open new facilities to accommodate the growing numbers.
The schools are well equipped with all means of modern teaching, including computers, laboratories and centers of learning with the latest equipment.
It is expected that the schools will accommodate more than 8,000 students.
The Department of Education in Jeddah has already begun receiving applications for registration in the schools, he said.
The administration is studying many areas and other neighborhoods in Jeddah to identify areas with small numbers of schools and will account for such in the expansion plans where needed.
Fahad Al-Otaibi, a resident of North Jeddah, expressed his satisfaction. "You cannot imagine how the suffering that we and other residents of the north of Jeddah have had in the past due to the lack of a sufficient number of schools, be it elementary, middle, or secondary schools," Al-Otaibi said.
One of Fahad's daughters attended a school in Al-Safa, located a long distance from their house. She was required to leave the house at 6 a.m., taking more than one hour due to traffic.
Fahad immediately began the transfer procedures for his daughter to move to one of the new schools.
http://www.arabnews.com/news/463071
------------
Saudi Ministry to Tackle Transport of Female Factory Workers
DAMMAM: MUWAIDI AL-MUTAIRI
31 August 2013
The Ministry of Labor is studying a proposal to provide transportation for Saudi women working in factories.
The ministry will bear the costs of transportation.
The ministry is studying the mechanisms of implementing this proposal, which has been presented by the Industrial committee in the Eastern Province Chambers.
"The Ministry of Labor started working on the Industrial Committee's proposal to devise a clear-cut mechanism to support transporting women employed in factories," said Salman Al-Jashi, chairman of the Industrial Committee in the Eastern province chamber. "Indeed the proposal has been turned into a project to support female factory workers."
The ministry will offer financial support to factories and its female workers through its human resource funds.
Al-Jashi said the problem isn't only concerned with cost, but in providing a comprehensive system for public transportation in industrial cities and the process of moving workers to and from these factories.
Al-Jashi expected work on the ministry's support mechanism to be completed within the next few weeks.
"Supporting transportation of female factory workers has become a necessity in the light of their rising number, and the increasing role of working women in the industrial sector," he said. "We need to deal with two important problems that face women who work in this sector, which are babysitting services and public transportation."
The Council of Saudi Chambers, through its National Industrial Committee, failed to come to an agreement with the Saudi Public Transport Company (SAPTCO), even after the two sides held meetings over a span of 18 months to put an end to the ordeal of female factory workers.
The chamber pulled out of the negotiations and the issue was moved to the Ministry of Labor.
"The Industrial committee in Saudi Chambers held meetings with representatives from SAPTCO, and came up with various proposals about suitable mechanisms for transporting employees of industrial cities because it will have a positive effect on transportation activities," said Abdulaziz Al-Suraea, deputy chairman of the Industrial committee in Saudi Chambers.
"But both sides failed to come to understanding in this issue. Employing qualified women in light industries was a great success, but the biggest problem that stands in the way of women's success and continuing employment in this sector is transportation," he said.
The National Industrial Committee in Saudi Chamber was studying the possibility of reaching a mechanism to transport female employees to factories with the Saudi Public Transport Company.
http://www.arabnews.com/news/463052
------------
Pakistan Government to Launch Women Empowerment Initiatives
31st August 2013
ISLAMABAD: A number of initiatives are underway aiming to address social, economic and cultural practices barring women from active participation in all spheres of life to improve the gender equality and women's empowerment situation in the country.
The planned strategy of the government is to empower women in all spheres of life as women development, empowerment and gender equality were intrinsic to socio-economic development, an official source told APP, adding that eliminating gender inequality and achieving women's empowerment was the priority development agenda of the government.
He said the potential of women to contribute to economic growth and social development of the country had been limited because of the exclusions and discrimination faced by them to limit their effective participation in national development.
He said several commitments at national and international forums ensure that gender empowerment was to be featured at all levels. The major national commitments include Women's Empowerment Policy, the National Plan of Action and the unconditional cash transfer to women, he added.
According to the official, the international commitments such as the Convention for Elimination of Discrimination against Women (CEDAW), the Beijing Platform of Action, the Millennium Development Goals (MDGs) and several other UN human rights conventions aimed at reducing gender disparities and discrimination.
Official said that specific objective for women development was gender mainstreaming to remove imbalances prevailing across different sectors, provide unimpeded access to rights, resources and services and provide protection to women against all forms of violence and discrimination. The issues pertaining to women development and protection were now being recognised as basic human rights, he added.
http://www.dailytimes.com.pk/default.asp?page=2013\08\30\story_30-8-2013_pg11_4
------------
MDP files complaint against First Lady of Maldives
31st August 2013
The Maldivian Democratic Party (MDP) has filed a complaint against First Lady Ilham Hussain regarding her donation to Meemu Mulaku School.
Ilham, wife of presidential candidate of Forward with the Nation coalition Dr Mohamed Waheed, recently donated MVR 100,000 to Mulaku School.
MDP's Complaints Committee, set up for the presidential election, said that the purpose of this donation by Ilham is to influence the election.
MDP requested the commission to take action against Ilham under Article 11 (a) of the Presidential Elections Regulation.
Ilham made the donation to Mulaku School at a meeting of the school Board on 27 August.
An official of the school who spoke to Sun said that the money was donated after the school made a request from the president about four months ago, regarding the improvement and development of the school's computer lab.
Spokesperson of Forward with the Nation coalition Abdul Rasheed Nafiz told Sun that Ilham made this donation to Mulaku School in her personal capacity.
MDP has also filed another complaint to the Elections Commission today, saying that an employee of Shaviyani Maaungoodhoo Elections Commission has been campaigning for the Progressive Party of Maldives (PPM).
Earlier, MDP also filed a complaint saying that Jumhooree Coalition's presidential candidate Gasim Ibrahim was offering bribes to influence the election.
MDP's Complaints Committee was formed in May 2013, to investigate the complaints filed to the party in relation to the presidential election.
The committee is made up of lawyers, MDP Spokesperson Imthiyaz Fahmy, Abdullah Haseen and Mohamed Fareedh.
http://sun.mv/english/15568
------------
Kenya: Muslim girls School Campus Ready
BY DIXY ADAMS
31st August 2013
MUSLIMS in Kisumu is set to open an Islamic education institute for girls.The Ummuh-Salamah girls' campus on the Kisumu-Kakamega road has 12 classes and a computer laboratory.
The construction of essential facilities has already been completed.They include include a mosque, lecture halls, a library, an administration block, tailoring facilities, a staffroom and a playground.
The second phase of construction will commence in October 2013.Despite being an Islamic institution, the campus will not be strictly for the Muslims. People of all faiths will attend the courses.
Aside from offering Islamic religious courses the institute will also offer degree courses in education and guidance and counseling.
Diploma courses in education, arabic Language, information communication and technology, and certificate programmes in computer applications, English and Kiswahili languages will also be taught at the campus.
Chairman of the National Council of Muslim Scholars Sheikh Khalfan Khamis said most girls in the region engage in immoral activities at an early age.
He said the campus will educate girls on the importance of morality.The campus will also create job opportunities for qualified residents.
"We will appoint lecturers according to their expertise and not according to their faith. However, they will have to comply with the rules of the campus," he Khamis said.
Registrationfor the first intake will start in November 2013. Classes will begin early next year.
http://allafrica.com/stories/201308301110.html
------------
High hopes for victims of female genital mutilation
BY JOANNA WALTERS, THE OBSERVER
31st August 2013
A nondescript suburb on the outskirts of San Francisco. A plain brick building. Seven nervous women wait in the sunlight. They are here for surgery, which perhaps has as much claim as any other to describe itself as "miraculous."
The little building doesn't shout its purpose, for many reasons. First, this surgery is about female sexuality. Second, it is contrary to the beliefs and traditions of millions of families worldwide — brutal beliefs and traditions. And then there's the delightful surreality of the pair behind the procedure: the tall, blonde female surgeon — one of the best in the United States — who happens to have been born male, and the cheerful French counselor who follows the bizarre 1970s Raelian sect, which believes humans were created by extra-terrestrials for the purpose of unalloyed joy.
Soon afterward one of the first patients, Zaria, 24, is under anaesthetic. "This one's pretty bad," says the surgeon, glancing at me from the stool where she sits between the legs of her patients, scalpel poised.
When I'd met Zaria, just before her operation, I was struck by the energy of this funny, feisty, beautiful young medical student with a tattoo and bundles of raven hair. Now, by her invitation, I am looking at her genitals over the surgeon's shoulder and trying not to cry.
Zaria looks more like a doll than a real woman. Her genitals are featureless, completely smooth apart from the opening. Barbie might actually be more anatomically correct.
The surgeon lifts her scalpel and begins carefully slicing away at the flat skin surface; basically a thick layer of scar tissue. It is the second time in Zaria's life that someone has taken a knife to her most intimate parts. The first was when she was 11 in Sierra Leone, and that time there was no anesthetic.
Relatives had taken her into the countryside under the ruse of a day-trip to pick oranges. Once there she was lined up with 20 other girls and forced to the ground by a cluster of older women. Her labia and clitoris were sliced off in a ritual once called female circumcision but now known more accurately as female genital mutilation, or FGM.
"I remember I struggled and I was yelling so loudly that one of the women actually sat on my head and practically suffocated me while they cut me," Zaria told her fellow FGM victims as they swapped stories before their operations.
According to the World Health Organization more than 140 million women worldwide live with the effects of FGM, which is most commonly practiced in Northeast and West Africa, but also in places such as Yemen and Indonesia. But an infinitesimal fraction, almost exclusively those who emigrated to the West, are now finding their way to an emerging handful of surgeons who offer a radical attempt at rehabilitation.
This surgery doesn't just make intercourse and childbirth easier. Controversially, it also aims to give the women the capacity to feel sexual pleasure — most for the very first time — by rehabilitating the clitoris.
http://www.japantimes.co.jp/news/2013/08/30/world/high-hopes-for-victims-of-female-genital-mutilation/#.UiG-gdK-pRI
------------
Interpreter gives voice to Afghan women
BY TERESA SMITH, POSTMEDIA NEWS
AUGUST 31, 2013
Threatened because of her work for international forces, Maryam Sahar Naqibullah fled to Canada, where she's determined to improve the lives of the women she left behind
Before she'd even turned 18, the Taliban had murdered Maryam Sahar Naqibullah's two best friends and kidnapped her brother in broad daylight. Her friends were targeted for helping the international forces in Afghanistan, and as the only female interpreter for the Canadian and American forces in Kandahar City, Sahar knew the Taliban were watching her, too.
Despite the danger, she continued working. Her family needed the money and she felt a duty to help the foreigners reshape her country.
But her worst fears were realized when her younger brother, Omer, failed to return home from a cricket match at the nearby stadium. Omer was only 11 years old but the task of escorting Sahar to her interpreting jobs often fell to him. Sahar, who worked for the Canadian Forces for more than two years, was always covered by a burka, the traditional Afghan Islamic dress that covers head to toe, but Omer's face was uncovered and therefore recognizable.
The family searched frantically for the young boy, to no avail. Two days later, he showed up at home, bruised and broken, with his head shaved so the Taliban "could beat him better." He had been tortured by a group of men wearing bandanas over their faces. "They asked him 'who's that girl? Why is she going to the army base? What is she doing there?' " Sahar said in a recent interview, her eyes filling with tears, her breath quickening. Her little brother protected her. He told his tormentors the girl was his neighbour.
He said he didn't know what she was doing at the base. But Sahar, her family and her military supervisors got the message.
Her parents, three brothers and sister immediately moved north to Kabul and, in October 2011, at the age of 17, Sahar came to Ottawa under the Afghan Interpreter Immigration Program. While many of the male interpreters accepted through the program brought their families, Sahar - the only woman - was forced to come alone because only spouses and children are eligible for relocation.
Sahar believes her family is safer in Kabul than in Kandahar - Afghanistan's most conservative province and the birthplace of the Taliban - but she worries about Omer, now 13, because the Taliban know his face. Omer leaves Kabul whenever he's not in school to avoid being recognized. Still feeling the effects of the blows to the head he suffered during that hellish two days, sometimes he awakes in the night screaming. "He won't let anyone touch him. He cries and tells my mom the men are coming for him," Sahar said.
Last month, Sahar's other brother, Samiullah, 15, was hit by a car on his way to school. His legs and arms were broken. She believes the Taliban is also to blame.
Despite the obvious danger, Sahar was drawn to help the international forces understand her country so their rebuilding efforts could be more effective.
Without her, the voices of women would have remained silent because, under the Taliban, a woman can only speak to other women or male family members. Thanks to Sahar, female soldiers heard directly from groups of women at monthly Shuras, where up to 45 women came together to tell their stories.
Sahar helped to dispel myths in the international community such as the idea that in order for a program to succeed, resources should focus on convincing the woman in the household to participate. She would then win over her husband.
"One woman told us that she had been sick for months but her husband ignored her suffering. Then, when their cow became ill, he got the doctor right away. Women are not the decision-makers in Afghanistan," Sahar said. "This story tells it all."
Sahar, who started working for the Canadian Forces when she was just 15, heard countless stories that both enraged her and strengthened her resolve. She worked nearly every day as the liaison between foreign non-governmental organizations, the Afghan Department of Women's Affairs, the United Nations and Canadian and American forces, translating meetings about everything from literacy, embroidery and women's health to agriculture, education and law. She took notes at divorce court, spoke to the country's chief justices and taught the forces about Afghanistan's customs.
Through it all, the Taliban threatened her life, followed her to school and harassed her on the street. Her family and friends, even people for whom she translated, told her she was crazy to work for the forces and urged her to leave the job because, as the only woman, she was far more visible to the Taliban than the male interpreters.
But Sahar persisted, feeling a duty to the people she feels liberated her country.
"The military came to Afghanistan. They gave us this opportunity to be educated and they're the ones who are on the front lines with the terrorists to fight so that we have a better life in Afghanistan. If they're willing to help us, if they're willing to lose their heads - to die - for our country ... Well, we're Afghans. That's our country. We have to die for that as well."
Sahar was born in 1994 during the Afghan civil war. When the Taliban came out on top, she says, a cloud fell over every Afghan, but it was particularly dark for women.
She pushes out her chin and clenches her fists when she recalls the injustices she experienced firsthand: "I was locked up. We were not having any school. We couldn't work. We were like animals living in a cage."
In 2002, after NATO troops invaded and occupied her country, Sahar recalls a "time of freedom" where men and women gathered in the streets, started attending school again and celebrated national holidays.
At eight years old, Sahar stretched her legs with this newfound liberty. "I was very active. I performed in theatre productions, read poems, participated in presentations in front of a thousand people. And my parents never had to call to check up on us."
But then, in 2006, the cloud descended again. Her family home was destroyed twice by explosions.
"I have seen bodies on the road: a head here, a hand there, a body across the way," she says almost nonchalantly.
The day after the Taliban threw acid in the faces of 15 girls on their way to school, Sahar was among a handful of students who showed up for class. "My father didn't stop us. He said 'If something's going to happen to you, it's going to happen even if you sit home. It's better to go to school.' " Sahar's father, Ibrahimi, was her most important supporter. Without his consent, she would have been housebound.
But, from the outset, her father knew the international forces would eventually leave Afghanistan, so he encouraged his children - especially his daughters - to take advantage of every opportunity. With the mission winding down, slated to end in 2014, Sahar recalls his mantra: "Go to school. Get educated. Try to be excellent students and try to make something of yourself."
So, she left the house every morning at 8 a.m. and her mother didn't breathe easy until she walked in the door at 4 p.m. If she was a few minutes late, her cellphone would already be ringing. Sahar speaks highly of her father's views on education, but when asked about his ideas on women's rights, she shakes her head.
"My father is a good father but he's a horrible husband. He beats my mom all the time. But, he says, 'If your mom was educated, if your mom was able to support herself financially, she wouldn't stay with me.' " The irony is not lost on Sahar. "He wants us to know our rights so that our husbands don't beat us, but he started beating my mom eight days after their wedding."
In some ways, it illustrates the changes Sahar sees happening slowly in Afghanistan: "Our fathers treat their daughters better than their wives. This is how I will have a totally different life from my mom."
Now in Canada, Sahar and her mother may as well be living on different planets.
She has criss-crossed the country with the Department of Foreign Affairs and International Trade, teaching military personnel on their way to Afghanistan about the country's customs, particularly women's issues.
She also works as an interpreter at Reception House - an Ottawa organization that welcomes refugees and immigrants to the city - where Sahar herself lived for two months when she first arrived.
Through the Afghan Interpreter Immigration Program, the federal government provides $750 a month to cover housing, food and other expenses.
Sahar almost gave up looking for lodging when, after two months, she still hadn't found a place to live. "I was so exhausted and so depressed," she said. "I almost booked my ticket back to Afghanistan so I could be with my family. I said, my life was in danger there but at least I wasn't homeless."
That's when Claude Desilets, a Canadian soldier with whom she'd worked in Kandahar, put her in touch with Canadian Women for Women in Afghanistan, an organization that raises money for women's education in Afghanistan. Through them, Sahar met Helen Hayward, who rents her a room in her Ottawa home. More importantly, Sahar said, she appreciates Hayward's advice and emotional support.
"I really respect her opinion because I don't have parents here and it's really important for me to have advice from somebody older," she said.
"When I came to Canada, I changed right away. I said to myself, 'I'm in a different country. I have rights here and I have to practise them.' " Sahar threw away her head scarf as her plane touched down in Dubai - the first stop on her trip to Ottawa.
For her, it was a symbol of the oppression she'd suffered and getting rid of it was a symbol of her new freedom.
She says her faith is still important to her but she doesn't practise it the way she used to. "Some people believe that if you don't pray five times a day, if you don't recite holy Qur'an, then you're not a perfect Muslim, but I don't see it that way.
"In Afghanistan, the Taliban is violent in the name of Islam. But that is not Islam. For me, Islam is a peaceful religion. For me, to treat people very well, to be helpful, to be kind - that is my religion."
Of course she doesn't tell her parents this during their monthly conversations. She wears a scarf when talking to them on Skype. She also keeps quiet about feeling lonely. She doesn't tell them she's afraid to walk down the street alone after dark. She doesn't want to them to worry.
Sahar makes sure to be home before the sun sets. She has experienced harassment on Ottawa's streets. "In Afghanistan, I always had to be scared about my safety, and when I was coming to Canada, I thought I wouldn't have to care about it anymore. But now I know there are bad people everywhere, even though I'm in Canada."
Her biggest worry, however, has nothing to do with her personal safety. This summer, she was accepted to Ottawa's Carleton University, but the burden of paying tuition weighs heavily.
"I need a scholarship because I don't have anyone to take care of me," she said. "I have to support myself."
Sahar carries the lives of her two best friends with her. She relies on the memory of what they could have accomplished, given the chance.
Rabia Saddat and Hosi Saleh were gunned down by the Taliban soon after graduating high school in 2009.
"They were young. They were ambitious. They wanted to do something for their future, for their country." She pauses, looking down at her feet. "Sometimes I still think about them. Sometimes it makes me laugh, sometimes it makes me sad thinking they're not in this world anymore."
Despite the hardships she faced there and the frustration she feels with the pace of change, Sahar misses Afghanistan every day.
"My blood is in that soil," she said of the country where her family still lives in fear.
For Saddat and Saleh, for her mother and her sister, for every woman in Afghanistan, Sahar dreams of returning to Afghanistan to run for office and push her country forward.
Some of her friends say they can't understand why she would consider going back. They tell her the country is too far gone to recover from decades of war.
But Sahar says, with help from foreign forces, the country is healing. "We are getting educated. We are dying to get education. There have been changes in Afghanistan but the only people who recognize it are the ones who've lived through it.
"I'm not crazy," she says. "I will do it. Watch me. I will do it."
Sahar's friend Michelle Caron has created an education fund for her at TD Bank, branch 3312, account 6401626. Those wishing to donate can do so at any TD branch.
CANADA' S INTERPRETER IMMIGRATION PROGRAM
In September 2009, the Canadian government created the Afghan Interpreters Immigration Program to fast-track permanent residency applications made by interpreters who had worked for the Canadian government in Kandahar province for at least 12 months.
Successful applicants had to show their lives were in danger as a result of their work.
The Canadian government originally expected 450 Afghans to apply under the program, but by the time it closed in 2011, 800 people, including interpreters and their spouses or children, had relocated to Canada. Six Afghan interpreters were killed while serving with Canadian Forces between 2006 and 2011. Many others were wounded.
© Copyright (c) The Regina Leader-Post
http://www.leaderpost.com/news/Interpreter+gives+voice+Afghan+women/8856431/story.html
------------
Iran: Conservatives in ruckus over women's rugby
31st August 2013
Women's professional rugby has launched in Iran - sparking an online scrum over whether match photos contravene Islamic law.
Several sites and a dedicated Facebook page published photos from the national sevens tournament, leading posters to debate the appropriateness of the kit. Conservative website Bultan News questions whether the competition is appropriate, asking: "Do we really have to have a professional women's rugby league?" It was in turn criticised by readers for publishing images of the sportswomen. One reader asks whether the site's "values" have changed and calls for the country's religious leaders, the Ayatollahs, to issue fatwas - or religious decrees - on whether the kit is un-Islamic.
Others argue there's nothing wrong with it. "You can take these images to the Ayatollahs but be sure they will have no issue, according to Islamic law," says one, while others applaud the nine teams for showing that Iranian women can compete professionally unhindered by the dress code. "You're being too zealous. Did you expect them to turn up to practice wearing a chador (a long, cape-like veil)... Good on them, they've upheld their hijab (headscarf) and played sport too," said a poster on Parsine website.
http://www.bbc.co.uk/news/blogs-news-from-elsewhere-23896754
------------
URL: https://newageislam.com/islam-women-feminism/india's-sit-probe-arab-national/d/13298