New Age Islam News Bureau
14 Jan 2020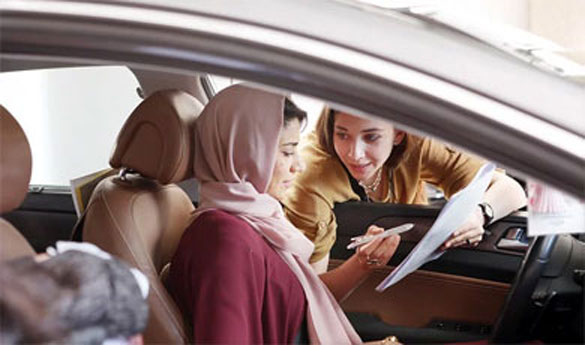 The project provides first-person accounts of contemporary life in Saudi Arabia, at a time of fascinating change, says the festival director. (Supplied)
------
• Film Festival Breakthrough for Five Female Saudi Directors
• Muslim women on indefinite protest against CAA, NRC in Allahabad
• Women Lawmakers of Pakistan Urged To Unite For Resolving Issues
• New Batch of Women to Receive Peacekeeping Training in Abu Dhabi
• SC says Council of Counsels will discuss issues of Muslim women, Sabarimala on Jan 17
• Israeli Rabbi Arrested For Holding Women, Children As Slaves
• Mostafa's Story: How an Egyptian Woman Finally Got Her Baby Boy
Compiled By New Age Islam News Bureau
URL: https://www.newageislam.com/islam-women-feminism/indias-first-time-protester-29/d/120789
--------
India's First-Time Protester, 29-Day-Old: Mothers and Grandmothers Stage Weeks-Long Sit-In against Citizenship Law
By Niha Masih
January 13, 2020
NEW DELHI — As the temperature in India's capital plunged on a recent evening, Rehana Khatun bundled her 29-day-old daughter in a fuzzy quilt and went out for her new nightly activity: participating in a sit-in against the government.
Khatun, 28, is a mother of three who rarely leaves her neighborhood in southeast Delhi. Now she is one of a few hundred Muslim women — including grandmothers and children — who have occupied this stretch of road for a month, undeterred by rain, cold or threats, as a sign of opposition to a new law that excludes Muslim migrants from a fast-track to citizenship.
She sits cross-legged as she settles in for another night of speeches under bright blue and yellow tarps held up by narrow poles. "Our fight is for our Constitution, our country, our survival," she said.
The protest in the capital's Shaheen Bagh neighborhood has become an enduring symbol of the demonstrations that have swept India over the new law, which was passed in December. Most of the women are homemakers, many in hijabs, and their long-running vigil has been featured on prime-time news shows, inspired similar sit-ins and attracted solidarity from across India. On Sunday, the protest attracted its largest crowd yet, according to locals, as thousands of supporters packed the narrow lanes surrounding the area.
Hundreds of thousands of people from around the country have taken to the streets in opposition to the law since its passage. Opponents say the measure is discriminatory and violates India's secular ethos.
The protests mark the most significant challenge to the government of Prime Minister Narendra Modi since he took power in 2014. While India's Muslim community is at the forefront of the opposition, Indians of all faiths have joined in the demonstrations, discontented with the government's policies and its agenda of emphasizing Hindu primacy. The government has shown no sign of backtracking from the citizenship law. On Monday, a member of Parliament from the ruling party said that any protester who damaged public property should be shot or jailed.
Several protests have devolved into showdowns with the police, who have responded with force. Since December, 24 people have died nationwide, nearly all of them in Uttar Pradesh, India's largest state. People have used multiple ways to register their opposition, including candlelight vigils, readings of the Indian Constitution's preamble, and even a boat march by fishermen.
The peaceful sit-in at Shaheen Bagh began after police stormed a nearby university campus and assaulted unarmed student protesters. The first night, the demonstration consisted of four women and six men. In the following days, the men went to work, but the number of women coming out of their homes continued to grow. Now the protest is led by women while the men watch from the sidelines.
Some women arrive in the morning, staying until the wee hours of the next day before going home for a few hours. When they leave, others take their place. The numbers change daily, ranging from several hundred to a few thousand. Children of all ages scamper around, waving national flags bigger than they are, while women cover their heads with the flag in a sign of reverence. They say they will not leave until the law is repealed.
"In all my 35 years of working with Muslim women, I had never witnessed a scene such as this," wrote activist Syeda Hameed, chair of the Muslim Women's Forum, after a visit. "What I was witnessing was the new generation of Muslim women who speak boldly without an iota of fear."
Although there is no leader at Shaheen Bagh, some participants have already become icons. Bilkis, an 82-year-old grandmother who uses only one name, shot to fame after a viral television interview. Toothless and bent with age, Bilkis, now fondly called Gangster Granny, is protesting for the first time in her life.
"Our ancestors have also given their blood for this country," she said, questioning why Muslims are being singled out by the government.
India's powerful home minister Amit Shah has stated that the citizenship law will be followed by a nationwide push to verify all citizens, an exercise that many believe targets Muslims. Bilkis said that if the government goes ahead with the registry of citizens, she will refuse to participate. "They [government] can beat us with sticks or shoot us with bullets," she said. "We will die but won't leave our land."
From a small rickety stage, participants make speeches about unity and the democratic traditions of the country and sing patriotic songs. Young and old recite poems: One favorite is a newly penned protest verse called "We won't show our papers," while others opt for a celebrated poem against dictatorship by a Pakistani poet.
On New Year's Eve, the gathering swelled to several thousand. At midnight, the area reverberated with the national anthem and glowed with pinpoints of light from scores of phones held aloft.
Seema Saifi, 38, came out to protest on the first day and has since returned every day. She has barely slept in that time, traveling 40 miles round trip each day to her job at a large company and joining the protest every evening until the early hours of the morning. She said the women have received messages of support from around the world.
"We have gotten strength from each other," she said. "Now this seems like home."
An army of nearly 200 volunteers, mostly locals or students living nearby, has split into teams to keep the sit-in running. Some look after meals while others coordinate with the media and guests. One day, a delivery truck rolled up with crates of milk and tea ordered by an anonymous well-wisher from Mumbai. A team of doctors started a medical tent that operates daily. A group of college students set up a booth where children can read and draw.
As the protest has endured, there have also been points of friction. There are arguments over who should be allowed onstage, whether to accept donations of supplies and how to keep away local politicians. Some chief volunteers recently tried to call off the protests to avoid it becoming a tool for political parties, but the women did not leave. Rumors about impending action by police to clear the road has not deterred them, either.
For Khatun, the past weeks have not been easy juggling household chores with ongoing protests. Bringing out the newborn baby, whom locals call the youngest revolutionary, in the biting cold has its own risks. But she is unfazed.
"People take her in their lap when she cries. If she falls sick, there is a doctor here," she said. When her daughter grows up and asks her what Khatun did at this moment, she said, "I will have an answer."
https://www.washingtonpost.com/world/asia_pacific/indias-first-time-protesters-mothers-and-grandmothers-stage-weeks-long-sit-in-against-citizenship-law/2020/01/12/431ae9c6-30d5-11ea-971b-43bec3ff9860_story.html
--------
Film Festival Breakthrough for Five Female Saudi Directors
DEEMA AL KHUDAIR
January 14, 2020
JEDDAH: Film festival organizers have given their backing to five female Saudi directors for a unique new movie project.
Hind Alfahhad, Jowaher Alamri, Noor Alameer, Sara Mesfer and Fatima Al-Banawi will make five short films that will be combined into an omnibus documentary feature, with the award-winning Palestinian filmmaker Suha Arraf selected as screenwriting supervisor.
Funded by the Red Sea International Film Festival and produced by the Jeddah production house Cinepoetics Pictures, the film will have its premiere at the inaugural festival in March.
"This project provides powerful first-person accounts of contemporary life in Saudi, from Saudi women, at a time of fascinating change," festival director Mahmoud Sabbagh said.
"We believe in film's capacity to advance diversity and integration. Supporting innovative new works is central to this mission. There is no better way to work toward this than by creating opportunities for Saudi filmmakers to tell their own stories."
Each women-centered narrative is an intimate character portrait. Together, their varied settings and storylines display the diversity of the Saudi contemporary film scene, with the directors hailing from throughout the Kingdom and the films set in cities including Makkah, Madinah, Jeddah, and Riyadh.
"It has been a unique experience participating in a film alongside fellow Saudi women directors, all telling stories around womanhood in distinctive ways," director Alfahhad said.
https://www.arabnews.com/node/1612691/saudi-arabia
--------
Muslim women on indefinite protest against CAA, NRC in Allahabad
13 January 2020
Allahabad, Jan 13 (PTI) Muslim women are holding an indefinite protest against the Citizenship (Amendment) Act and the National Register of Citizens in Uttar Pradesh''s Allahabad district.
The women, in large numbers, began their protest at Mansoor Ali Park on Sunday.
Sara Ahmed, one of the protesters, alleged that the Union government is indulging in "communal attacks".
"CAA and NRC are not two different things. They are connected," Ahmed claimed.
She alleged that an attempt is being made to "destroy" the basic structure of the Constitution through CAA and NRC.
Women from Chowk, Kareli, Chakiya and other areas of the city are joining the protest.
"We are being asked to prove our citizenship despite the fact that our ancestors have lived in this country. How will we produce proofs of our forefathers," said Seema Aazad.
Another woman said their agitation will continue till the NRC is scrapped. PTI AD
https://www.outlookindia.com/newsscroll/muslim-women-on-indefinite-protest-against-caa-nrc-in-allahabad/1707570
--------
Women Lawmakers of Pakistan Urged To Unite For Resolving Issues
Sadia Qasim Shah
January 14, 2020
PESHAWAR: Salma Ataullah Jan, a Canadian senator of Pakistani origin, told a gathering of women legislators to be united irrespective of their political association as women welfare should be their joint agenda in the provincial assembly.
Hailing from a Pukhtun family of Mardan, Salma Ataullah Jan has been a member of the Canadian Senate for almost 10 years. She was invited to a women's caucus meeting here on Monday arranged jointly by Commonwealth Women Parliamentarian, Women Parliamentary Caucus and Westminster Foundation for Democracy.
Women legislators mostly from the ruling Pakistan Tehreek-i-Insaf participated in the discussion with exclusion of few lawmakers.
Sharing her experience as senator, Ms Salma said that parliament was male-dominated in many countries and women being almost 50 per cent in Pakistan needed to be part of the parliament so that their voice could be heard too.
She said that education of both male and female was important for the purpose as it brought change in society and resolved many problems.
She said that for women politics was not an easy field as they had to work harder. She said that women parliamentarians were under watch, especially of media, all the time.
Media would pick up trivial details about dress and hair of women parliamentarians but would not take them as seriously as men legislators, she added.
"Women parliamentarians need to stand with each other regardless of their political affiliations. It would give them strength," said the Canadian senator.
She said that women were united irrespective of their political affiliations and criticism against one woman senator or parliamentarian was considered criticism against all women in Canada but in Khyber Pakhtunkhwa she could sense that there were differences among the women legislators.
National Assembly Joint Secretary Syed Shamoon Hashmi gave a detailed presentation on concept, legacy and way forward for women parliamentary caucus and said as to how in the part caucus had been active in legislation on women issues and successful in tabling bills and passing laws in the National Assembly.
Maleeha Asghar Khan, chairperson Women Parliamentary Caucus KP, said that the caucus members were learning a lot from trainings by different bodies.
She said that the caucus was working on pro-women legislation proposals in different areas.
https://www.dawn.com/news/1528210
--------
New Batch of Women to Receive Peacekeeping Training in Abu Dhabi
Jan 13, 2020
A second cohort of women began peace and security training under a UN and Ministry of Defence programme in Abu Dhabi on Monday.
The 180 women, from 11 African, Asian and Arab countries, will be learn to become peacekeepers before being deployed in areas where needed.
Almost half of the women have backgrounds in the military and police, having served in their countries' national forces. They were nominated by their respective governments to take part in the training, organised by UN Women in partnership with the UAE's Ministry of Defence and the General Women's Union.
The kick-off ceremony was held at Khawla Bint Al Azwar Military School for Women in Abu Dhabi on Monday.
"The UAE is proud to implement the second round of this programme, which … [trains] female officers to participate in maintaining security and peace in areas of conflict or disaster," said Maj Gen Pilot Sheikh Ahmed bin
Tahnoon, chairman of the National Service and Reserve Authority.
"Empowering women through rehabilitation to participate in peacekeeping in their communities and around the world is the aim of the programme."
The Women, Peace and Security Training programme promotes women's participation in United Nations peacekeeping operations, increases the number of women qualified to work in the military and establishes networks to support women in the military.
The role of female peacekeepers is to help prevent sexual violence during and after conflict, provide safe environments for survivors of sexual violence and promote women's participation in political processes. Additionally, they make the peacekeeping force more approachable, can interact more easily with women in gender-segregated societies, and help female ex-combatants reintegrate into civilian life.
One hundred and thirty four Arab women completed the first round of training, which launched early last year.
Afterwards, the UAE Government and UN Women agreed to expand participation to include countries from Africa and Asia.
This round's participants come from countries including Afghanistan, Bangladesh, Chad, Gambia, Ghana, Jordan, Mauritania, Pakistan, Senegal, Yemen, and the UAE.
https://www.thenational.ae/uae/new-batch-of-women-to-receive-peacekeeping-training-in-abu-dhabi-1.964033
--------
SC says Council of Counsels will discuss issues of Muslim women, Sabarimala on Jan 17
January 13, 2020
The Supreme Court on Monday commenced hearing on issues related to discrimination against women in various religions and at religious places including Kerala's Sabarimala Temple.
A nine-judge bench headed by Chief Justice S A Bobde said that it was not considering review pleas in the Sabarimala case. "We are not hearing review pleas of Sabarimala case. We are considering issues referred to by a 5-judge bench earlier," the bench said.
Here are the Live Updates:
11.41 am: Polygamy/nikah halala not to be heard. Decision on whether to allow intervention to be taken later, says SC
11.27 am: Secretary General to convene meeting of lawyers
11.26 am: CJI gives lawyers three weeks to come up with issues to be considered
11.23 am: Council of counsels on January 17 -- SC asks lawyers from all sides in the Sabarimala, Muslim women, Parsi and Dawoodi Bohra cases to sit together and decide on what issues can be framed.
11.10 am: There are more than 50 review petitions, which had challenged the judgement of the Supreme Court allowing the entry of women of all ages in the Sabarimala temple in Kerala. The petitions are pending before the Supreme Court for final disposal
11.08 am: Supreme Court's nine-judge bench, today said that it will only hear the questions referred in the review order passed by it on November 14 in the Sabarimala temple issue.
ANI
✔
@ANI
Supreme Court's nine-judge bench, today said that it will only hear the questions referred in the review order passed by it on November 14 in the Sabarimala temple issue.
View image on Twitter
148
10:46 AM - Jan 13, 2020
Twitter Ads info and privacy
16 people are talking about this
Faiths vs Rights case
The SC had on November 14 asked a larger bench to re-examine various religious issues, including the entry of women into the Sabarimala Temple and mosques and the practice of female genital mutilation in the Dawoodi Bohra community.
While the five-judge bench unanimously agreed to refer religious issues to a larger bench, it gave a 3:2 split decision on petitions seeking a review of the apex court's September 2018 decision allowing women of all ages to enter the Sabarimala shrine in Kerala.
A majority verdict by then Chief Justice Ranjan Gogoi and Justices A M Khanwilkar and Indu Malhotra decided to keep pending pleas seeking a review of its decision regarding entry of women into the shrine, and said restrictions on women in religious places was not restricted to Sabarimala alone and was prevalent in other religions as well.
The minority verdict by Justices R F Nariman and D Y Chandrachud gave a dissenting view by dismissing all review pleas and directing compliance of its September 28 decision.
https://www.indiatoday.in/india/story/supreme-court-pleas-sabarimala-verdict-ayodhya-faith-rights-news-live-updates-1636341-2020-01-13
--------
Israeli Rabbi Arrested For Holding Women, Children As Slaves
13 January 2020
An Israeli rabbi has been detained in occupied Jerusalem al-Quds on suspicion of holding dozens of women and children in slave-like conditions.
The 60-year-old rabbi was arrested on suspicion of running a "closed community" where women and children "worked under conditions of slavery," police said in a statement on Monday.
"The suspect also punished the women in different ways and stole money from them," the statement added.
When police raided the housing complex in a central ultra-Orthodox neighborhood of Jerusalem al-Quds, some 50 women and a number of children under five were found living isolated from the outside world.
Police have also detained eight women as accomplices.
Police said a two-month investigation was launched before the arrests, after receiving reports that the rabbi had for years committed "severe offences" against those living at the residence.
The arrests come after ultra-Orthodox women launched a campaign in November urging those in their community to speak up about domestic abuse.
Ultra-Orthodox Jews make up around 10 percent of Israel's population and live in close-knit communities often closed off from wider society.
This is not the first time Israeli rabbis have been accused of abusing women and children.
In August, dozens of former students of an Orthodox Jewish high school in New York City operated by Yeshiva University sued over claims they were sexually abused by two prominent rabbis in the 1960s, '70s and '80s.
The suit alleged that the Yeshiva University High School for Boys failed to protect students and even promoted one of the rabbis to principal after he was accused of abuse.
The Yeshiva University High School for Boys has taught boys since 1916. It's considered the first academic Jewish high school in the US and the first to offer both Jewish and secular studies.
https://www.presstv.com/Detail/2020/01/13/616116/Israel-rabbi-police-women-children-slavery-abuse
--------
Mostafa's Story: How an Egyptian Woman Finally Got Her Baby Boy
By Nashwa Gowanlock
13 January 2020
"Mummy, tell me the story," Mostafa asks Rasha Mekky, as she tucks him into bed.
And so Mekky begins to tell her five-year-old son, as she does every night, how she met him at an orphanage in Cairo's Maadi disctrict, when he was just four days old.
But their story begins well before Mostafa's arrival in her life, before orphanages or IVF - before Mekky had even met her partner.
"I always dreamt that I would have ten kids," Mekky says. "All my life I always loved babies and kids. My friends always thought I would be the first one to get married and have a tonne of kids. I was the oldest cousin in my family from both sides, my mum and my dad. And I always took care of anybody that was younger than me."
Mekky did end up being one of the first of her friends to marry, in 1993, when she was in her early 20s - but she was not the first to have children.
She and her then-husband moved from Cairo to San Francisco, where Mekky decided to make a career change from tourism and hotel management to child development. Three years later she opened a daycare centre for toddlers and preschoolers.
It was around that time that Mekky, then 25, discovered that she suffered from endometriosis - a chronic condition where tissue similar to that which lines the uterus starts to grow elsewhere, such as the fallopian tubes or ovaries. Her doctors explained to her that her chances of conceiving a child were very slim.
And so they dived into the world of IVF. But the physical, financial and emotional costs were draining.
"All I was doing was just going through one in vitro after the other," Mekky says. "Spending a tonne of money, borrowing money from my parents, applying for loans, whatever it takes. I wanted a baby so badly."
After seven years and five rounds of fertility treatments, the results kept coming back the same. Following the breakdown of her marriage, Mekky moved back to Egypt, in 2004.
Alternative care
In the US, Mekky had been presented with a number of alternative options for having a child, such as sperm donation. But none that would have been acceptable in Islamic law.
"The term 'adoption' is never used in Arab Muslim countries as it is forbidden in Islam," explains Nabila El Gabalawi, from the family programme of Face for Children in Need, a non-profit Belgian organisation that has been operating in Egypt since 2003.
Instead Egypt, like several other Arab countries, uses a system of alternative care for abandoned children, referred to in Arabic as "Kafala".
Kafala is similar to long-term foster care or guardianship, where abandoned children are not legally adopted but instead are raised as part of a family.
Unlike adoption, parents are expected to tell the child fostered through Kafala that they are not their biological children. The child is also expected to keep their birth surname, if known, in order to maintain clear bloodlines to ensure lines of patrimony and inheritance.
This applies in most countries whose judicial system is based fully or partly in Islamic law. There are some exceptions like Tunisia, where formal adoption is legally permitted.
"But the care for orphans is a duty that is emphasised in the Quran and Sunnah [religiously prescribed practice]," El Gabalawy says. "There are in fact several fatwas that encourage families to take on a child through the Kafala system."
One such fatwa issued by the Egyptian religious institute Dar al-Ifta encourages unmarried women to sponsor a child through the alternative care, or Kafala, system.
In 2014, a committee was formed by the Ministry of Social Solidarity to help streamline the process and encourage awareness, including a video campaign. Egyptian regulations have been updated in recent years to widen the pool of possible candidates, now also including single and widowed women over the age of 30.
Finding Mostafa
Mekky met her current husband Mohamad Eleraky in 2012. Eleraky had two daughters from a previous marriage, aged 7 and 11 at the time, and it was his support that would reinvigorate Mekky's quest for a child.
"He knew so badly how much I care for kids, that I love kids so much," Mekky says. "And right away he started asking [around] with me, we started digging [into] where and how can we adopt?"
But the process was not straightforward. It would take the couple a full year to gather all the necessary information and paperwork for their application before it was approved. And when they finally received the good news, they initially chose to keep it a secret.
She began to question herself: "Am I doing the right thing or not? Would I bring up a kid at this age? When do I have time to raise that child? Do I have the energy to play with that child?"
"I was 44 at that time, and it's so hard at that age, over 40. You already have your life set up," Mekky says.
But armed with their approval, Mekky could now visit orphanages in search of a child.
Mekky had always dreamed of having a baby girl: during the decades she had collected suitcases full of baby clothes for girls, along with a now-defunct 15-year-old breast pump that she had bought during her fertility treatment days.
And when she made calls to orphanages across Cairo, she would always ask them the same question: did they have a baby girl? If they said no then she would hang up.
Mekky visited an orphanage near to her in the district of Maadi, but was not drawn to any of the babies she saw. "I thought in my mind, it's like a movie," she says. "Once you see your kid you're going to click and that something was going to happen magically. But that didn't happen.
"I got a little bit depressed for a couple of weeks and then I decided, you know what? Okay, it's not a movie. I'm just gonna have to go pick a child."
Mekky was on the lookout for a baby girl with tanned skin, or at least dark hair, so she would look similar to her future parents.
Then, on one of her visits to the orphanage, she overheard the staff talking about two children who had just been abandoned and due to arrive at the orphanage the next day following a checkup at the hospital - a boy and a girl.
Hopeful, Mekky rushed to see the girl first thing the next morning: "And guess what?" Mekky says. "Blondie. Blonde, blonde, like white hair. Very, very fair and blue eyes."
But Mekky was destined to have her movie moment after all - and a baby.
"So I look at the next crib and… Mr Mostafa was there. I did not want a boy... But I looked at those eyes - he was an infant, four days old, looking at me. I held him from the crib, could not let go for five straight hours."
During those five hours, Mekky didn't leave Mostafa's side. She fed him, changed his nappies and held him tightly, afraid that another family would come and choose him before she had a chance to put in her application.
As soon as that application was processed, Mekky visited a gynaecologist to begin the medication which would trigger her milk flow, since she wanted to be able to breastfeed him. Six weeks later, in January 2015, Mekky and Eleraky stood in a room with three other couples whose applications were also completed, waiting to be handed their new child.
"It felt absolutely normal," Eleraky says. "This was my son."
Bringing home baby
Back home, things didn't go as smoothly as Mekky had expected.
"When you are pregnant for nine months, your body is preparing you and your mind is preparing you that there's a baby coming," she says.
"But we went and picked him up and came home with an infant, that wakes up every three hours, wants to feed every three hours, every time he cries, bottles everywhere, clothes and baby clothes, everywhere."
The sudden change severely affected Mekky's mood and led to a bout of insomnia. But after she was diagnosed with post-natal depression and prescribed the medication that would ease the symptoms, she was ready to celebrate his arrival.
This time, she broadcast the news, inviting all her friends and family to a large, traditional aqiqah gathering, usually arranged to mark the birth of a new baby.
In April 2015, Mekky and her husband decided to move to San Francisco for work, taking Mostafa along on a tourist visa initially until they could apply for his permanent US residency.
Mekky found herself buried in paperwork once again as she discovered she would have to "readopt" Mostafa in compliance with California state laws, before applying for his immigration status: "I started off trying to apply and they said you have to have a lawyer and you have to do a home study. And you have to do the whole thing from scratch again."
The process was longwinded. By January 2019, Mostafa's completed immigration application was finally filed by her lawyers in the US.
But the family was due another shock: Mekky was informed that she and Mostafa, now four years old and settled into life and school in California, had 90 days to leave the country, while their case was being reviewed.
They left for Egypt, not knowing if and when they would be back.
Growing an online presence
Having stayed behind in California, Eleraky was left to wait while his wife and son were away indefinitely.
In the meantime in Cairo, Mekky had already begun to urge other Egyptian women struggling with IVF to consider Kafala instead.
Mekky eventually started a Facebook page where people could contact her directly and where she could post news about her story and others like hers, and to help break down a process that can feel overwhelming.
One day, she woke up to find that one of her posts had been shared 2,500 times and that her phone was "on fire". Within a week the post had been shared 4,500 times.
"I kept answering women and families until 2 and 3am," she says. "I would sleep for two hours and just keep answering more questions and talking to people."
She was inundated with Egyptian women asking her questions and sending her virtual prayers: "My inbox filled up… It was just non-stop."
Within just two weeks, the wait was over: Mostafa received his immigration clearance and they were able to return to the US.
Today, Mekky is more motivated than ever to share her story with the world, sharing a guide in English on the criteria required on the Kafala process.
Her posts are often in English and Arabic, to encourage Egyptians living abroad to foster an Egyptian child and help "empty all the orphanages in Egypt".
Along with a growing number of volunteers, she set up a website and social media accounts, aiming to help other Egyptians considering alternative care options, and to champion other success stories.
Through meeting others in Egypt and the US with similar struggles and charitable organisations like Belgium's Face for Children in Need and Wedad Charity Foundation, Mekky has started to create a support group for Kafala families to share their own experiences and to address some of the stigma they might face.
One of the group's projects is to translate English picture books that teach children about adoption into the Egyptian dialect. They publish these as videos dubbed with audio translations.
Their first video is a translation of A Mother For Choco, by Keiko Kasza. In the story, Choco, a lonely blue-beaked yellow bird, wanders round in search of a mother, but cannot find any other creature that looks like him.
Eventually, he happens upon Mrs Bear, who welcomes him into her home as her son. When Choco meets her other children - a hippo, an alligator and a pig - he finds what he's been missing. The children all snuggle up on their mother's lap, their faces beaming. Choco is happy that "his new mommy looked just the way she did".
Mostafa's story
Now five-years-old, Mostafa has started asking his mother if they can "go and get a baby from the place that you said has babies that don't have mummies and daddies".
"This is what you want," Mekky says. "And he's not sad. He looks at it as a happy thing."
And from the beginning of their journey, Mekky has insisted on Mostafa's right to know his background, from the very first time he asked.
When one day, Mostafa, aged about three, came home from school and said, "I know the babies come from your tummy," Mekky knew that he was ready to learn the truth. "So I told him," she says. "That he comes from my heart."
And that's when "Mostafa's story" was born, and added to his bedtime routine. As Mostafa grows, so do the layers of the story: "Now it's involving more characters that he knows, like my friends," Mekky says. "And he can tell you the whole entire story."
It is clear, as she acts it out, that Mekky gets as much joy from this story as Mostafa. She tells him how much she had wanted a baby, even when her doctor told her she couldn't. "Mummy went and looked in that place that one of her friends told her has a lot of babies that don't have a mummy or a daddy.
"So I went, and looked around, and looked around, and looked around and - oh! I found," - she pauses for effect, before recounting her son's happy response - "'Mostafa!'"
https://www.middleeasteye.net/discover/egyptian-adoption-kafala-story-parenting
--------
URL: https://www.newageislam.com/islam-women-feminism/indias-first-time-protester-29/d/120789
New Age Islam, Islam Online, Islamic Website, African Muslim News, Arab World News, South Asia News, Indian Muslim News, World Muslim News, Women in Islam, Islamic Feminism, Arab Women, Women In Arab, Islamophobia in America, Muslim Women in West, Islam Women and Feminism