Age Islam News Bureau
30 Nov 2012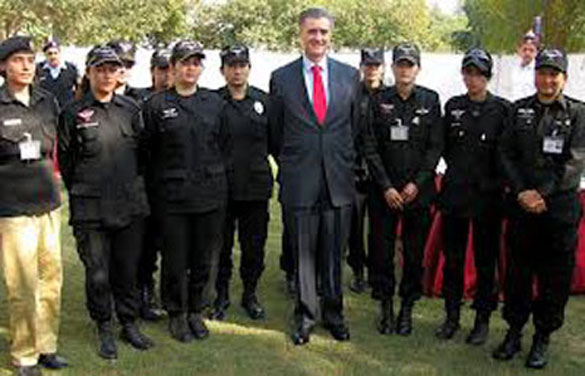 • Boko Haram Islamists Kill 20 College Students for Wearing Mini-Skirts, Slacks
• 'Cases of Rape Rise To 84% in Nigeria'
• Mali Extremists Target Women
• Plea Seeking Voting Rights For Muslim Women in Waqf Board
• Mandatory for Female Anchors on News Channels in Pakistan to Cover Their Heads
• Dole To Muslim Girls By U P Government To Promote Child Marriage?
• Muslim Women Divorcees Get No Legal Certificate, Jobs
• Electronic Monitoring Of Saudi Women Is Preposterous
• Olson Marks Women Rights Defenders Day with Police
• Violence against Women Vigil Held In Lahore
• Indian spiritual leader Amritanandamayi Devi addresses UN convention
• Worst Industrial Fire in Bangladesh: Too Young To Withstand the Shock
• Arab Women Take the Middle East Film Industry by Storm
• 39% Nigeria Children Engaged In Child Labour
• Kenya/Tunisia: Girls Side Ready for Dubai Show
• Local Values Block Female Participation in Politics: Indonesian Institute of Sciences
Compiled by New Age Islam News Bureau
Photo: US ambassador marks Women Human Rights Defenders Day with Islamabad
URL: https://www.newageislam.com/islam,-women-and-feminism/new-age-islam-news-bureau/indian-women-organisation-oppose-talaq-via-sms,-phone---email/d/9487
-------------
Indian Women Organisation Oppose Talaq via SMS, Phone & Email
Nov 29, 2012,
JAIPUR: Bharatiya Muslim Mahila Andolan (BMMA), a rights organization, has launched a campaign against the practice of pronouncing divorce via SMS, email and phone, calling it a violation of the rights of women enshrined in the Quran.
The BMMA is aghast at the increasing divorce cases using these modern tools. It said victims of such practices are mostly women from economically poor classes unaware of their rights.
"Muslim men have adapted to new tools for divorce which is against the Quranic injunction which demands arbitration before divorce proceedings," said Nishat Hussain of BMMA. `These new methods for divorce have come from the Western countries and has inflated the number of divorce cases.''
The BMMA has cited quotations from the Quran to show that arbitration in divorce is mandatory but is not practiced due to ignorance. `Neither t hey (women) have the courage to approach clerics nor do they get any remedy from the state bodies. The condition of such women is very deplorable and they become vulnerable for harassment,'' said another BMMA member.
"Such victims find no support. Bodies like the Women's Commission, Minorities' Commission and Personal Law Board always keep away from taking up such cases leaving the onus on the clerics for justice," said Hussain. She further stated that in most of the cases, they found the dubious role of clerics favouring men.
The BMMA asked the state government to declare the practice of unilateral divorce as illegal.
The organization opined that Muslim family law must be codified so that those violating the law are punished.
http://articles.timesofindia.indiatimes.com/2012-11-29/jaipur/35434286_1_divorce-cases-women-s-commission-bmma
-------------
Boko Haram Islamists Kill 20 College Students for Wearing Mini-Skirts, Slacks
November 29, 2012
In more Muslim War on Women news, Boko Haram, the genocidal Islamist terrorist group that the State Department would like the Nigerian government to make concessions to, has posted another reminder what the real war on women looks like.
Friday, about a day after 10 men were killed in Maiduguri, at least 20 women, some clad in mini-skirts and others in slacks were slaughtered in their Maiduguri homes and college dormitories.
The new execution-style violence is different than other recent killings conducted by Boko Haram Muslims in that it targeted women only. Authorities believe the women may have been slaughtered due to dressing in Western style.
The murders were carried out in the early hours of Friday, between 1 and 2am while victims slept. Ironically, a curfew imposed by state government insured the women would be home.
Friday, incidentally, is also the Muslim holy day, when they go to their mosques, hear sermons of murderous hate and then carry out terrorist attacks.
While useful idiots like Sandra Fluke wail about the War on Women, the real War on Women is being conducted by the left's Islamist allies.
Nigeria has a 50/50 split between Muslims and Christians. Every new mosque, every Muslim immigrant, brings American women closer to living in the same state of terror as Nigerian women do.
http://frontpagemag.com/2012/dgreenfield/boko-haram-islamists-kill-20-college-students-for-wearing-mini-skirts-slacks/
-------------
'Cases of Rape Rise To 84% in Nigeria'
30 November 2012
CASES of rape have gone up from 12.5 per cent to 84 per cent in Nigeria.
Revealing this on Thursday, in Ibadan, Dr (Mrs) Omolara Smith, President, Zonta Club II, Ibadan, said violence against women had become more rampant and called on the government to enact appropriate laws to serve as deterrence to culprits.
Smith, who was addressing journalists on activities organised by Zonta Club to mark the International Day for the Elimination of Gender-Based Violence, said, "violence against women and children in Nigeria has challenged us to act in solidarity to promote and end violence against women and girls. Over the years, cases of rape and other violence against women have been on the increase. It is our view that this can only be reduced or eradicated with proper legislation and stiff penalty."
Smith, who disclosed that the global theme of the international day was "From peace in the home to peace in the world," added that violence against women was something that should be abhorred by everyone in the society.
According to the Zonta boss, "Violence can lead to extreme physical, mental and psychological condition or even death, it can take place domestically, in the public or as part of community conflicts."
While advising women and girls to be wary of the company they kept, Dr Smith said, "Women are more likely to be victimised by someone they are intimate with."
The Zonta president revealed that the activities earmarked by the organisation to sensitise members of the public against victimising women and girls would span 16 days.
http://tribune.com.ng/index.php/news/51719--cases-of-rape-rise-to-84-in-nigeria-
-------------
Mali Extremists Target Women
BY JEMAL OUMAR AND BAKARI GUEYE
28 NOVEMBER 2012
Nouakchott — "The suffering of the local population, especially for women, is unimaginable," the Timbuktu mayor says.
As the Islamist occupation of northern Mali continues unchecked, citizens say that women are paying the heaviest price.
Starting about a month ago, Islamist group Ansar al-Din began arresting unveiled women in Timbuktu. The Islamists established a special "women's prison" for the purpose. Women have also been subjected to curfews, and are forbidden to be in the streets with men other than family members.
"Women are subjected to daily harassment and can no longer function normally," Malian journalist Bilal Sidibé said. "The space for freedoms has narrowed considerably."
"The suffering of the local population, especially for women, is unimaginable," Timbuktu mayor Hallé Ousman told Magharebia on November 21st. "The city's hospital is full of women battered by Ansar al-Din," he said.
Ousman also noted the "contradictions" of Ansar al-Din. While claiming to the world press that they have abandoned the application of Sharia, their behaviour tells another story, he said.
"This is hypocrisy unworthy of people who call themselves Muslims," the mayor added.
Al-Ahram reporter Ayman El Sisi confirmed the mayor's report. "Women in Timbuktu are forbidden to walk in the streets without wearing Islamic modest dress," El Sisi told Magharebia.
Citizens were optimistic earlier this month after an Ansar Al-Din delegation met with Burkina Faso President Blaise Compaore, the Economic Community of West African States (ECOWAS) top mediator for the Mali crisis. The Islamists, however, quickly resumed restrictions on the population.
Indeed, as Timbuktu resident Sidiya Touré confirmed to Magharebia, there has been a recent acceleration in the application of Sharia. And the situation shows no sign of letting up.
In the months since Ansar al-Din militants seized northern Mali, they have segregated schools, forced women to wear veils, shuttered bars and night clubs, inflicted brutal lashings on smokers, drinkers and clean-shaven men, and stoned two young Touaregs in Aguelhok for having a child out of wedlock.
Days after the couple's killing, the first Mali amputation was reported in Ansongo. Others followed in Timbuktu and Gao.
"What can we negotiate with these people?" Touré asked. "From the start, they announced the view that 'Sharia is not negotiable.' How can you talk with assassins who want to impose public stoning, amputations, and the burqa?"
For Malian university professor Habib Diarra, the situation is untenable.
"Today, the abuses have reached their peak with all sorts of crimes committed in the name of Sharia," Diarra said. "Groups like AQIM and MUJAO must be eradicated as soon as possible. This is a duty for the entire international community."
Other influential Malians are issuing the same plea.
In an open letter to the president of Mali on November 19th, governance and ICT expert Anasser Ag Rhissa wrote: "Co-existence in Mali, especially in the northern regions, between the Tamashek, Songhai, Fulani, Arab [and] Bambara was always accomplished... due to the historical links between these ethnic groups."
"This time, the wounds have been opened more widely, with criminal acts committed by armed groups, and now have a significant impact on all of Mali," he wrote.
Meanwhile, the aforementioned disconnect between Ansar al-Din's words and actions was noted by a rival rebel group.
Ibrahim Ag Mohamed Saleh, a leader in the National Movement for the Liberation of Azawad (MNLA), told Magharebia on November 21st: "If it is confirmed that the movement of Ansar al-Din is continuing such practices, we will stop the negotiations that we started a few days ago, because this shows a clear contradiction."
"At the moment we are busy confronting the MUJAO and don't want to open a new front," he said. "If, however, we notice an explicit contradiction, we will not hesitate to declare our unequivocal position."
http://allafrica.com/stories/201211291481.html?viewall=1
-------------
Plea Seeking Voting Rights For Muslim Women In Waqf Board
Nov 21, 2012
MADURAI: A woman has filed a writ petition before the Madurai bench of the Madurai high court seeking direction to the Tamil Nadu Waqf Board to include eligible Muslim women in the voters list meant for election to the 'Jumma Periya Pallivasal' in Batlagundu in Dindigul district.
In her petition, 56-year-old S Amroz Tahira contended that while talks are going on insisting one-third reservation for women, the Waqf Board authorities are trying to conduct the election without conferring any voting rights on the women. In the notice it was mentioned that Muslim males who have completed 18 years of age alone would be entitled to lodge their representations for removal or addition of names in the voters list. The women were excluded completely in the list. The petitioner also stated in her petition that they need only the voting rights.
http://articles.timesofindia.indiatimes.com/2012-11-21/madurai/35256882_1_muslim-women-madurai-bench-voters-list
-------------
Mandatory for Female Anchors on News Channels in Pakistan to Cover Their Heads
Pak panel calls for ban on ads with Indian models
Nov 29 2012
Islamabad: A Pakistani parliamentary panel today called for a ban on advertisements featuring Indian models and suggested that it should be mandatory for female anchors on news channels to cover their heads with a Dupatta.
The suggestion was made by the Standing Committee for Information and Broadcasting of the National Assembly or lower house of parliament during a meeting attended by Information Minister Qamar Zaman Kaira.
Full report at:
http://www.indianexpress.com/news/pak-panel-calls-for-ban-on-ads-with-indian-models/1038185/
-------------
Dole To Muslim Girls By U P Government To Promote Child Marriage?
Arvind Singh Bisht
Nov 29, 2012
LUCKNOW: Teen marriage has always been a hot button topic. The issue is debated endlessly but doesn't change the fact that teen marriages are still very much prevalent and quite common among poor Muslims. Considering this, the Akhilesh Yadav government's latest decision to give Rs 30,000 for education or marriage of class X pass poor Muslim girls, whose father's annual income is less than Rs 36,000 is now open to political debate.
The government has earmarked Rs 250 crore for the scheme in the supplementary budget for the current financial year passed on Tuesday. The budget literature categorically states that the poor Muslim girls, whose fathers' net annual worth is not more than Rs 36,000 will be eligible for grants for pursuing their education beyond Class X, or marriage.
Full report at:
http://articles.timesofindia.indiatimes.com/2012-11-29/lucknow/35433920_1_muslim-girls-child-marriages-marriageable-age
-------------
Muslim Women Divorcees Get No Legal Certificate, Jobs
Nov 29, 2012
JAIPUR: Many Muslim women divorcees are denied government jobs under special quota for single women as they could rarely produce a decree or an affidavit from a court that endorses her separation. Under the single women quota, widows, divorcees and deserted women are entitled to get priority in teaching, nursing, police, clerical and physical training jobs.
However, in Islam, divorce comes into effect just by pronouncing 'talaq' thrice in the presence of three witnesses. It does not require filing an application in the family court to get a decree, which is mandatory for others. Rough estimates say over 2,000 divorced Muslim women in the state are qualified to apply for these jobs. But what deters them from it is the absence of a legal document.
Full report at:
http://articles.timesofindia.indiatimes.com/2012-11-29/jaipur/35434299_1_muslim-women-muslim-bodies-single-women
-------------
Electronic monitoring of Saudi women is preposterous
November 29, 2012
Faisal Moghul
Recently, it was announced that Saudi Arabia is instituting a system of electronic monitoring of women that alerts their male "guardians" via text message when they leave the country. This is a perfect example of state paternalism run amok, which almost always leads to such absurdities.
The Kingdom of Saudi Arabia is home to an authoritarian monarchy that fashions itself as the praetorian guard of virtue at home. However, it is notorious for its decadent lifestyle that includes, among other things, having a good time with voluptuous blondes on the beaches of Spain and gambling like drunken sailors at the casinos of Las Vegas.
Full report at:
http://blogs.tribune.com.pk/story/14950/electronic-monitoring-of-saudi-women-is-preposterous/
-------------
Olson marks Women Rights Defenders Day with police
November 30, 2012
ISLAMABAD: US Ambassador Richard Olson praised the efforts of the Islamabad Capital Territory Police on Thursday in commemoration of International Women Human Rights Defenders Day at a forum to discuss ways to address domestic violence and crimes involving women, at the Police Lines.
In his remarks, Ambassador Olson highlighted the US efforts to empower Pakistani women and girls, including support to the special unit to investigate crimes against women and children established by the Islamabad Capital Territory Police in 2010.
Full report at:
http://www.dailytimes.com.pk/default.asp?page=2012\11\30\story_30-11-2012_pg11_6
-------------
Violence Against Women Vigil Held In Lahore
November 30, 2012
LAHORE: The Aurat Foundation (AF) on Thursday held a vigil in order to observe the National Day for Women Empowerment and the Violence Elimination at Lahore Press Club on Thursday. AF Director Abid said that human rights are considered to be incomplete without the implementation of compulsory women rights.
He said that millions of women and girls around the world are assaulted, beaten, raped, mutilated or even murdered in what constitutes appalling violations of their human rights. Full report at:
http://www.dailytimes.com.pk/default.asp?page=2012\11\30\story_30-11-2012_pg13_6
-------------
Indian spiritual leader Amritanandamayi Devi addresses UN convention
Nov 29 2012
Beijing : Coexistence of humankind is possible in this era of globalisation only when culture and modernisation are in balance, a renowned humanitarian and spiritual leader from India said today.
"Efforts at coexistence fail when we claim we are all one, but we disrespect each other's ancient customs and traditions," Mata Amritanandamayi Devi, popularly known as Amma, said while addressing the United Nations Alliance of Civilisations' (UNAOC) Regional Consultations for Asia-South Pacific in Shanghai.
Full report at:
http://www.indianexpress.com/news/indian-spiritual-leader-amritanandamayi-devi-addresses-un-convention/1038171/
-------------
Worst Industrial Fire in Bangladesh: Too Young To Withstand the Shock
Tawfique
November 30, 2012
Mizan and Masum are cousins: too young to understand what took away their mothers late Saturday night.
Mizan, 11 months old, and Masum, 18 months old, are now too exhausted to cry for their mothers. They were leaning against their fathers' shoulders like statues.
Both depended on mother's milk.
Almost a week had gone by since their mothers went to work at Tazreen Fashions factory in Ashulia and did not return.
Mizan's mother Mitu's body was lined up among other bodies at Nishchintapur Primary School ground Sunday morning while Masum's mother Mahfuza is missing.
Full report at:
http://www.thedailystar.net/newDesign/news-details.php?nid=259341
-------------
Arab Women Take the Middle East Film Industry by Storm
November 30, 2012
By Kathleen Quigley
With the 2012 Doha Tribeca Film Festival having recently come to a close, this annual event of the Doha Film Institute, one of the Middle East's largest film festivals, is showcasing some of the best work in new Arab and world cinema from the past twelve months. "Rafea: Solar Mamas," by Jehane Noujaim and Mona Eldaief and "Embers" by Tamara Stepanyan, were two women-directed documentaries in the Festival's "Arab Feature Film Competition" category. Women, in fact, are leaders in the film industry across the Middle East. The relationship between women in the Middle East and cinema has been growing richer, and is rooted in the region's robust traditions of movie production.
Full report at:
http://www.dailystar.com.lb/Opinion/Commentary/2012/Nov-30/196611-arab-women-take-the-film-industry-by-storm.ashx#ixzz2Dh00yCky
-------------
39% Nigeria children engaged in child labour
Olayinka Olukoya, Abeokuta
29 November 2012
A non-governmental organisation, Women's Consortium of Nigeria (WOCON) has reiterated its commitment towards eradication of child labour in Ogun State.
The Director of WOCON, Mrs. Bisi Olateru-Olagbegi made this known at a press conference held in conjuction with the International Programme on the Elimination of Child Labour (ILO/IPEC), at the NUJ Press centre, Oke-Ilewo, Abeokuta to commemorate the World day for the Prevention of Child Abuse.
Full report at:
http://tribune.com.ng/index.php/community-news/51610-39-nigeria-children-engaged-in-child-labour
-------------
Kenya/Tunisia: Girls Side Ready for Dubai Show
BY WILLIAM NJUGUNA
29 NOVEMBER 2012
Kenya Sevens women's team open their campaign against Maple Leafs of Canada in the Dubai Sevens international tournament starting tomorrow.
Maple leafs are one of the top sides in the event and are expected to push Kenya all the way in the event. Kenya face Tuks Ladies of South Africa in their second match before confronting Swedish Vikings in their third match. They wrap up their preliminary matches against Moscow Region and United Arab Emirates on Saturday.
Coach Kevin Wambua described the pool as tough but said the Kenyan girls were relishing the challenge of facing some of the top sides.
Full report at:
http://allafrica.com/stories/201211300095.html
-------------
Local Values Block Female Participation in Politics: Indonesian Institute of Sciences
November 29 2012
Research conducted by the Indonesian Institute of Sciences (LIPI) found that local values impede women's progression and participation in the country's politics.
LIPI found that cultural barriers, founded on patriarchal values adhered to by traditional ethnic communities in the country had limited women at the local political level.
"In general, [patriarchal values] are still dominant in our society. Women who are active in public life can be easily found in big cities. However, in rural areas they remain in the domestic sphere," LIPI senior researcher Syamsuddin Haris said on Wednesday.
Syamsuddin along with four senior researchers authored the survey, published in Women, Political Parties and Parliament, which was released on Wednesday
Full report at:
http://www.thejakartapost.com/news/2012/11/29/local-values-block-female-participation-politics-lipi.html
-------------
URL: https://www.newageislam.com/islam,-women-and-feminism/new-age-islam-news-bureau/indian-women-organisation-oppose-talaq-via-sms,-phone---email/d/9487