New Age Islam News Bureau
4 Nov 2017
• For women, Islam means empowerment, not oppression
• Father slaughters six-year-old daughter in Lahore
• Taliban chop off elderly woman's limbs before murdering her in Helmand
• Appropriating Muslim Women's Voices
• How young Saudi women hanker after PGs and PhDs
• Women driving: Decision soon on modalities
• Dubai Women's Triathlon off to rousing start
• Pakistan court makes landmark ruling against man for second marriage
• Performance review: 'Women lawmakers lack interest in legislative process'
• Women's detention: Balohistan MNA stages token walkout from NA
Compiled by New Age Islam News Bureau
URL: https://www.newageislam.com/islam-women-feminism/indian-woman-sold-saudi-arabia/d/113123
--------
Indian woman sold in Saudi Arabia as 'slave' to return tomorrow, says Sushma Swaraj
Nov 3, 2017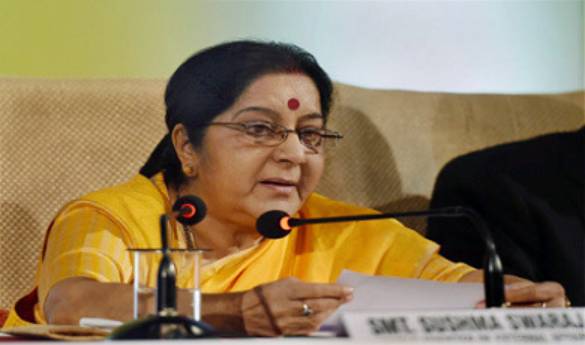 Photo: External affairs minister Sushma Swaraj has said that an Indian woman, who was "purchased" and being held captive in Saudi Arabia, will return home on Saturday
----------
NEW DELHI: External affairs minister Sushma Swaraj on Friday said that an Indian woman, who was "purchased" and being held captive in Saudi Arabia, will return home on Saturday.
"Paramjit Kaur is returning home tomorrow. I appreciate the efforts of Indian Embassy in Saudi Arabia," Swaraj tweeted.
Kaur, a 39-year-old resident of Jalandhar, had moved to Saudi Arabia for work, due to her family's poor financial condition.
She left India on July 23 and was 'employed' with a Saudi family, only to be told later that she would not draw a salary as she had been 'purchased' for Rs 3.5 lakh.
The accused travel agent is on the run.
Paramjit had alleged that she was made to work throughout the day with little break and food.
"I have to work throughout the day with little break and am not even getting proper food. They don't allow me to move out though I have been allowed to speak to my family on the phone," she said.
https://timesofindia.indiatimes.com/india/indian-woman-sold-in-saudi-arabia-as-slave-to-return-tomorrow-says-sushma-swaraj/articleshow/61497178.cms
--------
For women, Islam means empowerment, not oppression
By Mariam Khan
November 3, 2017
I see myself as a strong, empowered young Muslim-American woman who has overcome bigotry, ignorance, and racism that attempted to make me feel ashamed of my Islamic beliefs and values.
It's common for people to see my hijab (headscarf) and assume that I live a life of oppression, where only extrication from my religion can 'liberate' me. I'm consistently baffled by this.
In accordance with the Islamic principle "there is no compulsion in religion," I choose to wear my hijab as an act of worship for God alone, not for my father, brother, or a civil law. Islam has taught me how to value myself as a Muslim woman, and demand respect through my character and intellect, not through society's distorted standard of beauty.
Islam came with a revolutionary message that uplifts women's status to claim equality in stature and worship.
Islamic principles are derived from the Qur'an (the words of God), as well as the teachings, actions and advice of Prophet Muhammad. The distorted narrative that injustice and oppression are the foundation of Islam originates from many places, e.g. the misrepresentation and misbehavior of some Muslims, cultural traditions of patriarchal leadership, political ambitions, and economic and political instability.
Prophet Muhammad would be appalled and disheartened to find that some Muslim-majority countries largely circumvent Islamic principles, causing injustice in numerous areas along with denying women their God-given rights. Muslim women worldwide are now invoking the authentic rulings of Islamic Shariah (law) to reestablish these liberties.
During what was known as "the time of ignorance" prior to the revelation of the Qur'an, women had very little control over their lives, including their marriages. Women had no say in choosing their spouse or in taking possession of their dowry (the gift from the husband to the wife at the wedding).
Islamic Shariah decreed that my approval and consent is a prerequisite for the validity of a marriage. I am empowered to keep my last name to further establish that I retain my identity and I am not my husband's property. Islam even gave me the right to call for a divorce, which would require child support.
Financial empowerment is key to maintaining independence and equality. Islamically, one of mens' main responsibilities is to financially provide for their family. However, this does not limit my ability to acquire and manage my own assets. I have the right to excel in a socially beneficial career, work in a safe environment and earn a salary with fair pay. Any property, wealth, or inheritance that I attain remains under my control without any obligation to contribute to the household. This provides flexibility for women in terms of family planning and management.
Islam considers pursuing education as a momentous act of worship, and an obligation for every male and female. Growing up, my brothers and I were all raised with the same expectations: to get good grades, acquire higher education, build a career, and support and raise our families. None of these ambitions are gender-related. Prophet Muhammad challenged misogyny by being very attentive to his family and doing household chores.
Not only did Islam empower me to play an active role in my own well-being, I also have the right to political participation and to vote. Historically, Muslim women were provided several political and societal responsibilities, and even held legislative debates with the Prophet himself. One of many examples of this is a woman named Shifa bint Abdullah who held the position as the market's financial controller in a male-dominated career.
These rights came at a time when no one was protesting or rallying about the mistreatment of women. It was only after fierce fighting from determined women in the Suffrage movement that the 19th Amendment to the U.S. Constitution was ratified to grant American women the right to vote, only a century ago. In fact, many of the rights that Islam honored women with over 1400 years ago were not granted to women in the West until the late 18th and 19th centuries.
The Qur'an put an end to inequality by granting women spiritual, intellectual, economic, and social rights equal to, if not more than men. Prophet Muhammad both explicitly taught equality of the genders and took numerous concrete measures to profoundly improve the status and role of women.
I am not anyone's maid, slave, or property. I am a tenacious, strong-willed individual who has control over my life due to Islam's revolution of the way society should view women, and the way I view myself.
Mariam Khan is an Islamic Studies teacher and youth mentor at Baitul Mukarram Masjid of Greater Danbury, and is employed at The Mount Sinai Hospital.
http://www.newstimes.com/living/article/For-women-Islam-means-empowerment-not-oppression-12330151.php
--------
Father slaughters six-year-old daughter in Lahore
November 03, 2017
A ruthless father killed his six-year-old daughter in Lahore on a minor family dispute.
Police said that the minor girl was killed with a sharp tool on a family dispute in city's Raiwand area on Wednesday.
According to police, the accused Manzoor dumped the body in a room and fled from the scene. "We have shifted the body to mortuary for autopsy", the police said.
Police have lodged an FIR against the accused under 302 and launched an investigation into the matter.
A post-mortem report of the deceased would help unfold the mystery surrounding the death.
http://nation.com.pk/03-Nov-2017/father-slaughters-six-year-old-daughter-in-lahore
--------
Taliban chop off elderly woman's limbs before murdering her in Helmand
Nov 03 2017
The Taliban insurgents have brutally murdered an elderly woman on charges of cooperating with the government and security institutions in southern Helmand province of Afghanistan.
According to the local government officials, the elderly woman who was around 85-year-old, was initially kidnapped and was later murdered in a brutal way in Garamsir district.
The provincial governor's spokesman Omar Zwak confirmed the incident and said the woman was murdered by the Taliban insurgents few days ago.
He told BBC's Afghanistan service that the militants initially chopped off the limbs of the elderly woman before murdering her on charges of cooperating and supporting the government.
The anti-government armed militant groups including the Taliban insurgents have not commented regarding the report so far.
Helmand remains one of the most volatile provinces in southern Afghanistan since the fall of the Taliban regime in 2001 where terrorist related incidents are frequently reported from its various districts.
The execution of civilians by the Taliban insurgents on charges of working or cooperating with the government is not a rare incident.
However, this is the first time the militants of the group have killed an elderly woman on charges of supporting the government.
http://www.khaama.com/taliban-chop-off-elderly-womans-limbs-before-murdering-her-in-helmand-03718
--------
Appropriating Muslim Women's Voices
04 Nov, 2017
Bebaak Collective (Voices of the Fearless) univocally condemns Bharatiya Janata Party (BJP) leader Subramanian Swamy's comment in Mumbai on 27 October 2017 that the party could win the Uttar Pradesh (UP) elections because Muslim women believed that the BJP could save them from "triple talaq." BJP leaders have time and again celebrated the recent judgment that invalidates the instantaneous practice of triple talaq, claiming it a victory to itself and strategically pointing to the silence of the Congress government during the Shah Bano case. In fact, BJP's constant reference to the violent and gender discriminatory practice of triple talaq feeds into the imagination that the Muslim community is conservative and violent, creating fractures within the community and legitimising the targeted violence against the men of the community in beef cases or fabricated terror cases.
We strongly condemn the appropriation of the struggle of women's groups, and reiterate that triple talaq could be declared unconstitutional owing to the sustained work of women's groups in the community, and also because of the legal intervention made by grass-roots women's groups in the apex court supporting Shayara Bano's petition. Bebaak Collective, a campaign group working with several grass-roots organisations across states, was one of the petitioners to this case. On 22 August 2017, the Supreme Court adjudicated that instantaneous triple talaq will not be acknowledged by the law by a three–two majority in a five-member bench trial while maintaining the ethos of equality as enshrined in the Indian Constitution. This judgment is "historic" in that it provides legal acknowledgement to thedemands of Muslim activists across the country and also occults self-styled "authentic" representatives of the community, namely the All India Muslim Personal Law Board.
In the aftermath of this judgment, there have been a series of occasions where the government has consciously tried to hijack the victory and misrepresent events. It must be remembered that it was women's groups who approached the Court and not the current government who only filed an affidavit when directed by the Court. However, successive statements from BJP ministers congratulating Muslim women and projecting BJP as the sole messiah of the community has resulted in further polarisation within the community, and makes it appear as if the Muslim women's leadership is aligned with the right-wing government on this issue. We strongly resist this appropriation and unabashed manipulation of the Muslim community and, especially, its women.
It is pertinent to ask whether thegovernment has made any real policy intervention to improve the social security of the Muslim community in general or Muslim women and girls in particular. In fact, as soon as this government came to power, it criminalised beef consumption and trading, and failed to rein in the increasing number of right-wing cow vigilantes. Incidents of the killings of Muslims and Dalits on the suspicion of beef possession are a much-reported reality, while the perpetrators of the violence against Mohammad Akhlaq, Pehlu Khan, and Junaid continue to roam scot-free.
Besides, where was this government when the incidents of mass rape during the Gujarat massacre and Muzaffarnagar riots were being orchestrated and, subsequently pushed below the carpet? What has the government done to recuperate the lives of several displaced Muslim families in the above incidents? What did the government do when Hindutva strategies like Love Jihad gained ground and anti-Romeo squads flourished in states like UP? Such protectionist agenda not only led to social segregation between the majority and minority communities, but also had an impact on the lives of Muslim women, whose mobility was further restricted within the walls of their homes.
Instead, we challenge this governmentto protect the rights of Muslims byensuring that they implement the SacharCommittee's recommendations and pass the Prevention of Communal and Targeted Violence (Access to Justice and Reparations) Bill, 2011. Only if we see any progressive move in this direction can we believe that this government is interested in safeguarding the rights of Muslim women. Otherwise, these statements and empathy remain hollow, as the ruling dispensation has time and again demonstrated that Muslims are second-class citizens of this country and fall prey to both systemic and vigilante attacks.
The government is now shamelessly trying to capitalise on the 35-year long struggle of the women's movement, which stood by the Muslim community. This statement is a reiteration of the strong voices of women activists within the Muslim community, an emergent leadership which cannot be squashed or appropriated by any force. It must be remembered that this appropriation of the judgment will not only mar the complex questions of gender rights but also reduce the role of progressive political forces as redundant ideas. We must fight against this.
Bebaak Collective
Mumbai
Hasina Khan, Roshni Reena, Geeta Thatra from Mumbai; Shabina Mumtaz, Reshma from Chitrakoot, UP; Rehana Adeeb, Shahdab, Rani from Astitva, Muzaffarnagar, UP;
Azma Aziz, Fatehpur UP; Shabina Shaikh, Amreeha, Azamgarh, UP; Hamida Khatoon, Nasreen, Kahkashah, Saira from Lucknow; Khairunisa, Samina, Parwaaz, Ahmedabad; Reshma Vohra, Sahiyar, Vadodara
http://www.epw.in/journal/2017/44/letters/appropriating-muslim-womens-voices.html
--------
How young Saudi women hanker after PGs and PhDs
Hanan Alnufaie
Nov 4, 2017
OVER the Past 10 years, the Kingdom has witnessed a dramatic change in the way young women look at education. The percentage of female Saudi students traveling abroad to pursue higher education has increased at surprising speed. The current orientation in society is to motivate women to continue with their academic dreams.
Saudi Gazette sat with three young Saudi ladies to see how they think of women pursuing Master's and doctoral programs.
"From what I have seen around me, I can tell that most of the female Saudi students in our universities seriously plan to go beyond just a bachelor's degree and continue their education," said Amal, a university student.
Amal added that she herself plans to pursue medical studies in Germany. "I have discussed it with my family, and they are very supportive. They have seen teenage daughters of my relatives doing the same. So they welcomed the idea. I am personally getting ready by working really hard to get the highest GPA possible," she said.
Noura, another young Saudi lady, shared Amal's views but from a different angle. "When I graduated from the College of Business Administration, I desperately wanted to pursue my Master's in the UK and my husband agreed. However, having a first baby was a valid reason for both of us to postpone the plan. Because I cannot leave my baby with my family in Riyadh and at the same time I cannot take him with me abroad," she explained.
"Till now I did not achieve my dream of pursuing higher education in UK. From my experience, I recommend that a female student must fix her own priorities and act accordingly. Because you can get something at the expense of another," she said.
Tagreed is an employee at a local bank. She dwelt upon the passion of young Saudi women for Master's and PhDs. "In the past, it was very rare to see a lady who even dreams about a doctorate. The orientation of Saudi women was more about finishing university and then either accept a job or get married than going abroad for higher studies. Nowadays, that attitude has significantly changed. Most women put Master's and PhDs on their top priority list. They spend days and nights studying and researching to achieve their goal," she said.
She continued by revealing that the only reason behind her getting a job right after getting her BA was gaining experience to be eligible to pursue her Master's later on. "I graduated from the College of English Language and Literature, and my dream is to do my Master's in Media and Mass Communication. Many university professors I met with during the three-day exhibition on higher education held in Riyadh recommended that I gain some real experience on-the-job. I followed their advice and I am now working in a media and public relations department," she said.
"Having a dream and a goal to attain is the motivation one can ever have. I am not in a hurry, I enjoy my job and I enjoy the journey. The journey can take so long that we must enjoy it and be grateful," Tagreed concluded.
http://saudigazette.com.sa/article/520974/SAUDI-ARABIA/How-young-Saudi-women-hanker-after-PGs-and-PhDs
--------
Women driving: Decision soon on modalities
Mansour Al-Shihri
Nov 4, 2017
WOMEN in the Kingdom are eagerly awaiting results of the tripartite committee recommendations specifying the modalities of granting driving licenses to them.
A royal decree has tasked the tripartite committee comprising officials of the ministries of interior, finance and labor and social development to come up with recommendations after a month of deliberations. Since that period is now over, an announcement on ways to deal with women motorists in the field or administratively, is expected soon, Col. Tariq Al-Rubaian, spokesman of the Traffic Department said in an interview with the Saudi Al-Ekhbariah TV channel recently.
The committee was assigned to study ways to implement rules of traffic regulations and their executive bylaws and issue driving licenses to women to allow them to drive vehicles starting later this year.
The royal directives had mentioned that the recommendations and arrangements ought to be in conformity with the Shariah law and the regulations in force.
As to the directives of the Minister of Interior Prince Abdulaziz Bin Saud Bin Naif to set new speed limits on roads, Al-Rubaian said traffic density in the area and road specifications will have be to taken into consideration in this regard. The speed limit on major roads within Saudi cities will be raised upto a maximum of 80 km per hour.
He said Saher cameras would monitor motorists driving at speeds higher than 80 kph and speed limit signboards will be replaced.
Al-Rubaian stressed that the speed limit on highways linking the Kingdom's cities and governorates will not change and will remain at 120 kph.
http://saudigazette.com.sa/article/520978/SAUDI-ARABIA/Women-driving-Decision-soon-on-modalities
--------
Dubai Women's Triathlon off to rousing start
November 3, 2017
Dubai: The Minister of Cultural and Knowledge Development has called upon women to celebrate life while using sports as a medium.
Noora Mohammad Al Kaabi was speaking to the media after the presentation of awards at the inaugural Dubai Women's Triathlon held at the Dubai Ladies Club, on Friday.
"For us, this triathlon is a celebration of life as women. It also shows that we are all-inclusive," Al Kaabi said. "We are willing to embrace all communities and nationalities existing in the UAE. I am really proud to see all these women, especially the Emiratis, participate in something as unique as this first-ever triathlon in the Middle East. We can already feel the vibe that this event is going to be something big for the future.
"Going by the response, we can safely predict that this event will grow and we will have even more participation in the future. This event is an important platform for positivity, for the sharing of ideas and the promotion of happiness while pushing up the quality of life within the society that we live in. All of the elements that we are working on here, from a government perspective to a community perspective and to a sports perspective, all converge on this one big platform with sports as a medium in achieving our goals."
The races were divided into three main categories — the Super Sprint (400m swim, 10km cycling and 2.5km running), the Short Course (1.5km swim, 30km cycling and 10km running) and the Sprint Course (750m swim, 20km cycling and 5km running).
It was women from European nations who dominated, with Deirdre Casey of Ireland and Briton Leanne Carson picking up top honours in the Super Sprint categories, Svetlana Blazevic of Russia taking the top podium position in the Short Course, while Helen O'Neile of Great Britain won the Sprint Course.
"It feels great to be part of something as historic as this event. Honestly, I was not expecting to win here as it was more about just participating," Casey told Gulf News after finishing ahead of Australian Emma Deane and Bianca Beisetzer-Clark of Canada in the Super Sprint category for women over 30.
The Dubai-based accountant who took part in the Half Triathlon in Sardinia, Italy, last week was pleased that events such as the Dubai Women's Triathlon give people a platform of expression. "And along with it comes confidence. I am glad I participated," she added.
Great Britain's Carson, who took the honours in the other Super Sprint category with a time of 43 minutes, 21 seconds was thrilled with her top spot finish for the first time in her triathlon career.
"This has blown me away," said the teaching assistant from Dubai British School, Jumeirah Park.
"Dreams do come true and I would urge all women to participate. All one needs to do is set a goal and then go about achieving this goal through hard work and training," she urged.
Carson's husband Marc is also an accomplished triathlete, most recently winning the Oceanic Race in Khor Fakkan, while their eight-old son Joshua takes part in duathlons.
RESULTS
Super Sprint (30+) 1. Nada Omar (UAE); 2. Alison Round (Tri Belles Abu Dhabi); 3. Amani Mohammad Saif (UAE)
Super Sprint (16-29) 1. Aisha Al Metairi (UAE); 2. Asma Al Janahi (UAE); 3. Rona Salman (UAE)
Super Sprint (16-29) 1. Fiona Dutton (Great Britain); 2. Miriam Howard (Ireland); 3. Olga Zolotova (Russia)
Sprint Course (Teams) 1. Dubai Municipality 1 (1 hour, 10.34 secs); 2. Team 52 (1:24.20); 3. Anagowi (1:28.15)
Super Sprint (30+) 1. Deirdre Casey (Ireland); 2. Emma Deane (Australia); 3. Bianca Beisetzer-Clark (Canada)
Sprint Course (16-29) 1. Helen O'Neile (Great Britain); 2. Megan Elliott (Great Britain); 3. Sofia Chudinova (Russia)
Short Course (30+) 1. Svetlana Blazevic (Russia); 2. Lisa Hancox (Great Britain); 3. Lynette Warn (New Zealand)
http://gulfnews.com/sport/triathlon/dubai-women-s-triathlon-off-to-rousing-start-1.2118117
--------
Pakistan court makes landmark ruling against man for second marriage
November 03, 2017
It is the first time a court in Pakistan has sided with the woman under a 2015 family law
A Pakistan court on Wednesday ruled against a man who had remarried without his first wife's permission in a landmark verdict that was applauded by women's right activists.
Judicial magistrate Ali Jawwad Naqvi announced the verdict in a Lahore lower court, ordering the man to serve a six-month jail term and pay a fine of 200,000 Pakistani rupee ($1,902.95).
It was the first time a court in Pakistan had sided with the woman under a 2015 family law, and followed a petition by Ayesha Bibi, who said her husband, Shahzad Saqib, had wed for a second time without her approval.
"To get married without your first wife's permission is breaking the law," she had argued in her appeal.
The court rejected the man's argument that he did not need her permission because his religion allowed him four marriages.
The Council of Islamic Ideology (CII), a body that advises the government on the compatibility of laws with Islam, has often criticised the demand for a wife's written approval if her husband wants to remarry. But the CII's recommendations are not legally binding.
Women's rights activists applauded the ruling.
"It is encouraging that a wronged woman has used this law to complain to the court. The decision augurs well for women's empowerment," Romana Bashir, who heads a non-governmental organisation, Peace and Development Foundation, told the Thomson Reuters Foundation.
Fauzia Viqar, chair of the Punjab Commission on the Status of Women, a body promoting women's rights, welcomed the verdict as a way to strengthen women's hand in a conservative society.
"The decision sets an important precedent. It will discourage polygamy and encourage women to take up their case with the courts. It will create awareness among people, in general, and women, in particular. Wronged women using this law will lead to their empowerment," said Viqar.
Polygamy is not widespread in Pakistan.
No statistics are available, but the Institute of Policy Studies, an Islamabad-based non-profit research organisation, found it was most common in rural areas in families without a male heir or in cases when men fell in love with another woman.
It rarely occurs in cities, the group found.
The husband has the right to challenge his conviction in the Lahore case, though it was not clear if he would do so.
http://www.dhakatribune.com/world/south-asia/2017/11/03/pakistan-court-landmark-ruling-second-marriage/
--------
Performance review: 'Women lawmakers lack interest in legislative process'
By Rana Yasif
November 4, 2017
LAHORE: PML-N's legislator Hina Pervez Butt said most women legislators were not provided legal assistance to bring bills for legislation. She added that is the reason the majority of them take no interest in legislative process.
In the past four years, only 28 bills were submitted by women lawmakers in the Punjab Assembly out of which 10 were submitted by the opposition benches. These bills were submitted from the 2013 to October 2017.
Most women legislators of the treasury benches preferred to submit questions relating to different issues of the departments concerned, resolutions and adjournment motions. As a result, they avoided participation in the legislative process such as the introducing bills relating to different issues.
Hina Pervez Butt of the treasury benches and Dr Nausheen Hamid of the opposition seemed active as they introduced 15 and five bills, respectively, seeking legislation over different issues.
At the same time, the five other bills were submitted by women legislators Sadia Sohail Rana, Faiza Ahmed Malik of Pakistan Peoples Party (Parliamentarian) and Shunila Ruth. The rest of three bills were submitted by PML-N legislators Rahila Khadim, Faiza Mushtaq and Tamkeen Akhtar Niazi.
Punjab Criminal Law (Protection of Minorities) Bill 2017 was submitted by Hina Pervez Butt in which she suggested that anyone forcing people to convert to another religion should face life imprisonment.
She had also submitted a draft of the Punjab Prohibition of Hate Speech Bill, 2017 endorsing effective implementation of various laws against hate speech through the provincial government in line with the National Action Plan against publication of material that propagates hatred, decapitation, extremism, sectarianism and intolerance.
Dr Nausheen Hamid had submitted the Punjab Transgender Persons (Protection of Rights) Bill, 2017 for protecting the rights of transgender persons. She suggested in the proposed bill a jail term up to two years or a fine of Rs100,000 or both for anyone who endangers or threatens a transgender.
There are total 75 women legislators of both treasury and opposition benches in the Punjab Assembly. Only 10 women legislators belong to the opposition benches. Out of ten six are of PTI, two of PML-Q, one PPP and one from PML-Zia.
The women legislators of both treasury and opposition benches also introduced 18 amendment bills. Five were submitted by only Naseem Chaudhry of the PML-N and three by the Shunila Ruth of the PTI.
Resolutions
A tough competition among the women legislators was witnessed in submission of the resolutions in Punjab Assembly on different issues. As many as 959 resolutions were submitted out of which 163 were submitted by PML-N's Nighat Shaikh while 155 by the PML-N's Hina Pervez Butt.
https://tribune.com.pk/story/1549223/1-performance-review-women-lawmakers-lack-interest-legislative-process/
--------
Women's detention: Balohistan MNA stages token walkout from NA
By Qadeer Tanoli
November 3, 2017
ISLAMABAD: The issue of alleged detention of a few female relatives of a Baloch separatist echoed in the National Assembly on Friday with many legislators – both from the treasury and opposition benches – strongly criticising the authorities.
Syed Essa Noori of the Balochistan National Party (BNP) raised the issue on a point of order. He said the women who were relatives of a person belonging to a banned organisation were held in Quetta. He added that being related to an outlaw "is no justification for making someone disappear".
The BNP leader asked the government where the sanctity of one's privacy was. "Our honour is not safe. How long would we be facing such things which are neither allowed in Islam nor in humanity… or even the in law?" he said. Noori also staged a token walkout in protest.
Ghulam Ahmed Bilour of the Awami National Party (ANP) supported Noori's viewpoint and termed the arrest of women from Quetta severe injustice. He asked the government to intervene, saying that being a relative to someone was not a crime.
PTI, PPP stage walk out in NA over PML-N lawmaker's 'traitor' remarks
Abdul Hakeem Baloch of the Pakistan Peoples Party (PPP) also criticised the government for not reacting to the issue. "This is a very important issue," he said. "These women, irrespective of their relation with any family, deserve respect," he added.
Begum Tehmina Doltana of the Pakistan Muslim League-Nawaz (PML-N) told the house that Dr Allah Nazar did wrong but they picked three of his female relatives. "You can't do it and we strongly protest against it," she added.
PPP's Nawab Yousaf Talpur raised the issue of water shortage, specifically in Sindh. He said distribution of water among the provinces should be made under the 1991 water accord and the subsoil water should also be included in the distribution pool. He also asked for increasing Sindh's water share.
Rasheed Godail of the Muttahida Qaumi Movement-Pakistan (MQM-P) called for the construction of small dams in the country to overcome water and electricity shortages in the country.
Hakeem Baloch said that the agriculture of Sindh suffered badly because of the water shortage. He demanded construction of a separate Karachi-Hyderabad Motorway. The current motorway was constructed on Super Highway, he said, adding that new roads were constructed for Islamabad-Lahore Motorway while GT Road remained functional "which is not the case with the motorway in Sindh".
MQM-P stages walkout from National Assembly over rampant knife-attacks
Pakistan Tehreek-e-Insaf (PTI) lawmaker Lal Chand Malhi raised the issue of kidnapping of a woman from Umarkot two days before Dewali. He said seven people kidnapped her and raped her. He asked the Ministry of Human Rights to conduct an inquiry and present its findings in the house.
Malhi also demanded increase in the number of seats for minorities for the National Assembly "which remains the same since 2002".
On yet another point of order, PML-N's Tehmina Daultana said the family of former prime minister Nawaz Sharif was suffering against the backdrop of the Panama papers case. "There is a state within the state. Let there be one state. If the family of Nawaz Sharif is not spared then whose family should be spared," she observed.
The National Assembly did not take up more than two-thirds of its scheduled business, including a constitutional amendment bill for reallocation of seats among provinces. Speaker Ayaz Sadiq presided over the sitting for 35 minutes while Deputy Speaker Murtaza Javed Abbasi chaired the rest of the proceedings.
Earlier during the Question Hour, the house was informed that the government was working on an energy plan to produce electricity keeping in view the future needs of the country. Power Minister Awais Leghari said the government had made big investments to improve the electricity transmission system.
Punjab may lose four NA seats to K-P, Balochistan
The minister said a number of renewable energy projects were at various stages of completion. The solar and wind projects would add 626 megawatts of electricity to the national grid by November next year, he added.
Parliamentary Secretary Shahzadi Umarzadi told the house that multilateral and unilateral sanctions on Iran impeded the progress on the Iran-Pakistan gas pipeline project, but the government remained committed to implementing the project. He assured the house that gas supply situation in winter this year would be far better than in the previous years.
Earlier, the National Assembly observed one-minute silence to pay homage to Dina Wadia, the daughter of the Quaid-e-Azam, who passed away on Thursday.
https://tribune.com.pk/story/1548839/1-delimitation-bill-deferred-due-low-turn-national-assembly/
--------
URL: https://www.newageislam.com/islam-women-feminism/indian-woman-sold-saudi-arabia/d/113123
New Age Islam, Islam Online, Islamic Website, African Muslim News, Arab World News, South Asia News, Indian Muslim News, World Muslim News, Women in Islam, Islamic Feminism, Arab Women, Women In Arab, Islamophobia in America, Muslim Women in West, Islam Women and Feminism