New Age Islam News Bureau
6 Sept 2014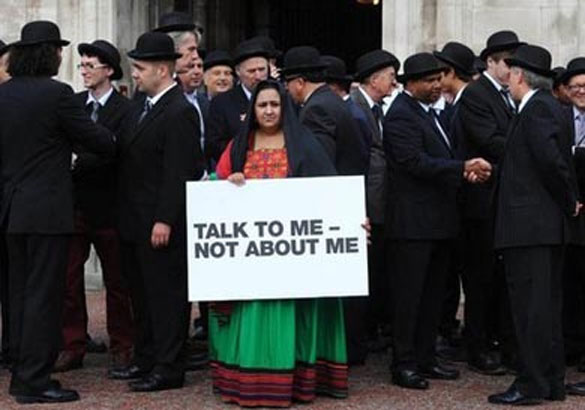 Samira Hamidi says Afghani women do not want decisions about their country taken 'behind closed doors'
-------------
• Indonesian Court Hears Interfaith Marriage Petition
• Malaysia Women Biggest Victims of Internet Love Scams
• One in Seven British Jihadists May Be Women
• No Need for Burqa Ban As Muslim Women in Spain Rarely Wear Them
• Kabul Rape Convicts to Face Death Sentence Soon, Karzai Assures Women
• Action Sought Against Girl Who Attacked, Insulted Haia
• Guaranteeing the Rights of All Saudi Women
• UK Mother Who Left Her Children to Join ISIS Threatens Christians with Beheading Via Twitter
• Minnesota woman left U.S. to fight for Islamic State: FBI
• Child homicide rate in Pakistan among world's worst
• Afghan Woman's 'Talk to Me Nato' Cardiff Summit Demo
• Two Women Arrested In Malaysia Face Jail, Lashing Under Anti-Gay Laws
Compiled by New Age Islam News Bureau
URL: https://www.newageislam.com/islam,-women-and-feminism/new-age-islam-news-bureau/indian-woman-seeks-abortion-after-being-raped-by-her-father-in-law;-clerics-order-her--to-treat-her-husband-as-her-son-/d/98941
-------------
Indian Woman Seeks Abortion after Being Raped By Her Father-In-Law; Clerics Order Her 'To Treat Her Husband as Her Son'
By PIYUSH SRIVASTAVA
06 Sep, 2014
Nine years after Charthawal village's infamous Imrana case, which had put the Islamic law under the public scanner, a similar case has come to light in a neighbouring village of Muzaffarnagar district.
A 28-year-old woman created ruffles in the local administration and the Muslim community on Thursday by moving an application before District Magistrate Kaushal Raj Sharma to arrest her father-in-law and allow her to abort her seven-month pregnancy.
"My husband has been working in Dubai for the last two years. My father-in-law has been sexually assaulting me at gun point since 2013. I remained silent because he used to threaten to kill me. He also video recorded his act and threatened to make it public if I opened my mouth. When I told my husband about it, he blamed me for making a false allegation against his father. When I finally told my parents, they suggested me to take legal action against my rapist father-in-law," the victim said.
Sharma confirmed that he had received the woman's complaint and said: "I have asked the chief medical officer and the police to probe the case. Further action would be initiated against the culprit under the law."
Clerics, however, have jumped into the case and have declared that, henceforth, the husband of the victim will be treated as her son.
Avoiding any comment against the father-in-law who repeatedly raped and blackmailed the victim, Maulana Mohammad Nazar of Jamiat Ulema-i-Hind said: "As per the Sharia law, the baby in her womb is her husband's brother. Her husband must divorce her, even if his father looked at his wife with lust."
In 2005, 28-year-old Imrana was sexually assaulted by her father-in-law Mohammed Ali.
The local community Panchayat had treated the case as that of adultery instead of rape, and ruled in the light of Sharia that her marriage with her husband stands null and void as the Islamic law considered sexual relations with both the father and the son as incestuous.
Instead of punishing the father-in-law, the Panchayat ordered her to treat her husband as her son and his father as her husband.
Imrana was made to suffer after she dared to continue living with her husband.
Samajwadi Party president Mulayam Singh Yadav had supported the Islamic Panchayat's decision.
http://www.dailymail.co.uk/indiahome/indianews/article-2744169/Muzaffarnagar-woman-seeks-abortion-raped-gunpoint-father-law-clerics-order-treat-husband-son.html#ixzz3CRlN2eLw
-------------
Indonesian Court Hears Interfaith Marriage Petition
Sep 06 2014
Jakarta. Five people filed a petition for a judicial review at the Constitutional Court on Thursday that, if successful, would legalize interfaith marriage in Indonesia.
The petitioners argue that the 1974 Law on Marriage, which requires all marriages in Indonesia to be conducted in accordance with the respective religious beliefs of the bride and groom, violates the Constitution and principles of Pancasila.
"We feel that our constitutional right can potentially be harmed by Article 2(1) of the law, which states that a marriage is only legitimate if it is conducted according to one's religion and belief," Anbar Jayadi, one of the plaintiffs, said on Thursday after a preliminary hearing.
Anbar argues that the clause has been interpreted by officials to mean that all marriages inconsistent with the parties' stated religious affiliations — as interpreted according to the officiants' understanding of that religion's tenets — are illegitimate and unlawful.
"The clause has therefore created legal uncertainty for those who want to get married in Indonesia because implementation of religious law is highly dependent on the interpretations of different individuals or institutions," Anbar said.
The plaintiffs' petition may be helped by a 1989 Supreme Court decision, Andy Vony v. The State , which found the 1974 Marriage Law does not apply to interfaith marriages.
The case involved the a Muslim woman and Protestant man. The Supreme Court held that "the Marriage Law did not regulate marriages between partners of different religions" since the 1974 law only repealed colonial laws to the extent they were inconsistent. Because the woman sought to register her marriage at the Civil Registry Office, the court allowed it to be formalized as a non-Muslim marriage.
However, the 1989 Supreme Court decision failed to clear the way for interfaith marriages, as many attest.
"The experience of having an interfaith marriage in Indonesia is really infuriating and bothersome. Why? Well, I am a Catholic and my husband is Muslim. We couldn't register our marriage in the Religious Affairs Office (KUA) because they oblige everyone who wants to register to be a Muslim — which is not fair," Antonia Timmerman said.
Antonia is a reporter for Investor Daily, which is affiliated with the Jakarta Globe.
"We couldn't register our marriage in the KUA, so we went to the Civil Registration office, which was also difficult. They asked for a 'Certificate of Baptism for the non-Catholic or non-Christian' [presuming conversion]," she said. "So, my husband signed a letter that stated he was in the process of studying my religion even though he did not intent to convert."
A woman who asked to be identified only by her initials, A.D., shares a similar experience.
"My husband and I agreed to pretend that I would convert to his religion solely for the purpose of getting a marriage certificate. But in fact, I'm still practicing my own religion," she said. "I believe it's a country's duty to issue regulations protecting its citizens, but as an individual I also have the right to choose to keep my religion. Therefore I lied," she said.
University of Indonesia sociologist Johannes Frederik Warouw said that the regulation of marriage in Indonesia is premised on its citizens' protection.
"The regulation is created to 'protect' society in terms of living their lives peacefully, without having difficulties that stem from interfaith marriage," he told the Globe on Friday.
"Problems that could come from interfaith marriage are marriage certificate and recognition of children from the marriage, especially when it comes to social institutions. Many will question it," he said. "However, the regulation becomes quite discriminative, as we know that there are also many people who marry people from other religions. People should start to look things differently and critically. However, we also couldn't blame people for being not open-minded about it."
Legal expert Frans Winarta said the 1974 Marriage Law is inconsistent with the state ideology, Pancasila.
"At one time, a marriage was considered already legal by only registering it to the Civil Registration Office. But now with the unclear and burdensome law it's become so complicated. The law forces people to look for loopholes, marrying overseas and returning home to register their marriage. So, what's the use of the law?" he said.
"The law is clearly discriminative and irrelevant with our nation's current condition. It should be eliminated because it doesn't reflect Pancasila," he said.
http://www.thejakartaglobe.com/news/indonesian-court-hears-interfaith-marriage-petition/
------------
Malaysia Women biggest victims of Internet love scams
06 Sep, 2014
KUALA LUMPUR: A total of 1,750 people were reported to have become victims of Internet love scam syndicates from January 2013 till August this year.
Losses have been estimated at RM68 million, said Federal Commercial Crimes Department director Mortadza Nazarene.
He said 1,205 of the victims were women.
"Based on police reports, 1,095 people fell prey to such syndicates involving losses of RM35.6 million.
"In August this year, 655 individuals were snared, losing more than RM32 million," he told a press conference at his office here today.
He warned the people, especially women to be extra careful and avoid falling victims to these syndicates.
http://www.freemalaysiatoday.com/category/nation/2014/09/05/women-biggest-victims-of-internet-love-scams/
-------------
One in seven British jihadists may be women
06 Sep, 2014
Researchers claim up to 15 per cent of Western jihadists in Syria and Iraq are women
Up to one in seven British jihadists who have gone to Iraq and Syria are women, it is feared.
As many as 60 Muslim women may have left the UK in the last year to join husbands or to find one in the conflict zones, academics say.
The growing trend of female jihadists has also been reflected in a changing role where some have taken on a recruitment role on social media, encouraging others to join them.
They include Aqsa Mahmood who this week allegedly encouraged terrorist acts on Twitter and Khadijah Dare who reportedly said she wanted to be the first woman to behead a Western prisoner.
Researchers at the International Centre for the Study of Radicalisation at King's College London, have been closely monitoring the activities of British jihadists on social media.
They believe between 10 and 15 per cent of Western fighters in Syria and Iraq are women.
Research associate Melanie Smith said they were aware of 21 women but believed the figure could be as high as 60 – among some 200 Western females in total.
"They tend to have traditional domestic duties and we do not believe they are fighting," she said.
"They are cooking for the fighters and cleaning and only tend to be allowed to leave the compounds to go shopping.
"However, those who have been there for a long time are moving away from merely living in an Islamic state towards a recruitment role.
"The newer ones are still in the euphoric stage of having made it there."
Ms Smith said while there have been examples of women joining foreign conflicts and jihad in the past, the scale that is happening now is unprecedented.
Earlier this week, the parents of Miss Mahmood, a privately educated 20-year-old from Glasgow, said they felt betrayed and horrified that she had joined jihadists.
The "bedroom radical" is said to have married an Isil fighter and reported to have encouraged terrorist acts via a Twitter account under the name Umm Layth. The account has since been deleted.
Miss Dare, from London, took to Twitter last month to celebrate the brutal Isil murder of US journalist James Foley and allegedly said she wanted to behead a Western prisoner as well.
The 22 – year – old mother of one, who moved to Syria in 2012 with her Swedish husband Abu Bakr, an Isil fighter, posted her slang – filled and misspelt message under the Twitter name Muhajirah fi Sham, which means "immigrant in Syria".
It emerged at the weekend that a 45-year-old mother of two had run off to join jihad with her younger husband.
Muslim convert Sally Jones allegedly also went online to say she wanted to behead Christians with a "blunt knife".
http://www.telegraph.co.uk/news/uknews/terrorism-in-the-uk/11077592/One-in-seven-British-jihadists-may-be-women.html
-------------
No Need for Burqa Ban As Muslim Women in Spain Rarely Wear Them
06 Sep, 2014
BURQAbans in Spain are 'totally unnecessary', says the chair of the Muslim Women's Association in the country, Hasar Famadi.
A potential blanket ban on the full-body covering worn by some female followers of Islam, which leaves only a thin strip for the eyes and the rest of the face, head, limbs and extremities concealed, was discussed this week by interior minister Jorge Fernández Díaz.
The Burqa has already been made illegal in public places in the city of Lleida, as well as other parts of Catalunya.
"This ban, I believe, would affect roughly three or four women in Spain," states Sra Famadi.
"I practically never see women with their faces covered – behind this prohibition is pure Islamophobia.
"It's about creating social alarm, and making out Spain is invaded with women wearing the Burqa, and that's not the case at all.
"There's no real conflict which justifies so much media attention."
Hasar Famadi admits she does not like Burqas anyway, and never wears one.
"I don't think it's necessary to wear a Burqa, and Islam does not specify that women should," she stresses.
"Women wearing the Burqa is purely a matter of how certain cultures choose to interpret Islam, but there's nothing in the Quran about it at all.
"Burqas are outfits which mainly come from the Persian Gulf – and the majority of us Muslim women in Spain are from North African countries like Morocco or Algeria.
"These outfits do not exist in our culture, in North Africa – we wear the more common types of headgear, such as the Hijab."
A Hijab is a headscarf which covers the hair and part of the neck, but leaves the wearer's face exposed, whilst the Niqab – which is rarely seen on north African Muslims, or indeed those from Bangladesh or Pakistan, from where first-generation Muslims in the UK predominantly originate – covers the head and lower part of the face.
"They are talking about what should not be talked about and legislating what should not be legislated," storms Famadi.
Two years ago, a teenage girl was expelled from a school in Madrid because she chose to wear a Hijab, or headscarf, which left her face uncovered – a decision which was made by the youngster herself, insisted her Moroccan parents, who said they had never put pressure on her to wear or not to wear it.
Her Spanish classmates all turned up the next day to school wearing headscarves in solidarity with their friend.
Lleida city council has banned the Burqa, but not the Hijab, in public places, and says this is for security reasons, so that a person's face can be seen, and not at all connected with religion or culture.
The council said it took the same stance with motorcycle helmets, which must be removed before entering shops or public buildings to allow the person to be identified – not only in Lleida, but in practically the whole of Spain and many other European and Anglo-Saxon countries.
http://news.gnom.es/news/no-need-for-burkha-ban-as-muslim-women-in-spain-rarely-wear-them-says-islamic-association
-------------
Kabul rape convicts to face death sentence soon, Karzai assures women
Sep 06 2014
Afghan President Hamid Karzai has assured that the perpetrators involved in gang-rape of four women in capital Kabul will face death sentence soon.
Aimal Faizi, spokesman for President Hamid Karzai said the reassurance was given during a meeting between the president and a group of women.
Faizi earlier had said that President Hamid Karzai will not delay the signing of death penalty of the convicts once the chief justice issues a verdict.
At least four women were kidnapped around two weeks ago in Paghman district after their car was stopped by gunmen while they were returning from a wedding ceremony.
According to Kabul security officials, at least six people including the head of a 16-people gang have been arrested in connection to the incident and are in police custody.
Three of the suspects were arrested by police from southeastern Ghazni province of Afghanistan late Monday after they managed to flee Kabul city, security officials said.
A demonstration was also organized in capital Kabul by students of Kabul university and Association of Islamic Students demanding the government of Afghanistan to immediately execute the rapists of four women.
The incident sparked public outrage after it was widely reflected by media agencies and through social media websites, with perpetrators confessing to their crime.
The US embassy in Kabul also strongly condemned the brutal robbery, torture and rape of the women and called on relevant institutions to take necessary actions against the perpetrators.
http://www.khaama.com/kabul-rape-convicts-to-face-death-sentence-soon-karzai-assures-women-8587
------------
Action sought against girl who attacked, insulted Haia
06 Sep, 2014
Members of the Commission for the Prevention of Evil and Promotion of Virtue (Haia) in Riyadh have filed a complaint with police against a girl who claimed they belonged to Islamic State terror organization before throwing her shoe at them.
According to reports, the Haia approached the girl asking her to cover her hair as she was "unveiled and attracting attention at a commercial centre, but she refused."
The girl then threw her shoe at them, accusing them of belonging to the IS and saying they lacked morals and must be reprimanded by the head of the Haia, said the report.
A number of bystanders confirmed the claims in the report, indicating that when a number of women present tried to intervene, she ignored them and left the centre.
Haia men managed to obtain the license number of her vehicle, and filed a complaint against her.
Police sources confirmed it and said the complaint will be dealt with following regulations.
http://www.arabnews.com/featured/news/626081
-------------
Guaranteeing the Rights of All Saudi Women
06 Sep, 2014
The rights of women are always a hot topic for debate. Although the media often highlight the rights of women, it appears to place greater value on the rights of affluent women rather than those of the poor and destitute. In the Kingdom, there are some affluent women who clamour for their rights and freedom, such as the right to drive, to travel without a Mahram (male relative) or to set up a sports club.
Islam is keen to guarantee the legitimate rights of women. The Prophet (peace be upon him) always advised his companions to treat women well, saying: "Be kind with the soft and gentle ones (women)." This includes all women irrespective of their social and economic status.
I would like to highlight the rights of some women who are neglected in Saudi society. First of all, let's look at the issue of divorcees. There has been an alarming increase in the number of divorces in Saudi Arabia to the extent that divorces are almost equal to the number of marriages that take place each year.
Regulations which aim to protect the rights of divorcees are ineffective. Problems related to maintenance, the custody of children and such other issues remain unsolved. Furthermore, the social security allowances received by Saudi widows and divorcees are often less than the salaries of housemaids.
A look at the education sector reveals even more painful examples of the failure to protect the rights of women. There are thousands of Saudi women working as teachers in remote villages. We frequently hear that these teachers have become victims of traffic accidents because they have been deprived of safe and comfortable accommodation near their schools and are therefore forced to travel long distances between their workplace and homes on a daily basis.
The scenario in the health sector is not much better. There are tens of thousands of poor Saudi families who do not have health insurance, and are therefore forced to beg for money to cover their medical expense. These women are deprived of the benefits of health insurance at a time when almost all expatriate women workers and housewives enjoy this right.
The women who raise the young generation which will build the nation are not getting their due rights. Guaranteeing the rights of all women is more important than working for the rights of only the affluent women in society.
http://www.saudigazette.com.sa/index.cfm?method=home.regcon&contentid=20140906217165
-------------
UK Mother Who Left Her Children to Join ISIS Threatens Christians with Beheading Via Twitter
06 Sep, 2014
The far-reaching influence of ISIS is becoming increasingly evident as a British mother of two, who left her children to convert to Islam and associate with the Islamic State terrorists in Syria, recently posted a series of tweets threatening Christians with beheadings by a "blunt knife." The radical militant threats, along with pro-Osama Bin Laden comments, were posted to the Twitter account of a Muslim extremists named Sakinah Hussain who uses the pseudonym Umm Hussain al-Britani, reports Yahoo News. However, before she converted to Islam, she was simply known in the United Kingdom as Sally Jones, 45, from Kent in southeast England, according to investigators. "You Christians all need beheading with a nice blunt knife and stuck on the railings at Raqqa ... Come here I'll do it for you!" the tweet stated. -
Authorities find the tweet particularly disturbing as it comes as two American journalists, James Foley and Steven Sotloff, were publicly beheaded by ISIS. According to the U.K., which had recently raised its terror threat to "severe" due to ISIS activity, Jones is just one of the hundreds of British citizens, according to security experts, that have joined the Islamic State. Although the public Umm Hussain al-Britani Twitter account has since been deleted and replaced, the new account's bio quotes the founder of al-Qaeda, Osama Bin Laden: "If our messages could reach you by words, then they wouldn't have traveled by planes' Shaykh Usama Bin Ladin." According to The Daily Mail, Jones is an unlikely candidate to convert to radical Islam or join in a jihadist militant group. Although she was unemployed and on government assistance, the blonde-haired, blue-eyed caucasian was the lead guitarist in a 90s all-girl rock band, as well as a seemingly free-spirited artist who sold her work online. It is believed that her involvement with Islam occurred after Jones fell deeply in love through an online dating relationship and married a 20-year-old British computer hacker and jihadi, Junaid Hussain. Hussain is thought be, along with other radicalized Britons, the possible executioner in the publicized video beheadings of Foley and Sotloff. According to the Birmingham Mail, Hussain was jailed for six months in 2012 for hacking into and posting online personal information pertaining to former U.K. Prime Minister Tony Blair and his family. While Hussain was out on bail for a violent disorder crime in Birmingham, he fled the country and convinced Jones to leave behind her two young sons and meet him in the Islamic State controlled Raqqa province in Syria. Hussain traveled to Raqqa with British hip-hop artist and jihadi Abdel-Majed Abdel Bary, who is also suspected of being the executioner of Foley and Sotloff. It is alleged that Jones snuck into Syria at the end of 2013. According to the U.K. Metro, a tweet dated on Aug. 10, using the hashtag #ISIS, confirmed that she and her husband made it to the "Islamic State" after taking seven months to get there. According to a later tweet, Jones' husband is currently at an Islamic State training camp where he is sharpening his "kaafir killing skills." Her brother, Patrick Jones, spoke to reporters in front of his house and said the family is distraught to learn she is working with Islamic State jihadists. "This is a very upsetting and distressing time for my family and I just don't want them to be a part of it. She fell in love and went away," Patrick Jones said. Neighbors told the Daily Mail that Sally Jones had always taken a strange interest in witchcraft. "She was a nightmare. Always screaming and shouting and up all hours of the night. Everything about her was extreme," the neighbor said. "She had problems with debts so one minute she was there, the next she'd scarpered. She started to go through a phase of thinking she was a witch. She'd post pictures on Facebook of her dressed in a cloak and said things about being able to talk to spirits." Sean Malone, director of CRI ministries, a Christian relief organization working with displaced Iraqis, said radicalized Westerner's involvement with ISIS should not surprise anyone--and is likely to get worse. "ISIS promotes their agenda by fear and by social media-- and nothing is more addicting than human blood, and what they're doing is attracting extremists around the world--thousands of extremists from the United States and Europe are joining the ranks, and their ultimate goal is to establish a caliphate, which brings all other Muslims around the world under their dominance and under one world order and one financial system and with one final end: to destroy the U.S. and Israel."
http://www.gospelherald.com/articles/52433/20140905/uk-mother-who-left-her-children-to-join-isis-threatens-christians-with-beheading-via-twitter.htm#sthash.h7m2MA4o.dpuf
-------------
Minnesota woman left U.S. to fight for Islamic State: FBI
06 Sep, 2014
The FBI has received word that a 19-year-old Somali-American woman from St. Paul, Minnesota, has left the United States for Syria with plans to join the Islamic State terrorist group.
"What is causing somebody who left a civil war that came here to have a second chance in life — what is pushing that person to go to unfamiliar territory and go to Syria and fight a war that religious leaders are saying is very wrong?" said Sadik Warfa, a deputy director for the Global Somali Diaspora, a local ABC affiliate reported Thursday.
"First of all, we are Americans. We are Somali-Americans. The concern for the safety of this country concerns us all," he added.
Kyle Loven of an FBI field office in Minnesota told the station that the bureau is working with local Somali immigrants on Islamic State group's efforts to recruit Americans.
"We are very actively engaged within the Somali community," Mr. Loven said, the station reported. "We're engaged with religious leaders. We're engaged with community leaders, and we're engaged with concerned members of the public who are abhorred by what they see with respect to their young people and want to put a stop to it."
News of the 19-year-old's quest to join the terrorist group comes just days after it was announced that Douglas McAuthur McCain, who also grew up in Minnesota, was killed in the Middle East fighting on behalf of the Islamic State group.
FBI Director James Comey said in June that he believed at least 100 Americans had already left the U.S. in an effort to join the terrorist group, the Associated Press reported.
http://www.washingtontimes.com/news/2014/sep/5/minnesota-woman-left-us-to-fight-for-islamic-state/#ixzz3CW5YppNY
-------------
Child homicide rate in Pakistan among world's worst
06 Sep, 2014
A report released by the United Nations Children's Fund (Unicef) on Friday revealed that one in 10 girls globally – 120 million – have been sexually abused, with violence against children taking increasingly insidious forms. The report, 'Hidden in Plain Sight: Statistical Analysis of Violence against Children', surveys 190 countries, including Pakistan, and surveys boys and girls aged up to 19 years.
While the statistics on violent acts such as homicide are startling – Pakistan is among 10 countries with the largest number of victims of homicide among children and adolescents up to the age of 19, with close to 3000 victims in 2012 – the findings on violence against girls stands out: 30 per cent of girls aged 15 to 19 surveyed say they have experienced physical violence since the age of 15, with 24 per cent saying they experienced physical violence within the last 12 months.
The report acknowledges the myriad forms violent acts can take and to that end, details different kinds of violence: physical (ranging from bullying to degradation or torture and including smacks, kicking, forced ingestion or any act intended to cause some degree of pain or discomfort), sexual (including unlawful or harmful sexual activity, exploitation, forced marriages), mental (including verbal abuse, threatening, isolating or ignoring, exposure to domestic violence and cyber bullying), and neglect (the failure to adequately care for a child's physical and psychological needs).
When girls were asked to identify the perpetrators of the violence, parents and caregivers (including stepmothers or stepfathers) were most commonly named, as well as husbands or partners (depending on the girls' marital status). Among married girls, 85 per cent of Pakistani girls surveyed identified their current partner as the perpetrator of violence. One per cent listed former partners, 10 per cent listed mothers or step-mothers while 15 per cent listed mothers-in-law as perpetrators of violence. Seventeen per cent of girls said they experienced physical violence while pregnant. These girls remained silent about the abuse they suffered, with 51 per cent saying they never told anyone.
When it comes to accountability for such violence, 53 per cent of girls said a 'husband or partner is justified in hitting or beating his wife or partner under certain circumstances'. Comparatively, 34 per cent of boys agreed that violence is condoned in certain situations.
The report notes that children who are abused or neglected may suffer from low self-esteem, depression and hampered development (often performing poorly at school). Witnessing violence can also cause distress, with many children internalising the nature of the violence they are exposed to and repeating patterns of abuse against others. Unicef states that the nature and impact of violence on children remains largely undocumented and underreported, while legal systems across the world fail to adequately respond to cases of violence against children.
http://tribune.com.pk/story/758602/violence-against-children-child-homicide-rate-in-pakistan-among-worlds-worst/
-------------
Afghan woman's 'talk to me Nato' Cardiff summit demo
06 Sep, 2014
An activist has flown from Afghanistan to Wales to highlight the lack of women at the Nato summit and the fears for women's rights in her own country.
Samira Hamidi, 35, protested in Cardiff as world leaders were meeting nearby to discuss international security issues.
Standing in a symbolic group of bowler-hatted men, she held a banner reading: "Nato: Talk to me, not about me".
Ms Hamidi, who has a York University human rights law degree, said women's voices were "worryingly absent".
Joining campaigners from Amnesty International and lobby group No Women No Peace, she said: "Peace and security agreements cannot be sustainable or effective without meaningful participation from 50% of the population."
US President Barack Obama and Prime Minister David Cameron are heading more than 60 national leaders at the military alliance's summit in south Wales.
The leaders were due to discuss the alliance's role in Afghanistan after the final withdrawal of its combat troops at the end of the year.
'Danger'
But the voices of Afghan women "will once again be worryingly absent," Ms Hamidi said.
The campaigners have criticised the "sexist" nature of Nato's ranks, claiming the UK's delegation to the summit is all male, while only one in every 40 signatories on global peace agreements over the past 30 years has been a woman.
Ms Hamidi said women in Afghanistan did not want discussions on the future of training and support for their country to be taken "behind closed doors".
"Violence against women and lack of health care are serious issues and there is no access to justice for women," she said.
"Danger is there every day for every woman. Every day you go out and you don't know if you will get back home safe or not.
Taliban
"I live in Kabul because it is my country and we have to be there. It is risky and uncertain, especially with the new government and international troops withdrawing.
"But there are so many capable women ready to take the important decisions needed to shape our country's future."
The Afghan army has seen a rise in the number of casualties as it increasingly takes over the battle against Taliban militants from the US-led foreign troops.
Separately, Afghanistan remains embroiled in a political crisis over June's disputed presidential election. The two rival candidates, Ashraf Ghani and Abdullah Abdullah, both claim victory.
http://www.bbc.co.uk/news/uk-wales-29080411
-------------
Two Women Arrested In Malaysia Face Jail, Lashing Under Anti-Gay Laws
06 Sep, 2014
TWO women have been been arrested by religious police in Malaysia under the country's criminal code outlawing homosexuality.
Police became suspicious when they found a dildo in the room of the two students, aged 20 and 21, who were staying in a hotel room in the southern Malaysian city of Johor Bahru, reports Buzzfeed.
Trans* rights organisation Justice for Sisters has expressed concern over the arrests, and have reportedly tried to reach the two women to offer legal assistance.
The penalty if the women are found guilty of breaching Malaysia's laws against homosexuality is up to three years in jail, a fine, and six lashes.
The two women were arrested as part of a larger raid that saw seven other reportedly heterosexual couples charged for violating religious laws against adultery and "close proximity".
While the criminal code's ban on homosexuality is a legacy of Malaysia's colonial past, Sharia law has also been used to prosecute trans* people for "impersonating" women.
http://www.starobserver.com.au/news/international-news-news/two-women-arrested-in-malaysia-face-jail-lashing-under-anti-gay-laws/127470
-------------
URL: https://www.newageislam.com/islam,-women-and-feminism/new-age-islam-news-bureau/indian-woman-seeks-abortion-after-being-raped-by-her-father-in-law;-clerics-order-her--to-treat-her-husband-as-her-son-/d/98941