New Age Islam News Bureau
25 Oct 2015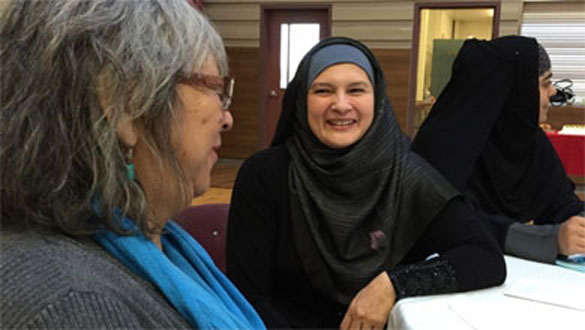 Indigenous and Muslim women shared stories of what inspires them at a luncheon in Winnipeg Saturday. (Wendy Buelow/CBC)
------------
• Indian Supreme Court Takes Up Cause of Muslim Women
• Female Bomber Kills 3 in Nigeria's Maiduguri
• Gender Pay Gap Details to Include Bonuses in UK
• Sweden Planning a Feminist Cyber Policy to Tackle Women Abuse Online
• Meetings and Greetings Encourages 'Sisterhood' Between Women of Different Cultures
• Hundreds Unite In Bloomington, Promising More Dialogue after Muslim Woman Is Attacked
Compiled by New Age Islam News Bureau
URL: https://newageislam.com/islam-women-feminism/indian-supreme-court-takes-up/d/105043
-------
Indian Supreme Court Takes Up Cause of Muslim Women
KRISHNADAS RAJAGOPAL
A two-judge Bench has ordered registration of a PIL and asked the Chief Justice to set up a Special Bench to consider gender discrimination suffered by Muslim women.
Thirty years after the Supreme Court urged the government to frame a uniform civil code to "help in the cause of national integration" in the Shah Bano case, a two-judge Bench of the court has suo motu ordered registration of a public interest litigation petition and asked the Chief Justice to set up a Special Bench to consider gender discrimination suffered by Muslim women owing to "arbitrary divorce and second marriage of their husbands during the currency of their first marriage".
Justices Anil R. Dave and Adarsh Kumar Goel issued notice to the Attorney-General and the National Legal Services Authority of India to reply, on November 23, whether "gender discrimination" suffered by Muslim women should not be considered a violation of the fundamental rights under Articles 14, 15 and 21 of the Constitution and international covenants. The October 16 verdict refers to dozens of its judgments since the 1990s to record the court's growing realisation that gender discrimination violated the constitutional rights of women.
They have been asked whether "gender discrimination" suffered by Muslim women should not be considered a violation of the fundamental rights under Articles 14, 15 and 21 of the Constitution and international covenants.
The verdict, dated October 16, refers to dozens of its own judgments since the 1990s in order to record the Supreme Court's growing realisation that gender discrimination is a violation of the constitutional rights of women.
Considering the strong pitch made by the Supreme Court recently for a common civil code, this judgment is significant as this is the first time that the court itself has shed its self-imposed restraint by suo motu ordering the registration of a PIL petition.
Even in the 1985 Shah Bano case, the court had only reminded the government of the lack of "evidence of any official activity for framing a common civil code for the country." It had said a "common civil code will help in the cause of national integration by removing disparate loyalties to laws which have conflicting ideologies."
Justice Goel wrote that the decision to "consider" the rights of Muslim women came up during discussions with lawyers on gender discrimination at the hearing of a batch of civil appeals on the issue of a daughter's right to equal shares in ancestral property under the Hindu succession law.
"An important issue of gender discrimination which, though not directly involved in this appeal, has been raised by some of the learned counsel for the parties which concerns rights to Muslim women. Discussions on gender discrimination led to this issue also. It was pointed out that in spite of guarantee of the Constitution, Muslim women are subjected to discrimination. There is no safeguard against arbitrary divorce and second marriage by her husband during the currency of the first marriage, resulting in denial of dignity and security to her," the judgment recorded.
"It is pointed out that the matter needs consideration by this court as the issue relates not merely to a policy matter but to fundamental rights of women under Articles 14, 15 and 21 [of the Constitution] and international conventions and covenants," Justice Goel wrote of the discussions the Bench had during the court hearings.
Justice Goel wrote how even in the Danial Latifi judgment of 2001, the Supreme Court's Constitution Bench had not addressed the issue of gender discrimination, though it held that "Article 21 included right to live with dignity which supports the plea that a Muslim woman could invoke fundamental rights in such matters."
In the Latifi case, the court attempted to uphold the constitutional validity of the Muslim Women (Protection of Rights on Divorce) Act, 1986, by extending the right of a Muslim woman to get maintenance till she re-marries. This Act had diluted the Shah Bano judgment and reduced the period of maintenance to the completion of iddat.
Justice Goel refers to several judgments of the past to show how the court stopped short of a judicial debate on the uniform civil code, fearing it would then take on an "activist role."
Changing stance
But Justice Goel points to recent SC judgments, like Javed vs. State of Haryana in 2003 in which a three-judge Bench intervened in personal law to uphold the dignity of women, to show the change in attitude.
In the Javed case, the court held that "polygamy is injurious to public morals and can be superseded by the State just as practice of 'Sati'."
Again, Justice Goel referred to the John Vallamattom case judgment of 2003, which said "laws dealing with marriage and succession are not part of religion." Finally, Justice Goel refers to the 2015 judgment in the Charu Khurana case, in which the court struck against gender discrimination shown to women make-up artists in the film industry.
http://www.thehindu.com/news/national/supreme-court-takes-up-cause-of-muslim-women/article7801153.ece
-------
Female Bomber Kills 3 in Nigeria's Maiduguri
AFP | Oct 25, 2015
MAIDUGURI, Nigeria: A female suicide bomber blew herself up in the north-eastern Nigerian city of Maiduguri on Saturday, killing three people and injuring several others, residents said.
The bombing in the city's Dala Yazaram neighbourhood happened a day after at least 55 people were killed in attacks in northeast Nigeria, where jihadist group Boko Haram are seeking to create a hard line Islamic state.
Although no group has claimed responsibility for Saturday's blast, immediate suspicion fell on Boko Haram.
A local resident said he saw two female suicide bombers arrive in the area, but one was stopped by people nearby while the other blew herself up.
"Three people have been killed and many injured. One of the terrorists was arrested before she could detonate," Shuaibu Umara, a security guard at a nearby petrol station, told AFP.
In a conflicting account, the National Emergency Management Agency (NEMA) said one person, a member of a civilian vigilante group assisting the military in the fight against Boko Haram, was killed and 10 injured in the blast.
NEMA spokesman Sani Datti said there had been four female suicide bombers who targeted Dala Ajeri but were intercepted by vigilantes.
"Three of the female suicide bombers detonated the explosions in their bodies immediately and the fourth one was intercepted but later died," Datti said in a statement.
Maiduguri has now been hit seven times this month, killing 79 people, according to an AFP tally, underscoring an increased risk to civilians after similar strikes in neighbouring states and near the capital Abuja.
On Friday, two explosions ripped through mosques in Maiduguri and nearby Yola, capital of Adamawa state, leaving at least 55 people dead and more than 100 injured.
The Yola explosion took place shortly after the imam had finished a sermon to inaugurate the new mosque.
Boko Haram has regularly targeted mosques and religious leaders who do not share their extremist ideology.
NEMA's Adamawa coordinator Sa'ad Bello said Saturday the toll from the mosque attack had risen to 30 from 27 on Friday, with 93 others injured.
Residents said the interior was still littered with shoes, prayer mats and worshippers' belongings.
Yola has been seen as a relatively safe haven from the Boko Haram insurgency, which has ravaged the northeast for the last six years, leaving at least 17,000 people dead and more than 2.5 million homeless.
President Muhammadu Buhari has sent a delegation to Adamawa and Borno states to express condolences and to stress the need for residents' vigilance, his office said.
"In this new phase of the war, all of us are generals, all of us are foot soldiers, all of us are intelligence officers," the statement quoted Buhari as saying.
Buhari has given his military commanders until December to end the insurgency.
The military has claimed a series of successes against the jihadists, saying Saturday that troops had destroyed Boko Haram camps and enclaves at the border towns of Kerenowa and Chikun Gudu as well as neighbouring villages in Borno state.
"During the operation which is ongoing, troops discovered and destroyed over 20 well fortified terrorist camps in the general area of Kerenowa," the army said.
http://timesofindia.indiatimes.com/world/rest-of-world/Female-bomber-kills-3-in-Nigerias-Maiduguri/articleshow/49523232.cms
------
Gender Pay Gap Details to Include Bonuses In UK
25 October 2015
Larger employers will have to publish the amount awarded to men and women in bonuses as part of proposed legislation to reduce the gender pay gap.
The planned regulations will apply to businesses in England, Wales and Scotland with more than 250 employees.
Women and equalities minister Nicky Morgan said the move was a "first step" but would "concentrate minds".
The TUC said the measures should include medium-sized businesses and come with fines for non-compliance.
The Chartered Management Institute said the new legislation would "force transparency" on companies.
The plan on bonuses is the first of a number of "equality-boosting measures" to be set out in detail this week and hopefully introduced in the first half of 2016, according to Downing Street.
Other steps include:
Every company with more than 250 employees will be required by law to publish the difference between the average pay of their male and female employees
The requirements will be extended to the public sector as well as private and voluntary sector employers
A target to include women on the boards of all the UK's top 350 companies will be introduced - after the aim of getting women into at least a quarter of boardroom seats in FTSE 100 firms was met
Details of exactly what companies must publish and when the scheme will begin will be announced after the results of a consultation, which concluded in September, are released.
'Concentrate minds'
More than 10 million workers will be covered by the new transparency rules - although far fewer than that receives bonuses.
The measures are contained in the Equality Act 2010, which was introduced by Labour but blocked from implementation by the Conservatives until now.
Latest figures show that, overall, women in the UK earn 19% less than men.
Up to the age of 40, there is very little difference between the earnings of men and women.
But beyond that age, when more women are likely to have taken time out to raise families and work part-time, there is a significant gap.
TUC general secretary Frances O'Grady said publishing salary and bonus information was a "start" - but employers needed to look at why women were still being paid less than men and "do something meaningful about it".
Ms Morgan said the government was "going further than ever before to ensure true gender equality in the workplace".
She also told the BBC's Andrew Marr programme: "When companies see the gender pay gap in their own company, of their employees, including bonuses, that does start to change behaviours; it [starts] the conversations in the company."
Chartered Management Institute chief executive Ann Francke said bonus gaps were "one of the biggest drivers" of gender pay discrepancy, particularly at senior levels.
"Bonuses are also where gender bias can creep in easily as they are amongst the least transparent forms of pay," she said.
"There's a tendency to reward those in our own image or to think that because men may be the 'main breadwinners' they deserve higher bonuses.
"And men often negotiate harder or trumpet their achievements more readily."
She told BBC Radio 5 Live the new legislation would mean many companies were going to say, "I didn't know we had a problem but we do."
'Guaranteed rights'
In July, Prime Minister David Cameron pledged to end the gender pay gap within a generation, but Labour called for "action not words" on equality.
Shadow women and equalities minister Kate Green said the gender pay gap was nearly 20% more than the European average.
"British women don't need warm words - we need guaranteed rights at work, properly enforced," she said.
CBI director for employment and skills Neil Carberry said eradicating the gender pay gap was an important goal, but reporting must be "relevant to each company rather than a box-ticking exercise".
http://www.bbc.com/news/uk-34630029
-------
Sweden Planning A Feminist Cyber Policy To Tackle Women Abuse Online
Kim Arora | TNN | Oct 25, 2015
DELHI: Maja Fjaestad, who identifies herself as a "cyber feminist", was in the capital to meet civil society groups to discuss ways to combat sexism on the web.
Sweden, where Fjaestad is state secretary to the minister for strategic development and Nordic cooperation, is formulating a feminist cyber policy to tackle online violence against women.
And there is plenty of it. In 2013, a British activist faced online rape threats for her petition that pound notes should carry a woman's image. Indian poet Meena Kandasamy faced similar abuse last year for apost on a beef-eating festival.
And in Sweden, 17-year-old singer Zara Larsson was threatened with rape and violence for pointing to the lack of female performers at a music festival in an online post. These only scratch the surface.
The hostility women face online is a reflection of offline patriarchal structures, notes Fjaestad. "The internet holds the possibilities to express oneself liberated of gender. I think we need multiple, strong voices that can balance the voices of suppression," she says.
Offline laws, Fjaestad says,are seldom implemented online, which is why there is a need to sensitize law enforcement agencies.
"In Sweden few cyber criminals are convicted. We are doubling the number of police officers working on cybercrimes, but we perhaps need stronger laws to protect integrity online," says Fjaestad, who feels there is also a need for policymakers to define harassment and abuse more clearly.
"In some cases harassment online is not even read as harassment, but as freedom of speech," she says.
http://timesofindia.indiatimes.com/tech/tech-news/Sweden-planning-a-feminist-cyber-policy-to-tackle-women-abuse-online/articleshow/49523251.cms?
------
Meetings and Greetings Encourages 'Sisterhood' Between Women of Different Cultures
Oct 24, 2015
Muslim and indigenous women came together to share stories of struggle, strength and inspiration in Winnipeg Saturday as part of Islamic History Month.
OPINION | Ahmed and Hymie: Muslim and Jewish immigrant friends thrived in Canada
About 200 women attended a unique luncheon aimed at bridging the culture gap to form a connection that goes beyond religion or ethnicity.
Hiba Kasen, one of the event organizers, said the get-together provided an opportunity to build relationships in the community.
"We all live in Canada in the same place. Especially in Manitoba ... we all need to feel included, understand and respect each other."
Muslim-indigenous women meet up, Winnipeg
Women and children of all ages participated in the event. (Wendy Buelow/CBC)
It gave the women a chance to get to know each other and an opportunity to bond over their different experiences living in Canada.
"We hope to be the role models for more communities coming together to share what our differences are and to celebrate what our similarities are and create a real sisterhood," said Diane Redsky, an organizer with the event.
Redsky added that she hopes the women who participated in the event left feeling they've made a new friend.
http://www.cbc.ca/news/canada/manitoba/muslim-indigenous-women-come-together-for-islamic-history-month-1.3287445
------
Hundreds Unite In Bloomington, Promising More Dialogue After Muslim Woman Is Attacked
OCTOBER 24, 2015, BY BRIAN BONDUS
BLOOMINGTON, Ind. (Oct. 24, 2015)– Several hundred Hoosiers rallied in Bloomington Saturday to raise awareness about Islamophobia, or hatred toward Muslims.
The rally comes after former Indiana University student Triceton Bickford, 19, is accused of attacking a Muslim woman at a Bloomington cafe because of her religion.
"This may have been one incident, but again this is just one symptom," Islamic Center of Bloomington's Hemayatullah Shahrani said. "I think there are significant underlying causes for these types of things and unfortunately these kinds of incidents are not uncommon."
The group marched down Kirkwood Ave. in Bloomington Saturday afternoon and gathered at the Monroe County Courthouse to hear several community leaders address the recent attack.
"We have failed in not teaching our students the very basic fact of being tolerant and being understanding," Indiana University Anthropology Professor Nazif Shahrani said. "We don't think he is truly the person who should be blamed for everything. He is a product of his community. He is a product of this educational system."
Indiana University graduate students Amanda Lanzillo and Denisha Jashari organized the event.
"We're really grateful members of the Muslim community in Bloomington came out here today and shared with us what they would like to see changed," Jashari said.
Much of the conversation focused on educating the public about Islam.
Fariha Hossain, Co-President of the IU Muslim Student Association, said she held a, "Meet a Muslim" day on campus this week.
"We also have to work ourselves to make sure the people around us know who we are," Hossain said. "(The attack) was sort of a reminder we have to be careful and not everyone in the world is as great as the person next door."
Hemayatullah Shahrani agrees education is key and believes the teaching needs to start in schools.
"Whether it's orientation at IU or within high schools, to have someone come in talk about Islamophobia… to explain to them that these kinds of things are hateful things and its often based on ignorance, prejudices and misinformation."
Bickford has pleaded not guilty all charges in the attack. The FBI is investigating it as a possible hate crime, while his attorney said Friday she would fight those assertions.
http://fox59.com/2015/10/24/hundreds-unite-in-bloomington-promising-more-dialogue-after-muslim-woman-is-attacked/
-------
URL: https://newageislam.com/islam-women-feminism/indian-supreme-court-takes-up/d/105043