New Age Islam News Bureau
20 March 2013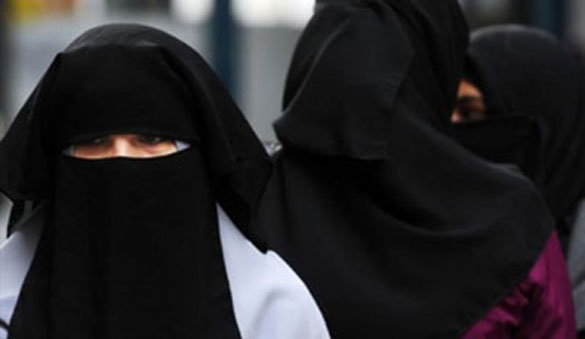 Photo: French Court Rules Sacking Over Veil 'Discriminatory'
----------
• Fatwa against 19-Yr-Old, Calling to Be Flogged Then Stoned To Death
• Lebanese NGO Collaborates with Religious Leaders to Combat Domestic Abuse
• Top French Court Rules Sacking Over Veil 'Discriminatory'
• Pakistan's Malala Yousafzai in School in UK for First Time since Shooting
• Iran Ex-President's Daughter Freed From Jail
• Three-Day Women Police Symposium in Pakistan, Commences
• In Middle East, Women's Labour Half of Global Levels
• Targeted by Militants, Pakistan's Women Push Back
• South Africa: 28% of School Girls Are HIV Positive
• Tanzania: International Women's Day Should Become National Day for Prominence
• Malian Women Displaced by Conflict Endure Hardship
• Uganda: Education Minister Warns Parents on Absenteeism
Compiled by New Age Islam News Bureau
URL: https://newageislam.com/islam-women-feminism/indian-society-chizophrenic-towards-women/d/10834
-----------------
Indian Society Is 'Schizophrenic' Towards Women: Vice President
Mar 19 2013
New Delhi: India may have been blessed with remarkable women leaders but the society is still "schizophrenic" towards women, often displaying endemic brutality in its word and deed, Vice President of India Hamid Ansari said here today.
The society still has a long way to go in ensuring full gender parity as it often fail to treat women as equal citizens and disregard their basic human rights, he said.
"Our country has been blessed with remarkable women leaders who have left an indelible mark on our society and polity through their invaluable contributions.
"The paradox is that, as a society we are somewhat schizophrenic in our attitude to women and in actual practice oscillate between deep respect and endemic display of brutality in word and deed," Ansari said after unveiling a book on former President Pratibha Patil.
The book titled 'The First Woman President of India, Reinventing leadership, Smt Pratibha Devisingh Patil' has been written by Hyderabad-based 'The English and Foreign Language University' Vice Chancellor Sunaina Singh.
Patil and her husband Devisingh Shekhawat was also present during the occasion.
Applauding the "exemplary" role played by Patil in the context of women's status in the society, Ansari said she has been a source of inspiration for fellow citizens.
"In a distinguished public life spanning almost 50 years, Patil went from being the youngest member of Maharashtra Legislative Assembly at the age of 27 to the highest office of the land as the twelfth President of India," he said.
Ansari said as President, Patil upheld the constitutional norms diligently and with the gravitas befitting the high office.
"She took important initiatives and continued working towards the socio-economic development of the country in her usual understated but determined way," he said.
http://www.indianexpress.com/news/indian-society-is-schizophrenic-towards-women-hamid-ansari/1090417/
-----------------
Fatwa against 19-Yr-Old, Calling to Be Flogged Then Stoned To Death
Calling for 19-yr-old girl to be flogged then stoned to death
20 March 2013
(ANSAmed) - TUNIS, MARCH 19 - Tunisian high school student Amina, 19, has joined the Femen credo of protest through nudity, and a Muslim cleric has issued a fatwa calling for her to be flogged then stoned to death.
Amina posted a topless picture of herself with the words ''my body is mine and no one else's'' written on her skin on the Tunisian Facebook fan page of Femen, a social movement and provocative women's movement founded in 2008 in the Ukraine. The page got 3,700 supporters and also a lot of insults and protests against what some deem is mere exhibitionism.
Fatwas are rulings on a point of Islamic law given by a recognized authority, and are sometimes not justified based on the Quran. But the fatwa against Amina could be risky for the student in contemporary Tunisia, where religious fundamentalism often exploded into violence.
http://www.ansamed.info/ansamed/en/news/nations/tunisia/2013/03/19/Tunisia-Muslim-preacher-issues-fatwa-against-Femen-activist_8428369.html
-----------------
Lebanese NGO Collaborates with Religious Leaders to Combat Domestic Abuse
Paige Kollock
March 19, 2013
BEIRUT — In Lebanon, it's difficult to obtain statistics about gender based violence and domestic abuse because of family honour and a culture of silence. According to one report by the Lebanese non-governmental organization Kafa, some 75 percent of Lebanese women have reported at least one incidence of domestic violence. In a society that relies heavily on religious leaders for guidance, a group called Abaad decided to take a novel approach to combating violence against women.
Samah al Turk lives in a one-bedroom apartment with her four daughters, her mother and her sister. The oldest daughter is 12, the youngest, five. Their father is absent from this picture and from their lives. They divorced when she could no longer tolerate his abuse.
"He hit me for things I never did, and people used to shout in front of me: 'Stop hitting her.' When we called the police hotline, they told me they could not interfere," she recalled. "And I believe that this is a tragic mistake. They wait until the husband kills the wife, or their children get hurt, until anyone interferes. We should make this generation much more aware than they are now."
What's not easy in a society that shies away from talking openly about domestic violence? Many organizations have tried to tackle the problem without success. Recently, Abaad solicited help from religious figures.
Lebanon is a country with 17 sects. Although most Lebanese are Muslims, Maronite Christians make up about one fifth of the population.
Abaad wanted to represent all of Lebanon's religions in a video for Lebanese TV, the Internet and on billboards. But in the end, the message was the same, "Violence against women is a sin. Jesus Christ denounced acts of violence against women."
"Many people wait for these men to speak to gain some sort of insight towards their lives and how they should live their lives, and so these men coming out with a powerful, direct message about ending violence against women and how the religion stands against violence against women, is so important for the cause," stated Anthony Keedi, program coordinator at Abaad.
Nabil Shehadi, pastor at All Saints Church in Beirut, says religious figures have more clout in the Middle East than in the West. "In the Middle East and in Lebanon, there isn't such a separation between faith and daily living," he said. "And so religious leaders have a big say in society and can be political mobiliser, not just religious leaders, and they're social mobiliser."
Human rights activists in Lebanon believe civil society campaigns like this one are having an impact, but that violence against women and domestic violence require greater attention from both the government and law enforcement for things to truly change.
http://www.voanews.com/content/lebanese-ngo-collaborates-with-relgious-leaders-to-combat-domestic-abuse/1624272.html
-----------------
Top French court rules sacking over veil 'discriminatory'
AFP | Mar 19, 2013
PARIS: A French Muslim woman who was sacked for wearing the Islamic headscarf at work was unfairly dismissed on the basis of her religion, France's top court ruled on Tuesday.
In a landmark decision, the Court of Cassation overturned an earlier ruling by an appeal court in Versailles which had upheld the right of her employer, a private creche in the Paris suburbs, to dismiss the woman after she refused to remove her headscarf.
Any overt religious symbols - headscarves, Jewish skullcaps or Sikh turbans for example - are banned from French state schools, which operate on strictly secular lines.
But the Court of Cassation ruled that this principle could not be applied to the woman's case because she was employed by a private creche, or day nursery, meaning her civil right to express her religious faith prevailed.
Interior minister Manuel Valls told parliament that the court's ruling was regrettable on the grounds that it "calls into question the principle of secular education."
The woman, who had just returned to work after a five-year break to bring up her children, was sacked in December 2008 after refusing to remove her scarf when told to by the management of the " Baby Wolf" creche in Chanteloup-les-Vignes to the west of Paris.
The creche had defended the dismissal on the basis of its own internal rules which required employees to be neutral in matters of philosophy, politics and faith.
France has since banned the wearing of niqabs - veils which cover the full face - in public but that controversial legislation would have had no bearing on this case.
http://timesofindia.indiatimes.com/world/europe/Top-French-court-rules-sacking-over-veil-discriminatory/articleshow/19077513.cms
-----------------
Pakistan's Malala Yousafzai in school in UK for first time since shooting
AFP | Mar 20, 2013
LONDON: Pakistani teenager Malala Yousafzai returned to school on Tuesday for the first time since October when she was shot in the head by the Taliban for campaigning for girls' education.
The 15-year-old said she had "achieved her dream" and was looking forward to meeting new friends at the independent Edgbaston High School for Girls in Birmingham, central England, where she is now living.
Malala was flown to Britain after the attack for surgery for her head injuries and underwent several operations as recently as last month.
Full report at:
http://timesofindia.indiatimes.com/world/uk/Pakistans-Malala-Yousafzai-in-school-in-UK-for-first-time-since-shooting/articleshow/19085554.cms
-----------------
Iran ex-president's daughter freed from jail
19 March 2013
TEHRAN: The daughter of Iran's former president Akbar Hashemi Rafsanjani was released Tuesday after serving a six-month sentence on charges of propaganda against the regime, her lawyer told the ISNA news agency.
Lawyer Sohrab Soleimani said Faezeh Hashemi, who was arrested in late September and taken to Tehran's notorious Evin prison, was released in the early hours of yesterday, ISNA reported.
Hashemi was among thousands arrested for taking part in protests that erupted after President Mahmoud Ahmadinejad was given a second term in a 2009 election amid claims by the opposition that the vote was rigged.
Full report at:
http://www.arabnews.com/news/445364
-----------------
Three-Day Women Police Symposium in Pakistan, Commences
20 March 2013
ISLAMABAD: A three-day learning and planning symposium of Women Police Network (WPN) inaugurated here on Tuesday to provide an opportunity to women police in getting familiarised with the basics of networking and plan activities for their respective Women Police Councils.
The symposium aims to raise awareness of the issues affecting women within the police service and help them with their professional development.
Full report at:
http://www.dailytimes.com.pk/default.asp?page=2013\03\20\story_20-3-2013_pg11_4
-----------------
In Middle East, Women's Labour Half of Global Levels
By Katelyn Fossett
20 March 2013
WASHINGTON, Mar 20 2013 (IPS) - As countries in the Middle East and North Africa adjust to profound political changes and economic difficulties, development experts on the region have increasingly turned their attention to the social and economic potential of incorporating more female workers into the labour market.
Not only would more employed women stimulate economic growth, but a more inclusive labour market has also been thought to encourage political participation among women. But the World Bank is warning that Middle Eastern and North African (MENA) countries are lagging on bringing more women into the workforce.
Full report at:
http://www.ipsnews.net/2013/03/in-middle-east-womens-labour-half-of-global-levels/
-----------------
Targeted by Militants, Pakistan's Women Push Back
In Pakistan, women occupy a difficult place in society. They are the receptacles of society's expectations and never allowed to be human beings, or individuals
BINA SHAH
19 March 2013
One of the most popular adages in Pakistan goes like this:
"Heaven lies at the feet of your mother". It is based on a saying, or hadith, of the Prophet Muhammed, peace be upon him, and is used to show how much respect Islamic culture holds for women. Another popular story recounts how a man asked the Prophet who was most deserving of his respect. The Prophet replied six times, "Your mother" and only on the seventh repitition of the question, replied, "your father".
Full report at:
http://www.independent.co.uk/voices/comment/targeted-by-militants-pakistans-women-push-back-8539318.html
-----------------
South Africa: 28% of school girls are HIV positive
20 March 2013
A report has indicated that about 28 per cent of South African school girls are still living with HIV, despite the marked progress in curbing the HIV epidemic, compared with just four per cent of boys.
According to the statistics released to the media by South African Health Minister, Aaron Motsoaledi, at a National Council of Provinces meeting, called "taking Parliament to the people" at Carolina, Mpumalanga.
The statistics reveals that 94,000 schoolgirls fell pregnant across the country in 2011 with 77,000 having abortions at public facilities.
Full report at:
http://tribune.com.ng/news2013/index.php/en/world-news/item/7754-south-africa-28-of-
-----------------
Tanzania: International Women's Day Should Become National Day for Prominence
BY SWAUM MUSTAPHER, 20 MARCH 2013
SOME women in the country have the opinion that the International Women's Day should be made a national day in consonance with the role women play in the society and give the day its true veneration.
Ms Safia Mgala (35), a resident of Nundu-Nyakato in Mwanza underscores the importance of the day by expressing her feelings, saying that observing the day worldwide with other nations is so low key and does little to give prominence to subjugation of women in Tanzania in particular.
Full report at:
http://allafrica.com/stories/201303200111.html?viewall=1
-----------------
Malian Women Displaced by Conflict Endure Hardship
March 19, 2013
The ongoing conflict in Mali has led to the displacement of hundreds of thousands of people. The toll can be devastating as families are uprooted and forced to live in circumstances that they are not used to.
The Internal Displacement Monitoring Centre, IDMC, found for women and girls, it is especially traumatic. On top of the harsh rules they are now living under in a new location, there are countless reports of sexual violence, even forced marriages of very young girls to their assailants.
Full report at:
http://www.voanews.com/content/mali-women-displaced-violence-idps-sharia/1624368.html
-----------------
Uganda: Education Minister Warns Parents on Absenteeism
BY CHARLES ACHOBA AND SIMON NAULELE, 19 MARCH 2013
Education and sports minister Jessica Alupo has directed local leaders across the country to arrest parents who keep their school-going age children out of school.
"Those parents who keep children out of school when others are studying and those marrying off their under-age daughters should be brought to book," she said.
Full report at:
http://allafrica.com/stories/201303191356.html
-----------------
URL: https://newageislam.com/islam-women-feminism/indian-society-chizophrenic-towards-women/d/10834