New Age Islam News Bureau
26 Aug 2018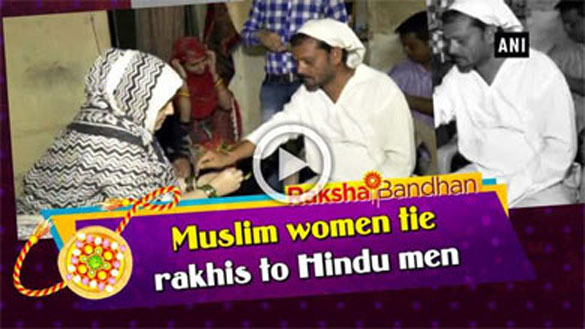 • Selangor to Table Bill to Up Marriage Age for Muslim Women
• 'Indian Muslims Much Safer Than Muslims in Islamic Countries': This Saudi Woman's Reply Is Winning Hearts
• Muslim Women in Burqas to Tie Rakhis to Cows Says BJP leader Bukkal Nawab
• Fight To Save Female Activist From Saudi Arabia Execution
• Tabriz University Student Roya Saghiri Was Transferred To Tabriz Prison
Compiled by New Age Islam News Bureau
URL: https://www.newageislam.com/islam-women-feminism/indian-muslim-women-tie-rakhis/d/116200
--------
Muslim Women Tie Rakhis to Hindu Brothers In UP
26 Aug 2018
Kanpur (Uttar Pradesh) [India], August 26 (ANI): Setting an example of harmony and brotherhood, the women of a Muslim family in Naubasta area of Uttar Pradesh's Kanpur tie rakhi to their Hindu brothers every year.
Keeping up with the tradition of Ganga-Jamuni tehzeeb, every year on Raksha Bandhan these women get dressed, decorate their 'puja thali' and perform the rituals.
"We have been tying rakhi on the wrists of our Hindu brothers for many years now, and it makes us very happy," said Shabia Khan.
Ganga-Jamuni tehzeeb is an Urdu term for the culture of central plains of Northern India, especially in the Doab region of Ganga and Yamuna rivers; it has a fusion of Hindu and Muslim elements. Allahabad, Lucknow, Kanpur, Varanasi are few of the many centres of this culture.
Earlier in the day, President Ram Nath Kovind also expressed the desire of strengthening the feeling of brotherhood amongst the people while extending his wishes to the nation on the occasion. (ANI)
https://www.abplive.in/india-news/muslim-women-tie-rakhis-to-hindu-brothers-in-up-747488
--------
Selangor to Table Bill to Up Marriage Age for Muslim Women
August 24, 2018
SHAH ALAM: The Selangor government will table a bill to amend the marriage age for Muslim women during the state legislative assembly sitting which will commence next month.
Selangor Speaker Ng Suee Lim said it would be done during the sitting of the 14th state legislative assembly which is scheduled to be officiated on Sept 3. The sitting will begin the next day and expected to end on Sept 7.
"We will table the bill to make amendments to the Islamic Family Law (State of Selangor) Enactment 2003. This is involving the minimum age for marriage for Muslim women in Selangor. The amendment is to adjust the minimum age limit for Muslim women from 16 to 18.
"The bill will be opened for discussions among members of the house and we hope it will be passed. This is in line with Selangor Islamic Religious Council (MAIS) ruling to amend the age limit for Muslim women from 16 to 18 that was decided recently," Ng told the New Straits Times Press today.
MAIS, had in a statement last month, said it held an indepth discussion with several parties on the matter following a decree by Sultan of Selangor Sultan Sharafuddin Idris Shah.
MAIS had called for a meeting with the Selangor Syariah Judiciary Department (Jakess), the Selangor Islamic Religious Department (Jais) as well as other stakeholders such as non-governmental organisations, health experts and academicians.
MAIS said a consensus was reached by all parties that a request for an amendment to the Islamic Family Law (State of Selangor) Enactment 2003 to increase the age from 16 to 18 for girls to be made.
On a separate matter, Ng said the newly minted Sungai Kandis assemblyman Mohd Zawawi Ahmad Mughni will take his oath of office during the sitting.
The Seri Setia and Balakong assemblymen will be sworn in the following sitting expected to be held in November where the state government will unveil its budget for next year.
https://www.nst.com.my/news/nation/2018/08/404512/selangor-table-bill-marriage-age-muslim-women
--------
'Indian Muslims Much Safer Than Muslims in Islamic Countries': This Saudi Woman's Reply Is Winning Hearts
Aug 23, 2018
A Saudi woman's frank response on question-and-answer community platform Quora is going viral.
Aisha Fahda, who defines herself as 'a Muslim girl living in Sweden', said that " Indian Muslims are much more safer than those Muslims living in the Islamic countries."
An anonymous Quoran asked, "Why don't Pakistan, Turkey and Saudi Arabia together attack India to save Indian Muslims?"
The question has more than 100 responses, including few highly upvoted ones. But Fahda's response stood out. Here's a complete text of her response.
Q: "Why don't Pakistan, Turkey and Saudi Arabia together attack India to save Indian Muslims?"
Aisha Fahda: I'm not an Indian but I can tell you for sure that Indian Muslims are much more safer than those Muslims living in the Islamic countries.
Islamic countries follow the "Islamic Sharia Law" which is extremely totalitarian and completely against human rights.
I am a Saudi woman and I have spent my entire childhood in Saudi Arabia. I have witnessed many public executions since I was only 6 years old. I saw a man being beheaded for leaving Islam (apostacy), I saw a thief whose left hand was being amputated as a punishment for stealing and I saw three gays being thrown from the rooftop of a tall building beacause homosexuality is a sin in Islam.
All of these cruel acts happen because Islamic countries are governed by the Sharia law.
Indians, on the other hand are governed by something known as the "Indian Constitution" which is full of human rights and gender equality. India is one of the best democracies in the entire world.
I have been currently living in Sweden since I was 22 years old. My boyfriend is an Indian and we both visited India last year. And believe me when I tell you this, Indians have a heart of gold and they are as secular as secular ever will be.
If I would have been living in Saudi Arabia instead of Sweden, I would have been beheaded because I partied a lot here in Sweden and also drank a lot of whiskey and sherry wine. My boyfriend would have been beheaded as well because he lost his virginity before marriage when he was only 15 years old.
So, Pakistan, Turkey and Saudi Arabia should concentrate on the welfare of their own people instead of trying to save Indian Muslims, who are perfectly leading such a safe and wonderful life in India."
The answer has over 16 thousand upvotes and nearly 200 shares.
http://zeenews.india.com/viral/indian-muslims-much-safer-than-muslims-in-islamic-countries-this-saudi-womans-reply-is-winning-hearts-2135269.html
--------
Muslim Women in Burqas to Tie Rakhis to Cows Says BJP leader Bukkal Nawab
26 August 2018
While the country is celebrating Raksha Bandhan in their usual way, by tying rakhi onto their brother's wrist, Bharatiya Janata Party (BJP) leader Bukkal Nawab from Uttar Pradesh has announced totally different plans for this Raksha Bandhan. As per the announcement made by BJP leader Bukkal Nawab, all the Muslim women from the district will celebrate Gau Rakhsha Bandhan on Sunday. In the following event, BJP leader said that the women belonging to Muslim community will be tying rakhis to cows at Lord Shiva temple near Kudiya Ghat in Rumi gate area in Lucknow.
The following event is particularly aimed at encouraging Muslims to protect cows. Commenting on the Gau Raksha Bandhan, BJP's Bukkal Nawab said that for him, cow protection is important and his top priority. He further added that the time to save their holy cows has come.
Amartya Sen says non-communal, non-BJP parties should ally for 2019 elections
Bukkal Nawab was earlier with Samajwadi Party and had recently joined BJP in 2017. He added that cow protection rallies should be taken out in every village of the country to make people aware of the importance and significance of cows.
In the advisory issued by the BJP leader, he said that burqa-clad Muslim women will be tying rakhis to cows from 12 pm on August 26. The advisory added that after the event ends, people will be provided with food and refreshments.
It added that keeping the monsoons in mind, a water-proof tent has been put up to make sure no inconvenience is caused to the people present.
https://www.newsx.com/national/gau-raksha-bandhan-bukkal-nawab-raksha-bandhan-bjp-cow-raksha-bandhan-rumi-gate-lucknow
--------
Fight To Save Female Activist From Saudi Arabia Execution
August 21, 2018
Saudi Arabia is planning to behead a 29-year-old woman because she's a political activist.
The UK Independent reports that human rights activists are now fighting to save the life of Israa al-Ghomgham.
The desert kingdom has recently been slamming Canada for its treatment of women following the diplomatic spat between the two countries.
Ghomgham and her husband, Moussa al-Hashem, were arrested in December 2015 for organizing anti-government protests following the Arab Spring.
She was sentenced to death earlier this month.
At a hearing in Riyadh, the public prosecutor recommended execution for Ghomgham and five other defendants under anti-terrorism legislation.
The executions are slated for October if they are ratified by King Salman who signs off on all death penalty cases.
German human rights activist Ali Adubisi said the verdict sets a "dangerous precedent" for female activists.
A number of groups — including Amnesty International — are calling for her immediate release. Ghomgham has been jailed for three years and denied access to a lawyer.
Among her crimes? Calling for the release of political prisoners and an end to institutionalized anti-Shia discrimination.
According to Amnesty, at least 58 people are currently on death row in Saudi Arabia and the group said it ranks among the most "prolific executioners in the world."
Since Crown Prince Mohammed bin Salman took the throne last year, the country has ushered in dozens of social and economic reforms.
While women are now allowed to drive and the shrill tenor of the state's religious police has been toned, the country still has a long way to go, the United Nations said in a report.
https://torontosun.com/news/world/fight-to-save-female-activist-from-saudi-arabia-execution
--------
Tabriz University Student Roya Saghiri Was Transferred To Tabriz Prison
26 August 2018
Tabriz University student Roya Saghiri was transferred to Tabriz Prison on August 25, 2018, in to implement her 23-month prison sentence. She published the news of her conviction and imprisonment in Tabriz Prison on her Instagram page.
Tabriz University student Roya Saghiri was tried and sentenced to 23 months of imprisonment by the 2nd Branch of the Revolutionary Court of Tabriz in July 2018 and the verdict was upheld by the Appeals Court.
Tabriz University student Roya Saghiri, 24, along with seven other participants in the December 2017 protests, was arrested at Sa'at Square of Tabriz on December 31, 2017, and detained in the Women's Ward of the Central Prison of Tabriz, capital of the northwestern Iranian Province of East Azerbaijan.
She was charged with "propaganda against the system" and "insulting the leadership." Ms. Saghiri is also accused of "appearing in public without the religious Hijab (veil) by removing her scarf on the street."
The Women's Committee of the National Council of Resistance of Iran has condemned the arrest of women for opposing the compulsory veil and calls for the immediate release of women who are detained and mistreated for removing their veil.
During the nationwide uprisings in Iran last December and January, at least 50 protesters were killed and at least 8,000 people were arrested. According to the data compiled by the Women's Committee of the National Council of Resistance of Iran, at least 500 women were arrested during or after the protests and uprisings in December 2017 and January 2018. Recently however, Rassoul Sanaii Rad, political deputy for the IRGC, confessed that, "28 percent of the arrests in the protests were women." (The state-run Mehr News Agency - August 15, 2018)
Women who dare to defy the dictated rules of the mullahs, defending human rights, campaigning against the death penalty and opposing the regime's repressive restrictions are arrested and detained for "acting against national security", "waging war on God", and "insulting the sanctities" and have to face harsh consequences.
https://women.ncr-iran.org/iran-women-news/5435-tabriz-university-student-roya-saghiri-was-transferred-to-tabriz-prison
--------
URL: https://www.newageislam.com/islam-women-feminism/indian-muslim-women-tie-rakhis/d/116200
New Age Islam, Islam Online, Islamic Website, African Muslim News, Arab World News, South Asia News, Indian Muslim News, World Muslim News, Women in Islam, Islamic Feminism, Arab Women, Women In Arab, Islamophobia in America, Muslim Women in West, Islam Women and Feminism