New Age Islam News Bureau
22 Nov 2017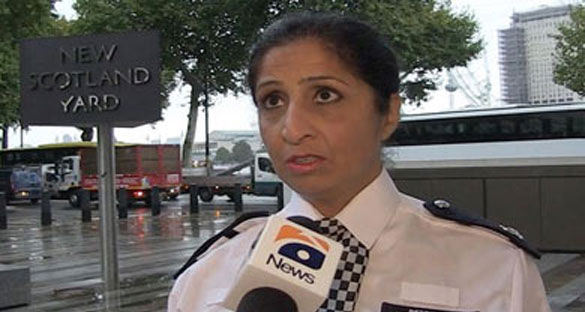 British-Pakistan woman, Shabnam Chaudhri, has become the first ever Muslim and Asian woman to be appointed as detective superintendent of the Scotland Yard.
----
• Indian Muslim Women Demand Codification of Personal Law
• Triple Talaq: Woman Files Complaint after Husband Divorces Her over Phone
• Pakistani Woman Becomes First Muslim Detective Superintendent Of Scotland Yard
• Woman Freed From Taliban Captivity Gives Details Of Brutality
• Will Women Be Exempt From Some Traffic Penalties In Saudi Arabia?
• Egyptian Company Launches Women-Only Buses To Deter Harassment
• Iran: Where the Regime Opposes Women's Rights
• Two Pakistani Women Make A Mark At 2017's N-Peace Awards
Compiled by New Age Islam News Bureau
URL: https://www.newageislam.com/islam-women-feminism/indian-muslim-women-demand-codification/d/113313
--------
Indian Muslim Women Demand Codification Of Personal Law
Nov 21, 2017
After their win in the Supreme Court — which struck down instant triple talaq as unconstitutional — Muslim women are now demanding codification of Muslim family law.
The Bharatiya Muslim Mahila Andolan (BMMA) has prepared a draft law and is petitioning MPs to take up the issue in Parliament. In August this year, the Supreme Court held instant triple Talaq unconstitutional on a petition filed by the BMMA.
The BMMA is now spearheading the campaign for the codification of Muslim personal law and the issue is being discussed at its three-day national meet, which began here on Tuesday.
Zakia Soman, the founder of BMMA, said that for last 10 years there is an atmosphere in the country where women's rights can be promoted. "We are hopeful that we will be successful in our campaign for the codification of personal law."
She said that Muslim women have been faceless, voiceless and invisible. "Our rights have been denied because we have not spoken out. But now we have to ensure that there is the codification of Muslim family law based on the constitution and the Quran."
Soman said while the Supreme Court has ruled against instant triple talaq, no procedure was laid down for divorce. The Supreme Court also did not touch the issues of polygamy and Halala.
BMMA has prepared a draft law, based on the Quran and the Constitution, and after taking the opinion of thousands of Muslim women has written to women MPs to take up the issue of a codification of Muslim personal law in Parliament, said, Soman.
Noorjehan Safia Niaz, co-founder of BMMA, said that while all other communities have their own codified law, Muslims were denied such a law due to interference by political and religious leaders.
Niaz said the draft law proposes age of marriage as 18 for girls and 21 for boys, consent of the couple, mandatory Maher to the bride equal to at least the annual salary of the groom, proper procedure of Talaq as mentioned in the Quran, banning muta marriage and polygamy and making Halala an offence, children's custody and property rights.
"Women's rights are our collective responsibility. Leaders too have to change their thinking. It's not about politics or ego but simply about progress," Jasbir Singh, chairman of the Rajasthan state commission for minorities, said.
http://www.hindustantimes.com/jaipur/muslim-women-demand-codification-of-personal-law/story-B5F9Gs5mNwsIXoUTuZpoCO.html
--------
Triple talaq: Woman files complaint after husband divorces her over phone
November 22, 2017
A real estate agent here has been booked for allegedly divorcing his wife over the phone by uttering 'talaq' thrice, a practice held "void" and "unconstitutional" by the Supreme Court, police said on Tuesday.
The women's police station here registered a case against the man yesterday based on a complaint by his 27-year-old wife.
The couple got married on October 18, a woman police official said.
In her complaint, the woman, who worked as a beautician, alleged that her husband went out of their house on November 13 and called her on the phone, uttering the word 'talaq' thrice.
The woman suspects her husband divorced her because he may already be married, the police official said.
The woman also claimed that she had given him Rs 2 lakh on different occasions before they got married, the official said.
Based on the complaint, a case was registered against the man under IPC sections 498A (husband of a woman subjecting her to cruelty), 420 (cheating) and relevant sections of the Dowry Prohibition Act, she said.
"Following the pronouncement of triple talaq by her husband, the woman left the house of her in-laws in Golconda area here. We are in the process of questioning her husband," the police official added.
The Supreme Court had in August this year ruled that the practice of divorce through triple talaq among Muslims was void, illegal and unconstitutional.
The apex court held that the triple talaq was against the basic tenets of Quran.
http://indianexpress.com/article/india/triple-talaq-woman-files-complaint-after-husband-divorces-her-over-phone-4949004/
--------
Pakistani woman becomes first Muslim detective superintendent of Scotland Yard
by Mahmood Idrees
November 22, 2017
LONDON – A woman of Pakistani origin has made history as she became the first Muslim and Asian to be appointed as detective superintendent of the Scotland Yard.
Shabnam Chaudhri has been honoured by the Metropolitan Police Service in Britain for her 'outstanding contribution' to the fight against hate crime.
The woman, who hailed from Karachi, was just two years old when she moved to the English country with her parents and joined the force in 1989 in London against the wishes of her family.
Her parent wanted her to marry and have children like an ordinary women, but Chaudri opted to go with her dream of doing something in the life.
She said that after some time the parents were proud of her when they saw her fighting crime and helping people.
There were few Muslim and Asian women in the police when she joined as the women with this background avoid being part of it, she said.
Inspired from slain Pakistani political leader Benazir Bhutto, Chaudri urged the women to apply for the police jobs and work hard for recognition and rights.
At the rank of detective superintendent, she is the only Muslim woman in the Met police nationally. Chaudri struggled for six year to reach the position and suffered attacks during the career while fighting crime gangs.
She said that her bosses supported her when she applied for the post due to her services, adding that she had worked at London Olympics and may other key events.
In her career of 28 years, she has been hounoured with several awards against her services in London. She is also part of several awareness campaigns against hate crime and domestic abuse. She motivates women who avoid engaging with police.
Talking to an English newspaper, she said: "I have dealt with every kind of job. We have vests to protect ourselves against attacks. We have the equipment to keep ourselves safe. I have managed teams and I have been on front line duty. I am not scared of anything and that's what I have learned while being in the police. Every day brings a new challenge in this job."
"We were four sisters and my parents wanted us to get married, but we followed the dreams set in our minds and the result is here".
https://en.dailypakistan.com.pk/pakistan/pakistani-woman-becomes-first-muslim-detective-superintendent-of-scotland-yard/
--------
Woman freed from Taliban captivity gives details of brutality
November 21, 2017
NEW YORK: A US mother held hostage by Taliban-linked militants for five years has detailed the violence and sexual assault she said she endured in captivity , and regretted that her young son was also beaten.
"This was an intolerable situation for a child to be in," Caitlan Coleman Boyle, 31, told ABC News in a television interview broadcast on Monday.
Coleman Boyle gave birth to three children in captivity . She and her Canadian husband were abducted by the Haqqani network while travelling through a remote area of Afghanistan — for reasons that remain unclear — in 2012.
The family were released last month in Pakistan and are now trying to rebuild their lives in Canada.
She said their guards "could be very violent, even sometimes with the children," assaulting their now four-year-old son with a stick, and hitting her and her husband.
"I would get beaten or hit or thrown on the ground," she told ABC News. She broke a cheekbone and three fingers while intervening to protect the children, her husband, Joshua Boyle, 34, told ABC.
They made toys out of bottle caps and bits of cardboard, and fearing the family could be beheaded, they made up a game based on England's Charles I, who was executed in 1649, and Oliver Cromwell, she said.
"Obviously with people like this, the idea of a beheading is always on the table, so he certainly knew that this type of thing could happen to his family but then we would come up with games to make it not seem so scary," she said.
"He had great fun pretending to be Oliver Cromwell and chasing Charles I around and trying to behead him," she said. "We made it a game so that he wasn't afraid."
After the family returned to Canada last month, Boyle, 34, accused his kidnappers of murdering an infant daughter through a "forced abortion" and of raping his wife.
"They came into the cell, and they took my husband out forcibly, dragging him out, and one of the guards threw me down on the ground, hitting me and shouting `I will kill you, I will kill you'" she said.
"And that's when the assault happened. It was with two men. And then there was a third at the door. And afterwards, the animals wouldn't even give me back my clothes."
http://nation.com.pk/21-Nov-2017/woman-freed-from-taliban-captivity-gives-details-of-brutality
--------
Will women be exempt from some traffic penalties in Saudi Arabia?
22 November 2017
Informed sources have said that parties involved in developing executive regulations on regulatory requirements for women driving in Saudi Arabia are looking into a suggestion which exempts women from some traffic violation penalties.
The sources said that some of the penalties in place are not suitable for women.
Some of these sanctions include questioning the driver of a vehicle asked to stop or in some cases detaining the vehicle.
According to Al-Watan's newspaper on Tuesday, the sources said that the proposal in question would recommend simply paying a penalty without the need to be stopped or to detain a woman's vehicle.
The sources also said that the proposal was presented in accordance with societal customs and traditions. Customs that aim to facilitate things for women and help them overcome any obstacles that might stand between them and learning to drive.
Similarly, the source said that in a press conference that will be held next week, details on this matter will be clearer.
At the conference, the date which signifies when women will be able to start learning to drive in different parts of the country will be announced, the sources added.
https://english.alarabiya.net/en/features/2017/11/22/Will-women-be-exempt-from-some-traffic-penalties-in-Saudi-Arabia-.html
--------
Egyptian Company Launches Women-Only Buses To Deter Harassment
21 November 2017
A new experiment by a private Egyptian transportation company is seeking to solve issues of harassment in public transportation.
The buses are dedicated for women only, driven by female drivers as well.
The bus company's vice president told Al Arabiya the trial has so far been a successful one but that they still face the lack of female drivers as an issue.
"This new idea is an attempt to provide a distinguished, comfortable and safe transportation service for women and diminish harassment," Omar Al-Engleezy told Al Arabiya.
The company decided to dedicate transportation buses for women in similar fashion to women-only sections of Cairo's underground metro.
He added that the company is planning to allocate a car in each route and further announced a competition drive in a bid to recruit more female drivers.
Unfortunately, only a few candidates have applied so far according to the company since the experiment began in some routes in Cairo but that feedback has so far been encouraging.
He stressed that the tariff is of the same value of the other public buses and the goal is to encourage women to use transportation in a safer way; and avoid harassments.
Engleezy added that the company is currently working on training a group of female drivers on driving their buses on Cairo's crowded streets.
https://english.alarabiya.net/en/features/2017/11/21/Egyptian-company-launches-women-only-buses-to-deter-harassment.html
--------
Iran: Where the regime opposes women's rights
21 November 2017
Every year, the day November 25 comes as a grim reminder that we have a long way to go for achieving gender parity. There are still many countries in the world where women cannot fully exercise the right to shape their own destiny. Violence against women is another detestable vestige of the mostly patriarchal societies inherited by our generation.
It may seem that we have come a long way since the Dark Ages, but there are still some countries in the world that have made little progress in according equal rights to women and men. There is even a country where misogyny is the order of the day and where women have no legal rights.
It may come as a shock to many, but Iran continues to run in this way. The Iranian regime may keep up pretences in public on issues related to women's rights, but in practice women remain second class citizens in that country.
Subhuman treatment of women
It is not difficult to prove that Iranian theocrats are opposed to the idea of gender equality. Iran's Supreme Leader Ali Khamenei has been quoted as saying: "Gender equality is 'Zionist plot' aimed at corrupting the role of women in society." In Iran's version of religious law, women are considered property.
Their inheritance is half of what men receive and women are not allowed to leave the country without their husband's consent. They are also forced to observe a very strict dress code. There are several security measures in place in Iran to impose these laws. The most repressive one is the infamous 'morality police' that roams around cities arresting young women for not observing the dress code.
There are gruesome videos on YouTube and other social media showing how women are treated in Iran for what they wear. In a recent incident, a 14-year-old girl was beaten and detained for wearing ripped jeans in Iran (one of many such cases of police brutality against women). After her arrest by Islamic Revolutionary Guard Coups (IRGC) unit, she said: "I still carry the bruises sustained from their beatings on my face ... my ribs still hurt."
Women in Iran are also banned from entering sports stadiums. In a recently reported case by Human Rights Watch (HRW), a woman named Mina tried to get under the radar of security forces to watch a volleyball match in 2016. Despite her attempt to watch the match from the roof top of a café near a volleyball stadium, she and a few other women were caught by IRGC and were evicted from their vantage point.
Irrespective of their position in society, women in Iran have no right to travel without the consent of their husband or father. Hassan Rouhani and his predecessor Mahmoud Ahmadinejad had once made bogus promises of giving women more rights in order to garner their votes. In May this year, Rouhani had spread the word that he might appoint a women minster in his cabinet. But soon after his sham election he did not include any woman in his cabinet.
Iranian women defy repression
However, Iranian women seize every opportunity to show their resistance against their ill-treatment by the regime. After Khamenei's ridiculous fatwa banning women from riding a bike in public last year, women in Iran came out in droves riding their bikes in defiance. According to the state-run media, Khamenei issued a decree on 10 September 2016 wherein he said: "Riding a bicycle often attracts the attention of men and exposes the society to corruption, and as contravenes women's chastity so it must be abandoned".
Since the first day of the installation of the regime, Iranian women have resisted their attempts at oppression. Back in the day, Iran like other countries of the Middle East could hardly imagine any role for women other than staying at home and taking care of children.
One woman took the lead in this struggle for freedom which was no longer about just freeing Iranian women but the entire Iranian society, which was taken hostage by the regime. Maryam Rajavi, president of the National Council of Resistance of Iran (NCRI), an educated woman has done the impossible and instilled thousands of Iranian men and women with the idea that all citizens in the country can struggle for a common cause: Freedom.
She has proven through her leadership role that the same deprived and underprivileged woman is no different than her male counterpart in struggling for a free and democratic society. She has built a blueprint for building a better Iran with her 10-point plan, wherein women are deemed fully equal to men in all spheres of social activity.
There would be no limits for women in this new Iran. Filling the highest political positions will no longer be just a dream for women. The Mujahedin-e Khalq (MEK) — the biggest Iranian opposition group and a member of the NCRI — has followed her teachings for years and is now led by her.
Violence against women in Iran is institutionalized simply because half of the society is treated as crippled and in need of guidance from men; be it the male head of the family or males in the state itself. Thus, the status of women will never change in Iran as long as the present regime is in power.
Disclaimer: The views and opinions expressed in this article are those of the authors and do not reflect the viewpoint of Al Arabiya English.
______________________
Reza Shafiee (@shafiee_shafiee) is a member of the Foreign Affairs Committee of the National Council of Resistance of Iran (NCRI).
https://english.alarabiya.net/en/perspective/features/2017/11/21/Iran-Where-the-regime-opposes-women-s-rights.html
--------
Two Pakistani women make a mark at 2017's N-peace awards
November 21, 2017
Pakistan's Farhat Asif has won the N-peace Award 2017 in the "Campaigning for Action" category for "her efforts to implement the Women, Peace and Security agenda, especially on the work she undertakes touching on sensitive cross-border issues" while Farhat Sajjad has been recognised for her commitment to education in the Untold Stories section.
The Kashmir-born Pakistani, Asif is the founder and president of the Institute of Peace and Diplomatic Studies – a non-profit organisation that "aims to provide strength to global peace through dialogue and diplomacy by sharing knowledge, research, analysis and policy development in the areas of, peace-diplomacy, peace-building, conflict resolution, conflict transformation and conflict management."
'Pakistani scientists doing excellent work overseas'
The website describes Asif as a researcher, analyst, writer, publisher and a diplomat. She is a federal member of Aman-o-Nisa; Pakistan Women's Coalition Against Extremism and represents Pakistan at "Sisters Against Violent Extremism [SAVE]", a project by Women Without Borders.
The award, managed by UNDP's Bangkok Regional Hub with UNDP Offices across Indonesia, Pakistan, Myanmar, Nepal, Afghanistan, Sri Lanka and the Philippines, in partnership with the Institute for Inclusive Security, recognises individuals working at policy and decision making levels who seek to promote Women, Peace, and Security (WPS) Agenda, specifically at the sub-national levels.
One woman and one man across all N-Peace countries, including Nepal, Pakistan, Myanmar, Indonesia, the Philippines, Sri Lanka and Afghanistan, are selected under the category.
The N-peace also recognised Sajjad in their Untold Stories category, describing her as a "fantastic example of someone using her position of leadership at Shining Light Community Development Organisation to not only help her local community sustain itself, but also to provide tools, knowledge, and a sense of security to women who attend the NGO, which she helped to found."
"She truly understands the importance of education regardless of social standing, religion, or ethnicity, and the opportunity this provides for women to become economically independent."
Pakistani woman wins academic award at Oxford University
According to N-peace, Untold Stories "recognises the efforts of women who have demonstrated skills in conflict resolution, prevention, and peace building in their communities, including those working at the grassroots levels and building bridges across communities."
Seven people are chosen for the category – one from each country.
https://tribune.com.pk/story/1564276/1-two-pakistani-women-make-mark-2017s-n-peace-awards/
--------
URL: https://www.newageislam.com/islam-women-feminism/indian-muslim-women-demand-codification/d/113313
New Age Islam, Islam Online, Islamic Website, African Muslim News, Arab World News, South Asia News, Indian Muslim News, World Muslim News, Women in Islam, Islamic Feminism, Arab Women, Women In Arab, Islamophobia in America, Muslim Women in West, Islam Women and Feminism