New Age Islam News Bureau
27 March 2013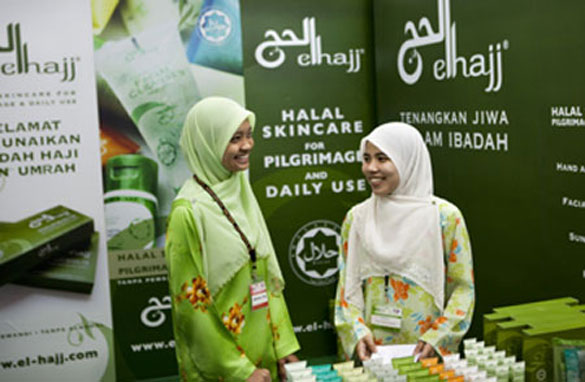 • Muslim-Friendly, Halal Makeup on the Rise in Canada
• Syria's Attasi, First Arab Woman to Head Arab League Session
• Women Pedal for 'Girl Power' In Islamabad
• Ban Alcohol Mother of Evils: Karnataka Woman Forum chief
• Dr. Subuhi Khan of AMU to Get HT 'Woman of Substance' Award
• Family Size Negatively Impacts Girls' Enrolment: Study
• Children Exploited Due To Parents Negligence
• Kerry Backs Afghan Women amid Handover Fears
• Muslim Law Board Gives In To Gender
• Islam Honours Women in Society
New Age Islam News Bureau
Photo: Muslim-Friendly, Halal Makeup
URL: https://newageislam.com/islam-women-feminism/indian-muslim-woman-questions-sharia/d/10912
------------
Indian Muslim Woman Questions Sharia Law on Haj at High Court
Mar 27, 2013
KOCHI: Muslim women performing Haj should be allowed to be accompanied by women during the pilgrimage as opposed to the Sharia mandate of escorting them by male family members, a Muslim woman has demanded in a petition filed at the Kerala high court.
The petitioner, 64-year-old Aminakutty Mohammed of Kadalundi in Malappuram district, is challenging Haj Committee of India's decision not to allow her to perform the religious duty accompanied by a woman during the pilgrimage.
As per the rules framed by the Haj committee, women performing Haj should be accompanied by a male member of the family whom she cannot marry. Such male members are termed as 'Mahram' in Sharia, the moral code and religious law of Islam.
The grievance of the petitioner is that her only son is working in Saudi Arabia and she doesn't have any other male member in her family who is suitable to become the 'Mehram'.
In such circumstances, she approached the Haj committee with an application for performing the Haj by naming her neighbour Sainaba Mohammed as the 'Mehram'.
Her application has now been turned down by the Haj committee for want of a male family member as 'Mehram'.
In the petition, the woman contends that asking a Muslim woman to be accompanied by a male family member for performing Haj is violation of Article 14 of the Constitution, which guarantees right to equality before law and prohibits discrimination on grounds of religion, race, caste, sex, or place of birth.
Further, it is argued that the Haj committee's decision is violation of the constitutional right to life and personal liberty as well as the right to freedom to practise any religion and to manage religious affairs.
http://timesofindia.indiatimes.com/city/kochi/Muslim-woman-questions-Sharia-law-on-Haj-at-HC/articleshow/19231440.cms
------------
Muslim-Friendly, Halal Makeup on the Rise In Canada
CBC News Mar 27, 2013
The popularity of cosmetics that cater to Muslim women is rising in Canada, as more women seek beauty products that don't interfere with their religious beliefs.
So-called halal makeup doesn't contain animal products, alcohol or other ingredients forbidden under Islamic law.
CBC's Aaron Saltzman takes a look at this growing market.
http://www.cbc.ca/news/canada/story/2013/03/26/halal-cosmetics-muslim-women.html?cmp=rss
------------
Syria's Attasi, first Arab woman to head Arab League session
27 March 2013
Suhair Atassi, vice-president of the Syrian opposition National Coalition, on Tuesday became the first Arab woman to head a session at the Arab League summit.
Atassi lead a Syrian delegation in a live sitting during the summit in the absence of the coalition's leader Moaz al-Khatib.
Atassi was born in Damascus and descends from a prominent family in Homs. She started the Jamal al-Atassi National Dialogue Forum in 2001, which she named after her father, a pan-Arab nationalist who inspired opposition against Assad in 1973, according to the Carnegie Middle East Center.
She also runs the Jamal Atassi Forum group on Facebook, a forum calling for reforms and lifting the emergency law in Syria.
Since that start of the Syrian uprising, Attasi remained an outspoken Syrian activist.
http://english.alarabiya.net/en/perspective/2013/03/27/Suhair-Atassi-.html
------------
Women pedal for 'girl power' in Islamabad
March 08, 2013
ISLAMABAD: A group of determined women took to their bikes on Friday, riding through the Pakistani capital to demonstrate their rights and love of exercise in a culture that often treats them as second-class citizens.
Some wearing helmets, others in headscarves, dressed in jeans or in loose traditional dress, the group navigated the leafy streets with colourful balloons tied to their handlebars, past baffled police and security guards.
"I remember when I was little I used to ride a bicycle quite openly but... when I was growing up and I was at school or college I was told not to do it publicly because it is not acceptable in society," she added.
Pakistan does not ban women riding bikes, but it is a rare sight even in Islamabad where driving is less dangerous than on the traffic-choked streets of the two biggest cities, Karachi and Lahore. (AFP)
To mark International Women's Day in a country where women are rarely seen on a bike, they set out from Kohsar market, a collection of upmarket coffee shops, to the city's landmark Faisal Mosque set in the Margalla Hills.
"The point is that women have the right to ride a bicycle. We are just having girl power here," said charity worker Masoora Ali, 30.
http://www.thenews.com.pk/article-91420-Women-pedal-for-girl-power-in-Islamabad
------------
Ban Alcohol Mother of Evils: Karnataka Woman Forum chief
March 26, 2013
Bangalore, March 26: A progressive group of women in Karnataka has demanded ban on alcohol as it is behind all evils. FORWARD Trust (Forum for Women's Action for Rights and Dignity), an NGO working throughout Karnataka, has also expressed concern on rising crimes against women from home to market to offices.
"Number of dowry deaths has seen almost 10 times increase in last decade. The bane of female foeticide has acquired such horrible proportion that in the state of Punjab alone 274 girls are killed per day in their mother's womb. Nudity, obscenity in the TV shows and films are synonymous with the raising crimes," said Dr. Fouzia Sultana, president, FORWARD Trust while speaking at a symposium at Hubli on 24th March. The symposium was organized by the trust.
In her presidential address at the symposium, Dr. Fouzia demanded complete ban on alcohol describing it as the root of all evils.
She gave a call to ban the alcohol which she said is behind all the evils. She said that 58% of spousal abuse cases, 25-30% of suicides and 52% rapes are committed under the influence of alcohol.
Talking about solutions she said women should maintain their dignity and fight for due rights while she can make a happy family, healthy society and a prosperous nation.
The symposium held on Sunday at Hotel Metropolis in Hubli was also addressed by several women lawyers and intellectuals.
Full report at:
http://muslimmirror.com/eng/ban-alcohol-mother-of-evils-karnataka-woman-forum-chief/
------------
Dr. Subuhi Khan of AMU to get HT 'Woman of Substance' award
March 26, 2013
Aligarh, March 26: Dr. (Mrs.) Subuhi Khan, Associate Professor, Department of Mathematics, Aligarh Muslim University has been nominated for Hindustan Times Women Award "Woman of Substance" for her significant contribution in mathematics and for promoting Mathematics among female students.
Dr. Subuhi is the first Indian lady Mathematician to receive the prestigious research fellowship of Italian National Agency for New technologies, Energy and Environment, Italy. She is the recipient of Senior Research Fellowship, CSIR, India and Bharata Ganita Parishad Prizes. She has supervised 7 PhD and 7 M. Phil. students. She was awarded Gold Medal for securing first rank in AMU both in B. Sc. and M. Sc.
Full report at:
http://muslimmirror.com/eng/dr-subuhi-khan-of-amu-to-get-ht-woman-of-substance-award/
------------
Family size negatively impacts girls' enrolment: Study
March 26, 2013
Beside poverty, social, cultural and administrative factors must also be addressed to improve girls' education in Khyber-Pakhtunkhwa (K-P). This was the crux of a seminar discussion on Monday, according to a press release.
Titled "Female Education in Khyber -Pakhtunkhwa" the seminar was organised by Sustainable Development Policy Institute (SDPI) to launch an impact assessment study to study the outcomes of a stipend programme. Initiated by the K-P government, a stipend of Rs200 was given to each girl in sixth to 10th grades from 2006 onwards to increase girls' enrolment in secondary schools across the province under the programme.
Sharing the study's findings, Muhammad Zeeshan from SDPI said, an increase of 7 per cent was observed in girls' enrolment in secondary schools due to the stipend programme. "Some 93 per cent of families availed the stipend and around 35 per cent of the girls might have dropped out in the absence of a stipend."
Unequal socioeconomic conditions make female education less attractive, he stated. Also, the probability of female schooling decreases by 2.8 per cent if the distance of home from school increased by 1 per cent, he added.
Full report at:
http://tribune.com.pk/story/526333/family-size-negatively-impacts-girls-enrolment-study/
------------
Children Exploited Due To Parents Negligence
March 27, 2013
KARACHI: Most parents and teachers are reluctant to discuss sensitive issues with children and inform them about the physical and emotional aspects of puberty, which pushes them to seek information from unreliable sources and exposes them to exploitation. ------------
This finding was derived from a baseline study conducted by NGO, Lifeline. Addressing a press conference on Tuesday, Chief Executive of Lifeline Omer Aftab said that there was a severe vacuum of information in over 100 million Pakistani youth. To date, no serious, concerted efforts have been made to sensitize them on their basic rights. The objective of the study was to "gauge and assess the level of understanding of different key stakeholders about adolescent and youth sexual and reproductive health right (SRHR) issues". Data was collected from nine districts of Pakistan, including Islamabad, Lahore, Lodhran, Karachi, Jamshoro, Peshawar, Abbottabad, Quetta and Pishin. Adolescents, parents, teachers, politicians, prominent religious leaders, EDOs, district managers of Population Welfare Departments and NGO representatives of the select districts made the target respondents for the study.
Lifeline also conducted a curriculum review and Learning Needs Assessment (LNA) of the Life Skill Based Education (LSBE) course that is taught in certain schools. As many as 84.4% of students between 12 and 15 years are in favour of the course being taught in schools. Furthermore, no objections were raised to teach the LSBE course by any quarter, including religious leaders and politicians.
Full report at:
http://www.dailytimes.com.pk/default.asp?page=2013\03\27\story_27-3-2013_pg7_14
------------
Kerry Backs Afghan Women Amid Handover Fears
March 27, 2013
KABUL: US Secretary of State John Kerry on Monday met Afghan businesswomen running companies involved in everything from trucking to computer software who fear losing their rights, security and customers when foreign forces leave next year.
Kerry spent close to an hour at the US embassy in Kabul with the entrepreneurs in an effort to show US commitment to women's rights - at one point heading a soccer ball with a 22-year-old female player. Women who pursue careers in Afghanistan often face opposition from their ultra-conservative society, and despite women winning back many rights since the Taliban were toppled by US-backed Afghan forces in 2001, their situation remains precarious.
Kerry voiced amazement at the accomplishments of the women, most of whom ran several companies and whose businesses included software services, designing and manufacturing high-heeled shoes and clothing and growing vegetables. "Everybody's a tycoon," Kerry exclaimed at one point. But the women voiced concern that the withdrawal of most foreign troops from Afghanistan in 2014, and the election of a new president the same year, will undercut security and inhibit their ability to run their businesses.
Full report at:
http://www.dailytimes.com.pk/default.asp?page=2013\03\27\story_27-3-2013_pg14_4
------------
Muslim Law Board Gives In To Gender
By Iftikhar Gilani
Mar 27, 2013,
Dusting out a resolution adopted in 1993, the top Muslim religious body, the All India Muslim Personal Law Board (AIMPLB), at its recently executive meeting at Ujjain decided to form a full-fledged wing to look into the issues of women.
In the season of paying lips service to and adopting laws to empower women, the board that includes clerics and academics, and constituted to uphold civil code for Muslim community, appointed a committee under Maulana Wali Rahmani, one of its secretaries to work out the modalities.
Clerics largely blamed for their male slant have also emphasized the need to change the mindset of men by inculcating moral values, referring to the recent Delhi gang rape incident.
Earlier, in 2010, the AIMPLB in its Lucknow, session had decided to grant representation to women in the body. Following this decision five women were elected to the 51-member executive body. Till then, Begum Naseem Iqtedar Ali was the only lady representing the board, since its inception in 1973. Other women added in the executive in 2010 are Dr Safia Naseem (Lucknow), Begum Noorjahan Shakeel (Kolkata), Prof Moonisa Bushra Abidi (Mumbai) and Dr. Asma Zehara (Hyderabad).
Full report at:
http://www.dnaindia.com/bangalore/report_dna-special-muslim-law-board-gives-in-to-gender_1816068
--------
Islam Honours Women in Society
By Khalida Jamilah
March 26, 2013 - 10:23:00 PM
March 8th is a celebration for a worldwide Women's History Month. It is an appreciation for women's contribution to society's progress. For instance, American women were struggling to pursue a higher education as society believed that they were incompatible in developing their intellectual skills.
It was not until 1972 in which Title IX of the Education Codes of the Higher Education Act Amendments prohibited gender discrimination in federally funded institution. Seeing it as a door to opportunity, women began to become involved in an advanced education.
For Muslim women, we are fortunate that we didn't have to wait until 1972 for our status, rights and role to be recognized because Islam already set systematic guidelines as mentioned in the Quran and through the practice of Prophet Muhammad (peace be on him).
The Qur'an highlights four statuses for Muslim women: spiritual, intellectual, economic, and social. These vouchsafed conditions automatically refute a dogma that Western people have toward Muslim women as being oppressed and uneducated.
Spiritually, both men and women will enter Heaven if they do good works. As the Qur'an states, "But who so does good works, whether male or female, and is a believer, such shall enter Heaven," (4:25).
Intellectually, Muhammad (peace be on him) encouraged men and women to pursue knowledge. He said, "It is it is a duty for every Muslim man and every Muslim woman to acquire knowledge."
Muhammad's (peace be on him) wisdom is a forthright rebuttal to every description or reports that media has toward Muslim women as an uneducated group. All religious extremists are like a wolf that hides under the blanket and act as a grandma to the Little Red Riding Hood. The religious extremists use Islam as their blanket to hide their ignorance of Islamic wisdom and their hunger for power.
Economically, the Qur'an addresses fair guidelines for both men and women regarding their income. "Men shall have their share of that which they have earned, and women a share of that which they have earned…" (4:33).A husband must share his income to support the family while a wife is not obligated to do so because financial support is the husband's responsibility.
Full report at:
http://www.berkeleydailyplanet.com/issue/2013-03-22/article/40916?headline=Islam-Honors-Women-in-Society--By-Khalida-Jamilah
---------
URL: https://newageislam.com/islam-women-feminism/indian-muslim-woman-questions-sharia/d/10912