New Age Islam News Bureau
27 Apr 2013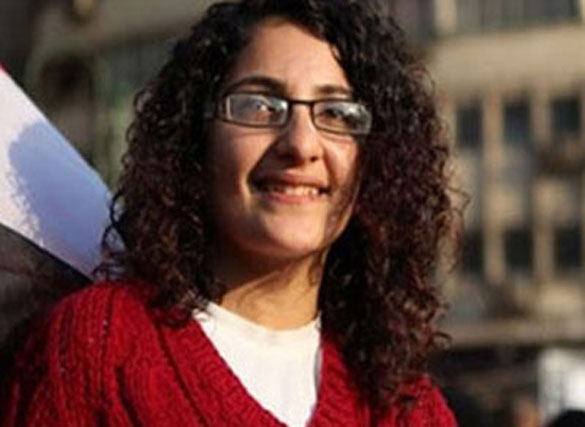 Photo: Egyptian activist Mona Seif (Photo: Ahram)
-------------
• Controversial Pak model goes item song way
• Activist of Egypt, Mona Seif's No to Military Trials group shortlisted for int'l award
• 850,000 Young Iranian Girls, As Young as 9, Married
• Preventing Women from Voting To Lead To Imprisonment in Pakistan
• Saudi Shiite Woman Given 8 Lashes for Sending SMS Promoting Shiism
• Acid-attack victim commits suicide in Islamabad
• Women Fail To Win Votes in Makkah Chamber Elections
• Muslim girl flees town with Christian man in Egypt, police fire tear gas
• Putin: Nothing Good about Wearing Hijabs to School
• Afghan Women Do Not Report Rape by US Army For Fear Of Shame
• Turkey's High Court Acquits Woman Who Killed Abusive Husband
• No Decision yet On Work Permits for Expat Wives
• Boston Bomb Suspects' Mother in CIA Terror Database Since 2011
• Israeli Court: Stop Detaining Women at Holy Site
• Iraqi Women Seeking Equality in Peace as In War
'• 1,116 Girls and Women' Treated For FGM in Mali Last Year
• Husband 'Threatens To Pour Acid Over His Wife' If She Filed A Divorce
Compiled by New Age Islam News Bureau
URL: https://www.newageislam.com/islam,-women-and-feminism/new-age-islam-news-bureau/indian-muslim-woman-activist-shahnaz-sidrat-criticises-ulema,-declared-kafir/d/11317
----------------
Indian Muslim Woman Activist Shahnaz Sidrat Criticises Ulema, Declared Kafir
New Age Islam News Bureau, April 27, 2013
Meerut: A woman activist Shahnaz Sidrat has attracted the wrath of Ulema by criticising them for the educational backwardness of Muslim women. Shahnaz held Ulema responsible for the educational backwardness of Muslim girls saying that the Ulema imposed Purdah on Muslim women because of which Muslim girls could not attain higher education or get jobs to sustain their families financially. She also said that Purdah (veil) was an obstacle in the progress of Muslim women. She named the Ulema of Nadwa tul Ulema, Darul Uloom Deoband and Mazahirul Uloom and accused the Ulema of these seminaries of not doing much for the emancipation of Muslim women. She reportedly said that these so-called Ulema who get their degrees from Deoband to Lucknow are only degree holders and not Ulema in the real sense. The religious scholars took strong offence of her statements and Jamiat ul Ulema, Meerut called a protest meeting to condemn her allegations. Maulana Salman Qasmi said that Shahnaz Sidrat has held Ulema responsible for the illiteracy among Muslim women which is not correct. He said that Shahnaz is overawed by the western culture. He asked how much progress she had made by being veil less (be Purdah). He also urged Muslim women not to attend such meetings where Ulema are criticised. Maulana Qasmi also demanded an apology.
The national general secretary of Imam Council of India Maulana Serajuddin Qasmi came down heavily on her saying she was a misguided woman and was misguiding gullible Muslim women. As is the wont of mullahs, Maulana Qasmi declared her kafir and asked her to renew her Nikah because she had criticised Ulema and criticising Ulema is tantamount to blaspheming Islam.
A number of religious scholars attended the protest meeting and all of them unanimously demanded an unconditional apology from Shahnaz Sidrat for defaming Ulema.
----------------
Controversial Pak model goes item song way
By Vikas Kahol
27 Apr 2013
MATHIRA, a Pakistani beauty whose topless picture on the cover of a fashion magazine caused a furore in her country, is doing an item number in a Punjabi film Young Malang . She was in Chandigarh on Thursday for the shooting of the song.
Young Malang that promises to be a perfect concoction of Bollywood and Punjabi cinema artistes is being produced by Rahulinder Singh Sidhu, CEO of RSG Studios.
" Working for the item number was enjoyable and it would help strengthen ' cultural bond' between India and Pakistan," Mathira said.
Responding to a question on her controversial past, she said she had not worked to get recognition in a short period of time.
" I always challenge the social norms that confine a woman to four walls in the name of social bonds… I walk ahead of the people and keep pace with changing social norms," she said.
Mathira, born to an African father and Pakistani mother, lived in Zimbabwe for about 18 years before settling in Pakistan. She is also a VJ, model and singer. She said she was not a stranger to the camera and claimed that there was a thin line between " being vulgar and being sexy". Her television career started with a programme where she appeared as a yoga instructor.
Pakistani model Mathira was in Chandigarh shooting an item song for Punjabi film Young Malang . She said it will help strengthen cultural bond between the two countries
Mail Today
-----------
Activist of Egypt, Mona Seif's No to Military Trials group shortlisted for int'l award
Mona Seif is one of 3 activists shortlisted for the Geneva-based Martin Ennals Award for Human Rights Defenders
27 Apr 2013
Egyptian activist Mona Seif of the No to Military Trials Campaign has been announced as one of the three final nominees for the 2013 Martin Ennals Award (MEA) for Human Rights Defenders.
Seif has been a leading advocate against the military trials of civilians since the ouster of long-time President Hosni Mubarak in early 2011.
The nominees for the Geneva-based MEA established in 1993 are selected by a jury of ten rights organisations, including Amnesty International, Human Rights Watch, Human Rights First, FIDH, World Organisation against Torture, the International Commission for Jurists, Front Line Defenders, International Service for Human Rights, German Diakonie and HURIDOCS.
The two other nominees for the award are founding member of Russia's Joint Mobile Group, Igor Kalyapin, investigating rights abuses in Chechnya, and rights lawyer Mario Joseph from Haiti.
The prize is 20,000 Swiss Francs, given for use in the field of human rights.
The No to Military Trials Campaign, which Seif helped found, started its work in February 2011 when Hosni Mubarak was ousted in the revolution and the military took over power of Egypt. The campaign worked to provide legal and popular support to victims of military trials and their families and later campaigned for the end of the military trials of civilians.
The Cairo Centre for Human Rights released a statement on Saturday declaring its nomination and support of Seif for the MEA.
http://english.ahram.org.eg/NewsContent/1/64/70217/Egypt/Politics-/Activist-of-Egypts-No-to-Military-Trials-group-sho.aspx
---------
850,000 Young Iranian Girls, As Young As 9, Married
April 27, 2013
Research Institute cites cases of child given to 'elderly man' to pay debt
A new report on Iran is revealing that an estimated 850,000 young girls there are married – some of them as young as 9 or 10 years old and some of them married off to an "elderly man" in payment of a debt.
The report was compiled by Y. Mansharof, a research fellow, and A. Savyon, director of the Iranian Media Project. Both are with the Middle East Media Research Institute.
They explain there has been an increasingly intense public debate about a number of social issues inside Iran.
"One such issue is the phenomenon of marriages involving children, including children under age 10 – especially arranged marriages of girls to adult men, or even to elderly men," they wrote.
"Under Iranian law, girls may marry at 13 and boys at 15, and children under 10 may marry with the approval of their guardian and the court. According to official statistics, about one million children, even under age 10, are married. The statistics also show that 85 percent of these one million married children are girls – meaning that most of them are married to grown men."
They noted that public figures such as sociologists inside the regime are warning that the number of children marrying is rising, and that that creates both health and social risks.
"According to one sociologist, arranging marriages for children, especially girls, is common among poor and uneducated urban families that seek a way out of dire financial straits; he adds that the girls themselves are severely damaged both physically and psychologically," the report said.
Officials of the Islamic government, however, are not alarmed.
"Regime spokesmen have denied the extent of the phenomenon, and have also shrugged off the matter, saying that child marriage is legal and that preventing it is against Islamic law."
Farshid Yazdani, who is with the Association for the Defense of Children's Rights in Iran, warned that in 2006 children marriages were only 2.3 percent of all marriages, but but 2010 that grew to 4.9 percent.
He noted that in 2006, Iran had 25,000 children ages 10-15 who already were divorced.
Islamist law specifies that girls reach maturity at age 9.
"In an attempt to explain the increase in child marriages in Iran, Amanollah Gharai-Moghadam, who heads the Sociology Association of Iran, pointed at the economic difficulties afflicting Iranian society. He said that in Tehran province many destitute families accept any marriage proposal for their daughters regardless of the girls' ages – and regardless of their rights – so as to reduce the family's expenses," the report said.
"In some cases, poor families are forced to sell their daughters; in others they are forced to marry off their sons and daughters after the children conduct relations that are forbidden … and in still others, the girl is given to an elderly man in lieu of payment of a debt," he stated.
There's no shortage of criticism inside Iran of the practice, the MEMRI researchers found.
The Iranian cultural and scientific website Iranvij.ir noted that young girls "lack the required physical maturity for pregnancy."
"In an article published on a website identified with Iranian human rights activists operating outside Iran, Iranian human rights activist Ali Tayefi warned that 'the early marriage of an immature girl who is not physically ready [for sexual relations], particularly with men of advanced age, has many health consequences [for her]. Studies have indicated that there is a close link between maternal age and maternal mortality [during pregnancy]. In early marriage and pregnancy, at ages 10 through 14, there are five times more deaths, for mothers and also for infants, compared to women aged 20-24. AIDS is another risk of early marriage; this is because, contrary to what parents think, early marriage does not [necessarily] ensure wellbeing for their daughters – husbands carry STDs contracted during relations they had with other women,'" the report said.
Change in the law and practice, however, isn't easy.
When a panel discussion was held recently on the damage from child marriages, members called for changes, but "they also underlined that the Islamic factor is an obstacle to legislative and cultural change."
"Sociologist Gharai-Moghadam said that the existing law, which sets 13 for girls and 15 for boys as the minimal age for marriage, is not sufficient because it does not address the custom widespread in various parts of the country to arrange marriages for children under the age of 10. He said, 'The law in itself is good, but we must also consider this custom in society, because unfortunately in some cities, marriage under the age of 10 is considered customary.' He also said, 'According to a study carried out in 33 cities across [Iran], in Bushehr, Sistan-Baluchistan, Lorestan, Khuzestan provinces, and in several cities in the east and north of the country, child marriage is very common,'" the report said.
http://www.wnd.com/2013/04/850000-young-iranian-girls-as-young-as-9-married/#QopJvGy3CDQ50v98.99
----------------
Preventing Women from Voting To Lead To Imprisonment in Pakistan
April 26, 2013
PESHAWAR: Adamant to ensure the participation of women in the upcoming general elections, the provincial government on Friday said inhibiting women from voting could lead to imprisonment for up to five years.
In a meeting of the Provincial Commission on the Status of Women, K-P on Friday, Information Minister Mossarat Qadeem said all commissioners across Khyber-Pakhtunkhwa (K-P) have been directed to take stern action against those trying to pressurise or prevent women from voting.
Qadeem said the government is well aware of the problems confronted by females in mainstream politics on the national level. "For this purpose, the government will utilise all resources to deal with anti-women voting elements and strict punishment, including fines, will also be advertised."
Qadeem added the culprits may also be incarcerated for three to five years.
She stressed on the need for an awareness drive across the province to apprise political parties, religious scholars, elders and civil society representatives about the importance of women voting in the elections.
Full report at:
http://tribune.com.pk/story/540988/preventing-women-from-voting-to-lead-to-imprisonment/
----------------
Saudi Shiite Woman Given 8 Lashes for Sending SMS Promoting Shiism
April 27, 2013
(Ahlul Bayt News Agency) - A Saudi Shiite woman has been sentenced to eight lashes by a court in Qatif for mistakenly sending a text message allegedly promoting the Shiite branch of Islam.
The 30-year-old woman, identified only as YH, has been pronounced guilty for sending an SMS to another Saudi woman, containing a list of internet addresses under the name 'Shiite Islamic religious services'.
One of the addresses apparently belong to Fatwas of Ayatollah Sistani, Iraq's most senior Shiite cleric who is renowned throughout the Gulf for his learned counsel on Islamic law.
The Saudi Arabian state is a staunch adherent to the Wahhabi, and publicly disparages the Shia sect. Shia Muslims are not allowed to practice their faith, or even profess their sectarian beliefs in private. .
Full report at:
http://abna.ir/data.asp?lang=3&Id=412564
----------------
Acid-attack victim commits suicide in Islamabad
27 Apr 2013
ISLAMABAD: A woman who lost her eyesight after an acid attack reportedly committed suicide in Sector G/10-4 the other day.
According to initial reports, Shakeela Rafiq was suffering from emotional and psychological distress ever since she turned blind.
It has been told that some Shakeela's neighbour, Muhammad Ali, threw acid on her face two years ago, due to which received severe burns and lost her eyesight.
The woman, fed up with her visual impairment, committed suicide by hanging herself from a ceiling fan.
Upon receiving information, police reached the spot and shifted the body to a hospital for an autopsy. online
http://www.dailytimes.com.pk/default.asp?page=2013\04\27\story_27-4-2013_pg11_6
----------
Women fail to win votes in Makkah chamber elections
27 April 2013
Three Saudi women running as candidates for the Makkah Chamber of Commerce and Industry's (MCCI) board of directors only managed to garner a paltry four votes in the recently concluded elections.
Amana Abdullah Zawavi, who fought in her second elections, received one vote; Aziza Abdul Qader also secured one vote; and Hada Al-Mahdi secured two votes. It appeared the candidates had all voted for themselves, with Al-Mahdi managing to get an extra vote from a man. Many members of the Makkah business community thought that Zawavi would get more votes because she ran under the auspices of Saad Jameel Qureshi, who secured the second highest votes in the elections, and because she had the experience of running for a second time.
Full report at:
http://www.arabnews.com/news/449587
----------------
Muslim girl flees town with Christian man in Egypt, police fire tear gas
April 26, 2013
CAIRO – An alleged romance between an Egyptian Muslim college student and a Coptic Christian man heightened sectarian tension on Friday in a small rural Egyptian town where police fired tear gas to disperse stone-throwing Muslims who surrounded a Coptic church in anger over the inter-faith relationship, a security official and priest said.
The Muslim protesters accuse Saint Girgis Church of helping 21-year-old Rana el-Shazli, who is believed to have converted to Christianity, flee to Turkey with a Coptic Christian man.
Stories of conversions to Christianity or Islam, inter-faith romances and the illegal building and expanding of churches have caused a series of deadly sectarian incidents in recent years. Since Islamists rose to power after Egypt's 2011 uprising that forced out longtime autocrat Hosni Mubarak, Christians have grown more fearful of intimidation and violence from fellow Egyptians, especially ultraconservative Salafis.
Full report at:
http://www.foxnews.com/world/2013/04/26/egyptian-police-fire-tear-gas-to-quell-crowds-after-muslim-girl-flees-town-with/#ixzz2RerZZXBU
----------------
Putin: nothing good about wearing hijabs to school
April 27, 2013
(Ahlul Bayt News Agency) - The wearing of hijabs to school is not traditional even in ethnic regions of Russia, President Vladimir Putin said, answering a question in the Direct Line on Thursday.
"There is nothing good about it. True, there are peculiarities in ethnic republics but what you speak about is not an ethnic peculiarity but a demonstration of the known attitude to religion," Putin said.
"There has never been such a tradition in our country, in Islamic regions," he said.
The wearing of hijabs is prohibited by law in certain Islamic countries," Putin said.
"I believe that our country can and should restore school uniforms. That is already being done and I hope the regions will not forget this. I hope they will introduce these uniforms in the most active way," the president said.
http://abna.ir/data.asp?lang=3&Id=413366
----------------
Afghan Women Do Not Report Rape By US Army For Fear Of Shame
April 27, 2013
(Ahlul Bayt News Agency) - Muhammad Naeem Dindar stressed: "many Afghan women and girls, do not report rape by foreign military personnel for fear of shame, and we have had 15 to 20 reports regarding this so far."
He said: "prevalence of various diseases, including cancer and birth defects of children such as hole in a heart is the consequences of the War." He added: "in addition to the specific economic damages, women and children have been affected the most [by the war]."
Finally he pointed to the displacement of more than 5 million Afghani caused by the US war against the country and said: "Any war is going to have consequences for many people in that country. According to the United Nations report, a third of Afghans live below the poverty line.
Their daily income does not exceed one dollar, and ultimately people are forced to migrate to neighbouring countries for better living, where they are also faced with its own problems."
http://abna.ir/data.asp?lang=3&Id=413187
----------------
Turkey's high court acquits woman who killed abusive husband
April 27, 2013
A high court decision has overruled a previous 15-year sentence for the 46-year-old Zarife Demircan, who had strangled her abusive husband with a scarf, acquitting the woman of murder charges on the grounds that the killing occurred for reasons of self-defense.
Demircan was allegedly beaten, raped and sold to other men by her 43-year-old husband for years, until she strangled him to death after another rape attempt. The husband was allegedly beating the kids as well.
An Eskişehir court sentenced Demircan to lifetime imprisonment in December 2011, but then decreased the sentence to 15 years for extenuating circumstances of the killing.
The High Court however refused to approve the decision, citing self-defense as the cause behind the murder. The case was re-opened by the court.
The court finally ruled in favor of Demircan and acquitted her of murder charges.
http://www.hurriyetdailynews.com/turkeys-high-court-acquits-woman-who-killed-abusive-husband.aspx?pageID=238&nID=45692&NewsCatID=341
----------------
No decision yet on work permits for expat wives
27 April 2013
A majority of teachers has welcomed the proposed decision of the Ministry of Labor to issue work permits to wives and daughters of expatriates to work as teachers.
However, a source at the Ministry of Labor told Arab News that nothing has been approved with regard to issuing work permits to wives and daughters of expatriates in the Kingdom.
The source said that the ministry has not approved anything nor has there been any meeting in this regard, adding that they are just thinking on this line but nothing has come up yet.
School authorities said the decision of the Labor Ministry would solve many problems of schools and teachers to become legalized.
Full report at:
http://www.arabnews.com/news/449581
----------------
Boston bomb suspects' mother in CIA terror database since 2011
27 April 2013
U.S. intelligence agencies had added the mother of the Boston bombing suspects to a government terrorism database 18 months before the bombings, U.S. officials told the Associated Press late Friday.
The CIA had asked for the older suspect, Tamerlan Tsarnaev - now dead - and his mother, Zubeidat Tsarnaeva, to be added to a terrorist database in the fall of 2011.
The request came after the Russian government contacted the agency with concerns that both had become religious militants, according to officials briefed on the investigation.
The officials spoke to the AP on condition of anonymity because they were not allowed to speak publicly about the ongoing case.
Full report at:
http://english.alarabiya.net/en/News/world/2013/04/27/Boston-bomb-suspects-mother-in-CIA-terror-database-since-2011.html
----------------
Israeli court: Stop detaining women at holy site
26 April 2013
An Israeli court has instructed police to stop detaining women for performing religious rituals that ultra-Orthodox Jews say are reserved for men.
Members of a liberal women's Jewish group have been trying to break the Orthodox monopoly at the Western Wall in Jerusalem by conducting mixed-gender prayer and wearing religious garb.
The Western Wall is the holiest site where Jews can pray. It is currently divided into men's and women's sections.
Orthodox rabbis, who control Israel's religious institutions, oppose mixed-gender prayers.
In a ruling on Thursday, a Jerusalem court said the woman were not disturbing the peace with their prayer and saw no justification for detaining them.
Prime Minister Benjamin Netanyahu recently gave preliminary support to a compromise plan to create a new section for mixed-gender prayers.
http://english.alarabiya.net/en/News/middle-east/2013/04/26/Israeli-court-Stop-detaining-women-at-holy-site.html
----------------
Iraqi women seeking equality in peace as in war
SULAYMANIYAH
April 27, 2013
Iraqi Kurdish women voice their pride in winning freedom after years of Saddam Hussein's rule. Now they hope to achieve the same equal role with men in peacetime as much as in wartime
"As a nation which suffered oppression, we have waited for years to raise our voice and to hear others. We gained our freedom after the 1991 uprising. Only then did our voices, colors become visible. And we welcome all sorts of races, colors."
Those are what Dr. Nezaket Hussein of Sulaymaniyah University said over the weekend at the Women Journalists' Workshop which was organized by the Medialog Platform and the Kurdistan Journalists' Union in Sulaymaniyah, where female journalists from Turkey and Iraqi Kurdistan gathered in order to discuss the media's role in societal peace, the language of the media, freedom and women in the media.
Full report at:
http://www.hurriyetdailynews.com/iraqi-women-seeking-equality-in-peace-as-in-war.aspx?pageID=238&nID=45665&NewsCatID=352
----------------
'1,116 Girls And Women' Treated For FGM In Mali Last Year
26th April 2013
Carla Mackenzie
A total of 1,116 Malian women received medical treatment for complications arising as a result of female genital mutilation (FGM) in 2012, the country's National Anti-FGM Programme (PNLE) has announced.
The figure is accounted for exclusively by women from low-income, rural communities who were treated directly by PNLE and its international partners, rather than local healthcare centres, publication Apa has reported.
One case required an FGM victim to be evacuated to Italy for medical attention. According to the head of PNLE's follow-up and evaluation division Anaye Sagara, the affected woman will suffer lifelong urinary incontinence due to the severity of her condition.
Most recently, PNLE reported treating a group of 20 women who travelled from rural areas to the capital Bamako in order to access treatment. The organisation provided each woman with a month-long programme of care.
While 543 villages in Mali have publicly announced their abandonment of FGM, the practice remains widespread among all of the country's ethnic and religious groups.
http://www.figo.org/news/1116-girls-and-women-treated-fgm-mali-last-year-0011136
----------------
Husband 'Threatens To Pour Acid Over His Wife' If She Filed A Divorce
Salam Al Amir
Apr 27, 2013
DUBAI // A man threatened to disfigure his wife of 27 years using acid after she filed for divorce, a court heard this week.
The husband, MA, became increasingly hostile towards her after gaining Emirati citizenship in May last year.
She finally decided to divorce him after his employer told her he was suspected of embezzling millions of Dirhams from his workplace and faced criminal charges.
He kicked her out of their house and told her family she was having an affair, and then threatened to throw acid in her face if she returned.
The pair wed in 1986 when the husband was stateless, Dubai Sharia Court heard. They had four children - three boys and a girl - but the husband lost interest in his family after getting citizenship and refused to pay for things they needed.
Full report at:
http://www.thenational.ae/news/uae-news/courts/husband-threatens-to-pour-acid-over-his-wife-in-dubai#ixzz2RebFkfBQ
--------------
URL: https://www.newageislam.com/islam,-women-and-feminism/new-age-islam-news-bureau/indian-muslim-woman-activist-shahnaz-sidrat-criticises-ulema,-declared-kafir/d/11317