New Age Islam News Bureau
24 Dec 2018
• Exporters Can Earn By Selling Hijabs and Abayas
• Malala Records Special Message For Shah Rukh Khan after Watching 'Zero'
• Micro-Financing, Dowry Schemes Launched For Torghar Women in Pakistan
• Women to Be Included In Mainstream: Pak Punjab CM
• 15,000 Jobs at Confectionary Shops for Saudi Women
Compiled by New Age Islam News Bureau
URL: https://www.newageislam.com/islam-women-feminism/indian-muslim-girls-ahead-education/d/117250
--------
'Indian Muslim Girls Ahead In Education and Hygiene' Than Those from Other Communities
Dec 24, 2018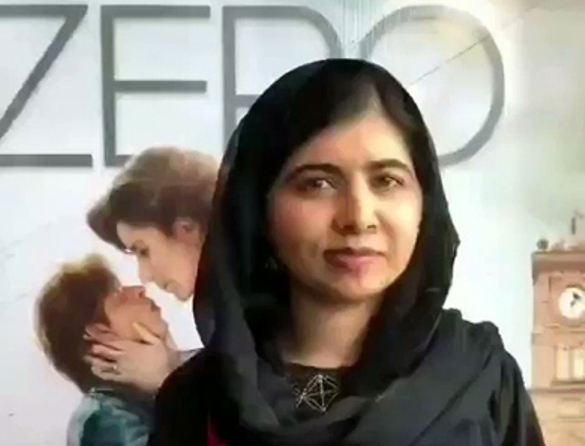 Malala has expressed her desire to meet the actor, Shah Rukh Khan
----------
HYDERABAD: Muslim girls are outshining those from other communities in education and personal hygiene, said Prof Amir Ullah Khan, a development economist and key member of Sudhir Commission.
Speaking at 'financial assistance to orphans' event, organised by Hyderabad Zakat and Charitable Trust, Khan said: "It is a misconception that Muslims are backward in education in India. They too are competent in education. Out of 80% girls who acquire education across India, nearly 90% of them are Muslims. These 90% get at least primary education, which is most important for living. Also, they are in better health as they wash hands five times a day while performing ablution."
Khan added that Muslim society holds educated women in high regard, but most girls do not acquire higher education.
https://timesofindia.indiatimes.com/city/hyderabad/muslim-girls-ahead-in-education-and-hygiene/articleshow/67226340.cms
--------
Exporters can earn by selling hijabs and abayas
Khawaja Amer
December 24, 2018
Pakistan may be the fourth largest cotton producer worldwide, but its value-added sector has a small share in its total exports. One of its reasons is the country's dependence on conventional value-added products.
The Muslim apparel industry, which is currently dominated by Malaysia, Turkey and Indonesia, has a huge potential for Pakistan's garment sector.
According to a BBC story, the global hijab market was worth $230 billion in 2014. It predicted the market size would be $327bn by 2020. Pakistan's textile industry needs to come up with higher value-added products such as hijab and abaya for the international market. Demand for Islamic clothing has led to growth in the international Muslim fashion industry.
In a relatively short time, Muslimwear has become an important segment of the international textile industry. Japanese fashion giant Uniqlo's recently launched hijab in the United Kingdom after successful runs in the United States, Malaysia, Singapore, Indonesia and Thailand.
There is still a fairly big space for newcomers as some non-Muslims have also started covering their heads now. According to one report, hijab became popular in the United States when Harbhajan Singh Khalsa, a yogi and spiritual teacher, asked his followers to cover their heads with a scarf or hijab. The reason he gave was that the skull is made up of tiny bones that are constantly moving even if by only micro-millimetres. The degree to which they move impacts the level of calmness or anxiety.
Therefore, covering the head stabilises the cerebral matter and the 26 parts of the brain, which are interlocked with the neurological system and electromagnetic field. It creates a focus of the functional circuit of the hemispheres of the brain and tunes the neurological system.
The popularity of his theory has given an unexpected boost to the hijab industry. Multicoloured, ready-to-wear and stylish hijabs are sold for not less than $25 in the wholesale market. Pakistani hijab suppliers are offering $2 to $4 per piece. But they are not organised enough to compete with Malaysia, Turkey or Indonesia. Time is ripe for Pakistani exporters to enter into a joint venture with international brands selling hijab.
Turkey is the world's largest consumer of Muslim clothing. Turks spent $39.3bn on merchandise in 2013, according to Reuters. The United Arab Emirates was second with $22.5bn. Spending on high-end Sharia-compliant clothing by Muslims is surging. They are expected to spend about $484bn by 2019, Reuters estimates.
Those numbers will only climb as Muslims become more aware of the fashion already ubiquitous in the Middle East. Designers around the world started taking notice of this trend in the early 2000s. The Islamic Fashion Festival started taking place in 2006 in Kuala Lumpur. Seventeen such festivals have taken place in fashion hubs like New York, London, Jakarta, Dubai, Singapore, Monte Carlo and other cities since then.
Dubai has set up a special design district offering tax breaks to companies and designers willing to relocate to the city-state, according to Bloomberg, as the emirate wants to become the world's Muslim fashion capital. DKNY saw an opportunity last summer and released a Ramazan collection that sold in the Arabian Gulf only. The GDP of countries with a majority Muslim population is projected to grow at an average of 5.4pc a year as opposed to 3.4pc of Europe and the United States over the next few years.
Local entrepreneurs and designers are not the only ones to have jumped on the Muslim fashion bandwagon. Large international brands such as DKNY, H&M and Uniqlo have also created collections to cater to the Muslim market.
More recently, D&G unveiled its abaya and hijab collection, causing a stir in the luxury fashion world and setting a precedent for other design houses. Italian entrepreneur Paolo Costanzo, the founder of the Infinita Group and the regional representative of the Islamic Fashion and Design Council, is about to launch a luxury fashion website catering to high-end Muslim consumers.
Nike, the well-known US sportswear company, recently introduced a sports hijab. The use of an official sports hijab in competition dates back to July 2012 when the International Football Association Board (IFAB), custodians of the rules of soccer, overturned a 2007 ban that had argued that the hijab was 'unsafe' for sportspersons as it could increase the risk of neck injuries.
While overturning the ban, the IFAB noted that there was nothing in "the medical literature concerning injuries as a result of wearing a headscarf". The sports hijab is secured in place with magnets. If it gets pulled off, another cap remains underneath to cover the sportsperson's hair without causing any injuries. In 2012, Muslim athletes wearing the hijab received considerable media attention.
Wearing the hijab set them apart from other Olympic athletes. Since then, several sports hijab companies — much before Nike's pro hijab — have joined this business. International retailers such as Marks and Spencer and Uniqlo have launched ranges aimed at Muslim women. With high-end embellished hijab and abaya collections, H&M, Dolce and Gabbana, Zara and Uniqlo caused a stir in the luxury fashion world when they launched clothing lines targeting the Muslim shopper. It is time Pakistani exporters availed this opportunity.
https://www.dawn.com/news/1453321
--------
Malala Records Special Message For Shah Rukh Khan after Watching 'Zero'
December 24, 2018
Youngest Nobel Prize laureate and Pakistani activist for female education Malala Yousafzai who is a fan of Bollywood star Shahrukh Khan loved his new movie Zero.
After watching the movie with her family, she recorded a special video message for Khan.
"Hello Shah Rukh Khan, it was very nice to watch your movie, it was very entertaining and my whole family loved it," she said in the video.
The Oxford student reiterated her desire to have the actor visit her university and said that it would be a big day for her when she gets to meet him in person.
"You are the best and amazing and superb and awesome and I know everybody says this to you so I'll just repeat it," Malala added.
Zero, which hit cinemas on Friday, sees the Hindi movie icon, miniaturised with special effects, caught up in a love triangle alongside a wheel-chaired Anushka Sharma.
Director Aanand L Rai believes he brought the larger than life actor, nicknamed "King Khan", out of his comfort zone to play a character three feet (90 centimetres) tall.
Zero — which is heavy on special effects — sees Sharma play a NASA scientist with cerebral palsy and Katrina Kaif portray a Bollywood actress with a drinking problem.
https://www.pakistantoday.com.pk/2018/12/23/malala-watches-zero-records-message-for-srk/
--------
Micro-Financing, Dowry Schemes Launched For Torghar Women in Pakistan
December 24, 2018
MANSEHRA: Pakistan Tehreek-i-Insaf district government in Torghar has announced different welfare schemes for women who are still deprived of basic rights.
"Ours is a highly backward and conservative district and in order to bring women to the mainstream, we have for the first time launched a micro-financing, dowry and education scholarship funds for this marginalised segment of society," district nazim Dilroz Khan told reporters on Sunday.
He said applications for dowry, micro-financing for handicrafts and education scholarships were sought by the district government through social welfare department.
"We will provide dowry of Rs35,000 to Rs50,000 to each girl and a total of 360 girls will benefit from this scheme," said Mr Khan.
He said under small financing programme women would also be provided with the financial assistance of Rs35,000 to establish shops, handicraft businesses or buy cattle to support their families.
"We have also started receiving applications from deserving and people with disabilities for scholarship of Rs50,000 each and such opportunity will pave way for local boys and girls to get education within or outside the district," said the nazim.
He said the education scholarship programme would benefit as many as 150 students.
POLL CANDIDATES: The political parties have yet to finalise names of their contenders for the by-election in PK-30 as only two days are left for submitting the nomination papers.
The by-election in the constituency, which had fallen vacant following the disqualification of Pakistan Muslim League-N MPA Mian Ziaur Rehman by the apex court earlier this year, would be held on Feb 20 next year.
The returning officer will likely start receiving nomination papers from Dec 26.
Chief Minister Mahmood Khan had hinted at giving Pakistan Tehreek-i-Insaf ticket to Ahmad Hussain Shah after the latter joined the party. However, the poll ticket could not be issued to Mr Shah because of opposition within the party, sources said.
"There is a delay in finalising name of a unanimous contender of the party as there are many who want to contest the by-election on party ticket," a PTI leader said on condition of anonymity.
The PML-N is also facing the same situation, where former federal minister Sardar Mohammad Yousuf has been tasked with fielding such a candidate who could retain the seat.
Pakistan Peoples Party is also in contact with Mushtaq Khan, a former candidate of PTI, to field him against PTI and PML-N men, according to party sources.
https://www.dawn.com/news/1453244/micro-financing-dowry-schemes-launched-for-torghar-women
--------
Women to Be Included In Mainstream: Pak Punjab CM
December 22, 2018
LAHORE: Chief Minister Sardar Usman Buzdar has said the PTI government is fully committed to include women in the mainstream of society adding that dream of empowering women would be materialised in the New Pakistan led by Prime Minister Imran Khan.
In his message issued here on Friday, the chief minister said that Pakistan cannot progress without giving rights to the women and added that women will have to play an active role in the socio-economic and cultural development of the country. The rights given by the religion of Islam to the women are unprecedented having no other example in the annals of history.
It is worthwhile that Pakistani women have earned a niche in different sectors with their abilities and multifarious talents. Similarly, their role in administrative and defence related institutions is also very important, he added. He said that purpose of celebrating this day is to acknowledge the strong role played by women in the national development. On this day, we should also make a commitment to play our responsibilities for protecting the rights of the women around us. This day also provides an opportunity to encourage the women who have played an important role in different spheres of life so that they could move forward with confidence. Today, we also make a commitment that steps will be taken to protect the women rights in the society so as to provide a conducive atmosphere to them, he concluded.
https://www.thenews.com.pk/print/409128-women-to-be-included-in-mainstream-cm
--------
15,000 Jobs at Confectionary Shops for Saudi Women
2018-12-23
JEDDAH — There are 15,000 jobs for Saudi women in as many as 5,000 confectionary shops spread across the Kingdom, according to an official.
Faiz Hammadah, head of the committee for bakeries at the Jeddah Chamber of Commerce and Industry, told Okaz/Saudi Gazette that there are three jobs up for women at each confectionary shop.
"Investors have opened up jobs for Saudi women as saleswomen and workers at these shops," he said. Hammadah drew attention to the hurdles facing Saudi women in taking up around 10,000 jobs of drivers and distributors in the bakery sector even after the implementation of the decision for women to drive.
He said investors are reluctant to appoint them as distribution representatives. They say that these are difficult jobs for women.
Hammadah praised women who are coming forward to take up jobs of sales representatives and drivers for the delivery of pastries and confectionaries at bakeries and schools.
http://saudigazette.com.sa/article/550886
--------
URL: https://www.newageislam.com/islam-women-feminism/indian-muslim-girls-ahead-education/d/117250
New Age Islam, Islam Online, Islamic Website, African Muslim News, Arab World News, South Asia News, Indian Muslim News, World Muslim News, Women in Islam, Islamic Feminism, Arab Women, Women In Arab, Islamophobia in America, Muslim Women in West, Islam Women and Feminism