New Age Islam News Bureau
22 Oct 2013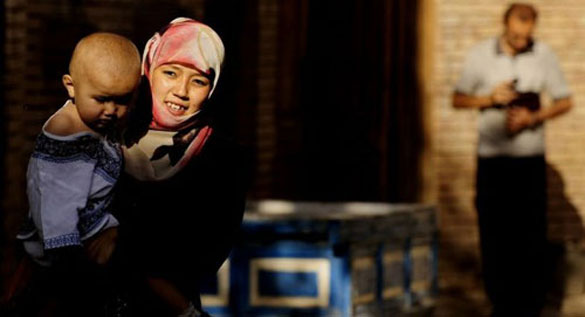 Members of Russia's emergency services work near a damaged bus after a bomb blast in Volgograd in this handout provided by the Russian Emergencies Ministry October 21, 2013. REUTERS
----------
• 'Female Suicide Bomber' Kills Five on Bus in Russia
• 'White Widow' Samantha Lewthwaite Wrote 'Love Poem' For Osama Bin Laden
• New Iraqi Association, Single Women, Strives To Help Unmarried Women
• Saudi Women Activists Oppose Women Getting Behind the Wheel
• I'm More Scared of Ghosts than of Taliban: Malala Yousafzai
• Qaddafi Widow Demands Return of Dictator's Body
• Non-Saudi Women to Transfer Sponsorship of Children
Compiled by New Age Islam News Bureau
URL: https://www.newageislam.com/islam,-women-and-feminism/new-age-islam-news-bureau/indian-muslim-girl-refuses-to-marry-dowry-seeking-groom/d/14088
------------
Indian Muslim Girl Refuses To Marry Dowry-Seeking Groom
October 21, 2013
Patna: A Muslim girl from Bihar on Sunday refused to marry a local man after the groom's family sought a hefty dowry in lieu of solemnisation of marriage.
Fatima Firdausi, from Chakhasim village in eastern Bihar's Munger district, has become a star overnight for her bold initiative to outright reject the marriage.
In support of her courage, the elders at this village have now vowed not to give dowry to grooms in future.
As per the report, Fatima's marriage had been fixed with a man who has a government job. The marriage procession was scheduled to arrive at her village on Sunday and everyone in the family was busy making arrangements to welcome guests when suddenly the groom's side put a dowry demand of Rs1 million (Dh60,000) before the bride's family, leaving everyone stunned.
But, Fatima removed their concern soon after when she refused to marry her suitor, earning her huge acclaim from all quarters.
"Dowry is a bigger evil for the society and every girl from the country should raise their voice against it," she told a local news channel after rejecting the marriage proposal.
Her family members and even entire villagers are quite happy at her bold act. "She has done us proud in the society. I am proud of my child," the girl's father Abdul Ahad said. Her brother Mohammad Chand Qaisar also expressed happiness over it.
"The boy's side called us and sought a dowry of Rs1 million saying he is employed in a government job.
"We were really quite disturbed at the sudden demand but our sister has inspired all. Now we will together fight the evil of dowry," said Qaiser.
Bihar State Women Commission chairperson Kehkesan Perveen congratulated Fatima on her bold initiative and asked all girls to take lessons from her. "The demon of dowry will never be wiped out until the girls themselves come out and boycott families seeking dowries," said Perveen.
The rejection of marriage over dowry is perhaps the first such case in the rather orthodox Muslim society.
http://gulfnews.com/news/world/india/muslim-girl-refuses-to-marry-dowry-seeking-groom-1.1245498
------------
'Female suicide bomber' kills five on bus in Russia
October 22, 2013
MOSCOW: A suspected female suicide bomber set off a blast on a bus packed with students in southern Russia on Monday, killing at least five people and raising security fears less than four months before the Winter Olympic Games.
Officials said the explosion that injured nearly 30 people went off at around 1000 GMT in the Volga River city of Volgograd, about 900 kilometres southeast of Moscow
Footage broadcast on state television showed a green and white city bus standing mangled in the middle of the street, its windows blown out on the left side.
"It was an unidentified explosive device," a spokesman for the National Anti-Terror Committee said by telephone. The Investigative Committee, Russia's equivalent to the US Federal Bureau of Investigations, said officials had opened a formal terror probe.
"A criminal case has been opened under articles outlining terrorism, murder and the illegal use of firearms," the Investigative Committee said in a statement.
An official at the Investigative Committee said police had found the identity papers of a suspected female suicide bomber who they believe was the wife of a rebel commander fighting in Russia's restless North Caucasus.
"She had recently adopted Islam," the unnamed Investigative Committee source told Russian news agencies.
Officials said the packed bus was carrying about 40 passengers at the time of the explosion.
"There were lots of students on the bus," a man named Vladimir, whose daughter survived the explosion, told Moscow Echo radio from Volgograd.
"It was a powerful explosion — a huge blast," he said.
"The bus was torn to pieces. When I came to pick up (my daughter), half the bus was simply not there."
A regional emergencies ministry spokeswoman told AFP that 17 people were hurt in the explosion, although some Russian news agency reports put the number of injured as high as 27.
Initial reports had also put the death toll at six, although most local and national security agencies had later revised the number of dead down to five. "All those who need help are getting full assistance," an unnamed Volgograd government official separately told the Interfax news agency.
"We have gathered the required amount of medicine, and called up additional doctors," the official said.
Security remains a concern throughout southern Russia ahead of the February 7-23 Winter Olympic Games in the Black Sea resort of Sochi, which is located next to the volatile North Caucasus.
Russia fought two post-Soviet wars in the North Caucasus republic of Chechnya, and has since seen violence spill over to neighbouring Muslim regions such as Ingushetia and Dagestan.
Female suicide bombers are often referred to in Russia as "black widows" — women who seek to avenge the deaths of their family members in North Caucasus fighting by targeting Russian civilians. Two female suicide bombers set off blasts at two Moscow metro stations in March 2010 that killed more than 35 people.
So-called black widows were also responsible for taking down two passenger jets that took off from a Moscow airport within minutes of each other in 2004, killing about 90 people. Several also participated in the September 2004 Beslan school hostage crisis that ended with the death of at least 335 people, about half of them children. afp
http://www.dailytimes.com.pk/default.asp?page=2013\10\22\story_22-10-2013_pg4_10
------------
'White Widow' Samantha Lewthwaite wrote 'love poem' for Osama bin Laden
Oct 22, 2013
LONDON: The world's most wanted woman, Samantha Lewthwaite, dubbed the "White Widow", wrote a poem telling of her "love" for Osama Bin Laden.
Lewthwaite wrote an ode to Osama during her life on the run.
According to Independent, the verse is full of spelling mistakes and a cavalier attitude to grammar, but poem explained about her adoration for the al-Qaida founder.
Lewthwaite bewailed Osama's death, vowing revenge on unbelievers.
She wrote:
"Oh sheik Osama my father, my brother.
My love for you is like no other.
Oh Sheik Osama now that you are gone/
The Muslims must wake up they must be strong."
The 34 lines were found by police on a computer belonging to Lewthwaite along with a flash drive, which showed she had spent eight years researching bomb-making.
Sky News, investigating Lewthwaite unearthed evidence that she was present in Nairobi at the time of the attack by the Somali Islamist group al-Shabaab.
She had been living in a flat overlooking the Westgate mall where 67 died. Lewthwaite had rented the apartment in the name of Nathalie Faye Webb, a South African national.
http://timesofindia.indiatimes.com/world/uk/White-Widow-Samantha-Lewthwaite-wrote-love-poem-for-Osama-bin-Laden/articleshow/24547517.cms
------------
New Iraqi Association, Single Women, Strives To Help Unmarried Women
October 16, 2013
SULAIMANIYAH, Iraq — An association calling itself Single Women, based in the city of Sulaimaniyah in the Kurdistan Region of Iraq, is helping unmarried women meet the challenges of family life and the pressures faced by single women.
Single Women is the first association in the Iraqi Kurdistan Region set up to help women over the age of 35 who haven't married or had the chance to achieve any technical or professional skills.
Amina Ali, the director of the association, told Al-Monitor: "I began implementing the idea in 2009. I later worked on clarifying its goals and working methods. Then, I obtained the necessary government approvals and announced the opening of its office in Sulaimaniyah in August 2013. It is run by 15 female employees and housewives."
"The association works with single women and seeks to help them attain financial independence and alleviate many social pressures," she added.
Ali continued, "This 'invisible' segment of women struggles with enormous psychological and physical suffering, because of societal notions that condemn and shame women who are not married by their thirties. This is despite the fact that, often, this [situation] is out of their own control."
Although there are no official statistics on the number of single women in Iraq, unofficial figures indicate that a high percentage of Iraqi women are illiterate. According to a statement released by the Tammuz Organization for Social Development on the International Day for the Eradication of Illiteracy, Dec. 8, 2012, 24.6% of Iraqi women are illiterate.
The vast majority of illiterate women in Iraq remain under the care of male family members and rely on them financially. This naturally subjects them to the absolute authority of their father, brother or uncle. This control comes in addition to the loneliness and isolation suffered by a single woman if she does not have a rich social environment.
Ali added, "A single woman's day revolves around housework. She exerts her energy cleaning and cooking. Our goal is to enable these women to develop themselves and allow them to learn skills and participate in professional workshops so they can find work and a source of income — so they will no longer be a burden on their families."
The association, which receives support from the Kurdistan Regional Government, is preparing a program that will provide monthly stipends as well as other activities for these women. Women can join the association by applying, and the association's employees go around distributing the form. According to Ali, "So far, approximately 70 women have joined the organization and are receiving services."
The association hopes to later expand its work to include services for divorced women and widows.
Miriam Ali is a journalist who has worked with a number of Iraqi media outlets. She is an activist in the field of women's rights and has participated in a number of courses and workshops for promoting civil action.
http://www.al-monitor.com/pulse/originals/2013/10/iraqi-kurdish-organization-helps-single-women.html
------------
Saudi Women Activists Oppose Women Getting Behind the Wheel
22 October 2013
In a move aimed at countering the request of three female members of Shoura Council seeking driving rights for women, several women activists in the Kingdom have drafted a letter to be submitted to the Royal Diwan listing out several points on why women should not be allowed to drive in the Kingdom.
Justifying their action, the activists, who have sent copies of the letter to the interior minister and Shoura Council chairman, said that women driving was not only a violation of the Kingdom's public order and scholars' Fatwas, but would also impact the social fabric, family values, religious sentiments and even security.
Seeking rejection of the request for women driving and ban on campaigns to drum up support, the activists pointed out that what the middle-class families needed was public transport system.
Using cyberspace to make her point, awareness activist Rawdah Yousef said from the social perspective, it would be a disastrous move since it would mean women moving away from families if granted permission to drive. The letter will be signed by prominent activists from various fields, she said.
The letter contends that permission for women to drive can increase traffic accidents, cause a shift in women's role which can threaten family stability and change crime scene since men can cover their faces while committing offenses under the garb of a woman's veil.
If anything, the three women members should focus on more important women's issues, such as right to employment, housing and insurance rather than driving around, the activists argued.
Supporters of women driving launched a social media campaign Sunday. They urged citizens to vote in favor of the campaign through Twitter, Facebook and WhatsApp.
A group of women who would like the authorities to lift the ban have urged women to drive on Oct. 26. More than 15,000 women and men supported the campaign and signed the online petition on www.oct26driving.com to lift the ban on women driving. The campaign has become a hot topic for national and international media.
http://www.arabnews.com/news/468439
------------
I'm more scared of ghosts than of Taliban: Malala Yousafzai
Oct 22, 2013
LONDON: Pakistan's teenaged human rights activist, Malala Yousafzai, is more afraid of ghosts than she is of the Taliban, whose gunmen shot her in the head and neck last year for speaking out in favour of girl's education in the Swat Valley.
"Well, if I speak truly, I am a little bit scared of ghosts. We people call it pidiaan... I am afraid of them when it gets dark," said the 16-year-old, who was in the race for this year's Nobel peace prize for standing up to the Taliban.
In an interview with NDTV's group editor Barkha Dutt in Britain, where she was brought for treatment after the attack and has been staying since, Malala said she was "not at all" scared of the Taliban.
Asked why the Taliban were opposed to girls' education, Malala said, "They are afraid of us. They are afraid of women. A woman is powerful but when she gets education she becomes more powerful. They do not want women to take part in society, in the development of a society. They think that the only job of women is to cook food, to serve the family, to give birth to children, to feed them."
Malala reiterated that her ambition was to lead her country. "Yes, I want to become the Prime Minister of Pakistan. And I will work on education and health and for the prosperity of the country. And I will also work on good relations with India," she said.
The activist said after spending nine days in a Birmingham hospital receiving treatment, she asked her father to bring her a physics book "because numericals and mathematical questions are really tough".
"At that time I was not worried. I was thinking that I am going back to Pakistan, I am going back to Swat. And I was not even thinking that they can shoot me again," she said. Malala has enrolled in a school in Birmingham.
Despite the global attention, Malala said she was still an "ordinary girl". "I am the same Malala... speaking about women's rights and girls' education is my duty."
http://timesofindia.indiatimes.com/world/pakistan/Im-more-scared-of-ghosts-than-of-Taliban-Malala-Yousafzai/articleshow/24510090.cms
------------
Qaddafi widow demands return of dictator's body
22 October 2013
TRIPOLI: The widow of ousted Libyan dictator Muammar Qaddafi has urged the United Nations and the European Union to help her recover the remains of her husband and their son Mutassim.
In a letter published on the website of Voice of Russia radio on Sunday, Safia Farkash also called on the African Union to investigate the deaths of the two men.
Qaddafi and his son were captured and killed by rebel fighters on October 20, 2011 during the uprising that toppled the long-ruling strongman.
Their bodies were displayed in the port of Misrata and then buried in a secret location.
"All the members of the UN Security Council, the European Union and everyone who has direct or indirect connection with this murder must tell where the remains of these martyrs are and allow their relatives to bury them in a proper way," Farkash wrote in the letter marking the second anniversary of Qaddafi's death.
Farkash also demanded that the African Union launch an investigation into the killings, and appealed to the international community to help her contact her son Seif Al-Islam, who was captured by rebels in November 2011 in southern Libya.
"I demand the world community help me come in touch with my son Seif Al-Islam, who has been isolated from all members of our family from the moment of his arrest," she wrote.
Seif has been held by a group of former rebels in the western town of Zintan since his capture, and is awaiting trial over his alleged role in trying to suppress the 2011 uprising.
Safia and three of the former dictator's children — Aisha, Hannibal and Mohamed — fled to Algeria in August 2011 as rebel forces seized Tripoli, before part of the family was granted asylum in Oman this year.
Another of Qaddafi's sons, Saadi, fled to Niger in September 2011.
Mutassim and another two of Qaddafi's sons were killed in the 2011 conflict — Seif Al-Arab died in a NATO air strike, and Khamis was killed in fighting in August that year.
http://www.arabnews.com/news/468401
------------
Non-Saudi women to transfer sponsorship of children
22 October 2013
Issues with the transfer of sponsorship of children of widowed or divorced non-Saudi women will end soon, said spokesman of the National Society for Human Rights Ibrahim Al-Shiddi.
He said the issue has been under scrutiny with the Ministry of Interior, represented by the Passports Department. "We are always exploring ways to address every case that comes to our hand. This specific issue will link the legal framework with the family's conditions and circumstances," he confirmed.
He added that the main concern of the society is helping women in every possible way. "We realize that the Passports Department was very busy with the Haj issues, but communications between the two sides never stopped," he pointed out.
A delegation of the society in Madinah recently visited the city's Passport Department to discuss the rights of the widowed or divorced non-Saudi women to transfer the sponsorship of their children.
Sharaf Al-Qurafi, general supervisor of the society's branch in Madinah, said the delegation discussed the issue within compliance with the decision No. 406.
She appreciated the good response of the general director of the Passport Department. She called on all the parties concerned to step up the procedures that ensure the civil, economic, social and political rights of women, and give them these rights in view of the progress in this regard under the leadership of the Custodian of the Two Holy Mosques.
http://www.arabnews.com/news/468428
------------
URL: https://www.newageislam.com/islam,-women-and-feminism/new-age-islam-news-bureau/indian-muslim-girl-refuses-to-marry-dowry-seeking-groom/d/14088