New Age Islam News Bureau
17 May 2012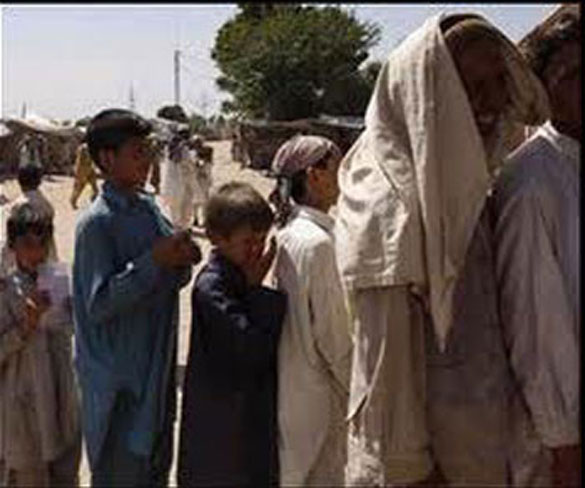 • The Hijab or the Bikini: the shaping of young girls' sexuality
• Loss of United Way funding means end to sex-ed program for Ottawa Muslim girls
• Algerian women claw their way into parliament
• Empowering women: Kingdom leads the way
• 25,944 Saudi women teachers are short-listed for service
• UK envoy hopes Saudi woman will compete at Olympics
• Iran's women football fans dream of a return to the terraces
Complied by New Age Islam News Bureau
Photo: Imams' body to 'introspect' on giving Muslim
URL: https://newageislam.com/islam-women-feminism/jamiat-ulema-e-hind-biggest/d/7357
---------
Imams' body to 'introspect' on giving Muslim women their due
Seema Chishti
May 17 2012
New Delhi : The biggest group of imams in the country, the Jamiat Ulema-e-Hind, is taking the first tentative steps towards addressing issues faced by Muslim women.
At its two-day conference beginning here tomorrow, one of the resolutions before the thousands of imam delegates who are expected to participate will be "introspection" on how the community treats its womenfolk, and on giving "women their due".
While proud of its nationalist roots and proximity to Mahatma Gandhi, the Jamiat Ulema-e-Hind — which runs the largest number of madrasas in the country — is very conservative in its approach towards women, and has received considerable flak over this. Its conferences are held once in three years.
"Women in Islam are recognised as more than equal, but we need to introspect," Jamiat Ulema-e-Hind leader and former MP Mahmood Madani told The Indian Express. "We are conscious that we have not allowed our womenfolk to get their due, as mandated by Islam in India, allowing a lot of backward traditions to corrupt what is rightly the due of our sisters, daughters, mothers and wives. How will our community progress if they don't? We are conscious of it and addressing it and want to do so visibly now."
While hesitant to reveal details, particularly as the resolution is yet to be passed, Madani added: "This is the beginning, and a move to recommit ourselves to the cause. In due course, many things will be rolled out. We felt it was our duty as Muslims to emphasise the special and equal place that Muslim women have been given by our faith, and to restore their dignity where it is not there."
Asked whether the Jamiat could face opposition from certain quarters, such as those who put pressure on the Rajiv Gandhi government to overturn a Supreme Court ruling in the Shah Bano case, Madani said that was different as "it was external, coercive and wrong". "This is an internal move to build more awareness on women's rights, as per the finest Islamic practices."
The All India Muslim Women's Personal Law Board and scholars like Asghar Ali Engineer have been at the forefront of a campaign to ensure better rights for women and an improved nikahnaama (marriage certificate/contract) that gives women more rights.
However, mainstream Muslim clerical opinion has not been very sympathetic. Asked about the Jamiat conference, Lucknow-based Shaista Amber, the president of the All India Muslim Women's Personal Law Board, said: "I am very realistic and don't nurse airy dreams about these maulanas... I have watched these male imams for years. But now, if they are actually doing anything positive, many millions of women whose lives are hell because of the Islamic spirit being violated, because of what they say is interference, they will give them many duas."
The last such conference of the Jamiat Ulema-e-Hind was held in Deoband in 2009 and was attended by Home Minister P Chidambaram among other leaders across the political spectrum. This year, the public rally of imams to cap the meeting will be held at the Ram Lila ground in Delhi on May 19.
http://www.indianexpress.com/story-print/950298/
---------
The Hijab or the Bikini: the shaping of young girls' sexuality
Rahila Gupta
17 May 2012
Where the line will be drawn between children's' rights and parents' rights will always be heavily contested. Issues from the veiling of young girls to the manufacture of padded bras for seven year olds, may best be dealt with by upholding the UN Convention on the Rights of the Child
The recent revival of feminist activity has focused predominantly, if not exclusively, on the pornification of our culture and the ways in which the representation of women as sex-objects has become ubiquitous and normalised. Worryingly, this trend has scooped up girls as young as four with high street stores selling bikinis aimed at them, padded bras for seven year olds ↑ , and shoes with three inch heels for eight year olds. Fears of commercialisation and the premature sexualisation of children have made the British government wade in to the debate along with web based campaign groups such as Mumsnet ↑ . Government commissioned reports starting with Australia in 2008, Britain, Quebec and Belgium in 2011, and the latest one in France published in March 2012 show that the phenomenon is widespread. Whilst the British report ↑ called mostly for self-regulation on the part of businesses and advertisers and recommended only one ban on the employment of children under 16 as brand ambassadors and in peer to peer marketing, the French report, Against hyper-sexualisation, a new fight for equality, went further calling for bans on beauty pageants and lingerie for young children.
The French report was a response to a Vogue magazine issue which featured a heavily made up 10 year old girl, Thylane Blondeau, posing suggestively on the cover and elsewhere. Her mother said ↑ in defence of the photos that "The only thing that shocks me about the photo is that the necklace she is wearing is worth three million euros … my daughter isn't naked, let's not blow things out of proportion." That space between parents and children is generally considered inviolate, off limits for the state unless the law is being broken. The balance between the competing rights of parents and children is a vexed one. Child protection is a grey area shot through with contradictions as evidenced by the retreat of the state from the anti-smacking campaign in recognition of parental rights.
However it is an area that is eminently vulnerable to peer pressure. The vast majority of women surveyed by the French parenting website Magicmaman ↑ found the Vogue pictures demeaning. The furore forced the mother to defend her decision publicly: she may trot out that old chestnut of choice so beloved of liberal democracies but the rider to freedom of choice 'so long as it doesn't harm others' is very much open to debate in this context. The impact of her choice highlights the idea of the sexual availability of young girls, thereby turning them into legitimate objects of male desire which could be dangerous for all girls. Furthermore, it can have a negative effect on the body image and self-esteem of the girls who consume these pictures, not to mention the psychological harm to Blondeau herself. Interestingly, if the child had been employed to do manual work at age 10, it would have been illegal. The UN Convention on the Rights of the Child ↑ states that children must be protected from performing any work that may be 'harmful to the child's health or physical, mental, spiritual, moral or social development'. There would have been outrage if this clause had been invoked by the French government to prevent Blondeau taking part in that photo shoot.
By calling for a ban on lingerie and beauty pageants for young girls, the French report shifts responsibility from parents to the corporate sector which, to some extent, disguises the fact that the state is challenging parental hegemony. Additionally, it shifts the public debate and opens up a space to call for the banning of hijabs worn by young girls which also draws attention to girls' sexuality, conversely by covering them up. Both sets of girls are robbed of the freedom and innocence (i.e. not being constructed as objects of desire) of childhood. Maryam Namazie, Spokesperson for Council for Ex-Muslims ↑ is forthright in her condemnation ↑ of the imposition of hijabs on young girls, 'child veiling must be banned full stop. This is a children's rights issue. While adults may 'choose' veiling or a religion, children by their very nature cannot make such choices; what they do is really what their parents tell them to do…. They [parents] can't deny their children medical assistance or beat and neglect them or marry them off at 9 because it's part of their beliefs or religion.' This is an important perspective in the debate on veiling which is often missing in the West out of 'respect' for other cultures and religions. However, Namazie also calls for the banning of all forms of veiling for adult women which, as I have argued ↑ elsewhere, will be counterproductive and seen as an onslaught on Muslims especially at a time of heightened anti-Muslim racism.
If this debate is framed purely in terms of children's rights, it is fairly easy to avoid the tensions that arise from what can be seen as state interference in an area where parental authority has reigned supreme. International law, government policy and practice are increasingly predicated on children's rights. However religious belief and identity are privileged in many areas of social policy which makes it particularly challenging to tackle a rights issue when it comes into conflict with religion. The U.N. Convention on the Rights of the Child, Article 14, guarantees the child's right to freedom of religion. Parents have a duty to provide guidance and direction in the exercise of these rights having regard to the evolving capacities, and best interests of the child and the State has a duty to respect that. There is a fudge going on here between the rights of parents and children. What does it mean in practice? Can younger children, say under the age of 10, have the capacity to reject the direction of their parents?
Dr Anat Scolnicov, a law academic, demonstrates ↑ that 'parents have a presumptive right to determine their offspring's religious identity' by analysing legal approaches to adoption, an extreme case scenario when the child loses its connection with the birth family, and yet attempts are made to retain its original religious identity. In Britain, social workers are obliged to take into account ethnic, cultural, linguistic and religious factors. Scolnicov argues that 'Protection of religious identity is rarely protection of the exercise of individual choice.' It is about protection of group rights over individual rights. In some rare cases such as the children of the Australian aboriginal community or Native Americans, who have been decimated by genocide, the community might cease to exist if their children were consistently adopted by outsiders. But these are ethnic and cultural questions rather than religious ones. However, the argument that the community will be decimated is used by some Muslims in support of their right to veil their children. A Muslim mother fears ↑ that, "Our enemies understand only too well that our children represent the future of Islam in the West, a future they wish to extinguish. So it's not surprising, that in this war on Islam our enemies attack our children and their right to Islam".
The very recognition that children have rights is a fairly recent one, and, by definition, unsettles family power structures. Where the line will be drawn between children's rights and parents' rights will always be heavily contested and redrawn to reflect the dominant concerns of the time.
http://www.opendemocracy.net/5050/rahila-gupta/hijab-or-bikini-shaping-of-young-girls%E2%80%99-sexuality
---------
Sex-ed program for Ottawa Muslim girls
By Robin Levinson
17 May 2012
OTTAWA — An award-winning program aimed at teaching Muslim girls about sexual health is among the victims of a funding shortfall at Planned Parenthood.
The charity announced last week that, after a year-long battle for resources, it will no longer be able to run any education programs, including a unique pilot project aimed at Muslim youth who sometimes fall through the cracks of one-size-fits-all sex-education programs.
The program was developed by Courtney Scanlan, the education co-ordinator for the pro-choice charity. She partnered with Faiza Hassan, a Somali Muslim, so that Muslim girls might have someone to identify with and ask culturally-specific questions.
"We had some questions, sometimes, that on first instance would be shocking," Hassan said.
During one meeting of the program, a girl asked how much hymen reconstruction surgery cost. Hassan and Scanlan instead tried to teach the girls about how to bring up a broken hymen with a partner.
In many Muslim cultures, an intact hymen is an important symbol of purity. Hassan tried to explain that virginity is not just one piece of the female anatomy. "It's about intentions," she told the girls.
The pilot program partnered with the Ottawa Rape Crisis Centre and was a part of Planned Parenthood's community education program. Scanlan and Hassan began teaching 30 Muslim girls at local high schools about sexual health in January 2011, but by April they learned that they had no money to continue the program.
United Way Ottawa had funded the charity's community education program for more than 35 years, but controversially changed the application process last year. The agency opened its doors to hundreds of Ottawa charities to compete for funding. It also decided to focus its giving on children's success in school and on extracurricular activities.
Lawrence Greenspon, chair of United Way's community services cabinet, told the Citizen in April 2011 that "there was no political agenda" behind the agency's decision to cut funding to the pro-choice charity.
"We got 232 applications, and unfortunately, they were asking for a lot more money than we have to give."
Scanlan said the whole community education program cost $60,000 a year, all funded by the United Way. In all, 25 per cent of Planned Parenthood's funding has traditionally come from the United Way. Barry Keegan, a spokesman for United Way Ottawa, said Thursday night that Planned Parenthood did not apply for the 2011 call for proposals, which was open to any community agency.
United Way and Centretown Community Health gave the organization transitional funding for the 2011-2012 program year, but now Planned Parenthood is out of money completely.
Hassan is worried that without funding, Muslim girls will not have a place to ask questions about sex and their bodies — questions that are often taboo in Canadian culture. Without knowledge, she fears more girls will engage in risky behaviour.
"It's all about having access to information," Hassan said. "It so baffles my mind that they're not going to provide any community education programs."
To Scanlan and Hassan's knowledge, the pilot program is the only sexual health program specifically aimed at Muslim youth in Canada. Last November, the program won the Helen & Fred Bentley Awards for Excellence of Achievement for a sexual health program. Scanlan said she hopes the achievement will spark more giving and keep the program running.
Scanlan said Planned Parenthood intends to reapply to United Way for future funding.
"I firmly believe that sexual health education is so, so important, and now it's just about trying to find the right opportunities at the right time." http://www.ottawacitizen.com/news/Loss+United+funding+means+program+Ottawa+Muslim+girls/6561831/story.html#ixzz1v7Xs29TH
---------
Algerian women claw their way into parliament
17 May 2012
Algeria's legislative election saw women take almost a third of the seats, making the national assembly the most gender-balanced in the region but activists say the battle is far from won, AFP reports.
According to a provisional count, at least 145 of the new, enlarged national assembly's 462 seats will be occupied by women, up from a representation of only seven percent in the outgoing house.
US Secretary of State Hillary Clinton hailed "the high number of women elected" while UN chief Ban Ki-moon "welcomed the increased representation of women in the new parliament."
The May 10 election saw President Abdelaziz Bouteflika's National Liberation Front recover some of its past hegemony while Islamist parties lost ground, failing to ride the religious wave that followed the region's Arab Spring.
"The Arab Spring may be delayed for the Islamists but its flowers have blossomed for women, they will bring colour to parliament and raise their voices in an assembly which was dominated by men for 50 years," said Samia, an unemployed woman in her fifties, in central Algiers.
"With this considerable proportion of women in parliament, we're closing in on true democratic representation in parliament," said Fatima Mustapha, a university teacher.
Women account for 53 percent of the population, 45 percent of magistrates and now control around 32 percent of the national assembly, statistics which place Algeria ahead of Tunisia and Morocco.
Interior Minister Daho Ould Kablia boasted that the number of women elected last week also put Algeria ahead of the European Union average.
After ten years of activism by women's rights groups, a new law imposed parliamentary quotas of 20 to 50 percent of women, depending on the size of the constituency.
But feminists stress it remains to be seen how effectively the new women MPs, many of them inexperienced, will work together across party lines.
"Women now have to prove that they deserved their seats," said Nadia Ait Zaid, a jurist who runs a centre that campaigned for the quotas and trained some of the women candidates before the election.
She said the two main issues that female lawmakers will have to tackle are a family code that still does not grant full equality to women and a bill criminalising domestic violence.
"They need to create a front that transcends ideologies, a bit like a cross-party parliamentary group," said Ait Zai.
Several male-dominated parties, including the ruling National Liberation Front, had initially resisted the quotas, arguing that some women who were lower than men on election party lists would get bumped up just to meet the imposed requirement.
Several women's rights activists also complained that some party leaders had named their wives and daughters at the bottom of their lists to pay lip service to the new equality rules.
The popular Arabic-language daily Ennahar on Tuesday carried pictures of several newly-elected women lawmakers with this headline: "50 single women in parliament!" -- and a list of the perks they would be granted as MPs.
Even if women succeed in conquering machismo and religious conservatism in parliament, they face another obstacle in the widespread mistrust towards the institution itself.
"Whether it's a man or a woman who gets elected doesn't matter. What's important is that the elections are fair, and they were not fair," said Salima, a young woman wearing a traditional head-to-toe garment.
"A woman who wins thanks to a quota imposed by the law or thanks to fraud is not legitimate. The same goes for men."
Despite qualified endorsements from foreign observers following the vote, many Algerians and observers believe the official turnout figure of 43 percent and each party's score have little correlation with reality.
http://en.tengrinews.kz/people/9974/
---------
Empowering women: Kingdom leads the way
17 May 2012
"I believe strongly in the rights of women. My mother is a woman. My sister is a woman. My daughter is a woman. My wife is a woman," said Custodian of the Two Holy Mosques King Abdullah in an interview with Barbara Walters on American television station ABC in October 2005.
Saudi women have taken remarkable steps toward successful achievements thanks to King Abdullah's full support in various areas.
On the occasion of the seventh anniversary of King Abdullah's accession to throne, Saudi activist for children and women's rights and member of the National Society of Human's Rights' executive board, Suhaila Zain Al-Abideen, said: Following the king's decision in September 2011 to allow women to become members of the Shoura Council as well as vote and contest the municipal councils, Saudi women have been given a powerful political right.
"Political participation is one of the most significant rights that Saudi women have gained from our beloved king. Saudi women are more successful than ever because our king believed in us and gave us our rights," she said. "Saudi women have proven they are qualified to hold leading positions and becoming fully involved in both Shoura and municipal councils helps them gain their social, political and civil rights," she added.
"Saudi women are now lawyers, engineers, scientists and successful businesswoman and we are asking for more. Now that women do not need permission from their male guardians to apply for a job or start a business, we also ask that we be given other benefits that do not need the authorization of our male guardians like going on a scholarship for female students and going to the Saudi courts, where women need to accompanied by male guardians," said Al-Abideen.
Naila Attar, businesswoman and founder of the Baladi (My Town) initiative calling for women to be able to vote and participate in the municipal council elections, said all Saudi men should follow their king and make him their role model when it comes to wise leadership and empowering women.
"We are living now in the golden age for Saudi women because we are witnessing a huge number of successes among us that has never seen before in the Kingdom," she said.
"We are looking to be part of the political process in the municipal council and our initiative is to help those women gain experience and education to be decision makers. We have sent a report to the minister of municipal affairs demanding to start a female voluntary committee in municipal councils around the Kingdom to make sure women get the proper awareness, rehabilitation and training," she added.
Columnist at Al-Watan newspaper and professor of linguistics at King Abdulaziz University's girls' college Amira Kashgari said she believes King Abdullah empowered Saudi women in so many different areas.
"This is notably the case in the political arena and there are so many other areas where women have been empowered in the Kingdom in the last seven years intellectually, socially, economically and politically," she said.
"This political empowerment has transformed women's ideas of themselves and the social balance in Saudi Arabia. To be part of the Shoura Council and to be able to vote and contest for the municipality councils is a major milestone in Saudi women's lives because it will not only empower women but society as well," she added.
"When you empower women, you empower the whole society because it reflects on the economic development of the Kingdom. Women's participation is a must in all areas," said Kashgari.
http://www.arabnews.com/saudi-arabia/empowering-women-kingdom-leads-way
---------
25,944 Saudi women teachers are short-listed for service
17 May 2012
The Civil Service Ministry plans to appoint nearly 26,000 women teachers who are qualified to take up jobs in the Kingdom's education sector, according to ministry spokesman Abdul Aziz Al-Khonain.
He told Arab News that the ministry would soon announce the names of 25,944 teachers after considering their qualifications and experience.
"Those who obtained the maximum 95 points are entitled to be appointed to the post. These include 50 points for educational qualifications, two points for each year of experience and 25 points for academic performance," he said.
Al-Khonain urged those teachers who qualify for jobs to contact the Ministry of Education's Takamul website (tkml.moe.gov.sa) between May 17 and May 26 to fix a date for their interview.
"Those who fail either to update the required data at the site during the 10-day period or attend the personal interview would be deemed not interested in taking up the job," he said.
Al-Khonain said these teachers would be appointed in the first phase and procedures for the appointment of another 2,066 women teachers would be completed soon. This was in line with the order issued by Custodian of the Two Holy Mosques King Abdullah last year to create new jobs for 28,000 graduate teachers.
http://www.arabnews.com/25944-saudi-teachers-are-short-listed-service
---------
UK envoy hopes Saudi woman will compete at Olympics
By ANGUS MCDOWALL
17 May 2012
Britain's envoy to Saudi Arabia said he had spoken to state officials about the possibility of a Saudi woman competing in the Olympics for the first time in London this summer and hoped it would happen though Riyadh's official team will be all-male.
In April the head of the kingdom's sporting body said no female athletes would be part of Saudi Arabia's official Olympic team, but he left the door open to Saudi women participating in London independently.
The gesture was seen as a possible compromise between Saudi government reformers and Islamic hardliners who oppose women doing sports. An independent athlete would be invited by the International Olympic Committee and compete for Saudi Arabia but without formal Saudi endorsement or membership of the team.
"I very much hope we shall see Saudi women athletes this summer," British Ambassador Tom Phillips told reporters in Riyadh late on Wednesday.
He added that the British government believed Saudi women should be allowed to participate in the games and he had discussed the issue with the Saudi authorities.
The issue has come under international scrutiny after Human Rights Watch called for Saudi Arabia to be banned from the games for never having sent a woman athlete.
Full report at:
http://english.alarabiya.net/articles/2012/05/17/214668.html
---------
Iran's women football fans dream of a return to the terraces
By Saeed Barzin
17 May 2012
Women football fans in Iran are hoping to use the next major international championship in Tehran to return to the terraces.
They say the Asian Football Confederation (AFC) Under-16 Championship this September and October will give them an opportunity to end a long-standing ban that prevents women attending football matches because they are played by men wearing shorts.
Until now, conservatives and traditionalists have prevented women from attending matches, and as things stand they are most likely to oppose any change to the status quo.
Indeed, the prospect of men and women sitting next to each other in stadiums is expected to pit the traditionalists against those who favour a greater social role for women, including the government of President Mahmoud Ahmadinejad.
Restrictions on women attending football matches were imposed after the 1979 Islamic Revolution. Traditionalists, who exercise extensive political influence in Iran, say football matches are not appropriate for women to attend for a variety of reasons.
Full report at:
http://www.bbc.co.uk/news/world-middle-east-18071669
---------
URL
:
https://newageislam.com/islam-women-feminism/jamiat-ulema-e-hind-biggest/d/7357
New Age Islam, Islam Online, Islamic Website, African Muslim News, Arab World News, South Asia News, Indian Muslim News, World Muslim News, Women in Islam, Islamic Feminism, Arab Women, Women In Arab, Islamophobia in America, Muslim Women in West, Islam Women and Feminism