New Age Islam News Bureau
29 Jan 2019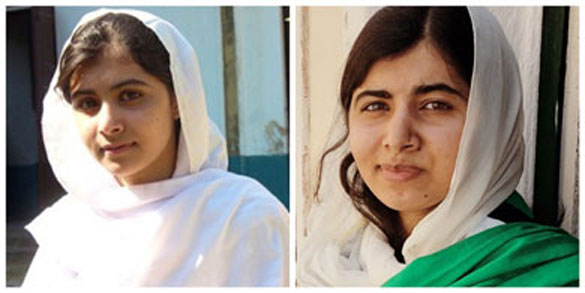 Nobel Prize laureate Malala Yousafzai participated in the 10-year-challenge by sharing her picture from ten years ago when she was 11.
-----
• UK Muslim Schoolgirls Filmed By Man in 'Disturbing' Racist Video Being Investigated By Police
• Israeli-Arab Muslim Woman Vying For Non-Jewish Spot in Likud Primaries
• Like Many of You, Last Week I Enjoyed The #10yearchallenge On Instagram: Malala
• 'Break My Hands': Tehseen Poonawalla Dares Anantkumar Hegde with Pic Hugging His 'Hindu' Wife
• Afghan Men Oppose More Women's Rights; Elders Less Hard-Line
• Nada Abo Alnaja Wins Saudi Arabia's First Ever Female Squash Tournament
• Protests by Various Social Strata in Tehran with Active Women's Role
• Ebtekar Calls On Tehran Mayor To Make More Efforts For Gender Equality
Compiled by New Age Islam News Bureau
URL: https://www.newageislam.com/islam-women-feminism/indian-govt-opposes-pil-seeking/d/117587
--------
Indian Govt Opposes PIL Seeking Equal Inheritance for Muslim Women
By Pritam Pal Singh
January 29, 2019
The Ministry of Law and Justice on Friday opposed in Delhi High Court a plea alleging gender-based discrimination in inheritance provisions of Muslim Personal Law (Sharia), stating that the petition is "devoid" of any merit and is liable to be "dismissed".
In its affidavit filed in the court registry, the ministry stated, "In view of the importance of the subject matter and sensitivity involved, which requires in-depth study of the provisions of various personal laws governing different communities, this respondent (Law Ministry)…has requested the Law Commission of India to undertake examination of various issues relating to Uniform Civil Code and to make recommendations thereof."
The affidavit, filed through the Centre's standing counsel Monika Arora, stated, "As and when Report of Law Commission in the matter is received, this respondent may take necessary action in consultation with various stakeholders involved."
The ministry stated that the petition is "not sustainable in law or on facts", and also pointed out that a writ petition with similar prayer had been dismissed by Kerala High Court, which had held that constitutionality of the Muslim Personal Law cannot be adjudicated in a writ petition filed in public interest. "It's for the Legislature to decide whether any statute is to be framed to govern Muslims in the matter of succession," the ministry said, citing the Kerala HC order.
The affidavit was filed in the backdrop of Chief Justice Rajendra Menon and Justice V K Rao's direction on a public interest litigation, filed by Sahara Kalyan Samiti, which has moved the High Court seeking equal inheritance rights for Muslim women.
The organisation has alleged that Muslim women were discriminated against as far their right to inherit is concerned. The PIL argues that women are "only entitled to half of the share of their male counterparts".
https://indianexpress.com/article/india/govt-opposes-pil-seeking-equal-inheritance-for-muslim-women-5558677/
--------
UK Muslim Schoolgirls Filmed By Man in 'Disturbing' Racist Video Being Investigated By Police
January 29, 2019
Police are investigating a "disturbing" video that shows a man following Muslim schoolgirls and calling for them to be sterilised.
Footage circulating on social media shows the man filming as he gets off a bus in Bow, east London, while pupils including girls wearing headscarves leave a nearby school.
As he starts walking down the road amid groups of girls he is heard calling them "black c***s" who are going to "breed like f***ing rats".
"This was England," he says, while filming the girls. "We're going to be f***ed with this lot. I think what we might have to do is think of something like old doctor Mengele […] so the c**ts can't f***ing multiply."
The man was apparently referring to Josef Mengele, a SS officer and physician in Auschwitz who performed deadly human experiments on prisoners and selected victims to send to the gas chambers.
Mengele tested tortuous methods of sterilisation on Jewish women, involving surgery, x-rays and chemicals.
Islamophobia monitoring group Tell Mama called the video "very disturbing", while viewers expressed shock and disgust on social media.
The pupils were from the Central Foundation Girls' School, a state comprehensive for 11 to 18-year-olds.
John Biggs, the mayor of Tower Hamlets, and local councillor Asma Begum said the school had been offered support.
A joint statement added: "We condemn the use of this inflammatory rhetoric. Tower Hamlets is home to people from all over the world and we are proud of our history, which has been enriched by migration.
"We will always challenge negativity like this and stand up for all our community."
A spokesperson for the Metropolitan Police said police were investigating the origin of the video.
"On Friday, 25 January, police received reports of racist and abusive video footage posted online," he added.
"The footage is believed to have been captured in Tower Hamlets and shows schoolgirls, some of whom are wearing hijab head coverings.
"A male voice can be heard on the clip providing abusive and offensive commentary.
"The children appeared unaware of the filming and no allegations have been made to police. Enquiries continue."
It comes after religiously motivated hate crime rocketed by 40 per cent in a year across England and Wales.
More than half of recorded offences in 2017-18 targeted Muslims, with monitors warning that anti-Muslim bigotry was becoming mainstream.
The head of UK counterterror policing has warned that religious hate crime is a "proxy measure" for the increasing terror threat from the extreme right-wing, and research shows rising belief in Islamophobic myths.
Anyone with information is asked to call Tower Hamlets CID on 101, contact the safeguarding team direct on 0207 275 4766, or call Crimestoppers anonymously on 0800 555 111
https://www.independent.co.uk/news/uk/crime/muslim-schoolgirls-followed-man-video-footage-police-investigate-london-bow-a8750146.html
--------
Israeli-Arab Muslim Woman Vying For Non-Jewish Spot in Likud Primaries
JANUARY 28, 2019
Dema Taya, a Muslim woman, is running for the minorities spot in the Likud's primary next week.
The spot is 30th on the Likud list, making it a realistic one Unlike in the past, it is reserved for someone who has not been an MK before, meaning that Communications Minister Ayoub Kara will no longer be eligible and will have to run against his fellow lawmakers.
Taya, 26, hails from Kalansuwa in central Israel and lives in Kafr Manda in the Galilee. She made a name for herself working with the organization Reservists on Duty, speaking favorably about Israel on college campuses and other venues abroad.
Prime Minister Benjamin Netanyahu touted her efforts on his Facebook page, posting a video in which she said on Palestinian TV that "Israel is not an apartheid state and whoever says so should be ashamed. I am proud of Israel."
Netanyahu called Taya's remarks "brave and powerful," and said she is "a voice of truth, full of hope."
In 2017, Taya said in a Reservists on Duty video: "I'm proud to say that my country, Israel, gives the same rights to all the citizens in Israel. And if we talk about women, women are free and can do whatever they want... If you believe like me in women's rights, you should support Israel."
For her primary campaign, Taya produced a video in which she called herself a "proud Israeli" and showed video clips of herself defending Israel and photos of meeting Netanyahu and others, while the Likud jingle played in the background.
"We'll make history together, and we'll win together," the video says.
In an interview with Maariv last week, she said she supports Likud because "it is a strong liberal and social party, and extending a hand to minorities and connecting them is part of their agenda."
Taya shrugged off Netanyahu's warning ahead of the 2015 election that masses of Arabs are going to vote, saying, "We shouldn't forget the good things and the big picture.
"Unfortunately, Arab MKs repeat that line. We should preserve a dialogue and look at the cup as half full," she said.
Taya criticized Israeli-Arab leaders for trying to stay separate from the rest of Israeli society.
"It's time for a woman leader for the Arab public, a woman that doesn't want to [just] talk, and wants to act, to have an impact," she said.
The Knesset hopeful said her husband, who served in the IDF, is very supportive of her ambitions, but her immediate family is "so-so" about them, even though she said she "grew up in a very liberal atmosphere."
Taya hopes to fight domestic violence and to promote a positive image for Israel in the world as an MK. She supports national service by Israeli Arabs.
Last week, Sara Zoabi pulled out of the running for the non-Jewish spot on the Likud list. If Zoabi's last name is familiar, that's because she's a distant relative of Joint List MK Haneen Zoabi – but their views are polar opposites. In fact, Sara Zoabi has called for Arab MKs like her relative to be investigated on incitement grounds.
"If this flag makes you feel bad, you're welcome to go to the nearest Israeli embassy and give up your Israeli passport," reads the Israeli flag banner atop Sara Zoabi's Facebook page. "I am a proud Muslim Arab Zionist Israeli woman who believes in the right of the Jewish people to have its own country in the Holy Land, the Land of Israel."
Zoabi was a candidate on the reality TV show Master Chef in 2015, where she reached public prominence, and declared that she is a Zionist. She's also known as the mother of Mohammad Zoabi, who posted photos of himself with an Israeli flag during Operation Protective Edge and was met with so many death threats that he went into hiding. MK Zoabi called the teen a "stupid boy" at the time.
https://www.jpost.com/Israel-News/Israeli-Arab-Muslim-woman-vying-for-non-Jewish-spot-in-Likud-primaries-578937
--------
Like Many of You, Last Week I Enjoyed The #10yearchallenge On Instagram: Malala
January 29, 2019
Nobel prize laureate Malala Yousafzai participated in the 10-year-challenge by sharing her picture from ten years ago when she was 11.
"Like many of you, last week I enjoyed the #10YearChallenge on Instagram. I saw funny pictures of my friends as children and famous people before they were famous. As the hashtag took off, more than four million people shared their posts as a celebration of life, growing up, growing older and growing stronger. The posts sparked my memories of 10 years ago, when I was 11 years old," she said.
"Peace had left us long ago. We were living in terrorism and violence. Firing and bombing became our daily wake-up calls. Hearing the news that two or three people were killed in the Green Square was not news anymore — people called it 'the Bloody Square' now. This was not the same valley I was living in just two years before; things changed so quickly. And now no girl could go to school," she wrote
"As an 11 year old, I worried about my future and my freedom. All I wanted was to put on my ink-stained scarf, walk through the streets, sit on our old wooden chairs inside those cracked walls, pick my pen, open my book. I wanted to read and write and question and learn," she added.
"14th January 2009 was my last day of school in Swat Valley. And 14th January 2019 was first day back to lectures for my second term at Oxford University," she continued.
"I know how far I have come and I appreciate that I can tell a story of triumph. But I also know that 130 million out-of-school girls are in the same situation today that I was 10 years ago. Millions of girls are sitting in their homes worried about their future and their freedom."
"I look back on the last 10 years with immense gratitude — but also anger. Why are so many girls — any girl — still out of school?" she asked.
"I am working every day to help my sisters go to school. I want every girl to get at least 12 years of safe, free, quality education. I want them to pursue their dreams and contribute to a better world for all of us. But I can't do this alone."
"If you're inspired by my story, I hope you'll join me in my fight for girls' education," Malala urged.
"What will the next 10 years look like? That's up to all of us."
https://www.pakistantoday.com.pk/2019/01/28/malala-takes-part-in-10-year-challenge/
--------
'Break My Hands': Tehseen Poonawalla Dares Anantkumar Hegde with Pic Hugging His 'Hindu' Wife
Jan 28, 2019
NEW DELHI: Tehseen Poonawalla on Monday jumped into the already muddy Twitter war between Union minister Anantkumar Hegde and Karnataka Congress president Dinesh Gundu Rao as he posted a picture of himself hugging his 'Hindu' wife and dared Anantkumar with a message "do what you can. It's a dare sir!"
Good afternoon @AnantkumarH . See my hands are touching my
hindu life ..Now do what u can !! It's a dare sir!!
https://t.co/8AyJcV5yqT
— Tehseen Poonawalla (@tehseenp) 1548662967000
Poonawalla's dare came in reaction to Hegde's reported remark in which he said 'the hand that touches a Hindu girl's body should not be there.
The Union minister did not stop at that. When Karnataka Congress chief reacted to his remarks, Hegde referred to him "as a guy who ran behind a Muslim lady" referring to his wife Tabassum Rao, who is a Muslim.
While some lauded Poonawalla's take on the issue, many others criticized him for misinterpreting Hegde's intent behind the comment.
@tehseenp @AnantkumarH Actually this is not a dare thing unless your wife is not your boss. The dare is when some
u… https://t.co/8mcuVYuynI
— I_Demand_Explanation (@LiiTLLe) 1548679163000
@tehseenp @AnantkumarH By doing this u insulted ur wife. His statement ws fr any hand which outrages da modesty of… https://t.co/40UmGOcTHa
— Avinash Singh 🇮🇳 (@aksadorable) 1548682955000
Hegde's remarks have drawn criticism from all quarters.
Tabassum also responded to the controversy, writing in a Facebook post - "Yes, I was born a Muslim, but we are proud Indians first. The Constitution of India which is built on the foundation of secularism guarantees every individual 'Liberty of thought, expression, belief, faith and worship.'"
She further wrote, "I have never made any personal remarks against any BJP leader and I strongly resent them using me as a pawn in their cheap politics. Such misogynistic and provocative remarks are highly unbecoming of a Union minister."
Congress president Rahul Gandhi also called out the Union minister saying that he should be sacked and went on to call him an "embarrassment to every Indian" and "unfit to be a Union Minister".
https://timesofindia.indiatimes.com/india/break-my-hands-tehseen-poonawalla-dares-anantkumar-hegde-with-pic-hugging-his-hindu-wife/articleshow/67729816.cms
--------
Afghan Men Oppose More Women's Rights; Elders Less Hard-Line
January 29, 2019
LONDON: Afghan men strongly oppose giving women more freedom — two in three think they have too much already — and young men are even more reluctant than their elders, a survey said on Tuesday.
Nor are women fully on board with the idea of parity.
Almost one in three of the Afghan women surveyed think women already have a surfeit of rights and a similar proportion say they are "too emotional" to be leaders.
The male generational gap may be explained by younger men seeking rigid gender roles as they struggle to find work and stability in a country ravaged by war and poverty, said gender equality group Promundo.
Religious teachings against women's rights under the Taliban regime had also played a role in hardening views among younger men, said Gary Barker, founder of Promundo-US, which works with men and boys to promote gender equality.
The survey was organized by Promundo and UN Women, the United Nations equality agency.
"It is pretty concerning," Barker told the Thomson Reuters Foundation.
"It says something about the precarious state of a big group of young men who don't know what to hang their identity on."
The survey comes amid peace talks between the United States and the Taliban — which controls nearly half of Afghanistan — that may help end war after nearly two decades of conflict.
Afghanistan is not an easy place to be a woman, with forced marriage, domestic violence and high maternal mortality rates, particularly in rural areas, according to equality advocates.
Between 1996 and 2001, under the Taliban government, women were banned from work, made to wear a full-length burqa that covered their face and not allowed out without a male relative.
Women's rights have improved in recent years under the Western-backed Afghan government, especially in cities such as the capital Kabul, where many women work outside the home and more than a quarter of the parliament is female.
Gender gap
However, the survey of 2,000 adults pointed to a gulf in attitudes between men and women.
About two-thirds of men thought women in Afghanistan had too many rights and that women were too emotional to become leaders, compared to less than a third of women.
And while nearly three quarters of women said a married woman should have equal rights with their partner to work outside the home, only 15 percent of men agreed.
More than half of men also agreed with the statement that "more rights for women mean that men lose out."
Barker said investment in girls' education and empowerment would "hit a wall if we don't also worry about the hearts and minds of men."
The report's authors called for action, including education programs promoting gender equality, work with progressive religious leaders and support for youth campaigns on the issue.
"Conflict, physical and financial insecurity, and lack of education act as drivers of harmful gender attitudes and practices in Afghanistan, and perpetuate the cycles of violence against women in Afghanistan," said Najia Nasim, executive director of Women for Afghan Women.
The civil society group urged more work at a grassroots level to drive forward gender equality.
http://www.arabnews.com/node/1443696/world
--------
Nada Abo Alnaja Wins Saudi Arabia's First Ever Female Squash Tournament
January 29, 2019
JEDDAH Saudi Arabia's self-taught squash player Nada Abo Alnaja has won the Kingdom's first ever women squash tournament.
Twenty players took part in the tournament held by the Saudi Arabian Squash Federation from Jan. 24-26 in collaboration with the King Saud University in Riyadh.
Abo Alnaja was awarded the championship's cup, golden medal and financial bonus from the Squash Federation for taking first place.
Atheer Al-Rayes came second, Aljawhara Al-Sudairi, third and Nada Zeidan came fourth.
The federation's head Ziyad Al-Tukri congratulated the winners, saying that the female tournament was the first of its kind in the Kingdom.
http://www.arabnews.com/node/1443546/sport
--------
Protests by Various Social Strata in Tehran with Active Women's Role
On Jan 28, 2019
Tehran saw protests by various social strata in several parts of the capital on Sunday, January 27, 2019. Women play active role in these protests which included those of plundered clients of fraudulent financial institutes and law graduates.
Law graduates who had already held a protests outside the Lawyers Guild in Tehran on Saturday, January 26, continued their rally in the same place on Sunday, January 27, 2019, against reduced capacity of recruiting lawyers and their unemployment problem. The law graduates chanted slogans demanding an independent lawyers' guild and increase in capacity of lawyers' recruitment.
The defrauded clients of the IRGC-backed Caspian Institute gathered outside the Prosecutor's Office in Tehran, demanding back their plundered assets.
Plundered clients of the Talay-e Samen Site also staged a protest on Sunday demanding an answer to their demands. They gathered outside the General Prosecutor's Office in Tehran.
In continuation of the protests by various social strata, a group of clients who have registered their names and purchased cars from Kerman Khodro Company, gathered on Sunday, January 27, 2019, outside the Ministry of Industries, Mines and Trade in Tehran and rallied against the announced high prices, failure to deliver their cars and receiving no answers to their demands. The car buyers have held several protests so far demanding attention to their righteous demands.
Kerman Khodro clients have purchased their cars in April and June on fixed price by depositing 50 million tomans. But in November and December, when they were supposed to receive their cars, the company demanded another 30 million tomans while it was mentioned in the contract that it was not supposed to demand any more money and the price was fixed. (The state-run ISNA news agency – January 27, 2019)
Iranian women have participated in at least 896 protests by various social strata of people all across the country in the period spanning from March 2018 to late January 2019.
https://women.ncr-iran.org/2019/01/28/protests-by-various-social-strata-in-tehran/
--------
Ebtekar Calls On Tehran Mayor To Make More Efforts For Gender Equality
January 28, 2019
In a letter published on Sunday, the VP called on the mayor to take effective steps for improving living space for all groups of the society, especially women, IRNA reported.
Emphasizing policy-making for increasing hope and happiness in the society and decreasing social vulnerabilities, Ebtekar called for designing urban furniture for the needs of different groups of citizens, including women with a strategy of supporting families.
Urban furniture includes items, objects, and equipment installed in public areas, such as urban parks, and streets, and including such elements as traffic signs, park benches, bollards, and public fountains.
The female vice president also called for supporting nongovernmental organizations, and developing sports spaces and women's parks.
She also called for paying more attention to strengthening the foundation of family and creating markets for supplies made by urban and rural women.
https://www.tehrantimes.com/news/432385/Ebtekar-calls-on-Tehran-mayor-to-make-more-efforts-for-gender
--------
URL: https://www.newageislam.com/islam-women-feminism/indian-govt-opposes-pil-seeking/d/117587
New Age Islam, Islam Online, Islamic Website, African Muslim News, Arab World News, South Asia News, Indian Muslim News, World Muslim News, Women in Islam, Islamic Feminism, Arab Women, Women In Arab, Islamophobia in America, Muslim Women in West, Islam Women and Feminism