New Age Islam News Bureau
22 Sept 2016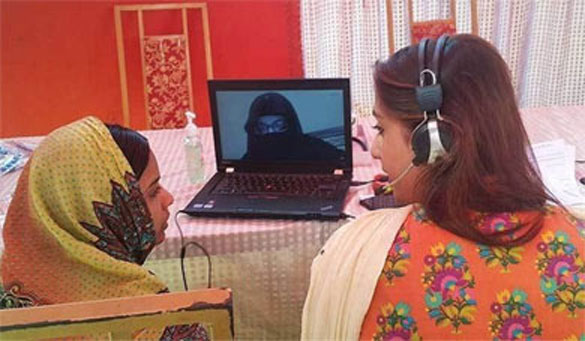 doctHERs creates a marketplace where female doctors can access patients remotely.-Photo courtesy doctHERs
-----
• Pakistani Start-up DoctHERSrs Wins UNICEF Award for Improving Women's Lives
• Pakistani Women Protest Outside UNHRC against Gender Related Violence
• Sri Lankan Muslim Women Demand Repeal of the Highly Discriminatory Article 16 (1) Of the Constitution
• Indonesia Launches New Campaign to End Female Genital Mutilation
• Muslim Woman Attacked and Bitten In Vienna 'For Wearing Hijab'
• CAIR-Alabama Director Says Local Muslim Women Are Victims of Islamophobia
• Spain: Muslim Women Battle Headscarf Discrimination
Compiled by New Age Islam News Bureau
URL: https://www.newageislam.com/islam,-women-and-feminism/new-age-islam-news-bureau/indian-government-to-argue-triple-talaq-can-be-regulated/d/108638
----
Indian Government to Argue Triple Talaq Can Be Regulated
Sep 22, 2016
NEW DELHI: Asked by the Supreme Court to give its opinion on the so-called triple Talaq issue, the government, after a series of deliberations by senior ministers, is taking the view that this is a matter of fair/unfair religious practice and therefore can be regulated, and not a matter of faith, which is protected under the Constitution.
Triple Talaq refers to the Muslim community practice that allows husbands to annul marriages by oral proclamation. This has been challenged in the Supreme Court — petitioners include Muslim women and organisations representing some Muslim women.
The All India Muslim Personal Law Board has defended triple Talaq before the Supreme Court, and has argued it falls under the ambit of Muslim personal law.
Home Minister Rajnath Singh, Finance Minister Arun Jaitley, Defence Minister Manohar Parrikar, Law Minister Ravi Shankar Prasad and Women & Child Development Minister Maneka Gandhi have held meetings on this issue. As law minister, Prasad will work out the common response that represents positions of various stakeholders.
"Right to profess one's faith is protected under the Constitution. But practice needs to be segregated from faith.
Practices that are not fair can be regulated under secular law," a senior government functionary familiar with the high-level deliberations told ET. Those who spoke to ET for this report did so on the condition they not be identified.
Another person privy to discussions on the Talaq issue said Centre's position has nothing to do with matters such as uniform civil code.
The person, who is privy to the discussions, said the government is aware Bharatiya Janata Party's political opponents will allege other motives but its view that triple Talaq should be regulated is purely driven by the apex court's directions.
"The government has been asked by the court to furnish its view on such matters and consequently the government has to apprise it," this person said.
Asenior minister said marriage and divorce in many Islamic countries are subject to detailed laws. "Many countries in our neighbourhood and the Middle East, which are self-declared Islamic states, have legislations to govern marriages.
If these laws in declared Islamic states are not an affront to the Sharia, how it can be called an affront to Sharia in India," the minister said.
"Our view is guided by gender justice, dignity of women and non-discriminatory humanising values of fundamental rights," he added.
http://economictimes.indiatimes.com/news/politics-and-nation/government-to-argue-triple-Talaq-can-be-regulated/articleshow/54454372.cms
--
Pakistani Startup DoctHERs Wins UNICEF Award for Improving Women's Lives
Sep 22, 2016
doctHERs, a Pakistani initiative which uses online technology to match trained junior female doctors with rural women and girls via telemedicine, was honoured at the inaugural Global Goals Awards curated by UN children's agency Unicef.
Dr. Sara Saeed Khurram, one of the co-founders of doctHERs, received 'The Campaigner Award' for her organisation at a ceremony in New York on Tuesday.
The social enterprise has created nine virtual clinics in underprivileged communities over a period of 1.5 years. Six of these are based in the urban slums of Karachi, two in Mansehra, and one in Hafizabad.
doctHERs is available to patients in both rural and urban areas. While challenges differ in the two areas, gains are the same: doctHERs creates employment opportunities for women, and improves the quality of healthcare in the region.
Know more: How docHERs works
doctHERs was one of the three winners honoured for championing women's and girls' rights worldwide.
Yusra Mardini, a Syrian teenager who saved fellow refugees from drowning and then swam for the refugee team at the Rio Olympics this year, and Rebeca Gyumi, a lawyer who fights against child marriage in Tanzania as head of the Msichana Initiative were the other two winners.
"The three honourees were recognised for their contributions to advancing the rights of girls and women," said a Unicef press release
Aimed at rallying support for the Sustainable Development Goals (SDGs) agreed last year to tackle poverty and inequality by 2030, the Global Goals Awards were judged by a panel comprising the 17 SDG advocates who advise UN Secretary-General Ban Ki-moon.
http://www.dawn.com/news/1285396/pakistani-startup-docthers-wins-unicef-award-for-improving-womens-lives
--
Pakistani Women Protest Outside UNHRC against Gender Related Violence
September 22, 2016
Pakistani Women's Human Rights Organisation organized a silent protest outside the UNHRC in Geneva on September 21, against gender-related violence and honour killing in Pakistan.
The women displayed banners that said "Pakistan Free Your Daughters", "There is no Honour in Killing" and "Stop Abusing Women". Speaking to the media, one of the protestors, Alisha Khan, stated that she was here to protest to remind the world that Pakistani women, in their daily lives, were still faced with domestic violence and honour killing. She added that despite international media attention to some of these incidents of violence, things were not changing in Pakistan.
Watch What Else Is Making News:
Error loading playlist: Playlist load error: File not found
She held the growing influence of Islamic clerics in Pakistan's policy making as one of the main reasons for its society becoming so regressive. In this connection, she gave the example of the human rights bill that was introduced in the Punjab Assembly not being implemented, because ot the objection of fundamentalist leaders, who claimed that such a bill would be against the Sharia.
Tarek Fateh, who was also present at the venue of the protest, said that these women who stood silently to protest against this oppression, very aptly symbolized the reality of Pakistani women being voiceless. He informed that every year nearly 5000 women were killed by their fathers, husbands or brothers in incidents of honour killing. Calling Pakistan a pariah State, he said that the country practiced the worst form of Islamic fascism, and the present condition of women and the support by the Pakistani State to terrorism, was a result of this.
http://indianexpress.com/article/world/world-news/pakistani-women-protest-outside-the-unhrc-against-gender-related-violence-3043612/
--
Sri Lankan Muslim Women Demand Repeal of the Highly Discriminatory Article 16 (1) Of the Constitution
22nd September 2016
COLOMBO: Sri Lankan Muslim women are demanding the repeal of Article 16 (1) of the constitution because it allows discrimination against them negating recent advances in the concept of women's rights.
Art 16 allows about 600 existing laws to continue irrespective of changes in the constitutional structure of the country. This may be necessary to ensure stability and continuity in the social order. But giving a further lease of life to Article 16(1) in this process will be greatly injurious to the interest of Muslim women in a rapidly changing social order, progressive Muslim women feel.
Sri Lanka is currently in the process of re-writing its constitution to suit the emerging social and political trends and widespread consultations are on. And Muslim women's organizations have made their representations in regard to various issues including Article 16(1).
According to the Muslim Personal Law Reforms Action Group (MPLRAG), keeping Article 16(1) in its current state means keeping the Muslim Marriage and Divorce Act (MMDA) in toto. And if the MMDA is kept intact, it will mean:
Legally allowing child marriage by not stipulating the minimum age of marriage for Muslims as 18 years (A Quazi can permit even the marriage of a child under the age of 12).
No requirement of mandatory (and written) consent from the bride.
Different conditions of divorce for men and women
Only husbands are granted the right to unilateral divorce without reason
Process of divorce for wives lengthy, requiring reasons and evidence, witnesses and case hearings.
Arbitrary provision for wife and child maintenance depending on the Quazi.
Practice of polygamy without requirement of consent from the wife/s or wife to be (and without their knowledge).
Qualified women not allowed to be marriage registrars, Quazis, Jurors or Quazi Board members.
The position of Quazi is a state-salaried and tax-funded position that is allowed to discriminate against women simply on the basis of sex, but yet again due to Article 16(1), this State discrimination is 'legalized'.
Muslim women's access to justice is severely restricted in Quazi courts. Affected women have articulate in many forum that they are discriminated against by the below par Quazi court system, which is significantly different from the civil court system and doesn't allow clients to have legal representation.
Women are often mistreated by incompetent Quazis and the jurors of the courts; not given equal treatment as their husbands; are unable to express their side without fear of being verbally abused, threatened and humiliated in courts throughout their case processes. More often than not the all-male jurors (with no qualifications) are selected by Quazis arbitrarily.
For over 25 years, Muslim women's groups in Sri Lanka have been trying to get the government's to take responsibility in addressing issues facing women with regard to the MMDA and the Quazi court system that is set up under this Act, to no avail, the MPLRG said.
http://www.newindianexpress.com/world/Sri-Lankan-Muslim-women-demand-repeal-of-the-highly-discriminatory-Article-16-1-of-the-constitution/2016/09/22/article3627182.ece
--
Indonesia Launches New Campaign to End Female Genital Mutilation
September 22, 2016
JAKARTA--Indonesia is embarking on a renewed campaign to end female genital mutilation (FGM), according to its women's minister Yohana Yembise, despite opposition from religious leaders who have stymied past efforts to combat a practice that is common.
Home to the world's largest Muslim population, Indonesia tried to ban FGM a decade ago but opposition from influential Islamic clerics has meant it is still widely practiced.
Almost half of Indonesian girls aged 11 and under have undergone some form of FGM, the United Nations' children agency, UNICEF, said in February, citing government statistics from Indonesia for the first time in a global study of FGM.
Together, Indonesia, Egypt and Ethiopia account for half of the estimated 200 million women and girls around the world who have been cut, according to UNICEF.
Yembise, Minister for Women's Empowerment and Child Protection, said the government has begun working with women's and religious groups to raise awareness of the dangers of FGM and a survey was underway to provide "scientific evidence" to support the government's goal to halt the practice.
"We try to approach the traditional and religious leaders to understand and to be aware that we have to end this female genital mutilation," Yembise told foreign journalists.
FGM, which involves the partial or total removal of a girl's external genitalia, is practiced across a swathe of African countries and in pockets of Asia and the Middle East.
FGM can cause a host of health problems. In some cases girls may bleed to death or die from infections. Others may suffer fatal childbirth complications later in life.
Rights groups in Indonesia have long called for a ban on FGM, while supporters of the practice argue that in Indonesia a less drastic form of cutting is usually carried out.
The UNICEF study showed that three in four Indonesian girls underwent FGM when they were under six months old, and the procedure was usually carried out by midwives.
After the government tried to ban FGM in 2006, the country's top Muslim clerical body issued an edict arguing that the practice was a required part of religious tradition.
Grata Endah Werdaningtyas, a senior foreign ministry official, said the new campaign would target families.
"We have to target the concerned groups like the parents because they are the one who decide (on children's circumcision)--not the doctors, not the religious leaders," she told the Thomson Reuters Foundation.
But widespread superstition remains a hindrance, she said.
"In some parts of Indonesia, they say a girl has to be circumcised or else she can't cook rice properly, or she can't get a husband," Werdaningtyas said.
http://www.asahi.com/ajw/articles/AJ201609220020.html
--
Muslim Woman Attacked and Bitten In Vienna 'For Wearing Hijab'
September 22, 2016
A Muslim woman wearing a headscarf was beaten and bitten in Vienna in what her family suspect was an Islamophobic attack.
The 51-year-old woman, identified only as Mrs D, was on her way to work at 6am in the south of the Austrian capital when she was attacked from behind.
Police confirmed they were investigating the incident, but said the motive of the attack was unclear.
The woman said she heard someone running and breathing heavily behind her before she was struck several times on the head.
After she fell over, her assailant continued to beat her.
"He could have attacked me because [I was] in a headscarf, because he didn't even see my face, he came from behind and attacked me"" she told Turkish-language news site Haber Journal.
She said that when she tried to defend herself by scratching his face, he bit her finger. The man eventually fled after she shouted for help.
An Austrian citizen, Mrs D had lived in the country for 30 years and worked at a post office in the city for 28 years.
Following the attack, she called her husband who alerted the police. Mrs D was taken to the hospital, where she was given stitches on her forehead and treated for a bite wound on her hand.
The assailant appeared to be between 25 and 30 years old, according to a witness.
Mrs D's huband told Haber Journal: "We think it's a racist attack. Recently racism in Austria is increasing, we constantly see it."
Support for the far-right has swollen in the country since Europe's refugee crisis began in 2015. Austria took in 90,000 asylum seekers initially but has since capped its intake and imposed strict border controls.
Far-right politician, Norbert Hofer, has called for a ban on Muslim women wearing the burqa in the country.
In July, a high court ruled that preventing an employee from wearing a veil was not discriminating against them.
Earlier in September, an Austrian Catholic Cardinal, tipped to be the next Pope, warned that Muslims wanted to eradicate Christianity and conquer Europe.
http://www.independent.co.uk/news/world/europe/muslim-woman-attacked-bitten-vienna-austria-hijab-islam-a7322411.html
--
CAIR-Alabama Director Says Local Muslim Women Are Victims Of Islamophobia
SEPTEMBER 22, 2016
BIRMINGHAM, Ala. — The director of the Alabama chapter of the Council on American-Islamic Relations' (CAIR) says local Muslim women are facing increased persecution.
"Muslim women are the ones seeing the brunt of this Islamophobia and anti-Muslim sentiments," CAIR-Alabama Executive Director Khaula Hadeed told WBRC at an event hosted by her organization. "Literally, over the weekend, we saw three attacks of Muslim women."
"We hear other people talking about us and we thought it was high time we did the talking," she added.
Rowan Elqishawi, an 18-year-old Muslim woman who attended the event said her decision to cover her head in public has led to "indifference and stares."
"It's shattered my soul," she said, "but strengthen my resolve. Being a Muslim woman is a bit more challenging in society than it is for men… When you see people oppressed on a daily basis, I can't just sit there. So I try to change people's perception and misconceived notions about Muslims."
Hadeed's comments at this week's event are not the first time she has claimed Muslims in Alabama are the targets of Islamophobia.
Earlier this year she demanded an apology from Alabama Congressman Mo Brooks (R-AL5), who said Muslims want to "kill every homosexual in the United States."
"There are provisions in the Koran…that if you follow them it instructs Muslims to kill certain types of people and homosexuals are right up there at the top," Brooks said. "It's pretty clear that Islamic doctrine says you are to kill homosexuals where you find them."
Brooks' comments came in the wake of the Orlando terrorist attack in which dozens of gay nightclub goers were slaughtered by a man who pledged allegiance to the so called Islamic State.
Brooks said Democrats have found themselves being pulled in different directions now that Muslims are gaining numbers and political power in the United States. By pursuing their votes, Brooks said, Democrats are risking alienating the LGBT vote, another core constituency.
"On the one hand, they're trying to appeal to the gay community," he explained, "but on the other hand they're trying to also appeal to the Muslim community, which, if it had its way, would kill every homosexual in the United States of America."
Hadeed responded by slamming Brooks for promoting Islamophobia.
"Congressman Brooks' would seek to create division between the LGBTQIA (Lesbian, Gay, Bisexual, Transgender, Queer, Intersex and Asexual) and Muslim community standing shoulder-to-shoulder as we confront together hate crimes, bigotry, marginalization and discrimination" she said.
CAIR also invited Brooks to come to a mosque for a Ramadan dinner for an "open and frank dialogue."
"American Muslims are committed to upholding equal rights and protections for all as the law of the land as enshrined in the U.S. Constitution," Hadeed added.
Critics of CAIR have frequently claimed the group has ties to the Palestinian terrorist organization Hamas.
An FBI chart obtained by a Freedom of Information Act request late last year appears to show the U.S. government believes CAIR could be part of a labyrinth of organizations that were created to support Hamas in the West. CAIR was also listed as an unindicted co-conspirator in the Holy Land Foundation trial, which has been called "the largest terror-financing case in American history." CAIR denies they have terrorist ties.
http://yellowhammernews.com/faithandculture/cair-alabama-director-says-local-muslim-women-victims-islamophobia/
--
Spain: Muslim Women Battle Headscarf Discrimination
22.09.2016
During the same week as headscarves and Muslim fashion made a stunning debut on the catwalks of New York Fashion Week, women in Spain choosing to don headscarves saw a small victory of their own.
Takwa Rejeb, 22, a vibrant tourism student, made headlines across the country when she denounced a school in Valencia, on Spain's eastern coast, for prohibiting her from wearing a headscarf.
"I couldn't find my class so I went to the principal of the school, who was there, and he told me my classes were in the afternoon. Then he said, 'Just so you know, you won't be able to study with that,' and I asked, 'With what?' and he said, 'With that headscarf,'" Rejeb told the media last Friday.
Even though the school, Benlliure High School, told her there had been three other cases of girls not being allowed to study with headscarves, she felt it was a violation of her rights. Instead of taking it off or going to a different school, she decided to challenge the ban.
Together with a lawyer from SOS Racismo, an umbrella organization of anti-racist groups, she brought the case to the Valencia Education Department. Valencian authorities originally told Spanish daily El Pais that it is up to the school to decide on the dress code.
Benlliure's principal said the rule was "reasonable and widely accepted" by students, citing reasons of "homogeneity and health" to justify the ban on all headgear, according to El Pais.
However, in a quick about-face, the Valencian government announced on Monday it would "guarantee the right to education" for the student. On Thursday, a Valencian government official told El Pais the region would guarantee that headscarves will be allowed in any institution that is funded by the Valencian government.
-'She changed the rules'
"It's fantastic what she did, she changed the rules, and I really hope that this will be the last case like this," Fatima El Arroudi, a pharmacist and headscarf-wearing fashion blogger in Spain, told Anadolu Agency.
El Arroudi said she has had to fight her own battles with discrimination in Spain.
She said when she had to do an internship to finish her schooling, she was rejected by several places and her tutor wouldn't help her find a placement as long as she wore a headscarf.
"Let's just say that when all my friends found internships within weeks, I was still looking the following year," she said.
"I just wish that headscarves had another image. Really smart girls are sitting around without jobs because of discrimination. People think that when we wear headscarves we cover our minds, but look, we're just covering our hair," she said.
In Spain, there is no law that forbids women from wearing headscarves. However, particular rules are decided by Spain's 17 individual autonomous communities.
Spain's various regions publish general guides about how schools, public spaces, and workplaces should deal with religious symbols, including moderate Muslim dress. Depending on the community, some institutions have a lot of leeway to impose their own specific norms about the dress code.
"The laws and norms are interpretable and ambiguous, which allows different actors in society to act totally arbitrarily when it comes to allowing headscarves," Silvia Carrasco Pons, an anthropology professor at the Autonomous University of Barcelona, told Anadolu Agency.
In Valencia, the government decided to step in to review their own laws regarding religious symbols, but in other regions of Spain, the law has fallen on the side of prohibiting headscarves.
In Madrid, a similar case ended with completely different results. In 2013, the Supreme Court of Madrid ruled that a school was within reason when they told a 16-year-old girl who wanted to wear a headscarf that it was against the school's dress code, much like a hat.
The girl was moved to a different school that allowed headscarves.
- Lack of clarity
Other very public cases have occurred in Spain, including in 2009 when lawyer Zoubida Barik Edidi was told she couldn't take the witness stand because she was wearing a headscarf. That was not the first time she had taken part in a trial, but this judge decided it was against the norms.
She is still fighting the case, and this year her case was rejected by the European Court of Human Rights, which said she should continue in the Spanish legal system.
The list goes on.
"In Spain, the lack of clarity around the laws means that cases like this are always coming up… We should make precise rules and have official debates to make it less arbitrary… The bodies of women shouldn't be used as ideological battlefields," said Carrasco.
Despite the varied rules, Article 14 of the Spanish Constitution says, "Spaniards are equal before the law and may not in any way be discriminated against on account of birth, race, sex, religion, opinion or any other personal or social condition or circumstance."
"For me, the headscarf is religious, it's practically my life. If it was for fashion or culture I would understand the different opinions, but the Quran obliges women to cover their head," Rifkat El Hichou, journalist and secretary general of the Young Muslims of Spain, told Anadolu Agency. Rifkat el hichou Rifkat el hichou
She is from Spain and wears a headscarf. She said in general her experience has been positive, but had one professor who took the rules into his own hands.
"He asked me, 'What do you want to do with your life?' I said, 'Be an audiovisual journalist,' and he said, 'You seriously think you'll be able to present the news looking like this?' in front of the whole class."
After class, he told her that she wouldn't be allowed to attend. In the end, she talked to the university administration and they made the professor teach her the required class.
"People are always talking about living together equally, but when you discriminate against headscarves, that's gone, you're taking away my rights," said El Hichou.
"Anytime we hear about headscarves, it's always in reference to submissive women, or controversies like this, but people need to realize that all kinds of women wear headscarves – great journalists, architects, and politicians, there's such a variety, but all these advances don't make it to the news."
http://aa.com.tr/en/europe/spain-muslim-women-battle-headscarf-discrimination/650365
--
URL: https://www.newageislam.com/islam,-women-and-feminism/new-age-islam-news-bureau/indian-government-to-argue-triple-talaq-can-be-regulated/d/108638
New Age Islam, Islam Online, Islamic Website, African Muslim News, Arab World News, South Asia News, Indian Muslim News, World Muslim News, Women in Islam, Islamic Feminism, Arab Women, Women In Arab, Islamophobia in America, Muslim Women in West, Islam Women and Feminism