New Age Islam News Bureau
21 Apr 2018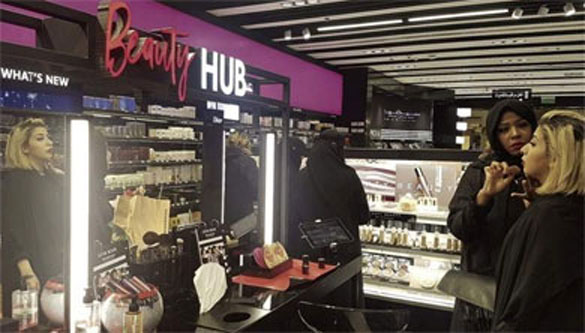 A saleswoman at Sephora helps a customer try out foundation in Riyadh, Saudi Arabia. (AP)
-----
• How Much Do Saudi Women Spend On Makeup?
• Dubai Women's knit-A-Thon Initiative to Provide Blankets for the Poor
• Iran Official Condemns Woman's Treatment by 'Morality Police' In Video
• Egyptian Women Replace Smoking with Qatrouna
• Bringing Home Malaysian Woman Linked To IS Will Take Time, Say Police
• More Women from Pakistan's Entertainment Industry Accuse Ali Zafar of Sexual Harassment
• No Hope of Earning an Income for Syrian Women in Jordan
Compiled by New Age Islam News Bureau
URL: https://www.newageislam.com/islam-women-feminism/indian-government-asks-sc-issue/d/115004
--------
Indian Government Asks SC to Issue Directions to Stop FGM
Apr 20, 2018
Supporting petitions against female genital mutilation, the Centre on Friday requested the Supreme Court to intervene and issue directions to stop the practice.
Attorney General KK Venugopal told a Bench headed by Chief Justice of India Dipak Misra that the practice is a crime under existing laws attracting imprisonment of seven years.
The top court – was hearing a PIL seeking to declare the practice of 'Khatna' mainly prevalent in Dawoodi Bohra community illegal and unconstitutional.
Senior counsel Anand Grover supported the Centre, saying "people (Muslim women) are suffering". States of Kerala and Telangana had initiated an investigation against it, he told the Bench.
Justice Chandrachud – one of the three judges on the Bench talked about 'A Pinch of Skin' – a documentary on the practice of female genital mutilation of women in the Dawoodi Borah community.
The top court – which had on May 8 issued notices to the Centre and governments of Maharashtra, Gujarat and Rajasthan on the PIL seeking a ban on age-old practice of female genital mutilation followed by Dawoodi Bohra Muslims – posted the matter for further hearing July 9 after issuing notices to Kerala and Telangana.
The court had last year asked the Centre and the three states to spell out their stand on the controversial practice which many activists term as violation of fundamental rights of women. The followers of this sect mainly reside in Maharashtra, Gujarat and Rajasthan.
Petitioner Sunita Tiwari – an advocate – demanded a law against female circumcision on the ground that it violated child rights of Bohra Muslim girls.
Twari said it causes pain during menstruation and sexual intercourse, loss of libido and even pain during urination. "It can be categorised as violence against women," she added.
Popularly known as 'Khatna', female genital mutilation involves cutting off the clitoral head, which Many Bohras believe makes women lead a life of infidelity. It's generally done at a young age by midwives in unhygienic conditions.
According to World Health Organisation, it often leads to repeated infections, cysts, infertility, childbirth complications requiring repeated surgeries. The UN General Assembly had in 2012 adopted a unanimous resolution on elimination of this practice. The National Commission for Women too supported ban on the practice.
The judicial cognizance of the problem comes at a time when the court is seized of petitions filed by Muslim women seeking to declare triple talaq illegal. The NDA government has supported the demand of Muslim women against triple talaq – often used by Muslim men at their whims.
"The practice...also amounts to causing inequality between the sexes and constitutes discrimination against women...It amounts to serious violation of the rights of children as even minors have a right of security of person, right to privacy, bodily integrity and the freedom from cruel, inhumane or degrading treatment," the petition read.
http://www.tribuneindia.com/news/nation/centre-asks-sc-to-issue-directions-to-stop-female-genital-mutilation/576982.html
--------
How Much Do Saudi Women Spend On Makeup?
April 21, 2018
Women in Saudi Arabia must also wear long, loose black robes, known as abayas, over their clothes in public.
Green lipstick, blue lipstick and 40 shades of foundation to choose from are just some of the reasons 18-year-old Shahad al-Qahtani is excited about superstar Rihanna's makeup line debut in Saudi Arabia.
Rihanna, known worldwide for her chart-topping songs and daring, provocative style, is wildly popular among the Saudi women coveting her new makeup line called "Fenty." Rihanna and other celebrities like Kim Kardashian who experiment boldly with their hair colour, makeup and clothes have become household names in Saudi Arabia, where fans can follow their every move on social media sites like Instagram and Snapchat.
Their styles, however, stand in stark contrast to how most Saudi women dress in public. Many cover their faces and hair with black veils. Women in Saudi Arabia must also wear long, loose black robes, known as abayas, over their clothes in public.
I've tried her brand in Dubai and I came here to buy the things that were sold out there," al-Qahtani said as she selected products to put in her shopping basket from Rihanna's Fenty line that launched Thursday in Sephora makeup stores across the kingdom. Al-Qahtani said she likes to experiment with her style and bold makeup choices at parties and weddings where women are segregated from men.
Even though most women will cover their face and hair in public, makeup sales are one of the biggest spends among Saudi women. This is in part because of the increasing number of Saudi women joining the workforce who now have their own salaries to spend from.
The kingdom's 32-year-old Crown Prince Mohammed bin Salman has also pushed through a number of sweeping social reforms in recent months curbing the influence of ultraconservatives. Religious police, for example, no longer patrol malls looking for signs of nail polish or women's faces showing.
Unlike in many Western countries where more natural makeup looks are en vogue, women across Arab Gulf countries often lean toward bright, eye-catching makeup trends and accessories that offset the utilitarianism of black veils and abayas.
"As Gulf women, we love beautiful things. We don't need an occasion for it," said Najla Sultan bin Awwad, a mother of two in her 30s who started working for the first time last year at Sephora.
"We're in an era where women are basically not even leaving the house without fake eyelashes on. We've started opening up in the Gulf and you'll see women who cover their faces putting on colored contact lenses, eyelashes and drawing their eyeliner the way they want," said bin Awwad, who spoke from behind a face veil that showed her eyes rimmed with smoky eye shadow.
According to marketing research group Euromonitor International, rising employment rates, especially among women, have increased the affordability of beauty and personal care products, and encouraged consumers to spend more. Retail sales in Saudi Arabia on makeup rose from $410 million in 2012 to $576 million last year, said the report.
Despite the new attractions and entertainment, al-Qahtani, who's still in college, said most of her monthly allowance is spent on makeup. Fenty would be this month's splurge.
"I really love the foundation, but of course not for every day. And I also really love this red lipstick and these other colours. And the highlighters are amazing. The brushes are nice, but not 'Wow'," she said.
https://www.khaleejtimes.com/region/saudi-arabia/how-much-do-saudi-women-spend-on-makeup
--------
Dubai women's Knit-A-Thon initiative to provide blankets for the poor
20 April 2018
DUBAI: Inspired by the 67 Blankets for Mandela Movement in South Africa, a Dubai-based group of women has started a campaign Knit-A-Thon across the UAE.
Throughout April, women will knit 15x15 cm squares, in any color or design, which will be collected from across the country.
They will later be sewn together to make blankets, which will then be sent to orphanages around the world.
Currently, South Africa holds the record for the Largest hand knitted blanket (non-crochet), measuring 1,378.28 m² (14,835.68 ft²).
Barbara Evans, a British expatriate who is running the initiative, said beginners, professionals, and everyone in between are welcome to join.
Pam Marsh, who is part of the initiative said that in her native country South Africa, there was a huge movement called: 67 Blankets for Nelson Mandela.
"It started as a small movement to supply warmth to the poor and homeless. Well, it grew and grew and found itself in the Guinness Book of Records for the biggest blanket in the world, spread over the gardens of the Union Buildings in Pretoria, the home to our government in South Africa."
Marsh said she always keen to pursue the same initiative in Dubai where she has been living for four years. "I discussed with Barbara who is already running a very successful campaign 'Rags To Riches' where she and her group of friends stitch dresses for underprivileged children around the world. And rest is history."
"We are planning to send the blankets to orphanages all over the world. After we collect all of the squares, we will be joining them to form blankets during May, and then begin distributing them to orphanages around the world."
Barbara Evans said that the response has been amazing far above my expectations. "We only started Knit-A-Thon on 1st April so its still early days as yet, we don't know how long this will take us but we will keep knitting till we get the record," said the British lady.
"We are hoping to break the record previously set by South Africa and make more than 67 blankets," said Marsh.
http://www.arabnews.com/node/1288396/lifestyle
--------
Iran official condemns woman's treatment by 'morality police' in video
April 21, 2018
Iran's vice-president for women's affairs has "strongly" condemned an incident in which a female member of Iran's religious police appears physically to confront a female member of the public in an altercation that was captured on a cell phone camera.
The footage of the incident, which has been widely viewed online, appears to show the religious police confronting a woman wearing a scarf loosely draped on her head. It is unclear why the police officer first approached the woman.
After an exchange of words -- during which the woman is told "sit, you animal!" -- a female religious police officer appears to push and shove her. The encounter then appears to grow more violent, as screams and cries for "help" and "please stop" erupt.
Some of the screams are from the victim, and others appear to come from friends of hers at the scene. The quality of the amateur video means it is not fully clear what is happening but it is apparent that the situation is escalating and that and a physical altercation is underway.
CNN cannot independently authenticate the footage, which was spread on social media by activists campaigning against the compulsory wearing of the hijab in Iran.
Iran's Vice President for Women's Affairs Masoumeh Ebtekar criticized the actions of the religious police after the video spread rapidly on social media.
"What justifies this behavior?" she tweeted. "Where is the limit of an officer's action, even if they were insulted? I strongly condemn this treatment. No human deserves this kind of harsh anti-religion behavior."
Ebtekar later tweeted that Iran's Interior Minister Abdolreza Rahmani Fazli had ordered a "comprehensive review" and a report on the findings by Saturday.
It is unclear at this time what happened to the victim. The video appears to show her distressed but with no obvious injuries and still conscious.
Iran's religious police are in place in public areas officially to ensure that people are adhering to the strict social mores of the Islamic Republic.
In recent months, women across the country have removed their headscarves in public to protest against Iran's compulsory headscarf law. Videos and photos shared on social media have shown demonstrators standing on utility boxes on street sidewalks, defiantly waving their hijabs.
Since late December, police have arrested at least 33 people for their involvement in protests against the compulsory hijab. They include 29 people arrested in Tehran in February.
Tehran police have suggested that their actions were incited by foreigners, saying those arrested were "deceived" into removing their hijabs, Iran's semiofficial Tasnim News Agency reported.
https://edition.cnn.com/2018/04/20/middleeast/iran-video-intl/index.html
--------
Egyptian women replace smoking with qatrouna
Hossam Rabie
April 20, 2018
ASYUT, Egypt — As the sun sets in the village of al-Nawawara, most men either head to a cafe or sit in front of their houses to smoke shisha. Women gather in groups to chat, while chewing on what they call "qatrouna," better known in Egypt as "madgha" or "chewing tobacco."
Al-Nawawara, which is 150 kilometers (93 miles) south of Asyut and situated along the Nile, is a large village with red brick houses. Upon entering the village, a cafe where men smoke shisha and play dominos stands out.
At the house of Atiyat Nour, a 55-year-old housewife, two guests sit on a small carpet and sip tea, while Nour holds on to a small bag, with the words "duty-free tobacco" in Arabic written on it. She empties the content of the bag into a bowl and grinds it for 10 minutes, until it becomes soft and brown.
"We call this qatrouna, although the name differs depending on the region," she told Al-Monitor. "It is a mix of tobacco leaves and tar sold in the small shops in the village. A package of 40 grams [1.4 ounces] costs only 1 Egyptian pound [$0.05]. Once you grind it well, it becomes soft and chewable."
Nour then distributes some to the women sitting next to her and puts what is left in a container, which she then places in her right pocket. The three women put small pieces of the mixture on their fingers, and then chew the substance between their gums and lips for 10 minutes. They spit out what is left.
Naguibe Mohamad, one of the women, said, "Women in our village and the surrounding villages have gotten used to chewing qatrouna as a type of popular relaxant. I inherited this habit from my grandmother, and chewing qatrouna puts me in a better mood."
She explained that the ingredients are bought from small shops in the villages in Upper Egypt. Qatrouna is popular among older women and uneducated girls in the villages in the north of Upper Egypt. Most of them, she said, carry a packet in the front pocket of their traditional long and loose-fitting coat, the jilbab.
Many women use qatrouna as medication, believing that it cures headaches, toothaches and pain in general. Mohamad noted that she chews qatrouna daily to avoid muscular pain and headaches.
However, according to Youhanna Bichay, a general doctor in the city of Bandari in Asyut governorate, qatrouna itself is to be blamed for the headaches. He told Al-Monitor that he sees many women in his clinic who suffer from stomach cramps and digestive problems, and that he tries to warn them of the risks caused by the habit of tobacco chewing.
Noting that qatrouna contains four times more nicotine and tar than regular cigarettes, Bichay claims that the long-term habit of chewing qatrouna increases the risk of cancer. He also calls qatrouna "highly addictive," explaining that many people who use qatrouna regularly find it difficult to quit.
"[The habit of] chewing qatrouna is spreading in many villages in Asyut and south Minya. It has even reached Sohag and Qena governorates," he said, noting that Abu Tig Factory, a tobacco factory in Asyut, sells this combination of tar and tobacco at low prices, which many women can afford.
"Many men — as well as women — take it as a relaxant and analgesic to treat headaches and pain. It is dangerous due to the combination of nicotine and tar," he said. "Unfortunately, there are no statistics on the fatalities due to qatrouna-related diseases."
According to statistics published on May 30, 2017, by the Central Agency for Public Mobilization and Statistics, 20.2% of over 15-year-olds are smokers. Families who smoke tobacco spend an average of 3,968 Egyptian pounds ($225) per year. But the statistics do not indicate the number of victims of tobacco-related diseases. Tobacco Atlas, an annual publication and its website that seeks to create awareness of the harmful effects of smoking, states that 957 men and 218 women die from tobacco-related diseases every week in Egypt, according to 2016 figures.
But for most of the women chewing qatrouna, the habit is associated with socializing and pleasure, not disease and fatality. Khayriya, a housewife from the village, told Al-Monitor, "Men gather around and smoke hashish and opium on happy occasions, while women chew qatrouna in the house and sing and chat."
https://www.al-monitor.com/pulse/originals/2018/04/shisha-for-men-qatrouna-for-women-in-egypt.html
--------
Bringing Home Malaysian Woman Linked To IS Will Take Time, Say Police
April 20, 2018
KUALA LUMPUR: The process of repatriating a Malaysian woman detained in Syria who is believed to be a member of the Islamic State (IS) militant group will take time as it requires cooperation from various parties, say police.
Bukit Aman Special Branch Counter-Terrorism Division principal assistant director Ayob Khan Mydin Pitchay said they were currently in the early stages of discussions with the home ministry, Wisma Putra and other related parties in Syria.
"We will see what the best option is as we have also identified about 10 other couples who are still there (Syria). We have already met the members of their families to seek the best way to bring them home.
"However, we also need to know their real situation and locations, whether they are still in Syria or in other countries. Once we receive the information, only then we can plan the next course of action," he told reporters here yesterday.
He said any individual who had been to Syria to involve themselves with the extremist group would be punished, although punishment would depend on the case.
Ayob Khan said if a child or woman was involved, they would not be imprisoned but detained in accordance with the Security Offences (Special Measures) Act 2012 (Sosma).
The 30-year-old woman, believed to have fought with IS militants in Syria, has sought help from the police and government to rescue her and her four children who were detained in Syria.
According to Ayob Khan, the woman who contacted her father over two weeks ago said she and her children were in a detention camp while her husband, who was captured by Kurdistan troops, was in jail.
http://www.freemalaysiatoday.com/category/nation/2018/04/20/bringing-home-malaysian-woman-linked-to-is-will-take-time-say-police/
--------
More women from Pakistan's entertainment industry accuse Ali Zafar of sexual harassment
20th April 2018
KARACHI: A day after singer Meesha Shafi accused Ali Zafar of sexual harassment, more women from Pakistan's entertainment industry have come forward to allege that the actor misbehaved with them on various occasions.
In a lengthy Twitter post yesterday, Shafi had said she had been subjected to sexual harassment "of a physical nature" at the hands of Zafar on more than one occasion.
Soon after the revelation, Pakistani journalist Maham Javaid tweeted that Zafar had tried to kiss her cousin "many years ago".
"So @itsmeeshashafi's brave sharing of her experience reminded me of a story about @AliZafarsays from many many years ago, when Ali Zafar tried to kiss my cousin and pull my cousin into a restroom with him. Luckily my cousin's friends were there to push Ali Zafar off," she wrote.
Maham said they did not report the incident as they thought nobody would have believed their side of the story.
"We didn't even think of telling anyone, apart from friends, or reporting him because 'he's a celebrity, no one would possibly care or listen'. And over the years, we forgot the story ourselves, until today. Thanks @itsmeeshashafi for reminding us that our stories matters."
She added that the alleged incident happened on a boat party at the Yacht Club between 2004-2005.
Make-up artist Leena Ghani also shared her story on social media.
She said while clicking a selfie with Zafar, she felt him touching her inappropriately.
"In the many years I have known Ali, he has on several occasions crossed boundaries of what is appropriate behaviour between friends.
I have chosen to ignore it out of respect for his family, but today I feel I must speak my truth in light of recent revelations.
"His behaviour displays a clear lack of respect for women. Inappropriate contact, groping, sexual comments should not fall in the grey area between humour and indecency.....In such cases most women like myself run from such a situation and hope to God you never cross paths again.
And when by some misfortune you do, you hide from him.
Hoping his sleazy eyes and hands don't find you again.
His hands don't make their way up and down your waist or hold you too tight while you desperately try to wiggle and run.
http://www.newindianexpress.com/entertainment/hindi/2018/apr/20/more-women-from-pakistans-entertainment-industry-accuse-ali-zafar-of-sexual-harassment-1804204.html
--------
No hope of earning an income for Syrian women in Jordan
20 Apr 2018
AISHA SHTIWI
As decision makers meet in Brussels to discuss the situation of Syrian refugees, Aisha Shtiwi shares the story of Ghozlan, one of millions of women refugees who can't access work.
"Our suffering started when we arrived. I went to every single place to find work in the camp, but no one hired me", said Ghozlan, a young Syrian woman we met recently on a visit to Za'atari refugee camp.
Over 5.6 million Syrians have been forced to flee
As the international community and key decision makers gather in Brussels to discuss the response to the Syria crisis, many refugees in Jordan are still waiting for solutions that the conference promises to bring.
The war in Syria has entered its eighth year, and more than 5.6 million Syrian refugees have been forced to flee to neighbouring countries in search of safety. They face a number of restrictions, including limited work opportunities or options to support their families. Jordan provides a safe haven for close to 660,000 Syrians registered as refugees with UNHCR across the country.
Women face even more challenges. Ghozlan fled Eastern Ghouta to Jordan's Za'atari camp five years ago. Her status as a refugee makes it impossible for her to travel to Brussels to share her challenges and experiences face to face. She spoke passionately to Oxfam, hoping that her concerns will be heard and addressed at the conference. If Jordan receives the right support from the international community then livelihood opportunities can be broadened. Ghozlan might see the barriers to decent work removed.
Women refugees are doubly disadvantaged
Like millions of others, as a refugee Ghozlan is unable to register a business or work in any profession other than in agriculture, construction or manufacturing. As a woman, she confronts harassment and social norms which dictate that her role is solely in the home. She hopes to one day start a family, but struggles to see how she would provide for them adequately. A number of projects have been developed by different aid agencies for the 80,000 refugees living in Za'atari camp, in what's known as 'cash for work' schemes (for example a camp recycling project set up by Oxfam). However, this is only a temporary fix to a crisis with no end in sight. While 'cash for work' provides relief to some refugees, in large part it is low paying, impermanent, and exists outside of the mainstream Jordanian economy.
Based on the social and economic dynamics of the camp, men are still selected for more jobs than women, and less than one-third of cash for work positions go to women. In response, Oxfam designed programs to specifically meet the needs of women including the development of in-camp greenhouses and an upcyling project which turns old tents into bags while developing sewing skills.
"Men are the ones who get the [leave] permits," Ghozlan told Oxfam, "…they control everything in the camp. Everything is for men. Jobs inside the camp – for men. Outside – for men".
The system of permits and regulations in Jordan creates many barriers
Refugees in Za'atari camp are not allowed to leave without a permit, which needs to be renewed every two weeks. Some Syrian women in Za'atari have obtained work permits which allow them to work outside on neighbouring farms or in garment factories. But for many, working outside the camp is not an option. Often male family members prohibit their wives, daughters and sisters from working at all. "It is much better to find jobs in the camp, it is safer and closer to our houses," said Ghozlan. "I am afraid to work outside the camp. It is not safe outside and you never know what could happen." She added, "Everything is outside. Why don't they create things in the camp, where I can work and get by." With camp rules and regulations, as they exist, aid agencies struggle to set up any new work opportunities, particularly for women. There is an urgent need to ease restrictions on refugee movement into and out the camp, including trading access, in order to help create more opportunities to start businesses or paid work.
New opportunities are needed for both Syrian and Jordanian women
Women's economic participation in Jordan is generally low, ranked 133rd out of 144 by the World Economic Forum's gender gap analysis. Barriers that prevent both Syrian and Jordanian women from entering the labour market are many, including lack of childcare, a lack of affordable and safe transportation, household responsibilities, and socio-cultural norms. For Syrian refugee women, the challenges are even greater. Syrian women have obtained only 4 percent of the total permits issued to refugees nationwide in Jordan.
The Brussels Conference can provide renewed momentum to turn the crisis into a transformative opportunity for Syrian women. This is essential, not only for their lives in Jordan, but also if there comes a time in the future when it is safe to return and begin the process of rebuilding Syria.
https://reliefweb.int/report/jordan/no-hope-earning-income-syrian-women-jordan
--------
URL: https://www.newageislam.com/islam-women-feminism/indian-government-asks-sc-issue/d/115004
New Age Islam, Islam Online, Islamic Website, African Muslim News, Arab World News, South Asia News, Indian Muslim News, World Muslim News, Women in Islam, Islamic Feminism, Arab Women, Women In Arab, Islamophobia in America, Muslim Women in West, Islam Women and Feminism