New Age Islam News Bureau
7 Jun 2012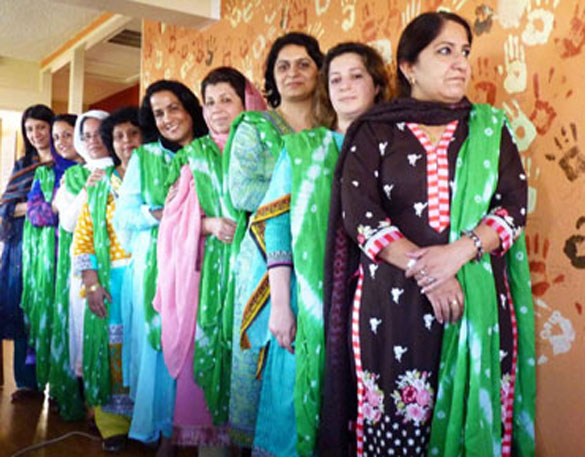 • Pakistani "women for peace" take message "Stop the drones" to US
• Wider World Opened To Saudi Women Studying Abroad
• Afghans accuse Pakistan over schoolgirls poisoning 'attacks'
• Egyptians to join forces against Tahrir Square sexual violence
• Pakistan investigates whether women killed for clapping, singing
S• audi e-portal for empowerment of women gets global recognition
• Malaysia NGO wants to be voice for women healthcare in the Southeast Asian countries
• Jeddah Alumni Association organizes carnival for women and children
Complied by New Age Islam News Bureau
Photo: Pakistani "women for peace
URL: https://newageislam.com/islam-women-feminism/indian-court-ruling-marriage-age/d/7553
---------
Indian court ruling on marriage age of Muslim girls disturbing: activists
June 06, 2012
Women organisations have expressed concern over a Delhi High Court upholding the marriage of a 15-year-old Muslim girl, quoting Mohammedan law on marriage.
The court has held the marriage of a minor girl valid, while ruling that a Muslim girl could marry a person of her choice at the age of 15 years if she has attained puberty.
Citing concerns, general secretary of the National Federation of Indian Women Annie Raja said: "This is very disturbing because one of the reasons for India's high maternal mortality is early marriage. This will also prevent the girls from enjoying their Constitutional rights like Right to Education."
While strongly arguing for one's right to choose one's life partner, Raja said the existing law on marriage age should be universally applied.
Sudha Sundararaman, the general secretary of All India Democratic Women's Association echoed this view. "When it is a question of rights of minor, we are for equal law and equal rights across the board."
The All India Muslim Personal Law Board welcomed the decision. Hyderabad-based functionary of the law board, AR Qureishi, said Islamic laws prohibit child marriage and deem a girl who has attained puberty to be fit for marital life.
"This is a correct interpretation of Muslim personal law. However, since social realities have changed, most Muslim girls marry at a much later age."
http://www.hindustantimes.com/India-news/NewDelhi/HC-ruling-on-marriage-age-of-Muslim-girl-disturbing-activists/Article1-867047.aspx
---------
Pakistani "women for peace" take message "Stop the drones" to US
By Mia Myklebust
May 30, 2012
(San Diego) -- Dressed in brightly coluored robes and Hijabs, the women of Amn-o-nisa make a powerful statement with their presence alone. These 11 Pakistani women have come to the United States for the second time to spread their message of peace and international cooperation.
The name Amn-o-nisa translates to "women for peace," which is the message the group hoped to spread on their visit to the U.S. The group visited Washington D.C., San Diego and Los Angeles and met with political figures including Senators Barbara Boxer and Diane Feinstein.
The group primarily works to prevent the youth in their home country from turning to extremism. They are a group of women who want to tell the world that Pakistanis are really peace loving people.
"We want to serve as a model," said group leader Mossaret Qadeem. She said the group targets Pakistani mothers in order to help their children escape and avoid extremism.
"We use women working on the ground; we have a discourse with the mothers because it is with them that we get to the family," said Qadeem.
They are also working to introduce a peace curriculum into education in Pakistan.
When asked what can be done to help bring peace to Pakistan, Qadeem's response was immediate.
"Stop the drones," she said. "That's the answer to all the questions."
Drones, unmanned aerial vehicles used by the U.S. in Pakistan to target and kill suspected terrorists, have proven both effective and controversial. A New York Times article published yesterday revealed that President Barack Obama makes decisions individually about drone attacks on suspected Al Qaeda leaders. Concerns have been raised by some over the legality under international law as well as impacts on civilians.
Qadeem referred to the relationship between the U.S. and Pakistan as a marriage of convenience. She said that in the war on terror, Pakistan is siding with the U.S. whether they wanted to or not, yet the victims are her own people.
"The ultimate sufferer is the common Pakistani," Qadeem said. "On the streets of Pakistan we are being targeted and killed (by drones) …There is physical and psychological suffering, economic and social impacts."
These women, all leaders in their fields, hope to change that situation through diplomacy.
In Pakistan, women hold many leadership positions, including 18 percent of the national Assembly and 22 percent of the Senate. The Speaker of the national Assembly is a woman and women members have been responsible for authoring 80 percent of all bills passed.
"Women are very much in front in Pakistan – they are politics, everything," Qadeem observed, but acknowledged that culturally, "women are subordinate to men."
However, their subordinate status does not stop the women of Amn-o-nisa from spreading their message.
Qadeem said the group formed very naturally. The women were all working individually in the field for years before they came together to form Amn-o-nisa.
Group member Huma Chughtai credits Qadeem for the groups' success.
"She is the dreamer," Chughtai said.
Quoting the late Martin Luther King Jr., Qadeem replied, "I have a dream."
She smiled and continued, "I had a dream and I put that dream into action."
The result was Amn-o-nisa, which the women said is still in the beginning stages. They refer to the group as a crawling baby that still has much to accomplish.
However, their mission is one that must be approached with caution. The women of Amn-o-nisa are constantly at risk, so much so that their work cannot be done in the open.
"If you want to save lives, you have to save your own first," said Qadeem. "We keep a low profile. We do not challenge anyone over there because we believe in peaceful co-existence."
The danger in Pakistan is very really for these women.
"All of us are survivors of violent extremism in Pakistan," said Qadeem. "We are living with the impacts of violent bombers on a daily basis."
A woman in the group lives on "Killer road" where a professor and another person were recently kidnapped and murdered.
"We are living in fear," said Qadeem. "Everybody is a victim."
Yet despite their hostile environment, the women believe that there are peaceful ways to stop violence in their country.
"We have small steps that can lead to larger impacts," said Qadeem. "We want to bring a ray of hope to the rest of the world."
http://eastcountymagazine.org/node/9858
---------
Wider World Opened To Saudi Women Studying Abroad
By Angus McDowall
June 6, 2012T
(Reuters) Riyadh -- Wearing the black face-covering veil favoured by Saudi women, Maha Mazyad looked through leaflets for prospective jobs with some of the Islamic kingdom's largest companies at a recent career fair in Riyadh.
A few years ago she would have worried about the disapproving reaction of friends and parents to the notion of a young woman working in an office without family supervision, but a stint at a UK university has propelled her to seek a career.
"Now lots of girls go abroad to study and broaden their horizons. There's been a big change in attitudes among my girlfriends over about the last three years," said Mazyad, 27, from Medina, clutching a flamingo-pink handbag stuffed with job fliers.
Mazyad's own way of thinking shifted after she took part in a scholarship programme sponsored and paid for by Saudi Arabia that has sent hundreds of thousands of young people overseas in the past seven years to improve their job prospects and open the conservative kingdom up to the outside world.
Those accepted for the King Abdullah Scholarship Programme are given a monthly stipend, and the government pays for them to take family with them. Women who receive the awards must travel with a male companion.
This year alone about 130,000 Saudi students are studying abroad, half of them in the United States, said James B. Smith, the U.S. ambassador to Riyadh.
The stated goal of the programme, which the Arab News daily in December reported cost more than 20 billion riyals, is to prepare Saudi nationals to replace expatriate workers in better-paid technical jobs in the kingdom, reducing unemployment.
But a secondary ambition of making Saudi Arabia a more open society has always been more or less explicitly acknowledged by the authorities.
BUILDING BRIDGES
Mody Alkhalaf, director of social and cultural affairs at the Saudi Cultural Mission in Washington, told a 2010 conference that scholarship students were not just studying, but learning about the societies of their host countries and "breaking stereotypes and building bridges."
King Abdullah wanted young Saudis "to know the world and for the world to know them", she said.
As a legion of 20-something Saudis of both sexes returns from New York, London, Toronto and Sydney, the strategy is working, Saudi academics and political and social analysts say.
What has really made a difference, the analysts and programme participants say, is that the scholarships have been awarded not only to the privately educated elite of large cities but also to bright young people from poorer, smaller towns.
It also appears to be paying dividends in the United States, where Americans became especially leery of the kingdom after the September 11 attacks on New York and Washington, given that 15 of the 19 hijackers were Saudi citizens.
http://www.ibtimes.com/articles/349368/20120606/saudis-studying-abroad-scholarships-king-abdullah.htm
---------
Afghans accuse Pakistan over schoolgirls poisoning 'attacks'
7 June 2012
KABUL/ISLAMABAD: Afghan intelligence on Wednesday accused Pakistan of poisoning schoolgirls as authorities' battle to halt a string of alleged attacks that have sown panic in parts of the north.
At least 15 suspects have been detained over mysterious illnesses, which usually include mass fainting episodes that have struck scores of schoolgirls in Takhar province almost daily for the past two weeks.
"The regional spy agencies, namely ISI, are behind it. They are trying to sabotage the Shanghai Conference and the success of Afghan education," National Directorate of Security spokesman Lutfullah Mashal told reporters.
Pakistan's Inter-Services Intelligence is widely reviled in Afghanistan, where it is accused of fomenting the Taliban insurgency due to its historic links to the Afghan militia that ruled from 1996 to 2001.
Both Afghanistan and Pakistan are attending this week's Shanghai Cooperation Organisation summit in Beijing as observers. A teacher and three female students are among those arrested and all 15 have confessed to being involved in poisoning, Mashal said. But the ISI dismissed the Afghan accusations as "absurd and senseless". "This is an attempt to strain ties between the two countries. Pakistan wants peace and stability in Afghanistan. A peaceful and stable Afghanistan is in our interest," a Pakistani intelligence official told AFP.
Afghan officials regularly accuse Taliban insurgents, who banned schooling for girls while in power from 1996 to 2001, of poisoning school wells or using "gas" or "toxic powder" against the girls.
None have died, however, and no traces of poison have been found in blood samples, officials say.
In a message received by Daily Times, Taliban spokesman Zabiullah Mujahid said that the allegations were baseless.
Commenting on the Taliban's policy towards education in Afghanistan, he said that they always tried to promote literacy and education in the country as much as possible within their resources. "Though Taliban had limited economic resources till 2001 but they used to allocate 20 percent of their budget for education," he said.
As many as 160 girls, aged between 10 and 20 from the Aahan Dara Girls School, were shifted to hospital after allegedly being poisoned for a third time in seven days in May.
http://www.dailytimes.com.pk/default.asp?page=2012\06\07\story_7-6-2012_pg7_28
---------
Egyptians to join forces against Tahrir Square sexual violence
Manar Ammar
6 June 2012
CAIRO: After tens of complaints from women of sexual harassment in Cairo's iconic Tahrir Square took place Tuesday in the mass protest calling for retrial of former officials, a social media initiative aimed at curbing the assaults was announced Wednesday on Facebook.
The initiative, titled "Securing the Square," aims to allow volunteers to monitor the square and report any misdeeds by men towards women.
Sexual harassment in Egypt, considered a social plague by many, hits over two-thirds of women of all ages on Egyptian streets, according to a 2007 Egyptian Center for Women's Rights (ECWR) report.
Women groups try to battle the widely common practice, but with little effect. Independent initiatives such as HarrassMap was created to monitor and report sexual harassment incidents by allowing women to directly report their stories online.
Tahrir Square, the birth place of the Egyptian revolution, has been the scene of some serious harassment and assaults against women in 2011 and 2012.
Yet, with weak legal precautions, men continue to practice it freely.
"The square is a clean and sacred place there is no way we will allow sick and twisted people to distort its image and make people fear visiting it," wrote Abdel Fatah Mohamed, one of the organizers of the initiative on Facebook.
"The girl standing next to you is your sister, daughter or mother, it is not right to stand by while someone sexually harasses her," commented Mahmoud Ahmed on the initiated Facebook page.
"Go and stop the act even if you get hit … we should stand strongly against harassment as it has increased frightfully and there is no public safety at all," Ahmed added.
"Hardee's area (intersection of Mohamed Mahmoud with Tahrir square) is said to be the hot spot of harassment in Tahrir square," wrote the HarassMap initiative on its Twitter account.
HarassMap also called for women to carry colored spray cans to mark men who harass them in the square as a shaming device.
http://bikyamasr.com/69234/egyptians-to-join-forces-against-tahrir-square-sexual-violence/
---------
Pakistan investigates whether women killed for clapping, singing
Jun 7, 2012
PESHAWAR, PAKISTAN: Pakistan's Supreme Court on Wednesday ordered police and government officials to fly to a mountain village to investigate whether four women were killed for clapping and singing as men danced at a wedding.
Footage of the wedding, filmed on a mobile phone, appeared on television stations recently.
A brother of the men who were dancing told journalists that a tribal council ordered the killings because the women violated tribal honour in the remote northern village of Gizar Alitray.
"I say this under oath, I swear it, the girls have been killed under orders from a tribal court. They were killed on May 30. I fear for my life, for my brothers," Afzal Khan told reporters outside the Supreme Court on Wednesday.
The case has focused attention on honour killings in Pakistan, a largely conservative Muslim country.
Families or tribes often take justice into their own hands. Gatherings of elders hand down punishments that include the rape or killing of women for crimes including falling in love with a man deemed inappropriate, or besmirching family honour. Fraternising and dancing between men and women is frowned upon.
Full report at:
http://timesofindia.indiatimes.com/world/pakistan/Pakistan-investigates-whether-women-killed-for-clapping-singing/articleshow/13891815.cms
---------
Saudi e-portal for empowerment of women gets global recognition
6 June 2012
A Riyadh-based e-portal recently set up for women empowerment in the Middle East won first place in a competition organized by the United Nations and the International Labor Organization (ILO) through the Youth Employment Network.
Glowork.net, which placed first in the UN contest, is the Kingdom's portal for recruitment of women workers in the Kingdom.
Khalid Alkhudair, Glowork's founder, told Arab News that this was a great honor for the Kingdom and also honored the efforts of those responsible for setting up the website, which enabled a large number of women to find jobs through the portal.
"The award is considered one of the prestigious awards in the areas of networking and job creation at a global level. This is the first time a Saudi organization was bestowed with such an honor," Alkhudair said.
Since its launch last year, Glowork has helped create over 2,500 vacancies for women through its portal. It also provides a solution for virtual offices, which helps organizations hire woman from home and actively monitor them as they carry out the most complicated of tasks such as call center and telesales work.
Full report at:
http://www.arabnews.com/saudi-e-portal-empowerment-women-gets-global-recognition
---------
Malaysia NGO wants to be voice for women healthcare in the Southeast Asian countries
Bikya Masr Staff
7 June 2012
KUALA LUMPUR: A Malaysian organization is looking to boost its profile and become a voice for women's health in the Southeast Asian country. The Obstetrical and Gynaecological Society of Malaysia (OGSM) announced its push to boost healthcare for women in the Islamic country this week.
It hopes that through its efforts, it can brand itself as a voice for women facing health conundrums in the country.
Gunasegaran P.T. Rajan told reporters that their efforts would help decrease health risks for women, especially during childbirth.
"We hope to be the one to provide the data and information on women's healthcare, playing a supporting role to the Health Ministry. So in a way, we are trying to brand ourselves towards this," he said at the 10th Royal College of Obstetricians and Gynaecologists International Scientific Congress on Wednesday.
Full report at:
http://bikyamasr.com/69289/malaysia-ngo-wants-to-be-voice-for-women-healthcare/
---------
Jeddah Alumni Association organizes carnival for women and children
6 June 2012
Music, games, contests, acts and lots of other fun activities marked the Ladies and Kids Carnival organized by the International Indian School Jeddah Alumni Association (IISJAA) at the Indian Consulate.
More than 500 ex-students, women and other Indian community members enjoyed the fair at the carnival.
There were stalls set up by various members of the community, including food booths, a parlor, clothes boutiques, jewelry stalls, art displays and displays of goods by various companies.
Scintillating performances from the ex-students who danced to famous Indian songs enthralled the crowd. The highlight of the evening was a flash mob act by the group. Their mesmerizing dance steps were so much in sync that the crowd too joined in the dance and sustained the tempo.
Full report at:
http://www.arabnews.com/iisjaa-organizes-carnival-women-and-children
---------
URL: https://newageislam.com/islam-women-feminism/indian-court-ruling-marriage-age/d/7553