New Age Islam News Bureau
10 Oct 2017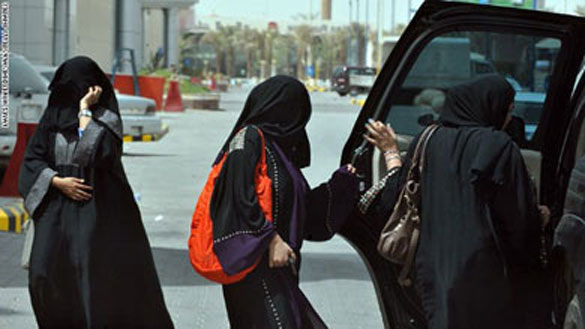 From next June, under a royal decree, Saudi Arabia's ban on women drivers in will be lifted (File Photo)
---
• Saudi Woman Booked For Driving Before Lifting Of Ban
• Shark-Suit Wearer Runs Afoul Of Austria's Burqa Ban Law
• Ogun Muslims Demand Use of Hijab in Schools
• Saudi Arabia Authorities Warn Against Driving Lessons for Women
• British-Iranian Woman Jailed In Tehran Faces New Charges, Says Husband
• Irish Senate Delegation Meets Iranian Female Lawmakers
Compiled by New Age Islam News Bureau
URL: https://www.newageislam.com/islam-women-feminism/indian-clerics-slam-idea-allowing/d/112831
--------
Indian Clerics Slam Idea of Allowing Women to Go On Haj Alone
Priyangi Agarwal
Oct 10, 2017
BAREILLY: After Union minority affairs minister Mukhtar Abbas Naqvi said that the Haj Committee of India might consider the recommendation of allowing women aged over 45 years to make the pilgrimage without their close male relatives if they are travelling in groups of four or more, Sunni Barelvi clerics here criticised the move, calling it "un-Islamic". Clerics said that the motive of the authorities was to "make women work against Sharia".
Mufti Mohammed Salim Noori, spokesperson of Dargah Aala Hazrat said, "It is mandatory for women to be accompanied by the husband or any other male blood relation. If women go alone on Haj, they will end up committing a sin, which is the motive of the authorities. As Haj is one of the five pillars of Islam, it should be done according to Sharia and women cannot go without mehram (close male blood relation)."
Naqvi had made the announcement on Saturday after a Haj review committee, headed by a retired IAS officer Afzal Amanullah, handed him the new policy report listing several recommendations.
The Union minister had said that some recommendations might be implemented from next year. Terming it "progressive", Naqvi had said that the Haj Committee of India might consider allowing women aged above 45 years to travel in groups of four or more without their mahrams.
Calling the policy un-Islamic, Mufti Mohammed Jameel Khan at Darul Ifta of Dargah Aala Hazrat said, "Women should consider Islamic rules instead of following changes introduced by politicians. As the country has majority of Sunni Muslims within the community, the government should draft the policy after contacting leaders belonging to all denominations."
Maulana Shahbudin Razvi, national general secretary, Jamat Raza-e-Mustafa said, "We will write to Naqvi and ask him not to give permission to women to go on Haj alone."
https://timesofindia.indiatimes.com/india/clerics-slam-idea-of-allowing-women-to-go-on-haj-alone/articleshow/61013787.cms
--------
Saudi woman booked for driving before lifting of ban
Oct 10, 2017
RIYADH - Saudi police have penalised a woman filmed driving a car, a spokesman said Monday, warning against violations of a ban on female drivers set to be lifted next June.
Authorities summoned the woman and booked her for flouting traffic regulations after she appeared in a video driving out of a luxury hotel in the capital Riyadh.
"We call on all Saudi citizens to respect the law and wait until the ban on women driving formally ends," the police spokesman told AFP.
He did not specify the nature of the penalty, but added that the woman filmed leaving the Ritz Carlton hotel had not been arrested. S Arabia last month said it would allow women to obtain driving permits under a royal decree to take effect in June, sparking euphoria and disbelief among activists who long fought the ban.
The Gulf kingdom was the only country in the world to bar women from taking the wheel, a ban seen globally as a symbol of repression.
Many women fear they are still easy prey for conservatives in a nation where male "guardians" - typically their fathers, husbands or brothers - have arbitrary authority to take decisions on their behalf.
http://nation.com.pk/international/10-Oct-2017/saudi-woman-booked-for-driving-before-lifting-of-ban
--------
Shark-suit wearer runs afoul of Austria's burqa ban law
Oct 10, 2017
An Austrian law that forbids any kind of full-face covering including Islamic veils has claimed an unusual victim — a man wearing a shark suit.
Police say they issued a citation Monday after the man — part of a street advertising campaign for the McShark computer chain stores — refused several requests to take off his shark head.
In effect this month, most full face coverings are prohibited in public in Austria, including off-slope ski masks, surgical masks outside hospitals and party masks on the street. Popularly known as the "burqa ban," the law is mostly seen as directed at the clothing worn by some ultra-conservative Muslim women.
Violations carry a possible fine of 150 euros (nearly $180). Only a handful of citations have been issued.
http://nation.com.pk/international/09-Oct-2017/shark-suit-wearer-runs-afoul-of-austria-s-burqa-ban-law
--------
Ogun Muslims Demand Use Of Hijab In Schools
By Sulaiman Fasasi
October 9, 2017
Abeokuta – The Muslim community in Ogun State has asked the state government to allow its female children in all public schools in the state use the Muslim head cover, otherwise known as the Hijab.
The community also urged the government to release a circular mandating government school heads to allow Muslim female students in the schools use the Hijabs on their school uniforms.
At a meeting held at the Kobiti Central Mosque in Abeokuta, the Ogun State capital, many Muslim parents expressed their grievances over the alleged prevention of the use of the Hijab by their female children in public schools.
Some of the parents lamented that most of the school principals and teachers allegedly molested any female student found using the head cover.
One of the parents, Saidat Adegoroye, who was visibly angry, cited examples of some female students who were allegedly molested at Ilugun High School and Asero High School, among others.
In his opening address, the Secretary to the League of Imams and Alfas in the state, Sheik Tajudeen Adewunmi, urged the gathering to join hands and be united in fighting against the alleged victimisation, stressing that the constitution of the country permitted freedom of religion.
"Our children should be allowed to use the Hijab in schools. They have the right to use it. Why should they prevent them from using it? It is part of the religion. We must join hands to say no to this victimisation", he said.
At the end of the meeting, the community issued a communiqué resolving that "Muslim students should be allowed to practise their religion without any form of victimisation".
The forum also adopted white cloth as the Hijab colour and material for the use of Muslim female students in all public schools in Ogun State.
The communiqué reads in part, "That the teaching of Islamic Studies should be sustained in all public schools.
"That Islam as a religion frowns vehemently against nudity. As such, the uniforms of Muslim students should be long and loose enough to protect their nudity.
"That no Muslim student should be forced to go through the practice of other religions such as mandating them to use the Christian Songs of Praise and other hymn books on the assembly, or forcing them to accept distributed New Testament Bibles and Holy Communions in schools.
"That the Muslim Students Parents Forum has been inaugurated by this meeting and shall be a decision making body for issues affecting Muslims in schools".
A member of the Muslim Pilgrims Welfare Board, Sheik Iskil Lawal, who spoke on behalf of the state government, pledged to get in touch with the government to deliver the message.
He urged the Muslim Ummah to remain calm, saying that the government would address all issues relating to the use of the Hijab.
http://independent.ng/ogun-muslims-demand-use-hijab-schools/
--------
Saudi Arabia authorities warn against driving lessons for women
October 9, 2017
Manama: Traffic authorities and safety campaigners in Saudi Arabia have warned against responding to ads offering driving courses to women.
"Nobody has been licenced to train women on driving in public places, and women should be weary of ads offering courses and thus avoid becoming victims of abuses," said Abdul Rahman Al Maajal, the head of the Saudi Society for Traffic Safety.
Several advertisements have emerged offering driving courses for SR40 an hour or a package of 30 hours for SR1,200. The instructor provides the car for the training, the ads said.
King Salman Bin Abdul Aziz Al Saud on September 26 issued a royal order to lift the ban on women driving.
A tripartite ministerial committee was set up to issue recommendations within 30 days and proper arrangements and logistics would be implemented before the ban is officially lifted on June 26.
The order was warmly welcomed and several women posted pictures of themselves taking the wheel in public places. One man tweeted a picture showing him giving his wife driving lessons at a car park.
The spokesperson for the traffic general directorate, however, has warned that regulations prohibit the learning of driving on roads and asked women to be patient until regulations on the matter are issued.
"No woman will be allowed to drive before the formal lifting of the ban in June and the law will be applied to all those who post ads on social media offering driving lessons," the spokesperson said.
http://gulfnews.com/news/gulf/saudi-arabia/saudi-arabia-authorities-warn-against-driving-lessons-for-women-1.2103012
--------
British-Iranian woman jailed in Tehran faces new charges, says husband
9 October 2017
A British-Iranian woman serving a five-year jail term in Iran after being accused of trying to orchestrate a "soft overthrow" of the Islamic Republic is facing fresh charges that may lead to an additional 16 years in prison, her husband has said.
Nazanin Zaghari-Ratcliffe, 38, a project manager at the Thomson Reuters Foundation, has been in jail for 18 months and was due to become eligible for early release next month, but the new trial means she will remain behind bars.
Her husband, Richard Ratcliffe, said that at a court hearing on Sunday inside Tehran's Evin prison, Zaghari-Ratcliffe was told her case had been reopened and she was facing charges including demonstrating outside the Iranian embassy in London, based on a photo found from accessing her private email account.
He said she was also facing charges relating to her work at the Thomson Reuters Foundation, the charitable arm of the news agency of the same name, and her previous work at the BBC. The judge purportedly claimed both organisations were "specifically working to overthrow the regime".
Judicial authorities in Iran have not yet confirmed there will be a new trial.
Zaghari-Ratcliffe was arrested in April 2016 when she and her young daughter, Gabriella, were about to return to the UK after a family visit to Iran. Since then she has spent most of her time in Evin while Gabriella, now three, has been in the care of her mother's Iranian family, who are only able to visit her during regular prison visits. Richard Ratcliffe has said his daughter is losing her grasp of English.
Ratcliffe said his wife and the rest of the family were bewildered by the new development in her case. "I have told Nazanin that these are just games by the IRGC [Revolutionary Guards], games that look more and more desperate. Inventing new charges to prevent her early release does not make them look intimidating, it makes them look foolish," he said.
"It also brings the integrity of the Iranian legal system into question, as the IRGC play their games with my family's lives [and] look to extract more privileges from the Iranian and UK governments. They are treating their justice system like a bazaar, making up stories to get a higher price. They are bringing their country to shame."
The Revolutionary Guards, the elite forces responsible for Zaghari-Ratcliffe's arrest, have accused her of attempting to orchestrate a soft overthrow of the Islamic Republic – charges that her husband has vehemently denied.
There have been indications that Zaghari-Ratcliffe may be a victim of Iran's animosity towards the BBC. She was a project assistant at the BBC's charity Media Action in 2008/9. Iranian authorities loathe the BBC because of its Persian service, which is watched by millions of Iranians via illegal satellite dishes.
BBC Persian staff have been victims of a campaign of intimidation and smears orchestrated by Iranian authorities in recent years. In August, in the latest crackdown against the corporation's Iranian employees, it emerged that Iran had imposed an asset freeze on more than 150 BBC Persian journalists and former contributors.
Zaghari-Ratcliffe's original conviction was upheld by Iran's supreme court in April. A string of dual nationals from other western nationals including the US also languish in Iranian jails, but exactly how many is unclear. Kamal Foroughi, a 78-year-old British-Iranian businessman, has been imprisoned in Iran since 2011.
Tulip Siddiq, the Labour MP for Hampstead and Kilburn, said the latest charges brought against her constituent were "an outrage and must not be allowed to stand". She called Zaghari-Ratcliffe's case a travesty and urged the UK government to act.
"These developments are particularly cruel at a time when her family had increasingly hoped that she would be granted temporary release. With the possibility of 16 years being added to her sentence, it is high time the government intervened with tangible effect," she said.
"There is a clear pattern of Iran treating British dual nationals in this way, and the government's soft-ball approach to the Iranian authorities seems to be doing little to improve their plight."
Theresa May raised Zaghari-Ratcliffe's case with the Iranian president, Hassan Rouhani, on the sidelines of the UN general assembly last month. Rouhani was also pressed on the matter during a CNN interview and suggested it was out of his control because the judiciary acted independently of his government.
Monique Villa, the Thomson Reuters Foundation chief executive, said Zaghari-Ratcliffe was a "political hostage" being subjected to "another mockery of justice" by the Revolutionary Guards.
"These charges are linked to her work at BBC Media Action and at the Thomson Reuters Foundation," Villa said. "This is a complete invention as the Thomson Reuters Foundation doesn't work in Iran and has no programme or dealings with Iran. We continue to assert that she is 100% innocent and that these ludicrous charges must be dropped immediately, and Nazanin released and reunited with her daughter Gabriella and her husband Richard."
She added: "This inhumane treatment is breaking up a young family and has already caused irreparable damage to Nazanin's physical and mental health. What happened yesterday and the description that the family has given is harrowing. Hearing that Nazanin, who we know to be a very strong woman, almost collapsed in court is another sign of how traumatised she must be now."
https://www.theguardian.com/world/2017/oct/09/british-iranian-woman-jailed-in-tehran-faces-new-charges-says-husband
--------
Irish Senate delegation meets Iranian female lawmakers
October 9, 2017
The two sides welcomed the idea of forming a joint parliamentary working group, said Parvaneh Mafi, an MP and member of the women's faction of Majlis.
Referring the history of relations between the two countries, Mafi emphasized the need for further expansion of relations in all fields, IRNA reported.
Commonalities between the two nations, especially cultural commonalities, lays the ground for further expansion of friendly ties, she noted.
Zahra Saei, another member of the Majlis women's faction said during the meeting that women will play a crucial role in further development of Iran-Ireland ties.
Elaborating on the faction's activities, she said that Iran has made remarkable progress in the field of women's rights, including their presence in different fields while maintaining their status.
Noting that Iran-Ireland relations have always been on an upward trend after the victory of the 1979 Islamic Revolution, the lawmaker said that women are assuming a greater part in further expansion of bilateral ties.
Members of the Irish parliamentary delegation, for their part, voiced their interest in promoting ties with Iran, particularly in cultural, scientific and academic domains.
Irish Senator Katherine Ada said that women are standing next to men with all in power to build future.
http://www.tehrantimes.com/news/417437/Irish-Senate-delegation-meets-Iranian-female-lawmakers
--------
URL: https://www.newageislam.com/islam-women-feminism/indian-clerics-slam-idea-allowing/d/112831
New Age Islam, Islam Online, Islamic Website, African Muslim News, Arab World News, South Asia News, Indian Muslim News, World Muslim News, Women in Islam, Islamic Feminism, Arab Women, Women In Arab, Islamophobia in America, Muslim Women in West, Islam Women and Feminism