New Age Islam News Bureau
10 Nov 2017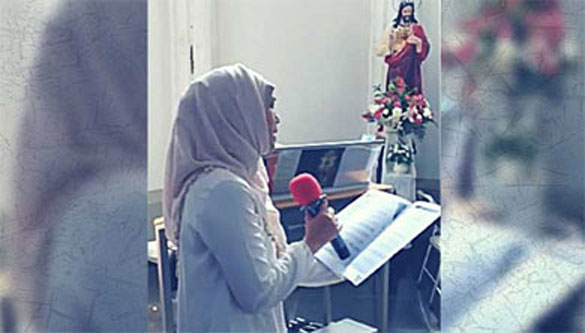 A video of a Muslim woman delivering a heartfelt rendition of the Christian hymn Ave Maria in church at the funeral service of her best friend has gone viral in Indonesia.
-----
• Indian Clerics Set To Counter Misconception Shrouding Rights Of Muslim Women
• Muslim Woman Sings Ave Maria At Friend's Church Funeral
• Muslim Woman Issued Fatwa For Teaching Yoga in Jharkhand, India
• Qatar Appoints Women To Shura Council For First Time
• Muslim Women Face Religious Discrimination In Hotel Industry
• Political Disrobing Of Muslim Women Is Un-Canadian
• Female Admiral and Three Muslim Leaders Become National Heroes of Indonesia
• Iran: Plundered Women And Children Beaten Up
• Iran: State Media Confess To Rape Of Girl Child Labourers
Compiled by New Age Islam News Bureau
URL: https://www.newageislam.com/islam-women-feminism/indian-clerics-set-counter-misconception/d/113182
--------
Indian Clerics Set To Counter Misconception Shrouding Rights Of Muslim Women
Nov 9, 2017
Bareilly: With a section of people claiming that Muslim women are oppressed due to "regressive Islamic practices", Sunni Barelvi clerics here have decided to appeal to their followers during Urs-e-Razvi that they should distribute books on the rights of women in Islam for free in their areas.
Dargah Aala Hazrat spokesperson Mufti Mohammed Salim Noori said, "Some people are indulging in a propaganda that Muslim women are not allowed to run their business, even as our religion allows them to start their own business but within the limits of the parda system. Similarly, a misconception has been created that Muslim women are discouraged from going on vacation, while the truth is that they can go on vacation along with their husband or any other male blood relative."
"As most of the religious books are written in Arabic and Persian, many people are unable to understand it. Hence, we will ask people to translate these books in languages practiced here for distribution in their area. The books will have dos and don'ts for Muslim women. We want people to get acquaint with the Muslim Personal Law to parry rumours which are being spread about the Islam," said Noori.
The 99th Urs-e-Razvi, the death anniversary of Mujadid Imam Ahmed Raza Khan Qadri, who propagated Barelvi School of Islam, is expected to be attended by lakhs of people from November 13-15.
Meanwhile, on the second day of Urs, clerics will discuss the 10 points that Aala Hazrat had discussed in 1910 for the promotion of education. Some of those points are — educational institutions should be set up; students and teachers should be given grants and wages, respectively; students should be examined and then specialised in appropriate fields; and graduates should fan across the country to spread knowledge by way of writing, teaching and debates.
"Aala Hazrat had endorsed importance of education and providing scholarships to students much before the independence," said Noori.
https://timesofindia.indiatimes.com/city/bareilly/clerics-set-to-counter-misconception-shrouding-rights-of-muslim-women/articleshow/61584652.cms
--------
Muslim woman sings Ave Maria at friend's church funeral
November 9, 2017
PETALING JAYA: A video of a Muslim woman delivering a heartfelt rendition of the Christian hymn Ave Maria in church at the funeral service of her best friend has gone viral in Indonesia.
According to news portal Coconuts Jakarta, the Muslim woman, dressed in a headscarf, sang the hymn as a final tribute to Chatarina Suyanti.
The video was first spotted in a Facebook post by Budi Soehardi, who said that a friend had recently seen the woman in the video singing at the funeral service of her best friend.
"That (Monday) morning, I attended the requiem mass at the Bogor Cathedral Church. As a last honour (before they closed the casket), the song 'Ave Maria' was sung by a female soloist wearing a hijab with a tremendous feeling of appreciation.
"That is the beauty of friendship that doesn't focus on differences," the news portal said of the Facebook post which was written in Bahasa Indonesia.
The post quickly went viral with over 13,000 shares at the time of writing, and 25,000 Facebook users reacting to the post. Many also left warm messages of hope about the beauty of Islam, the deep friendship the two women obviously shared and the melodious voice of the soloist.
Twitter user Rexy Ambarwati meanwhile posted a different video of the same performance, which was also shared several thousand times.
Commenting on the Muslim woman's tribute, Coconuts Jakarta wrote, "The bond between Chatarina and her friends fills us with hope that the worries about rising religious intolerance in Indonesia really are overblown, that they don't represent the majority of Indonesians and that the government and others will be strong enough to take the steps necessary to end faith-based discrimination in this country."
The report also said that Indonesia needed more people like the soloist, who were "brave enough to show us the way".
http://www.freemalaysiatoday.com/category/nation/2017/11/09/muslim-woman-sings-ave-maria-at-friends-church-funeral/
--------
Muslim Woman Issued Fatwa For Teaching Yoga in Jharkhand, India
Nov 10, 2017
NEW DELHI: Some Muslim clerics in Jharkhand have slapped a 'fatwa', or edict, against a woman from the community for teaching yoga while being Muslim, reported Mirror Now.
A Shia cleric, meanwhile, ridiculed the 'fatwa' and told a news agency it was "condemnable" and made "religion a joke".
In the meanwhile, the woman Rafia Naaz, who earns a living teaching yoga in the Jharkhand capital, has been provided police security on the instruction of the state chief minister Raghubar Das.
Naaz likely came to the attention of the 'fatwa'-issuing clerics when she recently shared a stage with nationally recognised yoga practitioner Ramdev.
Naaz is annoyed, both at the Muslim clerics as well as people from other religions.
"My problem is with members of both communities. On the one hand I am asked not to teach yoga and on the other, I am asked to change my name so that people do not hesitate to learn yoga from me", said Naaz to reporters.
"I will continue to do yoga and teach yoga till the end of my life," Naaz added
The Shia cleric who condemned the 'fatwa' wondered what's wrong with teaching yoga.
"Some people have made religion a joke, what is wrong if some woman teaches yoga? Protesting this is highly condemnable," said Maulana Saif Abbas, to ANI.
https://timesofindia.indiatimes.com/india/fatwa-on-woman-for-teaching-yoga-while-muslim/articleshow/61587422.cms
--------
Qatar appoints women to Shura Council for first time
November 10, 2017
DOHA - Qatar has appointed women to one of its most important consultative bodies, the Shura Council , for the first time in the country's history, according to a royal decree announced Thursday.
Four woman will sit on the 45-strong council , which is responsible for discussing draft laws approved by the cabinet, general government policy and the state's draft budget, state media said.
"Qatar's Emir Sheikh Tamim bin Hamad al-Thani issued an emiri decree renewing the membership of some Shura Council members and appointing 28 new members to include women for the first time in the history of the... council ," said a statement on the Qatar News Agency. The women appointed were named as Hessa al-Jaber, Aisha Yousef al-Mannai, Hind Abdul Rahman al-Muftah and Reem al-Mansoori.
"Women play an important role in national decision-making in all fields," Muftah, who works at the Doha Institute for Postgraduate Studies, told AFP.
She added that this role covered government institutions and the "overall development process in the country".
The announcement comes as Qatar continues to deal with the impact of the worst and most bitter diplomatic crisis in the Gulf for years, which has seen the emirate politically and economically blockaded by neighbouring countries.
Qatar has attacked the five-month long blockade as being a "humanitarian" issue and, accordingly, Thursday's announcement may have been prompted by the dispute.
Since the crisis began, Doha has made several notable social policy concessions.
These include proposed changes to its strict residency laws and agreeing to demands from human rights campaigners to overhaul its treatment of the two million-plus migrant workers in Qatar , readying the country for football World Cup in 2022.
In 2015, two women were voted on to the country's only directly elected body, the 29-strong central municipal council .
Previously, Jaber became only the third woman appointed to the cabinet, when she was selected as communications minister in 2013.
She was also appointed to Volkswagen's advisory board after Qatar's investment in the German carmaker.
Qatar announced it would hold elections to the Shura Council in 2007, but the vote - to elect two-thirds of all members of the council with the remaining third to be selected by the emir - was subsequently postponed.
Another planned election for 2010 also passed without a vote.
It has been suggested that elections for the council will now take place in 2019 but this has not been confirmed.
Earlier this week Qatar announced the appointment of its first foreign ministry spokeswoman, Lulwa Rashid al-Khater.
http://nation.com.pk/10-Nov-2017/qatar-appoints-women-to-shura-council-for-first-time
--------
Muslim women face religious discrimination in hotel industry
November 9, 2017
By Dr Rafidah Hanim Mokhtar
I regret that Muslim women in Malaysia still face religious discrimination, when it comes to the wearing of the hijab, which is a religious requirement that many of them adhere to.
This is according to the report by the Malaysian Employers Federation (MEF).
MEF executive director Shamsuddin Bardan said he had received complaints from hotel employees regarding the banning of headscarves or hijab at the workplace.
This is something we should not tolerate especially when there's no plausible explanation as to why the hijab is a hindrance to the nature of their work.
This is even more so in a country which holds Islam as the religion of the Federation.
Simply being in the private sector does not exclude the party from respecting one's right to practice their religious requirements.
This argument also applies to our national airlines, Malaysia Airlines, where there are also calls from flight attendants to be allowed to observe their religious requirement in wearing hijab.
The fact that flight attendants with hijab had been serving the pilgrims during the Hajj season in flights to Mecca is testimony that wearing the hijab does not determine inefficiency.
With regard to hospitality industries, it is not easy for these women to actually lodge reports, especially when allowances, salaries and placement for internship are involved.
If these are students, we know that internship is part of the requirement in their last semester before they can graduate.
Our Muslim students are trapped in a systematic discriminatory process along the line.
I urge Muslim ladies who face such discrimination to come forward and report it to us at wafiq3108@gmail.com. We promise to maintain their confidentiality.
Dr Rafidah Hanim Mokhtar is the president of The International Women's Alliance for Family Institution and Quality Education (Wafiq).
http://www.freemalaysiatoday.com/category/opinion/2017/11/09/muslim-women-face-religious-discrimination-in-hotel-industry/
--------
Political disrobing of Muslim women is un-Canadian
by Rama Singh
Nov 10, 2017
The burqa is in the news again. I have been trying to avoid it. I thought to myself: been there, done it. I have written in these pages about facial garbs before.
I have decided to speak up because I find the arguments in these matters always missing a key element, the most important element: why a woman should have the right to wear burqa if she so wishes.
But first let me go over the arguments that have been raised one time or another for banning burqa.
Some see burqa as a security threat. These people see a Bin Laden behind every burqa. They say we should not take chances. Yet I have not heard of one terrorist anywhere caught in burqa. You can hate their ideologies but you will probably never find a Muslim terrorist hiding behind burqa. This is part of their ideology. Burqa is for women.
Some say burqa is a religious garb; it should be banned under secularism. These people need to know burqa is not a religious garb; Islam does not dictate what particular garb one should or should not wear. Neither does secularism.
Some say burqa is a symbol of women's oppression and that allowing burqa will open the door for Sharia, the code for living that all Muslims should adhere to. There is no evidence that Muslim women want Sharia in Canada. Sharia can, and in my view should be banned under secularism.
It is remarkable that these and similar other arguments are all based on what "we" think the women should wear. They are based on secularism, or on security ground, or on the need to fit in the so-called Canadian values.
Even the arguments in favour of burqa are based on multiculturalism which mistakenly and unfortunately also perpetuates group mentality rather than individual freedom.
To my surprise, no one seems to be interested in asking or knowing what the woman in the burqa wants. Who are these women? What they think?
I want you to imagine a recently arrived, elderly women who has become accustomed to burqa, so much so that she feels insecure going out in public without it. Burqa becomes her guard.
Or, a woman from a country where women do not go out shopping alone. Burqa helps her make a choice.
Or, a woman forced to go to food bank. Burqa protects her dignity.
I know how they feel because I have lived around such women. I have seen their shame and anxiety of going naked-face in public. I have seen their discomfort and anxiety around men. I have seen their dignity and peace of mind secured in their burqa.
The burqa woman is not in anybody's way, if anything she is out of everybody's way. She wants to be left alone.
My appeal to Quebecers is this: Please do not listen to arguments based on secularism; please do not listen to arguments based on phoney threats from Islam or Sharia — do not fall prey to Islamophobia; and please do not listen to politicians who may want to score points to win elections. If you care for a free society and want to protect and promote secularism, then you must protect the right of the woman behind the burqa.
It's not just about Bill 62, or just about Quebec, it's about all of us, about Canada. That Canada is multicultural and Quebec is protecting secularism is a false dichotomy. Canada and Quebec are both secular and multicultural. Secularism and multiculturalism go hand in hand.
A true secular society cannot be dictated down or legislated; it can only be built from the bottom up. It starts with the right of the individual and grows outward — from every villa, every town, and every city centre — and embraces the neighbourhood and the community.
My defence of burqa is based on an individual's rights and freedom, not on freedom of religion. Religion can conflict with individual right and freedom.
The woman behind the burqa is a Canadian. Please do not let the politicians disrobe her. Protect her dignity. Show compassion. Make her feel safe in Canada.
And tell the world that Canada is a compassionate country. Tell that the body has soul.
Anything less will be un-Canadian.
Rama Singh is a professor of biology at McMaster University. A geneticist by training, he thinks and writes about human diversity and human dignity especially in relation to the problem of patriarchy and gender inequality.
https://www.thespec.com/opinion-story/7912687-political-disrobing-of-muslim-women-is-un-canadian/
--------
Female Admiral and Three Muslim Leaders Become National Heroes of Indonesia
Nov 10, 2017
Jakarta. President Joko "Jokowi" Widodo recognized four prominent Indonesians as the country's heroes on Thursday (09/11), ahead of the National Heroes Day celebrations on Nov. 10.
The "national hero of Indonesia" title is awarded posthumously for extraordinary services to the nation.
Family members and descendants of Tuan Guru Muhammad Zainuddin Abdul Madjid of West Nusa Tenggara, Admiral Malahayati of Aceh, Sultan Mahmud Riayat Syah of Riau Islands and Prof. Lafran Pane of Yogyakarta received the awards from at the State Palace in Jakarta.
Each year, before the National Heroes Day celebrations, a team led by the Ministry of Social Affairs submits a list of candidates to receive the country's highest recognition. This year, the team chose 10 names, including former President Abdurrahman Wahid.
Indonesia now has 173 national heroes, among whom 13 are women, Social Affairs Minister Khofiah Indar Parawansa said in a statement.
Tuan Guru Muhammad Zainuddin Abdul Madjid who died in 1997, was a nationalist Muslim leader and founder of Islam Nahdatul Wathan. He introduced and advocated emancipatory education in Lombok, West Nusa Tenggara.
Admiral Malahayati was the first Achehnese female admiral. She led the Sultanate of Aceh navy against Dutch colonizers in 1559. In 1606, she established a legion of female warriors, widows of Acehnese fighters, to struggle against colonization.
Sultan Mahmud Riayat Syah, who ruled the Sultanate of Riau, which back then covered parts of present -dayMalaysia, fought the colonizers in 1782-84 and defeated them. He refused to sign a peace agreement proposed by the Dutch and delegated his navy to help neighboring regions oppose the colonizer's army.
Prof. Lafran Pane was an academic who in 1947 founded the Muslim Students Association (HMI). He advocated adherence to the state ideology of Pancasila, refusing the idea of establishing in Indonesia an Islamic or communist state.
http://jakartaglobe.id/news/female-admiral-three-muslim-leaders-become-national-heroes/
--------
Iran: Plundered women and children beaten up
09 November 2017
Plundered men and women gathered for the second day outside the Ministry of Agricultural Crusade (Jihad) in Tehran on Wednesday, November 8, 2017. They have been looted by Vali Asr Financial Institute and protested the government's support for the crooked institute.
The State Security forces violently attacked the protesters using tear gas and beat them up, even women and children.
On the same day in Ahwaz, southwest Iran, people protested against the government-backed Arman institute, by gathering in front of the governor's office. They marched to the Department of Justice and continued to protest against fraud by the state authorities.
They also protested against a judicial authority who had said, "the looted are not innocent."
http://www.women.ncr-iran.org/iran-women-news/4482-iran-plundered-women-and-children-beaten-up
--------
Iran: State Media Confess To Rape Of Girl Child Labourers
09 November 2017
"We are going to prove that 90 per cent of child laborers get raped."
This was said by the executive director of the Organization of Social Services in Tehran's Municipality following a research done on 400 child laborers.
The state-run Salamatnews.com published a report run by the official Iran newspaper which included some painful examples of sexual assault on deprived girl children and child laborers. The same story was also reported by the state-run Rokna.ir website.
The report narrates the stories of girl children who are assaulted and raped since very young age due to poverty and addiction of their parents.
The report also cites Elham Fakhari, member of Tehran's City Council, as saying that "sexual abuse is the greatest ailment among young scavenger children."
One of the characters in this report is Rana, 19, who has been engaged in dangerous and harmful jobs such as making spare parts for cars and working with acid. Rana's father is an addict and used to sexually assault her four daughters. The girls were also victimized by other men in the community. (The state-run Salamatnews.com – November 8, 2017)
The Iranian regime's officials have admitted that at least 42 million of the 80-million strong population of Iran live below the poverty line and 30 million are hungry. 80 per cent of wage earners live under the poverty line. The growing number of child laborers, prostitution and addiction, as well as sexual abuse of children are but part of the consequences of the policies of the mullahs' religious dictatorship that spends Iranian people's wealth on domestic suppression and on belligerence and meddling in other countries.
http://www.women.ncr-iran.org/iran-women-news/4480-iran-state-media-confess-to-rape-of-girl-child-laborers
--------
URL: https://www.newageislam.com/islam-women-feminism/indian-clerics-set-counter-misconception/d/113182
New Age Islam, Islam Online, Islamic Website, African Muslim News, Arab World News, South Asia News, Indian Muslim News, World Muslim News, Women in Islam, Islamic Feminism, Arab Women, Women In Arab, Islamophobia in America, Muslim Women in West, Islam Women and Feminism