New Age Islam News Bureau
27 Sept 2015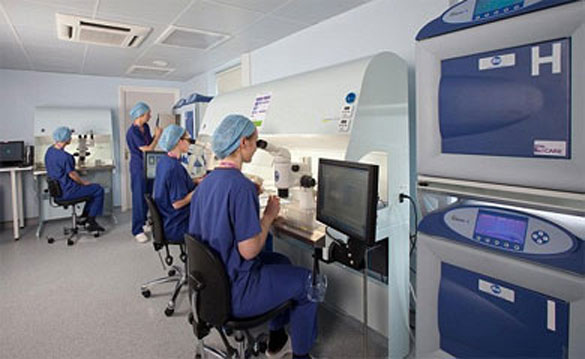 Pictured is the Care Fertility Clinic in Nottingham, one of several centres which have helped impregnate women with no experience of sex or relationships
--------
• India: Woman Author Barred From Sharing Stage with Swamiji on Her Own Book Launch
• Indian Women Lawyers' Association Moves Supreme Court Seeking Ban On Porn Sites
• Muslim Veil during Citizenship Oath Opposed By Most Canadians, Poll Says
• At Least 25 Straight Women Who've Never Had Sex Have Given Birth Via IVF
• Irish Marchers Demand Referendum on Legalising Abortion
• For A Teen Aspiring To Be President, Being Muslim Is a Hurdle in Post-9/11 America
• Harman to Corbyn: 'Sort Out' Jobs for Women
Compiled by New Age Islam News Bureau
URL: https://www.newageislam.com/islam,-women-and-feminism/new-age-islam-news-bureau/india--woman-author-barred-from-sharing-stage-with-swamiji-on-her-own-book-launch/d/104725
---------
India: Woman Author Barred From Sharing Stage with Swamiji on Her Own Book Launch
Saturday, 26 September 2015
The release of Malayalam translation of a book authored by former President APJ Abdul Kalam was cancelled on Saturday after protests erupted over a woman writer being allegedly asked to stay away from the function citing the presence of a 'swamiji'.
Writer Sreedevi S Kartha, the translator of the book 'Transcendence My Spiritual Experience with Pramukh Swamiji' by Kalam, alleged she was asked not to attend the function as Brahma Vihari Das of BAPS Swami Narayana Sanstha did not like the presence of women on the stage along with him.
Sreedevi, in a release, said she was told that rules of BAPS, a socio-spiritual Hindu organisation, were against women sharing dais with the Swamiji.
"The first three rows also should be reserved for Swami's followers so that they can ensure that even impure shadow of women must not fall on him," Sreedevi sarcastically said in a Facebook post.
As controversy erupted, various organisations staged protests in front of the Kerala Sahitya Academy where the launch of the book titled 'Kaalaatheethm' (Beyond the times) was to be held. Swami Brahma Vihari Das did not turn up for the function, K J Johny, Publishing Manager of the Thrissur-based Current Books, publishers of the book said.
Johny also said that they normally do not invite translators for book release functions. The book was to have been released by Kalam's co-author Arun Tiwari and eminent Malayalam writer M T Vasudevan Nair.
Reacting to the issue, noted poet Sugathakumari said those "who are afraid of their mothers should go back to dark age caves."
"Hinduism is the only religion which visualises God in the form of women and our ancient saint and social reformers like Swami Vivekananda, Sree Narayana Guru and Ramana Mahrashi had never shown discrimination towards women," she added.
Expressing shock over the incident, Sreedevi said publishers informed her to keep away from the function through a common friend and did not even bother to apologise to her.
"It is a shameful act on the part of the publishers," she added.
Sreedevi asked "What is the difference between Taliban which asks women not to show body except eyes and Indian culture, which bars women from attending public functions".
http://www.dnaindia.com/india/report-kerala-woman-author-barred-from-sharing-stage-with-swamiji-on-her-own-book-launch-2128916
-----
Pope Meets With Victims of Sexual Abuse
By LAURIE GOODSTEIN and DANIEL J. WAKIN
SEPT. 27, 2015
PHILADELPHIA — Speaking to hundreds of bishops and seminarians, Pope Francis on Sunday said he met in private with a group of victims of sexual abuse and he pledged that "all responsible will be held accountable."
Pope Francis celebrated a Mass at the Cathedral Basilica of SS. Peter and Paul in Philadelphia on Saturday.Francis in America: At Independence Hall, Pope Offers a Broad Vision of Religious
Nicole Santamaria, 35, right, and her mother, Vilma Santamaria, 68, joined with pilgrims and L.G.B.T.Q.I. Catholics at Arch Street United Methodist Church after a day at the World Meeting of Families in Philadelphia on Friday. Francis in America: A Pastoral Pope, Slipping
"God weeps," he said.
The pope, speaking on the last day of his trip to the United States, delivered his words before his prepared speech. He said abuse survivors "have become true heralds of mercy. Humbly, we owe each of them our gratitude for their value as they have had to suffer terrible abuse."
His first reference to the scandal, at a prayer service with bishops in Washington on Wednesday, drew criticism from advocates for survivors of abuse for not going far enough. He told the bishops he was "conscious of courage with which you have faced difficult moments in the recent history of the Church in this country without fear of self-criticism and at the cost of mortification and great sacrifice."
Laurie Goodstein reported from Philadelphia, and Daniel J. Wakin from New York.
http://www.nytimes.com/2015/09/28/us/pope-francis-philadelphia-
-----
Indian Women Lawyers' Association Moves Supreme Court Seeking Ban on Porn Sites
All India | Press Trust of India
September 27, 2015
NEW DELHI: A women lawyers' body has moved the Supreme Court seeking blocking of all pornography websites as it claimed that pornography "corrupts" the mind of the young generation and leads them to commit crime against women and children.
The intervention application filed by the Supreme Court Women Lawyers' Association (SCWLA), which came over a month after the Centre's decision to lift ban on 857 pornography sites, sought formulation of a national policy on the issue of pornography, framing of guidelines and initiation of strict measures to curb the growing of issue of child pornography.
"There has been a constant rise of pornography in the country. Pornography corrupts the mind of the young generation today, who tend to commit crime against women / girls / children.
Crime against women has been increasing at a very high rate in the country today," the application said.
The government had on August 4 lifted the ban on pornography websites, following widespread criticism on social media.
The Department of Telecommunications in a discreet order on July 31 had asked Internet service providers to block access to 857 websites, citing threat to public morality.
The application filed by SCWLA has sought impleadment as a party in an ongoing petition filed by advocate Kamlesh Vaswani seeking ban on porn sites.
Earlier, after revoking its ban order, the Centre had told the apex court, the state cannot become the moral police and the entire issue needs larger debate. It had, however, informed the court that it has blocked the sites dealing with child pornography.
http://www.ndtv.com/india-news/women-lawyers-association-moves-supreme-court-seeking-ban-on-porn-sites-1223445
--------
Muslim Veil during Citizenship Oath Opposed by Most Canadians, Poll Says
Sep 26, 2015
A Muslim veil worn during citizenship oath-taking ceremonies is opposed by most Canadians, the Canadian Prime Minister's Privy Office Council poll revealed on Thursday, September 24, 2015. The taxpayer-funded poll came in the wake of a Federal Court of Appeal ruling that upheld a Federal Court decision deeming unlawful an official ban of the Muslim veil in citizenship court.
The Globe and Mail reports that four years ago, Canadian Citizenship and Immigration Minister Jason Kenney responded to a complaint by creating a requirement for uncovered faces when new Canadians take the oath. Citizenship candidate Zunera Ishaq challenged the ban on the Muslim veil and won at the Federal Court in February 2015, a decision upheld by the Federal Court of Appeals recently despite government disagreement.
The Muslim veil has become the bone of contention for party leaders preparing for the Canadian federal election to be held on October 19, 2015. The election of members to the House of Commons of the 42nd Parliament of Canada will determine the continuation or dissolution of the incumbent Conservative government, headed by Stephen Harper.
The poll asked participants if they supported or opposed a requirement that people show their face during Canadian citizenship ceremonies. The results: 82 percent supported the requirement, 15 percent opposed it, and 4 percent did not know either way or refused to answer.
Prime Minister Harper, who is appealing a Federal Court decision to allow people to use the Muslim veil or niqab over their faces while reciting the oath of citizenship, called it "not the way we do things here". According to the Globe and Mail, he addressed the following statement to the House of Commons on Tuesday.
"We do not allow people to cover their faces during citizenship ceremonies. Why would Canadians, contrary to our own values, embrace a practice at that time that is not transparent, that is not open and frankly is rooted in a culture that is anti-women. That is unacceptable to Canadians, unacceptable to Canadian women."
Outside the House of Commons, Liberal Leader Justin Trudeau accused Prime Minister Harper of "Islamophobia". Trudeau has positioned himself as a champion of religious expression as in the Muslim veil, which is protected by the Charter of Rights.
New Democrat Leader Tom Mulcair insisted that defending freedom of religion is the responsibility of courts. He opposed the Conservatives' seeking a stay on a ruling that would have allowed a Muslim woman a face-covering veil in citizenship court.
The Canadian rejection of the Muslim veil stems from the bigger concern within Canadian Parliament of Muslim communities exercising Sharia law within their enclaves. On February 23, 2015, the Standing Senate Committee on National Security and Defence questioned Marc Lebuis, the founding director of the Montreal-based independent research organization Point de Bascule, on the curious behavior of Islamist leaders in Canada.
Lebuis reported that in the early 2000s, Jamal Badawi, a senior leader of the Muslim Brotherhood operating in Canada, advised Canadian Muslims to become judges and government officials and use their influence to stop applying current national legal provisions that are incompatible with Sharia law.
Outside of the parliamentary investigations, Canadians also look across the border at the Sharia controversy in the United States, specifically at presidential aspirant Ben Carson's well-known objection to public officials practicing sharia.
Along the same thread, Carson, according to the Washington Post, has also begun questioning the Islamic practice of taqiyya, which by definition is dissimulation or concealment of one's thoughts, feelings, or character — a pretense.
"Taqiyya is a component of Sharia that allows, and even encourages you to lie to achieve your goals."
Under the threat of information overload, the Canadian public might be better served with just mulling over the Muslim veil first.
http://www.inquisitr.com/2450798/muslim-veil-during-citizenship-oath-opposed-by-most-canadians-poll-says/#8bKKuxzTA4WywDzs.99
-----
At Least 25 Straight Women Who've Never Had Sex Have Given Birth Via IVF
By RACHEL ELLIS and STEPHEN ADAMS FOR THE MAIL ON SUNDAY
27 September 2015
Some are using the £5,000 fertility treatment to bypass the need to involve a man, and others so that they can save themselves for a 'special relationship'.
Doctors said last night at least 25 straight women had given birth in the past five years despite being virgins. But campaigners for the traditional family said the 'distorted' move turned babies into little more than 'teddy bears' to be 'picked off the shelf'.
Religious groups said it undermined the importance of bringing up children in a stable marriage, while a leading psychotherapist warned that having a mother who had never been in a relationship could harm a child's development.
At least four major British IVF firms have helped heterosexual, virginal women conceive and become mothers, The Mail on Sunday has found.
One is Care Fertility, which runs five centres across England. Maha Ragunath, medical director of its clinic in Nottingham, said: 'The number of single women I see has doubled over the last decade and single women now account for at least ten per cent of my patients.
'A lot of them are very young, in their 20s, sometimes studying or doing very ordinary jobs and often living with their parents, rather than career women who have been driven and focused too much on their work.
'When I ask them why they are coming for treatment, very often the response is that they are ready to have a child and they don't want to wait around for the right partner to come along.
'A small percentage have never been in a relationship and never had sexual intercourse.
'They are extremely happy to go ahead on their own and don't care about the implications that might bring for the child or how they would go into a new relationship.'
Over the past three years, Miss Ragunath has treated three such single virgin women: one a nurse, another living at home with her parents, and a third who needed multiple rounds of IVF. All became mothers.
Heterosexual virgins will have paid for their own treatment, as NHS rules state women must 'have been trying to get pregnant through regular unprotected sexual intercourse' for two years before applying.
But the development has angered many. Josephine Quintavalle, of the group Comment on Reproductive Ethics, said: 'What is the child for these women? A teddy bear that they pick off the shelf?
'The message from nature is for a male and female to have a child, and I am saddened that we are willing to distort this. The diminished role of the father is not desirable for the child. Once you start down this route, where do you stop?'
But Laura Witjens, chief executive of the National Gamete Donation Trust, said: 'These women have a right to choose this path if they want to, but clinics do have a responsibility to consider why they want do so.'
She said society tended to 'freak out' when they heard about single women going for motherhood. But she said such women tended to be much better prepared financially, socially and emotionally, to be parents than those left as single mothers through a failed relationship.
Where it happens: Pictured is the Care Fertility Clinic in Nottingham, one of several centres which have helped impregnate women with no experience of sex or relationships
Where it happens: Pictured is the Care Fertility Clinic in Nottingham, one of several centres which have helped impregnate women with no experience of sex or relationships
However, the Bishop of Carlisle, James Newcome, said any trend towards young women deciding they did not need a family to have a child would 'have implications for society that would not be helpful'.
'The ideal is that a child has a mother and a father who are married to each other. All the evidence shows that is the best context for a child,' he said.
The revelation comes days after Pope Francis warned the family was threatened 'perhaps as never before', telling U.S. Congress: 'Fundamental relationships are being called into question, as is the very basis of marriage and the family.'
Imam Suhaib Hasan, head of Britain's Islamic Sharia Council, accused IVF doctors of 'acting like God'. He said: 'When you remove a man from this, a woman becomes nothing but a breeding machine. Here, a woman is denying the child the right to have a father.'
Other IVF firms helping heterosexual virgin women to conceive include The London Women's Clinic, Create Fertility, and the Assisted Reproduction and Gynaecology Centre.
Tracey Sainsbury, a senior fertility counsellor and research officer at The London Women's Clinic, said she saw about two single, heterosexual virgin women a year wanting to have a baby.
Playing God? Maha Ragunath helped three virgin births at the Care Fertility Clinic. They cannot be funded by the NHS
Playing God? Maha Ragunath helped three virgin births at the Care Fertility Clinic. They cannot be funded by the NHS
'Every case is different,' she explained. 'Some have never had a relationship, others have been in a relationship but never had sexual intercourse, some are single lesbian women; for others there may be psychological or medical reasons why they have never had sex.
'Some wish to save sexual intercourse for a special relationship. They feel they have not found the right partner to share sex with, but they know they want a baby now.
'If they haven't found that relationship by the point at which they want a baby, then I don't see fertility treatment as an issue.
'The same is true for single lesbians. I have not met a single woman hoping to conceive who has popped in to the clinic on a whim, or who hasn't thought about the implications of their decisions for themselves, their wider family and most importantly for any child conceived. There is no uncertainty about their desire to parent.'
Professor Geeta Nargund, of Create Fertility, and Mohamed Taranissi, of the ARGC, said they too had helped virgin heterosexuals conceive, but they tended to be women with issues about sex who were in relationships.
'This tends to be as a result of a physical or psycho-physical problem, although cultural and religious influences may sometimes be a factor,' explained Prof Nargund, who said her clinic had seen about a dozen such couples since 2010.
'In some cultures it is the stigma associated with childlessness which causes some women to head for fertility treatment rather than counselling for psychosexual issues.'
Dr Taranissi added: 'It's fear of sex. Most of them don't have a fertility issue – it's more a psychological problem.'
Child psychotherapist Dilys Daws said the fact that virgin women were resorting to IVF 'suggests someone who is not emotionally mature enough to be close to someone else – and that matters when it comes to bringing up a child. It implies the woman has a fear of having a close physical relationship with someone else, in which case the baby will not be brought up with that love.'
Clinics stress that every woman must see a counsellor before treatment so they understand the process and the implications of using donor sperm. Children born this way have the right to trace their biological father once they reach 18. Clinics also say great importance is placed on the welfare of child.
But Gedis Grudzinskas, an experienced Harley Street infertility consultant, said it was essential doctors assessed 'the circumstances into which a child would be born' before agreeing to help a single, virginal woman get pregnant.
'Just because money talks does not mean it's the right thing to do,' he said.
The treatment involves donor sperm fertilising the eggs of single women, either being introduced through the vagina – a process called intrauterine insemination, or in the lab with in vitro fertilisation. Most choose the latter as success rates with IVF are double that with IUI.
http://www.dailymail.co.uk/news/article-3250413/Advent-virgin-births-Women-never-relationship-paying-5-000-pregnant.html#ixzz3mwhemLRK
----
Irish Marchers Demand Referendum on Legalising Abortion
Henry McDonald Ireland correspondent
26 September 2015
Thousands of people marched in Dublin on Saturday to demand that the next Irish government allow for a referendum legalising abortion in the republic. The demonstrators want a national vote on whether or not to repeal the 8th amendment to Ireland's constitution, which effectively makes the foetus even at early gestation an Irish citizen.
The Abortion Rights Alliance said the march through the Irish capital would be the last before the general election and those who took part wanted all the republic's political parties to offer a referendum once the next government was formed.
Claire Brophy, a spokeswoman for the Abortion Rights Campaign, said the latest opinion polls "indicated a strong appetite to liberalise our abortion laws". She added: "Political parties can't hold off on a referendum for fear that a conversation needs to happen beforehand. It will happen when people know a referendum is coming, as happened with marriage equality."
The Irish Labour party, the junior partner in government with Fine Gael, has offered its support for a new referendum to repeal the 8th amendment. But a Labour minister in the coalition warned ahead of Saturday's March for Choice that it could take a decade before the Irish people are ready to dump the amendment and liberalise Ireland's abortion laws.
Minister of state Aodhán Ó Ríordáin said he believed a referendum on abortion would not be carried by the electorate at this stage. "If it happened in the morning, it would be lost, and it would be trounced and it would be 20 years before we can return to it," he told RTE radio. "But it'll happen, I would imagine, quite late towards the end of the [next] government, because we're nowhere near winning it."
Pro-choice groups in the republic say the 8th amendment creates a legal "chill factor" among medical teams even in cases affected by a law passed last year that allows for terminations in very limited circumstances. The Protection of Life During Pregnancy Act (2013) allows abortion when continuing with a pregnancy would result in the mother's death or in cases where the woman is suicidal. Despite this legislation, women who are victims of rape and in many cases suicidal are still refused abortions in Irish hospitals.
Last year, a young asylum seeker who had been raped in her native country was refused an abortion by the Irish health service even though she claimed she was suicidal. The woman tried to escape to Britain to get a termination in Liverpool, but was arrested and deported back to Ireland from the ferry terminal by Merseyside police because she had no personal documentation with her.
The woman was forced to go ahead with the pregnancy and gave birth via caesarean section in Ireland. The child was given up for adoption. It is understood the woman's legal team are to sue the Irish state for forcing her to go to full term against her will.
http://www.theguardian.com/world/2015/sep/26/irish-marchers-referendum-legalising-abortion
------
For A Teen Aspiring To Be President, Being Muslim Is a Hurdle in Post-9/11 America
Saturday 26 September 2015
Aya Beydoun wants to be president of the United States. On paper, the 17-year-old already is not an implausible future occupant of the White House.
She's an ambitious, articulate, near straight-A student, planning to use a college law degree as a stepping stone to politics. She already chairs her high school politics club.
Her problem – at least according to Ben Carson, one of the leading presidential candidates in the current Republican field – would be that she is Muslim.
Aya's voice quivers when she mentions Carson, a former paediatric neurosurgeon who studied at the University of Michigan just a few miles from her home.
The teenager was at home last Sunday, watching the TV with her mother, Wanda, whose parents came to America fleeing the Lebanese civil war in 1970, when the pair heard Carson's incendiary remarks.
In his trademark quiet, civil voice, Carson, who is currently trailing only Donald Trump in the Republican polls, said on NBC News on Sunday that Islam is incompatible with the US constitution and he "would not advocate that we put a Muslim in charge of this nation".
Beydoun said: "I see a lot of awful things in the media; people dying, discrimination, politicians being disgusting, but this really hit home because that was me he was talking about."
"I'm educated enough to know that what he's saying is absolutely against the constitution, but what about all the kids in my area who don't know that? Now they're going to think that maybe they have to lie or keep their religion a secret, maybe they can never fulfil their dreams."
Post-9/11 demonisation hasn't slowed
Carson's comments did not emerge from a vacuum. They marked just the latest example of an increasing tolerance for Islamophobia in the Republican presidential race, as views historically associated with the Tea Party fringe have been thrust to the mainstream.
Just days earlier, at a rally in New Hampshire, for example, Trump declined to challenge a questioner who claimed Muslims had created secret training camps in America and added: "When can we get rid of them?"
"We are going to be looking at a lot of different things," Trump replied.
Others in the Republican field distanced themselves from Carson and Trump, but only grudgingly.
For Muslim Americans who have lived through 14 years of post-9/11 demonisation, the remarks were salt in an already open sore.
Dearborn, Aya Beydoun's hometown, has grown accustomed to a pervasive climate of Islamophobia. The small Detroit suburb has a population of 96,000, a third of whom are Arab Americans.
Many are descended from workers who migrated to the city to work in the automotive industry in the early twentieth century. Others, like Beydoun's family, arrived fleeing war, including Republican president George W Bush's invasion of Iraq.
The suburb, home to the largest mosque in North America, provides a window into how radically the relationship between Muslims and Republicans has changed in recent years.
Like the majority of Dearborn's resident's, Beydoun's mother, Wanda, 46, voted for Bush in the 2000 election, attracted to the GOP's appeal to family conservatism.
Bush took the city with 54% of the vote that year. Four years later, after the 9/11 attacks, the Patriot Act, and start of the Iraq war, Bush lost vast swathes of the Muslim vote.
In 2004, following the invasion of Iraq and the imposition of the Patriot Act he lost it in a 14% swing to the Democrats.
Still today, Bush remains the only sitting president – of either party – to have visited a Mosque on American soil. Meanwhile Dearborn, due to its large Muslim population, has become the bête noire of Christian and conservatives radicals, caricatured as a city living under Sharia law or a hotbed of terrorist activity. Neither is even close to being true.
In La Shish, the beloved local halal restaurant where Wanda Beydoun has worked a minimum wage managing job for 16 years, these stereotypes are a source of amusement.
The outside is decorated with giant pumpkins in preparation for Halloween, as lofty stars and stripes flutter in the wind. The premises next-door is a strip bar.
Ahmed Mohamed is tired, excited to meet Obama – and wants his clock back
A newspaper stand outside offers free copies of the Arab American News, which leads with a headline "Time For Tolerance – The Clock That Changed The Narrative", and a beaming photograph of Ahmed Mohamed, the Sudanese-American 14-year-old who was the other major controversy in news of Islamophobia this month.
Mohamed, from Irving, Texas, was arrested last week on suspicion of creating a bomb after he brought a clock to school to show his teacher. His case has come to embody the pervasive discrimination faced by many young American Muslims; in an act of conciliation he was invited by Obama to visit the White House.
Muslims, like African Americans and Latino communities, increasingly feel drawn toward Democrats – and away from Republicans.
"It was a big mistake," Wanda Beydoun said of her vote for Bush in 2000. She said the city was more tolerant toward Muslims back in the 1970s. "People used to ask where I came from, what the food was like. They accepted us for who we were," she said. "Today, unfortunately, they don't."
A few miles down the road, there is a sign on the front door of the offices used by Fatina Abdrabboh, president of the Michigan chapter of the American-Arab Anti-Discrimination Committee? It warns visitors no recording devices are allowed into the building without written permission.
"There's a chilling effect here," she says, alluding to a fear the building itself might be under surveillance. "The community feels profiled for sure."
Per capita, Dearborn has the highest number of citizens on the federal government's terrorism watch list, according to leaked FBI documents reported last year. An analysis of FBI flight data in August revealed that a plane linked to counter terrorism operations flew over the city seven times in a single week. The FBI provided no public explanation for the flights.
The agency has never felt that it has much to apologise for in the wake of its post 9/11 focus on domestic intelligence, which is solidly focused on Muslim communities.
The FBI even used to teach counterterrorism agents that Islam itself, rather than terrorism in the name of a distorted and radical interpretation of the religion, was the fundamental problem confronting US domestic security.
Seven states have now passed bans on Islamic law after activist-led campaigns convinced non-Muslims that an unfamiliar religious code represented a threat. (A federal appeals court nullified Oklahoma's ban in 2013.)
Abdrabboh's work in Dearborn and the surrounding areas is focused on the everyday racism her clients face. There is, for example, the case of a 34-year-old local woman forced to remove her headscarf by male police officers following an alleged minor traffic infraction, a 10-year-old elementary school student in a nearby suburb who is bullied everyday by his classmates labelling him an Isis terrorist, or the group of East Michigan college students arrested after they peacefully protested a campus screening of the controversial blockbuster American Sniper.
Yet even these low-level experiences are connected to the broader national discourse, she said.
"There's no day without a call," she says. "We bear the brunt of it, when a presidential candidate says something like Carson on international television. We see direct increase in cases; where suddenly the guy being mistreated at the factory, has a supervisor who's a bigot and becomes emboldened to treat his supervisee even worse, because Ben Carson's saying it, right?"
Following the 9/11 attacks, reported occurrences of anti-Muslim hate crimes skyrocketed 1,600% according to FBI statistics. The rate has since levelled off, but remains over three times higher than it did before 2001.
Meanwhile, the Obama administration's approach to Muslim communities, while markedly different to the approach advocated by Republican adversaries, is often met with disappointment and frustration from many American Muslim leaders.
The White House's "Countering Violent Extremism" initiative has sought to move domestic counterterrorism away from a focus on Muslims, emphasising dialogue with unspecified "local communities". Obama himself declines to use the phrase "Islam" or "Islamic" in reference to terrorist or jihadist groups, such as Isis.
But some Muslim groups argue the cautious language is a fig leaf for continuing to approach their communities primarily through law enforcement and homeland security.
There remains, among many Muslims, a sense of besiegement, and a growing frustration at perceived legal double standards. North Carolina authorities did not treat the February slaying of three young Muslims in Chapel Hill as motivated by bigotry. In July, a judge permitted bail for a Tennessee man on trial for plotting to firebomb a New York Muslim community.
Despite all this, leading voices in the American Muslim community remain optimistic.
One of the most prominent, Feisal Abdul Rauf, was embroiled in a firestorm of controversy five years ago after he became involved in the planned launch of an Islamic cultural centre blocks from the World Trade Centre site, which critics called the "Ground Zero Mosque".
Time magazine branded Rauf and his wife "the kind of Muslim leaders right-wing commentators fantasize about", while protesters said the proposed cultural building would be akin to building a shrine to Hitler at Auschwitz.
Yet Rauf insists his experience has been a positive one, and has been moved by the messages of support received over the years from Christians, Jews and atheists. In a telephone interview from Malaysia, where he is traveling, Rauf said "Americans don't buy" the anti-Muslim rhetoric propagated by politicians.
"They don't believe that Islam and Muslims are really a threat to their country," he said. "We Muslims have been the greatest victims of organisations like Isis and al-Qaida."
That much is clear in Dearborn where Beydoun, who turns 18 next year, is preparing to vote in her first presidential election. She will canvass with her politics club, knocking on doors in the city and reminding people to vote. Like any any good politician, she declines to say who she will vote for.
Excitedly, she recalls the middle school politics class that first got her hooked on the idea of government, elections and democracy. "I learned about how important everyone's vote is and just how special it is to live in a country where that is available to us," Beydoun said, her hands gesticulating like a future stateswoman.
http://www.theguardian.com/us-news/2015/sep/26/muslim-teen-president-america-islamophobia-911
-----
Harman to Corbyn: 'Sort Out' Jobs For Women
26 September 2015
By Jon Craig, Chief Political Correspondent, in Brighton
Harriet Harman has dramatically broken her silence over the election of Jeremy Corbyn as Labour leader by condemning his failure to appoint women to top jobs.
The party's former acting leader, who stayed scrupulously neutral during the leadership contest, hit out at the "clean sweep of men" in senior positions and called on the party to "sort it out".
Although the Shadow Cabinet has 16 women and 15 men, Mr Corbyn has been attacked for failing to appoint women to top jobs like shadow chancellor, which went to his closest ally John McDonnell, and shadow home secretary, given to leadership runner-up Andy Burnham.
The Labour leader responded to the criticism – in what was seen as a panic move – by handing Shadow Business Secretary Angela Eagle the title of Shadow First Secretary of State and announcing she would deputise for him at Prime Minister's Questions.
Sky's Political Reporter Darren McCaffrey revealed how one of Mr Corbyn's aides had advised him: "We are taking a fair amount of **** out there about women" as he carved out his shadow cabinet.
The aide said: "We need to do a Mandelson. Let's make Angela shadow first minister of state. Like Mandelson was. She can cover PMQs. Tom (Watson) knows about this. Do the Angela bit now."
Speaking at Labour's women's conference in Brighton, on the eve of the party's main conference, Ms Harman said: "Let's never forget that women in this country are looking to us, to Labour women to continue to speak up as the voice of women in our democracy and we must do that with courage and determination.
"And when I say Labour women - I mean Labour women, not Labour men. Though we've made great strides, evidently we still have further to go to reach equality in our party.
"Now, we have a male leader, male deputy leader, male London mayoral candidate and male general secretary. These were all separate elections so it's not any of their fault - but we can't leave it as a clean sweep of men.
"We've got to sort it out so that we have women's leadership at the top of the party - and that must include women who are chosen by and accountable to us women in the party.
"Women who are strong enough to fight for women because they are elected - as well as those who are appointed by the male leadership."
Mr Corbyn addressed the women's conference, praising Ms Harman for stepping in as acting leader. He did not directly respond to her criticism, but defended the make-up of his shadow cabinet.
A spokesman for the Labour leader earlier had said: "Jeremy wants to work with women, the party and the NEC to continue to improve representation of women across the party."
The London mayoral candidate is Sadiq Khan, who defeated one of Labour's most senior women, Tessa Jowell, to win the selection.
And the party's general secretary is Iain McNicol. The only time the party has elected a women general secretary was under Tony Blair when Margaret McDonagh took on the job in 1998.
Mr Burnham replaced Yvette Cooper as shadow home secretary and now finds himself shadowing long-serving Tory Home Secretary Theresa May, the Conservatives' most senior woman minister.
Conservative MPs also gleefully point out their party elected the first woman party leader, Margaret Thatcher, in 1975.
Across the UK, the Scottish National Party is led by Nicola Sturgeon and the leaders of the Scottish Labour and Conservative parties are also women.
The Green Party is led by a woman, Natalie Bennett, and Arlene Foster is tipped to be the next First Minister of Northern Ireland.
Meanwhile, also speaking at the women's conference, Ms Cooper called on Labour to take action against sexist abuse, warning that a "culture of abuse and harassment" was "growing again".
"Unless misogyny on the internet is challenged, more women's voices will be silenced, and more women will be oppressed or feel prevented from speaking out just as if we'd gone back to the Victorian age," she said.
http://news.sky.com/story/1559385/harman-to-corbyn-sort-out-jobs-for-women
--------
URL: https://www.newageislam.com/islam,-women-and-feminism/new-age-islam-news-bureau/india--woman-author-barred-from-sharing-stage-with-swamiji-on-her-own-book-launch/d/104725