New Age Islam News Bureau
10 Aug 2015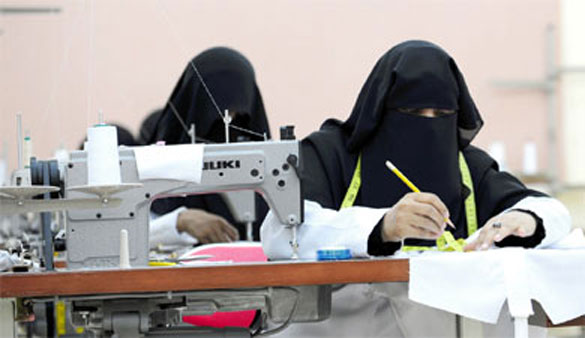 Saudi seamstresses work at a factory in the Red Sea city of Jeddah. Photographer: Omar Salem/AFP/Getty Images
-------
• First Woman Licensed To Perform Muslim Marriages In Palestine
• Muslim Woman Tells Melbourne Islamophobia Forum 'Racism Hurts'
• Dr Ruveda Salam is Jammu & Kashmir's First Muslim IPS Officer
• Pak Woman Returns to Dad, Seeks Indian Citizenship
• Play about Young Female Muslim Boxers Comes To Birmingham Rep
• Saudi Arabian Women Receive Online Learning Techniques From U.S.
• Courageous Yazidi Women Speak Out After Escaping Violence in Iraq
• Saudi Women Are Joining the Workforce in Record Numbers
• ISIS Kidnaps 230 Christian and Muslim Men, Women and Children after Storming Syrian Town amid Fears They Are Destined For Sexual Slavery or Mass Execution
• Women's Rights in Iran: Two Steps Back, One Step Forward
• 10 Things about Muslim Girls in Nigeria You Probably Did Not Know
• Women's Parliamentary Caucus Perturbed over Child Abuse Scandal in Pakistan
Compiled by New Age Islam News Bureau
URL: https://www.newageislam.com/islam,-women-and-feminism/new-age-islam-news-bureau/india-s-muslim-women-fight-to-end-triple-talaq-law-that-yields-instant-divorce/d/104228
-----------
India's Muslim Women Fight To End Triple Talaq Law That Yields Instant Divorce
10 August 2015
Every time Nishat Hussain gets into a fight with religious leaders about women's rights under Islam, she hits the same wall. They say the rules governing women are sanctioned by scripture and therefore cannot be altered. She says they are sanctioned by custom and most certainly can be.
Hussain finds this divide most frustrating when she is defending divorced women who come to her office near the overcrowded ironmonger's bazaar in Jaipur. These women have experienced triple Talaq, under which a Muslim man can repeat the word "Talaq" three times and his wife stands divorced. No questions, no reasons. All objections overruled.
On an overcast but muggy day, with the endless honking and hum of the pink city's insanely congested roads in the background, Rani Khan, 25, sits in Hussain's office with her daughter, Zainab, four, on her lap.
For years, she claims, her unemployed husband demanded that she get money from her parents to finance his drinking. "He used to threaten to kill Zeinab if I refused," claimed Khan.
"Then one day, he shouted Talaq three times and forced me out of the house." She now lives with her father, who is paralysed, her mother, six sisters and Zeinab, making a living from fabric painting.
When desperate women like Khan rush to local clerics for justice, they are told that instant divorce is permitted under Islamic law. Their next port of call is the office of the Muslim women's rights group the Bharatiya Muslim Mahila Andolan (Indian Muslim women's welfare movement or BMMA). Hussain heads the Jaipur office and is well known locally for her work with poor, vulnerable women and efforts to reform aspects of Islam.
Since it was set up in 2007, the BMMA has been campaigning for a ban on triple talaq, calling it a travesty of divorce as envisaged in the Qur'an, where the word has to be pronounced on three separate occasions spread over three months and must be accompanied by efforts at reconciliation.
Try telling that to men like Nooran Nisa's husband, who divorced her four months after their marriage. "All Muslim women are haunted by this word," Nisa said. "During fights, I used to argue back but if it got too heated, I stopped because I was frightened my husband might say talaq."
Nisa, 35, was never to hear those words, but after kicking her out of the house, her husband sent her a letter with talaq written in it three times, she claims.
When her husband threw Jahan Ara, 40, out of the house a year ago, after 15 years of marriage, he kept their three children. He has not yet divorced her. "I've inherited some property so that's why he hasn't divorced me. He's got his eyes on it," she claimed at the BMMA offices.
In India, which has a Muslim minority, Muslim men have sent triple talaq by text, email, Facebook, Skype and WhatsApp. The reasons vary from not liking the wife's dyed hair to her cooking.
At a civil court, Nisa was told by a judge that the instant divorce was valid as it was permitted to Muslim men under Muslim personal law, or the sharia.
Hussain and her colleagues across India have failed to persuade their community to ban triple talaq. But recently they received a boost: a government committee set up in 2013 to look into women's status has recommended that the government should outlaw it.
In its report (pdf), released last month, it says the custom "makes wives extremely vulnerable and insecure regarding their marital status".
The recommendation has been sent to the ministry of women and child development, which will hold consultations with civic and religious groups before a final decision is taken.
Hussain says that, had her husband been alive, he would have supported the ban. "He was a feminist. He totally supported my efforts to protect Muslim women against abuse," she said.
Muslim scholars such as Professor Tahir Mahmood, an internationally recognised expert on sharia law, will also support a ban. He recently told Scroll, an Indian news website,that "ignorance, obstinacy, blind belief in religion and morbid religiosity are undoubtedly the factors" responsible for triple talaq being allowed in India.
"Why should India be sticking to this seventh-century law?" he said.
The reason is because India does not have a uniform civil code that applies to all Indians. Instead, each religious community is allowed to have its own laws governing marriage and divorce and consequently Muslims are allowed to follow sharia.
A government ban on triple talaq will be opposed by clerics and conservative organisations, such as the powerful All India Muslim Personal Law Board. The board, aware of how women's lives are destroyed by triple talaq, is trying to impose restrictions on its use by suggesting that efforts at reconciliation must be mandatory. It is also toying with the idea of a heavy fine for men who indulge in it.
But spokesman Mohammed Abdul Rahim Qureshi said the board could not support a government ban. "For one, we don't want the government to interfere in matters of Muslim personal law and for another, triple talaq is permitted under the hadith [the prophet Muhammad's sayings]," he said.
That kind of remark makes Hussain, an otherwise calm, soft-spoken woman, furious. "For the women I see in my office – hardworking women, good wives and good mothers – this is just plain and simple cruelty."
http://www.theguardian.com/global-development/2015/aug/10/india-muslim-women-fight-triple-talaq-law-instant-divorce
-----------
First woman licensed to perform Muslim marriages in Palestine
August 09, 2015
Ramallah: Holding the young couple's identity cards in one hand and the Quran in the other, the Palestinian justice of the peace pronounces Thaer and Rawan man and wife. It's an everyday scene at the Islamic Shariah law court in the West Bank city of Ramallah except for one glaring difference — the justice is a woman, the first in the Palestinian territories licensed to perform Muslim marriages.
Wearing a long black robe decorated with the Palestinian flag and with a keffiyeh scarf draped over her shoulder, Tahrir Hamad, 33, is leading a quiet revolution in Palestinian society. On July 29, she became the first, and so far the only, woman appointed as a "mazouna" — a Muslim official authorized to carry out marriage and divorce.
Until now in the Arab world only Egypt and Abu Dhabi have appointed women to the post. The reason there are not more, she says smiling, is cultural rather than theological. "The only obstacle comes from our patriarchal society, because there is no religious or legal reason that prevents women from filling this post."
Her conviction has been forged during 10 years of Islamic studies, culminating in a master's degree in Islamic law. She explains it to couples planning their weddings so they can decide whether to let her officiate or use one of the four male justices at the Ramallah court.
In the week since she began, she has performed eight marriages and had two categorical refusals. One of those who objected, she says, "could not give a reason. He just said, 'I don't want a woman performing my marriage and that's it!'"
Such an attitude, she says, is the exception rather than the rule. "People come to get their wedding contract signed and leave when they have what they want. Whether the signature is that of a man or a woman is not a problem for them."
Some, like newlyweds Thaer and Rawan Schuman, are proud to have been married by a woman. Of Palestinian descent but living in the United States, they have come for the summer to marry in their ancestral homeland. "This is amazing. I'm totally defending the rights of women and this is great," says Rawan, 24. "It furthers the cause of women in Palestine."
Her Brazilian-born dentist husband Thaer, 26, is also enthusiastic. "The Palestinian people are smart people, respectful people, educated and it's a great thing that they are progressing and I support it," he said.
In the traditionally closed male world of the secular courts, three women have already made a breach and are serving as judges in civil law cases. In approving marriage contracts, Tahrir Hamad is also helping ensure the future rights of the bride.
The document prepared for Tayssir Hamad and Faten Al-Deik stipulates that after marriage the bride will continue her doctoral studies, then go to work.
Any decision to quit at a later stage will be bride Faten's alone, it states.
http://nation.com.pk/international/09-Aug-2015/first-woman-licensed-to-perform-muslim-marriages-in-palestine
-----------
Muslim woman tells Melbourne Islamophobia forum 'racism hurts'
By Karen Percy
Aug 10, 2015
Nasrin did not know Martin Place gunman Man Haron Monis but during December's deadly siege the Melbourne IT worker said she felt his actions personally.
"I was returning from work on the train — a lady started pushing me with her bag and she started yelling at me and telling me to go back to the Middle East. I didn't come from the Middle East," the petite and softly spoken mother of three said.
Nasrin is originally from Bangladesh, but has been in Australia since 1991.
She was attacked twice around that time and admitted she was "shaken inside" and lived in fear.
She would sit next to the emergency button on the train just in case she was attacked again.
"Racism hurts", she told a 200-strong crowd at a forum on Islamophobia in the Melbourne suburb of Coburg.
Nasrin wears a black veil that covers half of her face. She organised the awareness forum in part because of her personal experience, and because of the stories she heard of other Muslim women who have been attacked.
Incidents included having their scarves pulled off them, and in one case, a woman had coffee thrown on her.
"From a victim's point of view, Islamophobia is racism," Nasrin said.
"People can say Islam is not a race ... but from a victim's point of view this kind of abuse ... affects our lives, how we go on with our daily lives."
Melbourne's Muslim community is increasingly concerned about anti-Islamic sentiment.
Last month nationalist groups clashed with anti-racist groups in the CBD, some of them calling Islam an evil ideology.
Hatred was directed at Muslims in the town of Bendigo after the council there approved the building of a mosque.
The emergence of radicalised Muslim youths from Melbourne's suburbs also added to heightened suspicion and, in some cases, threats made against local Muslims.
'I can't remember a week without a story ... about Islam or Muslims'
The forum heard that for Muslims much of the national debate and several federal policies — including the war on terror, anti-terrorism legislation including a proposal to strip citizenship — seem to be directed against them, said Doctor Yassir Morsi from the International Centre for Muslim and non-Muslim Understanding at the University of South Australia.
"It's tied to the asylum seeker debates, tied to immigration debates, tied to what you might say is a sense of what it means to be Australian in a global world, so there's plenty of factors," he said.
He said scrutiny of Australian Muslims began in the wake of the September 11 attacks in the United States in 2001, but escalated in the media and in the political sphere.
"I can't really remember a week without there being story of something or other about Islam or Muslims and their threat," Dr Morsi said.
Nasrin is also concerned about "the media and politicians' publicity of the highly publicised raid cases".
"If you look at those raid cases, as soon as they are on the television, the news, that's when the Muslim women start to get attacked."
She hopes forums like the this one will generate better understanding.
"I'm not a scary person. I'm very friendly and if you have any questions, come to this type of event, ask the question and learn that we are just normal people like you," Nasrin said.
"There's nothing to be scared of, we can be friends."
http://www.abc.net.au/news/2015-08-09/muslim-woman-tells-melbourne-islamophobia-forum-racism-hurts/6684144
-----------
Dr Ruveda Salam is Jammu & Kashmir's First Muslim Woman IPS Officer
By Anu James
August 10, 2015
Dr Ruveda Salam, Jammu & Kashmir's first woman IPS officer, joins the growing list of women IAS, IPS officers in India such as Kerala's Assistant Superintendent of Police (ASP) Merin Joseph IPS and Telangana IAS officer Smita Sabharwal.
Hailing from Farkin, a remote village in Kupwara, Jammu & Kashmir, Salam is currently an Assistant Commissioner of Police (ACP) in Chennai.
Salam is also a doctor, having completed her studies from the Government Medical College in Srinagar.
After cracking the Kashmir Administrative Service (KAS) in 2009, Salam cleared the UPSC exam in 2013, becoming the first Muslim woman from Kashmir to do so. But she could not make in the interview, so she reappeared for the written exams next year.
She was ranked 878 in the recently annouced civil service exam results.
"Being a young ACP is a challenging role. It carries a lot of responsibility. I am in a state where people respect the police. When girls see me in uniform they look at me with admiration!," Salam told Reddit.
http://www.ibtimes.co.in/dr-ruveda-salam-jammu-kashmirs-first-muslim-woman-ips-officer-642316
-----------
Pak Woman Returns to Dad, Seeks Indian Citizenship
Nazar Abbas
Aug 10, 2015
RAMPUR: Unable to bear the humility of being abused by her relatives since her mother died in 2003, Bushra Khan, 26, has arrived in Rampur from Karachi to live with her biological father Shahrukh Allam, and would like to continue living as his daughter in India.
For that she has appealed to PM Narendra Modi and has also taken a petition to the Delhi high court, which on August 5 asked the external affairs ministry and the home ministry to take a decision within two weeks.
Bushra Khan told TOI, "I have no desire to return to Pakistan. For years, I have lived as an orphan there despite having my father here. I was treated like an animal, subjected to cruelty and harassment."
"When things got unbearable, I managed to get hold of my father's phone number. My family in Pakistan had all along told me that my father was a culprit, that he was villainous. That he had destroyed my mother's life," she said.
She arrived in India on May 18, 2014 and met her father for the first time then. Her parents had married in 1986. Two years later, complaining of domestic violence, her mother Mehraj returned to Pakistan.
Her father too said he had appealed to the National Human Rights Commission to intervene. "My daughter went into depression because of the abuse she faced. She is under treatment and visiting a neuropsychiatric," he said.
http://timesofindia.indiatimes.com/india/Pak-woman-returns-to-dad-seeks-Indian-citizenship/articleshow/48417407.cms
-----------
Play about young female Muslim boxers comes to Birmingham Rep
10 AUGUST 2015
A new play at Birmingham Rep hopes to be a knockout – as it's set in a boxing ring.
No Guts, No Heart, No Glory is about the expectations placed on young Muslim women and is devised in collaboration with former national boxing champion Ambreen Sadiq.
It comes to the Studio at the Rep from September 8-12 and is a powerful piece of theatre about young Muslim female boxers.
It's an immersive show – it's set in a boxing ring and the audience is right next to it, standing rather than seated.
There's a live electronic score, strong visual design and lighting and the energy of a club.
It was developed with the UK's first Muslim female boxer, 19-year-old Ambreen Sadiq, who became national champion at 16 on her second fight.
She says: "No-one really expects an Asian Muslim girl to walk out and get into the ring.
"My first fight was in Leeds, I was 15. I walked in and everyone was like, is that an Asian girl?
"I was trying to get into the ring and people were still saying, that's an Asian girl! They were checking their programmes.
"An Asian girl boxing is a huge thing in our culture, especially when you are Pakistani and a Muslim. It's seen as not very ladylike.
"I want to the point across that boxing is not just for boys. I want to inspire girls from all backgrounds to do what they dream of doing, whether that's boxing or not."
The play stars former British University boxing champion Saira Tabasum as herself.
Director Evie Manning says: "We started interviewing Muslim female boxers and were struck by their determination and passion for the sport, at how they had said 'I will be who I want to be and do what I want to do' and we thought this was a powerful message that spoke to all young women and young men."
Writer Aisha Zia says: "I wanted to write a play that made young Muslim girls feel included. No Guts, No Heart, No Glory is about ambition and belonging, but also fighting for the right to be heard."
http://www.birminghammail.co.uk/whats-on/play-young-female-muslim-boxers-9825413
-----------
Saudi Arabian Women Receive Online Learning Techniques From U.S.
August 9, 2015
by Jamaal Abdul-Alim
When Ahlam Al-Watban teaches botany as an assistant professor at King Saud University, she seeks to connect with her students by sharing her experiences and telling her personal story.
"What I try to do with my students is to inspire them, connect with them and serve as a role model for success," Al-Watban said. "I share with them my experiences and my story to get them excited about what they're studying and how they will apply this."
But as technology continues to reshape the higher education landscape, Al-Watban says there is an ongoing need for faculty in the Kingdom of Saudi Arabia to learn more about how to engage their students online.
"Students don't want to sit there and listen to a lecture. They're bored," Al-Watban said. "As faculty, we have all the IT support and tools, but we don't know how to use them.
"We're trying to make our students as highly educated as possible and we have the chance to raise the standards of our education so we can meet this goal," she said. "But we need to motivate other faculty to embrace new technologies that will make learning more active.
"This is what we're here to do."
By "here," Al-Watban is referring to the United States. She is one of several women faculty members from the Kingdom of Saudi Arabia who plan to spend the next year here participating in a year-long eLearning Pioneers Program. The program — being sponsored by the Ministry of Education in Saudi Arabia — comes by way of a partnership between The Open Education Consortium and the National Center for E-Learning and Distance Learning in Saudi Arabia.
It is meant to equip female faculty and university leaders with skills in online and blended learning. Forty faculty are in the program. They will spend their time in placements at the College of the Canyons, The University of New Hampshire, The University of Massachusetts, Tufts University, and the University of California, Irvine.
They will meet with faculty and instructional staff to learn more about the best ways to use technology to help students learn. They will also discuss institutional strategy, faculty development and student-centered pedagogy. The goals of the program are to teach participants to do things that range from applying tools and knowledge to reach personal professional development goals to informing colleagues about best practices in using technology for teaching and learning.
The program also seeks to have faculty evaluate e-learning tools, approaches and outcomes and to "contextualize skills and knowledge gained through the program for implementation in Saudi Arabian higher education."
"One of the important things about programs like this is the opportunity for people to get to know each other beyond the political impressions and stereotypes," said Manal Al-Dahash, eLearning Pioneers Program Manager for the National Center for eLearning and Distance Learning.
"When we interact and share experiences, we not only learn about the subject we're talking about, but we also learn about other people's perspectives and experiences," Al-Dahash said. "This helps everyone involved appreciate cultural differences."
ut there are often more similarities than differences.
"It's important as educators that we are open to new experiences and not just new information so we can understand how and why certain practices are applied," Al-Dahash said.
A program description says Saudi faculty will gain opportunities to incorporate U.S.-based pedagogy and strategies into their institutions to better educate the Saudi population of girls and women. Education is provided to males and females separately in Saudi Arabia.
Mary Lou Forward, executive director at the Open Education Consortium, said the program is more of an exchange of ideas than it is "training" in the classical sense.
"We aren't teaching Saudi faculty how to do eLearning, but rather examining the ways that eLearning can be employed to reach both instructional and institutional goals," Forward said. "Faculty and institutions in the US struggle with how to 'do' eLearning as educators do around the world.
"Collectively, though, we can share experiences and insights and refine educational approaches to ensure that education meets societal needs, whether in the U.S. or Saudi Arabia."
Program participants are keenly aware of the challenges that lie ahead.
During her time in the United States thus far, Mona Alkhattabi, assistant professor at the Computer and Information Sciences College at Al-Imam Muhammed Ibn Saud Islamic University and vice dean of E-Learning and Distance Education, said she noticed that higher education in Saudi Arabia and the United States faces many of the same challenges.
"Mainly in change resistance, students' attitudes and many other managerial issues," Alkhattabi said. "I hope that I could influence my colleagues to consider infusing technology to support their students' learning process. I also look forward to contribute in establishing a solid and sustainable managerial construction to enable and support good e-learning practices in my university."
Jamaal Abdul-Alim can be reached at dcwriter360@yahoo.com. Or you can follow him on Twitter @dcwriter360.
http://diverseeducation.com/article/76935/
-----------
Courageous Yazidi women speak out after escaping violence in Iraq
August 4, 2015
by Zena Itani
On August 3, last year, Basma's* home in Iraq's far northern Sinjar district was suddenly under attack. Her family hid inside the house for two days as members of ISIS rounded up families, killing men and taking women and girls captive.
The group already controlled large swaths of land in Syria and northwestern Iraq, and now was setting its sights on Sinjar.
As the armed men drew closer, Basma fled on foot with her three small children to the barren mountains of Sinjar. She was forced to leave behind her husband who had a broken leg.
Basma and thousands of others trekked up into the mountains for safety, but soon found themselves under siege with ISIS surrounding them below. Some 40,000 people were stranded.
"There was no food, no shelter, no water and no medical care," Basma recalls. "Children were starving to death. I saw others killed by bullets. My own children began to starve."
Last summer, ISIS launched a violent campaign in Sinjar against religious minorities including the Yazidi people, one of Iraq's oldest minorities. Since early 2014, more than 3 million Iraqis have fled ISIS violence and previous waves of conflict — a vicious cycle of war with no end in sight.
Many families fleeing violence have sought refuge in unfinished or abandoned buildings like this one in Duhok, northern Iraq. Photo: Sameer Saran/IRC
Basma and her children managed to find sanctuary in the Duhok governorate in northern Iraq, home to some 75,000 uprooted families. Soon afterward she was reunited with her husband who had managed to escape Sinjar.
Like many displaced people in Iraq, Basma's family lives in an unfinished building with no front walls to protect children from falling. There is no electricity or running water. Basma, her husband and their children must share the one-room space with four other Yazidi families; 46 adults and children crowd together to cook, eat, sleep, and play.
For Basma, what happened in Sinjar is not in the past — it is a daily reality. Months of trauma and stress took their toll, pushing her to attempt suicide by dousing herself with gasoline.
Basma's husband was able to stop her from killing herself. He immediately contacted the International Rescue Committee, which referred Basma to a women and girls' community center in Iraq where the IRC provides counseling, therapeutic group activities, legal support and other assistance to uprooted Iraqi and Syrian women and girls.
Suicide has also been common among Yazidi women whose lives were shattered after being kidnapped and sexually abused by ISIS.
Survivors of sexual violence including rape face social stigma, discrimination and even violent retribution from within their own community — especially if they became pregnant while in captivity. Women and girls may hide the brutalization they've faced and shun available services for fear of "tainting" their family's honor and social standing.
Women who escaped ISIS kidnapping
This Yazidi woman, who wished not to be named, arrived at the IRC-run Arbat camp in northern Iraq in early spring after enduring five months of abuse in ISIS captivity with other women. She was one of the lucky ones to be released. "I feel I am in a safe area now with my family and community here in this camp. But I have no hopes for the future," she said. Photo: Sameer Saran/IRC
The IRC hosts workshops and facilitates group sessions for women and girls who have been affected by the conflict, including Yazidi women who were held by ISIS. These safe spaces offer women an opportunity to share their experiences and discuss ways to cope with the ongoing challenges they face at home and in their communities. Healing from trauma ultimately helps them take a more active role in the community.
"I used to think my life was over," said one woman who took part in an IRC workshop. "Now I feel like there are things I can do for myself and for other women in my situation, and I will work to prove our rights."
An Iraqi woman works on a loom at an IRC women's center. Sewing classes provide job skills and bring together women who have fled violence for mutual support. Photo: Rachel Unkovic/IRC
Two IRC counseling teams based in Duhok travel to remote areas to make sure women who may be prevented from reaching the centers by distance or cultural barriers receive support.
The IRC also provides cash assistance to the most vulnerable women, and offers job skills and budget management training and professional mentoring to help them make ends meet far from home.
After several counseling sessions at the IRC women's center, Basma no longer feels suicidal. Although uncertain about her future, she hopes for the best.
"I have a good relationship with my husband and children. But I don't feel safe. Maybe we will leave Iraq so my children can get an education and have a better future."
*Names were omitted or changed protect the privacy of the women featured in the story
http://www.rescue.org/blog/courageous-yazidi-woman-speaks-out-after-escaping-violence-iraq
-----------
Saudi Women Are Joining the Workforce in Record Numbers
August 10, 2015
In Saudi Arabia, women still can't drive, yet they're entering the workforce in droves.
The number of employed Saudi women has surged by 48 percent since 2010, more than double the rate for men, according to the country's Central Department of Statistics and Information. The change is especially noticeable in the private sector, where women can now be seen in an abaya and head scarf working as supermarket cashiers or selling lingerie in a high-end shopping mall.
"It's a fascinating social phenomenon,'' said David Butter, Middle East analyst and an associate fellow at Chatham House in London.
In the decade leading up to his death earlier this year, the late King Abdullah set in motion policies that have improved the lives of Saudi women limited by the social and economic constraints imposed by the Wahhabi strain of Sunni Islam.
Under Abdullah, women were given equal voting rights in local elections and some were appointed for the first time to the country's 150-member advisory body. Universities have expanded areas of study available to female students, including law and architecture. Female graduates from Saudi universities made up 49.6 percent of the total in 2014.
audi Arabia still lags the majority of Middle East countries, themselves among the world's worst in terms of gender equality. Women make up only 16.4 percent of Saudis with jobs and account for 60.3 percent of the unemployed.
The pressure is on 79-year-old King Salman to build on his half-brother's legacy. Since ascending to the throne in January, he hasn't rolled back the changes -- though he also hasn't made any moves to improve the status of women either.
http://www.bloomberg.com/news/articles/2015-08-10/saudi-women-are-joining-the-workforce-in-record-numbers
-----------
ISIS kidnaps 230 Christian and Muslim men, women and children after storming Syrian town amid fears they are destined for sexual slavery or mass execution
7 August 2015
Islamic State militants have kidnapped 230 men, women and children in Syria sparking fears they are destined for sexual slavery or mass execution.
Jihadis seized the heavily populated town of Qaryatain - around 50 miles from the city of Homs - earlier this week after suicide bombers targeted army checkpoints at the entrance.
Around 230 Christians and Muslims, including 45 women and 19 children, have been kidnapped and hundreds others are missing, according to the Syrian Observatory for Human Rights.
The capture of the town in central Syria is the terror group's most significant advance since seizing the ancient city of Palmyra in May.
Following intense overnight fighting, the Assad loyalists were overwhelmed - allowing the terrorists to take full control of Qaryatain and prompting them to release a series of gloating images of militants posing with captured tanks on affiliated Facebook pages.
This morning, Rami Abdurrahman, founder and director of the human rights observatory, told MailOnline that 230 people had been held captive.
A separate report claimed about 150 Assyrian Christians were among those taken.
Diana Yaqco, a spokesman for A Demand for Action, a global initiative seeking protection for for Assyrians, Chaldeans, Syriacs and other ethnoreligious minorities in the Middle East - said sources had confirmed that about 300 families had managed to flee the area but about 150 people had been kidnapped.
She told MailOnline: 'The main concern is sexual slavery, mass executions and beheadings.'
ISIS is known for its brutal treatment of captives, including executing those who refuse who refuse to convert to Islam and using women as sex slaves.
In a statement, the Syrian Orthodox Archdiocese of Homs, Hama and Environs, the Christian church based in Homs, wrote: 'ISIS has attacked Alqaritin (sic) village and took control over it after killing some members in the Syrian Arab Army.
'ISIS also took captive all families and began negotiations to free some of them. About 200 Christian families were released and still 100 families are still held captive in the houses of the terrorist groups.
'We received the displaced families in our archdiocese headquarter and gave them the basic and essential needs because they went out of their houses without taking anything with them, neither clothes nor properties; so we are working on providing them clothing, housing and medication.'
Many Christians had sought refuge in Qaryatain after fleeing from the Aleppo province, in northern Syria.
The capture of Qaryatain allows ISIS to link up areas under its control in and around Palmyra with areas in the eastern countryside of Qalamoun in Damascus province.
Qaryatain had a pre-war population of 18,000, including Sunni Muslims and around 2,000 Syriac Catholics and Orthodox Christians.
According to a Syrian Christian who lives in Damascus but is originally from Qaryatain, the town's Christian population has dropped to only 300.
In May, masked men abducted Syrian priest Jacques Mourad from the Syriac Catholic Mar Elian monastery in Qaryatain.
Mourad, who was known to help both Christians and Muslims, was preparing aid for an influx of refugees from Palmyra.
http://www.dailymail.co.uk/news/article-3187700/ISIS-kidnap-230-Christian-Muslim-men-women-children-storming-Syrian-town-amid-fears-destined-sexual-slavery-mass-execution.html
-----------
Women's Rights In Iran: Two Steps Back, One Step Forward
Aug 10, 2015
Earlier this month, Refinery29 released a video series called "Tehran Unveiled," which seeks to inspire women all over the globe by introducing them to some of Iran's most creative, fearless, and dynamic female leaders.
We believe that part of that empowerment is education, not only about what women are doing in Iran now, but also about the country's history with respect to women's rights. In order to learn as much as possible, we reached out to Haleh Esfandiari, Ph.D., the founding director of the Middle East Program at the Woodrow Wilson International Center for Scholars in Washington, D.C.
Esfandiari was arrested and spent 105 days in solitary confinement in an Iranian prison for her activism. When she was released, she authored the memoir My Prison, My Home: One Woman's Story of Captivity in Iran. She served as deputy secretary general of the Women's Organization of Iran and has written several other books and many articles concerning gender equality, women's rights, and the women's revolution.
Dr. Esfandiari spoke with us about pre- and post-revolutionary Iran — about the progress women made for themselves, for their families, and for their country before Mahmoud Ahmadinejad's oppressive regime, and how women are working to continue that progress under the current president, Hassan Rouhani.
What does feminism mean for Iranian women?
"What feminism really means is equality under the law and trying to repeal all the existing discrimination in the law. That's why in 2006, a group of men and women got together and started the One Million Signatures movement to repeal all the discriminatory laws. If I want to put it in a nutshell, feminism has always meant equality under the law, among activist women and women who really are aware that they are living in a society which is discriminating against them."
Do you think the definition of feminism changes depending on which leader is in charge in Iran?
"Automatically. This is very natural. If you are a more conservative president and a more conservative government, then women's rights are pushed on the back burner and are not dealt with as much as people expect. But if you are progressive, if you have a reformist president or a centrist president like the current president, Rouhani — who is aware of the role that women's vote can play in his reelection, or play in his election to the presidency — of course they will try and improve women's rights.
Related: Meet Elahe, a Wushu fighter who, despite a life of poverty, has battled her way to multiple medals...though government restrictions on travel may keep her from realizing her Olympic dreams.
What are conditions currently like for women living in Iran?
"If we look at the last 36 years of history in the Islamic Republic, it has been mostly two steps back and one step forward.
"Currently, life for women in Iran is improving when it comes to social issues. It is improving when it comes to political appointment; for the first time, the Ministry of Foreign Affairs appointed a woman as a spokesperson. But Rouhani has not been able to free all the women activists who are in jail, except for one person who was sentenced to death. [She] was released because Rouhani pushed very hard for her release. There are still women activists, [including] members of the One Million Signatures movement, still in jail.
"We are looking at a mixed bag when we look at the condition of women today in Iran. If Rouhani is elected for a second term, I'm sure he will push more for women's rights. But he hasn't been able to stop the number of executions both for men and women since he came to power."
Tell us more about the One Million Signatures movement.
"The movement to collect one million signatures was part of the general women's movement in Iran...Over the last 75 to 80 years, there has been an active women's movement in Iran. It reached its peak in the decade before the revolution, where progressive family law was passed, where the age of marriage for girls was raised to 18, where women got the right to go and seek a divorce, where family courts were set up to look into family disputes, where women got equal access to education and employment.
"Those were the conditions before the revolution. After the revolution, one of the first decisions of the revolutionary government was to suspend the family-protection law. As a result, the age of marriage was reduced for girls to nine, and it took 10 years to raise it back up to 13.
"Women no longer have the right to go and seek a divorce. If they go to court, it is, at the end of the day, the judge who will decide whether the woman can get her divorce or not. Usually, the judge issues...[in favor of] the man. The man has the unilateral right to divorce his wife; child custody is given after a certain age to the father.
IT'S A MODERN SOCIETY, BUT IT'S ALSO A TRADITIONAL SOCIETY WHERE THE APPROACH IS THAT THE BREADWINNER SHOULD BE A MAN.
HALEH ESFANDIARI, WOODROW WILSON INTERNATIONAL CENTER
"Today in Iran, there is equal access to education for women, so that's why over 63% of students entering classes at university are women. But education does not lead necessarily to employment, and unemployment is very high among the younger generation in Iran. The rate of unemployment among young women, women who graduated from university, is more than among men.
"If you look at it, it's a modern society, but it's also a traditional society where the approach is that the breadwinner should be a man. But now, young couples look for jobs — both of them — because no young family can just live with one breadwinner."
Would you say, taking into account the progress that was made before Ahmadinejad was elected, that we've gone backwards or forwards?
"It's very difficult to say if we've gone backwards or forwards. The point I'm making is that Iran is a very vibrant society, and the women have been at the forefront of change. No matter how much Ahmadinejad tried to push back women and to convince parliament to pass legislation that was harmful to women, women pushed back. Women were very active in stopping these laws. For example, the idea of barring women from certain fields of education was aborted because of the pressure that was brought in by women.
"It is a gradual change and a gradual progress. It's not leaps. It is step by step, but it can't be reversed, because the women won't allow it."
Do you think that the recent talks between the United States and Iran will have any impact on liberalization in Iran?
"I don't think it's just contact between Iran and the U.S. — it's the contact between Iran and the outside world that is instrumental in making these changes.
"You have a whole generation of young people who are very savvy when it comes to accessing the Internet. They tweet, they write blogs, they use Instagram, they take pictures, they email the pictures. So you have a country which is connected, a young generation of men and women who are aware of and make use of social media.
"If you arrest a woman activist, within a matter of minutes, you get the news not from one person but from many, many people. If there is an incident, let's say of stoning a woman, there is an outcry outside, because the news has been sent out. So the social media has been also instrumental and helpful to women's progress and change in Iran."
WOMEN HAVE BEEN AT THE FOREFRONT OF CHANGE. IT IS STEP BY STEP, BUT IT CAN'T BE REVERSED, BECAUSE THE WOMEN WON'T ALLOW IT.
HALEH ESFANDIARI, WOODROW WILSON INTERNATIONAL CENTER
What official roles do Iranian women occupy in the country's current government and political space?
"They definitely are active, because had women not voted in great numbers for President Rouhani, he wouldn't have been elected. The women's vote now in presidential elections is very important.
"Also, parties, whether they are conservative or centrist or reformist, feel that they have to have women candidates among the names they put up for parliamentary elections. There is a pressure on ministers to appoint at least one woman deputy minister, director, or general, and also a pressure on the president to make sure that each governor has an office of women's affairs.
"Women play a role, a political role, but how effective they are, we just don't know. Time will tell.
"But I think the women activists, the women who are part of the women's movement, are much more effective in pushing for reform and change than what the government tries to do. It is because of them that we see these changes in Iran."
What is the state of women's reproductive rights in Iran?
"Iran had one of the most successful birth-control programs in the whole world. They had managed to lower the birth rate to 2.2 [children per woman], but under Ahmadinejad, they cut off the funds to this program.
"But the reality on the ground is that families cannot afford to have too many children. The whole notion of having large families has changed in Iran, because of the level of education both among men and among women and also because there was free access to family planning.
"At this stage, they have not been able to reintroduce that law back, but I don't think it will affect the population growth, because both women and men know that it's not affordable."
ONE SHOULD GIVE THE CREDIT FOR CHANGE, AND ANY PROGRESS THAT WOMEN HAVE MADE, TO WOMEN. THEY FOUGHT BACK AGAINST MEASURES THAT WERE NOT IN FAVOR OF WOMEN'S RIGHTS.
HALEH ESFANDIARI, WOODROW WILSON INTERNATIONAL CENTER
If a woman wants to obtain birth control in Iran today, is she able to?
"She can go and buy it. In the past, she could get whatever she needed for free. Now she probably has to pay for it."
Can she have an abortion?
"Abortion was never free after the revolution in Iran. Abortion was never free, except in the case of the health of the mother, or if the fetus was not completely intact. But it wasn't as if you could just walk in and get an abortion in Iran. This was never part of the post-revolutionary law in Iran.
"What happened before the revolution was that they had removed the criminalization of abortion from the law. They never said abortion is legal, but by removing the criminalization of abortion in the law, it then automatically became legal. But after the revolution, this was reversed and never touched."
If you had to pinpoint one goal for the future of women in Iran, what would it be?
"What I would like to see change is an end to laws discriminating against women. What I would like to see is a progressive family law, and what I would like to see is much more freedom in social spheres. Also, just like we have equal access to education, I would like to see equal access to employment and equal access to political appointment, as well as more women in leadership positions.
"I think basically one should give the credit for change, and any progress that women have made, to women. They fought back every step of the way against any measure that was not in favor of women's rights."
Related: Meet an incredible Iranian designer who can't put her job on her résumé.
http://www.refinery29.com/2015/08/92009/womens-revolution-movement-iran
-----------
10 things about Muslim girls in Nigeria you probably did not know
07.08.2015
Here are some things about being a Muslim girl you did not know.
1. Pork/Alcohol
People sometimes find it very hard to believe that Muslims survive without pork/alcohol. Its easy, calm down. Pork/alcohol is not everything, you don't really need pork to be happy.
2. Showing off skin
No matter how hot it is, we never show skin and it is not weird. It is perfectly cool, trust me.
3. No vegetarian crap
No we eat everything (as long as it is halal), stop giving that weird look when you see us eating meat. I LOVE MEAT. MEAT IS THE BEST. I just only eat halal meat.
Related: 10 dumb things Muslims in Nigeria are tired of hearing
5. Arranged Marriages
Question: So you're totally gonna get an arranged marriage with some old dude you've never met right?
Me:*dumb laughter* Uh maybe?
However, In Islam, it's not always arranged marriage, you can actually like someone and bring that person home to meet with your parents. Before your parent can accept, a thorough research would be conducted in order to know the potential spouse.
6. Solat is everything
I get this weird looks when i leave to pray during meetings or when i abandon an interesting book to pray. Solat is really very important.
7. Jinns and supernaturals.
We don't walk under trees, go out after dark, or talk in the bathroom because that's when the jinn and Satan come out lol.
8. Mashaa Allah/ In shaa Allah/ Alhamdulillah/ Allahu Akbar
Don't be scared when you hear us drop this phrase, it is not a terrorist chant after all. Just words we like to interject in our daily conversations.
Alhamdulillah- Praise be to Allah
In Shaa Allah- By the grace of God/ If Allah wills
Allahu Akbar- God is Great
Read: 6 Hilarious things Muslims do which are completely wrong (only Muslims can relate)
9. Hijab
In fact, the term hijab means much more than the covering of the body, it encompasses modesty, honour and respect being bestowed to a woman. . Imagine a lady prime minister or a queen wearing a low-cut blouse or a miniskirt in an international conference! Can she command as much respect there as she would get if she were in a more modest attire?
10. Terrorism
Question: HOW DO YOU FEEL ABOUT 9/11?
Let me be sincere. If the crimes committed against Christians and Muslims in Borno seem senseless and inhuman to non-Muslims, they are even more egregious when viewed with this Muslim's eyes.
I have often heard it said that Muslims don't do enough to explain or condemn terrorism. But I resent the implication that I would have any idea what motivates terrorists simply because they call themselves Muslims. In fact, I don't consider them to be true Muslims. They have nothing to do with me or my religion as I understand it. So why should I have to explain them?
http://pulse.ng/religion/in-islam-10-things-about-muslim-girls-in-nigeria-you-probably-did-not-know-id4047550.html
-----------
Women's Parliamentary Caucus Perturbed over Child Abuse Scandal in Pakistan
August 10, 2015
Islamabad: The Secretary Women's Parliamentary Caucus, MNA Shaista Pervaiz Malik, has expressed her great concern over the child abuse scandal that has just erupted in the country. She urged the police and the Punjab government to investigate the issue and share the investigation report with the WPC at the earliest, as the members were deeply shocked and perturbed since news of this gory issue came out.
Shaista Pervaiz pledged personally as well as on behalf of the WPC, to pursue the matter and ensure that the culprits are given exemplary punishment. In addition, she said that the WPC will immediately examine the existing laws and policy, regarding child abuse and protection in order to identify any gaps that could be filled in through legislative measures, ensuring that there is no such event in future.
Shaista Pervaiz also emphasized the need to keep the identity of the victims confidential and to provide counseling to them as well as to their families, so that they can get over this trauma and be able to live their lives with dignity.
http://nation.com.pk/national/10-Aug-2015/women-s-parliamentary-caucus-perturbed-over-child-abuse-scandal
-----------
URL: https://www.newageislam.com/islam,-women-and-feminism/new-age-islam-news-bureau/india-s-muslim-women-fight-to-end-triple-talaq-law-that-yields-instant-divorce/d/104228