New Age Islam News Bureau
2 Nov 2017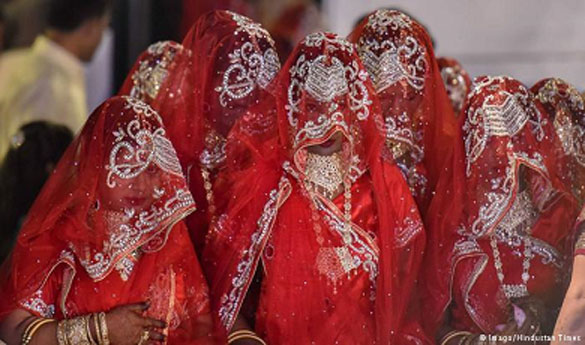 Photo: India's federal anti-terrorism agency, the National Investigation Agency (NIA), recently informed India's Supreme Court that it was scrutinizing 90 cases in the southern state of Kerala where Hindu women were allegedly lured or forced to convert to Islam and marry Muslim men over the last two years.
------
• India's 'love jihad'- Are women being recruited for 'Islamic State'?
• Inquiry rejects press claims about 'Christian' girl fostered by Muslims
• Rajasthan HC raises question on woman's conversion to Islam, interfaith marriage
• US woman posts anti-Muslim tweets after New York attack, gets banned by Uber, Lyft
• USAID engages communities in Balochistan to promote girls education
• 8 accused of torturing girl in Dera Ismail Khan remanded into police custody
• Woman gives birth to quadruplets
• Facebook, TOBB to train 5,000 female entrepreneurs in Turkey
• Hasina 30th on Forbes' Power Women list
• Stung by secularism, now defending it: A Muslim feminist worries about Erdogan's 'new Turkey'
• Iran: Women actively engage and lead protests across Iran
• Yemeni woman succeeds in resolving bloody tribal feud
• Top IOC official wants more UAE women in sport
• Iran: 8.5% upsurge in death rate of drug-addicted women
• More than 30% women in UAE nuclear energy industry
• Children of Emirati women can now participate in UAE sports events
• Ride-Hailing Apps Free Pakistani Women From Abuse, if They Can Pay
• Pakistani police arrest men for marching girl naked through village
• Iran: Women win medals, despite lack of government support
Compiled by New Age Islam News Bureau
URL: https://www.newageislam.com/islam-women-feminism/india-love-jihad-women-being/d/113106
--------
India's 'love jihad'- Are women being recruited for 'Islamic State'?
01.11.2017
India's federal anti-terrorism agency, the National Investigation Agency (NIA), recently informed India's Supreme Court that it was scrutinizing 90 cases in the southern state of Kerala where Hindu women were allegedly lured or forced to convert to Islam and marry Muslim men over the last two years.
The NIA also said it has a mandate to establish if there are organized groups preying on vulnerable Hindu women to recruit them as terrorists.
Read more: The thuggery of 'anti-Romeo' squads causes a stir in India
The NIA's action comes amid the high-profile case of 24-year-old Akhila Ashokan, who converted to Islam from Hinduism after marrying Shafin Jahan, a Muslim man, in December 2016. After she was married, she changed her name to Hadiya.
Hadiya's marriage was subsequently annulled, at the request her Hindu father, by the Kerala High Court. She was ordered to return to live with her parents, where she has been confined while her husband appeals against the annulment.
Now, her case has reached the top echelons of the Indian judiciary, sparking debates on jurisdiction and power of the courts in the personal lives of adults. Hadiya has been asked to appear personally and explain whether her conversion to Islam and marriage to Jahan was of her own volition.
Marriage as a terrorist threat?
"This move is nothing but a deliberate attempt to sow division and hatred for the sake of votes. This is a hate tool used by rabid Hindu right-wingers to polarize the two communities and spread falsehood and hatred," Fuad Halim from the Communist Party of India (Marxist), told DW. His party is in power in Kerala.
The NIA, on the other hand, believes it has found a pattern among young Hindu girls who are being brainwashed to convert to Islam and marry Muslims for other motives.
"This is nothing but psychological kidnapping. We have managed to get examples of similar cases of indoctrination and radicalization in Kerala," a top official of the NIA told DW, requesting anonymity as he was not authorized to speak.
Read more: India's top court blocks controversial Muslim 'triple talaq' divorce law
So far, the agency has recorded statements from two Hindu girls, who alleged they were lured into converting to Islam. One said she was influenced by a video of controversial Islamic preacher Zakir Naik. In both the cases, the NIA suspects the role of the radical Muslim outfit Popular Front of India (PFI) and its political arm, the Social Democratic Party of India (SDPI). India's home ministry is still mulling whether to ban it as an "unlawful association" or a "terrorist" outfit.
"We are probing the role played by the president of PFI's women's wing, the National Women's Front, who we think is mentoring these vulnerable girls," said the official.
The agency will need to find evidence that a religious conversion was taking place, with an eventual intent for terrorist training, in order for an investigation to stand up to judicial scrutiny.
What is 'love jihad?'
Right-wing Hindu organizations have called the trend of converting Hindu women to Islam, "love jihad." They allege that Muslim men trap Hindu women into marriage, forcing them to convert to Islam and then dumping them after they produce a number of children.
In the context of Kerala, they allege further that the girls are being sent to fight for the self-styled "Islamic State" (IS) group. The ruling Bharatiya Janata Party (BJP), which is seeking to gain a political foothold in the state, is also backing this claim.
The origins of term "love jihad" date back several years, when rumors of the trend began spreading in southern India. Quickly, however, it became clear that many of the women in question had converted to Islam voluntarily, but Hindu politicians have used the stories to incite fear.
Reactions have been diverse. While feminists and rights activists have expressed shock at this kind of branding, the BJP has been vocal in demanding that the state government cracks down on so-called "anti-social elements."
"I find this word love jihad so derogatory. One must understand that it is Hadiya's freedom to choose and her physical freedom has now been curtailed. She is effectively a prisoner at her father's house right now," writer and activist Sadia Dehlvi told DW.
"This is nothing but a political gimmick. The BJP is using fear of forced conversions to drum up support and create a further atmosphere of insecurity among Muslims," lawyer Seema Misra told DW.
Read more: Indian nurses return home from ISIS
Rising religious tension
The state BJP President Kummanem Rajasekheran tells DW that unless chief minister Pinaryai Vijayan acts tough, Hindu women in Kerala won't be "safe anymore."
Kerala has been in the eye of controversy since last year when a 21-member group mysteriously left their respective hometowns to join IS. The group included six women and three children and police say that three of the youth died fighting for IS in Afghanistan and Syria.
All eyes will be on the Supreme Court when Hadiya makes her appearance later this month to say whether her marriage occurred with her consent. Tensions between Muslims and Hindus are already rising in Kerala, and some fear rumors could lead to religious violence.
http://www.dw.com/en/indias-love-jihad-are-women-being-recruited-for-islamic-state/a-41196362
--------
Inquiry rejects press claims about 'Christian' girl fostered by Muslims
1 November 2017
Allegations made in the national press about a girl placed with Muslim foster carers have been roundly rejected in the findings of an official investigation seen by the Guardian.
In August, claims that the five-year-old, described as a "white Christian", had been left distressed after being placed in a Muslim household became the focus of a political and media furore. The allegations emerged from a family court case over the future of the child's custody.
But an investigation by a senior social worker at Tower Hamlets council did not find evidence to support any of the allegations, which were made by the child's mother and published in the Times in an article headlined: "Christian child forced into Muslim foster care." [paywall]
"Although the mother disputes the findings, the local authority is satisfied that at all times the foster carers provided warm and appropriate care to the child," a report on the investigation's findings says.
"The local authority has been impressed with the care and commitment shown by the carers to the child. This is reflected in the child's description and reaction to the carers and the MGM's [maternal grandmother's] positive relationship with them."
Among the allegations published in the Times were claims one of the foster carers wore a burqa, the child was banned from eating pork products and had her crucifix forcibly removed, all of which were said to have left the child distressed.
The document reveals that after the allegations were published in the Times, supervised conversations were held with the child and she wrote a letter to the judge involved in the court case in which "she expressed always being happy in the placement".
The child was placed in two Muslim households as a temporary measure, while her maternal grandmother, who was also Muslim, awaited approval for custody.
With regards to claims about burqas being worn, the investigation found the original foster carer, with whom the child spent the most time, wears a hijab – not a niqab or a burqa.
The child's second foster carer wears a burqa in public but not in her home and her husband is a white British Muslim, the report says.
Dealing with claims about the child's crucifix, the investigation found the child had two crucifixes, one of which was in the child's bedroom in the maternal grandmother's country of origin.
The other was a large gold piece of jewellery that belonged to the child's great grandmother, but the second foster carer was concerned its size and value was not appropriate for a child so returned it to the child's maternal grandmother, the report says. This was seen by the social worker at the grandmother's home.
Tower Hamlets found there had been no rejection of food brought for the child by the mother for religious reasons.
An allegation that the child was distressed as the foster carer spoke only in Arabic was found not to be correct, the report says.
The foster carer's first language is Arabic but her husband is white British, born in the UK, while her childrens' first language is English and that is the language of the home.
Claims the foster carer had made derogatory statements about European women to the child was not substantiated, the report says, adding the social worker found that the child did not know what Europe was.
The maternal grandmother was "distressed and angered" by the allegations against the foster carers which she said were "false and lies", the report adds.
"She has a good relationship with the carers and is grateful for the excellent care she says that they have provided to the child," it reads.
Previous court hearings on Monday also heard that the child was of dual nationality. She was christened but was not taken to church by her mother or anyone else, the court heard. Her maternal grandparents are Muslim and while they do not attend mosque, they do pray at home, the court was told.
The Times initially reported that, according to confidential local authority reports, a social services supervisor had described the child crying, asking not to be returned to one foster carer because "they don't speak English".
The report, seized on by far-right activists, included a pixelated photograph of the girl in the company of a woman – alleged to be her foster carer – wearing a black niqab or burqa.
The Daily Mail followed by putting the story on its front page under the headline "MPs' anger as Christian girl forced into Muslim foster care". It used a stock picture of a Muslim family to illustrate the story in print and online, but altered the image to cover the woman's face with a veil.
https://www.theguardian.com/society/2017/nov/01/inquiry-rejects-press-claims-about-christian-girl-fostered-by-muslims
--------
Rajasthan HC raises question on woman's conversion to Islam, interfaith marriage
Nov 01, 2017
The Rajasthan high court raised questions about a 22-year-old woman's conversion to Islam and her interfaith marriage before sending her to a government home for a week on Wednesday, a virtual re-run of a similar case in Kerala that sparked a nationwide controversy.
The high court asked the state government if there was any law or procedure in Rajasthan that governed religious conversions, and observed that people couldn't change their religions based on an affidavit.
The state currently doesn't have an anti-conversion law and has four days to respond to the court. The next date of hearing in the case is November 7.
"We are of the opinion that whether without any procedure or rule, a person can convert to another religion or not is not established and needs to be settled," a bench of justices Gopal Krishna Vyas and Manoj Kumar Garg said.
This case is likely to stoke a raging row over interfaith marriage and conversion.
In May this year, the Kerala high court annulled the marriage of 24-year-old Hadiya, earlier known as Akhila, to Shafin Jehan after her father alleged that her conversion was part of a larger racket to recruit terrorist operatives. The Supreme Court has raised questions about the high court order and has summoned Hadiya, a doctor, on November 27.
Activists have repeatedly alleged that Hadiya was being tortured at her father's home and that her fundamental right to religion was being violated.
The Rajasthan HC is hearing a petition filed by Chirag Singhvi, who alleges that his sister – Payal Singhvi who is now known as Aarifa – was converted to Islam under coercion and that her marriage papers are forged.
The court raised doubts about Aarifa's wedding to a Muslim man identified as Faiz Modi and said the documents she produced, including a nikahnama (Islamic marriage certificate), contradicted each other.
The HC felt an investigation was needed to ascertain the authenticity of the documents and forbade anyone from meeting Aarifa at the government home.
The bench also expressed anger over the "negligence" of the police, which allegedly refused to file an FIR on her family's complaint.
The bench questioned how police could assume the woman's conversion was legal "just by way of an affidavit over a stamp paper of Rs 10", when there was no provision in law in this regard.
"By this way, tomorrow, even I could address myself as Gopal Mohammad," justice Gopal Krishna Vyas said.
Aarifa told the court that she married Modi on April 14 and produced a nikahnama documenting her conversion and marriage. She appeared in a veil on Wednesday and told the court that she was present on her own will without any threat or inducement.
Police said Aarifa wrote to the police commissioner to say she converted to Islam and married a man of her choice. Police also told the court that she had attached a copy of her nikahnama with the letter.
But her brother's counsel argued religious conversion was impossible without a law. Chirag Singhvi's petition claimed Modi was harassing his sister and abducted her while she was going to college. He also said that Aarifa was with her family till October 25, while the marriage documents were issued in April.
http://www.hindustantimes.com/india-news/rajasthan-hc-questions-woman-s-conversion-to-islam-interfaith-marriage/story-AX1GpyvX1ZiA6xcmF792VO.html
--------
US woman posts anti-Muslim tweets after New York attack, gets banned by Uber, Lyft
Nov 02, 2017
A far-right activist, Laura Loomer, has been banned from ride-sharing services Uber and Lyft after her anti-Muslim tweets following the New York City attack that killed eight people.
Loomer released numerous posts on Twitter about Muslims on Tuesday and Wednesday, accusing passersby in hijabs of enjoying the attack in New York and complaining that taxi and ride-sharing companies hired extremists.
"Someone needs to create a non-Islamic form of @uber or @lyft because I never want to support another Islamic immigrant driver," tweeted Loomer, who briefly worked for the right-wing news site Rebel Media.
Loomer also posted a photo of women in hijabs, adding: "Muslims are out in full force at the scene of the NYC #ISIS attack today rubbing it in everyone's face. Aimlessly walking around in hijabs."
She also posted a video of what she said was a New York Times reporter who was Muslim. "Muslim @nytimes reporter dressed in a hijab laughs and refuses to disavow Islamic terror when asked by Laura Loomer. 'I work for NY Times.'"
"I'm late to the NYPD press conference because I couldn't find a non Muslim cab or @Uber @lyft driver for over 30 min!" she wrote in another Twitter post, referring to a Wednesday news conference about the attack in New York.
Sayfullo Saipov, the Uzbek immigrant suspected of plowing a truck into cyclists and pedestrians on a bike path, had been a driver for Uber, the company confirmed on Tuesday.
Saipov was charged in federal court on Wednesday with acting on behalf of the militant group Islamic State.
Loomer's comments about Muslims and Muslim drivers caused an uproar on the social media service.
By Wednesday evening, Uber, which Loomer had previously criticized as anti-Semitic, said she would not be able to use the service.
"Ms. Loomer was banned for violating our Community Guidelines," Uber spokesperson Matt Kallman said in an email.
Her Lyft account was also deactivated, said Scott Coriell, a spokesman for that ride-sharing service.
Loomer was quick to respond, again using the Twitter platform to say that Uber was trying to "ban a conservative journalist for addressing legitimate safety concerns."
She did not respond immediately to a request for further comment submitted through her Facebook page.
In June, Loomer disrupted a performance of Shakespeare's "Julius Caesar" because the character of the assassinated Roman dictator was costumed to resemble US President Donald Trump.
On Wednesday, after Loomer posted her tweets, she faced criticism from many users on Twitter.
http://www.hindustantimes.com/world-news/us-woman-posts-anti-muslim-tweets-after-new-york-attack-gets-banned-by-uber-lyft/story-MB3OxivX8OwTt2dbW3ghHK.html
--------
USAID engages communities in Balochistan to promote girls education
Nov 02, 2017
DERA ALLAH YAR: Teachers, parents, students and community members attended fun-filled activities here in district Jaffarabad as part of a community funfair hosted by the US Agency for International Development (USAID).
The daylong event was aimed at promoting girls' empowerment and fulfillment of their right to education while highlighting the American assistance for the people of Balochistan. USAID has helped improve access to education and retention of children in schools, especially girls, in remote areas across all the provinces.
Under a grant to the Women Development Community Organisation (WDCO) in Jaffarabad, four middle schools have been established for girls who were previously unable to continue their education due to lack of middle schools in their district.
WDCO Chief Executive Officer Hanif Rind reiterated that every child has the right to quality education and safe access to lifelong learning. "Through USAID's support we are now able to fulfill dreams of so many girls from Jaffarabad and surrounding local communities," he said.
The funfair featured various engaging activities for families, including tableaus, stand-up comedy, and cultural performances, puppet shows with a focus on children's education, all of which were thoroughly enjoyed by the community. The schoolchildren were particularly excited to participate in competitions including singing, drawing and poetry, which also aimed to serve as a confidence building exercise.
"I'm very excited to attend this funfair with my family and friends. I have never attended an activity like this before and it has taught me a lot of new things," said Farzana, a 12-year-old student of the Government Higher Secondary School of Jaffarabad. "Activities like this help our community better understand the rights of our daughters and the need to educate them," said Sakina Bibi, a mother of five daughters.
"We are thankful to USAID for supporting our people, especially through girls' education, which will ultimately benefit our whole society," said Sohail Anwar Hashmi, the deputy commissioner of Jaffarabad.
https://www.pakistantoday.com.pk/2017/11/02/usaid-engages-communities-in-balochistan-to-promote-girls-education/
--------
8 accused of torturing girl in Dera Ismail Khan remanded into police custody
November 01, 2017
Eight of the nine people suspected of torturing and illegally confining a teenage girl in Garahmat village of Daraban tehsil in Dera Ismail Khan have been remanded into police custody for three days.
The eight accused were presented on Wednesday before Judicial Magistrate Adam Khan who was informed that the police were still looking for one absconder.
They were handed over to the police on a three-day physical remand. Superintendent Police (SP) Saddar Ashfaq Khan is leading the inquiry committee conducting the investigations in the case.
Earlier, the girl's family had complained that no action had been taken against the Chaudwan police station SHO, accusing the official of supporting the suspects and registering a concocted case against three of its members.
A brother of the girl, Sajid Khan, formally requested the provincial police officer to order a high-level inquiry into the incident and take strict action against the SHO.
In an application, he alleged that Sajawal and other suspects seized his sister on Oct 27 morning when she, along with her three cousins, went to a local pond to fetch water. He accused them of stripping off her clothes before forcing her to run.
According to Sajid, his sister later took refuge in a nearby house but the suspects dragged her out, beat her up and kept her in illegal confinement. He alleged that the SHO first delayed the registration of the FIR and later booked his family members on the complaint of a female relative of the suspects.
The girl's family had initially insisted that the suspects had paraded her naked in the area on Oct 27.
They, however, retracted the statement on Monday, claiming that the girl was taken to the suspect's house, where nine people beat her up, tore her clothes and kept her in illegal confinement.
https://www.dawn.com/news/1367684/8-accused-of-torturing-girl-in-dera-ismail-khan-remanded-into-police-custody
--------
Woman gives birth to quadruplets
November 02, 2017
MIRPURKHAS - A woman gave birth to four children at a private hospital at Jhuddo town late Tuesday night.
However, later one of the new borns died while the other two were shifted to the special care unit of Civil Hospital in Mithi, district Tharparkar, due to weakness.
Vilayat Khatoon, wife of Jan Muhammad Samejo, was operated upon by lady doctor Yasmeen Shamshad Ali Khan.
Vilayat Khatoon belongs to village Pelaro, district Tharparkar. She has already three daughters and a son. However, after the birth , the mother and her new born babies were shifted to Civil Hospital in Mithi where one of them died while the other two were admitted to the Special Care Unit of the hospital.
http://nation.com.pk/02-Nov-2017/woman-gives-birth-to-quadruplets
--------
Hasina 30th on Forbes' Power Women list
November 02, 2017
In stark contrast to Aung San Suu Kyi of Myanmar, the "lady of Dhaka" has promised aid to Rohingya Muslim refugees fleeing Myanmar, allotting 2,000 acres of land in Bangladesh for the refugees, Forbes said on its website.
Citing Bangladesh's own state sanctioned genocide during 1971's Liberation War, Hasina is "proud to bear the bulk of the cost" of the relocation of these refugees to her country. This includes issuing identification cards and providing childhood immunizations, it added.
German Chancellor Angela Merkel retained the top spot followed by an unexpected newcomer, UK Prime Minister Theresa May (No 2), who is leading her country through Brexit, a historic, complex and transformative time for the country and the European Union. May is followed by Melinda Gates, co-chair of the Bill & Melinda Gates Foundation, who, along with her husband Bill, has distributed more than $40 billion in grants to date and supports organisations in over 100 countries, says a report in this regard by Forbes.
Facebook COO Sheryl Sandberg (No 4) and GM CEO Mary Barra (No 5) round out the top five.
The survey features 100 women from 29 countries who represent sectors such as politics, business, technology and philanthropy.
In the survey Forbes used four metrics: money (either net worth, company revenues, assets, or GDP); media presence; spheres of influence; and impact, analysed both within the context of each woman's field (media, technology, business, philanthropy/NGOs, politics, and finance) and outside of it.
http://www.thedailystar.net/politics/sheikh-hasina-ranks-30th-forbes-2017-power-women-list-rohingya-muslim-refugee-crisis-1485304
--------
Stung by secularism, now defending it: A Muslim feminist worries about Erdogan's 'new Turkey'
Nov 01, 2017
It's best not to put Berrin Sonmez in a box. At 57, she is a vivid portrait of the nuances of life in Turkey — she's a practising Muslim, a feminist, an activist and a former academic.
Sonmez was a teenager in a family indicative of Turkey's secular-religious mix, but her faith deepened in high school. She said she "stopped wearing miniskirts and T-shirts" not because of any external pressure, but because it strengthened her connection to God.
But she was forced to remove her headscarf as an adult, while pursuing an academic career. At the time, secularism was taking a more intense turn in Turkey. She vowed to cover again when she retired.
Sonmez found feminism, she said, while helping a friend who was struggling with a dishonest, difficult husband.
The timeline of her evolution — and Turkey's — offers an education in the perils of denying diversity.
Most of Turkey's 80 million people identify as Muslim, but within that there are different denominations and beliefs, and different ways of practising the religion. (Turkey is also home to a small minority of Christians and Jews.)
Sonmez worries the conservative government of Recep Tayyip Erdogan — which women like her helped elect — is abusing its power, ignoring women's issues and forcing its version of Islam on a country with a diverse set of Muslim beliefs.
"It's about shaping a new Turkey," she said, referring to Erdogan's plans. But instead of fixing a fractured system, she said, instead of "changing the state, changing the bureaucracy, [Erdogan] saw that he could control them."
A complicated history
From its inception, Turkey and its people have been controlled from a power on high. In 1923, Mustafa Kemal Ataturk created the Republic of Turkey. After the end of nearly 800 years of Ottoman rule, the revered general made radical changes to modernize his country, and quickly.
The fez and religious garments were banned everywhere, replaced with Western clothing and hats. Turkey's language changed, too. Arabic script was out and from then on, Turkish would be written in the Roman alphabet.
Ataturk also commissioned, for the first time, a Turkish translation of the Koran. He wanted his people to fully understand their faith. But he would officially separate mosque and state.
For many, Ataturk's sharp shift to secularism in a volatile region with competing religious sects was essential, a revolutionary move that made Turkey a model for other Muslim-majority countries, said Gulsun Kaya, vice-president of Cagdas Yasam Destek Dernegi, a group that promotes Ataturk's values and secular education, awarding scholarships to Turkish children.
"Everyone could practise their faith, but secularism was at the forefront," said Kaya. "That's gone now."
But Sonmez sees flaws in that system.
"Ataturk's biggest accomplishment was winning independence for this country," she said, and she respects him for that. "But drawing the path to that independence with an extreme, top-down pressure to modernize and to make it happen quickly created some fractures."
In Quebec today, it is called religious neutrality. In Turkey, it's secularism or laicisim, a word that has French roots.
For years, and particularly in the 1980s and '90s, more openly religious Turks were marginalized in the name of preserving that secularism. There was an outright ban on headscarves in public office and in universities.
For Sonmez, that meant removing her headscarf to work at a university in the 1980s. She was eventually fired, she said, because she refused to fall in line with the politics of the time. "Our universities have never been free," she added.
President Erdogan himself was jailed, back when he was the mayor of Istanbul, after reading what some believed was a provocative religious poem in public in 1997.
As president, Erdogan promised to create a more democratic, more inclusive Turkey, and Sonmez and other women who wore their religious beliefs openly helped elect him. But after a few years in office, Erdogan made his own sharp shift.
Sunny ways with an edge: Turkey's Meral Aksener prepares to take on Erdogan
Sonmez genuinely believed Erdogan's changes "would not be about revenge" against the secular system. But she feels Erdogan and his AK Party are now ostracizing less religious Turks, and that piety is becoming increasingly political.
She believes that growing a beard or covering one's head is being used by some Turks to ingratiate themselves to the government.
"This is our serious problem now," she said. "We've turned into a society that tries to squash anyone who falls out of step with the ideology of the ones in power."
Reading, writing, jihad
Sonmez believes Erdogan is trying to engineer a more religious population. She and other parents are frightened, for example, by changes to Turkey's school curriculum.
This year, the education ministry announced plans to overhaul what Turkish students learn. Among the most controversial changes would be pulling the theory of evolution from the curriculum and adding the concept of jihad. In the West, the word is often associated with holy war, but that is only one of its meanings. Many Muslims believe, in its truest essence, jihad refers to a "struggle," an internal spiritual fight a believer wages on the path to becoming a better Muslim.
The number of state-funded religious schools — imam hatip schools — is also increasing. In some areas of Turkey, they are replacing public, secular schools entirely.
The government isn't "opening these schools for nothing," Sonmez said. "Children go to the closest school [in their neighbourhood] and the closest school is going to be an imam hatip."
"It's all of the fears, all of the worries people have, realized," she said.
Ministry officials did not agree to an interview with CBC. Instead, the ministry provided a link to a September speech in Ankara by Under Secretary Yusuf Tekin to students who've won government scholarships to study abroad.
Tekin did not address curriculum concerns, but he offered an indication of the government's position on the country's direction. Tekin expressed concern about "an excessive mimicking" of Western values in the past.
"Turkey is not the old Turkey," he said. "You are the missionaries representing the world's Muslims."
The goal, he said, was "serving our country and solving our country's problems to the best of our abilities."
Beyond that, "who said what, or how they criticized us or what they think is not really that important."
In an atmosphere that discourages dissent, many Turks are fighting back. Protests and rallies are a constant.
The next two years and the election expected in 2019 will be crucial to determining whether Turkey's diverse group of Muslims and other religions can continue to coexist.
"For so many years, we've been living on a knife's edge," Sonmez said. "2019 will be the end of that knife."
http://www.cbc.ca/news/world/stung-by-secularism-now-defending-it-a-muslim-feminist-worries-about-erdogan-s-new-turkey-1.4378607
--------
Iran: Women actively engage and lead protests across Iran
31 October 2017
Women have actively participated and played leading roles in numerous protests and anti-government gatherings across Iran on October 29 and 30, 2017, against state-backed institutes that have plundered people's savings and deposits.
People plundered by Alborz-e Iranian (Arman) and Padideh institutes gathered on October 30, 2017, in front of the United Nations Office in Tehran. They denounced the government's treachery, lies and oppression in their chants.
Plundered clients of Arman-e Vahdat institute also held a gathering in front of the Governor's Office of Khuzistan Province in Ahwaz, southwestern Iran, and demanded their deposits. The protesters pounded on drums and vowed to continue these protests until they receive their money.
On the same day, a group of retired government employees gathered in front of the Planning and Budget Organization in Tehran upon a previous call issued on the internet which mentioned that the protest gathering starts on October 30 and will continue to November 2, 2017.
In their chants, the retirees lamented about the high cost of life and the absence of justice in the country. They also reiterated their solidarity in the face of hollow promises given to them for years.
Another protest gathering was also staged in the northern Iranian city of Langroud on October 29, 2017, where nurses and staff of Amini Hospital demanded their unpaid fees for one year. Gilan's nurses have not received their fees for one year.
http://women.ncr-iran.org/iran-women-news/4453-iran-women-actively-engage-and-lead-protests-across-iran
--------
Yemeni woman succeeds in resolving bloody tribal feud
Nov 02, 2017
A Yemeni activist succeeded in resolving a blood feud between two tribes that lasted 11 years that left more than 60 people dead and 130 injured, including women and children.
The feud was ongoing despite the interference of the government, the locals, tribal and social contacts.
"This ongoing bloodbath forced me to act even though I am a woman and in a conservative society," says Sumaya Ahmed Al-Hussam, who ended a long conflict between the tribes of Bani Badr and Beit Al-Qaidi in her province of Hajjah, north-west of Yemen.
Sumaya Al-Hussam interfered to resolve the conflict over a plot of land that resulted in a series of revenge killings of 60 tribesmen and injuries to more than 130 people, including children, women and youth in 2012.
The failure of all previous mediation efforts is attributed to not resolving the roots of the problem.
Sumaya Al-Hussam began implementing her plan of action following field investigations in the conflict area to find out about the causes and perspectives of the conflicting tribes to reach a resolution.
She was able to involve all concerned parties to reach a peace agreement that stopped the conflict and brought life back to normal in the region.
Sumaya, who participated in The National Dialogue Conference (NDC) in 2013, has taken the initiative "A step toward lasting peace as seen by a woman" and as a result has been nominated to compete in the "Queen of Social Responsibility Program" for 2017.
The program brings together participants from across the Arab World in order to find women's initiatives aimed at serving civil society.
Through this initiative, Sumaya says she seeks to make "the dream a reality even on a small scale in my great country." — Al Arabiya English
http://saudigazette.com.sa/article/520790/World/Mena/Yemeni-woman-succeeds-in-resolving-bloody-tribal-feud
--------
Top IOC official wants more UAE women in sport
November 1, 2017
Dubai: A top International Olympic Committee (IOC) official has urged women in the UAE to get more involved in any sort of sporting activity so that they can reach out and touch the society, especially at the grassroots level.
Speaking at the Dubai International Sports Creativity Symposium, held as a precursor to the 13th Dubai International Sports Creativity Awards that will be presented in January 2018, Anita DeFrantz, Vice-President, IOC said: "I didn't realise that sport would be my career, but it did happen. And today, I am where I am mostly because of sport. I consider the access to sport to each and every one in society as a basic right of every human being, just as basic as finding shelter and nourishment."
Speaking on the topic of 'Sports, Gender and Society', DeFrantz traced the growing role of women in the Olympic movement. "At the 1996 Atlanta Games, as many as 26 NOCs didn't have women at the Games. But between the 1996 to 2016 Games, we have had more than 32,000 women taking part in an Olympic Games. This means there are 32,000 reasons out there in the world who can act as promoters of sports and health within our society," she added.
"The benefits of sport for humans are multi-faceted. In team sports, we challenge ourselves, and along the way we pick up leadership skills, mutual respect and fair play."
Lauding the UAE Government and Princess Haya Bint Al Hussain, wife of His Highness Shaikh Mohammad Bin Rashid Al Maktoum, Vice-President and Prime Minister of the UAE and Ruler of Dubai, for their contribution towards empowerment of women in sport, DeFrantz said: "I've had the pleasure of knowing Princess Haya and I have a lot of respect for what she has done."
DeFrantz is an American Olympic rower, member of the IOC and a former vice-president of the International Rowing Federation (Fisa). Born in 1952 in Philadelphia, she was captain of the US rowing team that won bronze in the women's eight rowing at the 1976 Montreal Olympic Games.
"The greatest challenge before women today is, and will always be, fear. And that's a part of life. The things we fear most cause us to be least able to be successful," DrFrantz observed.
"Asking for help is the best way to get over fear. In the area of sport, we ask for help from coaches, from other competitors and you ask for help from history to see how other women have done this in the past," she added.
She further reiterated that the Olympic movement is a bold indicator that is constantly setting a path for many more to follow. "Every member of the Olympic movement has women Olympians. The IOC accepts no exception to the fact that women need to have access to sport. And every nation that has women athletes will celebrate its Olympians and they will bring back contributions to the nation in a way that you cannot imagine," she noted.
"I hope we can break down barriers and convince people that there is everything right in having access for women in sport. Sport belongs to us all and we need to take it into our arms and make it better," DeFrantz added.
http://gulfnews.com/sport/uae/more-uae/top-ioc-official-wants-more-uae-women-in-sport-1.2117214
--------
Iran: 8.5% upsurge in death rate of drug-addicted women
01 November 2017
The rate of death among women due to addiction has increased 8.5% in Iran in the past six months compared to the same period last year.
This was announced by Mohammad Reza Ghadirzadeh, Head of the Center of Studies on Addiction in the Coroner's Office.
"166 women died during the first six months of this (Iranian) year (March – September) which shows an 8.5% surge compared to the 150 women who died last year," he said.
This official expert also acknowledged in his remarks that "consumption of narcotic drugs has increased among women and consequently, the number of deaths due to overdose has also increased." (The state-run Mehr news agency – October 31, 2017)
Poverty, suppression and deprivation of women under the rule of misogynist mullahs has had an impact on the increasing numbers of Iranian women committing suicide or resorting to drugs.
http://www.women.ncr-iran.org/iran-women-news/4454-iran-8-5-upsurge-in-death-rate-of-drug-addicted-women
--------
More than 30% women in UAE nuclear energy industry
November 1, 2017
In the global nuclear industry, there is still a relatively small share of women in engineering and leadership positions
Women in the UAE are playing a pivotal role in the nuclear energy industry, holding more than 30 per cent in what is often considered a male-dominated workforce, said Sheikha Lubna Al Qasimi.
"In a country, that only ten years ago had only one qualified nuclear engineer, this is certainly no small achievement," said Al Qasimi, the Vice-Chairwoman of the Emirates Nuclear Energy Corporation's (ENEC) Board of Directors.
On the final day of the International Ministerial Conference - Nuclear Power in the 21st Century held on Wednesday in Abu Dhabi, Al Qasimi said 23 per cent of the professionals working at ENEC are women, while 10 per cent of all employees at Barakah Nuclear Power Plant, the largest under construction power plant in the word - are also women.
Among them, 21 per cent occupy key roles in the nuclear energy industry, such as senior reactor operator, reactor operator and license operator. "Almost 30 per cent of the students in our educational programmes are female, and 30 per cent of students enrolled in the higher diploma in the nuclear technology programme at Abu Dhabi Polytechnic are also women."
However, she pointed out that in the global nuclear industry, there is still a relatively small share of women in engineering and leadership positions.
She said that the UAE Peaceful Nuclear Energy Programme is one of the most diverse and most multi-national and multi-cultural nuclear programme in the world, with over 60 nationalities involved. "We celebrate this diversity and continue to promote understanding and acceptance."
"Here in the UAE, we strongly believe in the equality of men and women both in the society and in professional development."
Quoting her own personal example, Al Qasimi said there are many young women who want to pursue a career in science and technology. "It is our role as leaders in the industry to make sure the they are given the opportunities to enter STEM careers and to nurture their potential in different fields."
In 2009, ENEC launched the Energy Pioneers initiative to identify and train the next generation of UAE national engineers and leaders. The programme provides full scholarships to students looking to study nuclear sciences and engineering. "We trained and qualified the UAE's first female scientist, who is now the deputy manager of the simulators."
ENEC also trained and qualified the UAE's first female nuclear fuel management expert and the UAE's first female fully-certified reactor operator, who is already preparing for the startup of Barakah Unit One. "Today, there are 61 fully qualified female nuclear engineers employed by ENEC and Nawah."
https://www.khaleejtimes.com/nation/abu-dhabi-more-than-30-women-in-uae-nuclear-energy-industry-empowerment
--------
Children of Emirati women can now participate in UAE sports events
November 2, 2017
Sheikh Khalifa issued the directive on Wednesday
President His Highness Sheikh Khalifa bin Zayed Al Nahyan has directed to allow the children of Emirati women to take part in official sports competitions held in the UAE, declaring that now it doesn't require being an Emirati national to participate in these competitions; this also includes those holders of passports which are under process, as well as those born in the UAE.
He also directed the Cabinet to put in place the necessary regulations and conditions for the implementation of the directive in order to achieve this.
The new directive comes in light of the government's move to activate, promote and support various sports activities, to benefit from the talents of athletes, and to enhance their participation in various sporting activities and official events held in the country, reaffirming that sport is an integral part of peoples' and nations' civilisation and progress.
https://www.khaleejtimes.com/sport/local/children-of-emirati-women-can-now-participate-in-uae-sports-events-
--------
Ride-Hailing Apps Free Pakistani Women From Abuse, if They Can Pay
By MEHER AHMA
DNOV. 1, 2017
KARACHI, Pakistan — "Don't look at a woman over and over again in your rearview mirror. Don't make comments about the way they dress. Don't ask them if they're married."
An impassioned young instructor, Muhammad Wahaj, was leading the day's first training session in Karachi this fall for drivers for Pakistan's biggest ride-hailing app, Careem, one of the start-ups trying to slowly change the way many women here go about their daily lives.
"All of this makes women feel uncomfortable, and it's unacceptable," he warned the 10 men. "We won't tolerate it."
In Pakistan, women who work outside the home have limited options for even getting to those jobs. Public transportation is abysmal, private buses are wildly overcrowded and only 3 percent of households own cars.
Then there's the matter of routine harassment. Among women who regularly commute by public transportation, 85 percent report being harassed.
Careem and a smattering of other app-based transportation services are working to remedy this, although for many women, their cost is out of reach. Buses cost just 10 to 20 rupees a ride, or about 10 to 20 cents, while hailing a ride through an app could cost $1.50 or more, depending on distance and demand.
Class lines here dictate how women get around. Those with the means have traditionally relied on their families' drivers or driven their own cars. Lower- and middle-class women have been dependent on mass transit, with buses or minibuses sometimes arranged by employers or schools.
Regardless of income, though, stepping into the street alone gives Pakistani women pause. A woman walking by herself draws stares, or worse. And Karachi is a city made for cars, not people, with sidewalks in poor shape and always dominated by men.
Careem wasn't initially marketed toward women in Pakistan, but they make up 70 percent of its customers, the company says. It spread to Pakistan just over a year ago after successes in Saudi Arabia and the United Arab Emirates.
Every day across the country, dozens of training sessions like Mr. Wahaj's prepare a new batch of drivers — or "captains," as the company calls them — for whom these sexual harassment lessons are generally a first.
The limited transportation options used to be confining for women like Huda Baig, 27, who lives in Karachi and works in the tech industry. "I never used public transport," she said. "Only rickshaws or taxis when I had to. But it's an intimidating process — you don't know them, you have to haggle. Otherwise, I relied on my friends or family for rides."
Now a regular Careem user, Ms. Baig uses it to get to work, meet with friends or head to the gym. The app gives her a freedom she had never experienced before. "I feel more confident in public," she said. "Otherwise, I was never comfortable going anywhere alone."
Junaid Iqbal, the chief executive of Careem in Pakistan, said the company was been able to reassure women by making a priority of background checks on prospective drivers.
"It was literally the first thing we did," he said. "Luckily, that message has been communicated. People understand there's a certain amount of work that goes into the background check, so women feel safe."
As recently as 2012, kidnappings and muggings were commonplace in Karachi, but an aggressive military campaign against terrorism and crime has restored a relative sense of calm and safety. Still, curtailing harassment is another hurdle entirely.
For Nargiz, 30, an hourlong bus ride takes her home from the bedding factory where she works. It's 9 p.m. by the time she reaches her northwest Karachi slum, neatly folding the black abaya she wears for the commute; she is Christian and would not otherwise wear one.
Nargiz, who asked that her last name not be used for fear of repercussions for her job, said she wore the abaya only to go to work, so that men don't bother her on the bus, and she takes it off as soon as she gets there.
One recent morning, Nargiz climbed onto a packed private bus, covered in plastic roses and hand-painted slogans. This particular one had a slogan reading, "GOOD LUCK."
The women's section, an area of four seats and a bench by the driver, was separated from the men's by a metal grill, but was full — and full of men. Nargiz pushed against them during the bumpy ride. Wary of the groping she sometimes faces on the bus, she tightened her scarf around her face and clutched her purse.
Another ride-hailing start-up, Bykea, is based on motorcycles and is trying to serve less-well-off commuters like Nargiz. It is cheaper than Careem.
On Bykea, Nargiz's commute each way would cost 100 rupees, or less than $1, compared with 160 rupees, about $1.50, on Careem.
Bykea is rapidly gaining a following in Karachi, especially among working-class men. But its chief executive, Rafiq Malik, admitted that not many women felt comfortable using the app, saying that cultural norms, not safety concerns, were at play.
Nargiz acknowledged that she could not bring herself to jump onto the back of a stranger's motorcycle, even sidesaddle, the norm for women here.
Careem and Bykea have both spread rapidly, striving to fill a vacuum in transportation that holds back many potential female workers and, more broadly, economic productivity. But poorer women largely elude them; Nargiz said she and her factory co-workers had never even heard of the apps.
Arif Hasan, an architect and social researcher, does not have much faith in a solution for working-class women anytime soon.
"There's a strong anti-poor bias in planning and policy," said Mr. Hasan, a board member of the Karachi Infrastructure Development Committee, a group struggling to improve city infrastructure and bring a fast-rail system.
"Our society is in flux," he added. "Traditional values and contemporary work conditions are at odds. Society has changed but doesn't realize it."
https://www.nytimes.com/2017/11/01/world/asia/pakistan-women-transportation-apps.html?mtrref=www.google.co.in&gwh=B72B56E06AE88EE0443E551F6D1A3C7D&gwt=pay
--------
Pakistani police arrest men for marching girl naked through village
2 November 2017
Pakistani police have arrested eight men for marching a 14-year-old girl naked through a village in revenge for her brother allegedly tarnishing their family honour.
It is the latest incident of Pakistani village councils using women to settle family disputes, bypassing the official judiciary system with parallel tribal rule that sentences hundreds of women to death each year in so-called "honour" killings.
According to police in Dera Islami Khan, Khyber Pakhtunkhwa province, where the incident occurred, the girl's brother had developed a romantic relationship with a woman outside marriage. A village council ruled that the woman's family could retaliate by disrespecting his sister.
On the morning on 27 October, as the girl was fetching water, a group of men accosted her, stripped her and dragged her along the ground before making her walk around naked for an hour, the police report stated.
Village councils, called panchayat or jirga, are illegal but widespread in rural areas where the justice system is out of reach or perceived to be untrustworthy.
Three months ago, a 26-man council near Multan in Punjab province ordered a 17-year-old girl to be raped as punishment for a sexual assault allegedly committed by her brother.
"Unfortunately, despite pro-women legislation we see that in remote areas women are still being bartered as inanimate objects," said Samar Minullah, a human rights activist.
"We consider girls or women as the honour of a home or a community, yet we dishonour them, barter them and hand them in compensation to end disputes? This is not only illegal but un-Islamic too," she said. "I am glad police has taken action but what about the girl? She will end up living a life of stigma for the rest of her life."
The recent incident occurred amid heated public debate in Pakistan about harassment of women. Last week, the Oscar-winning film director Sharmeen Obaid-Chinoy tweeted that a doctor who provided intimate emergency care to her sister had tracked the sister down on Facebook after the hospital visit. There were "no boundaries" in Pakistan, the director said.
Her tweets drew support but also harassment from men taunting her for socialising with disgraced Hollywood producer Harvey Weinstein in the past, while calling out a doctor for what they perceived to be a minor offence.
While different in gravity, urban elites harassed in hospitals and poor girls abused in villages are part of the same problem, said Nida Kirmani, a sociologist at Lahore University of Management Sciences (LUMS).
"While one cannot compare the horror that the girl experienced with the experience of receiving an inappropriate friend request from a doctor," Kirmani said, "They lie on the same spectrum of sexist abuse that takes place in Pakistan."
She added: "Both cases demonstrate the need for a national level conversation on sexual harassment and violence in all its shades and forms."
In another incident, on Sunday, a 20-year-old woman killed 15 people from her husband's family in Muzaffargarh near Multan in an attempt to poison her husband, to whom she had been forcefully married for two months.
According to police, she conspired with another man to escape her marriage by lacing a glass of milk with poison. After her husband declined to drink it, the milk was used to make lassi, which the whole family shared. The woman and her alleged accomplice were arrested on Monday, police said.
For Pakistani women, divorce is complicated and often dangerous. In 2016, a British woman Samia Shahid, was murdered on a trip to Pakistan by her father and first husband, allegedly for divorcing and remarrying in the UK without their permission.
Last month, the judge decided to move the case away from Jhelum, the town where she was killed, after requests from her second husband, the plaintiff, who feared he may be in danger and her family may try to influence the trial.
https://www.theguardian.com/world/2017/nov/02/pakistani-police-arrest-men-for-marching-girl-naked-through-village
--------
Iran: Women win medals, despite lack of government support
01 November 2017
Iran's hard working women show their talent and competence in every opportunity despite numerous obstacles created by the ruling regime to exclude them from the sports arena and lack of any form of government support.
Rock climber Elnaz Rekabi won the gold medal of women's Asian Bold Ring Cup where she defeated Singapore, Kazakhstan, and China. (The state-run ISCAnews.ir – October 29, 2017)
In a previous interview, she had complained about the difficulties of training while being alone in her field. Elnaz Rekabi also spoke on the problems created by the requirement of wearing the compulsory veil. "It is very hard with the veil especially when the weather is hot. I tried to find some proper outfit for this sport to observe the dress code, as well, but I had to do it on my own." (Interview with Euronews – Aparat.com– April 25, 2016)
In another event, Iranian women ranked fifth in the 3x3 Asia Cup in Turkmenistan, after 38 years of absence in international tournaments. (The state-run ISNA news agency – October 31, 2017)
http://www.women.ncr-iran.org/iran-women-news/4455-iran-women-win-medals-despite-lack-of-government-support
--------
URL: https://www.newageislam.com/islam-women-feminism/india-love-jihad-women-being/d/113106
New Age Islam, Islam Online, Islamic Website, African Muslim News, Arab World News, South Asia News, Indian Muslim News, World Muslim News, Women in Islam, Islamic Feminism, Arab Women, Women In Arab, Islamophobia in America, Muslim Women in West, Islam Women and Feminism