New Age Islam News Bureau
8 Aug 2018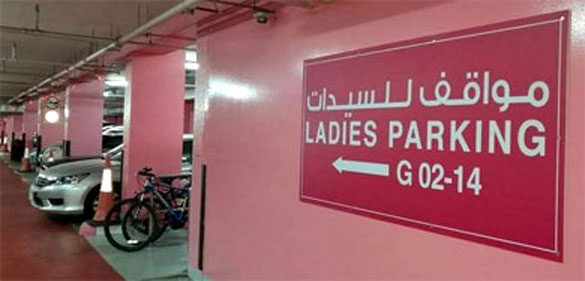 Women are encouraged to take advantage of the female-only parking spaces that can be found in various areas of Abu Dhabi
------
• Women in Abu Dhabi Urged To Use Female-Only Parking
• Pakistan: Woman Made 'Moharar' At Dir Police Station
• 2 Girls School Set on Fire in Pishin District of Pakistan
• Couples in Tunisia Unable To Wed despite Law Change
• Youngest-Ever Pakistani Lawmaker Vows to Work for Youth and Empowerment of Women
• Women's Aid Organisation: Dress Code for Muslim Women in Private Sector Is Discrimination
• New York Women's Group Opposes Israel-Hamas Agreement
• 20-Year-Old Saudi Woman Teaches Filipino Martial Arts
• Women In Iran Enjoy Good Freedom, Are Good Planners: Female Diplomat
Compiled by New Age Islam News Bureau
URL: https://www.newageislam.com/islam-women-feminism/india-first-sharia-court-muslim/d/116074
--------
India's First Sharia Court for Muslim Women Started In Kanpur
Aug 6, 2018
KANPUR: India's first Sharia Court for Muslim women has been started in Kanpur from Sunday. Hina Zahir and Maria Fazal serve as Mahila Qazis here for solving issues of women.
All India Muslim Women Board appointed Hina Zaheer as Shia Mahila Shehar Qazi and Maria as Sunni Women Shehar Qazi in 2016, which was then opposed by some groups.
In past two years, cases of domestic violence and dispute came to both of them. A few days ago, Women Board and Sunni Ulma Council gave approval to open Women Darul Kaza (Sharia Court) and officially inaugurated it on Sunday.
Read this story in Hindi According to Hina Zaheer, rights are distributed equally to women in Islam, but Maulvis do not clarify this in exact context.
A PhD degree holder Hina said, "In Islam, boy symbolises a boon and girl as blessing and blessing has to be accounted for. It is said that many allegations could be imposed on a woman but she has to maintain her existence."
She said they would hear those issues of women that they could not say before male Qazis. "We will provide them proper guidance and motivate for skill development," she further added.
https://timesofindia.indiatimes.com/city/kanpur/countrys-first-sharia-court-for-muslim-women-started-in-kanpur/articleshow/65291536.cms
--------
Women in Abu Dhabi Urged To Use Female-Only Parking
August 8, 2018
Dubai: Women in the capital are encouraged to take advantage of the female-only parking spaces that can be found in various areas of Abu Dhabi city.
Since 2016, as many as 182 pink spaces were installed in multi-storey car parks to help women find parking spaces easier, which also provides them with some privacy.
The Department of Transport explained that the pink parking spaces reserved exclusively for women can be found on Hamdan Street behind Liwa Centre, which has 26.
The traffic authority also installed 18 in the corniche area, 28 on Fatima Bint Mubarak Street, 18 behind the Abu Dhabi Health Authority, 26 on Liwa Street, 25 behind Al Noor Hospital on Khalifa Street, and 41 in Al Dana area.
Mawaqif inspectors regularly monitor the pink parking spaces to ensure that they are not used by men, and warned that offenders will be slapped with a Dh500 for fine and have their vehicles impounded.
https://gulfnews.com/news/uae/transport/women-in-abu-dhabi-urged-to-use-female-only-parking-1.2263192
--------
Pakistan: Woman Made 'Moharar' At Dir Police Station
August 08, 2018
TIMERGARA: A woman head constable, Rehmat Jehan assumed duty as the first lady 'moharar' at the Balambat police station here on Tuesday.
Women rights' activists lauded the step taken by district police officer Arif Shehbaz Wazir terming it beneficial for women folk in the area.
Talking to Dawn, Ms Jehan, 28, hailing from Madak Lasht Darosh village of Chitral, said she had joined police department in 2012 as a constable. With a graduation degree, Ms Jehan after successfully completing her B-1 and lower school course at police training centre, Hangu, wished to be appointed as 'moharar'.
"It is my ambition to reach to the posts of SHO and DSP and serve the people, especially helpless women," she said, adding she never felt any hesitation or fear to work in the male-dominated society like Dir and Chitral. She said one of her sisters too wanted to join the police department after completing her studies.
Expressing her pleasure on posting as moharar at the police station, Ms Jehan said she would like to help out women complainants at the station. "I want to prove that women from conservative societies can also serve the nation," she added.
Meanwhile, DPO Arif Shehbaz Wazir told Dawn another lady head constable, Shagufta Bibi had also been posted in the women reporting centre of Talash police station.
He said a total of 46 women constables were serving in Lower Dir police, of which, the educated ones would be encouraged to be promoted to next ranks. He said there was an intense need for a women police station in Lower Dir.
The DPO said in near future lady 'moharars' would also be appointed in all the 13 police stations of the district.
https://www.dawn.com/news/1425617/woman-made-moharar-at-dir-police-station
--------
2 Girls School Set on Fire in Pishin District of Pakistan
August 07, 2018
Unidentified assailants allegedly set 2 girls schools on fire in Tehsil Khanozai area of Pishin district on Tuesday night and fled, DawnNewsTV reported.
The Balochistan education secretary has said that action will be taken against those involved in the incident.
Besides, there have been no reports of casualties so far as the schools were closed at the time of the incident.
Last week, unidentified assailants had burned down at least 12 schools in Gilgit-Baltistan's Diamer district, causing panic among residents, locals and police had said.
Diamer Superintendent Police (SP) Roy Ajmal told Dawn that 12 schools ─ at least half of which are girls-only schools ─ had been set on fire overnight. He said that in some cases, books had also been thrown outside the schools and set alight.
An initial report of the incident has been submitted to the chief minister, according to GB Information Minister Shams Mir.
According to the report, the "miscreants" carried out the attacks in an "organised manner". The assailants first vandalised the buildings and then set them on fire, said the report.
https://www.dawn.com/news/1425551/2-girls-school-set-on-fire-in-pishin-district
--------
Couples in Tunisia Unable To Wed despite Law Change
August 08, 2018
TUNIS: Despite the law now being on their side, Zeineb, a Tunisian woman, and her Italian fiance Sergio cannot find a local notary to marry them unless he converts to Islam.
"I never imagined that marrying a non-Muslim could be so complicated," 40-year-old Zeineb told AFP in her northern city of Hammamet.
A ban on marriage between a Muslim woman and non-Muslim man, unless he converts, is common in Arab countries.
Such legislation in Tunisia, which dated to 1973, was scrapped in September 2017 at the initiative of President Beji Caid Essebsi.
But Zeineb and Sergio, a 68-year-old factory director, cannot find a notary in the whole of Hammamet to tie the knot, with officials declining out of "religious convictions."
"I've contacted many notaries and they've all refused to marry me because my partner is a non-Muslim. Some of them said that conducting such a marriage was against their principles and their conviction," explained Zeineb.
Sergio was baffled.
"The law allows me to marry a Tunisian woman without me having to convert to Islam but the people who are supposed to help with my marriage are preventing me from exercising my right," he said.
The couple decided back in June to get married and have prepared all the paperwork — but so far to no avail.
Two of the reluctant notaries in Hammamet, contacted by AFP, said they had yet to receive or read through the new regulations on such marriages.
But, according to the Local Affairs Ministry, regional and municipal authorities across Tunisia have been sent the new text.
Rights groups have stepped in to demand an end to such obstruction by notaries.
The Justice Ministry should take "strong action against those who do not apply the law," the Tunisian association for the rights of minorities said in a statement.
The association has found at least two other cases this month which match the circumstances of Zeineb and Sergio.
Yamina Thabet, the group's president, told AFP the ministry should "force all notaries to apply the law" and accused some legal professionals of "putting their religious conviction before the law."
Tunisian human rights activist and lawmaker Bochra BelHajj Hmida said such action was "irresponsible."
Tunisia has long been seen as a pioneer for women's rights in the Arab world, but campaigners say civil society is still torn between conservative and progressive camps despite the aspirations for change born of the country's 2011 revolution.
Hundreds of people demonstrated last Friday in Tunisia against proposed reforms opposed by conservative Muslims, which include equal inheritance rights for women and decriminalixing homosexuality.
A commission set up by Essebsi to bring the legal code in line with the 2014 constitution, adopted after the revolution, unveiled a raft of proposed reforms in June. The proposals have been rejected by a coalition of religious groups.
http://www.arabnews.com/node/1352716/middle-east
--------
Youngest-Ever Pakistani Lawmaker Vows to Work for Youth and Empowerment of Women
August 07, 2018
PESHAWAR: Dr. Sumera Shams broke a few stereoptypes on the way to becoming the youngest elected politicians in the history of Pakistan. The 26-year old, a member of Pakistan Tehrik-e-Insaf (PTI) who will soon take her seat in the Khyber Pakhtunkhwa provincial assembly, said she aims to help others to do likewise by working in her new position to help the nation's youth and empower women.
She comes from Lower Dir, a remote and conservative district of KP where women traditionally have not been considered as candidates by political parties. Undeterred, she was determined to carry on the political legacy of her father, Shamsul Qamar Khan, an Awami National Party candidate who died of a heart attack on polling day in 2008.
"I have proven all the odds wrong that said a young woman, or any citizen at this age, cannot be a legislator," she said.
A student at the time of her father's death, Shams joined PTI soon after and began running the party's female-student wing in KP.
"Student politics is the main nursery for those who want to be seasoned leaders," she said. She went on to become head of the Insaf Students Federation, focusing in particular on the challenges confronting women and young people in the traditional society. She considers this the start of her political career.
"The only party at that time who welcomed and gave opportunities to young women from remote areas was PTI," says Shams.
After PTI emerged from the 2018 general elections on July 25 as the biggest party in the center, and in the Punjab and KP assemblies, Shams was chosen by the party to join the KP assembly in a reserved seat for women.
She said that Dir, previously a stronghold of religious-political party Jamaat-e-Islami (JI), had not seen much economic progress or development under that regime, which is why women, in particular, largely rejected it in the latest elections.
"This time, JI chief Sirajul Haq lost by about 40,000 votes, which is the same number of women voters in the constituency," she said, adding that women in the area had been encouraged and enabled to use their right to vote, and had done so to reject JI.
She said that Lower Dir is now a PTI stronghold because "no human or infrastructural development could be seen in Lower Dir despite repeated rules of JI."
Shams is a member of PTI's central women's executive committee. She practices medicine in the public-health sector as a program coordinator in the Family Medicine Department of the Global Health Directorate-Indus Health Network, and intends to continue to do so, combining her career with her work as a member of the assembly.
Her youth-development priorities include civic education, leadership training and opportunities, and employment after graduation.
"For women, my aim is to establish a women's university or campus in the underdeveloped Lower Dir district as soon as possible," she added.
http://www.arabnews.com/node/1352691/world
--------
Women's Aid Organisation: Dress Code for Muslim Women in Private Sector Is Discrimination
7 Aug 2018
PETALING JAYA: The Women's Aid Organisation (WAO) has urged the government to stop policing what women wear.
In a statement on Tuesday (Aug 7), WAO rejected the idea of having a dress code for Muslim women, as this restricts their freedom of expression.
"Such policies are also extremely sexist, as they are based on the stereotype that women are seductresses," the statement read.
The organisation said this in response to Minister in the Prime Minister's Department Datuk Mujahid Yusof Rawa announcing on Monday that the government is working on a dress code for Muslim women in the private sector.
Mujahid said yesterday that the dress code is meant to "prevent discrimination against Muslim women". WAO however rejected this, and said that these efforts would have the contrary effect.
"The minister has missed the point completely. Restricting what women wear is, in and of itself, discriminatory, and this policy would end up discriminating women who do not conform to the code," the statement continued.
They suggested that the government focus on more "substantive" issues such as child care, increasing women's labour force participation and enacting a Sexual Harassment Act and a Gender Equality Act.
"This would protect against gender discrimination and accelerate gender equality. It's time we stop obsessing about how women dress; women are more than their clothes and appearance."
https://www.thestar.com.my/news/nation/2018/08/07/wao-dress-codes-for-women-is-discrimination/
--------
New York Women's Group Opposes Israel-Hamas Agreement
8/8/2018
The Crown Heights Women For The Safety And Integrity of Israel on Tuesday publicized a letter opposing the proposed Egyptian-UN peace agreement between Israel and Gaza.
The plan aims to facilitate greater coordination between Hamas and Fatah terrorists under the guise of reconciliation.
"In our view, the plan is extremely reckless and, if achieved, will only serve to increase the already perilous situation Jews are living under in Southern Israel," the group wrote.
"These anti-Semitic Arab thugs have victimized, murdered and scarred thousands of precious Jewish lives in Israel and beyond with their terrorist activities, r"l (G-d forbid - ed.); they deserve no recognition or reward.
"Both Hamas and Fatah make no secret of the materiel support they receive from Iran, Hezbollah and other sponsors of terrorism. Israeli leaders must not capitulate to this plan that will place Jews in grave danger throughout Israel.
"Furthermore, in light of the PA's outright refusal to renounce its 'pay-to-slay' program that rewards terrorists for attacking and killing Jews, we are astounded Israeli decision makers would even consider listening to a proposal that would strengthen the Palestinian Authority's (PA) 'administrative powers' in Gaza."
The group also noted that the proposed plan gives Gaza, and the Hamas terror group ruling it, both an airport and a seaport, but does not force them to disarm.
"Suggestions about building up infrastructure in Gaza along with the possibility of a port will not incentivize Hamas to lay down arms and make peace - not even for five years!" they emphasized. "It's an old and unsuccessful idea that originated in the Camp David Accords and has not been proven to either better Arab/Palestinian lives or to redirect their energies toward peaceful relations with Israel."
"Both the PA and Hamas leadership are corrupt and have taken the enormous funds they've received from around the world to line their pockets and inculcate their community with a culture of hatred and violence that will take a long time to reverse.
"Israeli leaders must stop perpetuating the charade that ceasefires, goodwill gestures, or accords are the stopgap to Arab terrorism. Doing so is both deceptive as well as demeaning to the thousands of Jewish victims who have died or suffered from Arab malevolence."
The women also expressed hope that Israel's government would focus on the Jewish right to live securely in Israel: "As we wrote before, we remain hopeful that the recent Cabinet and Knesset vote rescinding sole war declaration powers from the Prime Minister and Defense Minister signals a fresh step toward focusing first on the Jewish right, both Biblical and civilian, to live securely in our Homeland and free from menace, protected by an elected government."
"In sync with Jewish Law and in line with the Lubavitcher Rebbe's directives, the Knesset and Cabinet's vote means, then, that protecting Jewish lives is not a game of politics but rather an obligation in pikuach nefesh (saving lives - ed.).
"We, therefore, urge Israeli leaders to give the Lubavitcher Rebbe's 3-Point Plan For Peace a chance: [1)] Let military experts, who are not under pressure politically, be the ones to determine Israel's security needs. [2)] Plan strategy and follow through until the job gets done. [3)] Settle Jews throughout the entire Land, particularly in those places most contested - but without lots of noise and fanfare - because a Jewish presence is the best deterrent against enemy infiltration and enemy aggression for it signals we Jews really do believe in our G-d Given right to live here.
"We believe Restoring Law and Order is the order of the day. It is time to remove the warmongers and bullies from their place beginning with retaking Gaza."
Discussing the issue of the PA's "refugees," they wrote: "As to the so-called "refugee" problem, Zehut party leader Moshe Feiglin has crafted a well-thought out solution. His plan offers the Arabs living in Gaza and under the Palestinian Authority a choice of either relocating elsewhere with a generous exit package or remaining by pledging allegiance to the State of Israel and its laws. The plan releases these people from the grip of corrupt leaders along with the promise for a better life. Interestingly this is actually something the Rebbe quietly suggested all the way back in the early 1950's."
"Introducing the 7 Universal Noahide Laws, about which the Rebbe spoke of, will also help to imbue the Arab/Palestinian community with a new sense of peace and purpose.
"Renewing the Jewish presence in Gaza will also right the wrongs committed by the 2005 expulsion and restore peace and prosperity to Israel's Southern region, coast and Sinai border.
"As to the objections and inevitable complaints that will arise, the Rebbe offers some sage advice: 'It makes no difference whether Israel settles one place or the entire border...'
"Finally, in keeping with the Rebbe's lifelong motto, we suggest: Hamaaseh hu ha'ikar (the main thing is action - ed.)."
The letter was signed by Tamar Adelstein, co-ordinator Crown Heights Women for the Safety and Integrity of Israel, as well as members of the organization's American Board, Israel Board, and Rabbinical Advisory Board.
http://www.israelnationalnews.com/News/News.aspx/250159
--------
20-Year-Old Saudi Woman Teaches Filipino Martial Arts
August 8, 2018
A Saudi woman is teaching Filipino Martial Arts at a sports club in the city of Dhahran, in Kingdom's eastern province, with an aim to empower women.
Reem al-Ouda, 20, learnt a form of martial arts while studying computer science in Tacoma, in Washington, in 2013, and spent two years to become a certified trainer.
Today, along with an American trainer of Filipino origin and her husband, Ouda is teaching a group of youth the form of martial arts based on five combat patterns: Eskrima, modern Arnis, pekiti tirsia, Bo staff and hand-to-hand combat.
The dojo art is known for rapid movements, attack and defence strategies, where two individuals armed with some combat tools and a huge stick confront each other.
Ouda said when she was in Washington she felt donning headscarf made her appearance stand out at a time when hate crimes against Muslims were believed to be repetitive. She felt it was important to learn self defence in case she is vulnerable to any attack and hence Ouda started to search for martial arts classes. She finally joined the Dojo Martial Arts School which taught one of the traditional forms of martial arts practiced by some of Filipino ethnic groups.
She now aims to work with international bodies to empower women in conflicts to learn combat skills to protect themselves. "My goal is to empower women, make them confident and able to defend themselves in case they are subjected to any form of harassment. And to apply what they learn when necessary, at the right time and place," Ouda was quoted as saying in Al Arabiya.
https://www.khaleejtimes.com/international/20-year-old-saudi-woman-teaches-filipino-martial-arts
--------
Women In Iran Enjoy Good Freedom, Are Good Planners: Female Diplomat
August 7, 2018
"Women in Iran enjoy good freedom; they are good planners. They are the decision-makers and majority of our university students in Iran are women," she told the Tehran Times in an exclusive interview conducted in English.
Next to Marzieh Afkham who was appointed as the first Iranian female ambassador to Malaysia in 2015, Farshchi is the second female ambassador to a foreign country since the 1979 victory of the Islamic Revolution.
"They have come far away from those days that women were not studying very much and they are far from barriers for their social appearance or for their participations in social events or even studying at the university," Farshchi, holding post doctorate in coastal zone management explained.
"There are many women studying at universities at different courses in Iran. They are very much in the society as employees. They work. And also at high level.
"I am sure that I'm not to be the last woman ambassador of the Islamic Republic of Iran to other countries," Farshchi, 58, added.
"There are many capable women in the country and I am sure with this approach of promoting the role of women in the society, which the government has adopted, many more women, who are much more capable than me, can definitely secure high positions either in national, regional or international levels," she said with modesty.
"As an Iranian woman, at first place, I want to demonstrate Europe and the whole world, the way that women in Iran are living and make other people familiarized with what potentially Iranian women are capable of," said Farshchi, explaining "what I found in Iranian woman is that they are very ambitious; they are very hardworking and they are very committed to what they have accepted as their commitment.
"They are well-educated. They have got a good social relationship with all groups at all levels of society. They are good managers and they have got lots of creative ideas that they can present.
"Being Iranian Muslim ladies, they have learned all through their life so many good beliefs, in the family and in the society," said the current deputy environment chief for marine affairs.
"Iranian women have the ability to lead as a leader, good leaders for other women and other human beings," she said.
Farshchi, went on to say that "What we can definitely, as a messenger of Iranian woman show to the society of Iran and the international society is to make people understand the true face of Iranian women.
"They are very capable and they are very hardworking; at the same time, I think they can be very good leaders in whatever responsibility they take.
"They can definitely prove to be a very good managers because of what they have learned as an Iranian woman; what they have learned as an Iranian Muslim woman, in the framework of family.
"They are very powerful and from those starting days of being a daughter, being a sister or being a mother. They are really learning how to manage because they are the managers of the houses," she highlighted.
"In many cultures, I have seen that men are the managers of the house, but in Iran women are the managers of the house and family and the frame of the family is a woman.
"A woman is the core of a family and being the core of the family gives women so much of freedom in making the social relations, making decisions and to be good planners.
"Women of Iran are good planners in different levels; whether they are housewives or they are working at offices," explained the official.
"I am very happy with this approach of the government that they are promoting the role of women in the society," Farshchi emphasized.
Expressing happiness about being appointed as an ambassador to a country in which about 80% percent of women are active in the society, Farshchi put emphasis on many areas of cooperation between Finland and Iran in different spheres, not only culture and politics but on different spheres like economy.
"We can definitely have so much of relationships with Finland because they have got a very high ability in IT and technology and transfer of technology. Definitely there exists so much of mutual benefits for both countries," she noted.
There would be definitely mutual cooperation between two countries on environment as well, because Finland is a member of very huge body of water, i.e. Baltic, Farshchi replied to Tehran Times question regarding mutual activities of the two countries.
"I believe that on the area of the environment, specifically when it comes to marine environment, there will be so much of common interests between both countries, she said, elaborating that we can definitely be thinking of working on marine environment issues, transfer technology, economy and culture."
"I am sure that there are lots of mutual interests between both countries.
"I feel very proud to be given this opportunity to represent my country at first place and at second place to represent Iranian women. I hope that I can be successful and I can bring changes, positives changes, based on responsibilities that has been given to me.
"I think when you work at regional and international levels you understand that there are lots to learn, and there are lots to do.
"Basically, improving the relationships between the countries and at regional and international level will definitely bring prosperity to the country," she enlightened.
"Off course, national interests are the first most significant issue but besides that I am sure that the whole world has come to the point that they have to be working together in order to bring prosperity to the human kind," Farshchi concluded.
Working with the Department of Environment since 1998, Farshchi has been appointed as a senior advisor to the department chief since then. She has the opportunity to be appointed as a project manager for environmental cooperation between the Caspian littoral countries from the United Nations.
She was appointed as a project manager from 2009-2012. And she was coordinating cooperation between the five countries.
The Caspian Sea is the largest inland body of water in the world and accounts for 40 to 44% of the total lacustrine waters of the world. The coastlines of the Caspian are shared by Azerbaijan, Iran, Kazakhstan, Russia, and Turkmenistan.
Later on 2012, when she returned to the country, she was appointed as the deputy minister to the marine environment. All these years from 1998 till now she was coordinating all relationships on environmental issues between all eleven neighbors which are littoral countries of the Persian Gulf, Sea of Oman and Caspian Sea.
Being coordinators of activities between eleven countries has given Farshchi an opportunity to be working on regional and international dimensions of the work, she clarified.
http://www.tehrantimes.com/news/426205/Women-in-Iran-enjoy-good-freedom-are-good-planners-female-diplomat
--------
URL: https://www.newageislam.com/islam-women-feminism/india-first-sharia-court-muslim/d/116074
New Age Islam, Islam Online, Islamic Website, African Muslim News, Arab World News, South Asia News, Indian Muslim News, World Muslim News, Women in Islam, Islamic Feminism, Arab Women, Women In Arab, Islamophobia in America, Muslim Women in West, Islam Women and Feminism