New Age Islam News Bureau
6 Dec 2014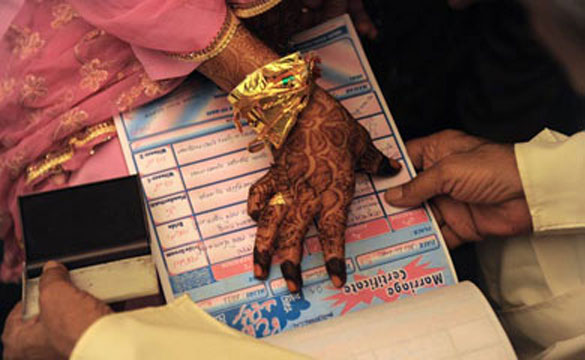 File photo: A Muslim bride puts a thumb impression on a Marriage Certificate during the 'Nikah' ceremony in Ahmedabad (Agence France-Presse)
-----------
• In 'Hindutva Factory', Muslim Moral Police Watches Over 'Their' Women
• Pakistan: 99 Percent of Hindu Girls Raped, Converted Are Under 13 Years of Age
• UAE Media Debate Burqa Ban Following Brutal Stabbing Of American Teacher in Abu Dhabi
• 'Mama, Let Me Do Your Scarf So You Can Look Muslim'
• Child Marriage in Morocco: Young girls Married at the Age of 12
• 'Pakistan Moving Forward In Upholding Rights of Women'
• Nepalese Worker First Woman in Malaysia Jailed For Terminating Pregnancy
• Stop Labelling Indonesian Women as Either 'Good' or 'Bad'
• Saudis Block Website That Reported Woman Driver's Case
• Saudi Women Look Up To Job of Waiting Tables, But Society Looks Down Upon It
Compiled by New Age Islam News Bureau
URL: https://www.newageislam.com/islam,-women-and-feminism/new-age-islam-news-bureau/india--muslim-girl-can-marry-once-she-completes-15-yrs-of-age/d/100362
---------------
India: Muslim Girl Can Marry Once She Completes 15 Yrs of Age
06 Dec, 2014
Ahmedabad: A Muslim girl can marry when she attains puberty or completes 15 years of age, the Gujarat High Court has said.
The court made the observation while quashing legal proceedings under the Prohibition of Child Marriage Act against a Muslim youth who had married a 17-year-old girl of his community.
Justice J B Pardiwala in the order passed on December 2 said that according to the Muslim Personal Law, a Muslim girl, if she attains puberty or completes the age of 15 years, is "competent" to get married.
"It is not in dispute that the boy and girl both are Muslims. According to the Personal Law of Muslims, the girl no sooner than she attains the puberty or completes 15 years, whichever is earlier, is competent to get married without the consent of her parents," the order said.
The court gave the judgement in connection with a plea filed by a Surat-based youth Yusuf Lokhat seeking to set aside the charge sheet filed against him in a that city's court under several sections of Prohibition of Child Marriage Act, 2006.
"It appears that the parents of the girl have also now accepted the marriage. The man and his wife both are personally present in the Court. They confirm about their marriage. The girl submits that she is happily residing with her husband at her matrimonial home. Having regard to the peculiar facts of the case, in my view, no case is made out to prosecute the criminal proceedings further," the order said.
As per the case details, Lokhat married a 17-year-old girl from his community in February this year. Following the marriage, the girl's father, who was initially against the marriage, wrote to a Superintendent of the 'Children Home for Girls' in Surat, who had initiated legal proceedings against the boys and other three persons known to the boy.
http://zeenews.india.com/news/gujarat/muslim-girl-can-marry-once-she-completes-15-yrs-of-age-gujarat-high-court_1510241.html
------------
In 'Hindutva Factory', Muslim Moral Police Watches Over 'Their' Women
06 Dec, 2014
A WhatsApp message group and Facebook page self-styled as the Muslim Defence Force has sent out messages warning both men and women of 'un-Islamic' activities
The moral policing debate warmed up when model-turned-actress Gauhar Khan was slapped by an audience member on a musical reality show, recently. The man, identified as Akil Malik, justified his attack on Gauhar saying that being a Muslim woman, she should have dressed decently.
The coastal belt of Karnataka which is known as a staunch Hindutva territory is seeing the rise of the Muslim fundamentalist. Suspected to be a small group active on social networking site Facebook and messenger service WhatsApp for at least a month, the 'Muslim Defence Force' is aggressively campaigning to "protect the Muslim girls studying in various colleges".
According to a working professional who received a message from this group: "I suspect that this was launched after a Muslim girl eloped with a Hindu bus conductor in Ullal. While Saffron organisations have always been vocal about Love Jihad, this group claims that they are fighting against Love Kesari, a campaign launched by Hindu outfits. Messages such as places to be raided or raids undertaken are often mentioned in the group. They have even requested people to unfriend boys of different religions on Facebook, all this in the name of 'protecting Muslim girls'." Most of the messages from the group are in Kannada.
The Democratic Youth Federation of India (DYFI) state president Muneer Katipalla said, "This is a hate camp targeting educated youth.
Ever since I expressed my opinion about it on Facebook, the FB page has been blocked.
We will take up this issue with the police, "he said.
Senior advocate and lecturer Asha Nayak said, "When I started teaching 25 years ago, there would be just two to three Muslim girls in a BCom class of about 80 students. Now the number has increased. There are batches where we have about 50 per cent Muslim girls. Education is first step towards progress and such acts will only hinder progress," she said.
Vidya Dinker, coordinator, Forum Against Atrocities on Women, said, "This is nothing but immoral Goondaism that is being exhibited.
We should oppose it in every aspect of our lives as it is getting more and more rampant. While we have Hindu fundamentalist forces doing the same, now we have Muslim fundamentalist forces following them."
The Commissioner of Police, R Hitendra said, "We are in the process of registering a case. The help of Bengaluru Cyber Police will be sought to identify the people. A case will be booked under the IT Act as well as section 153 (A) of the IPC."
A warning to Bajrangis The Muslim Defence Force is ready for a legal battle. We will not attack good brothers. But we declare Jihad on 'Saffron Love Sangha'. We will chop your hands and legs in case you are seen talking with Muslim women. We will attack even if they are your classmates. All student organisations must support this.
Sisters be alert We are aware that Muslim girls are bunking class and roaming in shopping malls of Mangalore. We will be forced to react against those going against the confidence of the family and crossing religious lines. We are expecting more support in the coming days.
http://www.bangaloremirror.com/News/State/In-Hindutva-factory-Muslim-moral-police-watches-over-their-women/articleshow/45378545.cms
------------
Pakistan: 99 Percent of Hindu Girls Raped, Converted Are Under 13 Years of Age
06 Dec, 2014
As many as 99 percent of Hindu girls who are converted to Islam and forcibly married are under 13 years of age, leader of the premier Hindu organization in Pakistan said Friday. "As many as 20 new cases have been registered in courts in the last two months alone," Ravi Dawani, general secretary of the All Pakistan Hindu Panchayat, said in a phone interview with The Baltimore Examiner from Karachi. "Most of the victims belong to the under-privileged Kolhi, Bheel and Meghwar communities in lower Sindh."
Dawani said marriage of girls under 13 was outlawed when Pakistan was still under British rule way back in 1927. "At the time a hefty fine of Rs 10,000 was fixed for anyone violating the law," he said. He said in 1965, Pakistan raised the legal age of marriage to 16 with a fine of Rs 10,000 and jail time for the violators. "Recent change in the law made through the efforts of Sharmila Faruqi and Rubina Qaimkhani has raised the age to 18 years," Dawani said.
According to media reports, in many Muslim countries, notably Saudi Arabia, child marriages are defended under the pretext of religion – Prophet Muhammad is said to have married one of his wives Ayesha when she was of a very tender age. Pakistani Muslims, who try to imitate Arabs, also believe it is okay to marry under-age girls. Like the Arabs many Pakistani men think if they have sex with under-age girls, their sexual stamina would improve.
Sexual lust rather than religious fervour appears to be the driving force behind the forced conversions and marriages of the Hindu girls, Dawani said. "If a Hindu changes his faith on his free will, then we will have no objection," he said. "As regards to change of faith, why is it necessary for a girl to get married at the same time she decides to change faith. Why is it necessary for a Hindu female who converts to Islam, to become a wife at the same time? Why can't she be just a sister and change her faith?" he asked. He also questioned the speed with which the change of religion and marriage happens within a 24-hour window.
Dawani said that nothing is known about the fate of the minor girls who are taken away and married off under duress. "We have no idea whether they are killed or end up in brothels," he lamented. He also regretted that very high profile lawyers, with big names, sometimes show up to defend the culprits.
According to media reports, in one such case high profile lawyer Mujeeb Pirzada showed up to defend the alleged rapist in one case. Many high power Muslim priests are also involved in giving a religious cover to the practice of abduction, forced conversion and marriage of Hindu girls. In the case of Rinkle Kumari, the Pir of Bharchoondi Sharif, who is a leader of Pakistan People's Party, defended the culprits. In most cases in lower Sindh, the minor girls are transported to another cleric Pir Ayub Jan Sarhindi for the conversions.
At times plans are made to transport the Hindu girl as far away as possible from the place of her abduction to keep her away from her family. "In the case of Jyoti, she was abducted from Jamshoro in Sindh but recovered all the way from Balochistan," Dawani said. He said that the existing practice is to send the girl to a shelter, where she has no access to her parents while the abductors are allowed to contact them. He said at times the age of the girl like in the case of Anjali is crystal clear as it is mentioned in official documents and verifiable through medical tests, but the child is still not returned to the family. "Sometimes a court may pass a verdict in favor of the parents, but the orders go unimplemented," he said. Pakistan is one of the worst places for religious minorities, especially Hindus and Christians. Two dozen Hindu girls are forcibly converted to Islam each month, according to the Human Rights Commission of Pakistan. As many as 1,000 Hindu and Christian females are converted to Islam each year,
http://www.examiner.com/article/pakistan-99-percent-of-hindu-girls-raped-converted-are-under-13-years-of-age
------------
UAE Media Debate Burqa Ban Following Brutal Stabbing Of American Teacher in Abu Dhabi
06 Dec, 2014
For the first time in history, and in the wake of the December 1st stabbing death of an American teacher in Abu Dhabi by a woman wearing a Burqa, Gulf region media are questioning whether the Burqa is a security risk.
Historically, other Muslim and Arab governments, as well as feminist activists, have not only questioned the Burqa—they have also abolished it. Such countries include Turkey, Egypt, the Maghreb, Iran, and Afghanistan. Educated Muslim women living in large cities in these countries went unveiled for at least 100 years. However, Saudi Arabia and environs, and rural regions in the Arab and Muslim world, have never really abandoned the Islamic Veil. It has now returned with a vengeance across the Middle East, Central Asia, and parts of Africa.
Thus, it is somewhat amazing and a welcome relief that some newspapers in the UAE are wondering whether the Burqa should not be worn "for security reasons." One journalist titled his piece succinctly: "The Niqab Crime, and the Niqab is a Crime."
For a long time, Dr. Daniel Pipes has argued that the Burqa is a security risk. He has also kept a log of crimes, both terrorist and otherwise, committed by both men and women hiding beneath Burqas. They are able to do so since enforcers of Islamic customs have trained everyone to treat masked burglars, killers, and human homicide bombers with the utmost respect. This includes non-Muslims too.
I have argued that the West should ban the Burqa not only on security grounds but also on human rights and women's rights grounds. Niqab (a face veil) and Burqa (a head, face, shoulder, and body covering) function as sensory deprivation isolation chambers and as ambulatory body bags. They completely compromise a woman's ability to see, walk safely, feel the sun on her face, engage in friendly conversation with others. The Burqa also induces anxiety, claustrophobia, depression, and ultimately, very low self-esteem.
Someone whose face is completely masked cannot be identified. She cannot function in a professional capacity among non-relatives and infidels. One might almost conclude that this is one of the aims of wearing a Burqa. A face-masked woman will find it very difficult to eat in a public, integrated restaurant, or engage in conversation in the public marketplace.
We have also seen that Muslim women (and sometimes men) in Burqas have functioned as human homicide bombs and as stabbers. Women human homicide bombers hiding beneath Burqas have also blown up other Muslim women and children.
I—and some others—believe that whoever wears a Burqa probably belongs to a fundamentalist family; and wherever fundamentalist families exist, they are more likely to be ruled by Islamic supremacist ideas, including that of Jihad. Such ideas may also induce feelings of persecution due to the expectation that Muslims should rule, not be ruled, and not be forced to co-exist on an equal basis with non-Muslims. Feelings of persecution may make someone more likely to follow the most radical Imams and to rejoice in or fund, enable, or join in Islamic victories over infidels or over the "wrong" kind of Muslim.
Western countries have begun to ban the Burqa. France was the first to do so and it did in a religion-neutral way. This ban was upheld by the highest court in Europe, the European Court of Justice. It would be amazing but splendid if the UAE, America's ally against Iran and ISIS, now led the way in banning the Burqa in the Gulf States.
http://www.breitbart.com/Big-Peace/2014/12/05/UAE-Media-Debate-Burqa-Ban-Following-Brutal-Stabbing-of-American-Teacher-in-Abu-Dhabi
------------
'Mama, Let Me Do Your Scarf So You Can Look Muslim'
06 Dec, 2014
My 6-year-old daughter loves headscarves. In preschool she went through a phase where she colour-coordinated them with her outfits while getting dressed. This is my same daughter whose most frequent proclamation when we view her vast dress collection in the morning is, "Nope, not fancy enough!"
On a recent trip to Morocco, she discovered a drawer in her grandmother's bureau filled with colourful, silky headscarves. She dressed herself up in the mirror for the next half-hour, reminding me of the pleasure I derived from my grandmother's jewellery box as a child.
Her love of headscarves is no different than her love of fancy dresses, hot chocolate or her bike. It's not something I give much thought to.
One Saturday morning just after her ballet class, she found a scarf in my purse and declared, "Mama, let me do your scarf so you can look Muslim." She said this in the same way you might say, "Let me do your hair so you can look beautiful." She carefully wrapped the scarf around my head, smoothing wrinkles and pushing it off my forehead, ensuring not a strand of hair was visible while my older daughter took a picture. After some internal debate about whether this could be offensive to Muslims since I am not Muslim, I decided to share it on Facebook. The very first person who commented declared, "How creepy," which was followed by another person announcing that I would be better off teaching my daughter that not all Muslim women wear a headscarf.
What these snap-second judgments didn't consider was my daughter's own identity: She is Muslim. Some of the most beloved people in her life wear a headscarf, and others do not. She understands there is no one way a Muslim looks. But that's all beside the point. To her, at age 6, a headscarf is not so much an expression of faith as it one of beauty.
My daughter doesn't see headscarves through the lens of jaded news media coverage that popularizes them as symbols of oppression, which many Muslim women have eloquently disputed. She also hasn't watched the news that usually shows Muslims as angry and violent (peaceful Muslims don't make for very good news) or seen Hollywood movies where the bad guy is always Muslim and yells, "Allahu Akbar!" before blowing himself up. Her opinions are her own, free from loaded assumptions handed to her by people who make sweeping generalizations about her faith. She doesn't yet know that some people call it a religion of terror or that someone told her dad once that he was paid in the military to "kill people like you."
Without the newsworthy sound bites telling her what Islam supposedly is, she understands Islam from her own experience? Islam for her is a crescent moon, the whisper of "bismillah" before we eat, a coffee-coloured rug her dad unfolds to pray, feasts with friends after sundown on the weekends during Ramadan and parties with dancing and henna on Eid. Islam may as well be Christianity to her. She sometimes confuses churches and mosques — not unreasonable, since they are both places of worship, where people go to be closer to God.
While my daughter sees no differences between a church or a mosque, I have had to remind her several times that most Muslims don't put up a Christmas tree as we do. Not every family is mixed faith like ours. To her it's all so ordinary — Halloween, Thanksgiving, Christmas, Valentine's Day, Easter, Ramadan and Eid.
When my husband and I began dating 10 years ago, how our difference in faith would play out in children was a central discussion. We agreed that children would share both our belief systems (even though I don't have a religious identity beyond spiritual) which made perfect sense at the time.
It was only after having children that I reconsidered this approach and came to favour one dominant faith identity while making room for a diversity of celebrations. Life is enriched by celebrations, but I believe having one faith is more beneficial through life's ups and downs than grappling with a nebulous belief system like my own. I knew that Islam inspires antipathy, but the bigotry and misunderstanding of the many was irrelevant to our personal family decision.
What I didn't imagine was how visibly intolerance would reveal itself in little things. If my daughter said, "Mama, let me make you look Buddhist" and helped me into lotus pose, would I have received the same responses? A headscarf is such a magnet for uninvited assumptions that many missed the essence of that moment in the mother-daughter photo: a little girl's pride in making her mama looks beautiful.
Stephanie Meade is the Founder and Editor-in-Chief of InCultureParent.com, an online magazine for parents raising little global citizens. After many moves worldwide, she currently lives in Berkeley, California with her husband and Moroccan-American kids.
http://parenting.blogs.nytimes.com/2014/12/05/mama-let-me-do-your-scarf-so-you-can-look-muslim/
------------
Child Marriage in Morocco: Young girls Married at the Age of 12
06 Dec, 2014
Rabat- A new report released by Morocco's Ytto Foundation revealed that among 138 marriages in the Midelt province, 52 percent of brides are minors, and some of them married at the age of 12. 91 percent of these couples are with undocumented marriage.
The Ytto Foundation introduced the report to the media during a press conference on Thursday in Casablanca. It was conducted by a delegation from the Ytto Foundation that travelled to several villages in the Midelt province. The program used the slogan "No to Legalizing the Rape of Children, All against Child Marriage."
According to the report, 83 percent of women interviewed in the villages in the Midelt province said they were married before the age of 18, and 91 percent of them said they are in customary marriages, or marriage without legal documents.
The Ytto Foundation said that these sorts of marriages are further harming the situation women in Morocco.
The report goes on to add that most of these victims of child marriage suffer from gynaecological pathologies, and many of them are subjected to sexual violence from their husbands.
"In some cases, young girls married at the age of 12, 13 and 14. Those girls are experiencing symptoms of illness because of being obliged to bear psychological and physical burdens which doesn't match with their age," the report noted.
The Ytto Foundation said that in an unauthenticated marriage, a woman is not entitled to child support in the case of divorce or inheritance upon the death of their spouse. Also, her children would not be considered legitimate and thus, they would lose their right to an education since they are not registered.
According to the report, the majority of women and girls surveyed suffer from joint disease associated with working on a farm.
The report goes so far as to reveal that 91 percent of women surveyed are illiterate. Almost 80 percent of them said that they would like to study.
http://www.moroccoworldnews.com/2014/12/146163/child-marriage-in-morocco-young-girls-married-at-the-age-of-12/
------------
'Pakistan Moving Forward In Upholding Rights of Women'
06 Dec, 2014
Lubna Khayyam, the wife of the charge d'affaires of the Pakistan Embassy in Riyadh, has outlined the significant role that women play in society and in moulding the family unit on the occasion of the United Nations International Day for Elimination of Violence Against Women. The event was organized by the women's wing of the Pakistani Writers Club (PWC) in Riyadh.
Khayyam noted in her address that "gender equality is specifically guaranteed in the constitution of Pakistan." She said that Pakistan is moving forward legally and socially by creating awareness about practices that lead to violence and discrimination against women.
Further, she stressed the impact of certain laws and bills that were passed effectively to outlaw violent and discriminatory acts such as acid attacks as well as harassment at work place, pointing out that while mind-sets ingrained over centuries are difficult to change, their change is inevitable.
Held at the Embassy of Pakistan on the weekend, the evening was presided over by convenor Dr. Wardah Qureshi, and was hosted by Dr. Erum Qalbani and Aisha Khanum.
Guests included Saida Oihabi, an adviser to the UN, and Margaret Beisty, a prominent motivational speaker against domestic violence. Delegates from the Netherlands, Norway, Singapore, Sri Lanka, Switzerland, Thailand, the United Kingdom, the United States and Uruguay also attended.
The theme of the event was "the victims of abuse and their abusers."
Black and white masks decorated the tables and the hall. "The blank faces represent the silent and anonymous victims of abuse in a society," said Asma Tariq, senior member of the PWC. She added, "We wanted to show how these abusers often lie hidden in plain sight and force their victims into silence as well." Some young performers showcased the different forms of abuse that society perpetrates on girls and women in an artistic presentation.
Clippings were shown from the Oscar winning documentary "Saving Face," featuring the plight of victims of acid attacks, and their inspirational stories of triumph against overwhelming odds. Just as the women in the documentary struggled for their happy endings, so did a young woman in a play that was presented at the event. The play, "A Tale Untold," produced and directed by Asma Tariq, told the story of a young woman who at the height of her happiness was chained, bound and thrown into despair by society. The play concluded with a note on how it was only through the help of other people that the young woman was able to fight her way back to life and sanity. "It is always society which throws women into despair and it is only society which can bring them back to life," commented Madiha Noman, the event coordinator, stressing the role society had to play in the protection and well-being of women.
Ambreen Faiz presented a fitting and poignant eulogy to Parveen Shakir, one of Pakistan's prominent female poets and a well-known writer about women and their status in Society. Parveen Shakir's words reflected the pain felt by the victims as well as the survivors of abuse when she wrote, "O, how these strangers bury me alive within these walls (and) bind me with chains of their honor."
These sentiments were echoed by Margaret Beisty, a motivational speaker and survivor of domestic abuse herself, when she said that a woman's forced silence is what keeps her down. She also went on to explain that often violence against women is not as dramatic as an acid attack. "Most domestic violence goes unseen," said Margaret, as she recounted her own moving tale of domestic abuse, as well as the inspirational strength of her mother that helped her whole family move past their painful ordeal. Financial dependence on their abuser, according to Margaret, is one of the key reasons why some women are still trapped in abusive relationships. She also recommended establishing refuges for those women who are not financially independent.
Dr. Wardah Qureshi, PWC-Ladies Chapter convenor, offered her own words of appreciation to the Kingdom and Custodian of the Two Holy Mosques King Abdullah for furthering the empowerment of women by opening more universities for girls as well as including them in the Shoura Council as members.
http://www.arabnews.com/saudi-arabia/news/669966
------------
Nepalese Worker First Woman in Malaysia Jailed For Terminating Pregnancy
06 Dec, 2014
A foreign worker from Nepal has become the first woman in Malaysia to be imprisoned for undergoing an abortion.
The Bukit Mertajam sessions court last month found Nirmala Thapa guilty of terminating her pregnancy and sentenced her to a year's jail.
Nirmala, 24, was six weeks pregnant when she went to a clinic in Bukit Mertajam on mainland Penang for the abortion on October 9.
It was reported that she was arrested at the clinic that day when the premises was checked by officers from the Health Ministry's Private Medical Practice Control Unit (Ukaps) during a routine inspection.
Nirmala, who worked in a factory in Penang, was charged on October 13 under Section 315 of the Penal Code for allegedly preventing a child from being born alive.
Under the section, it is an offence to prevent a child from being born alive or to cause it to die after birth. The offence is punishable by imprisonment for up to 10 years, fine or both, if the act is not done in good faith for the purpose of saving the life of the mother.
Nirmala was found guilty last month and sent to jail.
Dr Choong Sim Poey of Reproductive Rights Advocacy Alliance Malaysia (RRAAM) said Nirmala was the first woman in Malaysia to be sent to jail for having an abortion.
"We have checked with our legal experts. They could not find a previous conviction of this nature," he said.
The women's rights and health advocacy group's co-chair said what happened to Nirmala had raised questions about women's rights and how Malaysia treated migrant workers.
Although induced abortion was illegal in Malaysia, the termination of pregnancy is legally allowed if done by qualified doctors, as provided under Section 312 of the Penal Code.
Under this section, abortion is permitted if a registered medical practitioner is of the view that the continuance of the pregnancy will risk the woman's life or cause injury to her mental or physical health.
"Referring to Section 312, abortion is permitted," Dr Choong said, adding that there was also a 2012 document issued by the Health Ministry on pregnancy termination, which confirmed that the section allowed abortions performed by doctors.
A check with the ministry's website revealed that the Termination of Pregnancy Guidelines for government hospitals defined abortion as "the removal of an embryo or foetus from the uterus at a stage of pregnancy when it is incapable of independent survival (500g or 22 weeks gestation). It may be spontaneous miscarriage or induced for medical or social reasons".
The ministry's guidelines are also confined to "procedures to remove an embryo or foetus where the pregnancy is less than 22 weeks gestation, or if the gestation is unknown, where the foetus is estimated to be less than 500g".
Dr Choong said Nirmala's conviction was "unusual" and regretted that she was "treated like a common criminal" for terminating her pregnancy, something many women have done.
"She did what countless other women have done. Why was Nirmala targeted? She was really unlucky.
"We learned that the girl did not even have a translator or a lawyer with her when she was taken to court," he said, adding that Nirmala had been in distress since she was arrested and sent to the Jawi prison and then the Pokok Sena prison in Kedah.
Dr Choong said it was not uncommon for foreign women working in Malaysia to have their pregnancies terminated quickly upon discovery out of fear of risking their jobs.
He said some of them might be tied to contracts with clauses stating that they were not to be pregnant while working in the country.
"I am not sure what repercussions they face for violating that clause. They might lose their jobs and have to pay their agents a penalty.
"That is why they quickly have abortions... such a clause is unfair to the women.
"This also raises the question of how we treat migrant workers. They have already spent so much money, paying premium to their agents, to come to Malaysia to get work, and then they must save money and send home as much as they can," he said.
Tenaganita director Aegile Fernandez said foreign women workers were tested for pregnancy when they enter the country for work or seeking to renew their work permits.
Fernandez said if the workers fail any of the tests, they would be deported.
"It is stated in their contracts that they will lose their jobs and be sent home if they get pregnant... So in Nirmala's case, she probably had no choice."
She added that the group was also looking into Nirmala's case.
Abortion is considered a taboo subject in Malaysia even though it is common. It was reported in the press two years ago that more than 90,000 abortions were done annually, according to the National Population and Family Development Board.
Although government hospitals provide abortion services, it is widely known that women generally go to private clinics to have their pregnancies terminated.
According to Dr Choong, an abortion can cost anything from a few hundred ringgit to a few thousand. He said the price depended on the clinic, adding that some doctors exploited the situation.
"An abortion can be just a 10-minute procedure. It is the most common procedure for women, but it is also the most overpriced," he said.
Meanwhile, Penang Ukaps clarified that Nirmala's case was not under the unit's jurisdiction. A spokesperson told The Malaysian Insider that action taken under the Penal Code was under the police's jurisdiction.
The spokesperson declined to elaborate on the case involving the doctor of the private clinic where Nirmala had her abortion, because an investigation was ongoing.
Asked if there were many private clinics providing abortion services illegally in the state, she said Ukaps could not reveal the "confidential data", adding that the unit was always conducting inspections.
The Nepalese Embassy could not be reached for comment.
http://www.themalaysianinsider.com/malaysia/article/nepalese-worker-first-woman-in-malaysia-jailed-for-terminating-pregnancy#sthash.LooJ9Rl4.dpuf
------------
Stop Labelling Indonesian Women as Either 'Good' or 'Bad'
06 Dec, 2014
Society often labels women in two categories: "good" and "bad". Both of these labels reduce women from human beings to stereotypes. They are detrimental to women's rights as seen in two recent controversies in Indonesia.
Human Rights Watch recently released a report which said that the Indonesian police subject female police cadets to two-finger "virginity tests" as part of the recruitment process. Such tests, the report said, are painful and traumatizing.
Meanwhile, in Shariah-ruled province Aceh, a victim of gang rape has been sentenced to public caning for adultery. Eight men had raped her in May after they caught her together with a married man, before turning her in to the village head. She was later picked up by the Shariah police.
The 25-year-old woman was tried under Shariah law. The rapists were tried in the criminal court. The Langsa authorities said the woman, currently five months pregnant, would be caned after she has given birth.
In the "virginity tests," women are made to represent honor and morality. They are forced to prove their "purity" through an invasive and degrading test. Meanwhile, the caning of the rape victim who was accused of adultery is an example of women being punished for being "bad."
In the eyes of the patriarchal Aceh society, the woman was an adulterer, a sinner, a destroyer of established norms and morality. In both cases, women's bodies and private lives are controlled, judged and punished in ways that men are not.
In both instances, the state is the perpetrator of these violations. The Indonesian police had carried out "virginity tests" for decades nationwide.
Canings are executed by the Aceh Shariah police. They operate as part of Aceh's special autonomy in the former conflict area. Aceh is the only one of 34 Indonesian provinces that officially implements Shariah law.
Both institutions base their argument on morality. A police official said the tests were to screen out "bad seeds."
"If she turns out to be a prostitute, then how could we accept her for the job?" he said.
In a similar tone, the head of Shariah division in Langsa city, Ibrahim Latif, insisted that the woman had broken Shariah law by committing adultery. He said her claim of being raped was weak as the doctor didn't find marks left by rape.
Ibrahim continued to blame the victim:"According to people here, she often dresses sexy and 'seductive' to men. Perhaps when she was caught she bribed them by letting them grab her body."
These are extreme examples of violations of the rights of women. The two-finger test is an invasive and degrading physical examination. It violates provisions in the Universal Declaration of Human Rights and the International Covenant of Civil and Political Rights (ICCPR). It also breaches the Indonesian constitution.
Amnesty International, in its report on Egyptian cases of virginity tests on women prisoners, describes such practices as "an egregious form of gender-based violence constituting torture or cruel, inhuman or degrading treatment."
Similarly, rape has been defined as a practice of torture and inhuman or degrading treatment. For whatever reason, rape cannot be used as punishment.
Often, when power is decaying and deforming, it needs an object of repression to reinstate its supremacy. Take the Indonesian police as an example. In the 15 years of reform, the law enforcement institution has continued to be riddled with corruption, internal conflicts, abuses of power and human rights violations.
In recent years, there have been shootings between the police and the army in various areas in Indonesia. A human rights group recorded at least 30 incidents of conflict in the last eight years. Indonesian Police Watch describes the police as arrogant and repressive.
Meanwhile, Langsa city is one of the districts in Aceh with the most cases of corruption in 2012, according to the Aceh State Prosecutor. The same year, Kontras (the Commission for the Disappeared and Victims of Violence), a human rights organization, reported that Langsa has the highest incidence of violence in Aceh.
These include cases of violence against women related to Shariah law. In 2010, when Shariah police caught a young unmarried couple being together alone, an offense under Shariah law, three officers raped the young girl. Only two of the officers were punished.
In 2012, a 16-year-old girl committed suicide after being called a whore by the Shariah police and local media. The police had arrested her and some other friends when watching live music.
For the Indonesian police and the Langsa Shariah police, women through their bodies bear the responsibility to uphold the respect of the institutions and reinstate their control over society. Such practices of shaming and punishing women aim to instill fear and gain obedience from members of the society.
Other state institutions should speak against these violations of women's rights.
Relevant state institutions have all been silent on the caning of the rape victim. The Ministry of Women Empowerment and Protection of Children, the Ministry of Justice and Human Rights, the governor of Aceh, the mayor of Langsa, the police chief, and President Joko Widodo have not commented on the issue.
French existentialist thinker Simone de Beauvoir optimistically said that one has the choice to become a woman. In Indonesia, especially in the police force and Aceh, a woman is not born but rather made into a property of the state.
Sri Lestari Wahyuningroem is a PhD candidate at the School of International, Political and Strategic Studies, at Australian National University.
http://thejakartaglobe.beritasatu.com/opinion/stop-labeling-women-either-good-bad/
------------
Saudis Block Website That Reported Woman Driver's Case
06 Dec, 2014
Saudi authorities have blocked the website of a regional human rights group which reported the case of a woman who tried to defy the kingdom's ban on female drivers.
Attempts inside Saudi Arabia to access the Internet site of the Gulf Centre for Human Rights (http://gc4hr.org) brought up a notice on Tuesday saying: "Sorry, the requested page is unavailable."
The website, still accessible outside Saudi Arabia, on Tuesday condemned the arrests of two activists, Loujain Hathloul and Maysaa Alamoudi, whose case has attracted worldwide publicity.
Border officers stopped Hathloul when she tried to drive from neighbouring United Arab Emirates into Saudi Arabia. Alamoudi, a UAE-based Saudi journalist, later arrived to support her.
Both were arrested, activists said.
Their arrest "forms part of an ongoing systematic policy of harassment by the Saudi authorities against activists who demand the women's right to drive a car in Saudi Arabia," the Gulf Centre for Human Rights said.
Conservative Saudi Arabia is the only country in the world which does not allow women to get behind the wheel.
On Tuesday the Gulf Centre for Human Rights posted a message saying it "deplores the blocking of its website... by the Saudi authorities and considers it as a form of repression that is part of intimidation patterns that are being used persistently in the kingdom these days".
It did not say what might have prompted the censorship, but said it occurred "at a time when human rights defenders are exposed to various kinds of harassment and arrests, arbitrary imprisonment and unfair trials that lack legal procedures and minimum international standards".
A court in Saudi ally and neighbour Bahrain on Monday sentenced in absentia the director of the centre, Maryam al-Khawaja, to a year's jail for assaulting police.
Khawaja holds Danish nationality and is a daughter of jailed Bahraini Shiite opposition figure Abdulhadi al-Khawaja.
Bahrain and Saudi Arabia are both ruled by Sunni monarchs.
The Gulf Centre for Human Rights has offices in Beirut and Copenhagen.
Reporters Without Borders, another watchdog, this year named Saudi Arabia as one of 19 countries where government agencies are "enemies of the Internet" for their censorship and surveillance.
An activist told AFP that Hathloul on Tuesday was being held at a jail in Saudi Arabia's Eastern Province, but it was unclear whether she had been charged with any offence.
Alamoudi was detained at a separate jail in the province, added the activist who declined to be named.
"Their phones have been confiscated. Their cars have been impounded," she said.
Before her arrest on Monday afternoon, Hathloul Tweeted that she had been stuck at the frontier for 24 hours waiting to cross from the UAE to Saudi Arabia.
Saudi border officers blocked Hathloul because she was driving, and asked her to wait until they received "orders from their superiors", activists said.
The interior ministry could not immediately comment on the case on Tuesday.
Hathloul was trying to make a point in her unusual attempt to drive through the border and knew that she would not be allowed to pass, the activist who spoke to AFP said.
During October, dozens of women drove in the kingdom and posted images of themselves doing so as part of an online campaign supporting the right to drive.
In response, the interior ministry said it would "strictly implement" measures against anyone undermining "the social cohesion".
Activists say the driving ban is not actually illegal but is linked to tradition and custom in the kingdom.
http://english.ahram.org.eg/NewsContent/2/8/117006/World/Region/Saudis-block-website-that-reported-woman-drivers-c.aspx
------------
Saudi Women Look Up To Job of Waiting Tables, But Society Looks Down Upon It
06 Dec, 2014
No dignified profession should be off limits to women in the Kingdom, as the number of qualified female graduates is growing at a rapid pace, as is the demand for female workers in women-only establishments.
The demand for Saudi saleswomen, security guards and waitresses at restaurants is on the rise, in particular.
According to a study, most females agree that their acceptance or rejection of a particular job offer or impulse to work depends on the financial needs.
Shaikah Al-Dahailan, an employee and post-graduate student, said she did not mind working as a waitress in a restaurant. ''If I were in need of money I would accept any kind of job even though I am now a university graduate."
She pointed out that female students in the US and Europe were working in restaurants for low wages, but that they got tips that were worth more than their salaries. She added that Saudi women working in such jobs should be respected because it is a means of earning one's own livelihood without relying on others.
Samar Al-Murri, a graduate and housewife, said that a female waiter should have studied hotel and hospitality studies, and should have an elegant personality in order to best perform her job, whilst another post-graduate student, Salma Al-Wabari, said that she did not object to Saudi women working as waiters, yet she would not herself accept such restaurant work because her educational field is education.
Another graduate, Iman Kanaan, said that women's acceptance of restaurant jobs actually helps them contribute to a widening of the ideological and societal perspective and expectations of a girl and her family.
However, most of the female participants in the study attributed the general refusal to accept the idea of Saudi women working as waitresses to social customs and taboos. The social approach toward waitresses today is generally pity, rather than respect and appreciation, as the job is often associated with poverty, and not dignity or freedom.
However, one secondary student, Arwa Al-Sharidah, noted that she would like to be a waitress because it enabled a woman to serve the people, and because she feels it could teach her how to patiently interact with customers of different tastes, and respond to their needs.
Mariyam Salman, an education supervisor, approved of a Saudi woman who might choose the work of a waitress if her family traditions did not object, and she needed the financial gains.
On the other hand, Umm Muhammad, who is an owner of a women's coffee house, is not at all optimistic about the prospects for Saudi waitresses. ''Saudi women could not continue as waitresses because the working hours required will not suit them. That is why I abandoned the idea of appointing Saudi women and returned to my old practice of recruiting Filipino waitresses,'' she said.
Fatimah, a former waitress, explained why she abandoned her job as a waitress previously. ''I had to leave the job because I could not adapt myself to the job and I was haunted by a feeling that I had no future in that field. I was also ashamed to tell others that I worked as a waitress, even though the customers never treated me with disrespect. I never accepted tips because I was being paid for my job and I felt that accepting tips would remind me of my poverty.''
Director of the Family Development Center in Al-Ahsa, Khaled Al-Halibi, said that a Saudi can work as a waitress ''if the cafe is females-only, and offers only lawful services. No unlawful practices can take place, such as playing obscene music or television channels, or smoking shisha and tobacco. Additionally, the guardian of the woman must have no objection to her presence there, and the woman must wear Shariah-approved clothes only". He added that the work would be as dignified as the profession of nurses or workers in women's schools.
Businesswoman Munirah Al-Shenaifi feels that most Saudi women have a distaste for the job of a waitress even if she has no objection to being a cook or saleswoman.
She said she opened a number of women's coffee shops in universities, and that she offered training for a number of Saudi women to work as waitresses there. But their training did not succeed because of social disapproval, and so she had to employ expatriate women instead of Saudis. She added that Saudi women did not have any objections to working as security personnel, plumbers, messengers or saleswomen.
However, businesswoman, Madawi Al-Hasoun, said the employment goal for Saudi women should be to place her within honorable professions. ''Even though no work without dignity, we hope for progress and advancement in the female workforce so that they can explore arenas where they get more profitable positions than that of waitresses. We need to produce a generation of female youth who realize the value of work and who choose advanced professions that put them at a higher level of financial status," she asserted.
http://www.arabnews.com/saudi-arabia/news/670506
------------
URL: https://www.newageislam.com/islam,-women-and-feminism/new-age-islam-news-bureau/india--muslim-girl-can-marry-once-she-completes-15-yrs-of-age/d/100362