New Age Islam News Bureau
22 Sept 2013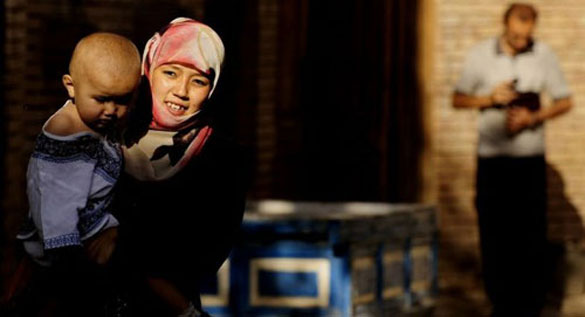 Azalia Suhaimi is one of the young and upcoming poets pic by Afif Abd Halim
-----------
• In Remote City of Pak Punjab, Female Web Developer Finds Livelihood on the Internet
• Dhaka Flags Reservations about Sexual Orientation and LGBT Rights
• Saudi Women Say Men Should Not Force Their Wives to Work
• Women Poets, photographers in the new Malaysia
• Indonesian Lawmaker urges LPSK to protect drug lord's ex-girlfriend
• The Woman behind the Bestseller on Pak Lah
• Taliban Abduction Left Fariba Ahmadi Kakar 'Even Braver'
• Girl-Child Education in Nigeria: Long Road to Educating a Nation
• Saudi Arabia: Has Tide Turned on Women's Rights?
• Musarrat Chaudhry, a Native of Pakistan, To Be First Muslim Recipient of Interfaith Award
• Govt Taking Steps to Protect Women's Rights: Pak Minister
• The (Slow) Rise of Iran's Women
Compiled by New Age Islam News Bureau
URL: https://www.newageislam.com/islam,-women-and-feminism/new-age-islam-news-bureau/india--muslim-body-to-move-sc-over-marriageable-age-for-community-girls/d/13620
-----------
India: Muslim Body to Move SC over Marriageable Age for Community Girls
PTI
September 22, 2013
Kozhikode: Holding that fixing marriageable age for Muslims was an encroachment into their religious rights, a newly constituted umbrella body of the community here has decided to move the Supreme Court seeking exemption from the minimum age limit of 18 years.
A meeting of the Kozhikode Muslim Personal Law Protection Committee comprising Muslim religious bodies resolved to take legal steps seeking exemption from marriage age restrictions for the community, a committee release said today.
It said the move for setting marriageable age for Muslim girls was a violation of Muslim Personal Law.
"Fixing marriage age for Muslims is an encroachment into the religious rights of the community and hence the state and central government need to take suitable steps in this regard," said the committee whose convenor is IUML state secretary MC Mayin Haji.
The committee's decision comes in the backdrop of a raging debate over child marriage triggered by recent 'Arabi kalyanam' (Arab wedding) of a minor girl with a UAE resident.
The 17-year-old girl from Kozhikode, living in an orphanage, was forced into marriage, again bringing to focus the evil practice prevalent in parts of the state.
In June last, a government circular directing local bodies to register marriages of Muslim girls above the age of 16 years and men below 21 years kicked up a row in the state. The government modified it later.
The committee's meeting, held here yesterday, also expressed anxiety over attempts by certain corners to resort to inimical approach over steps taken for protecting the community's interest, the release said. It was attended among others by representatives of various organisations including Samastha Kerala Jem-Iyyathul Ulama, Kerala Naduvathul Mujahideen (KNM), Naduvathul Mujahideen Kerala, Jamaat-e-Islami, Kerala state Jemeyyathul Ulama and Muslim Service Society.
Samastha secretary Kottamala Bappu Musaliyar is the chairman of the committee while Samastha Employees Association general secretary Mustafa Mundoopara is the coordinator.
http://zeenews.india.com/news/kerala/muslim-body-to-move-sc-over-marriageable-age-for-community-girls_878319.html
------------
In Remote City of Pak Punjab, Female Web Developer Finds Livelihood on the Internet
September 22, 2013
KARACHI: In what could prove to be an inspiration for women, especially ones with skills in information technology, Salma Noreen of Attock – a small town in northern Punjab – tells The Express Tribune how she found a way to earn a decent living in a city that offers limited opportunities to women and has 'a negative perception' of those working in the field.
"In Attock, work opportunities for women are rare," Noreen, a web developer said, "People are not well educated," she said, "and have negative perception of working women."
Despite financial backing from her father, Noreen's exposure to education and work remains limited to her home town. She completed both her Bachelor of Arts and Post Graduate Diploma in IT from Degree College for Women, Attock. Although, she also acquired an MBA but that was from Virtual University.
Attock is not an advanced a city in terms of IT, Noreen said, only a few people are aware of freelancing. Since work opportunities are limited in Attock, the skilled workers move to urban areas or other countries, she said.
By contrast, the young web developer found a way to make money and that, too, from the comfort of her home – thanks to the online freelancing platforms that helped her avoid any discrimination she may have faced for stepping out of her home for work.
Freelancing, according to Noreen, was the only option because it allowed her to work from home but its benefits stretch beyond that.
"Freelancing provides me the opportunity to make my own schedule and give time to my family and social networks at the same time," Noreen said.
With expertise in WordPress, Noreen's example is interesting of how a woman from a small town has benefited from working as a freelance IT professional but there are hundreds of skilled IT workers in Pakistan who have made fortunes out of online platforms such as oDesk, freelancer and elance.
Responding to a question about her earnings, she said, "It depends on how much time one devotes to freelancing and how well one performs."
Noreen requested that her earnings not be mentioned, but Pakistani freelancers had earned more than $13 million from freelancer.com alone as of March, 2013, according to Adam Byrnes, international director at freelancer – making a small but significant contribution to the countries remittances that amounted to $14 billion for fiscal 2013.
A web developer with expertise on WordPress, Noreen has earned a five-star rating by her clients for the projects she completed on elance.com – an online marketplace based out of California. She has also earned a 4.9 rating from her clients on freelancer.com – the world's largest online marketplace for freelancers in terms of user base.
Noreen started working for local clients and later on found clients from various forums, and after gaining experience and expertise, she switched to bigger platforms. "When I heard about freelancer and elance, I joined them as soon as I could," she said.
Her circumstances may have forced her to opt for freelancing but she said it was a better option than a regular job. "There is no guarantee of how much one can earn each month," she said, "but if one works the way a regular worker does, freelancing will pay more than a regular job."
Although she has established a good profile on elance and freelancer but she does not seem to stop here. After learning about Bug Bounty Programmes (BBPs) through social media, she is now testing her luck with web security – she is, arguably, the only female white-hat in the country. BBPs are run by world's leading websites and offer monetary rewards to those reporting security vulnerabilities in these websites.
According to documents reviewed by The Express Tribune, she has already reported security bugs in Microsoft, Yahoo and freelancer.com. According to freelancer's security team, she was the first one to report a security bug in their website after they started their own Bug Bounty Programme.
Bounty hunting, according to industry experts, is a common trend among the country's young IT workforce. However, if one is offered a job, it is something substantial. Whether or not Noreen achieves this milestone, she has certainly set an example for others to follow.
http://tribune.com.pk/story/607111/in-remote-city-female-web-developer-finds-livelihood-on-the-internet/
------------
Dhaka Flags Reservations about Sexual Orientation and LGBT Rights
September 22, 2013
Bangladesh accepted the Asian and Pacific Declaration on Population and Development, with certain reservations about issues such as gay rights that are too contentious to be endorsed.
"We could not accept some of the clauses in the declaration and we flagged our reservations. But otherwise, we accepted the declaration," Foreign Secretary Md Shahid ul Haque told the Dhaka Tribune on Saturday.
The declaration was made at the Sixth Asian and Pacific Population Conference (APPC), which concluded in Bangkok on Friday.
The foreign secretary said: "We raised our reservations on all issues related to sexual orientation. We followed the stand we took during the UPR [Universal Periodic Review]."
Bangladesh was however not very well prepared and not a single inter-ministerial meeting was held before the APPC. On the day the conference started, Secretary of Health MM Niazuddin, who was to lead the team for the Senior Officials' Meeting, left Bangkok.
AK Abdul Momen, Bangladesh's Permanent Representative to the UN, recently told the Dhaka Tribune that the issues could not be accepted by Bangladesh as "they are against our social norms."
He said the UNFPA had "tried to sell the idea" of LGBT (lesbian, gay, bisexual and transgender) rights, but Bangladesh opposed it. It also does not support matters related to extramarital sex, said Ambassador Momen, and therefore the idea of adopting comprehensive sex education "would not be possible in Bangladesh."
The foreign secretary said these issues would not be discussed at the 68th UN General Assembly that started on September 17, but would come up next year at the International Conference on Population and Development (ICPD) meeting.
He said: "The issue will be discussed throughout next year."
The secretary declined to comment when asked about the UNFPA briefing note for the Bangladesh delegation.
The UNFPA's note on sexual orientation and gender identity (SOGI) suggested that the Bangladeshi delegation should "refrain from voting against any motions in favour of services for LGBT."
A government official said the lack of preparation and coordination put the team from Bangladesh in an awkward situation at the negotiation table, because UNFPA had covered the team's expenses.
There was also pressure from the civil society group (CSO), whose representative was part of the delegation, said the official.
In a joint statement CSO said: "We would like to applaud that a majority of the member states reached a strong consensus on a number of key issues that include sexual rights, sexual orientation and gender identities..."
One official with sufficient experience on the subject said though SOGI deals with LGBT rights, but the words "gays or lesbians" are never included in the main text instead "sugar-coated" terms are used.
He cited an example when in 2011 Bangladesh voted against a Human Rights Council resolution that said: "...expressing grave concern at acts of violence and discrimination in all regions of the world [that are] committed against individuals because of their sexual orientation and gender identity."
He added: "The battle is over but not the war. We have to fight to protect our position throughout the process of negotiation until 2014 and in the years ahead."
http://www.dhakatribune.com/law-amp-rights/2013/sep/22/dhaka-flags-reservations-about-sexual-orientation-and-lgbt-rights
------------
Saudi Women Say Men Should Not Force Their Wives to Work
September 22, 2013
ABHA – With the cost of living soaring, an increasing number of Saudi working women are taking up jobs in order to support their husbands and make ends meet. But many men have been accused of exploiting their wives by forcing them to work in order to support the family. Speaking to Saudi Gazette, working women said according to Islam and Saudi customs, it is supposed to be the job of men to support the household and husbands has no right to compel their wives to work.
One woman who requested anonymity told the Saudi Gazette that a wife who wishes to support her husband by working is not a wrong thing but many husbands end up taking advantage of such gestures.
"Unfortunately, men exploit such situations in due course. When a woman goes out to work and earn a regular income, her husband thinks it is her duty to continue the job and support the family," she said while narrating her own personal experience.
"In the beginning of our married life, I started work to support my husband to help him pay off huge financial liabilities and I continue to not only meet my personal expenses but the expenses of my children, family drivers and am also expected to pay utility bills from my salary," she said while noting that her husband has become accustomed to relying on her income and is not serious in fulfilling his responsibilities toward the family.
Nasreen Hamam, another Saudi woman, said women by nature are generous and are unable to ignore the financial requirements of their children.
Therefore, they take up a job to support the family. However, many men exploit their wives by insisting they continue working, something which leads to them evading their responsibilities and spending most of their time after work in the company of friends at cafes and rest houses, she added.
"If women work, the purpose should be to meet the requirements of the family. Throughout the years I worked, I was able to contribute to building a house for me and my children," Hamam said.
Many men, however, say their wives work because they want to, something which can often be a point of contention in marital life.
Private sector employee Ala claimed he was forced to divorce his wife due to her workaholic nature.
"For about five years, she was a failure in fulfilling her responsibilities as a housewife due to her insistence to continue working. She always came home tired and insisted that I hire a maid.
She constantly reminded me about the sacrifices she made for the family and her contribution in meeting household expenses," he said, adding that he divorced her when she refused his repeated demands to quit her job and obey him as a wife.
Reacting to this incident, Dr. Muna Al-Sawaf, head of the Psychiatry Department at Jeddah's King Fahd Hospital, said disputes among couples over sharing household expenses is not an issue confined to Saudi society alone but to every society in the world.
"It happens in all homes where there is no explicit agreement among couples with regard to sharing and meeting of family expenses. In my view, the basic problem is the absence of a clear vision among Saudi men about the role of their women. The man thinks that he owns his wife and all her earnings, and because he allows her to work, he assumes that she owes him what she earns," she said while emphasizing that neither the Shariah nor logic agrees with such a mentality.
Al-Sawaf said with women consolidating their role in the labor market and proving that they contribute in supporting their families, their rights should be upheld, especially in the case of divorce.
"In the case of divorce, the woman should get at least half of what her man possesses. But in Arab societies, even a woman who worked for more than 30 years often leaves her husband's home empty handed."
Ahmad Al-Maabi, a marriage official and a judicial arbitrator, said it is the duty of a husband to spend on his wife and children. "The husband is supposed to bear the entire expenses of his family. If his wife wants to work and is ready to pay a certain expense like the salary of the maid, then it is nice if the couples mutually agreed to such an arrangement," he said, adding that a husband has no right to compel his wife to share the burden of household expenses.
"It is also not at all acceptable for a man to neglect his responsibilities and rely on the salary of his wife to make ends meet," he added.
http://www.saudigazette.com.sa/index.cfm?method=home.regcon&contentid=20130922181197
------------
Women Poets, photographers in the new Malaysia
September 22 2013
Azalia Suhaimi is one of the young and upcoming poets in the city. She exemplifies the new generation of observant Muslims – she is a hijabi, well-educated and creative. Yuna (the singer) changed the landscape for many young Muslim women in Malaysia. You can cover your aurat, but you can do it in a colourful and trendy way.
Azalia's Facebook statuses and Instagram account are odes to poetry, books and her life. They are a photographic library of a creative life, enhanced by social media. She is also a wife and soon to be mother. Anything else?
"I am a poet."
In an email interview, she also describes herself as an occasional photographer.
"I craft stationery too sometimes. I have a thing for love - of any kind and to anyone at all. I wear rose-tinted glasses and prefer to see the lovely aspects of things and talk about them in a nice way. I tend to notice little everyday things as really beautiful things we're blessed with. All of these inspire me to spread just exactly that -love, kindness and nice things - to the public that often seems angry at the things and news we're surrounded with each day. So I spread that through art - be it poetry, creative photography or crafts."
And there is so much to love about Malaysia, she says. The sunshine. The way Malaysians can enjoy a beach-loving holiday at anytime of the year. The country has amazing beaches around the country, gorgeous diving spots, beautiful greens, mountains, rocks, lakes, waterfalls, to name a few. There is a whole lot of beauty if we could just notice a little more.
Chilli sauce. "I remember when I was studying abroad, the food outlets did not have chili sauce. They only offered tomato and mayonnaise and sometimes, BBQ. So we didn't have to go as far as missing our nasi lemak - we even missed the simple bottle of Sos Cili Life or Maggi or Aminah Hassan or what-have-you that are so easily accessible at any possible gerai or restaurants."
The multiple dialects Malaysians use to communicate. The variety creates a diversity not often found elsewhere in the world. She enthuses even about the humble mamak restaurants. The familiarity of phrases like "Boss! Kira!" when ordering food.
"The rakyat. The way we never stop trying. The passion a lot of us have in trying to make a change. Despite differing points of view that may go to the extremes or sometimes cause a little chaos, the essence of it is that each of us have some level of passion in trying to make our country a better place. And that passion in itself is admirable. And yes. The PETRONAS Twin Towers. This might be a cliched answer, but the Twin Towers really is among some of Malaysia's amazing developments that's hard not tAzalia says she writes poetry to spread love and happiness. The Malaysian Insider pic by Afif Abd Halim, September 16, 2013.
o be proud of."
Is Azalia a walking Hallmark greeting card?
While she is certainly proud of the developing local arts scene ("We're starting to have movies that dare to break the norm but with amazing messages, creativity and cinematography by some of our brilliant local filmmakers. And there's also certainly a rise in local art events promoting our music, films, painting, sculptures, poetry, dance, theatre, graphic design, photography and so much more,") she is no Pollyanna.
Malaysians don't have the right priorities, she says. Look at our newspapers: Headlines that don't seem like "headlines".
Malaysians argue back and forth over a word; now everyone wants to protect their territories. All that time and energy could have been used either improve the state of education, or improve the state of "our roads, solve traffic jams, and consecutively bring the rakyat together instead."
That's what Malaysians are good at. Arguing over trivial matters.
She is hoping that education will be reformed. There can only be change and development when there is stellar education. Teachers and educators need to be recognised for their hard work too. Teachers who are where they are because of their passion in teaching and not simply because teaching is the only profession left when they're out of choices.
"I hope for our children to not be afraid to think, ask or speak up their minds, albeit with respect. For them to learn that there are no right or wrong questions. For them to understand that learning really is that - to understand. And to discover new things, to think and to ask questions. And never to memorize. I hope for our children to be given a chance to actually learn, and not just memorize or follow the pack, in classes. I hope for this opportunity to be given fairly to all of our children, in the city or the rural areas, wherever. I hope for us to understand that education is far beyond the number of As we get in exams. I hope for parents to understand that."
In the meantime, she will continue writing poetry to spread love and happiness. Look for her at her website. Her Instagram account name is azaliasuhaimi.
http://www.themalaysianinsider.com/malaysia/article/poetry-photography-in-the-new-malaysia
------------
Lawmaker urges LPSK to protect drug lord's ex-girlfriend
September 21 2013
A lawmaker has called on the Witness and Victims Protection Agency (LPSK) to protect Vanny Rosyanne, a glamor model and former girlfriend of drug lord Freddy Budiman, who is currently being held in Nusakambangan prison in Cilacap.
Didi Irawadi Syamsuddin of the House of Representatives Commission III overseeing legal and security affairs said the LPSK should consider the fact that Vanny was a whistleblower who had
the courage to reveal illicit practices within the prison. Kompas.com reported on Saturday.
In July, Vanny came into the media spotlight following her outspoken televised testimony during which she claimed she was allowed to make conjugal visits to Freddy, who was sentenced to death on July 15, and used drugs while in prison. Vanny claimed they had been able to do so after Rp 50 million (US$4,400) in cash had been paid directly to a prison official.
Cipinang Narcotics Prison Chief Warden Thurman Hutapea was replaced following Vanny's testimony.
"LPSK should give her legal and physical protection. She could be under threat from Freddy," Didi, who is also the son of Law and Human Rights Minister Amir Syamsuddin, said.
Vanny was arrested on Tuesday in a hotel in Jakarta, where the police confiscated two packages of shabu-shabu (the local term for methamphetamine) and drug paraphernalia. Preliminary police investigations have found that she tested positive for drugs.(hrl/dic)
http://www.thejakartapost.com/news/2013/09/21/lawmaker-urges-lpsk-protect-drug-lord-s-ex-girlfriend.html
------------
The woman behind the bestseller on Pak Lah
BY RITA JONG
SEPTEMBER 22, 2013
Her long light brown-reddish hair stood out in the crowd in a coffeeshop in Bangsar as she fiddled with her Blackberry, sipping a glass of lemonade.
Wearing a printed green blouse and adorned with dangling pearl earrings, academic Bridget Welsh had a dark blue suitcase with her.
"I am going to the airport, leaving for Singapore after this interview," she said, flashing a warm smile with a firm handshake. Welsh specialises in Southeast Asian politics and was the co-editor of the much-talked about book on former prime minister Tun Abdullah Badawi - Awakening: The Abdullah Badawi Years In Malaysia, which is selling well in bookstores now. The other editor was James Chin.
She recently came under the spotlight after the media had, what she claimed, misconstrued the book as "Pak Lah's book".
The book, a collection of 37 articles by contributors, was decried by some for having re-opened old wounds between Abdullah and his estranged predecessor, Tun Dr Mahathir Mohamad.
Welsh is also a familiar face and name to Malaysians for her appearances on Al Jazeera and other news organisations where she is consulted as an expert on Malaysian politics as well as regional affairs. She has been interviewed by The New York Times and The Wall Street Journal, among others, and contributes frequently to MalaysiaKini.
Based in Singapore as an associate professor in Singapore Management University, Welsh, considers herself a "global citizen" as she has lived in different developing countries.
"My father, a Pennsylvanian, was a petroleum engineer who was working in Iran when he met and fell in love with my mother, a secretary-cum-horse jockey. I was born in Iran eventually. I am really lucky as I am considered to be the third culture kid where I am not of the culture of the community and have different roots and background," she said at a-mile-a-minute.
"I lived almost all my life in different developing countries like in the Caribbean, Latin America, Middle East, and I eventually came to Malaysia and went to high school in Kuala Lumpur."
This theatre lover said she was very fortunate that her parents were not the typical expat parents who lived in their little enclave.
"They wanted me to have local friends and experience local things. We would go on local trips and basically… just mingle with the locals. It wasn't until I was older that I really appreciated what they have done for me in giving me this opportunity to be what I consider myself as a global citizen."
In Singapore, some of her efforts include helping to raise funds annually for scholarships and tuition for Burmese students in a village in the Irrawaddy Delta. She also raises funds for a charity in Hanoi that focuses on children with cancer.
But for all her charity work in the region, she feels the special tug of Malaysia. "I obviously love Malaysia because I keep finding myself coming back here," she said with a smile.
Despite being a mat salleh, Welsh said her high school years in Malaysia were just like any other Malaysian's.
"I would go out, have roti canai and teh tarik with my friends, I have the same newspaper man and the person who sells me my usual nasi lemak. These were the people who were part of my neighbourhood," she said, her electric blue eyes piercing through her rectangular frame glasses.
"I learnt to appreciate little things and trained to be analytical. As a political scientist, I have a certain degree of a critical lens in looking at the world and I consider myself as a public intellectual."
Welsh graduated from Colgate University (not the toothpaste, she said) and her Masters and PhD in political science were from Columbia University in The United States.
She also spoke of a scary experience where she almost went blind when in her teens.
"I had a detached retina problem. I had surgery in one of my eyes, and eventually on both, probably from reading too much in the dark," she said.
"I would never forget the time where I almost went blind. Everyone tells you that when you are blind, all your other senses come out. Until you experience it, you would never really appreciate the types of struggle of those who are blind."
Fortunately, Welsh's eyesight recovered, but she said she still could not see very clearly.
"My father had always wanted me to be a chemical engineer or a lawyer. I tried my hands at chemistry and I blew things up, so that was not a good idea," she laughed, as she threw her head back.
"While I have a tremendous respect for lawyers, I felt my added value was to think out of the box and not to work within the existing framework. At the end of the day, I know all my parents want is for me to be happy. And I am."
Welsh is indeed very passionate of what she does and having known her for 15 years, her co-editor Chin, too describes her as such.
"She is very passionate of her work and loves Malaysia," Chin said when asked to describe his friend.
So how does Welsh, who speaks nine languages, including Spanish and Malay, see herself in 20 years?
"Hopefully alive," she laughed as she leaned to the backrest of her bench.
"But on a serious note, I hope to continue the sense of civic responsibility through my teaching. I am most proud of my students' accomplishments as they are the ones who will guide the future of their countries."
And what would she be today if she had not spent the past 15 years teaching?
"Probably a lawyer," said Welsh with a smile.
http://www.themalaysianinsider.com/malaysia/article/the-woman-behind-the-bestseller-on-pak-lah
------------
Taliban Abduction Left Fariba Ahmadi Kakar 'Even Braver'
September 22, 2013
KABUL — The Taliban kidnappers moved her to at least 13 homes, made her sleep on the ground, and kept asking where she'd been, what she'd done and whom she knew. Every few days, she would be given a chance to call her family.
Still, the militants would push her only so far — they knew they needed to keep their bargaining chip in good shape.
Fariba Ahmadi Kakar's four-week ordeal ended this month after the Afghan government gave in to her captors' demands to free some prisoners. In an interview with The Associated Press, the 39-year-old Afghan lawmaker gave a rare account of what it's like for a woman to be held captive by the Islamist insurgents.
"I wasn't tortured. I wasn't under constant stress. But I wasn't free," Kakar said.
She's also lucky to be alive.
Since July, several prominent women have been attacked in Afghanistan. Among them: two police officers who were killed in the south, an Indian author living in eastern Afghanistan who was killed years after her memoir about 1990s life under Taliban rule became a Bollywood film; and a senator who was wounded in an ambush.
These and other attacks on female leaders in recent years have generally been blamed on the Taliban, though the Afghan militant group, mindful of cultural sensitivities, usually does not admit to targeting women. The assaults have added to growing fears that what few gains Afghan women have made since the US toppled the Taliban government in 2001 could be erased once American-led foreign troops finish withdrawing next year.
Being a woman in the public eye is a special challenge in Afghanistan, where tribal and conservative Islamic mores have long subjected women across the social spectrum to violence and discrimination.
The spotlight can be a shield, making men think twice about mistreating a woman and perhaps even guaranteeing that she'll be assigned a bodyguard. At the same time, it can make a woman a more attractive target for insurgents hoping to spread fear and weaken confidence in the Afghan government.
Kakar is one of 69 female lawmakers in the 249-seat lower house of parliament, and she's never been naive about the danger she and other prominent Afghan women face. Still, her initial encounter with her kidnappers was so swift and shocking it's still something of a blur today.
Kakar, her four children, her bodyguard and her driver were traveling from southern Kandahar province to Kabul, the Afghan capital, when a handful of armed militants on motorbikes appeared ahead of them on the outskirts of Ghazni city. The gunmen made the driver turn off the highway onto a bumpy, dirt road that led to a small village.
The militants put the group in the home of an Afghan Taliban family, separating the men from the women and saying little. Kakar, though, quickly began pleading with the captors to free her three daughters and son, ages 2 to 20.
She tried to calm her children but did not downplay what was happening. "I told them, 'This is the situation in this country. I will try to make sure you are safe,'" she said.
The Taliban fighters let her call her family. Within a couple of days her children were released to her mother and brother. Kakar, though, was shifted from place to place and kept separate from her driver and bodyguard.
Just days before the kidnapping, a fellow female legislator was wounded in an ambush by suspected Taliban gunmen not far from where Kakar was seized. Sen. Rouh Gul Khairzad's young daughter was killed, as was a bodyguard, while other family members also were wounded.
The militants who kidnapped Kakar had a different goal: They wanted the government to release some prisoners, and Kakar was their leverage.
In recounting her ordeal, Kakar wavered from calm to anger to wariness, and wouldn't always delve into details. At times she looked faint, but then she'd break into a sudden grin. When asked what she did all day in the various homes in which she was held captive, she smirked and said, "Nothing!"
She had only a vague idea of what was happening between her captors and authorities seeking to free her.
Kakar had a couple of female minders, whom she called "the doctor's mother" and "Zolaikha," but she wouldn't go into specifics about them. She said, however, that most of the women she encountered would tell her, "We have no power or authority to talk to you."
The men, like many Taliban, were hard-line Muslims who tried to avoid interacting with women outside their families. They would tell her their commanders were dealing with the details of her case.
Now and then, Kakar would be interrogated by the militants — usually three or four of them, and they didn't hide their faces. They'd ask her questions about her travels, her political activities and if she had met President Hamid Karzai. Nonetheless, they always treated her with "full respect," she said, even cutting short the questioning if they saw she was getting tired.
Kakar leads a privileged life compared to most Afghans, and she was deeply troubled by the poverty and ignorance around her. There were no beds to sleep on, the food was often "inedible," and there was no sense of any government presence. When she needed medicine, she'd give the militants some of her own money so they could buy it for her.
"The people in these villages don't even know what vaccines are," said Kakar, a former development worker whose constituency is in Kandahar city.
In early September, the captors told Kakar it would be just days before she'd be free. That same week, militants dragged Indian author Sushmita Banerjee out of the home she shared with her Afghan husband in eastern Afghanistan and fatally shot her. Banerjee's 1990s tale of life under the Taliban was the basis for the 2003 movie "Escape from Taliban."
Kakar was freed Sept. 7. Her bodyguard and driver were released separately. But there are conflicting accounts about whom the government freed in exchange.
http://www.saudigazette.com.sa/index.cfm?method=home.regcon&contentid=20130922181262
------------
Girl-Child Education in Nigeria: Long Road to Educating a Nation
September 22, 2013
Before now, little or no special attention was paid to girl child education in the north as enrolment of girls in schools was at an abysmally low level with retention and completion figures not encouraging either. Available statistics indicate that fewer girls were allowed access to school with poverty and other socio-cultural factors acting as a hindrance to accessing functional education. With the belief that 'When you educate a woman, you educate a nation', one wonders if this could be true in the region. ABBA ABUBAKAR KABARA, Zamfara, MUAZU ELAZEH, Katsina, ISAIAH BENJAMIN, Kaduna, NAJIB SANI, Bauchi, ANKELI EMMANUEL, Sokoto, MOHAMMED ZANGINA KURA, Jigawa, SALIHI ABUBAKAR, Kano
Recently, the literacy rate in Nigeria was put at 61. 3%- males having 72.1% and the females only 50.4%. Out of this, the adult literacy rate for males is 31.0%, while that for females is drastically low at 15.4%.Unfortunately, majority of Nigerian illiterate population are based in the northern part of the country. There is little or no doubt that majority of these illiterates are females.
It is a fact that there is higher level of girls' enrolment in schools and higher number of learned women from the south than in the north as that could be authenticated if one looks at our institutions of learning and places of work where the women of southern extraction are engaged in different careers.
Of the states in the north, Zamfara, Katsina, Kebbi, Sokoto, Jigawa, Bauchi, Adamawa and Borno are said to have more illiterate women than the rest.
This development led to series of campaigns, enlightenments and clarion calls on the need for girl child education in the north over the years so as to balance the equation. The question here is, has the region really recorded significant improvements and progress in that regard now?
Bauchi state
A survey carried out in selected secondary schools to ascertain the progress or otherwise of girl child education showed that there are many girls in the schools just as many others are also out of school due to several reasons.
Some female students of FOMWAN Model School Bauchi, Zainab M. Garba, Maryam Adam Muhammed, Habiba Abdullahi Shehu and Khadija Abubakar Lame, all of whom are in senior classes said that they want to proceed to tertiary institutions after the completion of secondary school to undergo various professions. Zainab and Maryam want to be nurses to help their fellow women when they grow up, while Habiba and Khadija have the ambition of becoming a Lawyer and Newscaster respectively.
At the Government Day Secondary School Kofar Idi Bauchi, Mubashira Muhammed and Rukaiya Yusuf explained that their parents have agreed to allow them to continue with their studies in higher institutions just as they revealed that many of their friends were not given the chance to obtain even primary education by their parents.
However, the first female professor of Microbiology, Fatima Jafar Tahir, who is also a lecturer at the Abubakar Tafawa Balewa University [ATBU] Bauchi lamented that the level of enrolment of girls from the northern part of the country in our universities was abysmally low.
'' I am not satisfied with the number of northern girls in universities. Because, if you go to our tertiary institutions, you will find out that even the ones that were enrolled in university, especially in the ATBU, where I work are mostly in the management courses. But only very few of them could be found in the sciences like engineering, geology, zoology etc,'' she pointed out.
She ascribed the problem of girl child education in the north to tradition and parents' attitude and adds, 'I don't agree that marriage is a barrier to education, because I married immediately I finished my secondary school and I proceeded with my studies to become a professor. Women can acquire as much knowledge as possible as long as they get the support of their husbands''.
Kaduna state
According to the Deputy Director Female Education in the Ministry of Education in the state Mrs. Elizabeth F. David, over 40 percent of the total population of students in both private and government- owned schools in Kaduna State are girls.
She said the 2011-2012 school census in the state shows that 46 percent of total enrolments in public schools are girls, while 49 percent of enrolments in private schools are girls.
Mrs David, however, said even though there are so many girls in schools, there is still the challenge of retention and graduation of such girls. She emphasized that in most cases, some of these girls hardly stay till graduation time. She further disclosed that part of efforts by the state government to encourage girl child education in the state is an effort in which the Ministry of Education is putting the girl-child in more friendly schools, and making sure there are facilities that will make them more comfortable in schools, such that will enable them stay up to the point of graduation.
LEADERSHIP SUNDAY spoke with some groundnut sellers who could not communicate in English even though they are in primary six. According to Jamila Abubakar, Mariam Mohammed and Hauwa Mohammed all of Abakpa LEA primary school, they would like to become nurses in life.
But Habiba Danlami, 12 who was hawking bambara nuts said her parents did not send her to school for reasons she could not explain, she however refused to disclose their family address.
According to Mallam Aminu Zakariya Bichi, 10 girls and 3 boys, parents who refuse to send their female children to school are robbing the girls of their future. He therefore suggested that such parents should be brought to book and made to face necessary sanctions.
Sokoto state
With a male population of over 1, 863, 713 and 1, 838, 963 female, 60 percent of Sokoto state's illiterates are believed to be women.
Probably concerned about the illiteracy percentage of Nigerian women, the Decree no. 30 of 1989 establishing the National Commission for Women was formulated with the mandate of formulating a national policy on women and development. However, the initiative seems to have been propagating its blueprint at a snail's pace.
In his concern for this absurdity, the State governor, Aliyu Magatakarda Wamakko introduced, supported and partnered diverse educational programmes for the state.
In most of the schools visited by LEADERSHIP SUNDAY within and outside the metropolis, the percentage of female enrollment compared to that of the male counterpart was so pathetic with some classes within the rural areas recording few females pupils.
A Headmaster in one of the government- owned primary schools, who preferred anonymity said the problem lies in the mindset of most parents, many misled by preachers who say that educated girls are simply but harlots.
Agreeing with the position of the Head Master, a lady of about 19 and a mother of one (name withheld) confided in LEADERSHIP SUNDAY that she never wanted to get married until after her secondary education but was forced to marry on grounds that educated ladies are not only wayward but have difficulty giving birth when they eventually do get married.
A respected Islamic preacher, who did not want his name mentioned and whose female children are currently in the University disclosed that the inability of most parents to sponsor their children because of scorching poverty in the north as well as their personal idiosyncrasies most not be given religious backing, hence Prophet Muhammad (SAW) implored them to search for knowledge to anywhere possible.
Sokoto State government in its effort at ensuring a literate female population even after being married introduced the Centre for Women Continuing Education, with the aim of not only educating but also impacting diverse skills into the women.
Mallam Alkali who noted that the school currently has a population of over a thousand added that, it has both primary and adult secondary section where they offer conventional institutions such as Physics, Mathematics, English language, Islamic Studies andmany others.
"We also offer vocational classes, and skill acquisition programmes where these female students are taught diverse trades to enable them look after their families."
He pleads with the government that the school is upgraded to encompass higher institution.
Katsina state
To refocus this and address the seeming imbalance in education which appeared skewed to the girl child's disadvantage, the state government established an office of special adviser on girl education and child development.
While the state ministry of education and its parastatals including of course, the primary education board were concerned with educational development generally, the office of special adviser on girl education is specifically championing the cause of girl child education through massive awareness campaigns on the need for parents to allow their girl child attend schools.
The state government developed a 10-year education sector development plan with a 3 year education sector operational plan as a medium term plan aimed to specifically strengthen girl child education and the education sector in general.
To further boost girl child education by encouraging enrolment, retention and completion of primary and post primary education by the girl child, the state government established 34 girls primary schools, one in each of the local government areas, abolished all manners of fees, provided bus services to girls schools in Katsina, Mani, Malumfashi, Kankia, Funtua, Dutsinma, Daura.
Additionally too, in collaboration with UNICEF, introduced special female teachers scholarship scheme and conditional cash transfer (CCT) as part of measures to support girl child education and bridge the wide gap between female teachers and their male counterpart in the state.
Speaking to our correspondent, the Special Adviser on Girl education and child development, Hajiya Kaikai said "we have been receiving appreciable level of support from parents and traditional rulers and the old stereotypes that impeded girl child's access to western education has been dismantled so to say."
Habiba Isa (not real name) is a 16 year old mother of one and divorcee who enrolled in primary school. She told LEADERSHIP SUNDAY that her life's ambition is, "to train as a nurse so I can help in the treatment of my fellow women" she said, adding "even Islam encourages women to train as health personnel because it is very rewarding."
But then, the challenge appears far from being over as scores of girls are still seen in the street hawking during school hours. One of such is 15 year old Jamila Yahaya (not real name) who hawks 'waina', a local delicacy, at Kofar Kaura area of Katsina metropolis.
She told this reporter that she has never been to school and so has not had the privilege of acquiring western education although she appears versed in Quranic education which she said she receives at home.
Asked to choose between enrolling in school and marriage, Jamila said she prefers the latter which according to her, would provide her respite from the daily stress of hawking saying "if I can get a husband now, I will just marry and rest as I am tired of hawking this waina every day."
Kano state
Recent statistics of children enrollment into primary schools in Nigeria have clearly shown that Kano state has the lowest percentage with about 40 percent. Although this is discouraging from the wider context, it is rather a step forward bearing in mind that it favourably represents a good picture in the northern region.
LEADERSHIP SUNDAY gathered that on busy mornings and at midday, long vehicles with inscriptions on them saying 'Girl child initiative' convey only female students from the streets in the morning and pick them up after school to various points.
According to facts available, with stakeholders on education taking the sector seriously in urban areas, hardly would one find those denying their girl children modern education.
It is also obvious that the nature of schools in the state has paved way for both benefit of imparting modern education viz a viz Islamic education. This has tremendously ensured almost a hundred percent girl child enrollment into primary education in urban Kano.
However, in rural areas of Kano the situation is still disturbing as tradition, culture and ignorance of what today's world obtains makes girl child education unsuccessful. It is a common practice in villages that girls from twelve years should be given out for marriage.
Therefore, girls between 4 to 12 years spend their time hawking, so as to contribute to getting the traditional items needed for marriage. In this part of the world, girl child education gets no serious attention.
Jigawa State
According to a survey carried out in 2007, highnegligence in the education sector can be blamed for consequently making Jigawa state one of the most poverty- stricken states with a high ratio of illiteracy, maternal and child mortality rates among the northern states in the federation.
The enrolment indices had equally shown that girl child education was worse because most parents were not willing to send their daughters to school due to what they perceived as unfavorable condition of the schools and some negative cultural beliefs, especially in the rural areas.
However, the Alagarno Nomadic community primary school, which is 4 years old now with over 120 pupils, havea higher number of female pupils with 72 girls, while 58 are boys. The school also has over 40 people attending adult classes including men and women.
Looking at the worsening situation of girl child education in the state despite its social and religious importance in the society, Governor Sule Lamido introduced a policy of Free Education for Girls and the Physically Challenged from primary school to University.
And according to the state commissioner for Education, Professor Haruna Wakili, "You know, according to Islamic tradition, if you educate a woman, it is like you educate the whole society. As a result of our intervention in girl child education, I can undoubtedly tell you that between 2007 to date, we have more than 100% increase in the enrolment of girls. In 2007, our girls' enrolment in primary schools was 194,155 and in 2012 it was 229,806. Similarly, JSS class rose from 21,344 to 34,761; SSS from 11,342 -21,966 and in pre-school from 11040-21977."
Ramla Shehu feels that Makarantar Boko, "is not compulsory." But "to know how to worship my lord is what is basic on me as a Muslim. I can read and write in Arabic and also in English. So my future ambition, my destiny is in God's hands. "
Hafsat Shehu Musa, a JSS 2 student of Government Junior secondary School, Kiyawa, dreams to become a professor like her grandmother, former Minister for Education Professor Rukayyatu Ahmad Rufai. "I want to contribute to the development of education in my state, Jigawa and the country," she says.
Zamfara state
The state director, female education quality assurance, Alhaji Usman Abdullahi explained that under the special program, 'Girls Education Program' (GEP 3), female candidates were selected from the rural communities and granted automatic scholarship for NCE studies, at the end of which they return to their respective local communities and teach in primary schools.
He said the strategy was to motivate and encourage parents to willingly enroll female children into schools.
He explained that in the year 2011/12 the total child enrolment for both male and female child was 283, 055, out of which only 90, 604 reflected the actual figure of girl-child enrolment.
Usman said however, that with the introduction of the Female Teacher Scholarship Scheme, using female teachers in rural communities as role models, child enrolment in the subsequent years 2012/2013 rose to 415,082 out of which 143, 809 were female.
The UNICEF had earlier, in collaboration with the state government, embarked on massive enrolment drive campaign to encourage female child intake, and on its part, the state government had mid last year, constituted enrolment campaign committees in each of the seventeen emirate councils of the state under the chairmanship of emirs.
Safiya Ahmadu,13 is from Abarma village in Gusau local government, and full time hawker selling Fura and Nono (yoghurt and millet balls) from morning till late afternoon as a daily routine. She wants to go to school but, "my parents will not allow me", she regretted, explaining that it is the tradition in the family that every female child must toil to save for her wedding expenses which normally commences between the ages of 14-15.
"Although there is a primary school in the village, there are many girls my age and below who do not go to school for the same reason" she said, saying that she will be pleased to go to school if she could have the opportunity.
Other girls who have the opportunity of education lament the lack of teachers, books, chairs, desks, etc.
The executive chairman, state Universal Education Board Hon Murtala Adamu Jangebe has repeatedly admitted the state is in desperate need of not only qualified teachers, but the number of teachers teaching in primary schools are far below adequate.
http://leadership.ng/news/220913/girl-child-education-long-road-educating-nation#sthash.cjG7Z1eI.dpuf
------------
Saudi Arabia: Has Tide Turned on Women's Rights?
September 22, 2013
By Tariq A. Al Maeena | Special to Gulf News Published: 20:00 September 21, 2013
Saudi religious police chief's statement on women driving shows that the forces of progress have begun to grab back the initiative and are no longer content to be held back by the whims of hardliners
Has the tide turned on the Saudi government's stand on the issue of women driving? As the only country in the world I know of that denies women the right to drive, has the thinking that governs the powers to be moved towards the lifting of an age-old embargo?
It would seem so, considering that one major hurdle has been lifted by recent statements from none other than the president of the Saudi religious police, who recently stated publicly that "the ban on women driving is not mandated by any text in the Sharia".
Shaikh Abdul Latif Al Shaikh, President of the Commission for the Promotion of Virtue and the Prevention of Vice (the religious police) said that Sharia, the Islamic legal code which is the basis for much of the kingdom's laws, "does not have a text forbidding women driving".
This is good news for many Saudis and residents alike, frustrated by the ban on women driving. The religious police has long been considered one of the staunchest bastions of opposition when it comes to women's issues and female empowerment, and many of its members have claimed that driving is a "path to vice and social degradation".
Hardliners took it upon themselves to flash the religion card without any authenticated backing to their dismissive claims against progressive initiatives. With the Al Shaikh stating that it is not for his organisation to mandate the law, but simply to uphold it, the ball is back in the government's court.
In the kingdom, an unnatural culture of dependency coupled with built-in frustration has evolved as a result of the influx of millions of expatriate male drivers, many who get behind the wheel for the first time in their host country.
Add to that the social and cultural disparity as a result of this large group of unskilled expatriates that reside in practically every home, and social development takes a back seat.
In the same week, the Saudi Ministry of Education rejected calls by religious men to call off sports classes in private girls' schools. This contentious issue was something that ran along the same lines as the driving ban, as hardliners had asserted on many occasions in the past that sports for girls would be detrimental to their honour, their virginity, and would contribute to their moral decadence.
In this latest instance, a vigilante force of some 30 men claiming to uphold and spread virtue and prevent vice, marched to the ministry and demanded from officials to cancel sports classes in the schools based on their arguments. In their view, any activity that demanded that girls participate in sports was totally un-Islamic.
Education Minister Prince Faisal Bin Abdullah had earlier taken a different view. He was firm in his directive that all education authorities in the kingdom initiate the steps necessary "that would enable girls to practice sports in their schools in a manner that would conform to Islamic teachings while improving their physical fitness".
Moderate Saudis see a significant shift behind such actions. Many could not understand why driving or indulging in sports by women was considered a sin. But to go against the religion card is not a frivolous matter. And the dread of being accused of apostasy kept many voices muzzled.
Whereas in the past, the demands of hardliners was almost considered a law into itself, in recent years there has been a dramatic shift towards a more tolerant position of acceptance of all things obviously not detrimental or conflicting with the teachings of Islam. Such a shift also signals a separation of the often veiled cultural traditions that were deeply intertwined with Islam, making it difficult to separate one from the other.
Urban-dwellers who had long advocated a more accepting approach towards the empowerment of women had in recent decades been deluged into submission by the cultural traditions of the rural populace, who as they made their shift towards urban centres in search of jobs also began to force upon the rest of society their own traditions and beliefs. Many of them had even joined the various branches of government service including the ministry of education and resisted changes from within.
But in recent times, the forces for progress have begun to grab back the initiative. In drafting law after law, the kingdom is making itself transparent in that it is no longer content to be held back by the whims of hardliners who would like nothing better than to subjugate women and push us all back into the stone age.
A few years ago, King Abdullah Bin Abdul Aziz had said: "I believe strongly in the rights of women ... my mother is a woman, my sister is a woman, my daughter is a woman, and my wife is a woman. I believe the day will come when women drive. In fact, if you look at the areas in Saudi Arabia, the deserts and in the rural areas, you will find that women do drive. The issue will require patience. In time, I believe it will be possible. Yes, I believe we can. But it will require a little bit of time ... Our people are just now beginning to open up to the world, and I believe that with the passing of days in the future everything is possible."
Many Saudis would say today that the time has finally arrived.
http://gulfnews.com/opinions/columnists/saudi-arabia-has-tide-turned-on-women-s-rights-1.1233781
------------
Musarrat Chaudhry, a Native of Pakistan, To Be First Muslim Recipient of Interfaith Award
September 22, 2013
It happened slowly, over time, but eventually Musarrat Chaudhry realized something about her life. The more she lived it like a practicing Muslim, the more rewarding it was to her.
"I find that it's more freeing and liberating the more I act and live as a Muslim woman," said Chaudhry, a radiologist at Ellis Hospital's Bellevue Woman's Center in Niskayuna. "There are many rights in the Islamic religion that are very beneficial to women. The status of women in our religion is very balanced."
A native of Pakistan who moved to the Capital Region in 1971, Chaudhry is a recipient of the Capital Area Council of Churches' Carlyle Adams Ecumenical/Interfaith Award. She will be honored at the group's annual dinner Oct. 2 at the Albany Country Club.
"I feel honored, and I feel like there are probably many people who deserve the award more than I do," said Chaudhry. "But I am of course glad to receive it. It is very nice honor."
Deborah Riitano, board president for the Capital Area Council of Churches, said Chaudhry is the first Muslim to win the Carlyle Adams Award since its inception in 1983.
"Our interfaith movement was originally about the Jewish-Catholic dialogue, but Mussarat saw the need to begin a dialogue with us and be a part of the already existing dialogue," said Riitano. "I've known her for about 20 years now. She is very easy to get to know, and very humble. She takes on the issues around the interfaith movement and helps people understand Islam for the wonderful religion that it is.
"There's no proselytizing with her," added Riitano. "She's a great representative of her faith, and she's just wonderful at expressing that faith. She's a great representative of the human race."
Chaudhry moved to the U.S. to join her husband, Dr. M. Ashraf Chaudhry, who passed away in 1994. They had four children and Chaudhry now has one grandchild.
"When I first came here, my husband and I were both focusing on our training and our profession," said Chaudhry, who lives in Niskayuna. "When you're both physicians you don't seem to have the time to worry about religion. But once we had a family it became much more important to us. We started getting involved with other Muslims and started learning more. We wanted to be better equipped to teach our children all about the religion we grew up in."
When she first moved to the U.S., Chaudhry had thought about possibly returning to Pakistan.
"My parents would ask me, 'how long are you going to live there,'" remembered Chaudhry. "So, at first you think about going back. But I knew my husband definitely wanted to be a part of this country, and I also felt that way. This is where we wanted to raise a family. It's been 40 years now. I feel like this is home."
Practicing — positively
The more she became a practicing Muslim, the more Chaudhry realized she had to represent Islam in a positive way to other faith groups.
"There are bad people in every part of the world, and when we see bad things in the media about Islam we have to understand that sort of thing is very unusual," she said. "We get the impression it's common, but it's not common. Our religion protects women and children in the best way. The stories you hear about are because those people aren't educated and tribal law comes into play. Where there is less education is where you see these horrible things. But they're being done by people who don't know anything about their religion."
Chaudhry is an active member of the Capital District chapter of The Interfaith Alliance of New York State, and is also on the boards of the Albert and Beatrice Sidney Lectureship series at the College of Saint Rose and the Interfaith Story Circle of the Capital District.
Hughes also honored
"Mussarat is very knowledgeable, very gentle and kind, and she's the epitome of women in Islam," said Audrey Hughes, a past president of the Interfaith Community of Schenectady. "She's someone you feel honored to know."
Hughes, an Albany native and Glenville resident, also will receive the Carlyle Adams Award at next month's Capital Area Council of Churches dinner.
"I am absolutely humbled, and also thrilled," said Hughes, a Catholic and member of the Immaculate Conception Church in Glenville. "I knew Carlyle Adams. He was at the forefront of the interfaith and ecumenical movement, so I'm very honored to be getting this award, and particularly honored to be getting it with Massarat. She has done so much over the years to help relations between our communities."
A Presbyterian minister who also worked as religion editor for the Albany Times Union and wrote for The Evangelist, Adams was president of the Capital Area Council of Churches from 1958-60, and served on the board for more than 30 years.
After his death in 1981, the Council voted to establish an award in his memory to honor others who exemplified his inclusive spirit.
http://www.dailygazette.com/news/2013/sep/22/chaudhry-be-first-muslim-recipient-interfaith-awar/
------------
Govt Taking Steps to Protect Women's Rights: Pak Minister
September 22, 2013
LAHORE: Social Welfare and Baitul Naal Minister Ata Muhammad Manika said on Saturday that the Punjab government was taking practical steps to protect women's rights.
Talking to a 15-member delegation of social organisations at his office on Saturday, he said the government was making legislation to improve the performance of institutions responsible for the protection of women's rights.
"The provincial government by following Islamic teachings has provided equal opportunities to women so that the 50 percent population of the country could play the role in its national development," he added.
The minister said NGOs assoc
http://www.dailytimes.com.pk/default.asp?page=2013%5C09%5C22%5Cstory_22-9-2013_pg7_7
------------
The (Slow) Rise of Iran's Women
September 22, 2013
By Faezeh Samanian
Nearly 35 years after the Islamic Revolution, gender discrimination is still a challenging issue for Iran. On the one hand, the situation for Iranian women has improved considerably in many respects under the Islamic Republic of Iran (IRI). On the other, there is a clear and seemingly impregnable ceiling for women in administrative and government positions.
Iranian Women Under the Islamic Republic
In some ways, women have enjoyed significant gains under the Islamic Republic of Iran. Nowhere is this more true than in education. In 1976, on the eve of the Revolution, the female literacy rate was a mere 35 percent. Despite the turmoil of the revolution and the imposed war with Iraq, by 1986 this rate had risen to 52 percent. Today, Iranian girls between the ages of 15 and 24 enjoy near universal literacy.
These gains are also reflected in education levels, which have greatly improved as part of the IRI's commitment to providing universal education. For example, the female enrollment rate for primary education institutions is actually higher than it is for males. Women also graduate from their primary education programs at the same rate as their male counterparts. And despite new restrictions on what they can study, Iranian women are also strong participants in secondary education, with the female general enrollment rate in secondary education about 86 percent of the male rate.
In many ways, the high female education rate also extends to employment, especially since 1992 when the High Council of the Cultural Revolution adopted a new set of employment policies for women. Although women are unemployed at a rate of roughly twice that of men, one-third of doctors, 60 percent of civil servants, and 80 percent of teachers in Iran are women, according to the British historian Michael Axworthy.
One area where Iranian women continue to face clear obstacles is in the upper reaches of the Iranian government. For example, around 30 women signed up to run for president earlier this year, but the Guardian Council – Iran's constitutional watchdog – rejected their candidacies based solely on gender. As Ayatollah Mohammad Yazdii, a conservative cleric and member of the Guardian Council explained at the time, the "law does not approve" of women running for president.
Women vs Clergy
Indeed, the clergy have long been the fiercest opponents of women holding senior political positions, opposition that dates at least as far back as to the Western-backed Shah's regime. In fact, before the Revolution, two women served as cabinet ministers under the Amir-Abbas Hoveida premiership. Even during that time, however, religious leaders used their power to prevent these female ministers from playing crucial roles in governing the country.
This competition between women seeking a senior role in public life and conservative clergy opposition has continued during the Islamic Republic. It's been a long struggle, but Iranian women have continued to chip away at many of the restrictions.
Although women served in parliament during the 1980s and early 1990s, the taboo against a woman serving as an administrative official and in a top management position was finally broken during the reform presidency of Seyed Mohammad Khatami.
The reform period under Khatami in fact greatly enhanced the role of women in public life. To begin with, he appointed Masoumeh Ebtekar as vice president in charge of environmental protection, the first time a woman had served as a vice president. Despite his reputation as a hardliner, former President Mahmoud Ahmadinejad built on Khatami's record. For example, he initially tapped Marzieh Vahid-Dastjerdi, a former parliamentarian who was close to Ahmadinejad, to be his Minister of Health and Medical Education. This made her the first woman to serve as a minister under the Islamic Republic. Ahmadinejad went on to appoint five women as vice presidents during his time in power.
Still, progress has been uneven. For instance, in December of last year Ahmadinejad fired Vahid-Dastjerdi as the Minister of Health and Medical Education. More recently, Nina Siahkali Moradi was elected to a seat on the city council in Qazvin, only to be prevented from taking her position by religious conservatives who disqualified her…for being too attractive. As Moradi's case demonstrates, progress aside, Iran still has a long way to go when it comes to women's rights in public life.
Prospects for the Rouhani Era
Some hope that the election of Hassan Rouhani as president of the eleventh government will help further the rights of women in Iranian public life. To date, there have been mixed signs.
On the one hand, Rouhani has chosen not to appoint any women to his Council of Ministers. In a speech last month he explained away this decision by remarking that he had not used women in any ministerial positions due to the country's "special conditions." He later stated that he did not believe that appointing a single woman as government minister would result in gender equality.
On the other hand, the release of his all-male cabinet sparked sharp criticism and last month he appeared to respond to this pressure by making Elham Aminzadeh vice president for legal affairs. In addition, he advised his male ministers to employ women in their respective departments.
Perhaps more promising, in his election manifesto Rouhani promised to establish a Ministry for Women. Some women's rights activists, such as Fatemeh Rakei, a reformist MP, have come out in support of the proposal, stating that it would help women's rights issues receive more funds from the government.
By contrast, Shahla lahiji, a writer, publisher, translator and director of Roshangaran – a prominent publishing house on women's issues – believes Rouhani should be bolder, stating: "Iran is not Afghanistan nor Pakistan, the wishes of Iranian woman have been glossed over by having only one woman in the Ministry and that's all. If we take into account the 50% of female university graduates, 40% of the official seats should be filled by women in the near future whether the government wants it or not."
There have been other encouraging signs. For example, Foreign Minister Mohammad Javad Zarif seems to have taken Rouhani's advice to appoint women to heart, naming Marzieh Afkham, former head of the Foreign Ministry's Public Relations Department, the first ever Foreign Ministry spokeswoman. Afkham, 48, is a career diplomat and has been praised by her predecessor, Abbas Araqhchi, who called her "seasoned and experienced." Meanwhile, Farideh Farhi, a prominent Iran expert at the University of Hawaii, called Zarif's appointment of Afkham an "extremely bold move."
Zarif appears to have more such moves in store. According to reports, he also plans to appoint Mansoureh Sharifi Sadr, currently the Foreign Ministry's Director of the Women and Human Rights Department, as the Islamic Republic's first ever female ambassador. Already, Sadr has served as Iran's deputy ambassador to Japan. Moreover, according to Abbas Araghchi, the former Foreign Ministry's Spokesman, Zarif is also considering another woman as Iran's representative to the UN in Geneva, although Araghchi refused to identify who the candidate was, instead saying that her name would be announced later.
Women Representing Iran
Following these decisions, it is apparent that Rouhani and his cabinet are sending a strong message to the rest of the world by appointing women to government positions. Although no women are serving in ministerial positions, they will are being appointed as Iran's diplomats. Therefore, they will become the face Iran shows to the rest of the world.
This should improve Iran's image abroad. For years, Iran has been considered by many to be an egregious human rights violator, especially when it comes to women and children's rights. By appointing women to diplomatic roles, Rouhani and his cabinet are increasing the respect foreign nations have for Iran even as the president fulfills an electoral promise to place women in his government.
In his inaugural address, Rouhani asked the world to "talk to Iran in reverence not in treatment." Female diplomats will undoubtedly help him form relationships with the world based on mutual respect and peace.
Faezeh Samanian is a Graduate Student at the Korea Development Institute's (KDI) School of Public Policy and Management in Seoul, South Korea. She specializes in Political Economy and International Relations.
http://thediplomat.com/2013/09/22/the-slow-rise-of-irans-women/2/
------------
URL: https://www.newageislam.com/islam,-women-and-feminism/new-age-islam-news-bureau/india--muslim-body-to-move-sc-over-marriageable-age-for-community-girls/d/13620